We've been bringing you Sudio reviews since 2016, and we're not about to stop. The Swedish company that produces elegant and minimalistic audio devices (we're talking about Sudio) is back with a bang with Sudio T2, the latest generation of the best-selling Sudio Tolv. This latest offering comes with several improvements over the Sudio Tolv, and in this Sudio T2 review, we'll answer the questions that matter so that you can decide if it is worth you making the switch.
1) What are the Sudio T2's specifications?
Type
In-ear – True Wireless
Compatibility
Android, iOS, Mac OS, Windows, Linux
Bluetooth Wireless Version
5.2
Codec
SBC
Playtime
Up to 35 hours in total
Up to 7 hours 30 minutes on one charge
Sweat resistance
Splash proof
Driver type
Dynamic
Buttons
Touch panel
Microphone
2 per side, 4 in total
Weight
46.2g
Earphone: 5.3g
Charging Case: 35.6g
Range
10m
Voice assistant
No
2) What is in the box of the Sudio T2?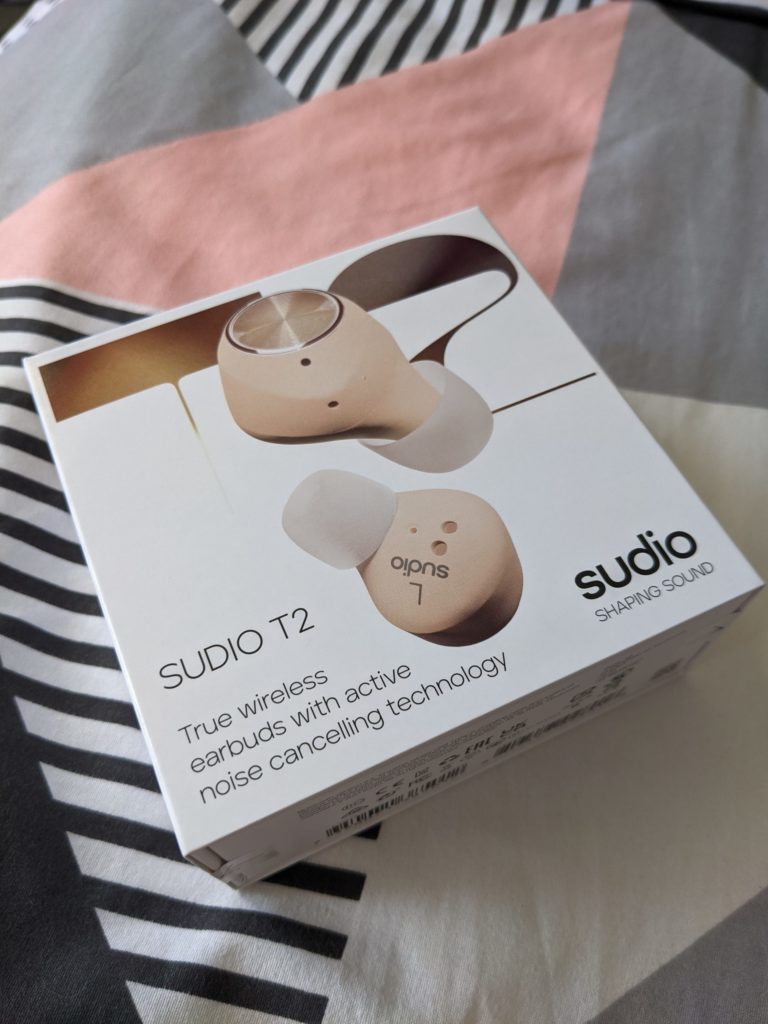 In addition to the earphone and its charging case, your purchase comes with the usual instruction manual, a charging cable, a cleaning cloth, and three sets of eartips for you to find the perfect fit.
Sudio's commitment to sustainability is worth applauding: they've redesigned the T2's packaging to be 100% plastic free.
3) How does the Sudio T2 look?
Colors
If you're sick of the usual black or white earbuds, the Sudio T2 comes in four color options: White, Black, Jade, and Sand. We loved the Sand color variant and were pleasantly surprised that the color is as advertised – a trendy dusty pink color that's soft and subtle. The Jade option is really cute as well.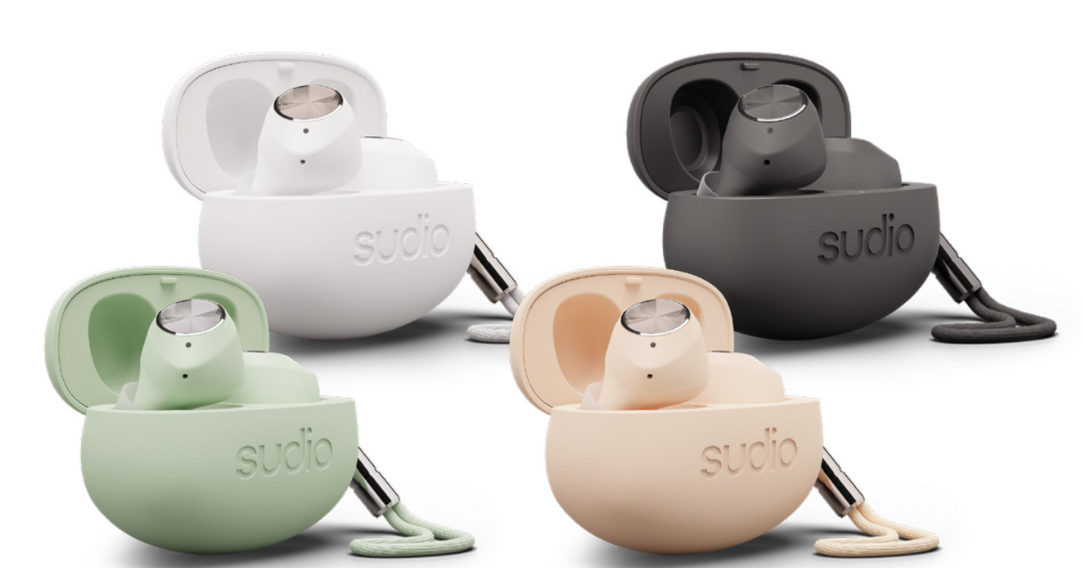 The case
Compared to Sudio Nio's shiny case, the Sudio T2 sports a matte casing that feels premium and sturdy. The small and round case is compact and comes with a detachable strap that matches the color of the case. We particularly like that the case would not close if you did not put the earbuds perfectly in place. This will save you from thinking that your earbuds are charging when they actually aren't.
The earbuds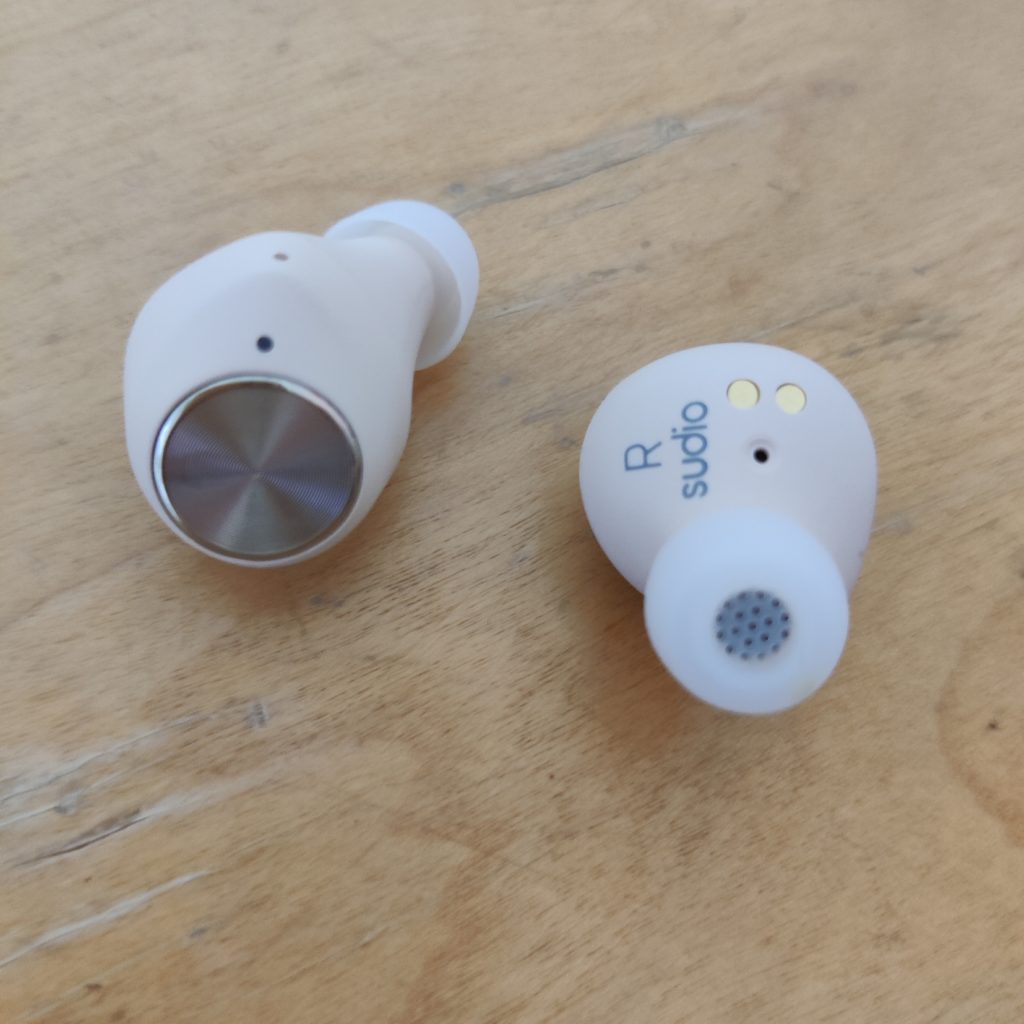 The T2's earbuds feature soft curves with no angular edges so that they'd be ergonomic and comfortable for users. In addition, T2's eartips are designed after 17 iterations over two continents, and tested on over 400 ears.
We've got to say that Sudio's efforts have paid off on this one – the Sudio T2 is comfortable to wear even for long periods of time. I wore it for four hours straight and did not feel any pain or discomfort that I was familiar with with my $10 brand-less earbuds.
4) What are the Sudio T2's touch controls?
Like most of Sudio's recent products, the T2 is activated by touching the silver buttons on either side of the earpiece. These buttons are pretty easy to toggle, but they can be pretty sensitive too. Brush your hand a little too hard and you might activate it unintentionally. For that reason, I personally prefer a tactile button.
Click on Either Earbud: Play/Pause/Answer Call.
2 Clicks on Left Earbud: Previous track.
2 Clicks on Right Earbud: Next track.
3 Clicks on Left Earbud: Volume down.
3 Clicks on Left Earbud: Volume up.
Hold for 3 Secs on Either Earbud: Reject Call/Terminate Call.
If you had no issues with Sudio's past devices, you'll enjoy T2's touch controls.
5) How does it sound?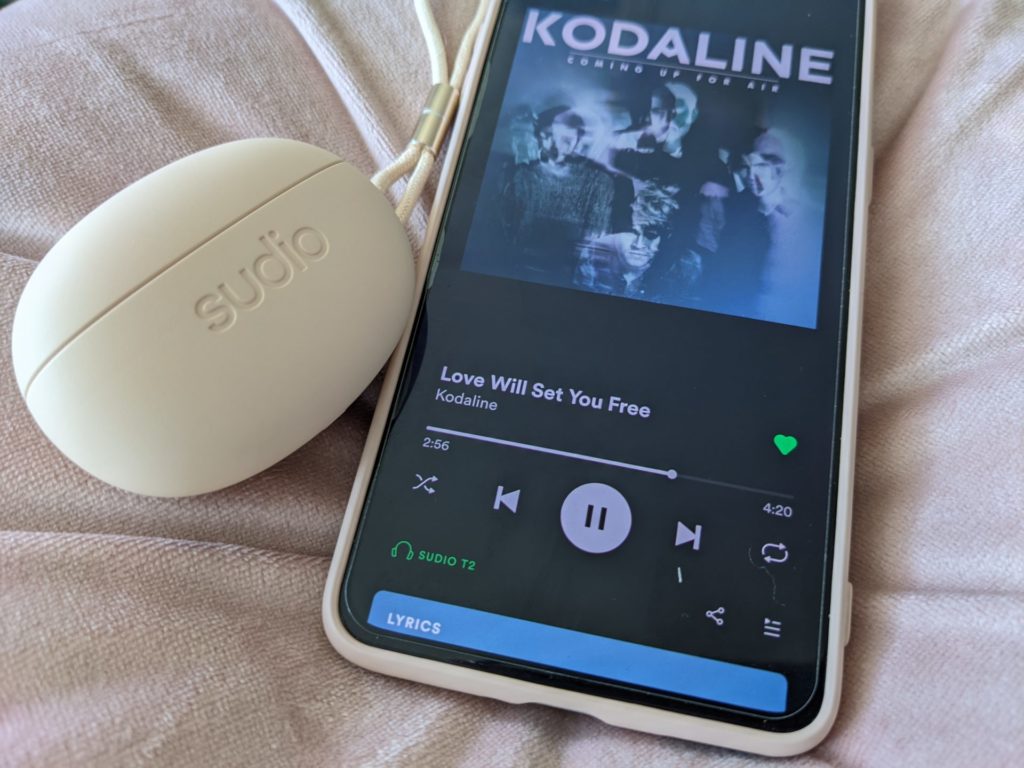 The Sudio T2 only supports SBC codec. So, we weren't expecting audio quality that would blow audophiles away. But its support for Bluetooth 5.2 does bring along some nifty perks – compared to the Tolv, Sudio claims that the T2's sound quality is more crisp, clean, and robust.
On our test, the T2 produces more pronounced basses and sounds that are deeper, more refined, and more balanced that that on the Tolv. Especially for those coming from brand-less earbuds, the T2 is really All About That Bass.
Sudio also introduced an Active Noice Cancellation (ANC) technology to the T2 to create a more immersive listening experience by analysing ambient noises and generating anti-frequencies in real time. We've got to say though, Sudio could do more to make its instructions clearer. It took us a bit of time trying to decipher what might as well have been ancient code on the instruction manual.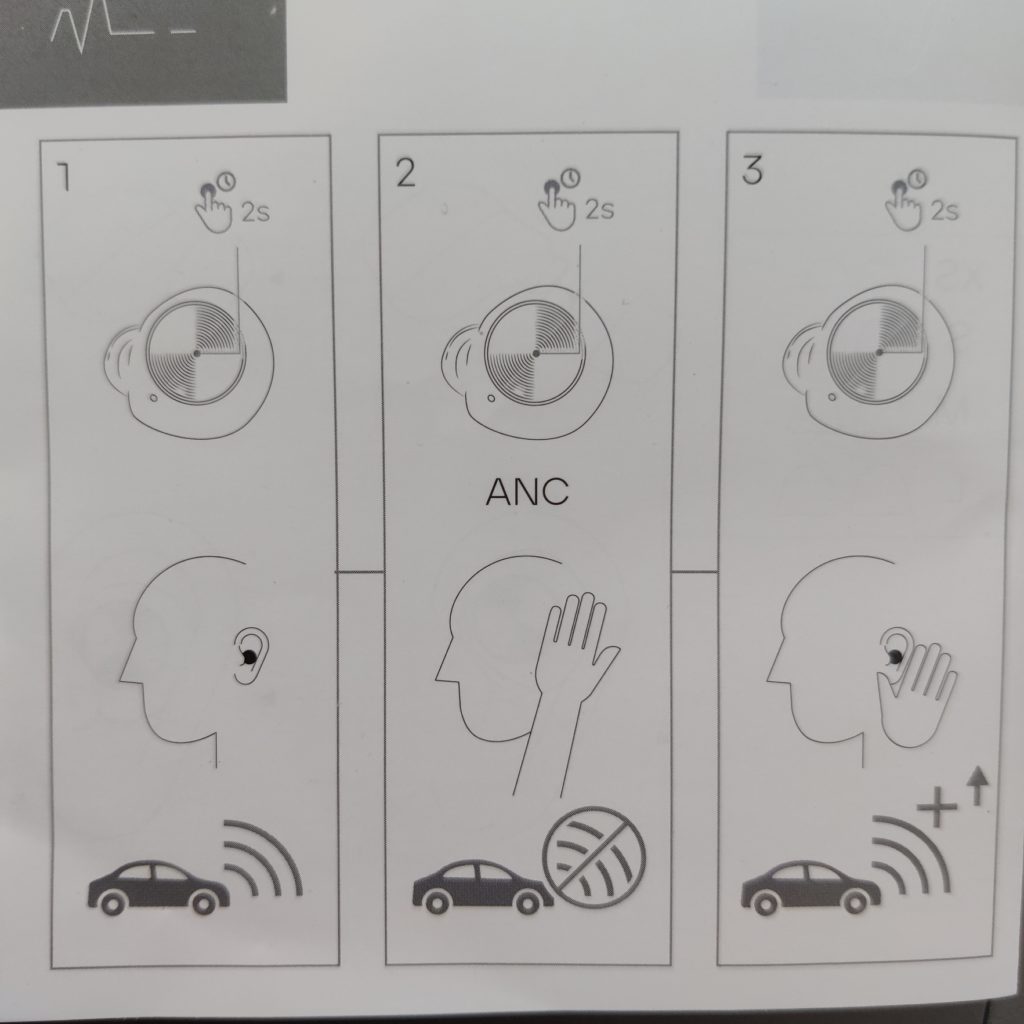 Fortunately, we found Sudio's Quick Start Guide. Let it save you the trouble of deciphering how to get ANC to work.
Once we got that out of the way, ANC worked superbly. It delivers uninterrupted deep listening without surrounding environmental sounds. I wore the T2 to watch Squid Game, and it was so immersive I swear I could not hear the doorbell ringing. And that's saying a lot because my doorbell is unusually (and annoyingly) loud.
Using the Sudio T2 for WFH meetings is possible too, with its improved microphone technology and "Beamforming" microphones which see a microphone array in each wireless earbud: one pointing outwards while the other is aimed towards the user's mouth. The earbuds simultaneously captures both voice and ambient sounds before an internal signal processing algorithm processes the sounds to reduce environmental noise to ensure voice clarity.
With ANC in place, we'd advice against using the T2 for your WFH meetings if you want to be able to hear yourself well. The T2 blocks out so much noise that it's tough to hear yourself speak. Unless your 2021 goal is to shout at your colleagues, remember to turn off ANC for your Zoom meetings.
6) How is the Sudio T2's battery life?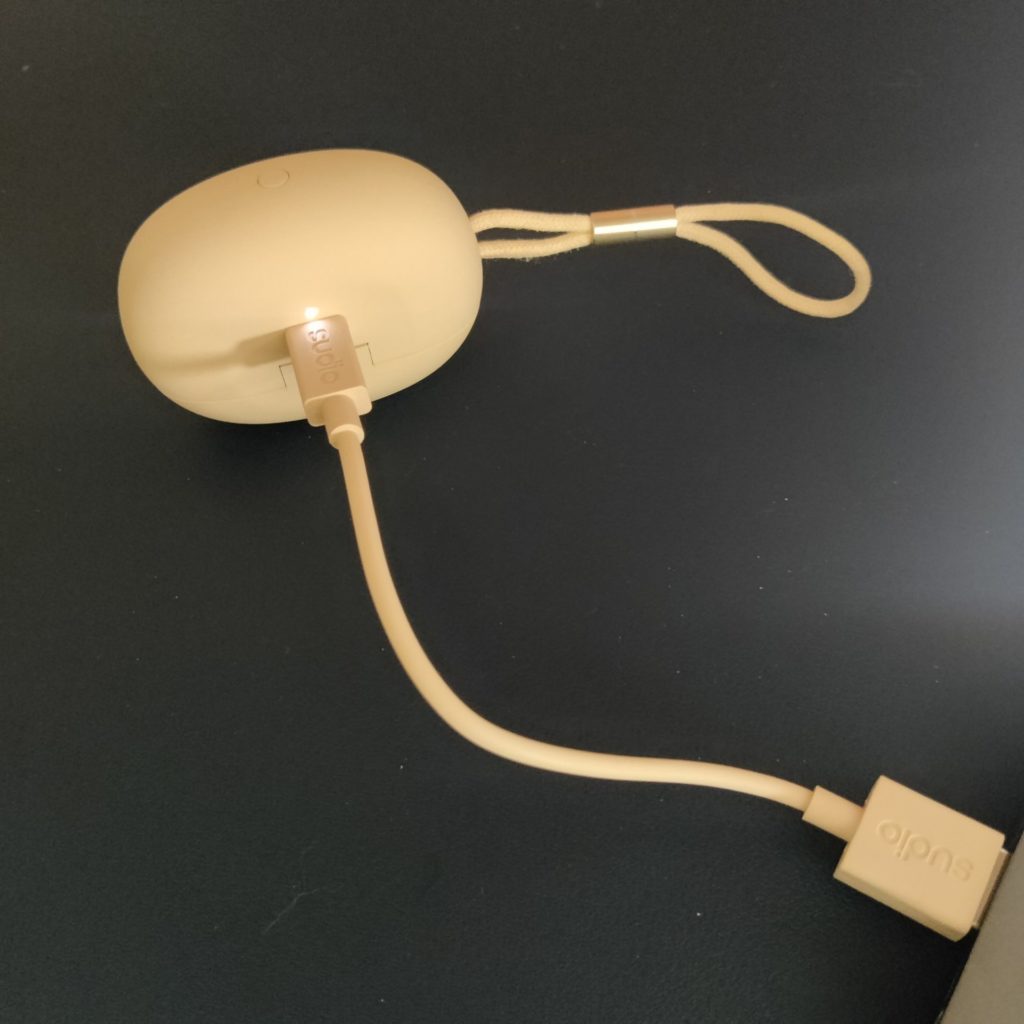 Sudio claims that the T2 offers up to 7.5 hours listening time and 35 hours battery life using the charging case. Sure enough, we didn't face any issues with low battery or having to charge the T2 up in the middle of the day. If you do need to charge up the earbuds urgently, you'll love that 10 minutes charge time is enough for you to get about 2 hours of playtime.
7) Can I wear the Sudio T2 to work out?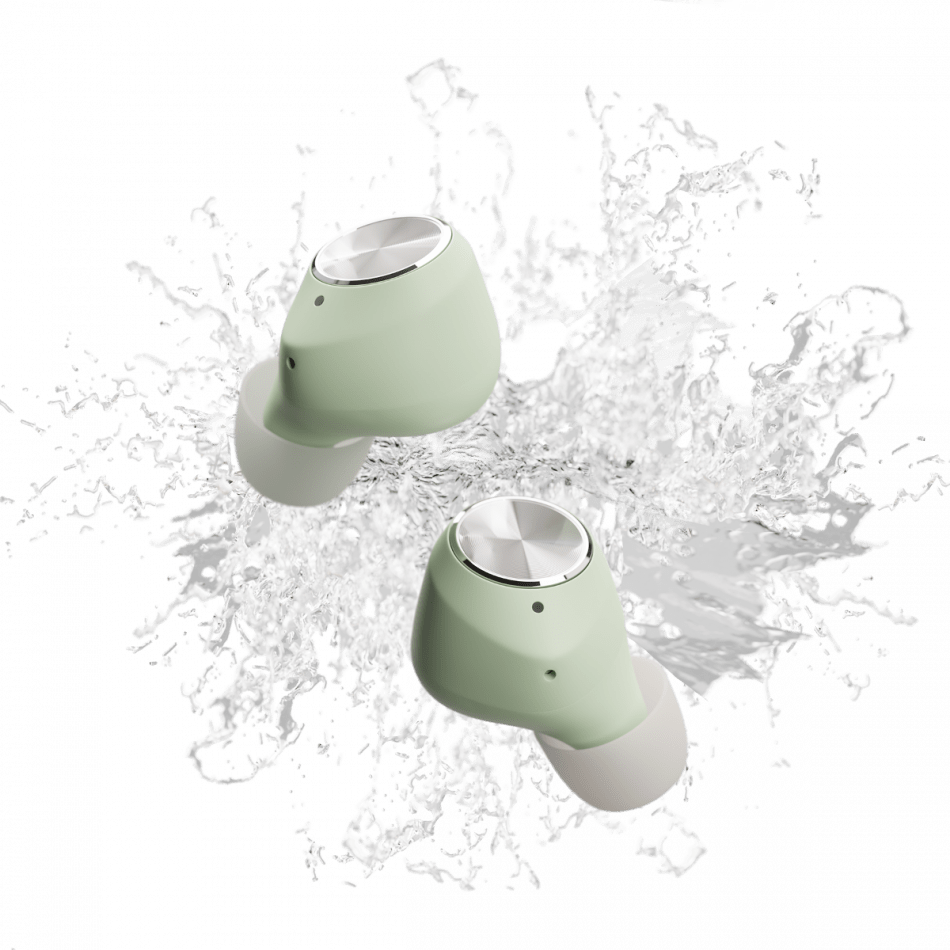 Sudio T2 is sweat and splash proof for the active and on-the-go listener. As mentioned, they sit well in the ear and you don't have to worry about them falling out during your workout session.
The bottom-line
With an ergonomic design, long battery life, a great ANC technology, attractive colors, and audio quality that sees great improvements over the Sudio Tolv, the Sudio T2 is music to the ears – for most people. If you're an audiophile expecting the best earbuds, you've got to look elsewhere.
If you want to get your hands on the Sudio T2 or any Sudio product for that matter, you can use the 15% discount code "techrevo" at checkout.
Sudio T2 price: Singapore (SGD) 179 (before discount)
Website Link: https://www.sudio.com/sg/