A few weeks ago, AMD launched their latest Radeon RX 6600 XT Graphics Card. Targeted at gamers who game at 1080p resolution, the card positions itself as a mainstream offering for the masses. In fact, based on the August 2021 Survey by Steam, 68.42% of gamers still game on 1080p resolution. Introducing a graphics card that is designed for gaming at 1080p resolution to the market opens up a huge opportunity for AMD.
On paper, the RX 6600 XT starts at an MSRP of USD379, which seems to be much higher what you would usually pay for a graphics card to game at 1080p resolution. To give the RX 6600 XT the benefit of doubt, we will have to truly understand how it actually performs. While some graphics cards claim to be suited for 1080p gaming, merely allowing gameplay above 60FPS, perhaps a true graphics card catered for 1080p gaming should perform much higher than that to enable a truly smooth gameplay.
We've got to find out if the RX 6600 XT falls into the first or second category.
The MSI AMD Radeon RX 6600 XT Gaming 8G
Unlike what other "Graphics Card made for 1080p gaming" looks, the MSI AMD Radeon RX 6600 XT Gaming 8G looks a lot beefier than expected. It comes with two specially designed cooling fans, which are known as TORX FAN 4.0. These fans bind two fan blades together with an outer ring and is said to allow a more focused airflow to the heatsink for a more effective dissipation of heat. It also has a cool exterior design which is typical of a MSI Gaming product.
Below the fans are two heatsink blocks, which are connected by four heatpipes. Known as the Wave-curved 2.0 fin edges heatsink, this design disrupts unwanted airflow harmonics in order to reduce noise without affecting its cooling properties.
As the Radeon RX 6600 XT Gaming 8G is quite heavy, MSI has also added a backplate to further support the whole graphics card. This prevents it from bending and damaging the components on the graphics card. Moreover, it also helps in heat dissipation too.
There are 4 graphics output ports on the graphics card – 3 x Display Port and 1 x HDMI Port.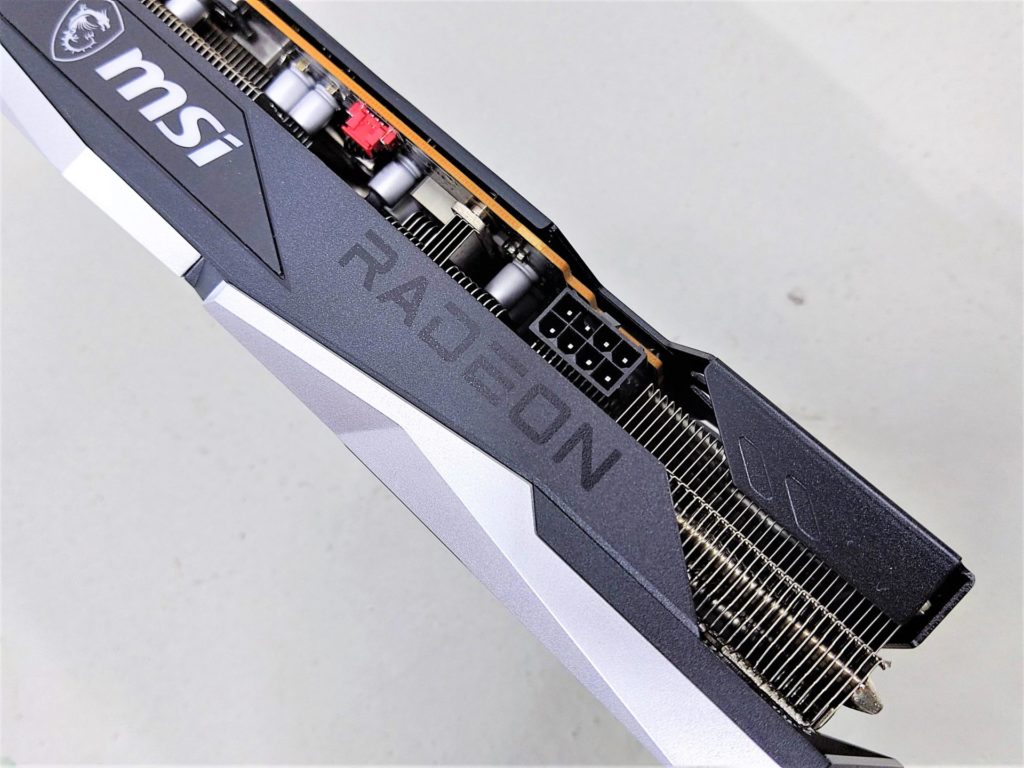 To properly power this card, you will also require a single 8-pin power connector and a minimum 500W power supply.
Specifications
| | | |
| --- | --- | --- |
| | RX 6600 XT | RX 6700 XT |
| GPU | Navi 23 | Navi 22 |
| Interface | PCI Express 4.0 | PCI Express 4.0 |
| GPU cores | 2,048 stream processors | 2,560 stream processors |
| Ray tracing cores | 32 | 40 |
| Base clock | 1,968 MHz | 2,321 MHz |
| Game clock | 2359 MHz | 2,424 MHz |
| Boost clock | 2,589MHz | 2,581 MHz |
| Memory | 8GB GDDR6 + 32MB Infinity Cache | 12GB GDDR6 + 96MB Infinity Cache |
| Memory bus | 128-bit | 192-bit |
| Bandwidth | 256GBps | 384GBps |
| TDP | 160 watts | 230 watts |
Putting things into perspective for the Singapore market
Officially, there are two models brought in to Singapore from MSI. They are the Gaming X 8G and Mech 2X 8G OC, which costs S$829 and S$799. It's a far cry from what was suggested by AMD, USD379, even when considering the inclusion of local taxes and shipping costs. It even sounds absurd if you are going to splurge close to S$800 just for a "1080p gaming graphics card". In the past, such a graphics card usually costs much less than S$400.
No doubt, times have changed and we are in a time period when competition in the market does not matter as much as there is a global semiconductor shortage. Perhaps, the high price of mainstream graphics cards is justified, but we can't simply ignore the fact that it simply shouldn't be this expensive to own just a 1080p gaming graphics card.
For most consumers who can afford it, to put it crudely, we'll just have to "suck it up" and go for what's available. For others who are less fussy, perhaps the second-hand market is a good place to look for the best deal for your new gaming rig.
Ultimately, we've got to let the numbers do the talking. Is it really worth it to pay that much for a 1080p gaming graphics card? Or will the MSI AMD Radeon RX 6600 XT Gaming 8G offer much more than what we were expecting?
Testing Objectives and Setup
In our tests, we are going to compare the MSI AMD Radeon RX 6600 XT Gaming 8G graphics card to its predecessor, the RX 5600 XT, which in our review, already did very well when handling 1080p games. Of course, we will expect that the MSI AMD Radeon RX 6600 XT Gaming 8G will fare better – the question is, how much more?
On top of that, we will put a Gigabyte GeForce RTX 3070 Gaming OC into the picture, so that we can also understand where the RX 6600 XT stands when compared to its competition. Furthermore, we will also add in a RX 5700 and GTX 1660 SUPER graphics card into the mix.
Benchmark Test
Settings
API
3DMark Time Spy
Default
DirextX12
3DMark Fire Strike
Default
DirectX11
3DMark Port Royal
Default
–
3DMark Ray Tracing Feature Test
Default
–
Far Cry New Dawn
High
DirectX11
Deus Ex Mankind Divided
High
DirectX12
Total War Warhammer 2 (Battle)
High
DirectX11
Tom Clancy Division 2
High
DirectX12
Assassins Creed Odyssey
High
DirectX11
DOTA 2
Best Looking
DirectX11
Final Fantasy XV Benchmark
High
DirectX11
World of Tanks enCore
Ultra
DirectX11
F1 2018 Australia
High
Direct X11
Shadow of the Tomb Raider
(1) High
(2) High with Ray Tracing
DirectX12
Middle Earth Shadow of War
High
DirectX11
Metro – Exodus
High
DirectX12
Metro – Exodus (RTX)
(1) Ray Tracing w DLSS
(2) Ray Tracing only
DirectX12
World War Z
Ultra
Vulkan
Tom Clancy Ghost Recon Breakpoint
High
Vulkan
Dirt 5
High (with Ray Tracing)
DirectX 12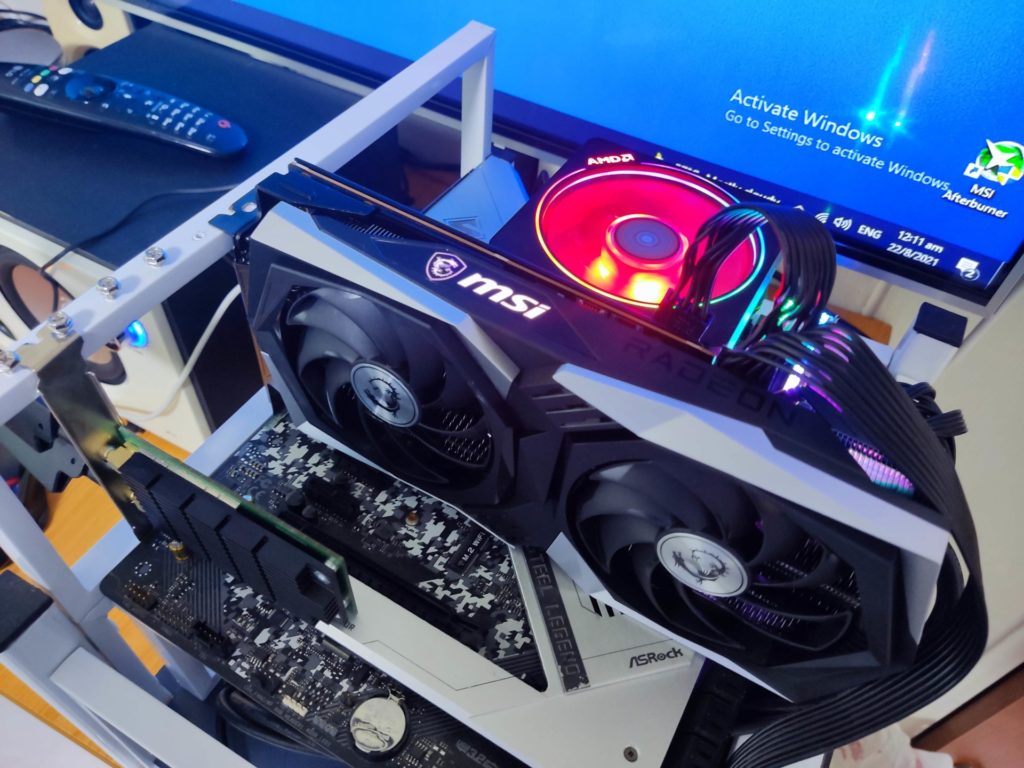 Specs
Main System
CPU
AMD Ryzen 9 5900X
RAM
G.Skill Trident Royal 3600MHz, 2 x 8GB DDR4 Kit
Main Storage
Transcend PCIe SSD MTE110S 512GB (OS)
GPU
MSI AMD Radeon RX 6600 XT Gaming 8G

Sapphire AMD Radeon RX 5600XT (Performance)

Gigabyte GeForce RTX 3070 Gaming OC

Motherboard
ASRock X570 Steel Legend
CPU Cooler
AMD Wraith Spire RGB Cooler
OS
Windows 10 Pro 64 bit
Drivers
Radeon Software Adrenalin 20.50 – RX 6700 XT
Radeon Software Adrenalin 20.35.01.12-11.6 Beta – RX 6800
NVIDIA 457.30 – RTX 3070
Performance Results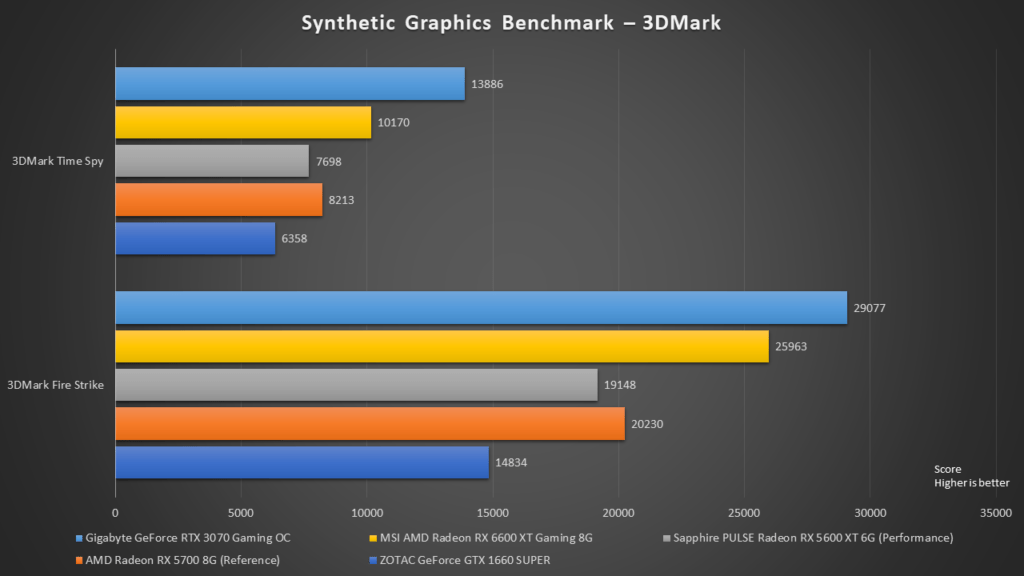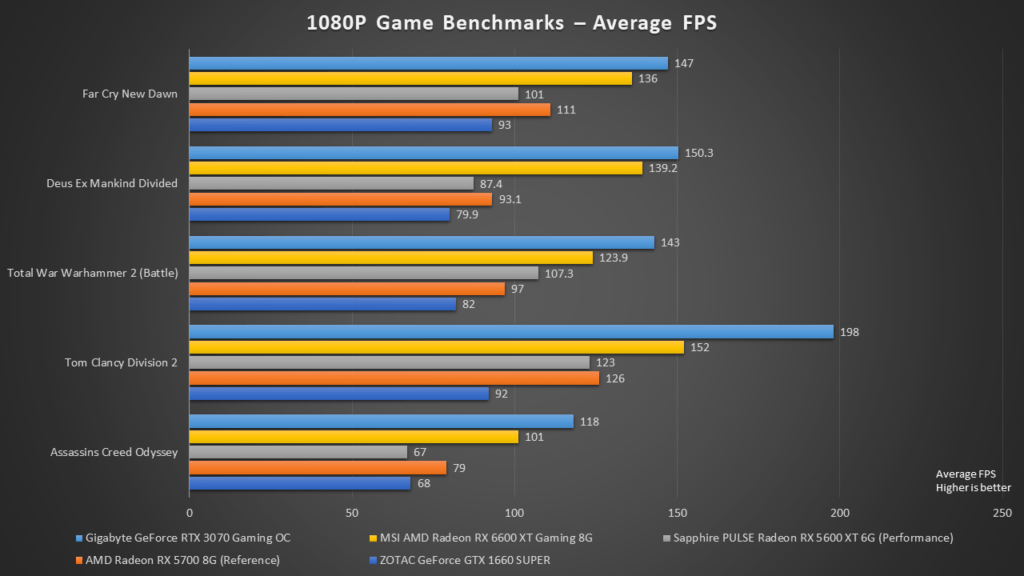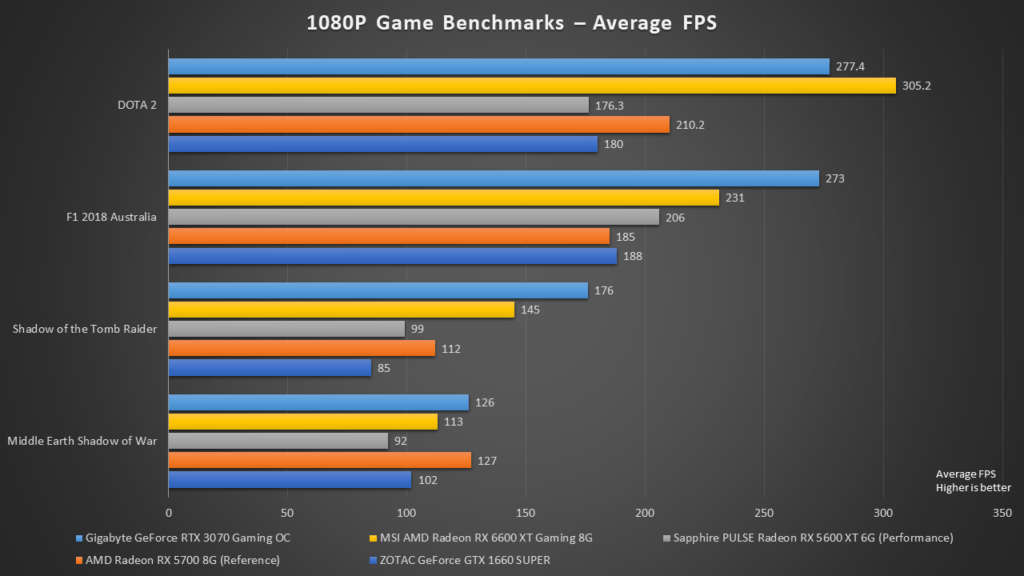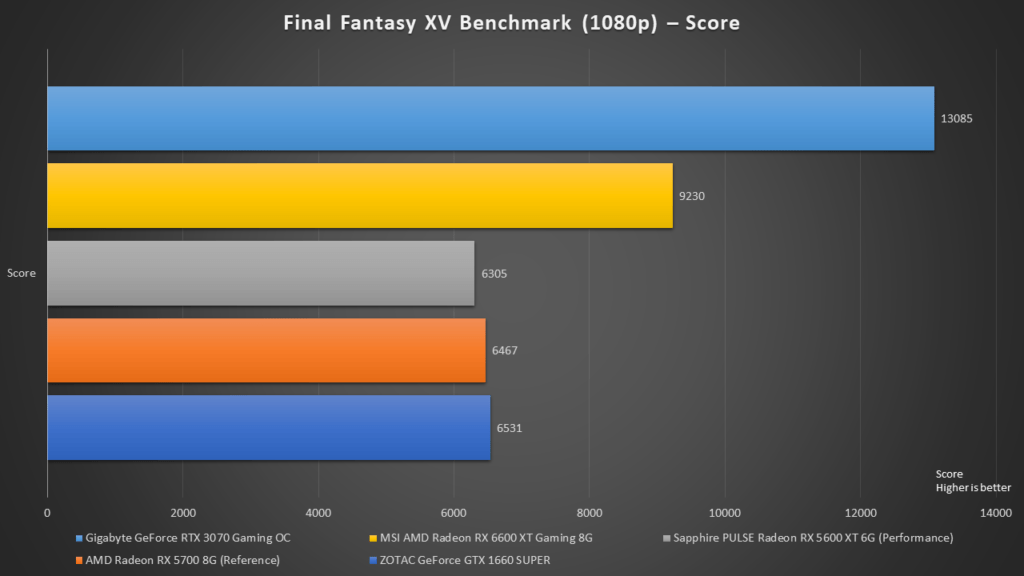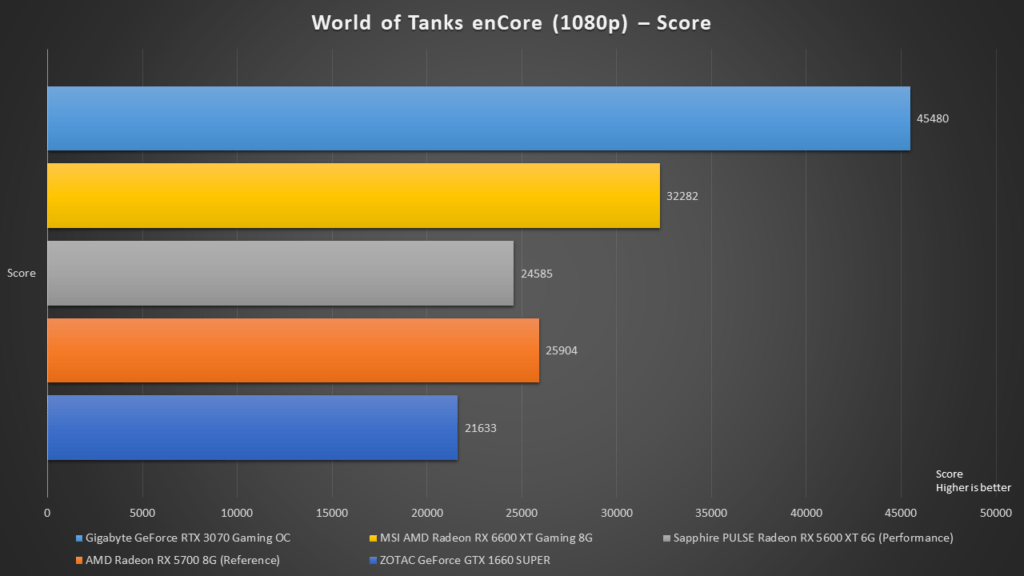 The numbers don't lie. I personally think the MSI AMD Radeon RX 6600 XT Gaming 8G shouldn't be marketed as a 1080p gaming graphics card, as it is a lot more capable than that. In fact, when the Radeon RX 5700 series of graphics cards were launched, they were marketed to be the best 1440p graphics card you can get. The fact that the RX 6600 XT performs much better than the RX 5700, showed us two things (1) the RX 6600 XT is meant to do more than 1080p and (2) AMD's RDNA2 architecture is a great success, that the X6XX series graphics card is so much faster than its previous generation X7XX series graphics cards.
Conclusion
To call the AMD Radeon RX 6600 XT a graphics card built for 1080p is probably not wrong. It performs extremely well at 1080p resolution, so much so that gamers can push their games to the maximum graphics settings and still enjoy very playable frame rates. However, our numbers have shown that the RX 6600 XT is in fact equipped with a very decent graphics processing capabilities to do much more than what it is marketed to do. It performs way pass our expectations of a "1080p gaming graphics card", such as the RX 5600 XT and GTX 1660 SUPER.
Don't be fooled. The MSI AMD Radeon RX 6600 XT has its place in the competition. It's also priced accordingly to its performance level, considering the current pricing of all brand new graphics card out in the market.
Personally, if all you are looking out for is a 1080p graphics card, the RX 6600 XT is likely to be an overkill. You'd be better off with something more affordable because you probably can't absorb the benefits of the RX 6600 XT if all you have is a 1080p display. On the other hand, if what you sought after is a fuss free 1080p setup, and affordability is less of a concern, then the MSI AMD Radeon RX 6600 XT does what it says it does.