With new regulations from governments around the world to promote working from home due to the current pandemic climate, there has been an increasing need for personal computers since last year. This has caused a massive shortage of computer chips around the world, making it even more difficult to get your hands on a new PC.
Normally for professionals, they would have a portable computer for presentations and work on the go, while heavier workloads are left to a more powerful desktop computer at home or at work. However, it's extremely difficult or expensive to get desktop components these days, making it an unrealistic choice for many.
A Notebook for Everyday use – Work, Entertainment and Games
Therefore, the best bet you can have is a new notebook computer that serves both your compute requirements both on the go and at home. What we're looking for is a notebook computer that provides superb performance for your day-to-day applications, as well as a decent graphics card for your gaming and entertainment needs at home. At the same time, since there are chances where the laptop has to be brought around, it still retains much of its portability. Ultimately, the price of the notebook must make sense as well.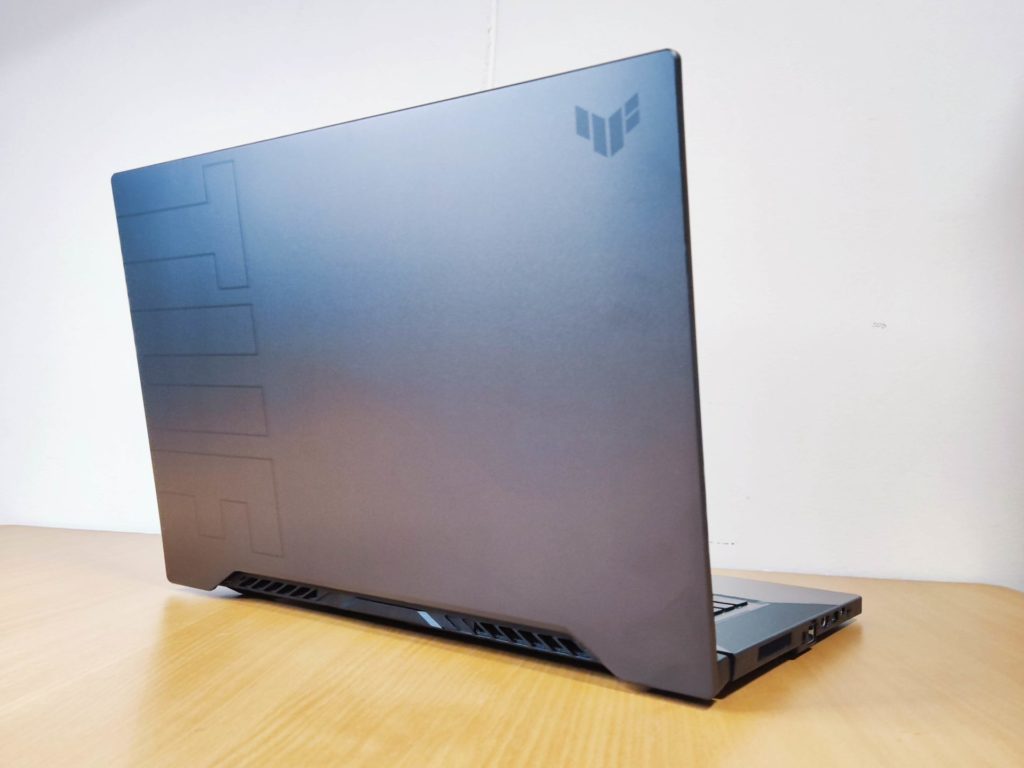 Recently, with the launch of the new 11th Generation Intel Core H-Series processors and NVIDIA's latest GeForce RTX 3050Ti notebook graphics chip, many manufacturers can now suitably release a product that suits the needs of users with the requirements stated above. ASUS has also equipped their latest TUF Dash F15 notebook with these components. With such specifications, this notebook is poised to be an all-rounder compute machine that ticks all our boxes. Let's take a closer look at what the ASUS TUF Dash F15 notebook is all about.
The ASUS TUF Dash F15 Gaming Notebook
If you have been following ASUS's gaming notebook offerings, you will understand that the TUF series is usually positioned to be a series for those who are more budget conscious. Therefore, there are usually some trade-offs on these products so that they can still remain affordable. This time, the new ASUS TUF Dash F15 series has been completely redesigned, and changes the way we think about TUF computers.
General Design and Aesthetic Features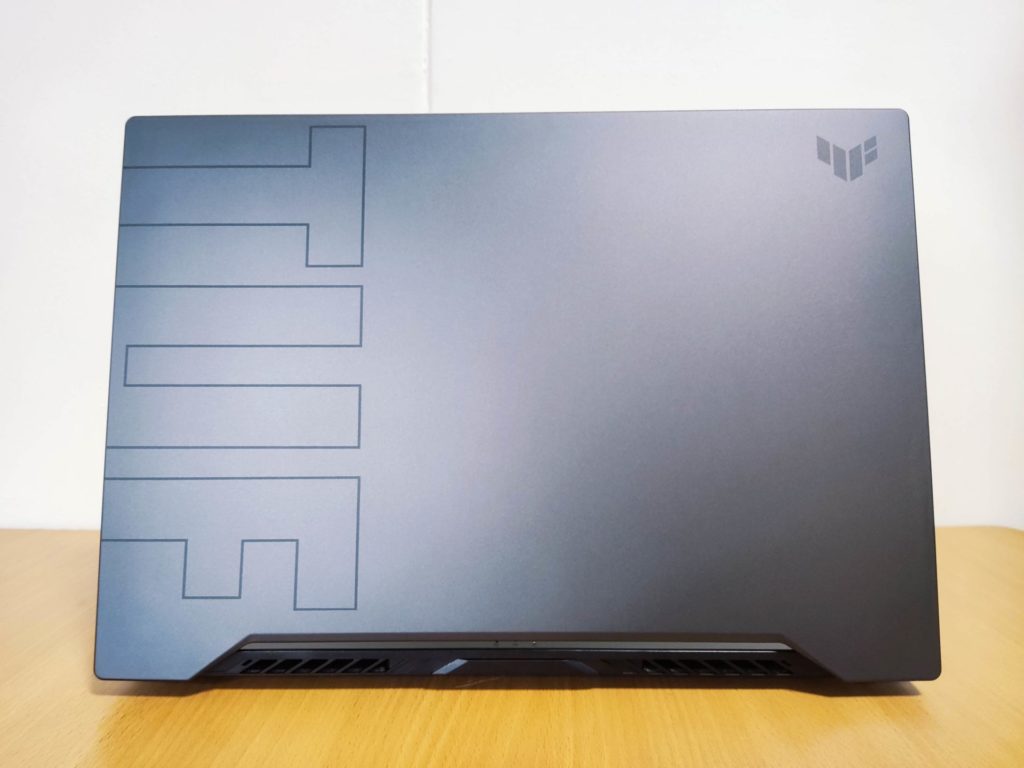 The ASUS TUF Dash F15 notebook spots a more minimal design as compared to usual gaming notebooks, making it suitable for both professionals and gamers. While the TUF motifs and logo on the notebook's cover may be too much for some, overall, the notebook still looks quite modest.
As compared to the TUF Gaming A15 Notebook's style, the ASUS TUF Dash F15 is a lot more toned down. Regardless, as a gaming notebook computer, it still retains some of the "gaming" aspects and details. For example, it has its WASD keys highlighted, so that gamers can quickly identify where to place their fingers on in their games.
Luckily, there aren't any other design patterns or motifs on the palm rest display frame. The keyboard area is also slightly recessed into its body, preventing the display from directly coming into contact with it when the laptop is closed. This prevents grime and dirt from staining the display.
The screen on the TUF Dash F15 also utilizes a thin-bezel design, making the unit look modern and updated to today's notebook's standards.
One of the key things that we've noted that is that the ASUS TUF Dash F15 does not come with a built-in webcam. It's rather a bold move from ASUS, as many consumers do expect a webcam, but we can accept this decision from ASUS. Usually, webcam from notebooks simply doesn't perform that well, and the inclusion of a webcam simply increases the costs of the whole system. Personally, I'd rather use my external webcam when I need it, rather than having an internal webcam and not use most of the time. Of course, in the end, it's really up to your own usage. However, if you wouldn't want to spend more, this would likely be your deal-breaker.
Practical Designs that makes it stand out
ASUS also cleverly designed the heat dissipation system on the TUF Dash F15. The main motherboard and core PC components are placed at the area further away from the palm rest, so that your palms won't feel hot when the notebook is stressed. Also, there are air intake vents at the top and sides of the keyboard to ensure proper ventilation and cooling throughout the whole system. Hot air is also exhausted from the rear of the device, preventing any discomfort from the heat. Such design features on a notebook computer are usually neglected, and users tend to regret only after their purchase. Rest assured that ASUS has properly put some design thoughts onto the TUF Dash F15 to ensure a pleasant usage experience on the notebook.
As for I/O expandability, the left side of the notebook spots a 3.5mm Audio Combo jack, a Thunderbolt 4 USB Type-C port, a USB 3.0 Type-A port, a Gigabit LAN port, full-sized HDMI port and the DC-IN power port. The right-hand side also features two more USB 3.0 Type-A port.
So in terms of connectivity, the ASUS TUF Dash F15 allows you to live a dongle-less life. You probably don't need any dongles to connect the notebook to your external peripherals, as most likely, what you need is already all found on it.
Specifications
Model
FX516PE
Price
$2,198
CPU
Intel® Core™ i7-11370H Processor 3.3 GHz (12M Cache, up to 4.8 GHz, 4 cores)
Display
15.6-inch Non-glare Full HD (1920 x 1080), IPS-level panel

144Hz

Operating system
Windows 10 Home
Graphics
NVIDIA® GeForce® RTX 3050Ti
Memory
16GB 3200MHz DDR4
VRAM
4GB GDDR6
Storage
1TB M.2 NVMe PCIe 3.0 SSD
Wireless
Wi-Fi

Intel Wi-Fi 6 (802.11ax)

Bluetooth®

Bluetooth V5.0

Camera
No Webcam
I/O ports
1 Audio Jack Combo
1 x HDMI
3 x USB 3.2 Gen 1
1 x Thunderbolt 4 Type C Port (also supports charging)
1 x RJ45 LAN
1 x Kensington lock
Battery & Power
76Wh lithium-polymer battery
180W power adapter
Plug Type: ø6 (mm)
(Output voltage : 180W)
(Input : 100~240V AC, 50/60Hz universal)
Colour
Eclipse Grey
Weight
2.0 Kg
Dimension
36.0 x 25.2 x 1.99cm
The ASUS TUF Dash F15 comes with a 180W charging adapter. You can have a good understanding of its size based on the photo below.

A look inside the ASUS TUF Dash F15
It's actually quite easy to maintain the ASUS TUF Dash F15, as it only makes use of the common Phillip screws. After removing all the screws on the bottom side of the laptop, we could easy pry open its cover to have access to the mainboard.

The whole placement of components on the motherboard is quite typical. The main power components, CPU and GPU are all cooled by connecting via heatpipes to the two main heatsinks. There are also two fans which cools the heatsink, pull air from the bottom and sides and exhausting the hot air to the rear.
On the motherboard, we can see that ASUS is using a M.2 NVMe SSD from SK Hynix. It also features the Intel AX201NGW wireless co-processor.
Interestingly, there's still an empty DDR4 RAM slot and PCIe Gen3x4 slot on the mainboard, allowing you to expand both your notebook's memory and storage. We also took note that the memory chips and modules are already soldered onto the motherboard, and is not removable. As our model comes with 16GB of DDR4 3200MHz RAM, it also means that this model is currently running in single channel mode.
Usage Experience
Keyboard
The ASUS TUF Dash F15 features an almost standard-sized keyboard. Thanks to this design, it was very easy to get used to typing on this machine. There is no need to get used to this keyboard layout, as it does not stray from the standard.
Each key on the keyboard feels firm, providing a resolute rebound when pressing on it. This gives an impression of responsiveness, suitable for both games and general work. I also like the fact that there aren't any additional keys on the right side of the keyboard (such as those on Zenbooks) which promotes mistakes. Honestly, we do not need to reinvent the wheel for keyboards and ASUS has done the right thing for the ASUS TUF Dash F15.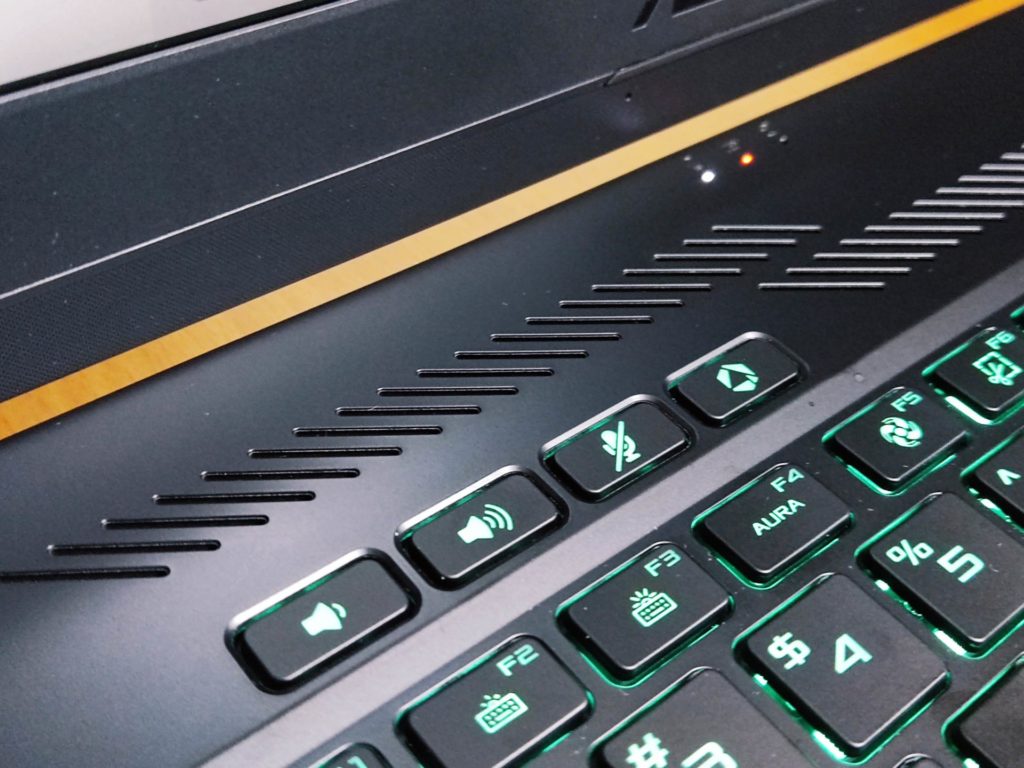 I also appreciate that some of the hotkeys are found on the top side of the keyboard, allowing you to have quick access to commonly used actions such as volume, microphone control and launching of the Armory Crate app. It's a good choice to place these keys there, as it looks like any other multimedia keyboard in the market.
Audio
Based on my first impression, I can feel that the ASUS TUF Dash F15 could provide good spatial audio simulation. In games, it could well define the left and right channel, allowing you to know where the enemies are coming from. However, when talking about the quality of the sounds coming out from the machine, it should be considered as barely average.
When I was listening to music, I felt that the vocals are unimpressive and lacks clarity, as if it's restrained by the speakers. While the speakers try its best to produce sharp and defined highs, which it somewhat does it well, the overall composition of sounds is held down by its disadvantages. The speakers also fail to produce lower frequency sounds in its full form, resulting in poor bass. This is also why your gun shot sounds not as impressive as they are supposed to.
Display
For a start, the ASUS TUF DASH F15 features a IPS-level display, which means that you are going to get great viewing angles. Such display panels also respond faster than panels made from other technologies, and generally has better colour and contrast.
We also liked the display's 144Hz refresh rate, making playing games a lot more responsive and smoother than before on 60Hz panels. It's one of the prerequisites to be defined as a gaming computer these days.
Armory Crate Software
Pre-installed on the ASUS TUF Dash F15 is the Armory Crate utility which can be used to control and customize the notebook's features. We were able to control the notebook's screen color profile, keyboard lighting effect, fan speeds and audio settings on this software. Essentially, it's a consolidation of all the controls and settings you can make on your laptop.
On top of that, there are also interesting features such as enabling of AI noise cancellation on your input and output audio, or application of different hardware settings and profiles for different types of games. The Armory Crate software lets you control how you want the ASUS TUF Dash F15 to perform.
Of course, the software also lets you understand the various status of the laptop's key components. If your drivers for your laptops are outdated, it even prompts you to update the latest drivers to ensure that the ASUS TUF Dash F15 can stay at its top performance, and remain secure and reliable.
Performance and Benchmarks
In our tests, we are going to compare the ASUS TUF Dash F15 with the ASUS TUF Gaming A15 and AORUS 5. You can know about the specifications of each notebooks in their respective reviews.
ASUS TUF Gaming A15 – https://thetechrevolutionist.com/2020/09/asus-tuf-gaming-a15-gaming-notebook-review-amd-ryzen-powered-awesomeness.html
AORUS 5 – https://thetechrevolutionist.com/2020/07/aorus-5-gaming-notebook-review.html
Here are some key differences of these notebooks:
| | | | |
| --- | --- | --- | --- |
|   | ASUS TUF Dash F15 | ASUS TUF Gaming A15 | AORUS 5 |
| CPU | Intel Core i7-11370H | AMD Ryzen 7 4800H | Intel Core i7-10750H |
| No. of CPU Cores / Threads | 4/8 | 8/16 | 6/12 |
| CPU Frequency – Base/Boost | 3.3GHz / 4.8GHz | 2.9GHz / 4.2GHz | 2.6GHz / 5GHz |
| DRAM | 16GB DDR4 3200MHz (Single Channel) | 8GB DDR4 3200MHz (Single Channel) | 16GB DDR4 2666MHz (Dual Channel) |
| Graphics Card | NVIDIA® GeForce® RTX 3050Ti | NVIDIA® GeForce® GTX 1650 | NVIDIA® GeForce® GTX 1660 Ti |
This lineup of gaming notebook should give us a good understanding of where the ASUS TUF Dash F15 stands. We are essentially comparing between different types of CPUs of different number of cores and threads, and even different types of dedicated graphics card.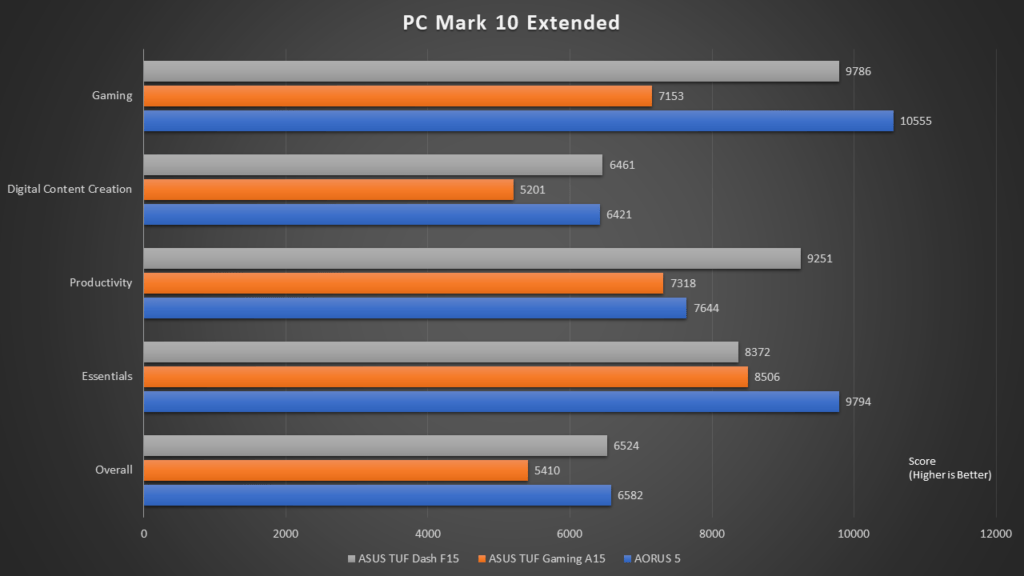 In most of the tests, we can see that the ASUS TUF Dash F15 is faster, if not about the same as the 10th Gen Intel Core i7 H-series processor, even when it has lesser number of cores and threads. Especially in the productivity test, we can see that the ASUS TUF Dash F15 comes out on top.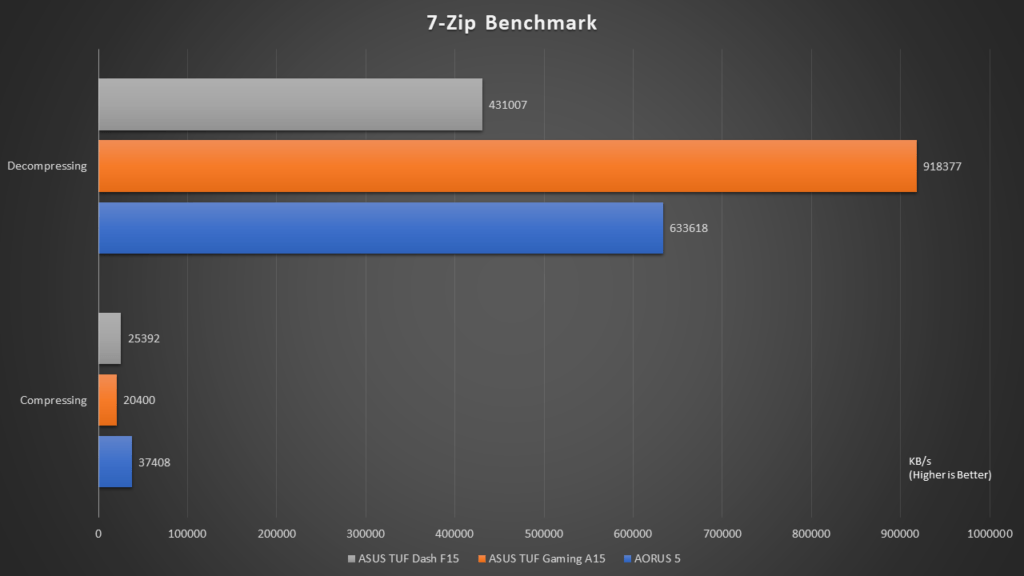 As for the 7-zip benchmark, where its performance usually depends on the number of cores the system has, enabling multi-processor processing, the ASUS TUF Dash F15 then doesn't perform as well.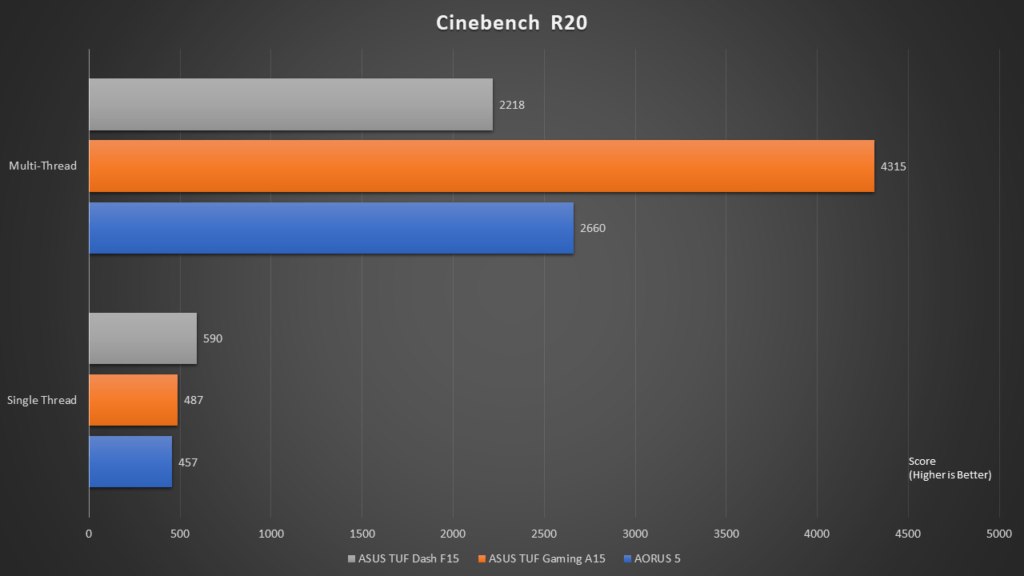 In the measure of CPU performance, the Cinebench R20 test can give us a clear signal. While there is no doubt that the ASUS TUF Dash F15 isn't going to come out on top for the multi-threaded test, it's the single-threaded performance that amazes us. It seems like Intel has definitely worked hard on their latest 11th Gen H-series processor, as its single threaded performance was superb. This also shows how well this laptop can perform when it comes to single-threaded applications. We also do expect that it can work well for games too.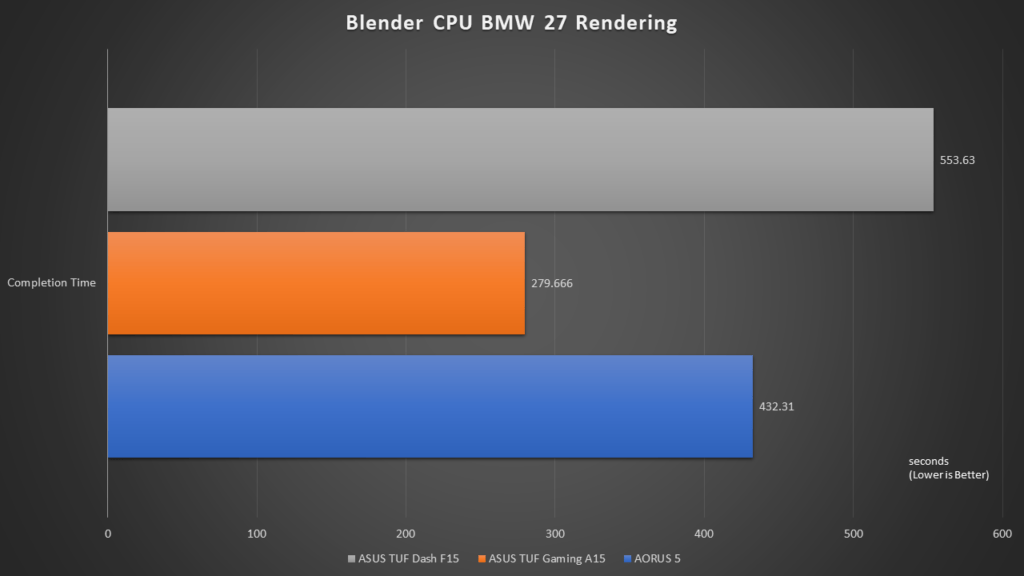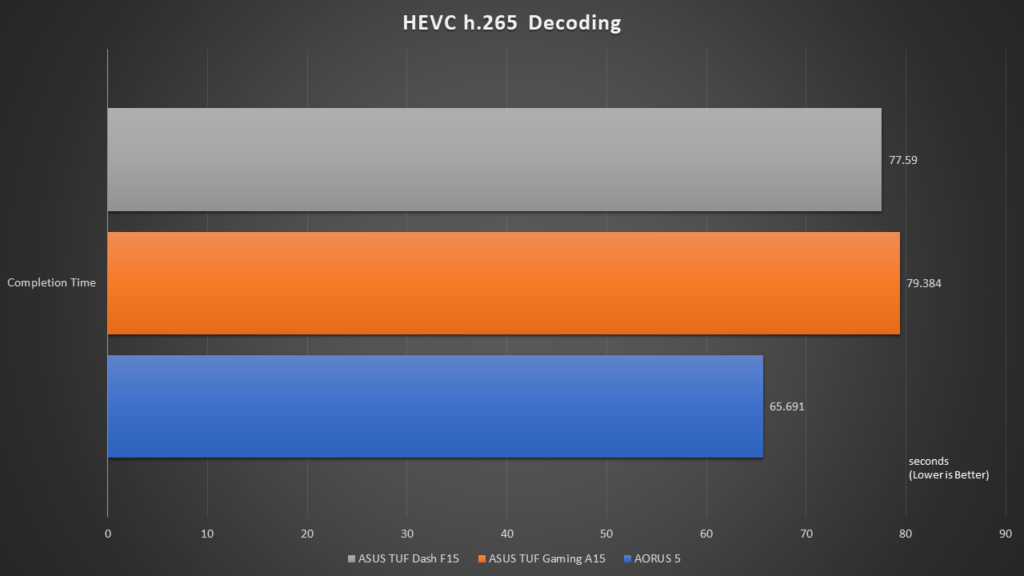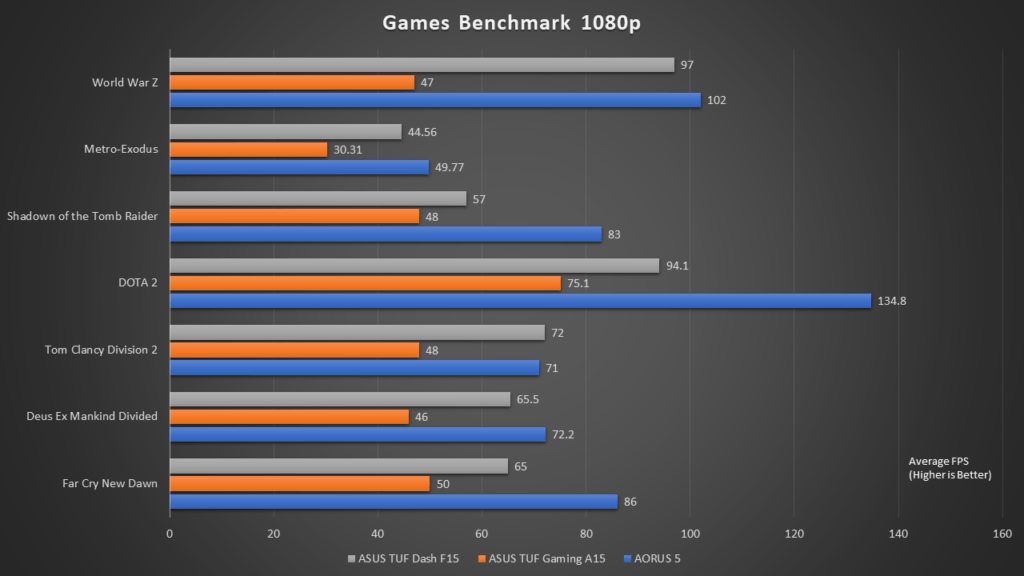 When it comes to games, it seems that the RTX 3050Ti comes close to the performance of the GTX 1660Ti. However, as the CPU also can affect the performance of the notebook when running the game benchmark, we cannot come to a conclusion on how fast each GPU performs. We can only look at the notebooks as a whole, based on their own set of components and specifications.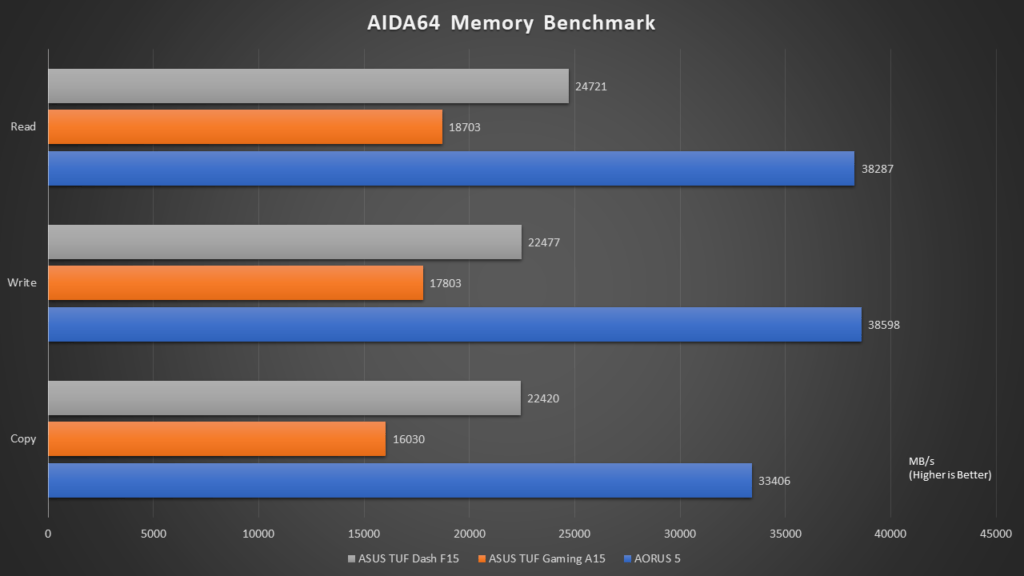 The ASUS TUF Dash F15's memory performance isn't as expected than usual gaming computers. This is because it only comes with a single set of 16GB DDR4 RAM soldered onto the motherboard, running only in single-channel mode. It is expected that if an additional 16GB DDR4 3200MHz RAM is to be added to the system, the system will have an overall performance improvement to all benchmarks.
On a side note, we can also see how much better the 3200MHz DDR4 RAM performs on the ASUS TUF Dash F15 as compared to the ASUS TUF Gaming A15. They are both single channel memory setups. The Intel's latest 11th Gen H-series setup wins over their competition in this case.
Temperature and Battery Life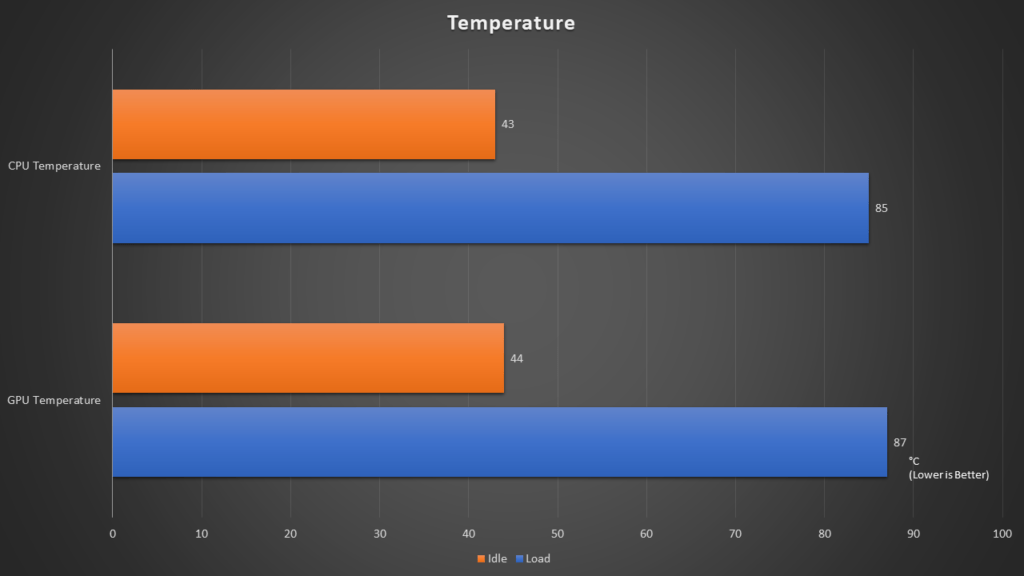 While running our tests to measure the temperature of the system, we saw how well the ASUS TUF Dash F15 was able to keep cool. This has allowed the CPU to run at higher speeds, and there were shorter instances of thermal and power throttling. Generally, these temperatures are adequate for a gaming laptop.

What really stands out on the ASUS TUF Dash F15 is its battery life. Both notebooks in comparison simply can't reach anywhere near to the TUF Dash F15, which managed 10 hours 5 min on the PC Mark 10 Modern Office Battery test. This is thanks to both the large battery capacity on the notebook, and perhaps also improved CPU and GPU manufacturing process which allowed the system to run more efficiently.
Conclusion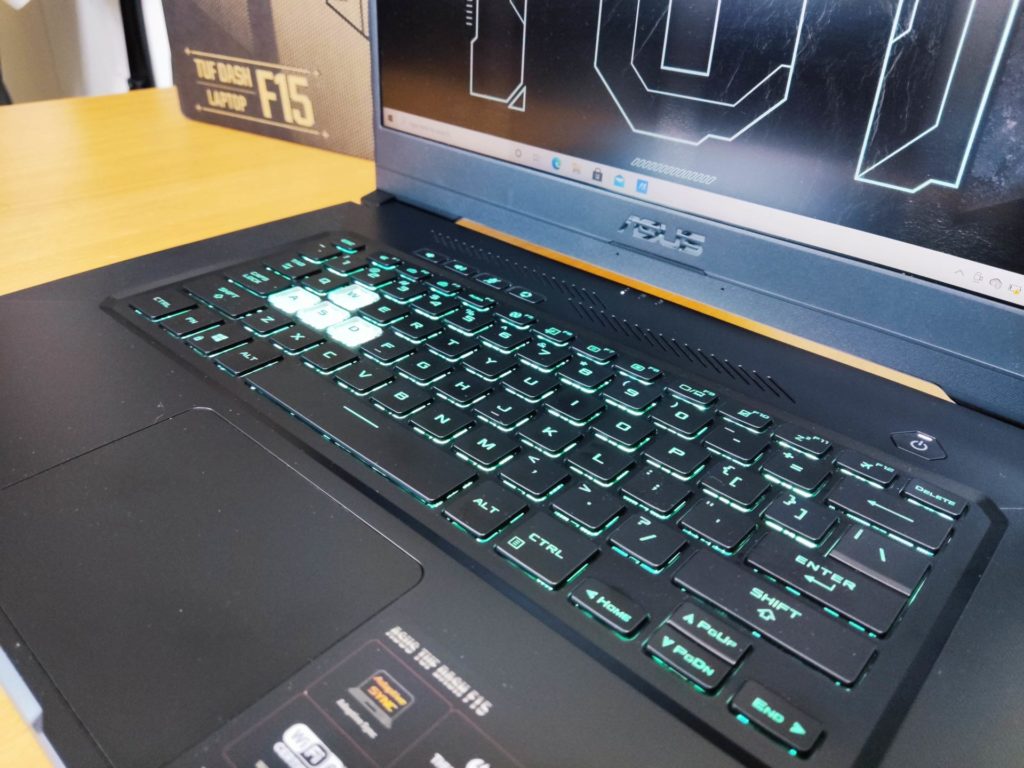 The ASUS TUF Dash F15 has certainly met our key expectations of an all-rounder notebook computer that's suitable for today's work from home environment. It also showcases the improvements to notebook technology with today's latest hardware components, particularly the 11th Gen Intel Core H-series processor and NVIDIA GeForce RTX 3050Ti. Its modernized design with less focus on "gaming" pretentiousness makes it suitable for any kind of usage environment, be it for work or play. It's also considerably portable at 2Kg and even has a decent battery life.
The only gripe we had with this notebook is the lack of a built-in webcam, which is essential for many remote work and learning use cases today.
It's rare to see a notebook computer that strikes a balance between performance, design, portability and price. Our tests and experience have showed us that the ASUS TUF Dash F15 comes close to that at a competitive price point of S$2,198. There is no doubt that you should consider the ASUS TUF Dash F15 if you are looking for a new notebook computer for all your needs.
You can purchase the ASUS TUF Dash F15 from the ASUS SG Online Store.