When choosing a new notebook computer, performance usually isn't the only thing that matters. Those who are always on-the-go would rather have something that's lightweight and portable, even though there may be tradeoffs in terms of performance. That's when the ASUS ZenBook Ultralight comes into the picture, trying its best to strike a great balance between portability and performance.
Don't get me wrong. The ASUS ZenBook 14 Ultralight isn't a gaming notebook computer. What it tries to achieve is to produce the best performance within a 1KG weight limit. When we mean performance, we don't just refer to usual compute performance, but also graphics performance. By taking the advantage of both the new 11th Generation Intel Core processors and NVIDIA GeForce MX450 graphics card, the ideals of a decent day-to-day usage machine has been made within reach.
ZenBook 14 Ultralight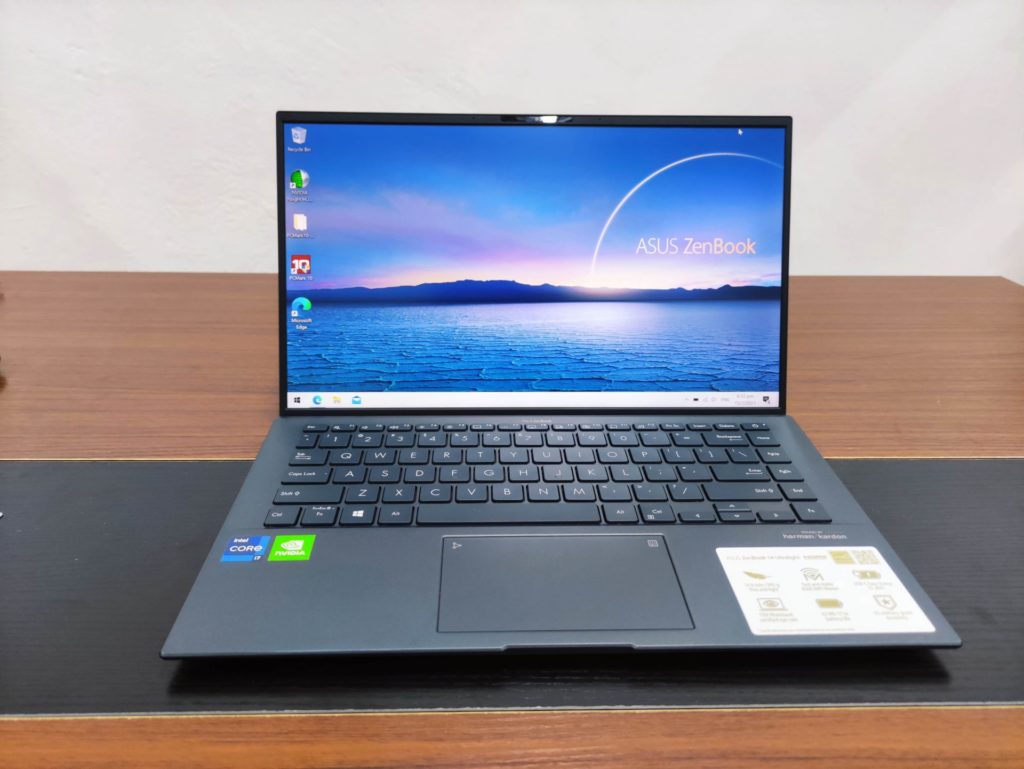 The ASUS ZenBook 14 Ultralight reminds us of the ExpertBook B9450, which was dubbed one of the best thin and light notebooks which we have tested thus far. Even though the ExpertBook B9450 had an impressive battery life for its weight, it wasn't able to perform up to our standards. The ASUS ZenBook 14 Ultralight looks very much like the ExpertBook B9450, but have its processor upgraded and included a dedicated graphics processor. These two changes should be able to remove the weaknesses of the ExpertBook.
As the name suggests, the ZenBook 14 Ultralight only weighs 995g. Despite weighing this light, it still manages to pack in an Intel Core i7 processor, a dedicated NVIDIA GeForce MX450 graphics processor and even a 67Wh capacity battery.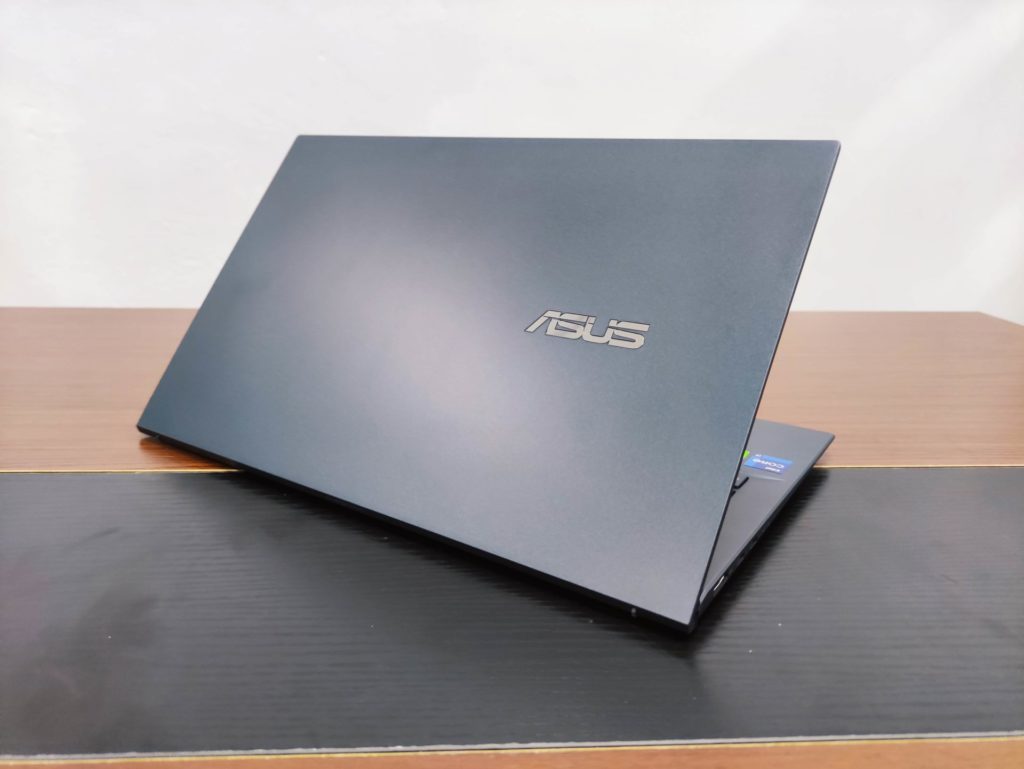 Specifications
Details
Model
ASUS ZenBook 14 Ultralight UX435
CPU
Intel® Core™ i7-1165G7 Processor 2.8 GHz (12M Cache, up to 4.7 GHz, 4 cores)
GPU
Intel® Iris Xe Graphics, NVIDIA® GeForce® MX450
OS
Windows 10 Home
Display
14.0-inch, -, FHD (1920 x 1080) 16:9, IPS-level Panel, Anti-glare display, LED Backlit, 400nits, sRGB: 100%
System Memory
16GB LPDDR4X on board, Memory Max Up to:16GB
Storage
1TB M.2 NVMe™ PCIe® 3.0 SSD – Intel 660p
Audio
Nahimic 3 Enabled
Network
USB-A to RJ45 Gigabit Ethernet Adapter
WiFi 6
Dimensions
31.93 x 20.17 x 1.49 ~ 1.56 cm
Weight
995g
The ASUS ZenBook 14 Ultralight has been specially engineered with the use of a magnesium lithium alloy body, which also explains why it can weigh so light. Magnesium lithium alloys are amongst the lowest density metallic materials. Even though it's light, this material is still very durable and strong, making it very suitable for notebook computers. This is perhaps also why the ZenBook 14 Ultralight can still pass the MIL-STD 810G certifications, which is a United States Military Standard. This means that the ASUS ZenBook 14 Ultralight is even able to withstand drops or bumps and operate in harsh environments. Being able to receive such a certification is also a testament of the benefits of the usage of such materials in notebook computers.
ASUS also designed the ZenBook 14 Ultralight with their signature ErgoLift design. When the laptop lid is closed, the notebook will lay flat on the surface. As the lid opens, the base of the notebook is slightly raised, improving both the ergonomics as well as heat dissipation capabilities. With the base of the notebook raised, the fans found near the end of the notebook can have better airflow, and cool the notebook much effectively.
Also, one of the reasons why the ZenBook notebooks are so popular is because of its minimalist design. There just isn't anything too fancy about the notebook, but its pursuit of perfection in design does give the products a certain image. For example, in order for the notebook to appear sleek, ASUS has pushed the limits to make sure that the bezels on the ZenBook 14 Ultralight as are slim as possible. While aiming for this feature, they did not leave out the usability of the notebook, and still managed to install a Webcam that supports Windows Hello on the unit as well. It's such kind of persistence in perfection that sets the brand apart from competition.
Even though there isn't a lot of expandable options on the ZenBook 14 Ultralight, it's still very usable. Minimally, ASUS has managed to squeeze in a 3.5mm audio combo jack, full-sized HDMI port and USB Type-A port. This should already fit the requirements of most users. In fact, you probably don't need to worry about forgetting to bring your dongles just to get your notebook computer hooked up to a external mouse, projector and headphones. Everything that you need is probably already there.
Furthermore, there are still two Thunderbolt ports on the ZenBook 14 Ultralight as well. If you really need to further connect this notebook to other external peripherals, you can easily do so too. Also, for further storage expansion, the notebook also comes with a MicroSD card expansion slot.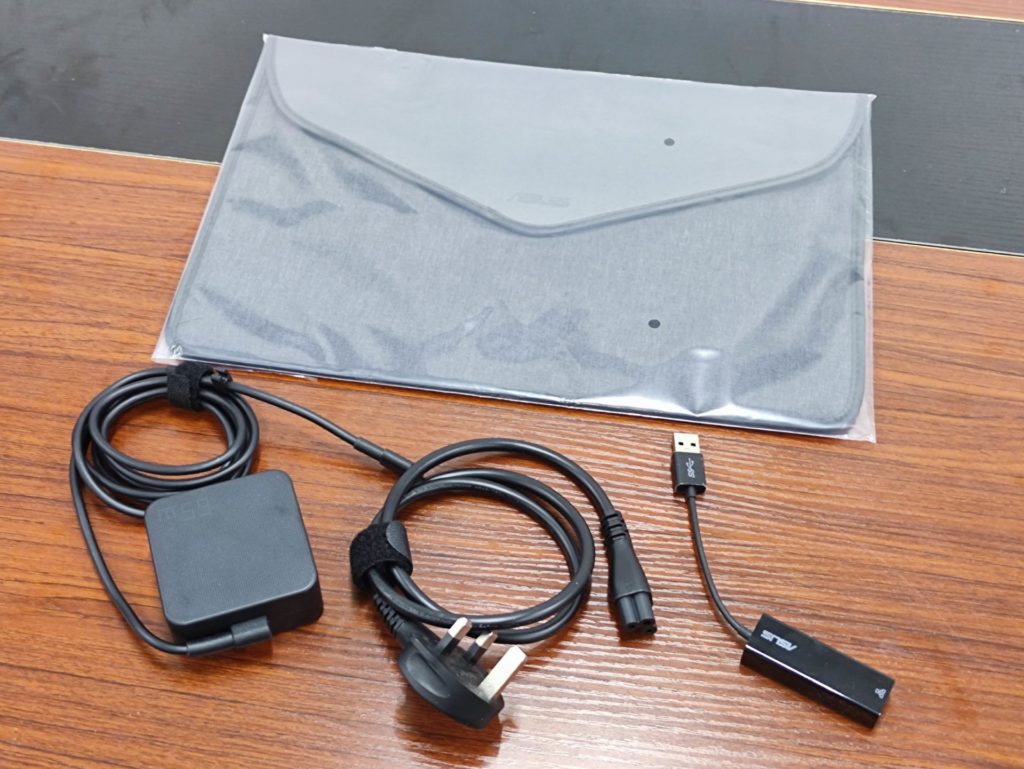 Inside the box, the notebook also comes with a sleeve case, a USB Type-A to Ethernet port and a 65W USB Type-C power adapter.
Usage Experience
After using the ASUS ZenBook 14 Ultralight for a few weeks, I could safely say that it meets my mark as a daily driver. To put things into context, I'm someone who doesn't run a lot of compute intensive applications. Working mainly on just office applications, web-based applications and some light games, the ZenBook 14 Ultralight was able to fully fulfill my needs.
It exceeds my expectations in terms of its battery life and multimedia capabilities. The choice of using a matte surface for its display also makes the notebook suitable for both work and entertainment, and I found the speakers to perform exceptionally well for a notebook of this thinness and size.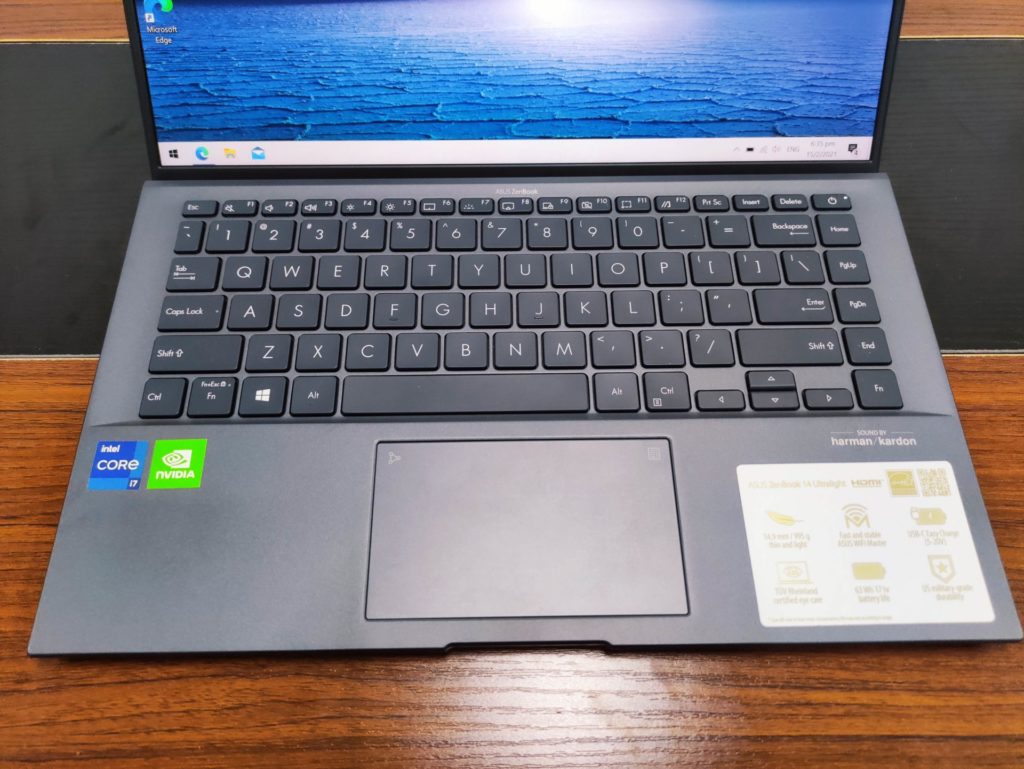 It was also a pleasure typing on this keyboard layout, as I was able to get up to speed fairly easily. However, one thing that I really hate about the keyboard is that I can't understand why ASUS decided to place some rarely used keys on the extreme right side of the notebook. This has caused many mistypes, as for example, most people will look out for the "backspace" or "enter" key on the right end of the keyboard. Instead, they would have accidentally typed on the "page down" or "home" keys instead. Honestly, I would rather that they remove these keys totally, or make use of the function keys to enter these keys instead. Perhaps, with the extra column of space by removing these keys, they could space out or increase the size of each keys to provide an even better typing experience.
I've always liked the Number Pad that comes up on the trackpad. It adds a lot of convenience when using applications like excel or even the calculator. It's probably the best implementation of a number pad with limited space.
Test Setup and Performance
Settings
Remarks
PC Mark 10 Extended
Default
–
HEVC h.265 Encoding/Decoding
Default
–
Blender CPU BMW27
Default
–
Cinebench R20
Default
–
AIDA64
Default
–
Game Settings
Far Cry New Dawn
High
DirectX11
Deus Ex Mankind Divided
High
DirectX12
Tom Clancy Division 2
High
DirectX11
DOTA 2
Default
DirectX11
Shadow of the Tomb Raider
High
DirectX12
Metro – Exodus
High
DirectX12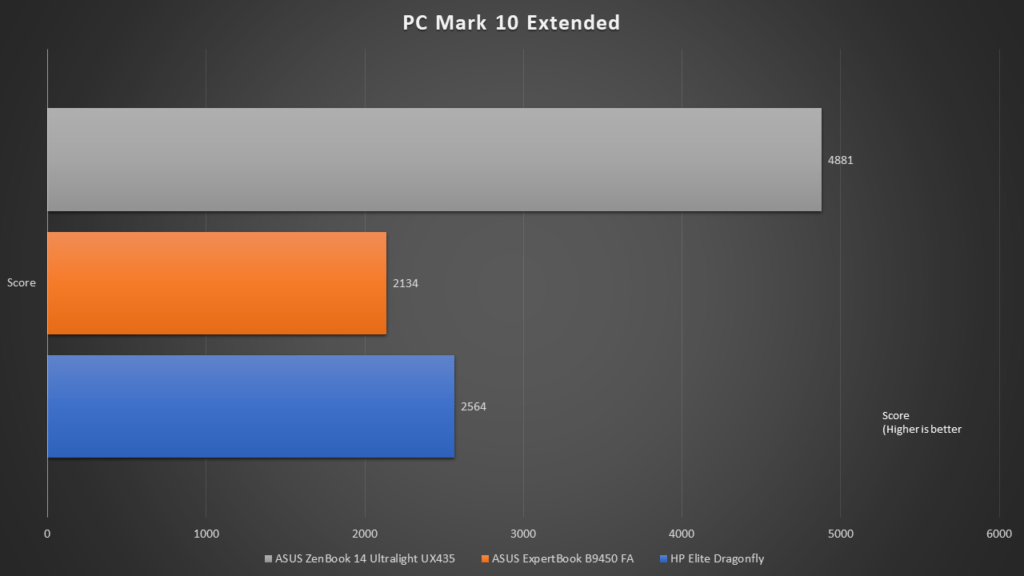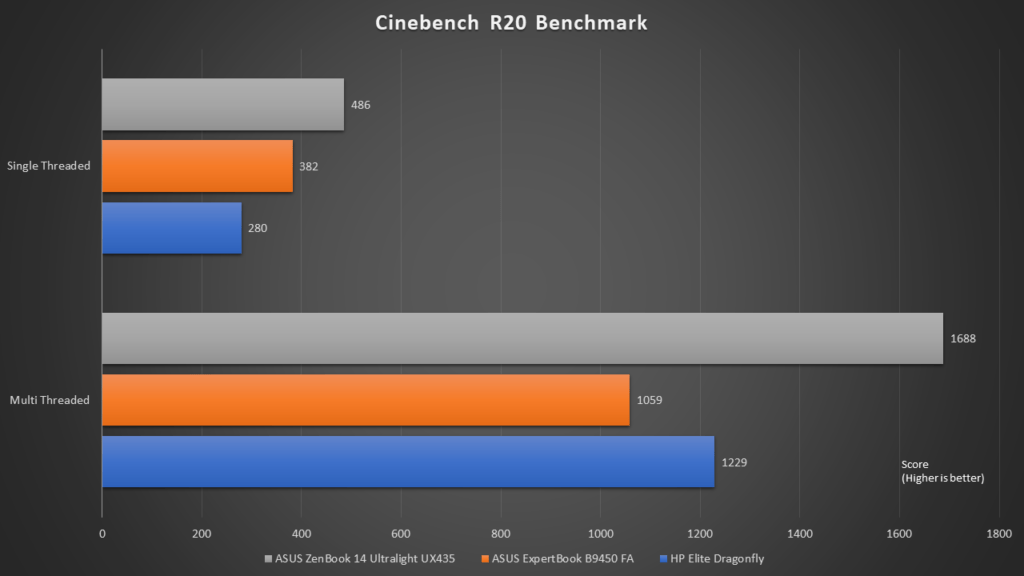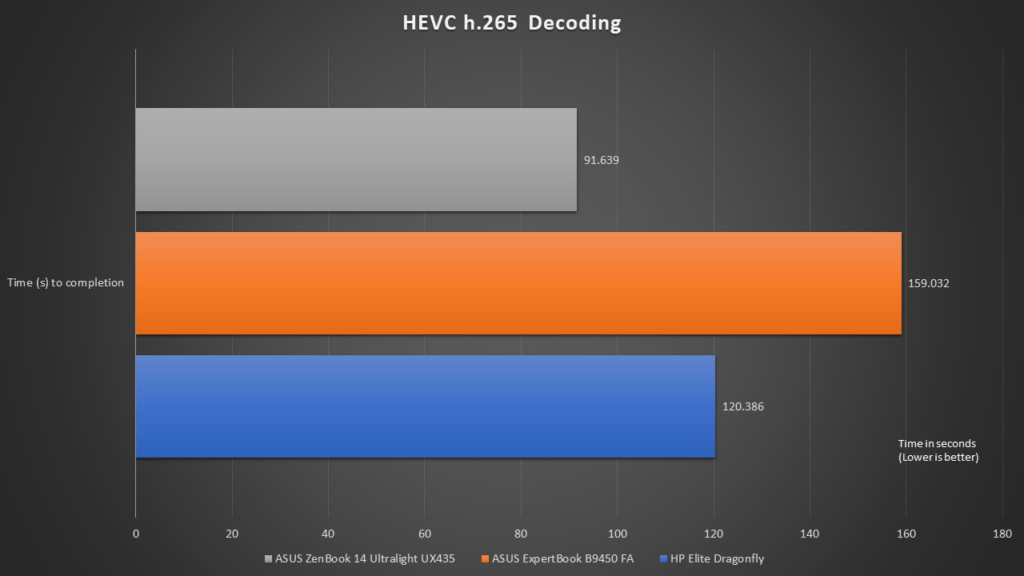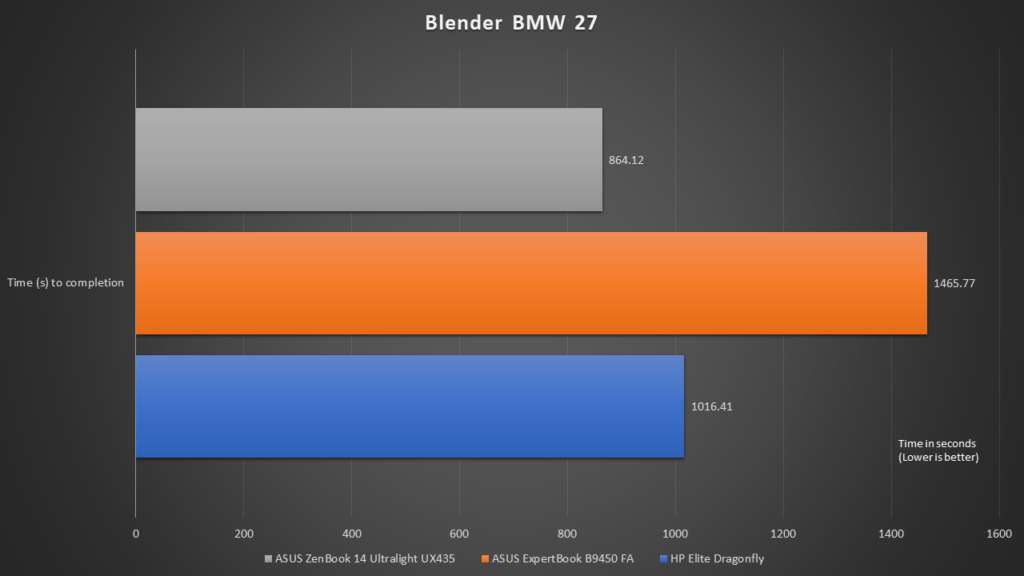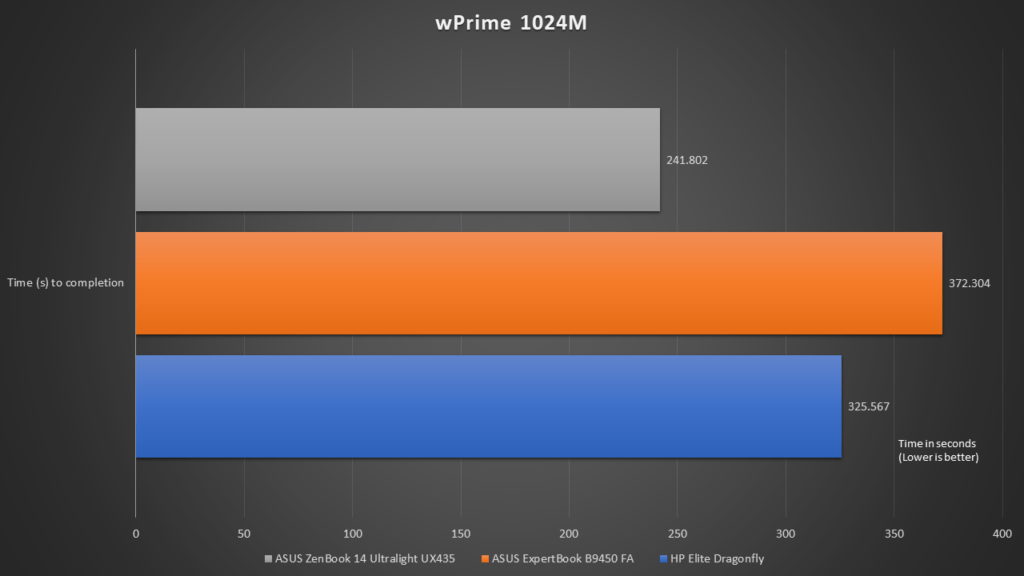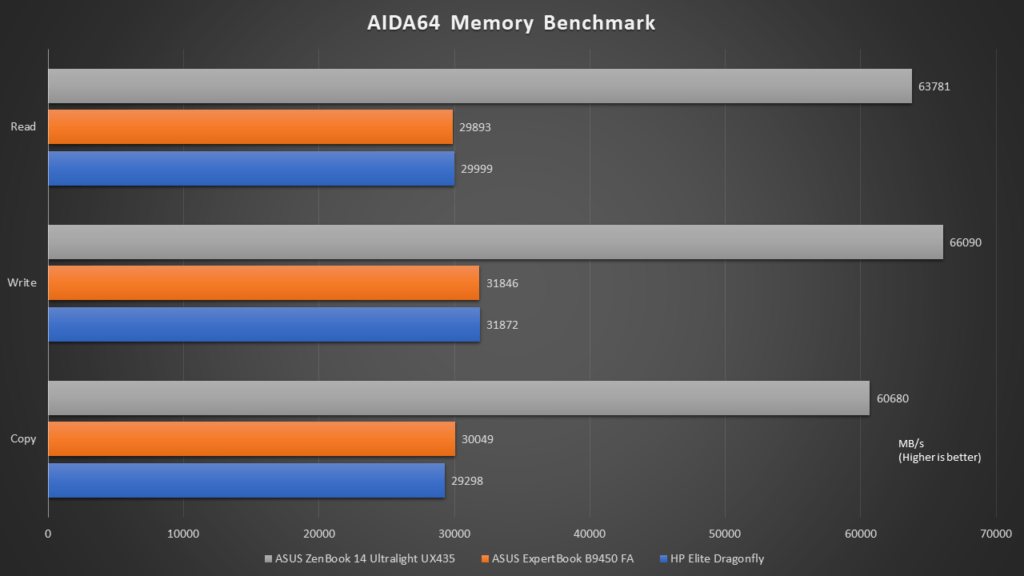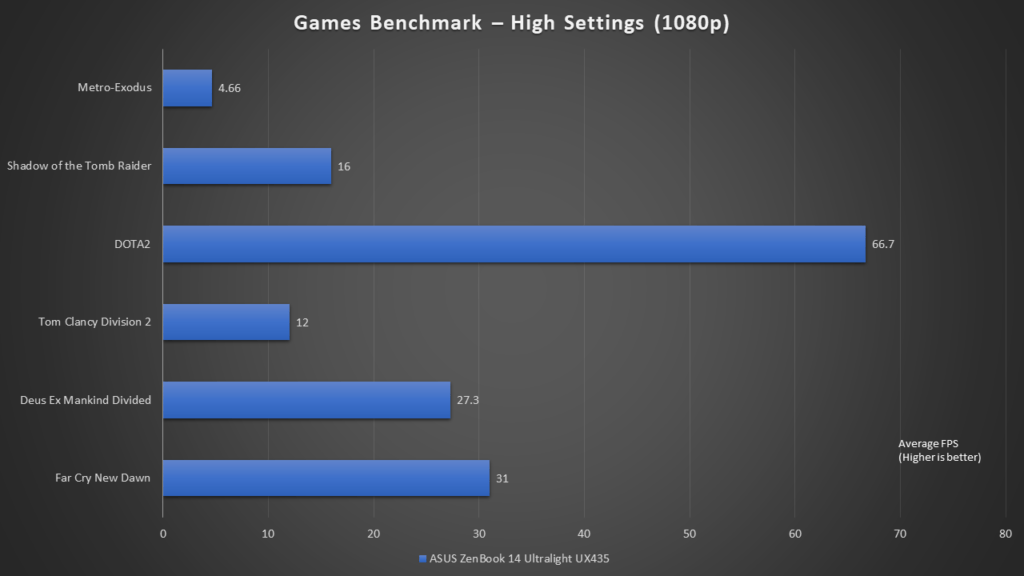 With much improved hardware components and better thermal management, the ASUS ZenBook 14 Ultralight UX435 was able to outperform the ASUS ExpertBook B9450, but is also another sub-1KG ultra lightweight notebook computer. Also, thanks to the NVIDIA GeForce MX450 dedicated graphics processor on this notebook, it was also able to run some games at decent speeds. While most of the AAA 3D games still can't be played at a decent framerate at high settings, it could still be playable at lower settings. Well, at least you can minimally run these games without them crashing!
Temperature
While stress testing the CPU of the ASUS ZenBook 14 Ultralight with Intel Burn Test, we saw the Intel Core i7 1165G7 spiked up to a temperature of 92 degree Celsius once the test started, up from an idle temperature of 50 degree Celsius. This really showed that the lack of a decent cooling solution like that found on larger notebook computers. We can't complain too much, as it's a tradeoff that must be made to ensure the notebook's light weight and thin form factor.
In this scenario, the CPU had no choice but to thermal throttle. The temperature then stabilized at 72 degree Celsius.
Battery Life
The ASUS ZenBook 14 Ultralight also performed rather well with a battery life of 9 hours 42 minutes on the PC Mark 10 Battery – Modern Office Test. It's more than enough for us to continuously use this laptop throughout the day, and we have no complains for it at all.
Conclusion
The ASUS ZenBook 14 Ultralight managed to attain a sweet spot between performance and portability. Thanks to it being equipped with the latest hardware components, it was able to improve on previously shortcomings, such as those found on the ASUS ExpertBook B9450, and excel in what it wants to be.
If you ask me if the ASUS ZenBook 14 Ultralight could be my everyday laptop, I would confidently nod my head. However, we must also put it out there to say that it's probably not as affordable as other ZenBook models that are just a few hundred grams heavier. At a price of S$2398, you will probably have to think twice before making your purchase. But if weight is all what you care about, there's nothing that comes near to the ZenBook 14 Ultralight in terms of its performance and practicality.