Western Digital has recently released their new WD_BLACK SN850 SSD in Singapore. As the successor of the WD_BLACK SN750, the SN850 is designed to offer even better performance for PC gamers and enthusiasts.
In our review of the WD_BLACK SN750, we wished for a new PCIe Gen4 based SSD from WD. Our wish has been fulfilled, as the WD_BLACK SN850 is the brand's first PCIe Gen4 SSD. Even though they were considered rather late in the game, they have taken the learnings from the early PCIe Gen4 SSD products and put them to their advantage to design the new WD_BLACK SN850
WD's confidence in their the WD_BLACK SN850 allowed them to market this new SSD as "Irrationally Fast. Impossibly Real". Rather arrogant, but let's see if their claims are justified.
WD_BLACK SN850 NVMe SSD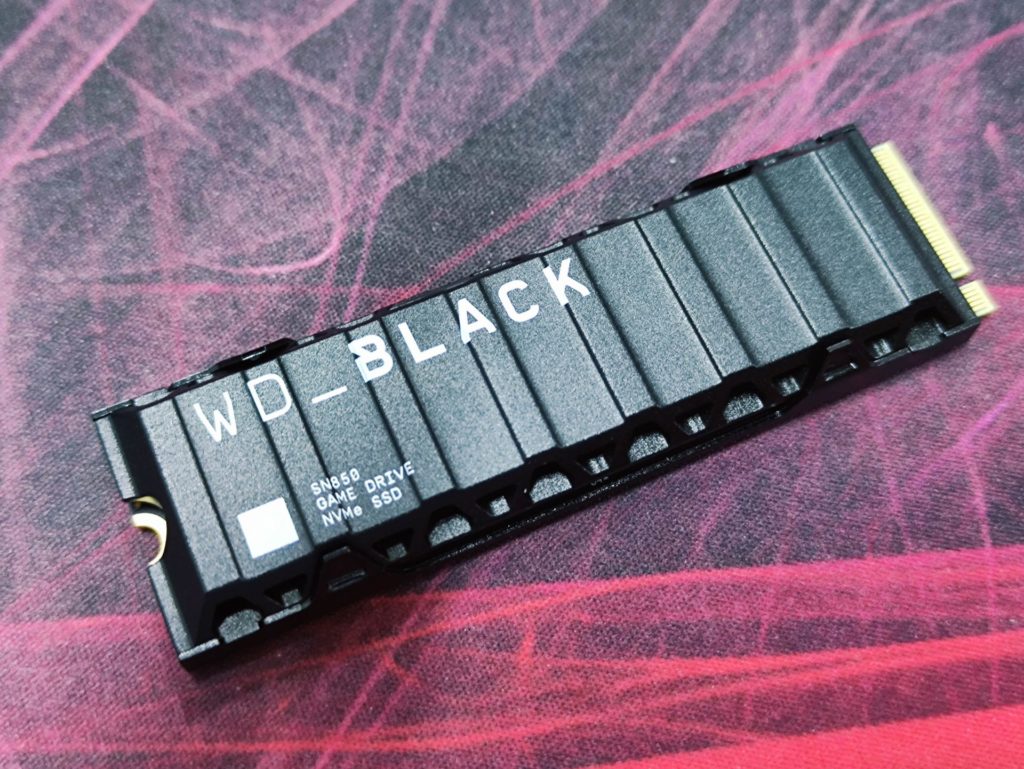 The WD_BLACK SN850 is branded to be a Game Drive because of its focus on performance. There are two versions of this SSD, one that comes with a heatsink and one that doesn't. The WD_BLACK SN850 is also available in three capacities, namely 500GB, 1TB and 2TB.
Our WD_BLACK SN850 for review today is one that comes with a heatsink and has 1TB of capacity.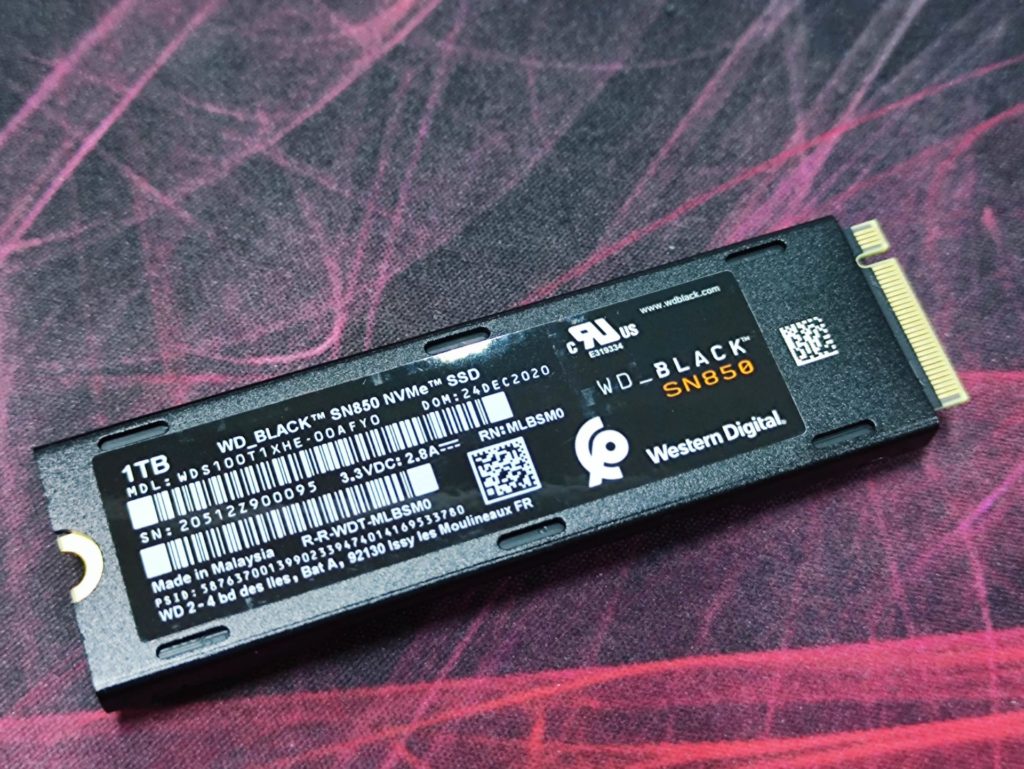 The WD_BLACK SN850 Heatsink version ensures that the drive can reach its peak performance without thermal throttling. Even though the heatsink is removable, WD recommends that it should not be removed, as it may damage the components on the PCB. Even though we would really like to take a look under the hoods, it wasn't so straightforward to remove the heatsink. Therefore, we decided to just focus our efforts in this review on the drive's performance.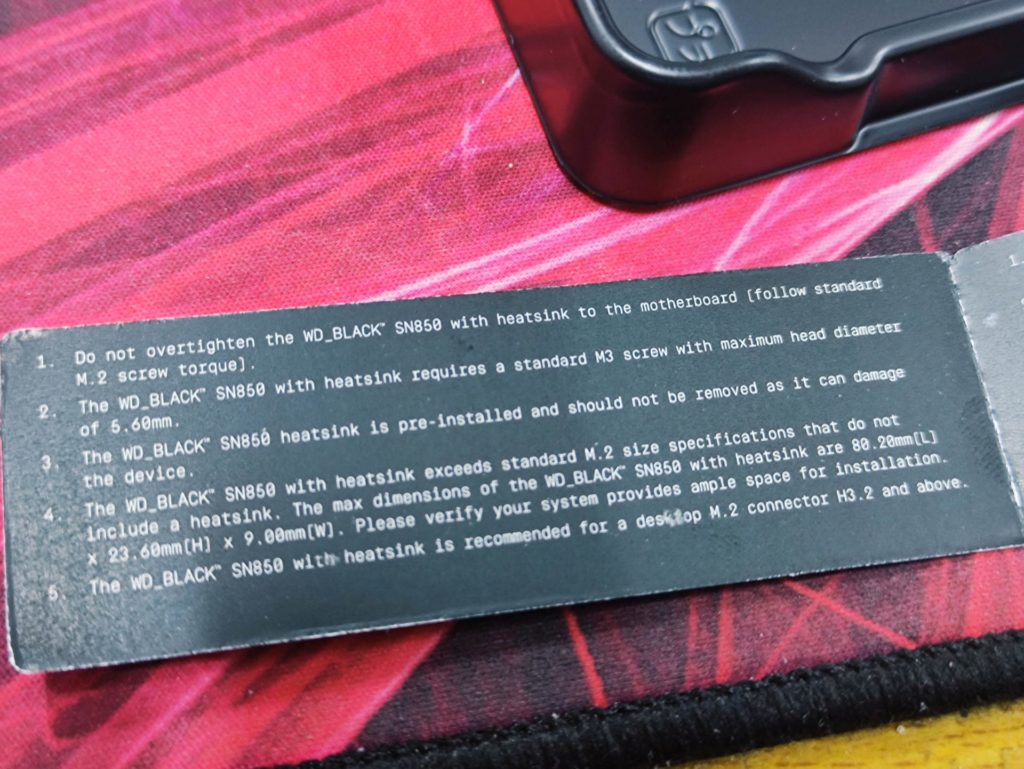 Also, do also take note that the SN850 with heatsink exceeds the standard M.2 size specifications. This means that the drive with heatsink will definitely not fit in your laptops, as it is meant to be used in a desktop computer. Most definitely, please do make proper planning and considerations before purchasing this drive. Make sure that this drive is compatible and will fit your current system.
| | |
| --- | --- |
| Brand | Western Digital |
| Model | WD_Black SN850 |
| Capacity | 1TB |
| Interface | PCIe Gen4 x4 |
| Dimensions | 3.15″ x 0.92″ x 0.35″ |
| Sequential Read Performance | 7000MB/s |
| Sequential Write Performance | 5300MB/s |
Installation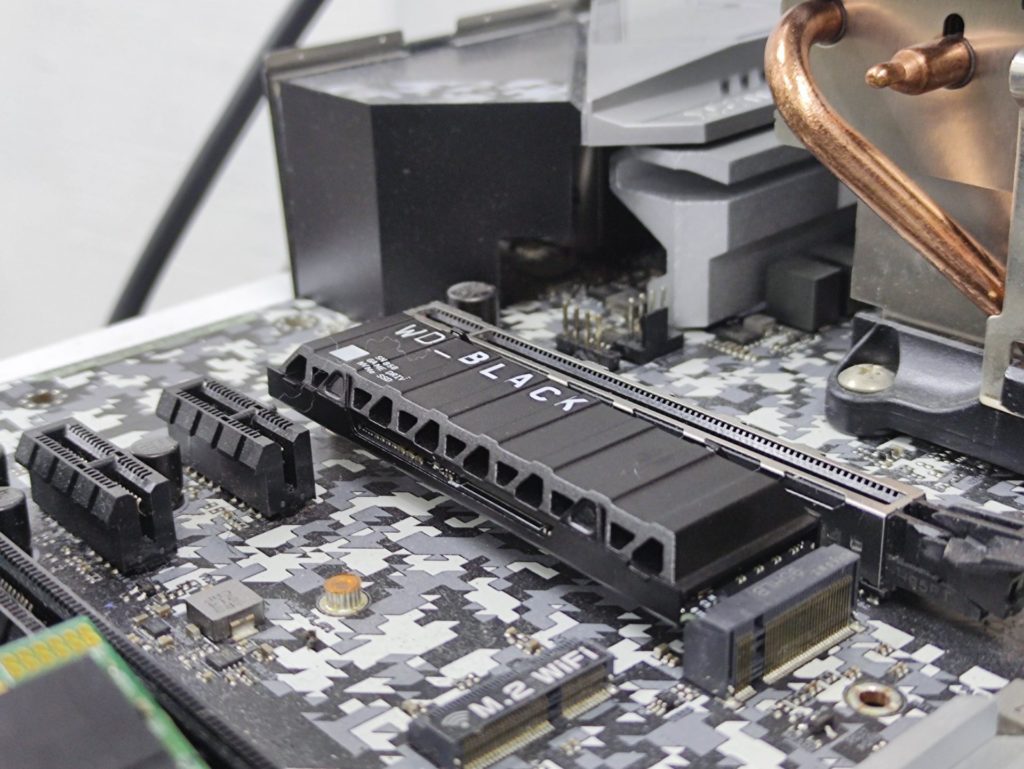 We installed the WD_BLACK SN850 on our ASRock X570 Steel Legend Motherboard. In fact, we could have just gone ahead with a non-heatsink version, as our motherboard already comes with a heatsink for the M.2 SSD. But for the sake of this test, let's just assume that the motherboard does not come with such a feature.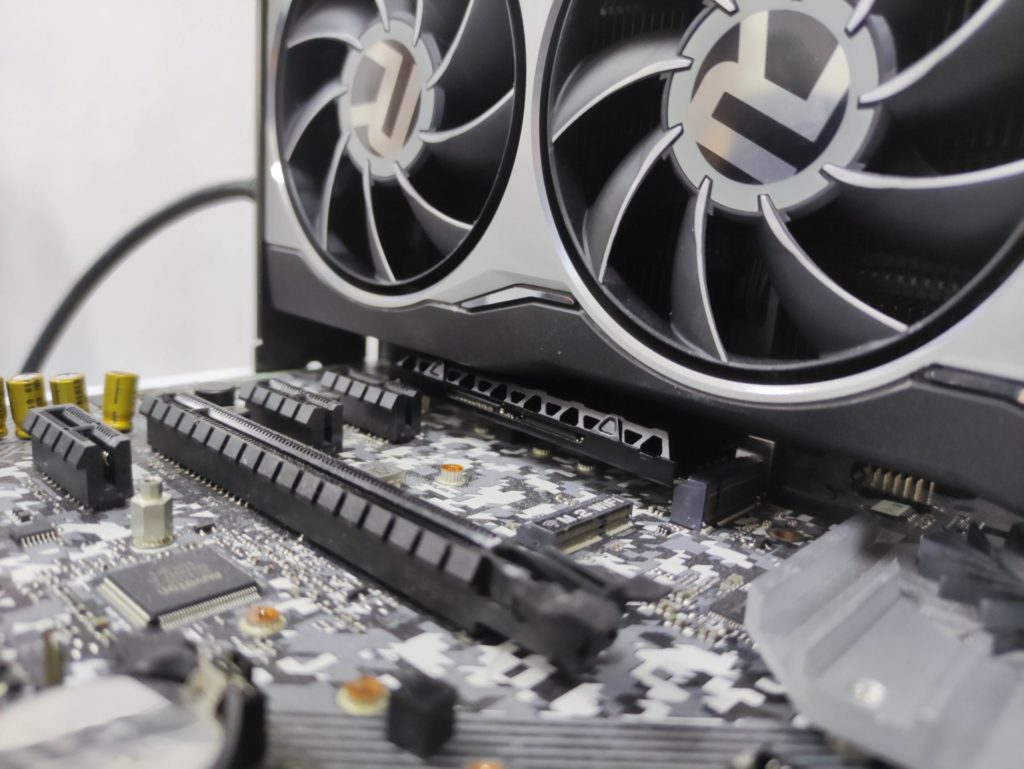 After placing the SSD in the M.2 slot, we saw that the height of the heatsink extends over the height of the PCIe expansion slot. This could possibly make multi-slot expansion cards, such as the Graphics Card to be incompatible. However, after fitting our graphics card onto the motherboard, we concluded that it wasn't a concern at all, and our graphics card works just fine.
The only area which we saw lacking in the design of the WD_BLACK SN850 is that its RGB lighting that is placed at the top portion of the drive. This means that in a setup like ours, the RGB LED that's on the drive will be fully covered.
To show you how the RGB LED appears, we've changed the drive to another slot instead. There's nothing too fancy about this lighting. We can appreciate this feature, but as it serves no practical purposes, we thought that it's perhaps better off without it.
Western Digital Dashboard
Comparing the Western Digital Dashboard to other SSD management software from other vendors, we have to say that this utility suite is much more comprehensive. Basically, all the SSD management tools and software you need are already all included in this utility suite. You can manage the drive's temperature, health, usage in a very straightforward view. Other useful utilities, such as secure SSD erase, firmware upgrade or even SSD specific settings such as TRIM or Write-Cache are all found in this software.
What's more interesting is that even non Western Digital SSDs can also be managed as well. It's just that certain features that are unique to the WD SSDs will not be available.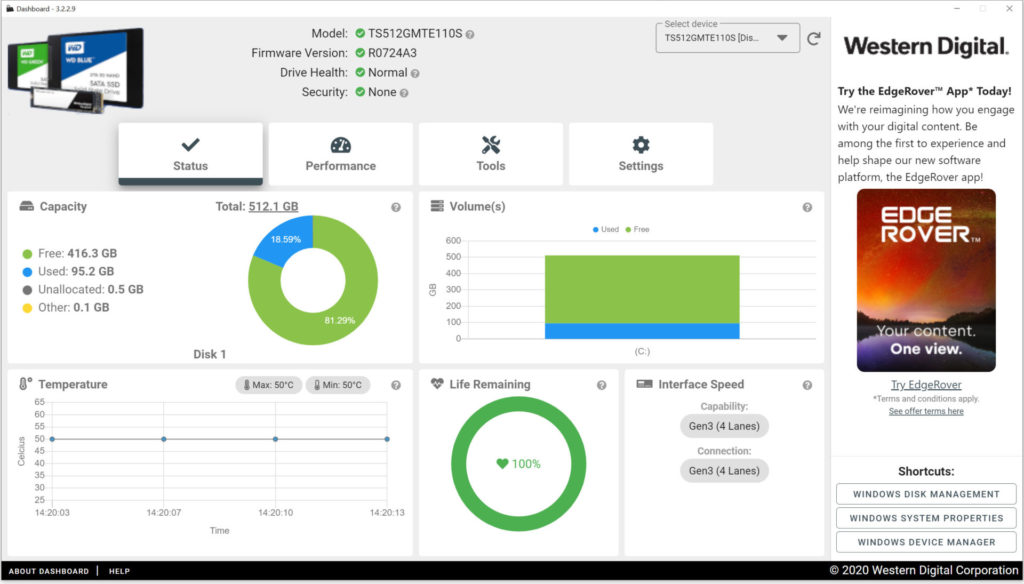 You can also make use of the WD Dashboard to control the RGB LED lighting on the WD_BLACK SN850. Currently, there are 3 effects available for your customization. The software is also compatible with Razer Chrome RGB for RGB synchronization.
Test Setup and Performance Results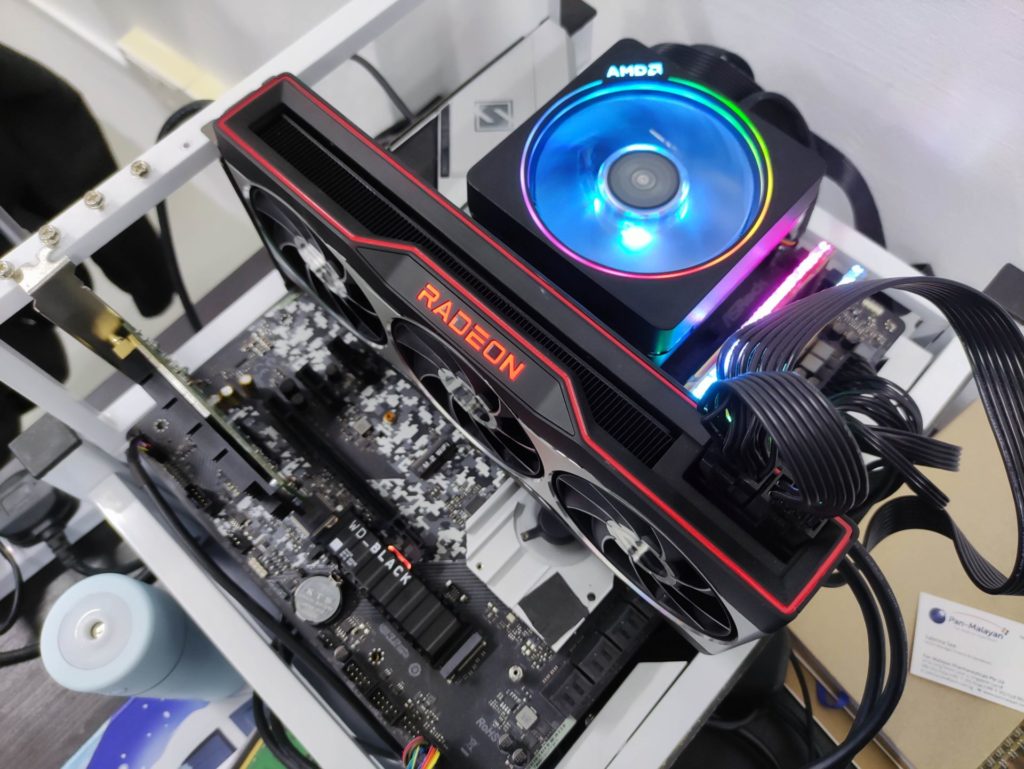 Specs
Main System
CPU
AMD Ryzen 9 5900X
RAM
G.Skill Trident Z Royal 3600MHz, 2 x 8GB DDR4 Kit
Main Storage
Transcend SSD230S 512GB
Test SSD : WD Black SN850 1TB
GPU
AMD Radeon RX 6800
Motherboard
ASRock X570 Steel Legend
CPU Cooler
AMD Wraith Spire Cooler
OS
Windows 10 Pro 64 bit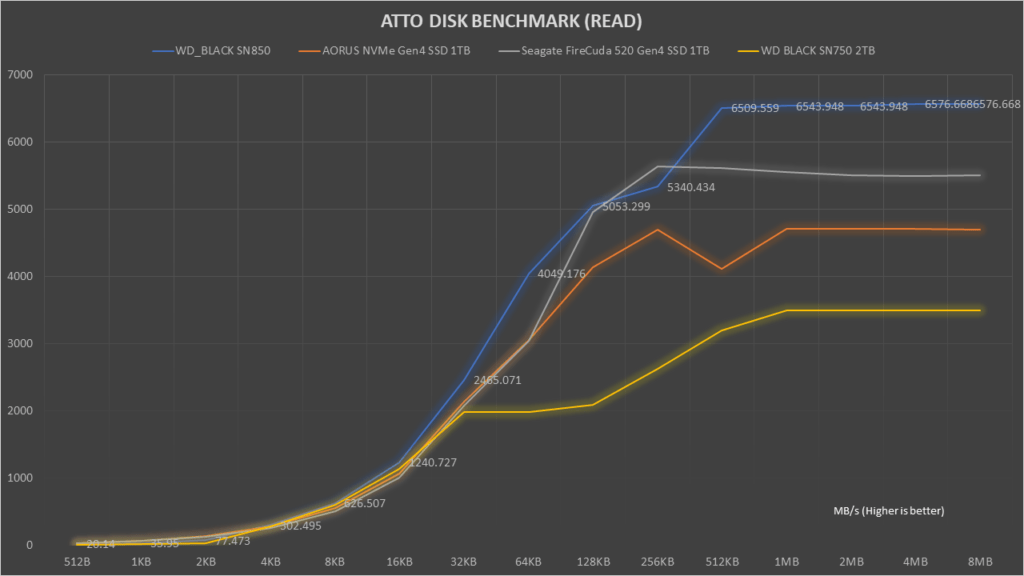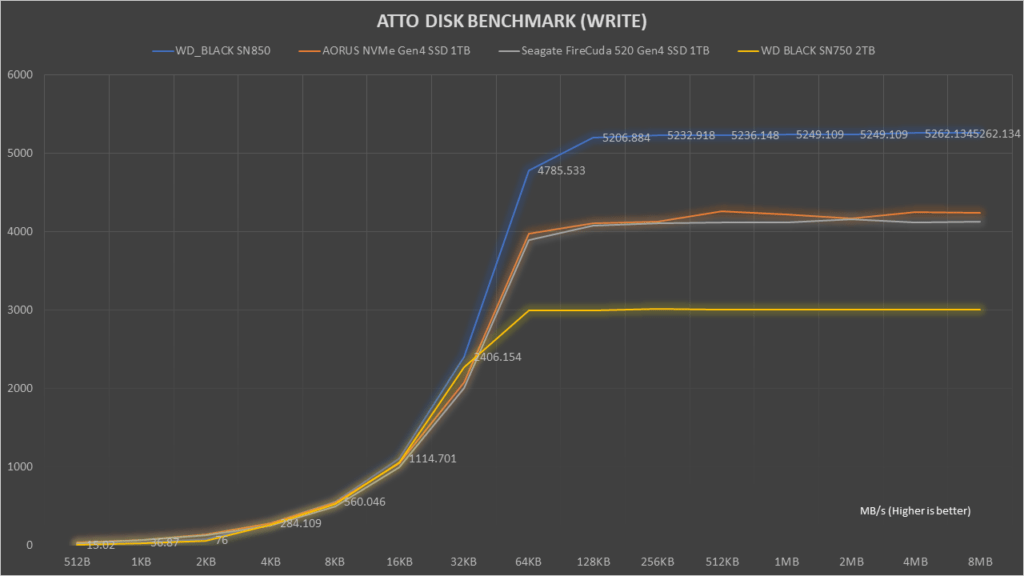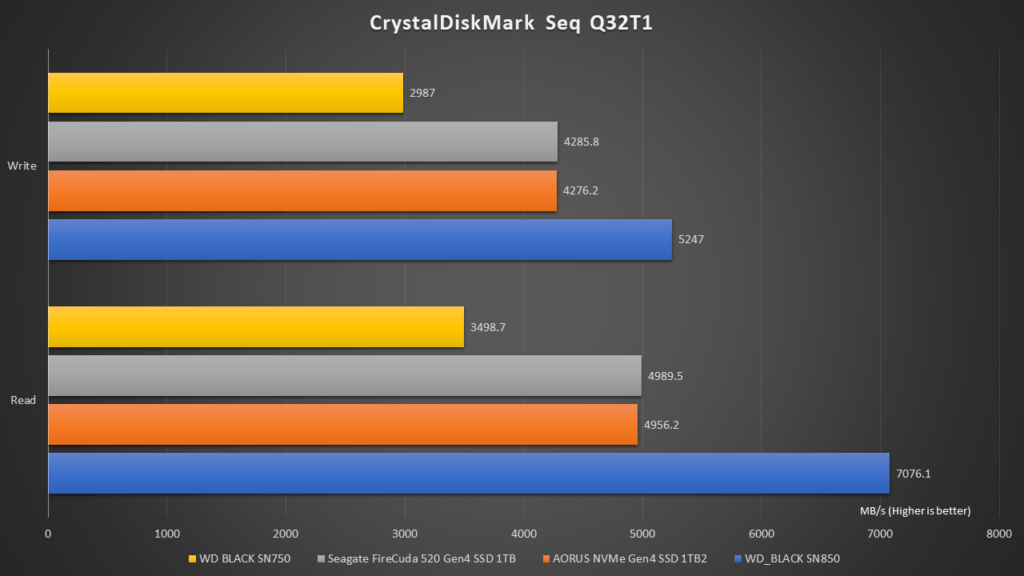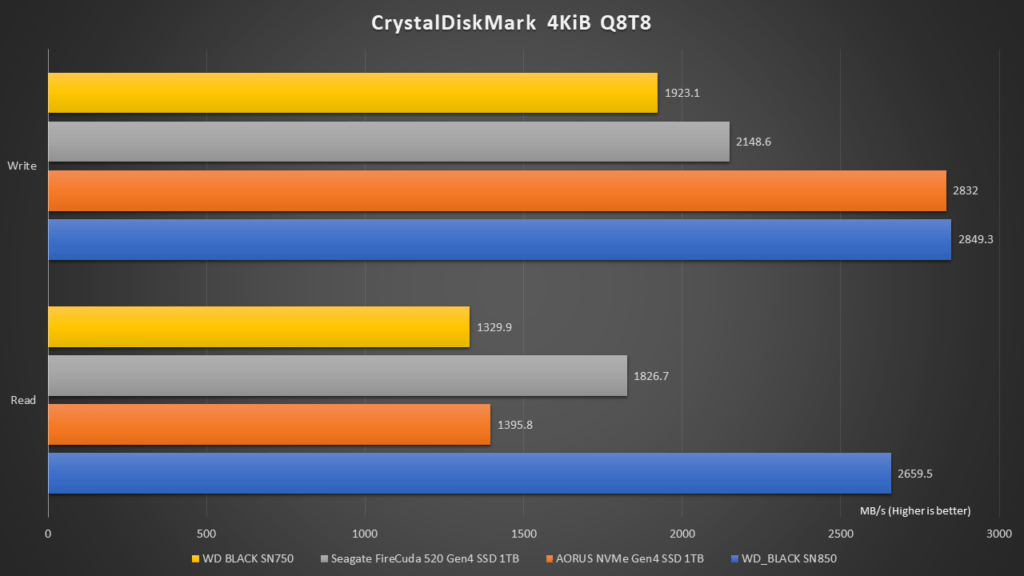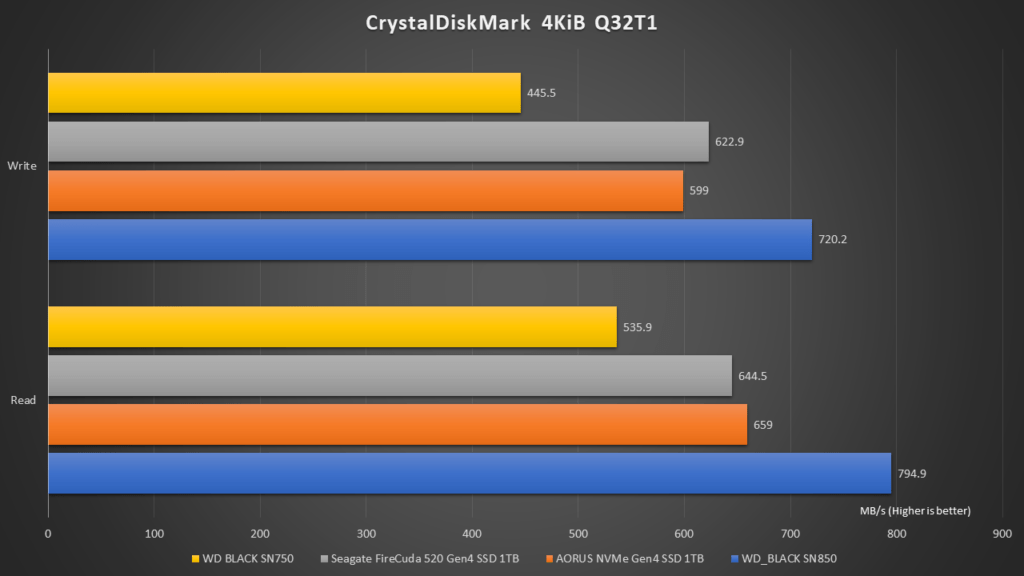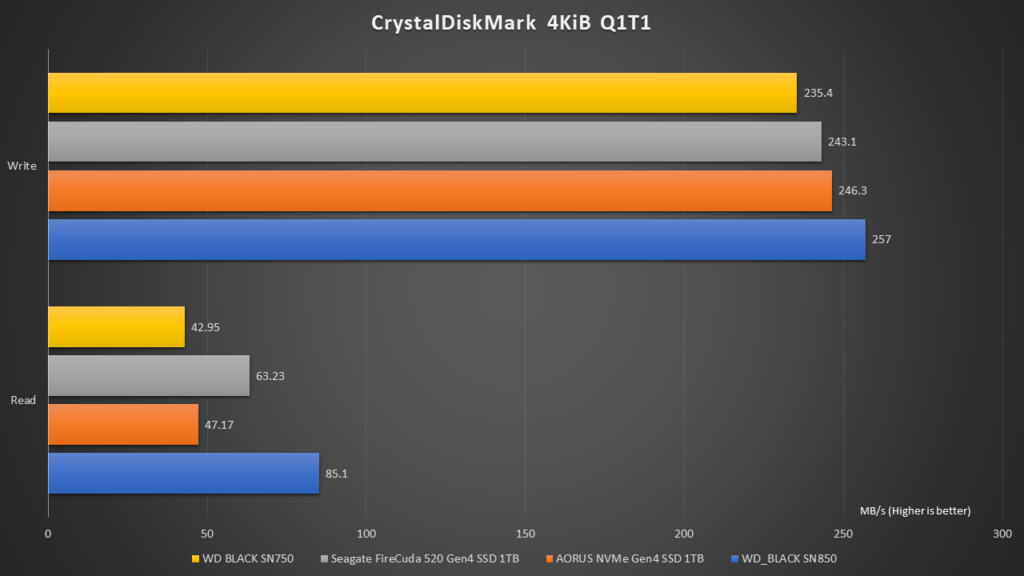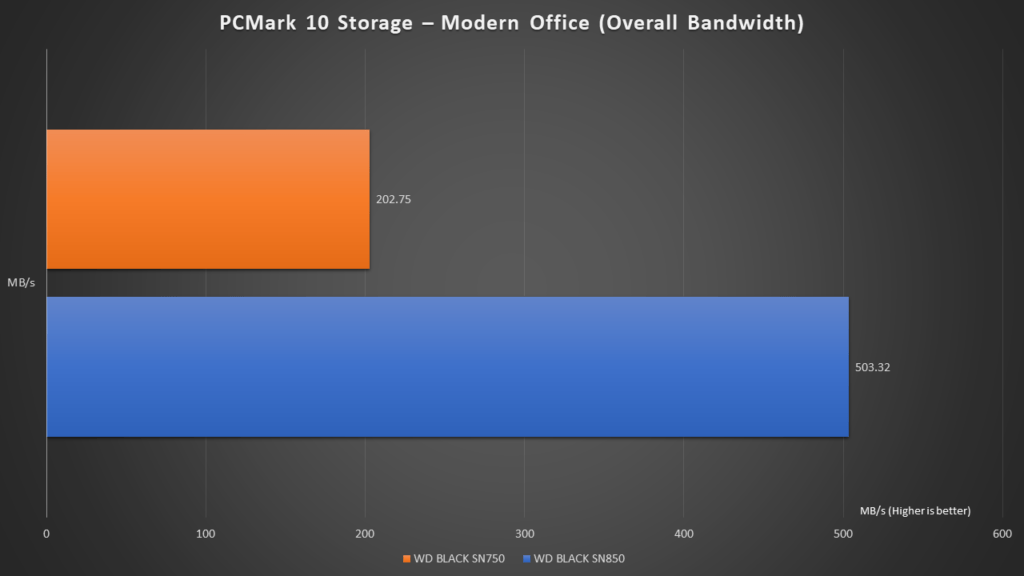 No doubt, the WD_BLACK SN850 lives up to its name. As compared to other Gen4 SSDs which we have tested previously, the WD_BLACK SN850 comes up on top in every single test. This really shows the uncompromised performance level of this SSD. It is truly one of the best performing SSD we've tested so far.
While the numbers and charts seemed promising, we still took note that the drive was underperforming in ATTO's 512B, 1KB and 2KB tests. We can't really show it in the charts, but the numbers were about 25% slower than competition. We thought that this is totally fine, as Windows usually format drives on a standard 4KB block size, and the tests scenarios where WD_BLACK SN850 underperformed were actually irrelevant.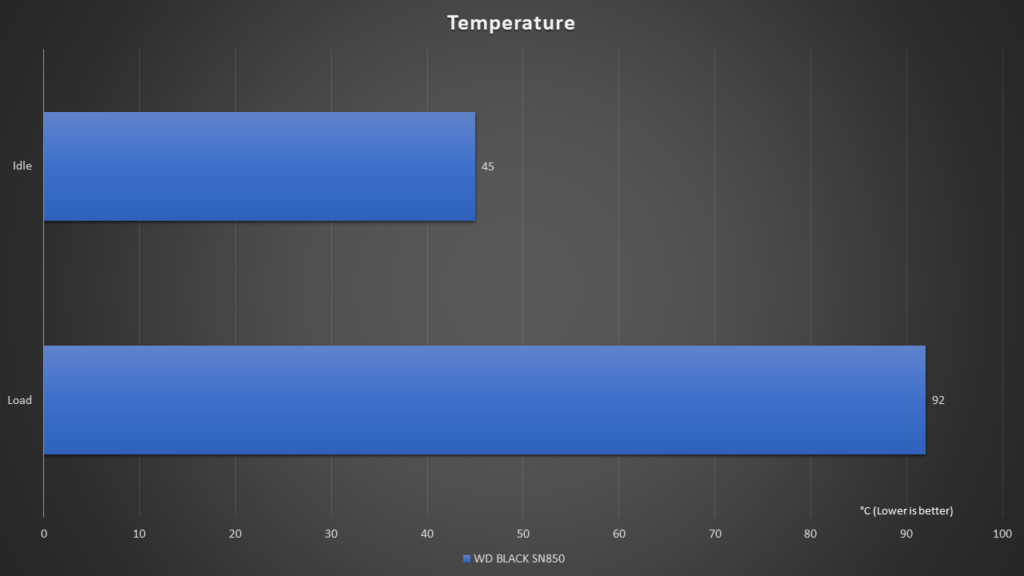 One of the down side of the WD_BLACK SN850 is that it runs quite hot. While consecutively running the ATTO Disk benchmark, the drive reached an alarming 92 degree Celsius at the end of the 3rd iteration. At this exact point, the SSD also throttled in performance in order to maintain its temperature before it could damage its components.
While the drive runs very fast, buyers must be ready to properly cool this SSD in order to allow it to maintain its best performance form. I know that it's probably impractical to continuously run benchmark tests to determine if an SSD will thermal throttle, but the fact that it could reach such a high temperature is something that buyers need to be aware of.
Under normal usage or even drive heavy usage, there were no instances when the WD_BLACK SN850 throttled in performance. It was only during our torture test when the drive thermal throttled. We can safely say that the heatsink on the SN850 is suitable enough to properly cool the drive, but it would be even better if there was better airflow in the system to let the drive cool even better.
Conclusion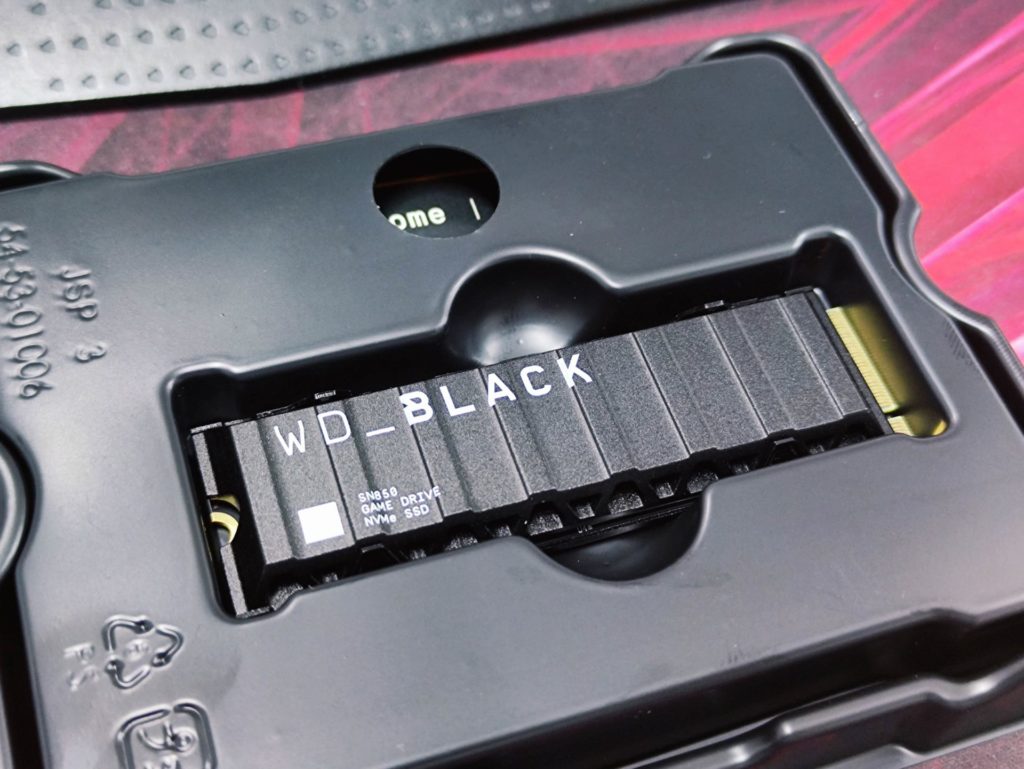 "Irrationally Fast" probably does describe the WD_BLACK SN850 well. It is a prime contender to be crowned the king of performance in SSDs, as there are not many SSDs in the market right now that could reach its performance level. However, if we were to think rationally, perhaps not many applications or even games will be able to take advantage of such a high storage speed.
If you are looking for the best of the best PCIe Gen4 SSD in the market right now, the WD_BLACK SN850 is certainly one of the few which you can consider.