When it comes to choosing new RAM for your desktop system, you wouldn't really think about GIGABYTE or AORUS. As part of their diversification strategy, GIGABYTE (and their brand, AORUS) products can be seen in almost every single desktop PC related eco-system of products. Ranging from SSDs and power supplies, to PC cases and even peripherals, you can actually build a full desktop computer with just parts from this brand (less the processor)!
More than two years back, we had a look at the AORUS RGB Memory. It was quite an interesting product that caught our eye, as it was the first time when dummy RGB DIMM sticks were introduced into a RAM kit. With this product decision, we understood that the AORUS RGB Memory was probably focused more on aesthetics. It was just a typical RAM with RGB lighting, and wasn't particularly fast in terms of performance.
Recently, the new version of AORUS RGB Memory was just released. This time, these DDR4 2 x 8GB kit were rated at 3733MHz as opposed to the previous 3200MHz. We can also appreciate the darker colour theme, which could be more popular within system builders today. The black base cover also pairs up well with the RGB lighting found on top of the sticks.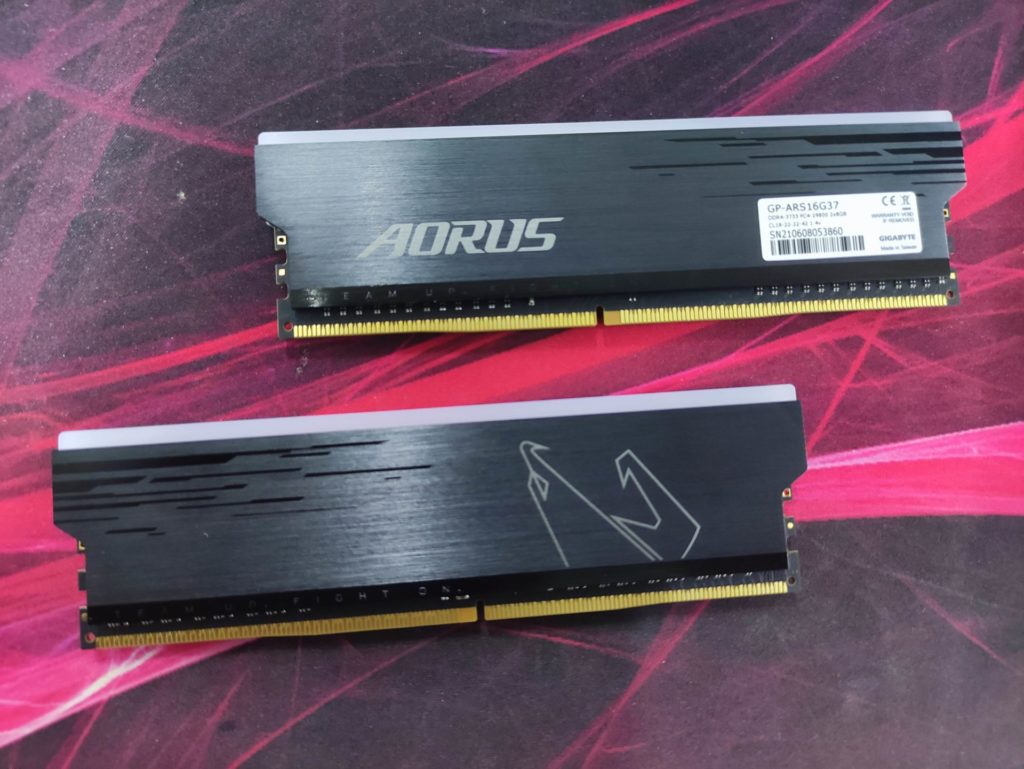 The AORUS RGB memory comes with a 3733MHz XMP profile with a timing of CL18-22-22-42 on our X570 system. By default, the XMP profile will apply 1.4V across the memory sticks, which could be considered higher than usual. It is recommended that DDR4 DIMMs remain 1.4V below.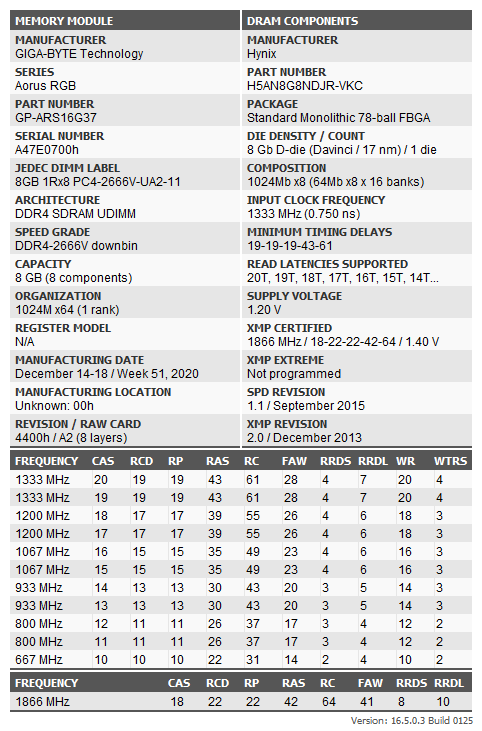 The AORUS RGB memory is equipped with the Hynix D-die DJR memory chip. It's not the best that we know of, but it's not too shabby either.
RGB Lighting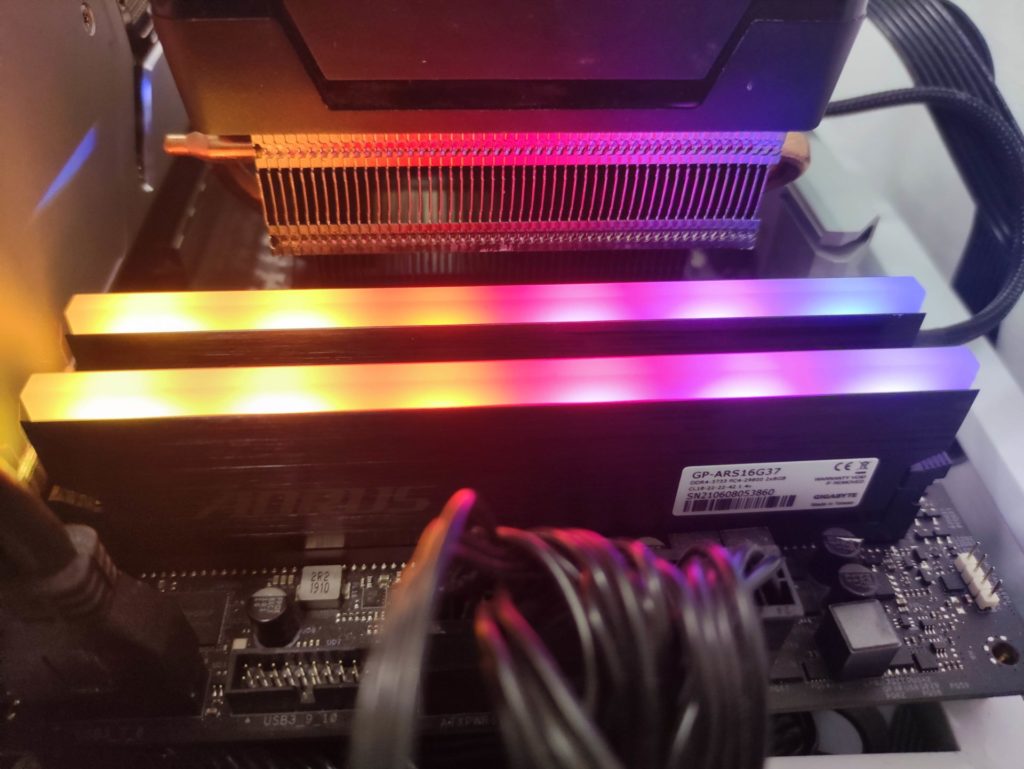 We'd prefer the current generation of AORUS RGB Memory better than its predecessors. This new design and RGB lighting fit most motherboard styles, and gives the whole system a classy and refined look.
The RGB Fusion 2.0 software is used to control the lighting on the AORUS RGB memory. The usage of the software is quite straightforward. There are many options, such as colours, effects, speeds and brightness for you to choose to fully customize the RGB lighting on the AORUS RGB memory to your liking. You can also save multiple profiles and apply them easily.

Test Setup
In our tests, we will focus on seeing how far we can bring the AORUS RGB Memory in terms of its operating frequency. Running at this voltage and such a loose timing, we do expect that this set of RAM can run beyond the 4000MHz rate.
For comparison sake, we will also put the AORUS RGB Memory with our G.Skill Trident Z Royal 3600MHz kit. This should allow us to know where the product's performance stand.
Specs
Main System
CPU
AMD Ryzen 9 5900X
RAM
G.Skill Trident Z Royal 3600MHz, 2 x 8GB DDR4 Kit
AORUS RGB Memory DDR4 16GB (2x8GB) 3733MHz
Main Storage
Transcend SSD230S 512GB
GPU
AMD Radeon RX 6800
Motherboard
ASRock X570 Steel Legend
CPU Cooler
AMD Wraith Spire Cooler
OS
Windows 10 Pro 64 bit

Performance and Overclocking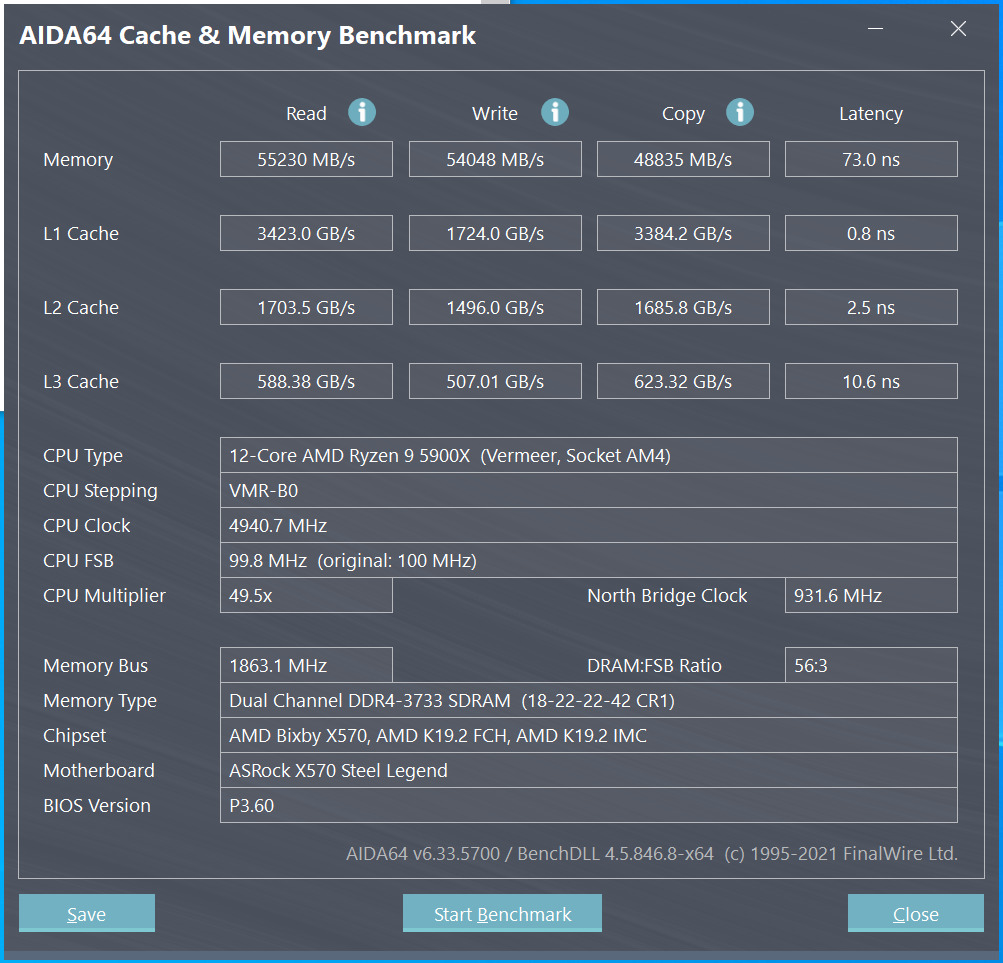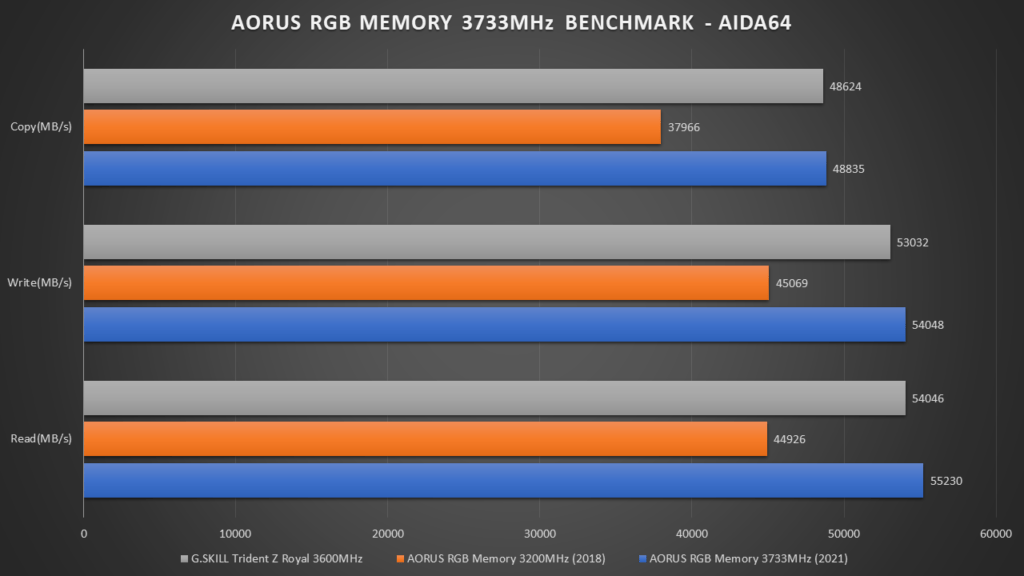 Without any changes to voltage and timings, we were able to easily increase the performance of the AORUS RGB MEMORY from its rated 3733MHz to 4200MHz. This yielded quite a bit of improvements, as all the read, write and copy performance of the memory were increased quite significantly.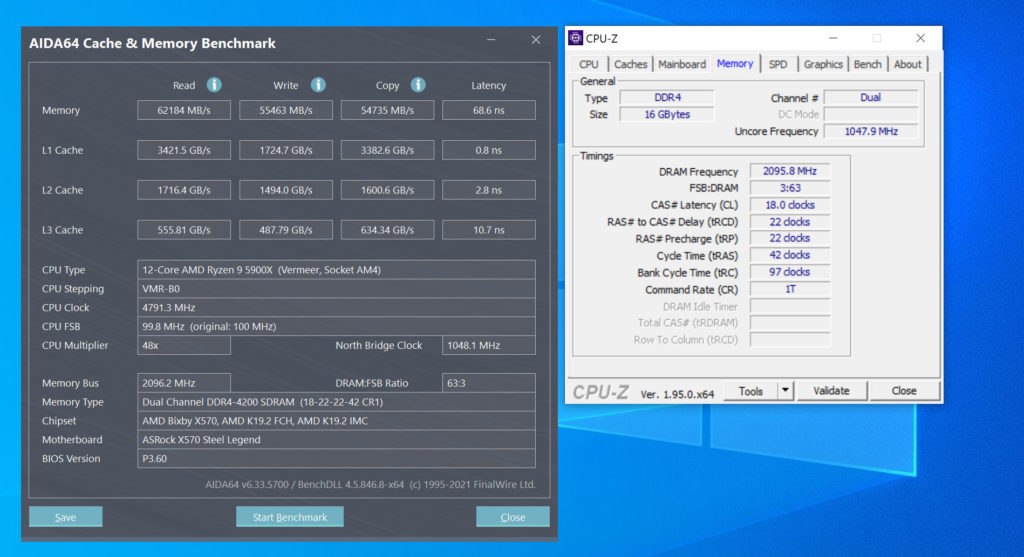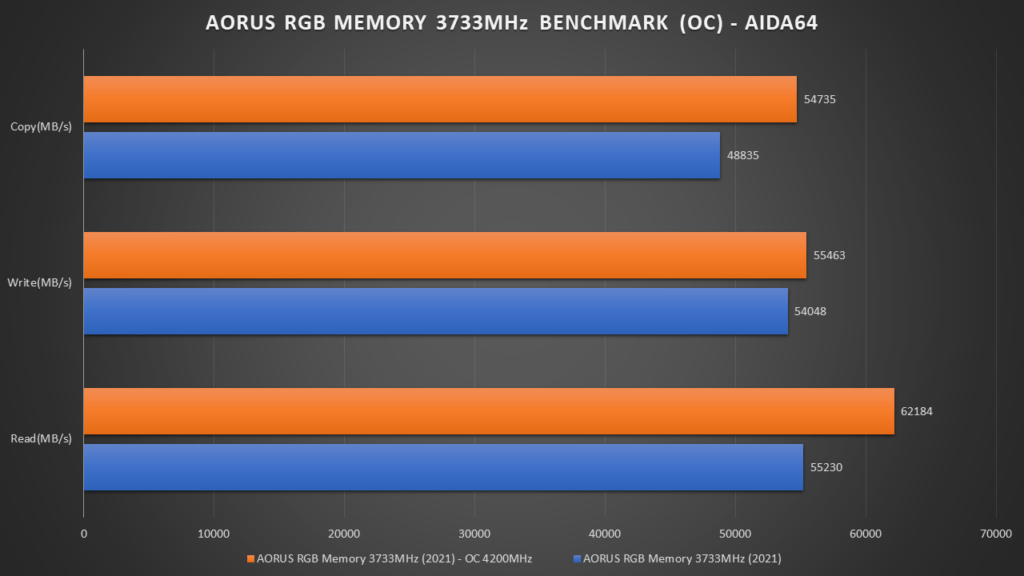 Conclusion
Even though the AORUS RGB Memory DDR4 16GB kit is only rated at 3733MHz, we found that it was able to reach much higher frequencies than expected. This has resulted in higher memory performance, which will also affect the overall responsiveness of the computer. On top of that, the AORUS RGB Memory kit will also pair well with most modern motherboards with its refined looks and design.
If you are looking for a new pair of RAM for your new system, or you are an enthusiast who wants to try out DRAM overclocking, this new AORUS RGB Memory kit should be considered. As an enthusiast, I would say that it's quite fun to play with this set of RAM, as you'll never know how much faster it can get.