Gigabyte was one of the first few brands that released PCIe Gen4 M.2 SSDs to the market. Their first release, the AORUS NVMe Gen4 SSD, beat many storage performance records, and it was even dubbed as one of the fastest SSD in the market at that point of time. However, the performance lead was short-lived, as we started to see faster SSDs from other brands, such as Western Digital emerge.
That makes us wonder – how much faster can a single M.2 SSD get on the PCIe Gen4 x4 interface? Challenging the limits, GIGABYTE improved their SSD lineup and recently released the AORUS Gen4 7000s NVMe SSD. In case you're wondering why it's called the 7000s, I guess it's because this SSD is rated to perform beyond 7GB/s. It should be comparable to the latest SSDs in the market today.
Can the AORUS Gen4 7000s defy all odds and become the performance king again? That's one of the key questions we want to answer in this review.
AORUS Gen4 7000s NVMe SSD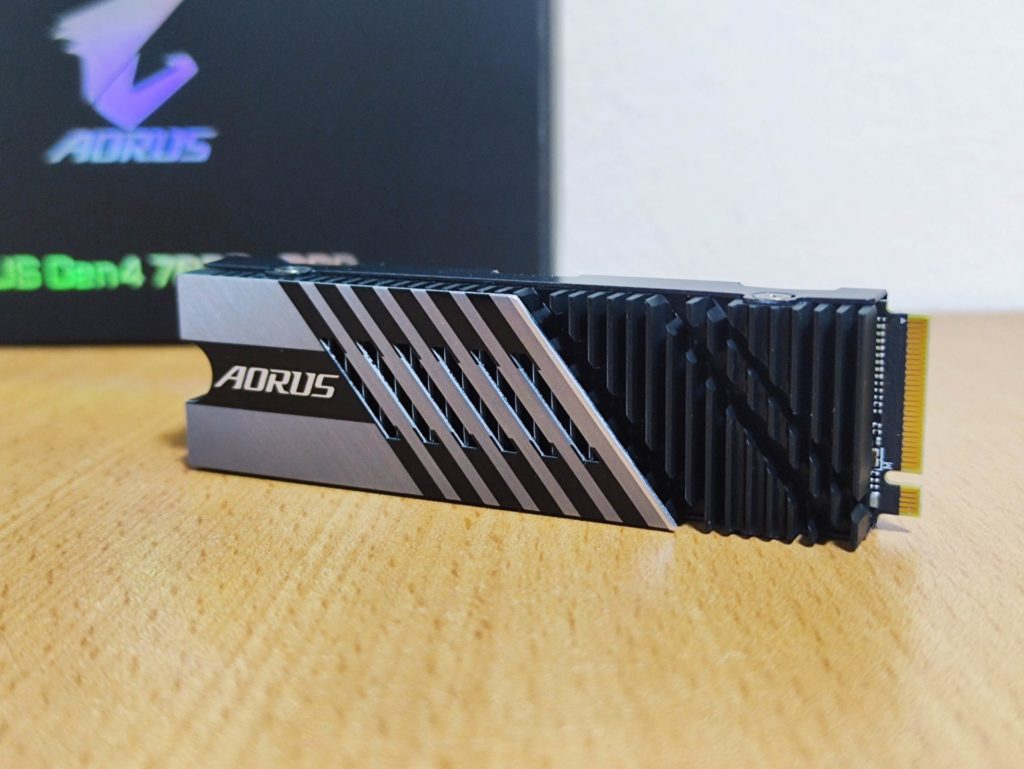 The AORUS Gen4 7000s NVMe SSD comes preinstalled with a heatsink setup. Rather than a bold golden design for the heatsink, GIGABYTE went with a more mainstream black and silver accented style this time.
To effectively cool the AORUS Gen4 7000s NVMe SSD, the SSD PCB is encased within a large metal enclosure. The top of the SSD features a rather unique fin-array heatsink design that is topped up with a rather cool looking AORUS logo. On the other side, a flat metallic base cover ensures that this SSD can still be installed in all M.2 slots on motherboards today.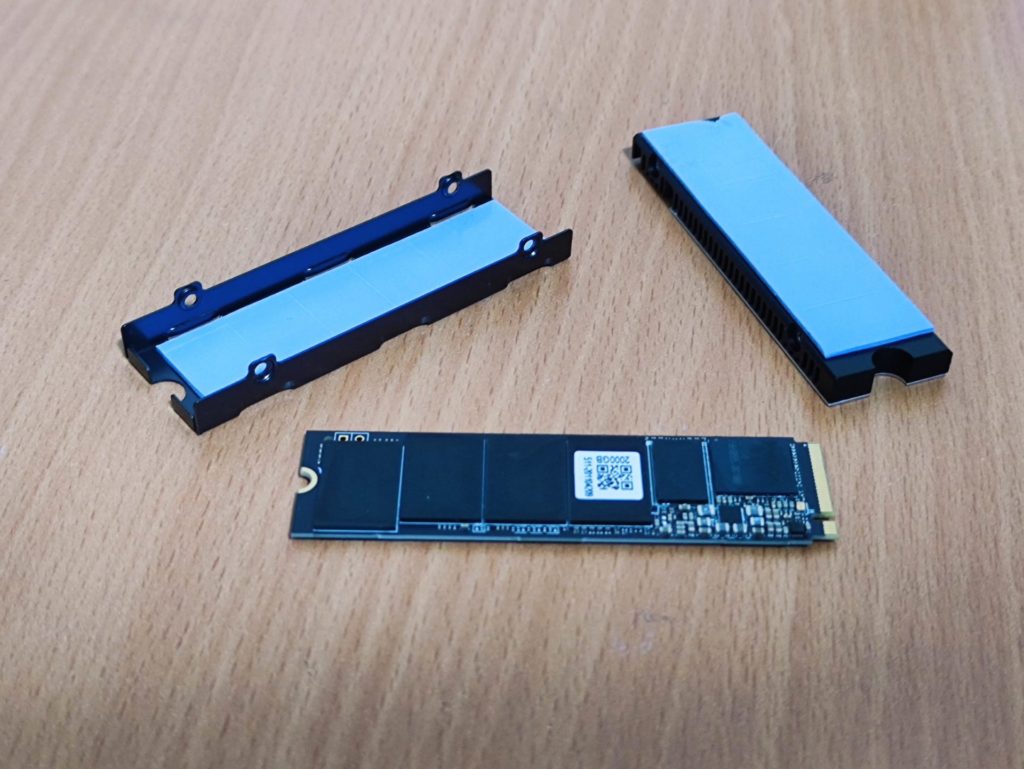 Upon a closer look, we can see that the components on both sides of the SSD PCB comes in direct contact with the thermal pads that are laid on the inside of the heatsink.
The AORUS Gen4 7000s NVMe SSD has components cramped on both of its sides. We spotted a total of 4 x 256GB NAND flash, 2 x 1GB DRAM cache and a single SSD controller.
More specifically, this SSD is equipped with the latest PHISON PS5018-E18 controller. This is PHISON's 2nd generation PCIe 4.0 NAND flash SSD controller that is developed on TSMC's 12nm process node. It promises improved performance over its predecessor, the PS5016-E16.
For each of the memory chips, GIGABYTE uses 8 x 256GB Micron TLC Nand with the part number IA7BG64AIA. Also, for storage cache, two SK Hynix H5AN8G8NCJ 1GB DDR4 chips are found on this SSD. This makes the SSD have a total of 2GB of DDR4 cache.
Test Setup and Performance Results
| | |
| --- | --- |
| Specs | Main System |
| CPU | Intel Core i9 11900K |
| RAM | G.Skill Trident Z Royal 3600MHz, 2 x 8GB DDR4 Kit |
| Main Storage | Test SSD : AORUS Gen4 7000s SSD 2TB |
| GPU | AMD Radeon RX 6800 |
| Motherboard | GIGABYTE Z590 AORUS MASTER |
| CPU Cooler | Cryorig H7 |
| OS | Windows 10 Pro 64 bit |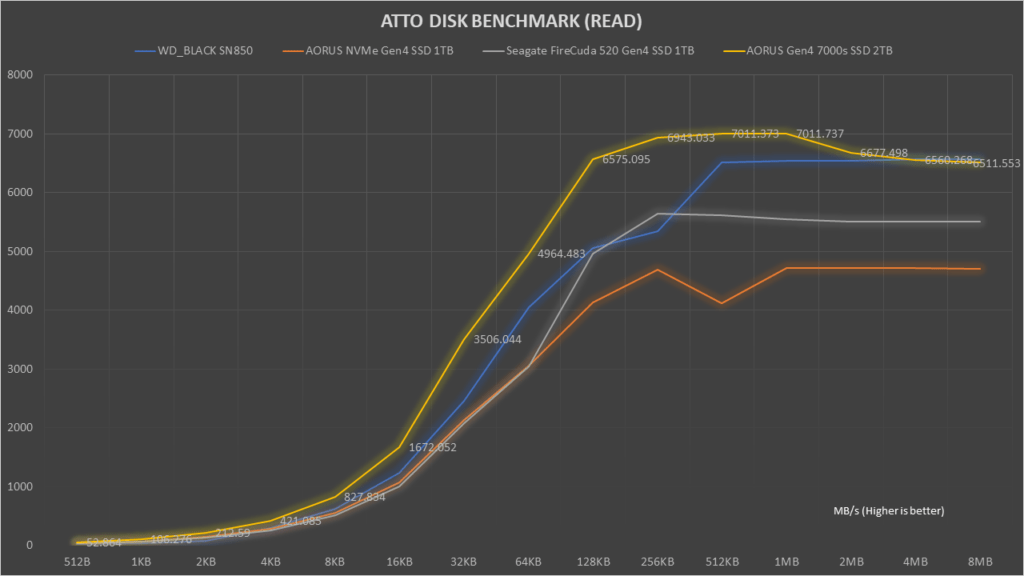 No doubt, based on the Read test results from ATTO Disk Benchmark, we can see that the AORUS Gen4 7000s SSD was able to attain a much higher performance level than competition. It was even able to perform faster than Western Digital's flagship Black SN850 SSD. However, it was odd to see that speeds came down from a peak at 7011MB/s after the 512KB test.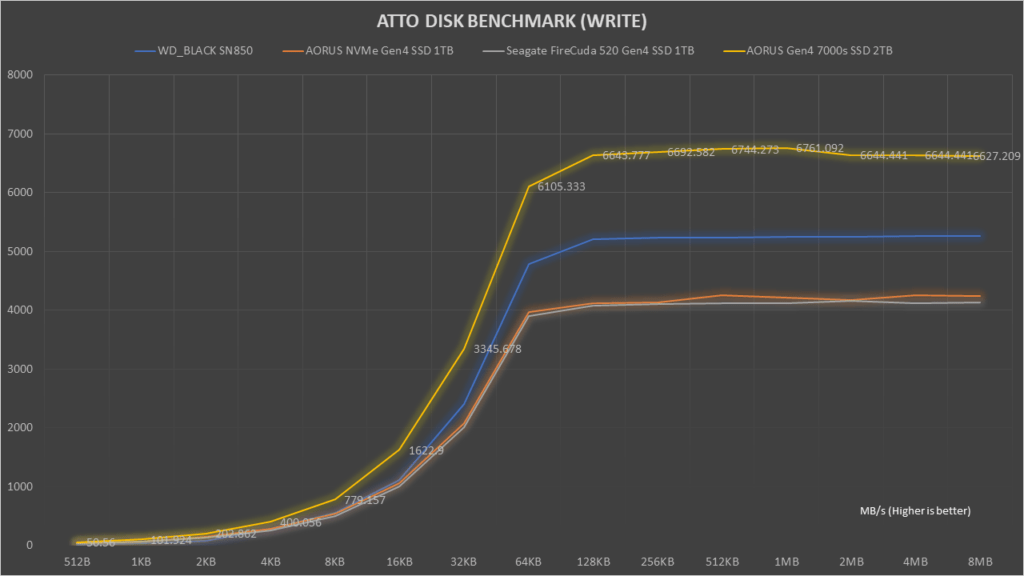 The Write test results on ATTO Disk benchmark was more straightforward. No doubt, the AORUS Gen4 7000s SSD is faster than competition.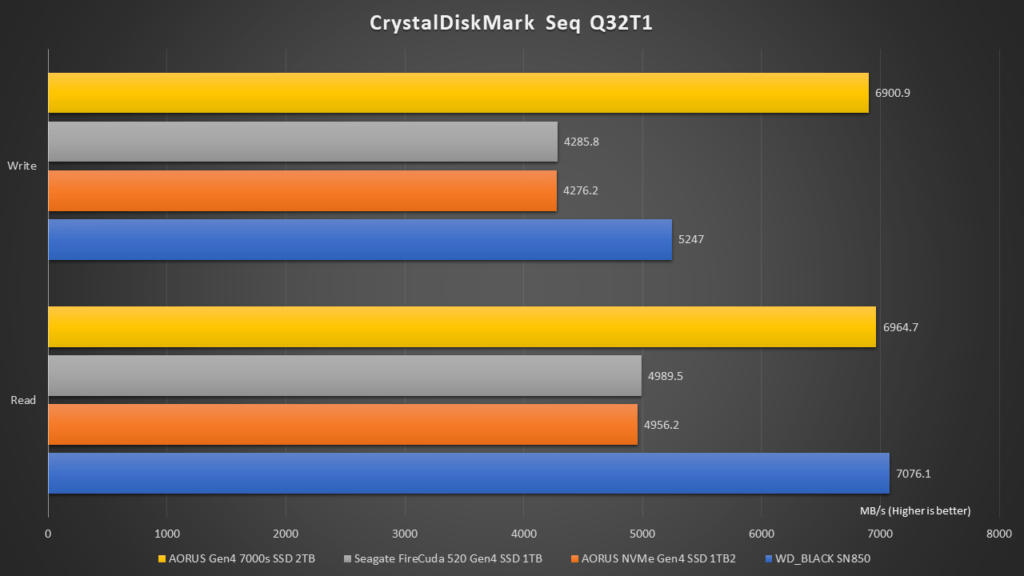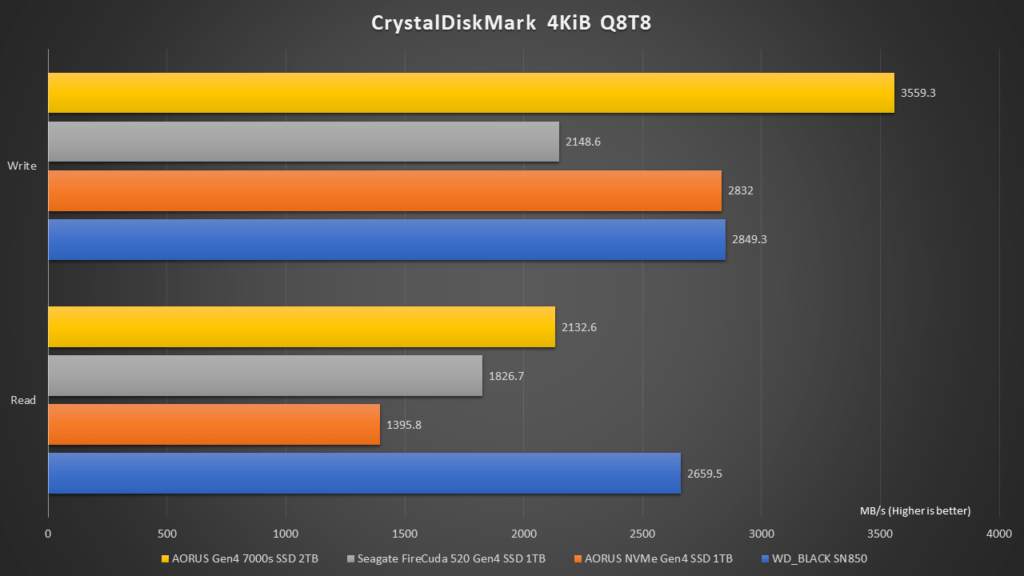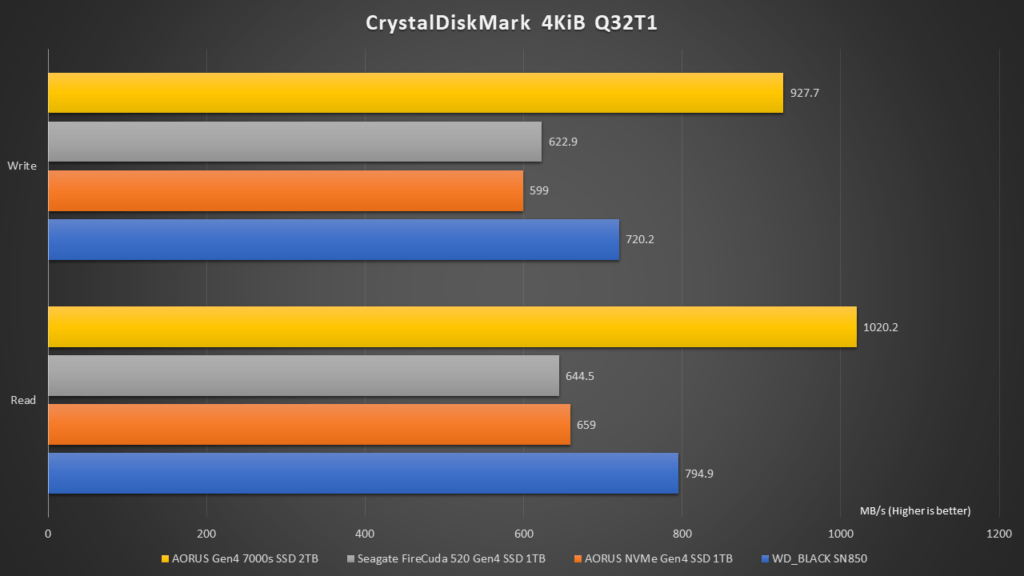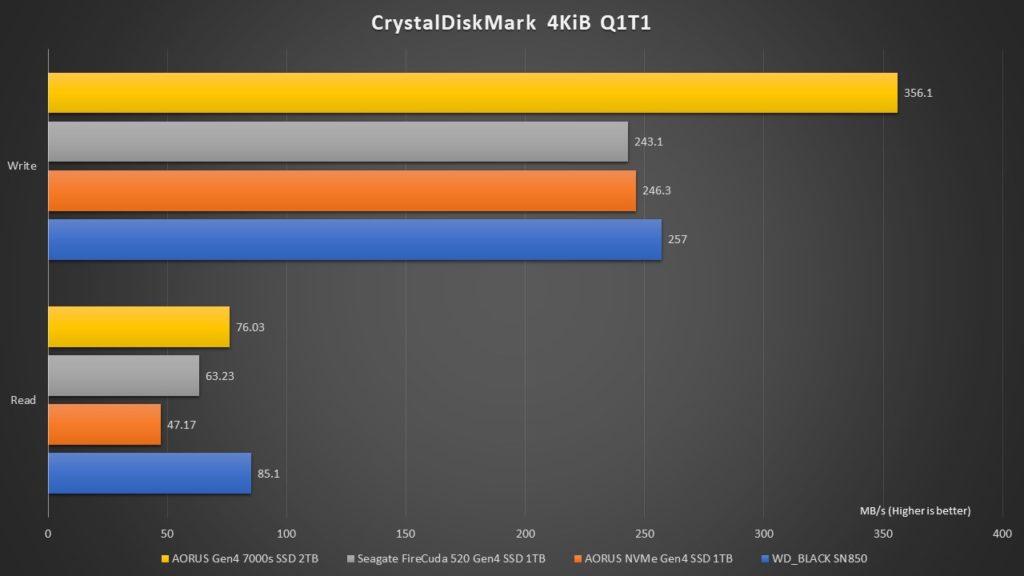 Moving on to the CrystalDiskMark tests, we saw that the AORUS Gen4 7000s SSD was able to outperform the other Gen4 SSDs in most of the tests. Only the WD BLACK SN850 was able to trade blows with it.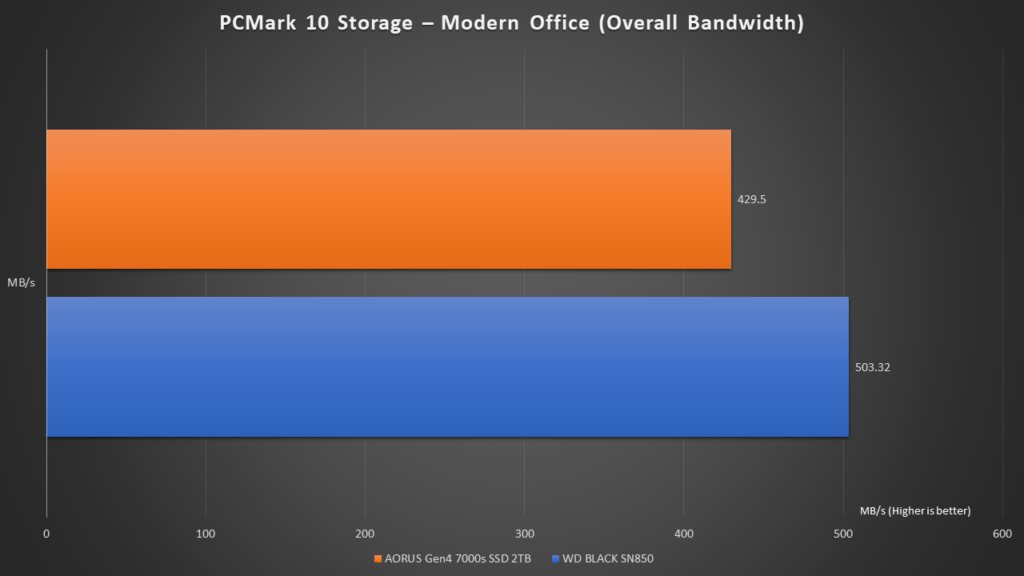 However, when it comes to application-based tests, the AORUS Gen4 7000s lacked behind the WD Black SN850.
Temperature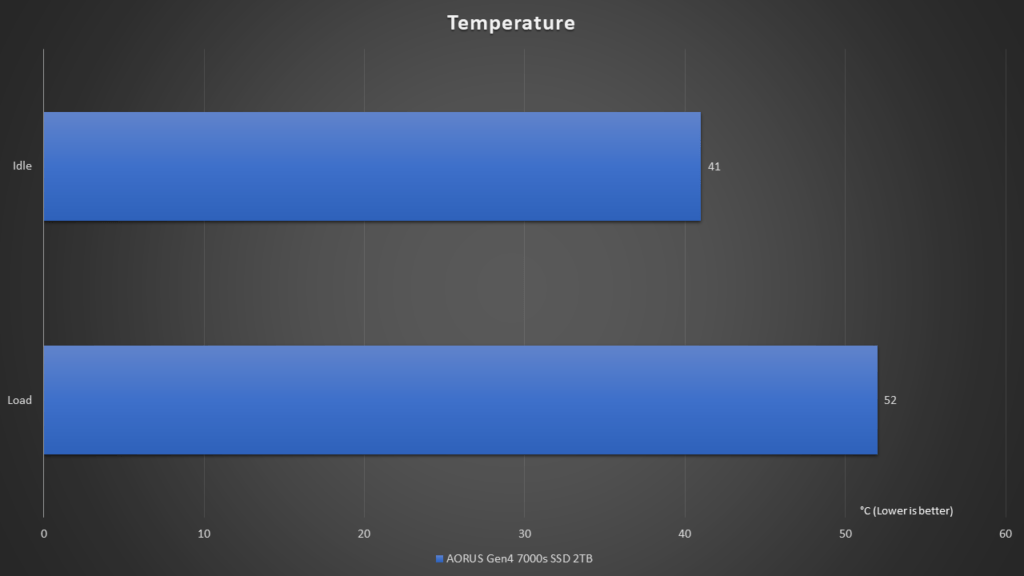 Thanks to the specially designed heatsinks on the AORUS Gen4 7000s SSD, the SSD was able to retain a considerably cool temperature, regardless if it was stressed or idle. There were no signs of thermal throttling, as the SSD maintained its operating temperature well.
Conclusion
The AORUS Gen4 7000s SSD attained speeds that not many Gen4 SSDs can achieve these days. Gigabyte should be proud of their achievements in this space, as this SSD is one of the top contenders to be the fastest SSD in the market. However, as the space gets competitive, other products from other brands are also capable of reaching such speeds as well.
Ultimately, it boils down to the price of these SSD drives. If you simply want to best of the best, the AORUS Gen4 7000s SSD would certainly be one of the clear options to choose from. You just have to prepare to pay top dollars for such top-notch performance levels.