With the recent launch of the new 11th Gen Intel Core processors, all major motherboard manufacturers have also released new motherboards based on the Intel Z590 chipset. Even though both the previous generation Z490 chipset also supports the new 11th Gen Intel Core processors, the Z590 chipset has more features.
Specifically, all Z590 motherboards now officially support PCIe 4.0, has DMI x8 lanes (on 11th Gen CPUs) as opposed to x4, and has 3 x USB 3.2 Gen2x2 ports as opposed to 0 on the Z490.
If you are planning to build a new PC with the 11th Gen Intel Core processors, it would be common sense to get a motherboard based on the Z590 chipset instead of the Z490. However, you would be spoilt for choice as all major manufacturers have released their Z590 motherboard series, each with their own set of unique features, configurations, style and character.
Today, we are putting our focus on the GIGABYTE Z590 AORUS MASTER motherboard. Thanks to GIGABYTE, we also have the latest Intel Core i9 11900K processors to pair with the motherboard. Let's learn more about what makes this motherboard unique, and if it it's worth your consideration for your new build.
GIGABYTE Z590 AORUS MASTER
The Z590 AORUS MASTER is part of the high end gaming motherboard offering from GIGABYTE. It features many prominent features, such as a specially designed power delivery system and cooling system. Of course, when many system builders choose a motherboard, other than for its specifications, its aesthetics also forms part of the decision factors.
In terms of design, it looks fairly similar to the Z490 AORUS MASTER which we've tested previously. The key difference comes in the VRM heatsinks, where all the cooling fins are exposed, as compared to having a single block for heat dissipation. Generally, this design should promote better heat dissipation for more effective cooling from the power delivery components.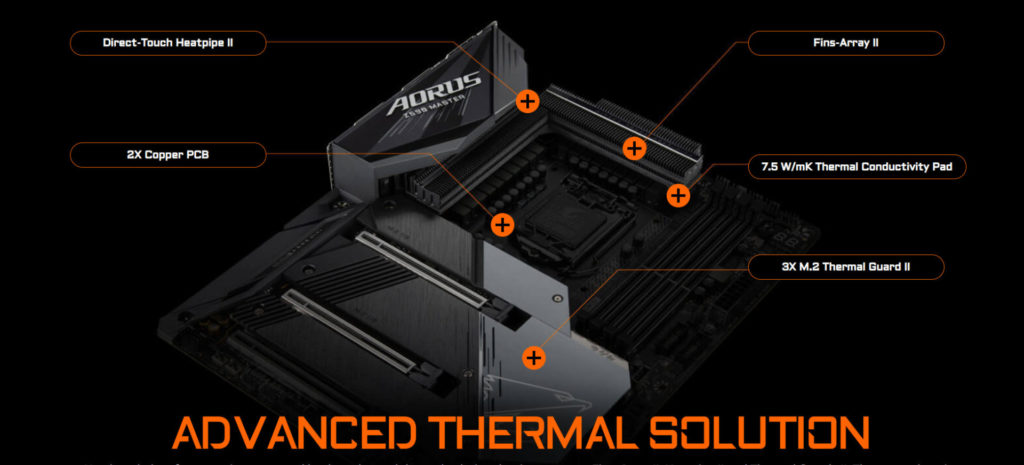 The strategy by GIGABYTE for cooling the GIGABYTE Z590 AORUS MASTER is by introducing what they call as Direct-Touch Heatpipe II and Fins-Array II on the power delivery components, Thermal Guard II heat sink for the M.2 drives, and 2x extra thick Copper PCB traces for the whole motherboard. Each of these heatsinks also interfaces with the motherboard components with a high conductivity 7.5W/mK conductivity pad, which is said to transfer 4x more heat than traditional thermal pads.
The rear of the motherboard also features a backplate that aids in the rigidity of the whole PCB, so that it can support all the heavy components that are placed on it. Moreover, it also aids in the thermal dissipation of the motherboard by conducting heat away.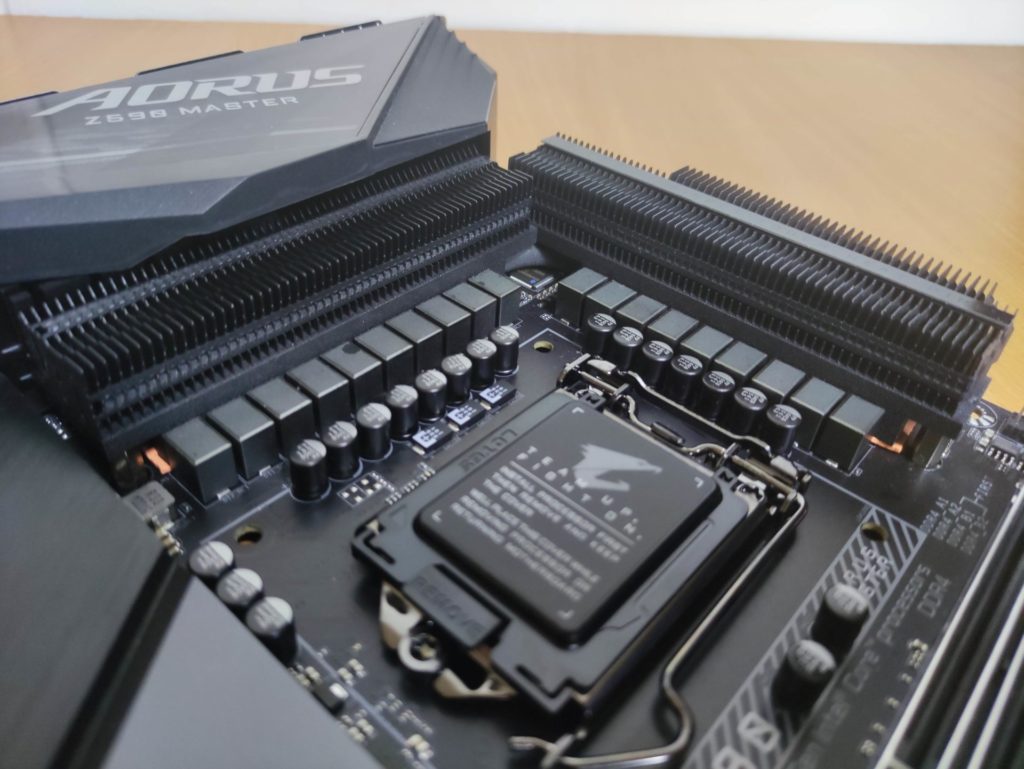 As for the power design, GIGABYTE has used a Digital PWM Controller and 18 Smart Power Stages to power the motherboard. Each Power Stage is capable of providing 90A of power, bringing a total of 1620A to all the components on this motherboard. This setup, coupled with the use of high quality Tantalum Polymer Capacitors Arrays and the use of dual 8-pin CPU power connectors, ensures that the system can still run smoothly and reliably regardless of its configurations. Such a setup is fit for the most intensive overclocking setups, and is more than capable of powering the latest 11th Gen Intel Core processors.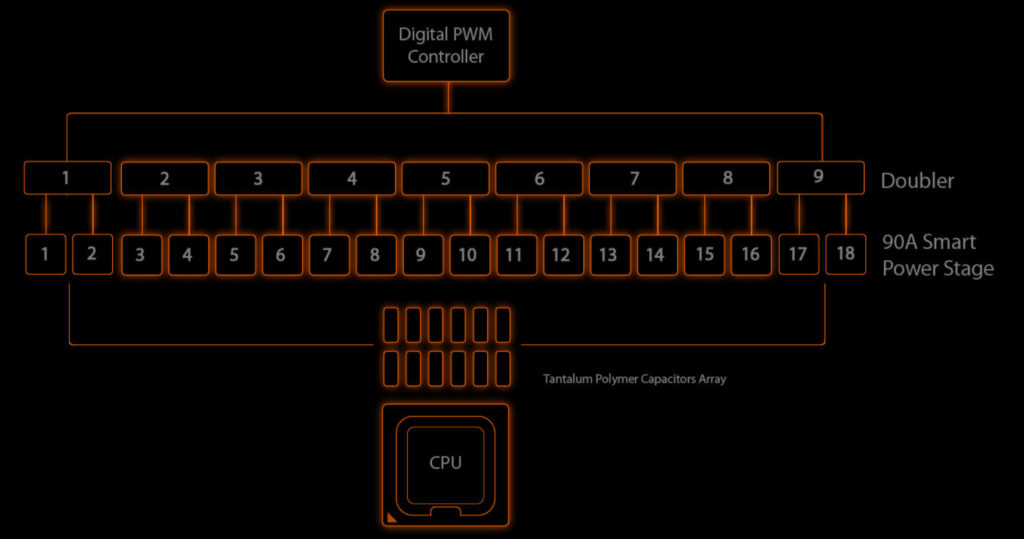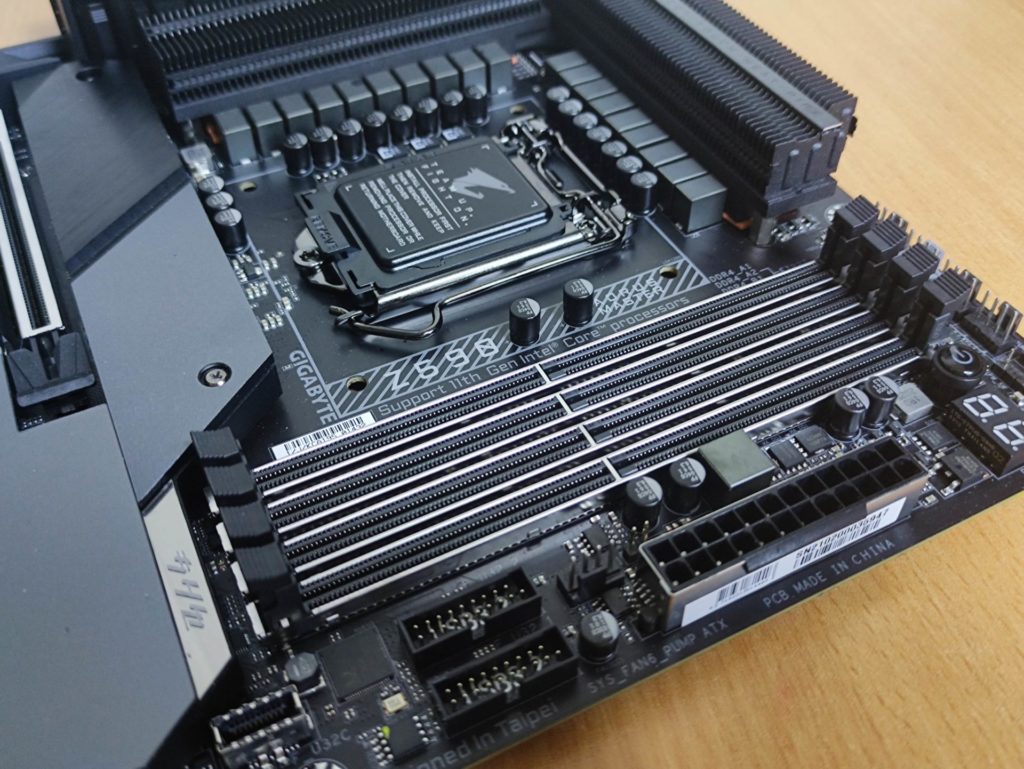 GIGABYTE has tested many memory configurations on the GIGABYTE Z590 AORUS MASTER motherboard, ensuring that the motherboard can work with XMP profiles of up to 5000MHz and beyond. Users can simply pop their DIMMs into the motherboard and expect that they will run at their expected speeds.
To ensure the reliability of the memory sticks at such high speeds, GIGABYTE has employed a shielded memory routing method to reduce external interference. This is done by adding a large ground layer under the PCB inner layer. Also, this motherboard uses a Daisy Chain memory design, which is typically better for running two DIMM sticks in dual channel mode at high speeds. As this is a high performance motherboard, we can see how GIGABYTE preferred to use a Daisy Chain design instead of alternatives in order to reach high speeds for the memory sticks.
Input/Output and Expansion Interfaces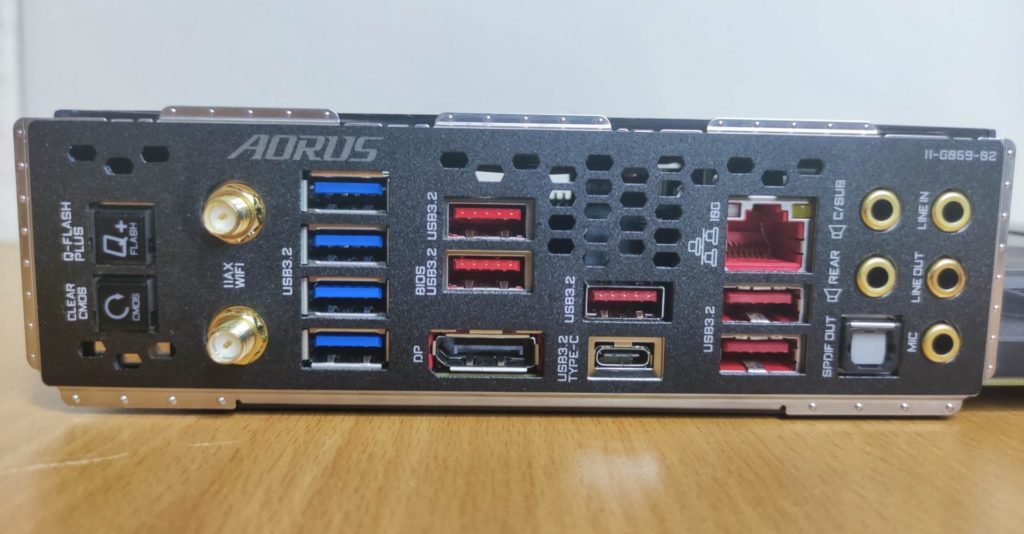 GIGABYTE Z590 AORUS MASTER motherboard comes with a very comprehensive set of I/O ports. On the rear I/O area, we can see that the Q-Flash and Clear CMOS quick access buttons. This is followed by the antenna ports, which is used for the built-in Intel WiFi6 setup. There are a total of 10 USB ports, 4 of which are USB 3.2 Gen 1 and 5 of which are USB 3.2 Gen2. The last USB port comes in the Type-C interface, and supports the 20GB/s USB 3.2 Gen2x2 interface.
Interestingly, the GIGABYTE Z590 AORUS MASTER even comes with a 10Gbps Ethernet setup that's powered by a Aquantia 10Gbps network controller.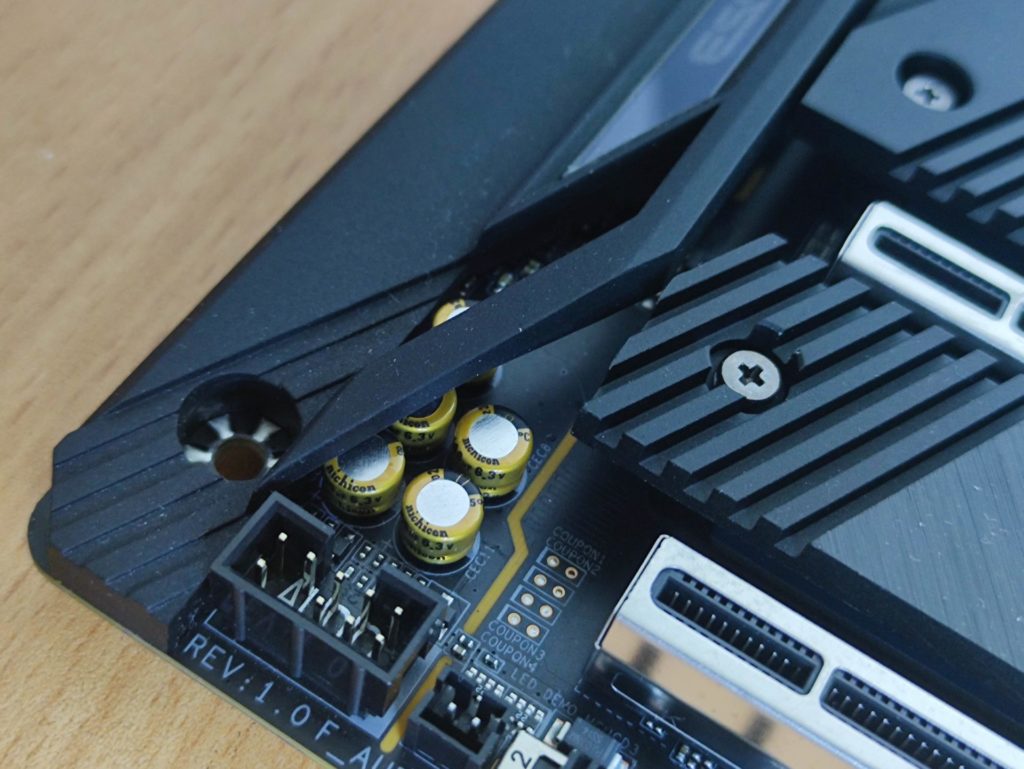 Lastly, we can also see the audio I/O jacks. The motherboard features an ESS SABRE Hi-Fi 9118DAC and ALC1220 Audio Codec for superior audio output quality as compared to typical motherboard setups. Also, the audio circuitry also include audiophile grade WIMA capacitors to further reduce the interferences which will affect audio quality.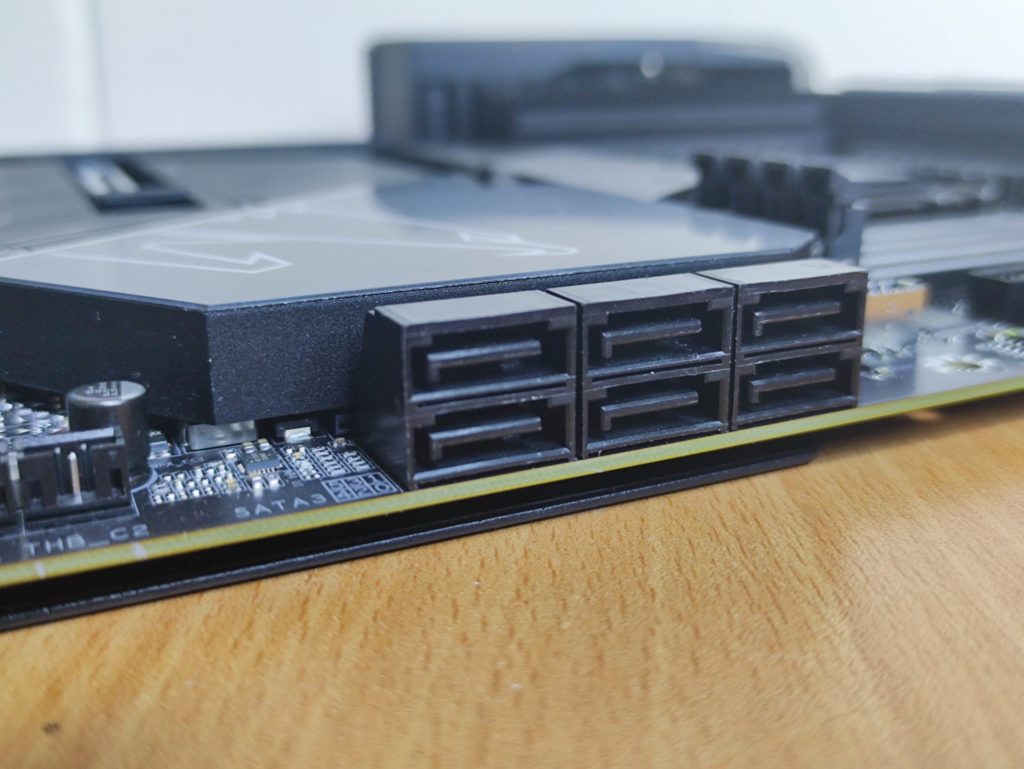 The motherboard still comes with 6 x SATA 6Gbps ports for connecting your standard hard drives or SSDs that are still based on the SATA interface.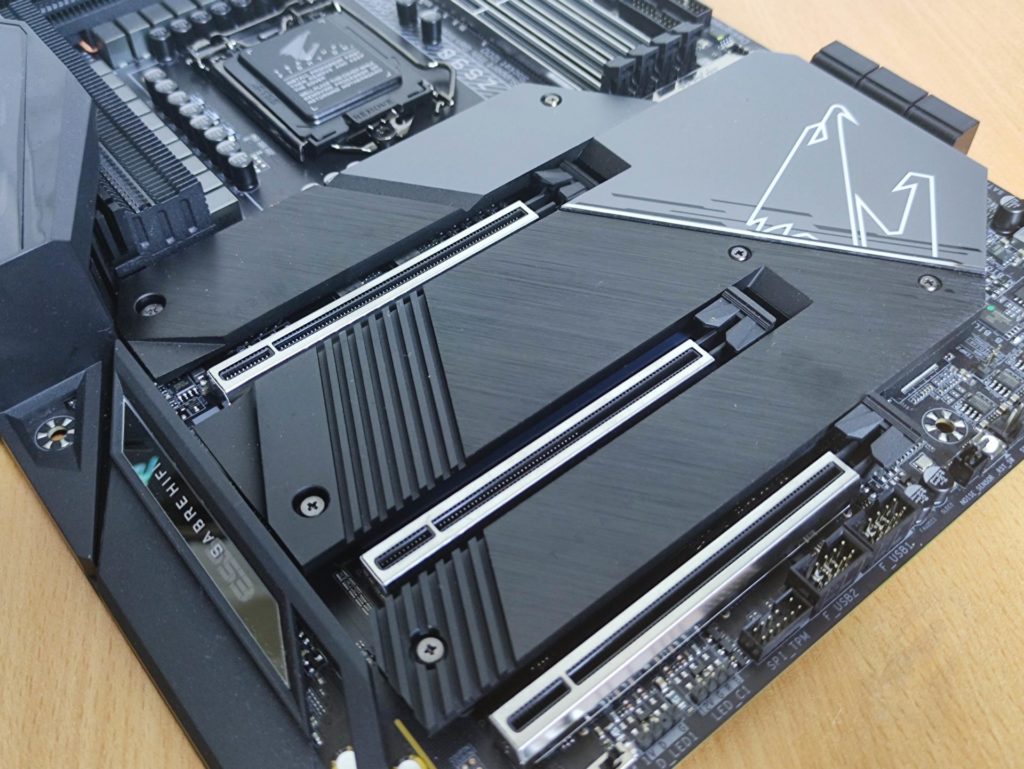 It also comes with 3 x PCIe x16 slots for your expansion cards. The first two slots are PCIe 4.0 slots, which doubles the bandwidth when compared to PCIe 3.0 The first slot comes with x16 lanes, while the 2nd slot only has x8 lanes.
The last slot only runs in x4 mode under the PCIe 3.0 standard.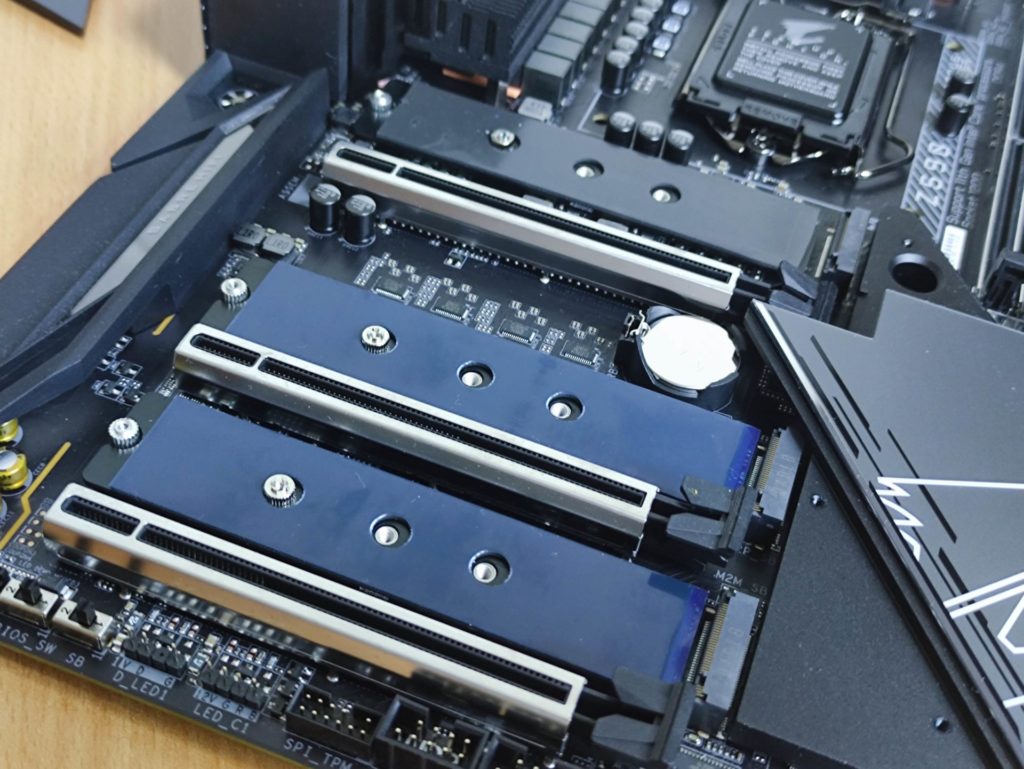 The motherboard can also support up to three M.2 SSDs in total. The first slot is slightly special, as it also supports the newer PCIe 4.0 interface with x4 lanes. The 2nd and 3rd slot still runs on PCIe 3.0 with x4 lanes each. Do take note that SATA M.2 SSDs are not supported on the first slot.
Do also take note that thermal pads are found on both the bottom of the heatsink and the slot, thus allowing heat dissipation on both sides of the M.2 SSD. This should cool every M.2 SSD adequately.
Troublesome Heatsink Design?
One of the key issues I have with the GIGABYTE Z590 AORUS MASTER is the design of the heatsink that comes on top of the SSDs. It is because GIGABYTE prefers to use a single block of large material to cover both the 2nd and third M.2 SSD slots, it will essentially means that you will have to remove any expansion cards on the PCIe slots just to add another SSD.
Moreover, the heatsink cover the first slot also covers one of the motherboard's standard ATX mounting holes. If you want to correctly install your motherboard onto the motherboard tray in your case, you need to remove the first heatsink slot.
I thought that this design could be improved, as it introduces some inconvenience when upgrading or maintaining the PC. Moreover, as the heatsink are held in place by screws, it can also be quite troublesome when trying to install or remove the heatsinks, especially when working in the small spaces within the setup. If you were to lose the screws, there aren't any spares found in the motherboard's box as well.
System Setup and Performance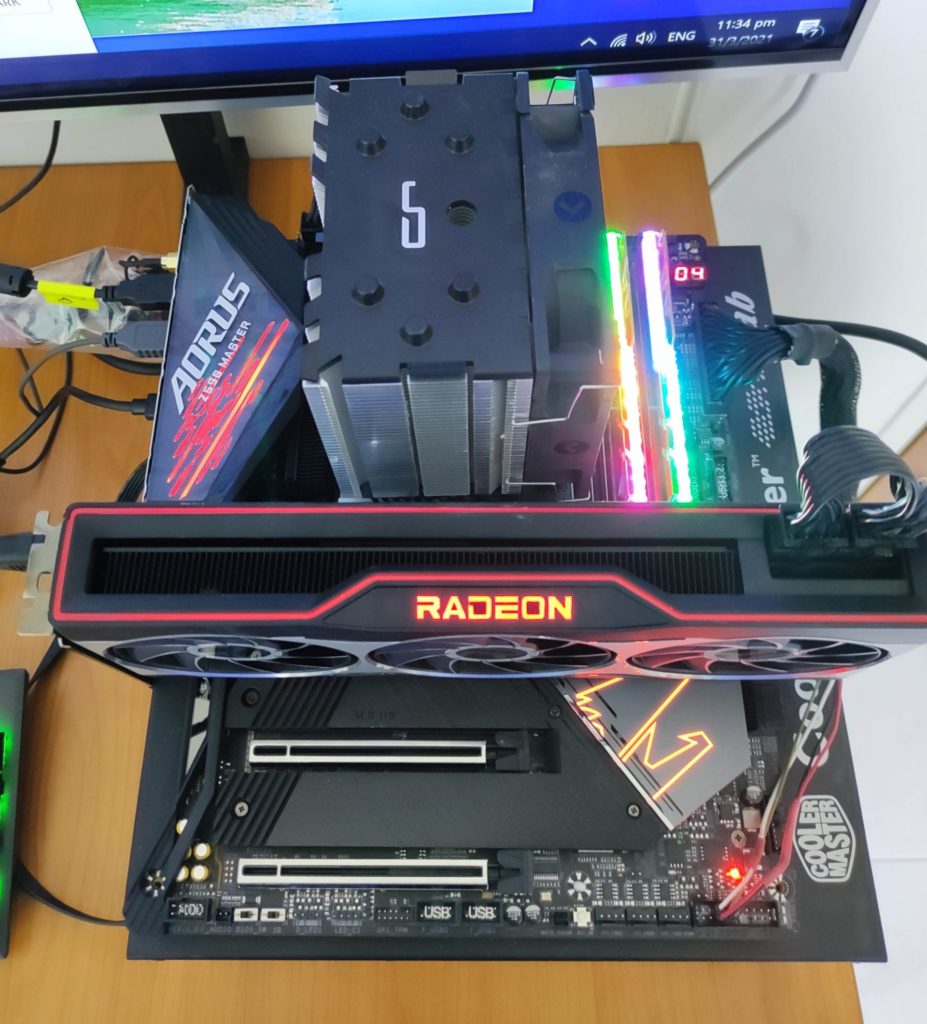 | | | |
| --- | --- | --- |
| Specs | Main System | Comparison System |
| CPU | Intel Core i9 11900K | AMD Ryzen 9 5900X |
| RAM | G.Skill Trident Z Royal 3600MHz, 2 x 8GB DDR4 Kit | G.Skill Trident Z Royal 3600MHz, 2 x 8GB DDR4 Kit |
| Main Storage | AORUS Gen4 7000s SSD | Transcend MTE110S |
| GPU | AMD Radeon RX 6800 (Reference) | AMD Radeon RX 6800 (Reference) |
| Motherboard | GIGABYTE Z590 AORUS MASTER | Gigabyte A520 AORUS Elite |
| CPU Cooler | Cryorig H7 | AMD Wraith Prism (Stock) |
| PSU | Cooler Master V1000 | Cooler Master V1000 |
| OS | Windows 10 Pro 64 bit | Windows 10 Pro 64 bit |
The benchmark settings are as follows:
| | | |
| --- | --- | --- |
| Test | Configuration | Settings |
| PC Mark 10 Extended | Default | Default |
| 7-ZIP Benchmark | Default | Default |
| Cinebench R20 | Default | Default |
| HEVC h.265 Decoding | Default | Default |
| Blender BMW27 | CPU blend | Default |
| Far Cry New Dawn | 1080p | High Settings |
| Deus Ex Mankind Divided | 1080p | High Settings, DX12 |
| Tom Clancy Ghost Recon Breakpoint | 1080p | High Settings, Vulkan |
| DOTA 2 | 1080p | As per Benchmark Guide |
| Shadow of the Tomb Raider | 1080p | High Settings, DX12 |
| World War Z | 1080p | Ultra Settings, Vulkan |
| wPrime 1024M | Default | Default |
| AIDA64 Memory benchmark | Default | Default |
In our tests, we are going to compare the GIGABYTE Z590 AORUS MASTER motherboard with a setup from our usual AMD based test bench. This should give you a good understanding of how the Z590 and 11th Gen Intel platform fairs when placed side by side to the competition. As the focus on the review is on the motherboard, we can also see if the GIGABYTE Z590 AORUS MASTER can keep up to the demanding requirements of the 11th Gen Intel Core i7 11900K.
Do take note that it is not in the interest of this review to compare between the AMD and Intel platform. The objective is to determine if the GIGABYTE Z590 AORUS MASTER is able to run well. Take the comparison between the two platforms in the results below with a pinch of salt.
Performance Results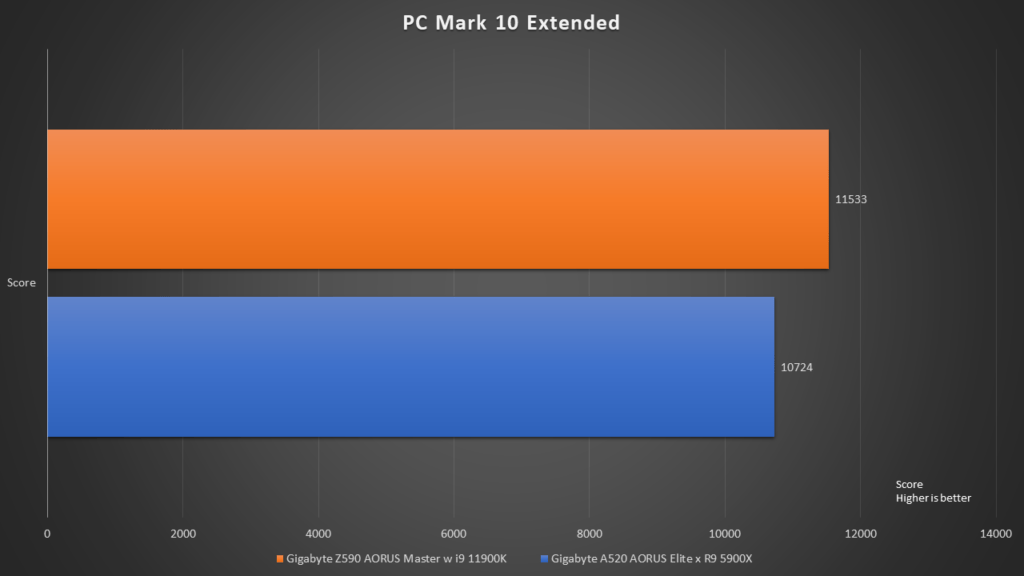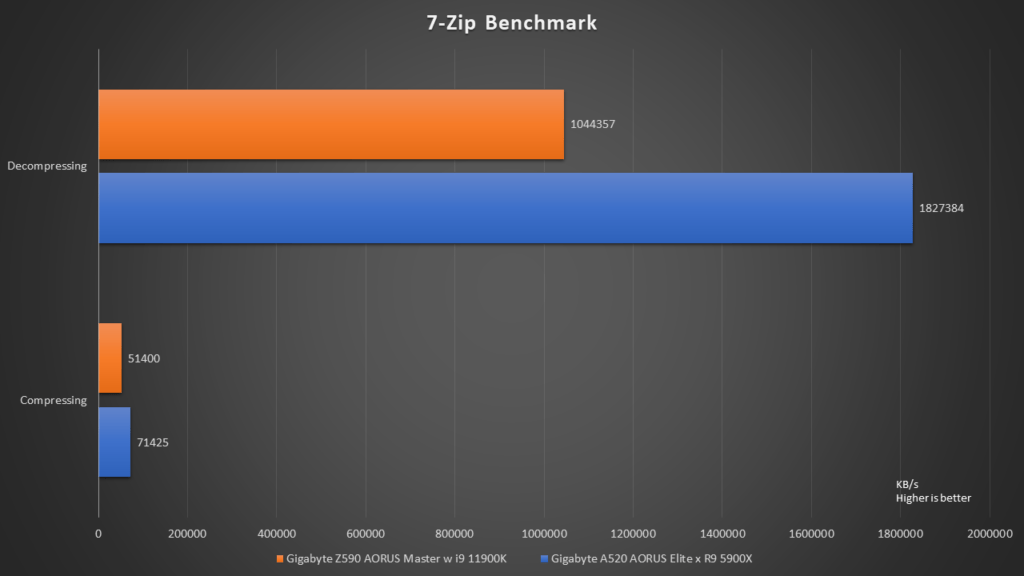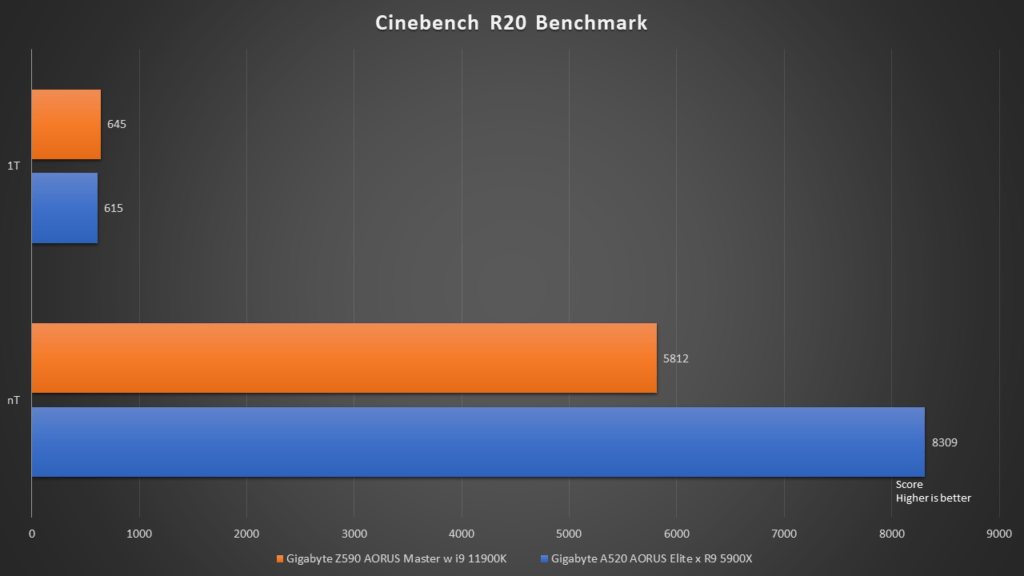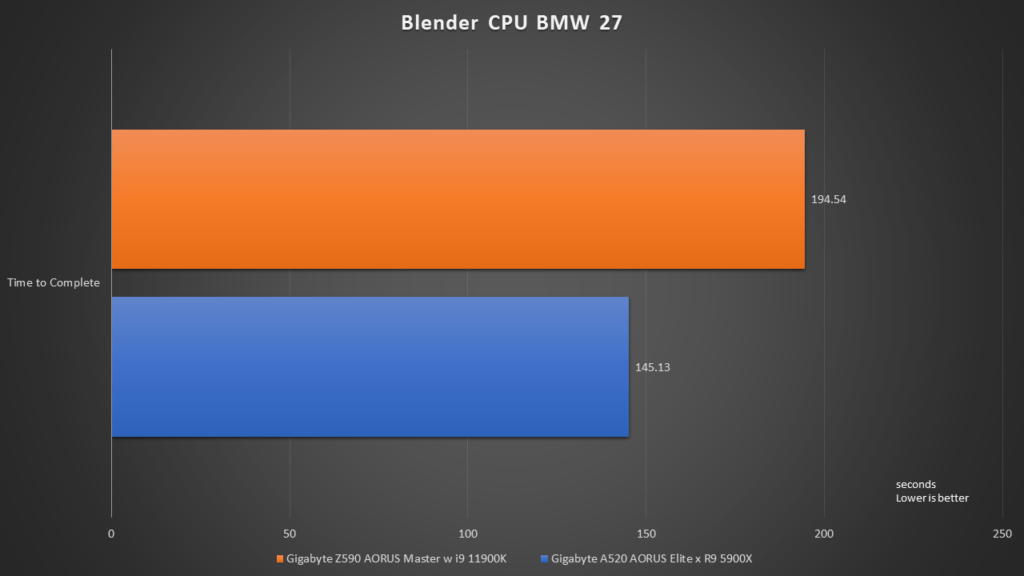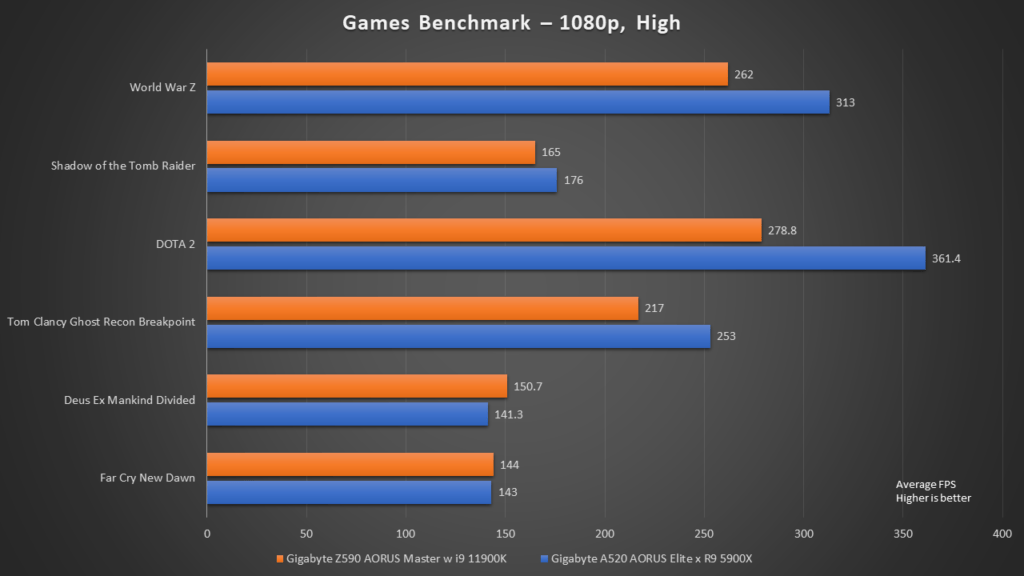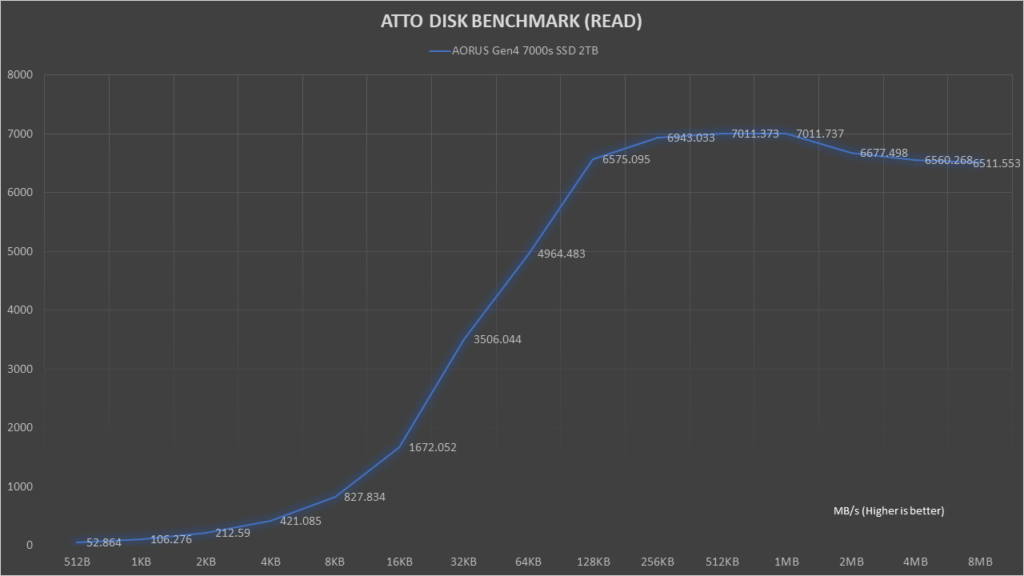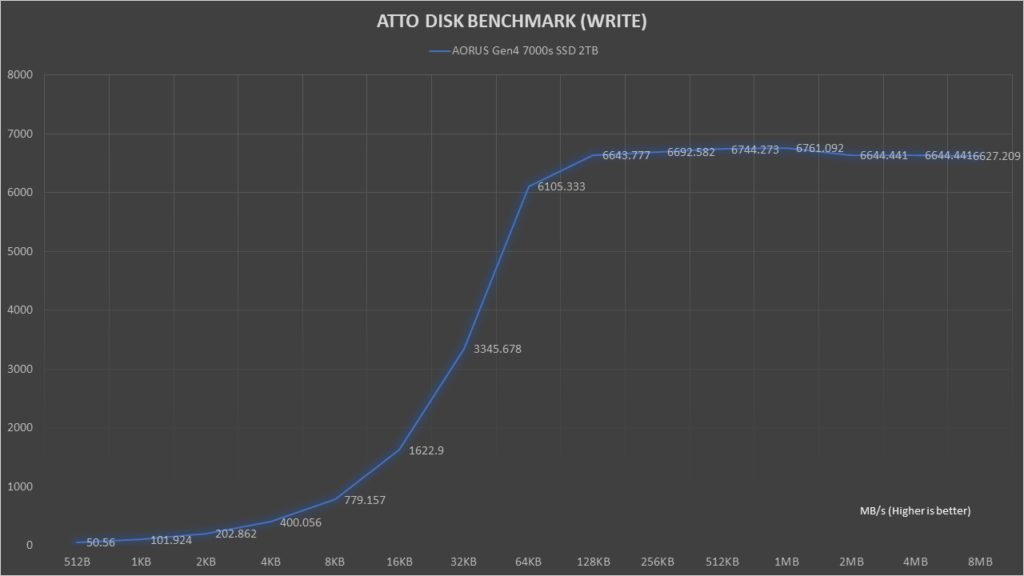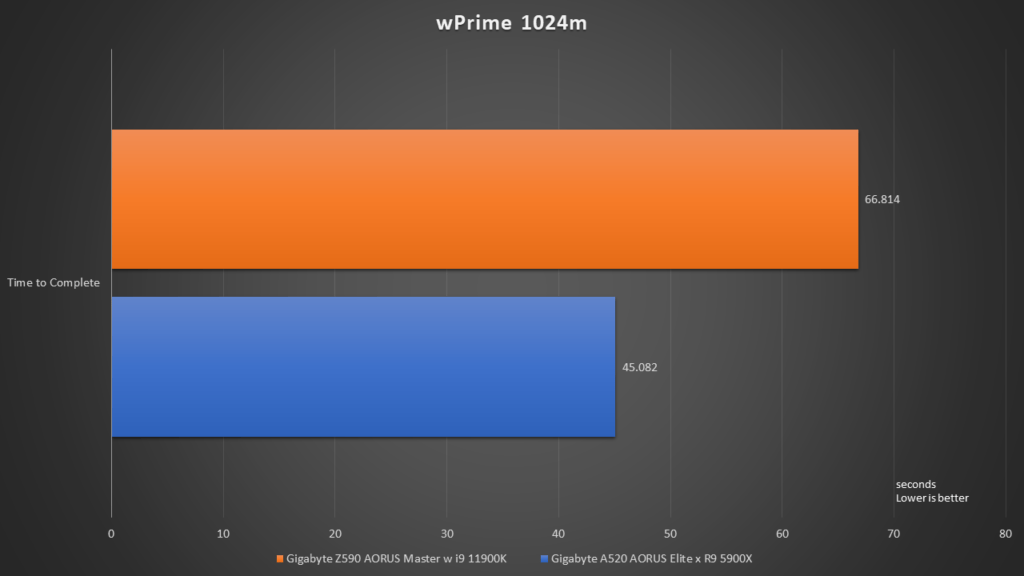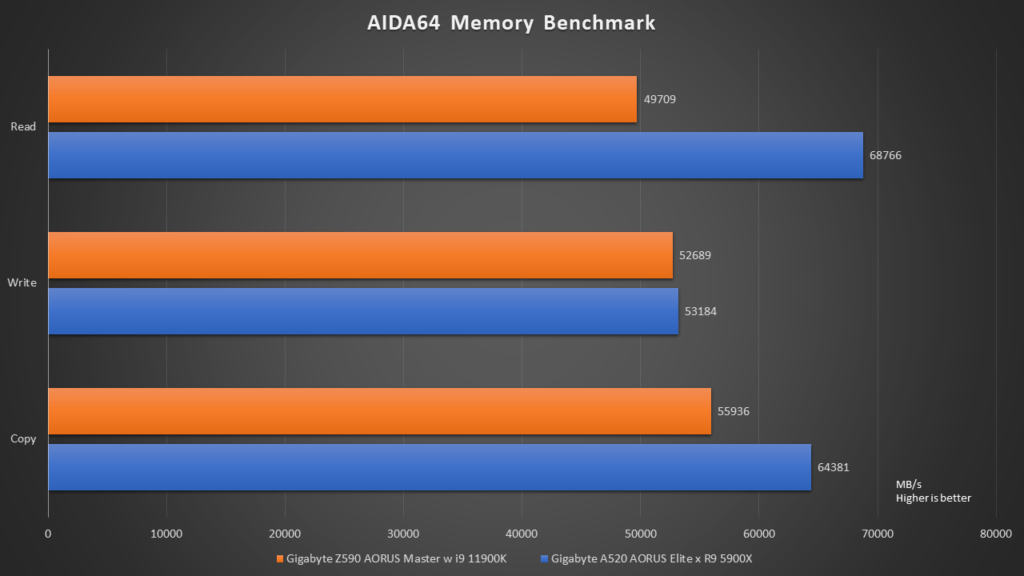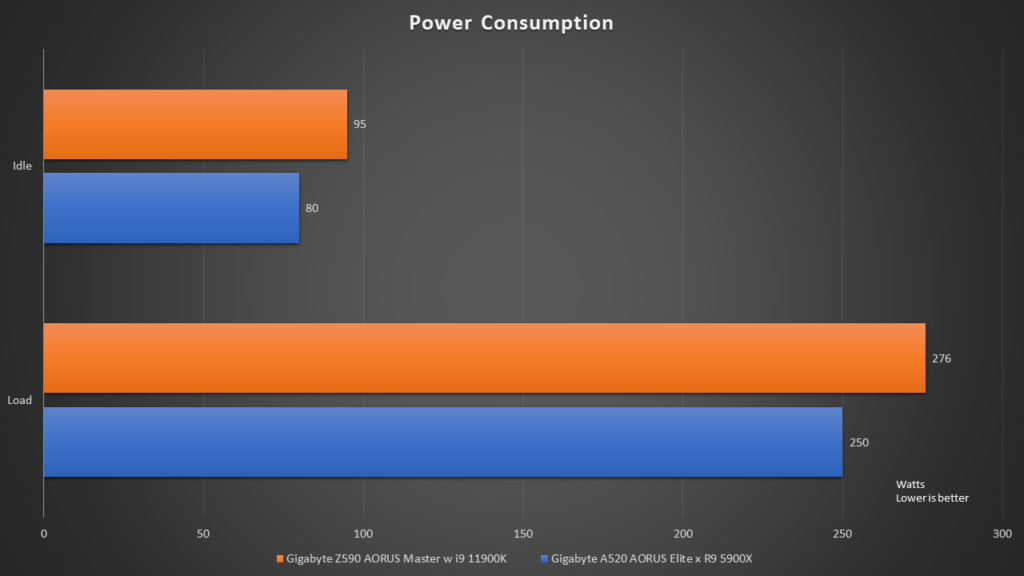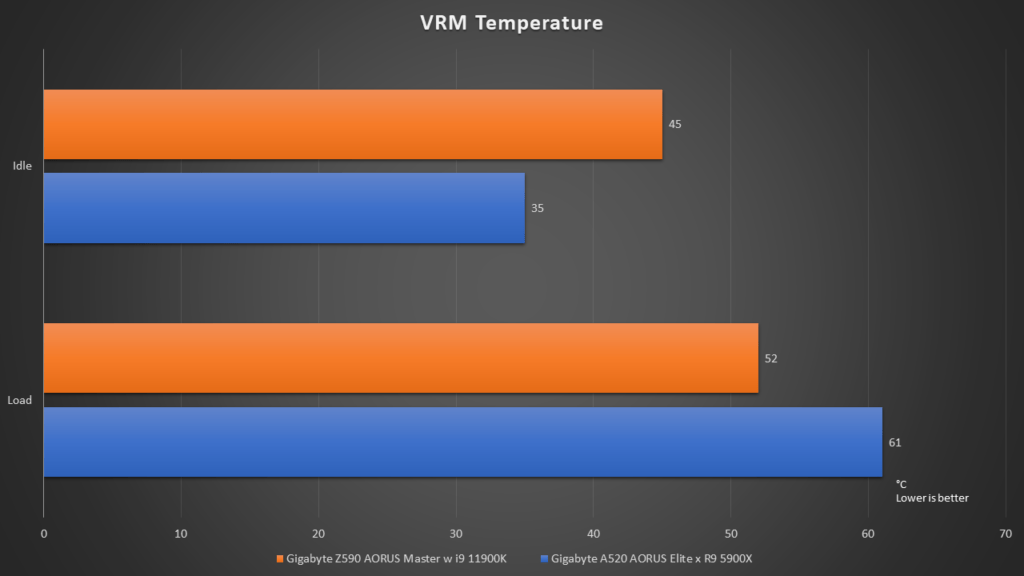 Conclusion
The GIGABYTE Z590 AORUS MASTER is certainly a very capable motherboard. Based on our performance tests, it was able to allow the flagship Intel Core i9 11900K to run at its full speed reliably, without any hiccups. Moreover, thanks to the new Z590 chipset, we are also seeing a new high in SSD performance levels, thanks to the support for PCIe 4.0. It is the first time that we are able to see such high storage speeds on an Intel platform.
The VRM temperature on the GIGABYTE Z590 MASTER still remained well under control even when the system was stressed. This has showed the effectiveness of the cooling solution on the motherboard, which is perhaps more than sufficient to cool its power components.
There's probably a lot more that the motherboard can do, especially in extreme overclocking scenarios. As the Intel Core i9 11900K has already been quite optimized right out of the box, there wasn't much overclocking that can be done to the system without upgrading our cooling solution.
In conclusion, if you are looking for a new motherboard that can fully handle the new 11th Gen Intel Core processors, the GIGABYTE Z590 MASTER is a great choice. What we wonder, is what more can this motherboard do, being equipped with such high-end components and technologies.
In the end, you will need to consider if you will need all the premium features that comes with this motherboard. It must be noted that the GIGABYTE Z590 MASTER is a premium motherboard. You should consider if you can make use of all its features fully.