Last year at COMPUTEX 2019, NVIDIA introduced the Studio drivers and RTX Studio certified notebook computers. These offerings are meant to open up a wider range of portable notebook products for the under-served content creators and professionals. If you are interested to know more about the NVIDIA Studio, you can read up more on what we have written here.
While only a couple of RTX Studio certified notebook computers were available then, the number of products have certainly grown. The ASUS StudioBook W500 was one of them, but it never got to see the light in Singapore. More than a year later, ASUS has finally brought their new Studio RTX certified notebooks to Singapore. This time, instead of just calling them StudioBook, ASUS have also included the ProArt branding to their newly introduced notebook computers for the creative professionals. If you are unaware, the ProArt name came from the brand's own lineup of professional monitors.
ASUS then gave birth to the ProArt StudioBook series. This range of notebook computers are preinstalled with the NVIDIA Studio drivers, and are meant to perform optimally for professional and creative applications, such as 3D Rendering, CAD and other visualization work. We've got the chance to play with the new ASUS ProArt StudioBook Pro X, which is a Quadro RTX Studio notebook. Let's see if this notebook is of any different than a standard notebook computer that you can easily get outside.
The ASUS ProArt StudioBook Pro X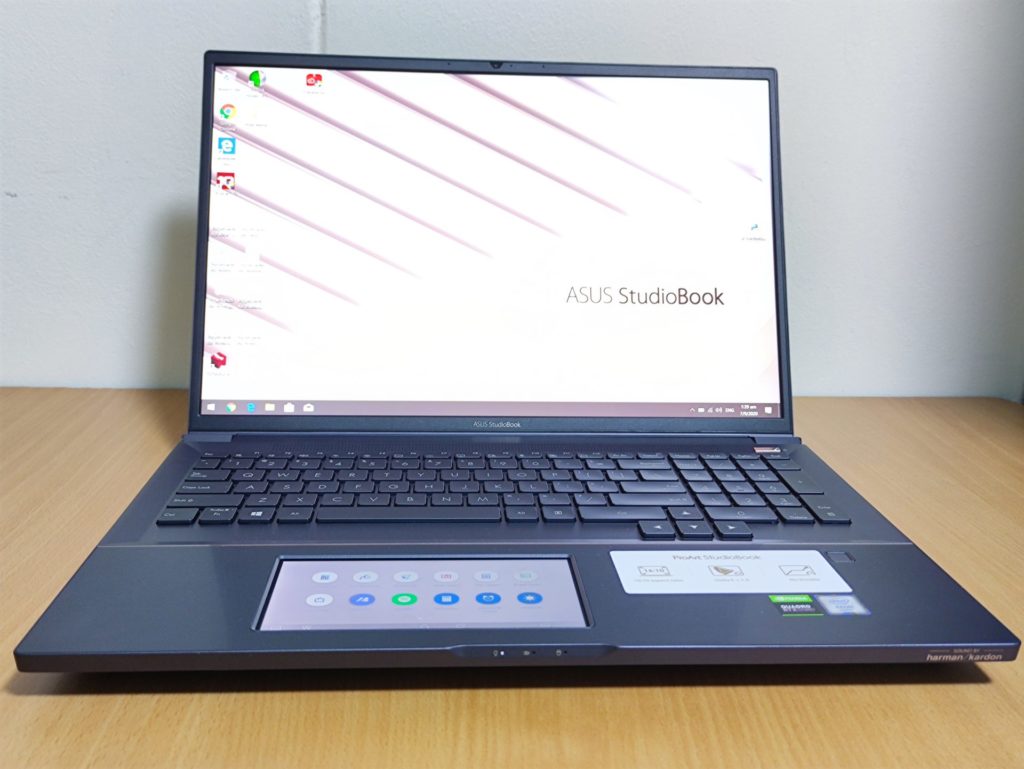 When I first held the ASUS ProArt StudioBook Pro X in my hands, I knew that it meant business. It comes with a large 17-inch display, but didn't feel that big unlike the 17-inch notebooks in yesteryear. This notebook is not light however, weighing at 2.5Kg. With that said, it is expected, as it comes packed with some of the highest performing components you can find in the market for its class.
Specifications
Details
Model
ProArt StudioBook Pro X
CPU
Intel® Xeon® E-2276M processor (6-core processor)
GPU
NVIDIA® Quadro® RTX 5000

16GB GDDR6 VRAM

OS
Windows 10 Pro for Workstations
Display
17" LED-backlit WUXGA (1920 x 1200) NanoEdge display, 300 nits

IPS-level (In-Plane Switching)

1000:1 contrast ratio

16:10 aspect ratio

Anti-glare panel

3.8mm-thin bezel with 92% screen-to-body ratio

97% DCI-P3 color gamut, 8-bit color

Delta-E < 1.5 color accuracy, PANTONE® Validated

System Memory
64GB DDR4 2666MHz (2 x 32GB) ECC
Storage
2 x 2TB NVMe SSD
Audio
Sound by Harman Kardon

Smart amplifier

Array microphone with Cortana and Alexa voice-recognition support

Long-travel voice coils for improved low-frequency response

Network
Intel® 802.11ax (2×2) Wi-Fi 6 (Gig+)

Bluetooth 5.0

Gigabit LAN

Dimensions
Width: 38.2cm

Depth: 26.5cm

Height: 2.82cm

Weight
2.5KG
Why Intel Xeon Processor and NVIDIA Quadro Graphics Card?
Unlike the usual Intel Core processors and NVIDIA GeForce graphics card you get out from most of the notebooks in the market, the ASUS ProArt StudioBook Pro X is configured very differently. Instead, it comes with an Intel Xeon processor and a NVIDIA Quadro dedicated graphics card instead.
Both the Intel Xeon processor and NVIDIA Quadro components are only seen in professional workstations, and perhaps even in servers. The reason why they are found on a "prosumer" product, such as the ASUS StudioBook Pro X, is because of the added features that each of them comes with.
The Intel Xeon processors supports ECC memory, which reduces the chance of memory corruption.  To put into context, imagine you are working on a project that requires hours, or even days of rendering in order to produce a final result. If your system memory fails you, then you will have to redo everything again, greatly reducing productivity. This is where ECC memory can help, as it will reduce the rate of errors when you do your important work. If you would like to learn more about ECC memory, you can find out from this article from Puget Systems.
The choice to go with NVIDIA Quadro, as opposed to the usual NVIDIA GeForce graphics processing unit is also obvious. NVIDIA Quadro GPUs provides more video memory, which is essential for memory heavy professional workloads. Also, professional workloads can also make use of specific features of these graphics card in order to accelerate performance. This means that professional and creative applications are able to run much better, and thus improving the user's productivity.
In fact, if you take a closer look at the specifications of the NVIDIA Quadro RTX 5000, you will realise that it is very similar to that of the NVIDIA GeForce RTX 2080 SUPER. There is by no means that the Quadro RTX 5000 is a weak performing graphics card.
The ProArt Edge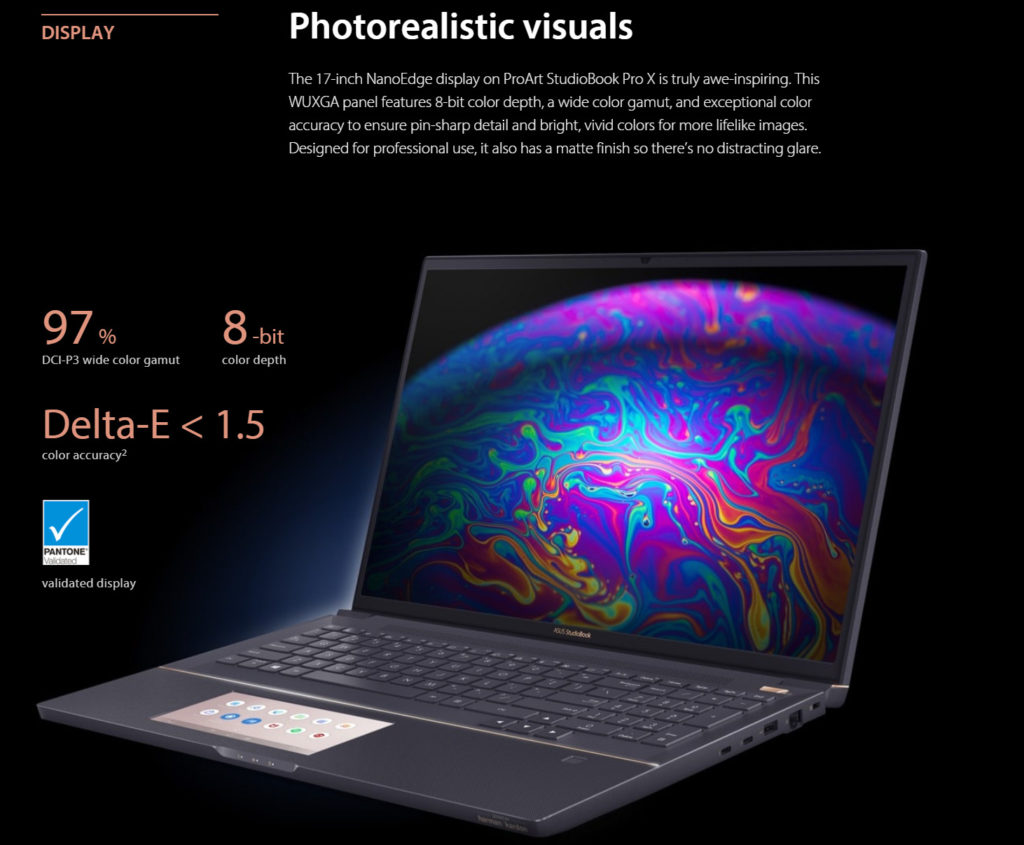 Of course, being a notebook for creative professionals, the color accuracy and performance of the display panel is one of the key considerations. First off, the display is pre-calibrated with a Pantone Certification. Unlike usual notebook display with a 16:9 aspect ratio, the ASUS ProArt StudioBook Pro X comes with a 16:10 1920 x 1200 display instead. The additional vertical space should allow users to be more productive, as they can view even more content on the screen vertically.
The display also comes with 97% coverage on the DCI-P3 color gamut with Delta-E < 1.5 color accuracy.
This makes this notebook a no-brainer for whoever that requires this kind of color accuracy for their daily work. Such color calibration is simply lacking on usual notebook computers.
Usage Experience
The ASUS ProArt StudioBook Pro X runs snappily. Well, you can't expect too much more when you've got almost the best of everything you can ask for. Intel Xeon Hexa-core processor, 64GB of ECC RAM, 4TB of SSD storage (made from 2 x 2TB SSD in RAID 0) and even a high-performance NVIDIA Quadro graphics. What else could you ask for?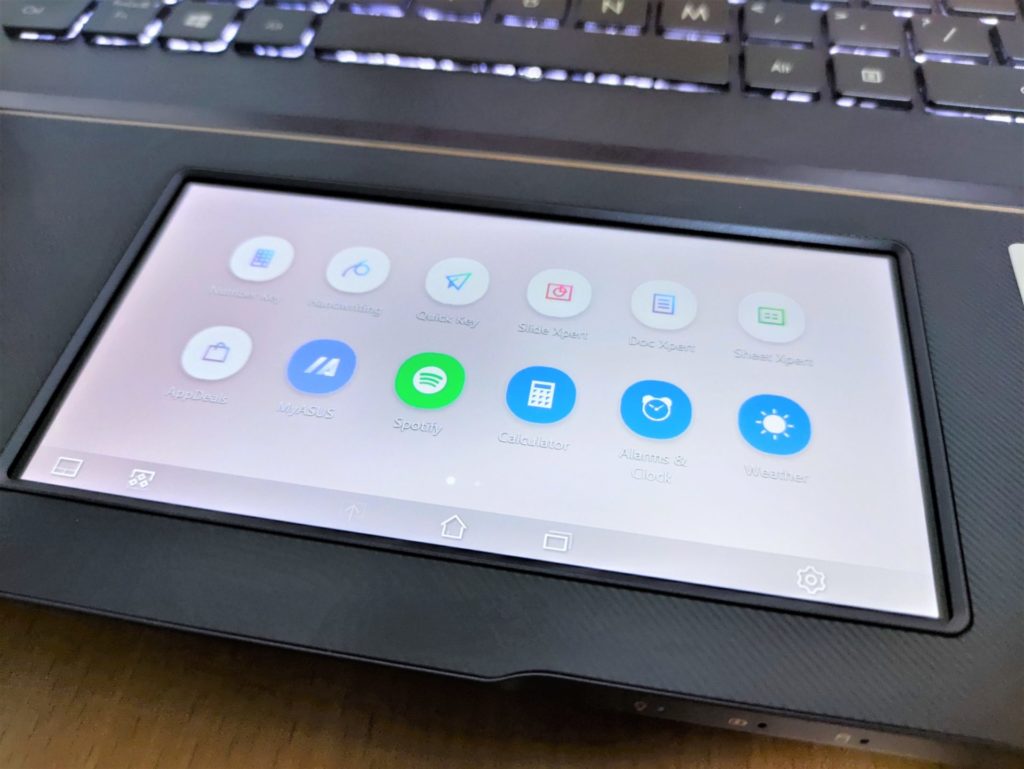 While the ASUS ProArt StudioBook Pro X also comes with a unique ScreenPad 2.o, I don't find it particularly useful. Most of the time, I will still use it as a trackpad, rather than an additional screen for other purposes. The problem with the screen is that it doesn't perform as well as a usual trackpad. I'd rather have a traditional track pad on this notebook, but I guess some people may still find it useful for the types of applications they use.
We've already talked about the performance of the display, stating that it is color accurate and great for work. The non-glare display also works out well for media consumption, poising the notebook to be an excellent device even for some entertainment. Further added with its Harman Kardon tuned speakers, you'll also get to enjoy both music and movies on the ASUS ProArt StudioBook Pro X. It is good for both work and play!
RAID0 SSD – is there a real need?
The ASUS ProArt StudioBook Pro X is expected to perform reliably, especially when it is used for work. Therefore, it is questionable why ASUS still decided to set this notebook configured in RAID 0 with two SSD.
Even though synthetic benchmark can show the great improvements in sequential read and write speed for the RAID0 drive system, RAID0 could increase the chance of losing your important data, especially when one out of the two drive fails.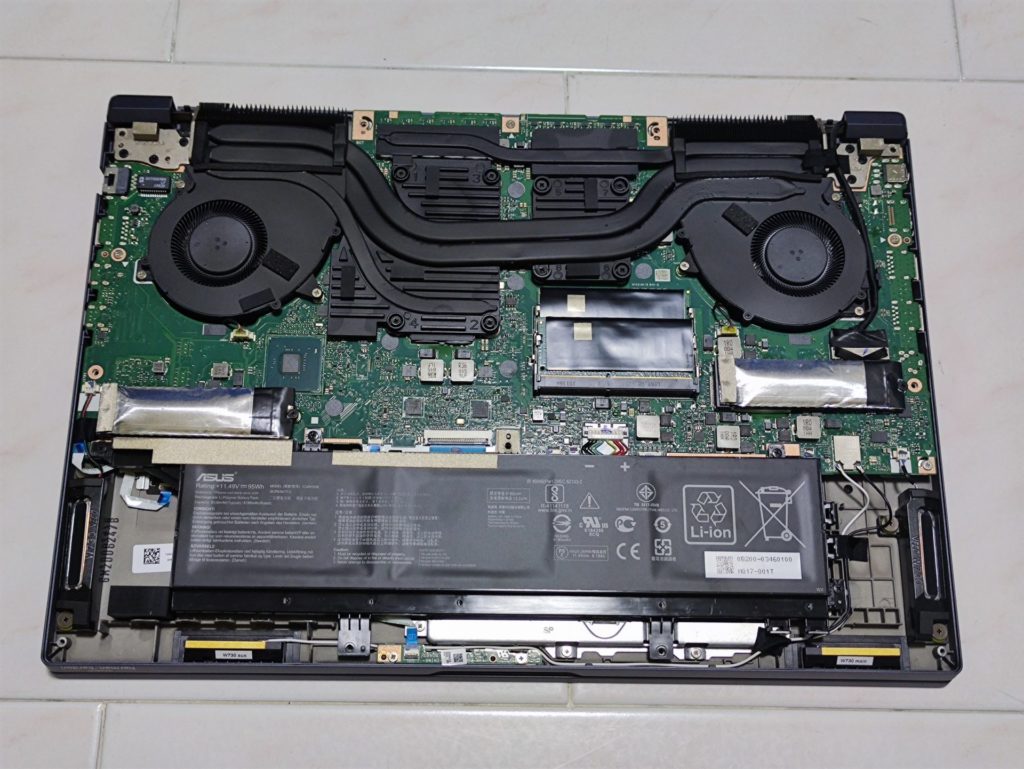 Moreover, upon tearing down the notebook, I also came to realize that the ASUS ProArt StudioBook Pro X utilizes two different types of SSD from different brands. I could not understand why ASUS was unable to include two of the identical drives for RAID0. It is common understanding that if we were to run drives in RAID0, we would choose drives of the same capacity and make. While it is generally alright to pair different types of drives, ASUS did not optimize this setup to use two of the same drive instead.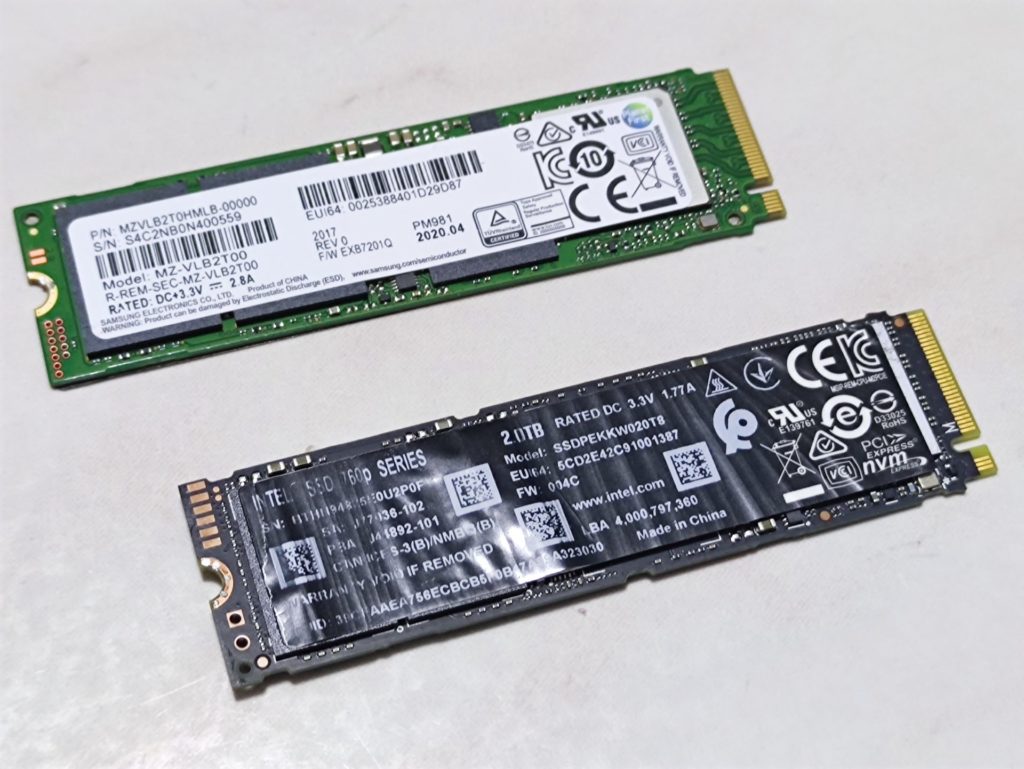 In the end, I'd recommend users of the ASUS ProArt StudioBook Pro X to simply just remove the RAID0 configured drives, and use them separately as two drives instead. You would be sure that some of your data will still be available even when one of the drives fails.
Performance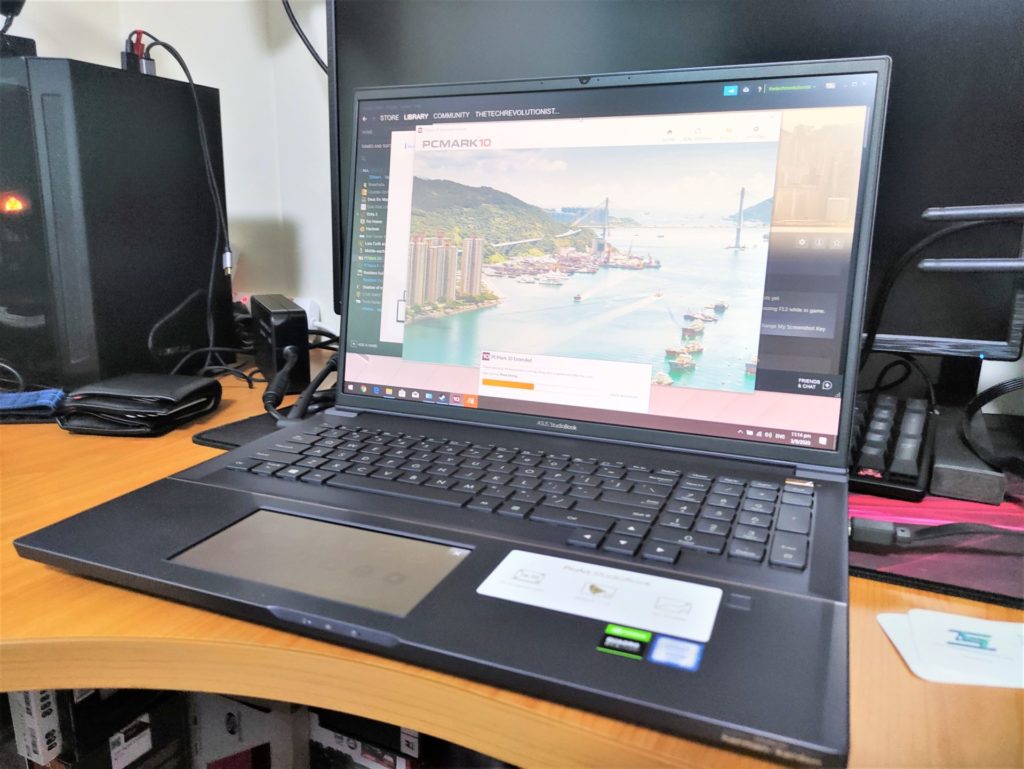 In our usual notebook tests, we are going to compare the ASUS ProArt StudioBook Pro X with the AORUS 15G-VB and the Razer Blade Advanced(2019). The reason for this choice is to compare the Intel® Xeon® E-2276M found on the ASUS ProArt StudioBook Pro X, which is a Coffee Lake based Intel CPU (9th Generation), to the Razer Blade Advanced of the same generation. Also, we will compare this notebook with a later Comet Lake CPU (10th Geneartion) of the AORUS 15G-VB.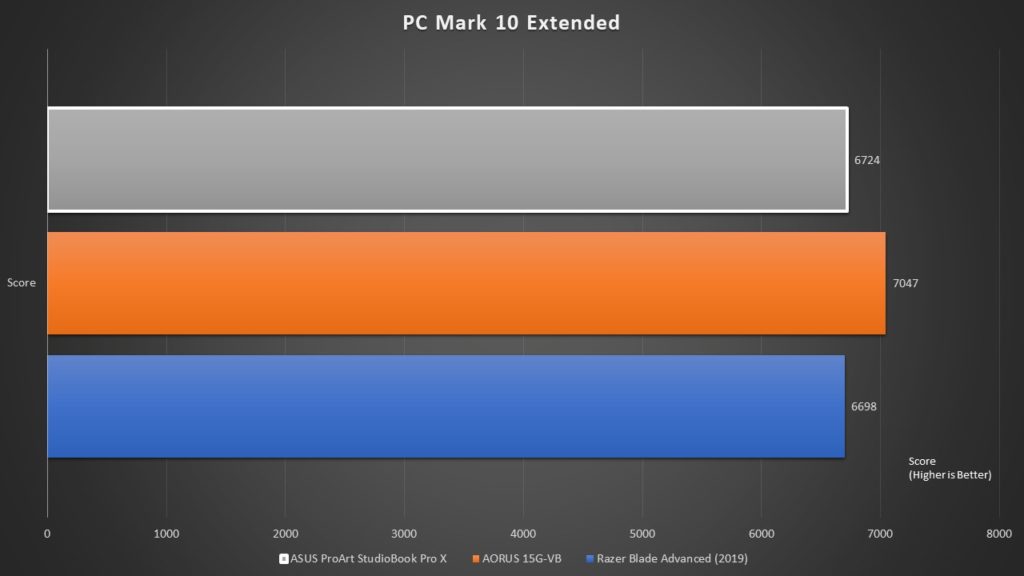 On general PC performance, it seems that the Intel® Xeon® E-2276M of the ASUS ProArt StudioBook Pro X still performs slightly worse than the 10th generation (The i7-10875H on the AORUS 15G which is also 8 cores, as compared to 6 cores on the StudioBook. Due to limited resources, this is the best we can do).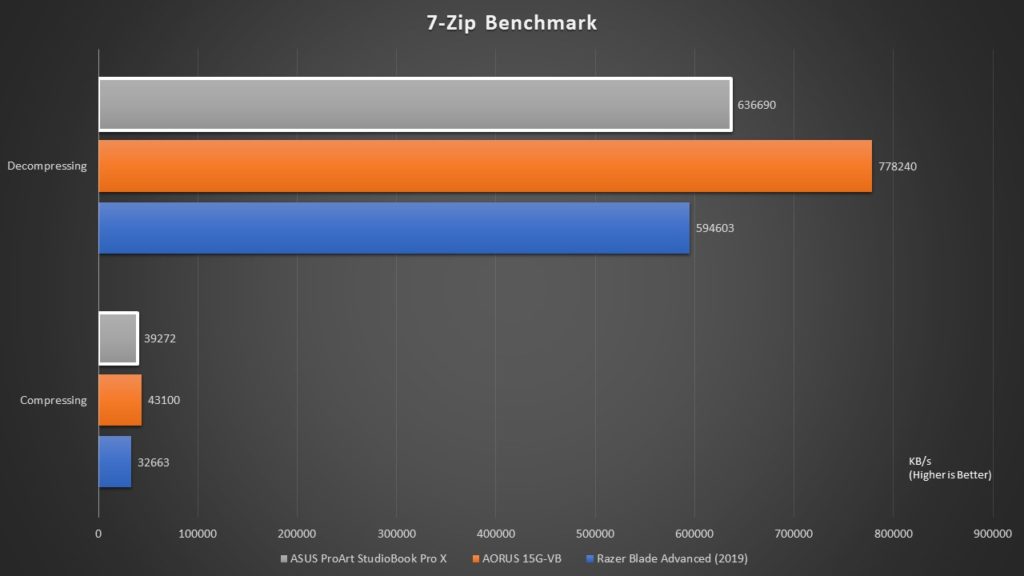 7-Zip benchmark result is expected to perform relatively to the number of cores. Even though both the Razer Blade has the same number of cores as the ASUS ProArt StudioBook Pro X, and that they are both from the same architecture and generation, the latter still performs better.

In the single threaded performance, we can see how well the ASUS ProArt StudioBook Pro X performs. The Intel Xeon has an advantage in terms of performing the number of instructions per second, therefore resulting in better performance.

In the video decoding test, the ASUS ProArt StudioBook Pro X also managed to come up on top. Performance is faster than both the other two compared notebooks.

Interestingly, the ASUS ProArt StudioBook Pro X's performance improvement over the Razer Blade Advanced is rather significant. It can complete the same workload almost two minutes faster.

We can also see that the ASUS ProArt StudioBook Pro X had an advantage in memory performance in both Write and Copy speeds.
Moving on, we will be testing the ASUS ProArt StudioBook Pro X with creavity and AI workloads. As this is a new test suite in our benchmark tests, we could only compare it with what we have on hand, which is an ASUS TUF Gaming A15 which comes with a Ryzen 7 4800H and NVIDIA GeForce GTX 1650.

The advantage of the excess VRAM on the ASUS ProArt StudioBook Pro X really comes in handy for our AI benchmark test suite. As the AI benchmark test suite requires significant amount of VRAM to enable hardware acceleration using CUDA and cuDNN, the ASUS TUF Gaming A15's GTX 1650 simply couldn't make it at all. The benchmark on the TUF Gaming notebook couldn't run with cuDNN enabled, which resulted in a very poor score.
This shows how the ASUS ProArt StudioBook Pro X shines in such kinds of professional workload. It is purpose built for both AI inference and training, showing its prowess in the AI Benchmark Test.


Similarly, for both OctaneBench and LuxMark which uses the GPU for rendering, we determined that the ASUS ProArt StudioBook Pro X excels. The ASUS ProArt StudioBook Pro X definitely can perform very well in any kind of professional workloads you throw at it.
Temperature
During our tests, we didn't feel much heat on the keyboard area which can caused discomfort. It is well designed to properly cool the system to run at its optimal speed. At idle state, it had a recorded temperature of 40°C, rising up to 87°C when the CPU is stressed. It shouldn't be too much of a concern, as it is performing well below the maximum operating temperature. Most importantly, we must reiterate that you won't feel too much of the heat. However, as the temperature rises, the CPU will reduce its clock speed and reach a lower boost speed. The temperature then maintained at about 74°C.
Conclusion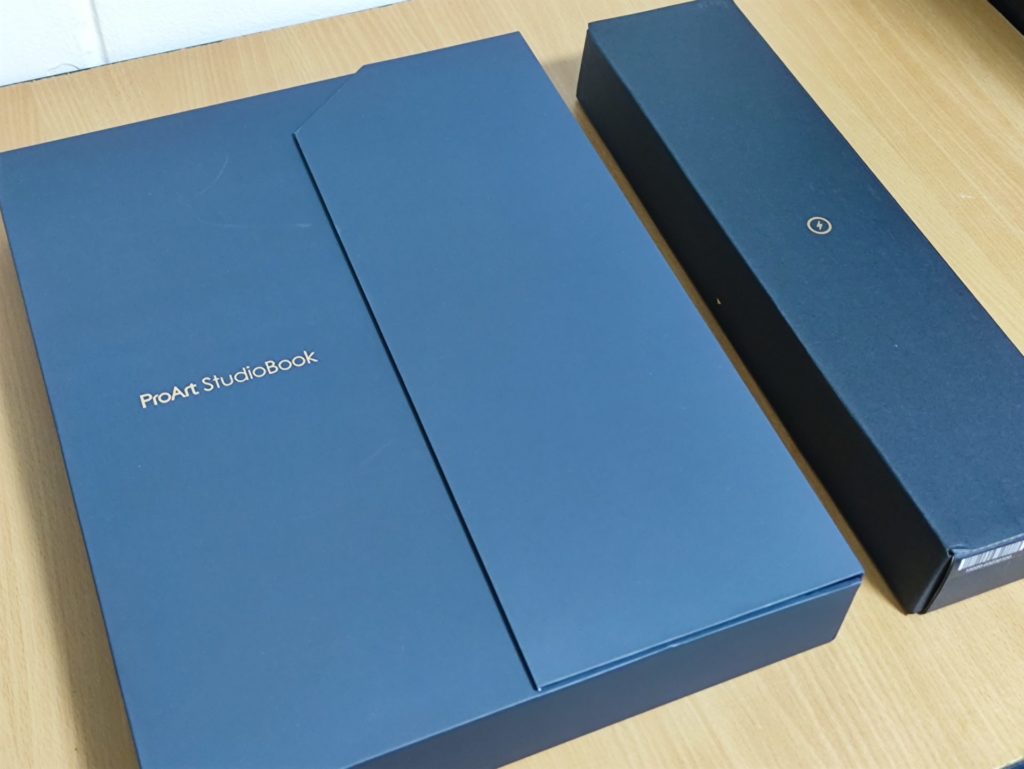 When it comes to selecting a notebook for work, productivity is of utmost importance. The notebook, which usually is a lifestyle product, becomes a money-making tool. Therefore, design and price could be less of a concern, as the return of investment made could easily be recovered from your work.
There is no doubt that the ASUS ProArt StudioBook Pro X was able to perform up to expectations in professional and creative applications. It also performed well for AI computation too. As the performance improvement brought about by its workstation grade components is very significant, we can see professionals purchasing this product.
Our only gripe on this product is that despite it being a product that is just launched in Singapore, it is still running on the older Coffee Lake processors (It is 2 generation old now). If you have to option to wait before making a new workstation, we will recommend you to do so. We can expect new NVIDIA Quadro based on the new Ampere architecture to be out next for notebook computers, which will further improve performance at a lower price point. We do expect ASUS to refresh this notebook with new components in the future too.