With the introduction of the new H-series Intel 10th Generation Core processors and NVIDIA RTX 2070/80 SUPER series, many notebook manufacturers have revamped their core notebook product offerings and lineup. For AORUS, they have renewed their conviction in providing new gaming experiences to gamers with the new AORUS gaming notebook computers.
The new AORUS 15G Gaming Notebook was designed from the ground up. It now comes in a new chassis design, which looks barely the same as its predecessors, such as the AORUS 15 XA and AORUS 15 X9.
Gigabyte sought the feedback from gamers to build a new generation of AORUS  notebook series – a notebook that provides (1) superb gaming experience, (2) unparalleled performance and (3) sensible practicality. They have even managed to get a stamp of approval from G2 Esport team for their great works with the new AORUS notebooks.
Leaving the talk aside, let us get started with the review proper.
Specifications
We have our hands on the AORUS 15G VB that is equipped with the new Intel Core i7-10875H processor, 16GB of 3200MHz Dual Channel DDR4 DRAM and the new NVIDIA GeForce RTX 2070 SUPER.
Specifications
Details
Model
GIGABYTE AORUS 15-VB
CPU
Intel Core i7-10875H (8-core processor)
GPU
NVIDIA GeForce RTX 2070 SUPER GDDR6 8GB (Max-Q)
OS
Windows 10
Display
15.6" 240Hz FHD IPS Panel
System Memory
Micron 16GB DDR4 3200MHz (2 x 8GB)
Storage
512GB Intel 760P M.2 PCIe SSD
Audio
Nahimic 3 Powered
Network
Killer Ethernet E2600 LAN
Killer Wireless-AX 1650
Dimensions
356 (W) x 250 (D) x 25 (H) mm
Weight
~2.2KG (w Battery, M.2 SSD)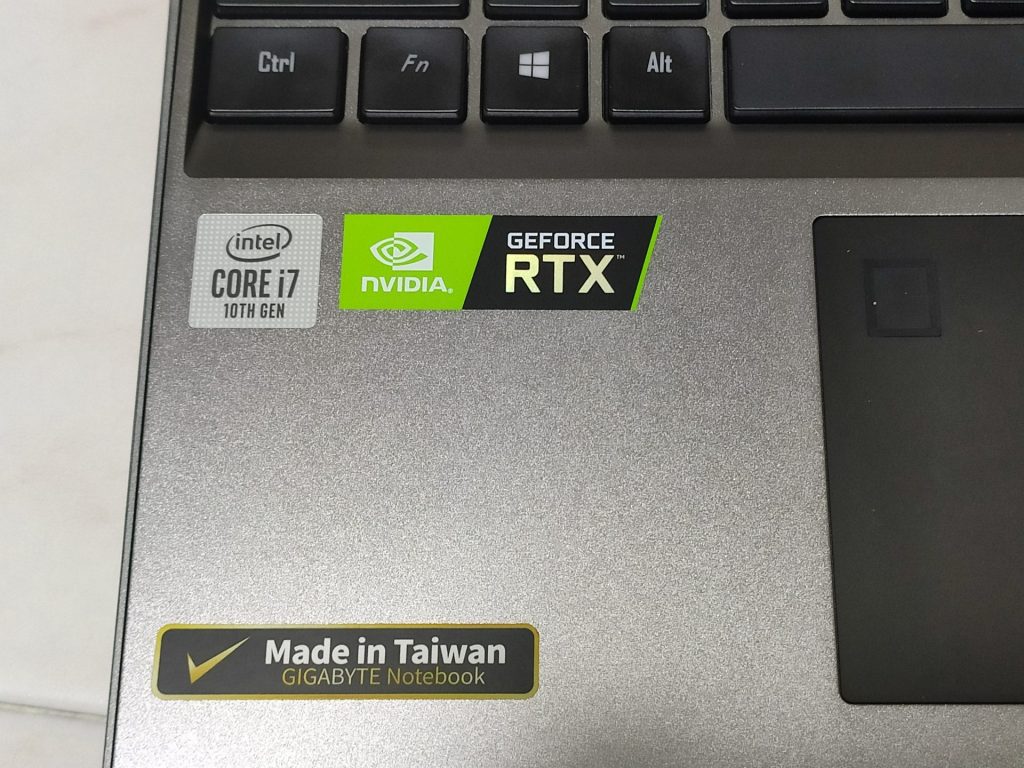 With the above specifications, we know that the new AORUS 15G is created to perform. It is equipped with the latest hardware component from Intel and NVIDIA, which brings gaming experience to the next level. Of course, we will be expecting a lot of performance from this device. If you are simply looking for benchmark and performance results, you can view our dedicated performance article :
Ports and I/O
The AORUS 15G comes with full sized I/O expansion ports, so users will be good to go without the need of any dongles or converters.

On the left of the device, there is a HDMI 2.0 port, followed by a mini Display port, a USB 3.2 Gen1 Type A port, 3.5mm audio/microphone combo jack and a Gigabit Ethernet RJ45 port.

On the right, there are another two more USB 3.2 Gen 1 Type A ports, a Thunderbolt 3 USB Type C port, a full-sized SD card slot and the power jack.
It's interesting to see that the AORUS 15G comes with two display output ports, i.e. the HDMI and miniDP. This allows the notebook to connect to multiple external displays, making the AORUS 15G also perfect for gaming or productivity work.
Design and Features

Gigabyte has given the AORUS 15G a brand new look. The design team has taken different elements of sport cars and included them within the AORUS 15G to give it an sporty and unique touch.
We can see aspects of a sports car infused into the core design of the AORUS 15G, such as the grill design above the keyboard. The rear of the notebook also looks like the bumper of some sport cars, with its exhaust fans.
Even though the concept of design comes from famous sport cars, the overall look and feel of the AORUS 15G is not too overwhelming. In fact, the whole notebook still looks rather modern, conventional, and suitable in a professional setting.
3mm Thin Bezel Design

One of the new feature brought to the AORUS 15G is the bezel-less display design. This design makes the whole notebook look a lot more premium. At the same time, it also allows the whole machine to be more compact and portable.
HD Webcam with Privacy Shield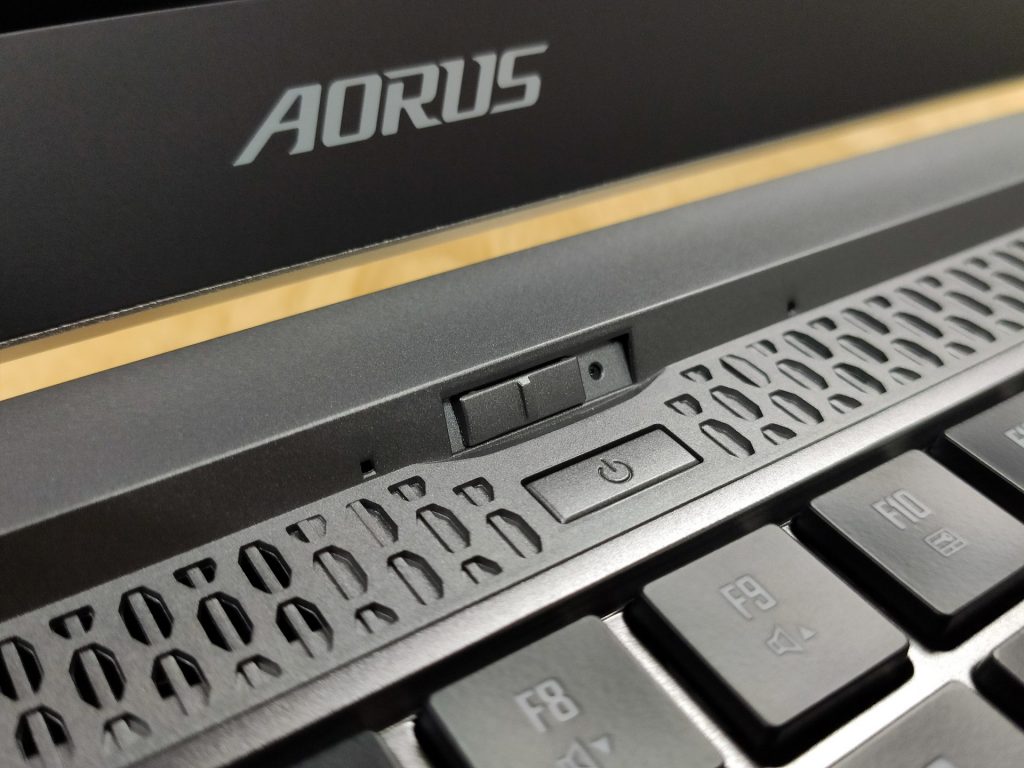 However, because of the display's slim bezels, the webcam has to be placed at the bottom of the display. This awkward angle of the camera focuses on pictures taken of your chin or nostrils. It is not too much of an issue for non-formal usage, but it could be rather inconvenient for streamers or a formal video conference call.
Although not optimally designed, this issue could be easily resolved by sitting further away, raising the notebook, or simply using an external webcam.
On a side note, we also welcome the webcam's privacy shield feature. When not in use, users can simply cover the webcam with the small cover.
Large Trackpad with Fingerprint Sensor

Talking about privacy, The AORUS 15G also comes with fingerprint sensor which works with Windows Login. The trackpad is also considerably large, sensitive and a pleasure to use. It also supports touch gestures which are expected of today's notebook computers.
True Mechanical Keyboard

The new AORUS 15G Gaming Notebook comes with true mechanical switch for its keyboard. Before you denounce that it is impossible to include mechanical switches into a slim form factor like a notebook, we must ascertain that these are slim switches.
It is the first time we've seen a slim mechanical key switches on a notebook computer. This is the outcome of a collaboration between AORUS and OMRON, which is now available in SKUs across the new AORUS 15G.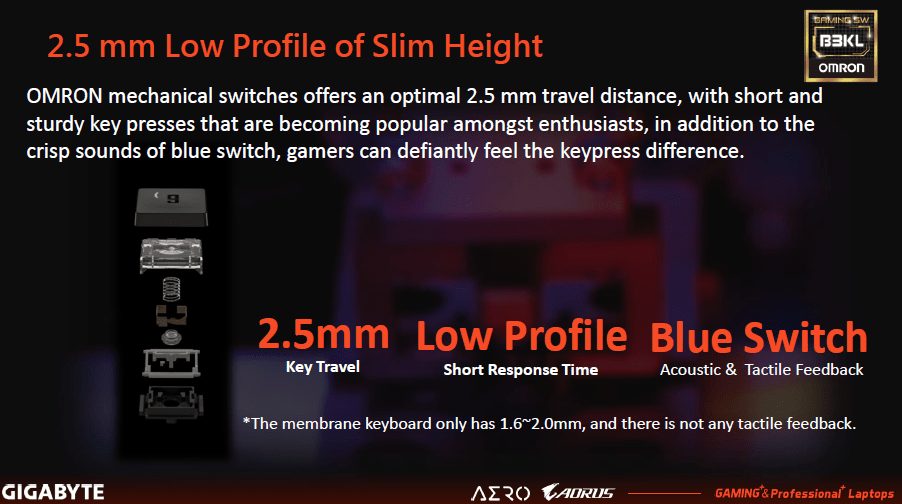 These new OMRON mechanical switches offer a 2.5mm travel distance. Of course, compared to a usual keyboard with a membrane switch, the mechanical switch design brings about a significant advantage to gamers. Faster actuation also means faster response from keys, which could be essential for competitive gamers where every single improvement counts.
Of course, we still love the fact of how mechanical key switches feel while typed on. Be it for gaming or general productivity work, mechanical switches just feels so much better. Instead of a mushy feedback like on membrane keys, the mechanical keys on the AORUS 15G provides a tactile response. Keystrokes feel a lot more substantial and solid, and are able to respond much faster than usual.
Not to forget, these mechanical switches also comes with an audible click when pressed, completing the whole mechanical keyboard experience.

However, even though it is all great with the new mechanical switches, there's still some design aspects of the keyboard that's not as optimal on the AORUS 15G.
The keys on the keyboard are slightly narrower than a standard sized keyboard. This requires gamers to get used to the unconventional keyboard layout. It's very easy to make mistakes while typing when users first experience the AORUS 15G.
Ultra Fast 240Hz Display
With the introduction of the NVIDIA GeForce RTX 2070 SUPER and RTX 2080 SUPER, all gaming notebooks equipped with them are also required to have high refresh rate displays of at least 144 Hz. Instead of just meeting the minimum requirements, the AORUS 15G is equipped with a 240 Hz display instead.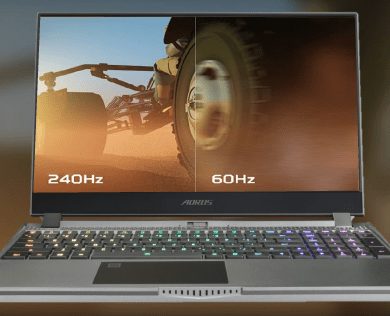 Based on our experience on the AORUS 15G, we can really feel the responsiveness of the display in action packed games. While playing games, the entire experience felt generally smoother than usual 60Hz panel. FPS Gamers should be able to appreciate the high refresh rate of the display as it's much easier to pin point enemies.
Inside the AORUS 15G
Removing 12 torx screws from the bottom of the AORUS 15G, we can see the mainboard and cooling system of the notebook. Just based on first impressions, we can say that the key upgrade-able components easily accessible. Upgrades can be done easily as both SSD and DRAM are not soldered onto the motherboard. You can easily upgrade the system memory and storage drive without much hassle.
The AORUS 15G uses high performance 3200MHz DDR4 RAM, which is now supported with the 10th generation Intel Core H-series processors. This makes memory performance almost on par with those on the desktop PCs. AORUS have used DDR4 DRAM from Micron (or to be more specific, one from Crucial(which is by Micron) and one from Micron).
There are two M.2 slots made for storage expansion. The main NVMe (only) slot is inserted with a Intel 760p SSD. There is still a NVMe/SATA M.2 slot which you can use for an additional drive.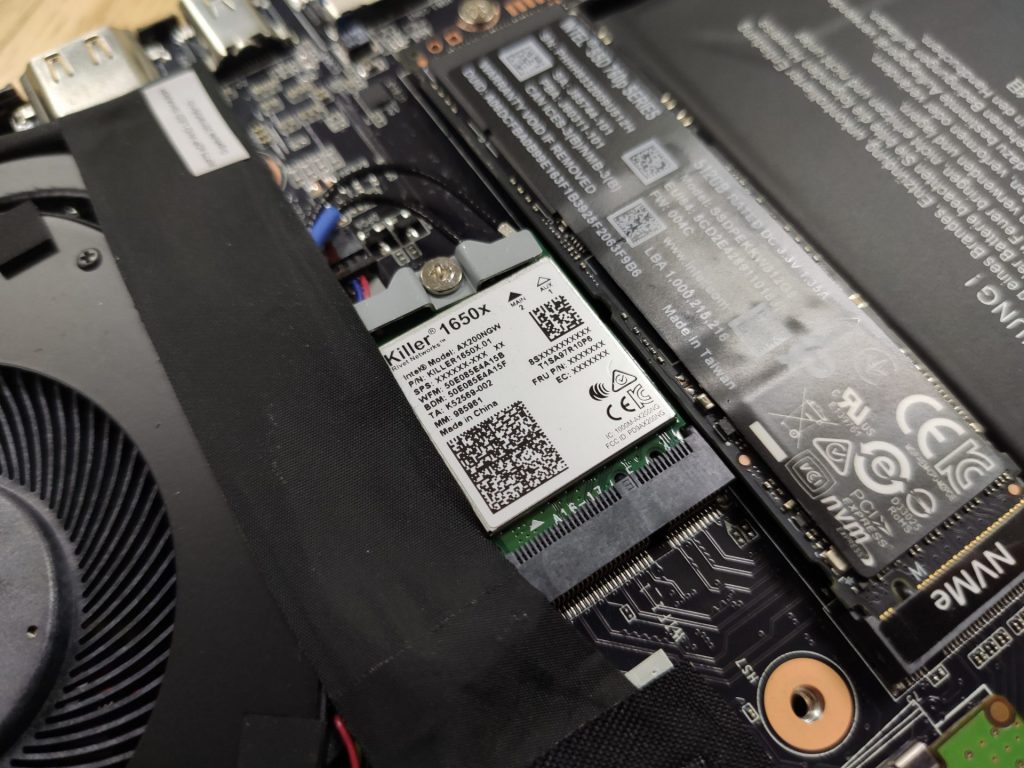 Lastly, the AORUS 15G also comes with a Killer 1650X Wireless LAN module. This supports WiFi 6 (Wireless AX), which can have throughputs of up to multi-gigabit speeds.
Software
The AORUS Control Center is preinstalled on the AORUS 15G. The AORUS Control Center provides an all-in-one system control panel for monitoring and configuration of system settings.
The AORUS Control Center can monitor all key vitals of the system, particularly on usage, temperature, frequencies and fan speeds. Users can even customize the fan curve on the device to cater to their needs, be it high cooling performance or cool and quiet operations.
Moreover, RGB Fusion also allows for full customization of the RGB keyboard. Users can select from a range of RGB effects full RGB colour schemes based on their own preference.
The Smart Utilities feature within the Control Center is also extremely useful for keeping track of the latest drivers from different component manufacturers. This ensures that the system drivers are always updated, ensuring the utmost stability and performance.
Conclusion
Based on our experience with the AORUS 15G, there is indeed nothing much we can complain about. The new slim and thin bezel design is welcomed, keeping the new AORUS 15 notebooks up-to-date with current trends. Both the 240Hz high refresh rate monitor and new mechanical keyboard features sets the notebook apart from competition, providing the best possible gaming experience to even the gamers at the top of their league. Weighing at only 2.2KG, this feature-packed, high performance gaming notebook is definitely one to look out for.
Where to Buy
The new Gigabyte AORUS 15G series with the latest Intel Core 10th Generation Processors and NVIDIA RTX 20 SUPER series is now available for purchase online at major retailers. Stocks are available.
Lazada-Gigabyte Notebook Singapore Official Store👉 https://bit.ly/2NN3KUV
AORUS 15G KB (NVIDIA® GeForce® RTX 2060 graphics card )👉https://bit.ly/3j3ykrA
AORUS 15G XB(NVIDIA® GeForce® RTX 2070 SUPER™ graphics card )👉https://bit.ly/3frjuJB