Gigabyte has been focusing a lot on the gaming market lately. Under the AORUS branding, they have practically released every kind of product for the PC market. These include motherboards and graphics cards to peripherals such as keyboard and mouse. On top of that, the AORUS Gaming Notebooks were also created to bring excellent gaming performance and experience to gamers who don't want the hassle of building their own PC. In this article, we are going to take a look at the new AORUS 15-X9 Gaming Notebook. This laptop has been redesigned and equipped with the latest hardware components. What kind of performance can we get out from this machine? Does it game well? Read on to find out more.
The AORUS 15-X9 looks like a typical gaming notebook PC. It does not aspire to be a slim and light gaming system, and therefore, was able to fit in better hardware components. This is why, the AORUS 15-X9 is Gigabyte's first gaming notebook computer that comes with the NVIDIA RTX 20series Max-P graphics card. Particularly, the review unit that we have today is equipped with a full-fledged GeForce RTX 2070. As compared to the RTX 2070 Max-Q graphics card which we tested out earlier in our review of the AERO 15-X9, the former is expected to perform quite a bit better.
Core Specifications
Specifications
Details
Model
GIGABYTE AORUS 15-X9
CPU
Intel Core i7-8750H
GPU
NVIDIA GeForce RTX 2070 GDDR6 8GB
OS
Windows 10
Display
15.6" LG 144Hz FHD IPS Panel
System Memory
Samsung 16GB DDR4 2666MHz (2 x 8GB)
Storage
512GB Intel 760P M.2 PCIe SSD
2TB HDD
Audio
Nahimic 3 Powered
Network
Killer Doubleshot Pro LAN
Killer Wireless-AC 1550
Dimensions
361 (W) x 246 (D) x 24.4 (H) mm
Weight
~2.4KG (w Battery, M.2 SSD)
Just based on the specifications, we can see that the AORUS 15-X9 is geared up for the best possible gaming and compute experience. Particularly, Gigabyte has specifically selected only the best of the best components from Intel and Samsung to power this device. Performance of each of these components will be tested in the later sections.
Input/Output Ports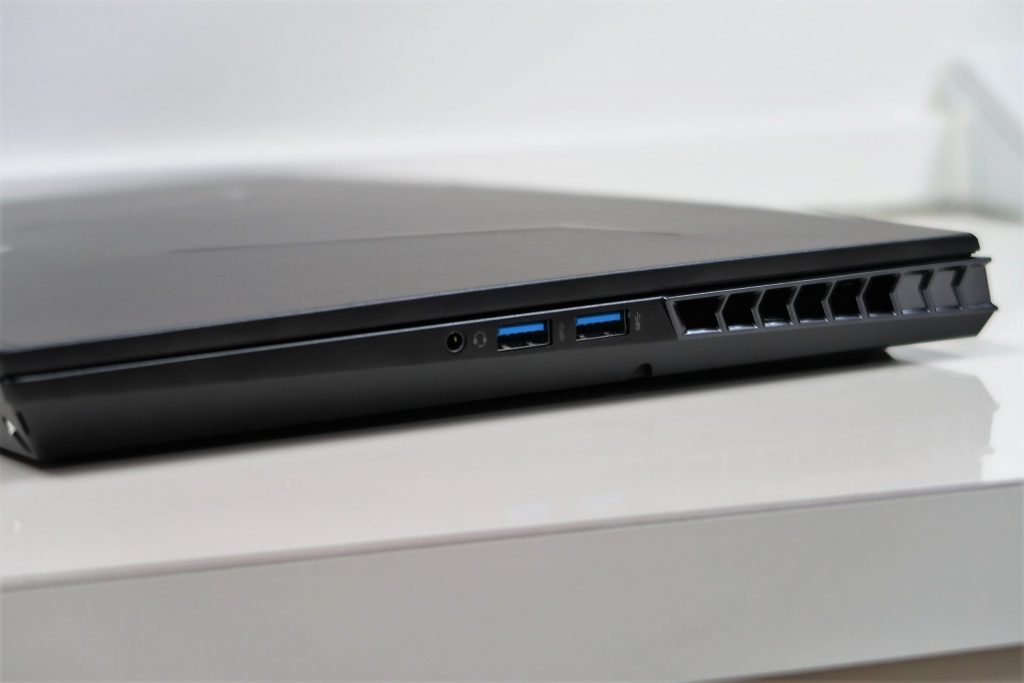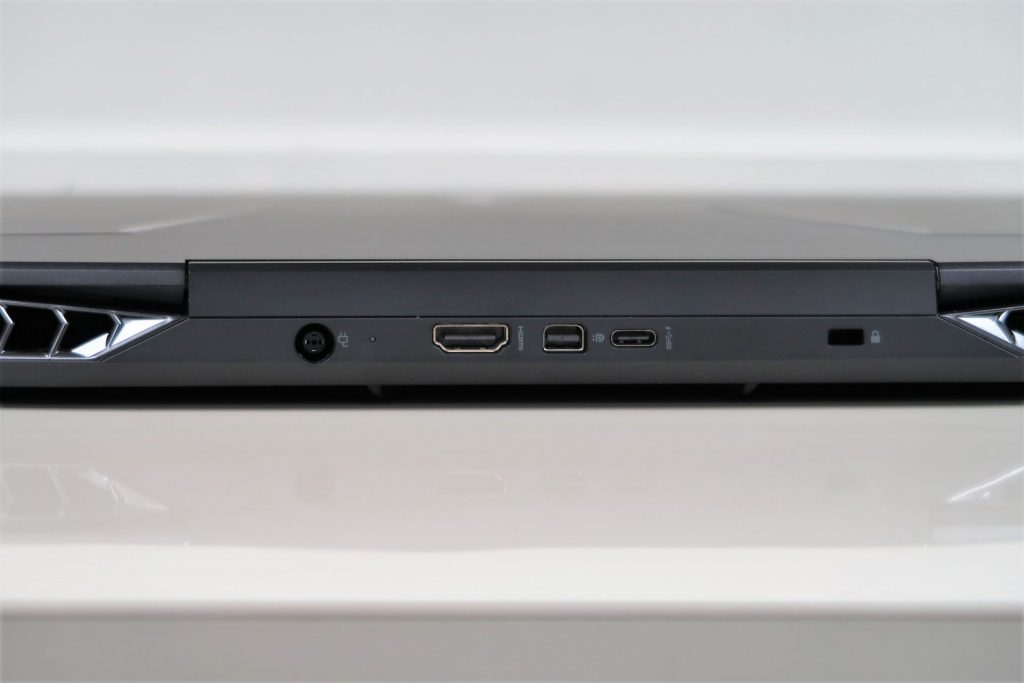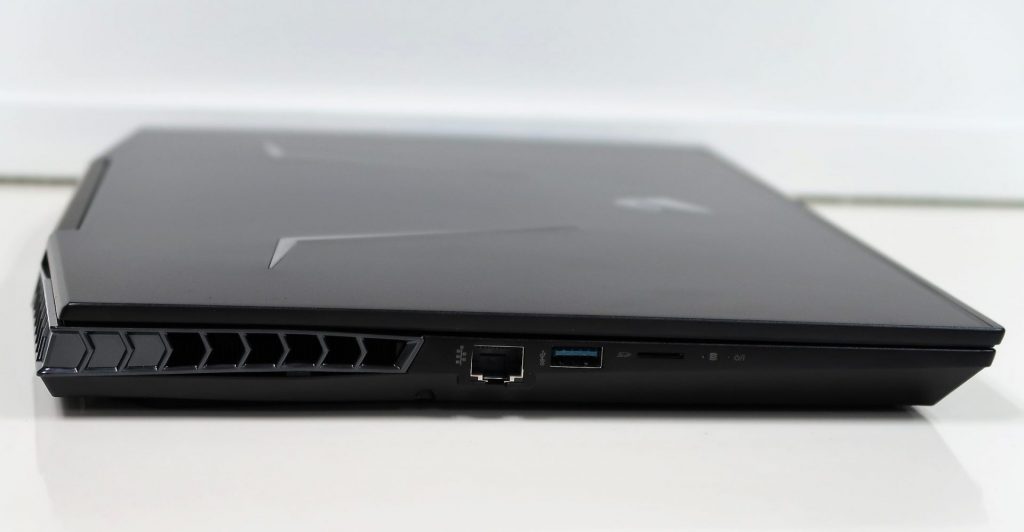 The AORUS 15-X9 comes with a comprehensive set of I/O ports for further expansion. Gigabyte also managed to place the Graphics display outputs at the rear of the notebook in order for a more natural placement of connecting cables. If you are gaming on a dedicated monitor, you will definitely appreciate that the graphics output ports placed at the back of the device. This allows better cable management on your desk, preventing any clutter of cables. Essentially, this notebook is probably even good enough to be a desktop replacement system.
However, we thought that it was rather odd that Gigabyte couldn't include a full-sized SD card slot for this machine, but instead, settled with a MicroSD card slot. Professionals who uses digital cameras with a full-sized SD card will still be required to purchase a card reader to read these SD card. Usually, MicroSD cards are used for storage expansion. We feel that anyone will require further storage expansion on this machine which is already equipped with a 500GB SSD and a 2TB HDD.
Aesthetics and Design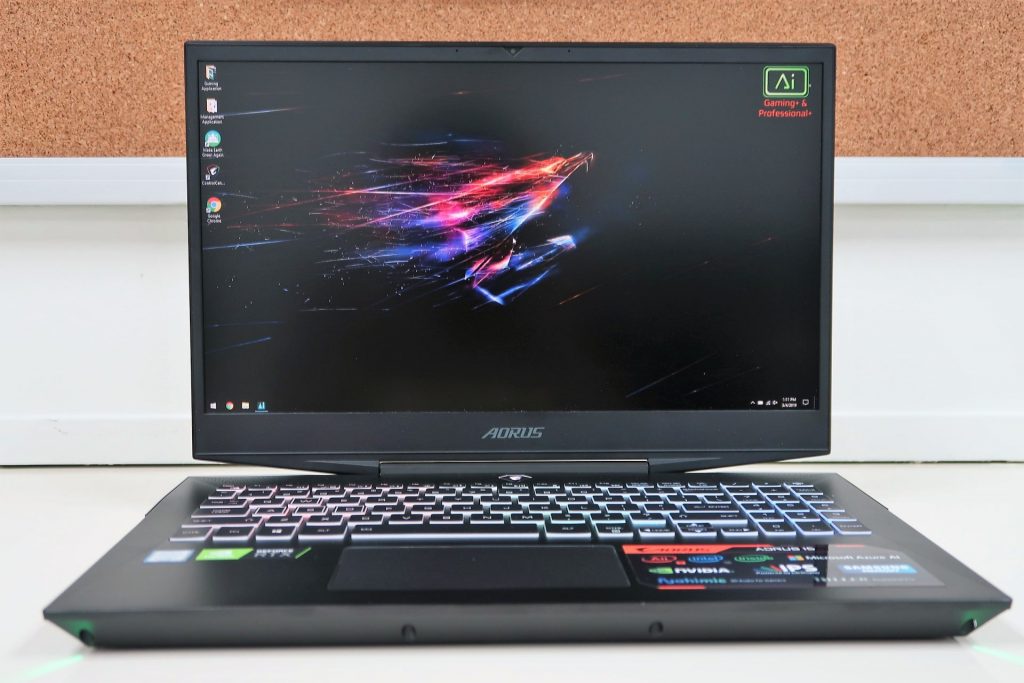 We liked the design of the AORUS 15-X9 as it isn't too flashy. Even though it is marketed as a gaming machine, its design still remains rather simple. There aren't many flashy design aspects that makes it unbearably unacceptable, other than its RGB enabled backlit keyboard and LED effects that is reflected on the desk. The good thing is that all these lighting effects can be turned off directly from the GameCenter software that is found preinstalled on the notebook.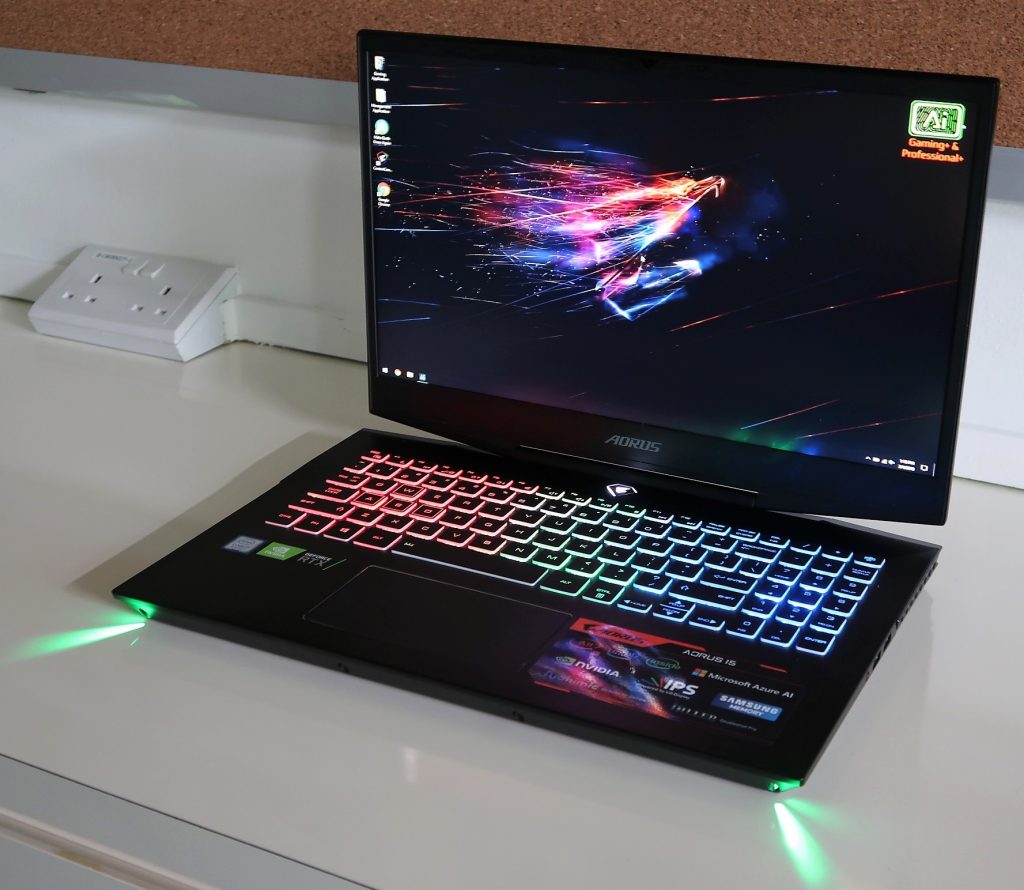 Furthermore, the lid of the device has a sophisticated looking AORUS logo and LED decal that adds a certain sexiness to the notebook. The lighting only comes in white, and will be turned on when the notebook is powered up.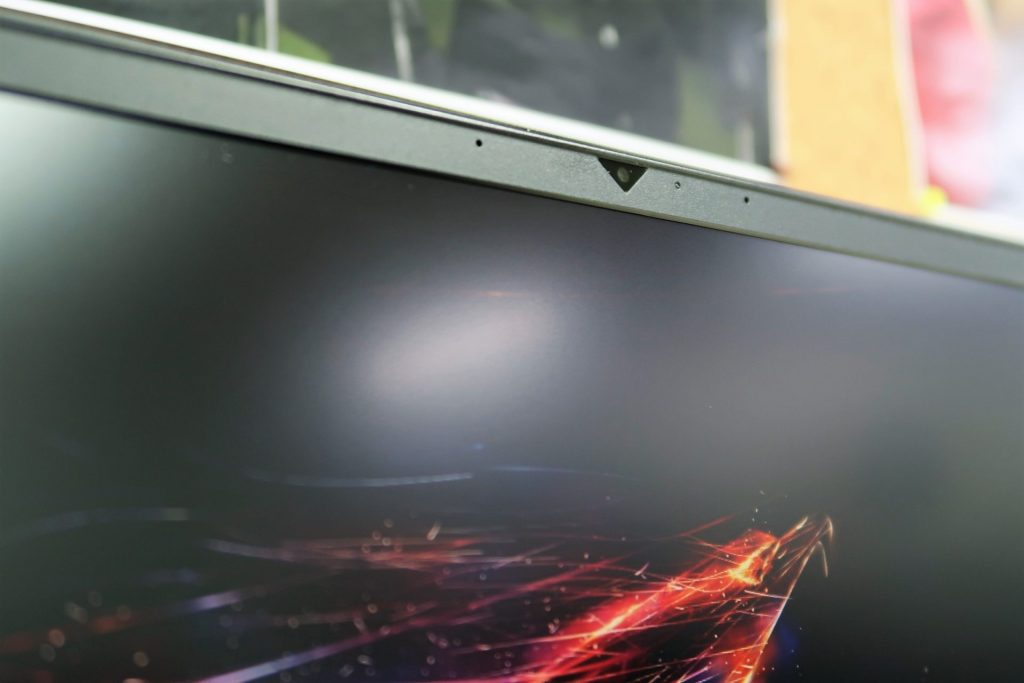 To reduce the webcam's footprint on the AORUS 15-X9 and to decrease the bezels of the display, Gigabyte designed the webcam with an inverted triangle notch. Luckily, Gigabyte did not compromise on the usability of the webcam by placing it in quirky locations. The webcam is placed at where it should be. Even though the display bezels are not as thin as those found on the AERO 15, but they aren't that wide too. Overall, the thickness of the display bezels is still acceptable. We were willing to accept this design in order to have a well-placed webcam and better hardware components.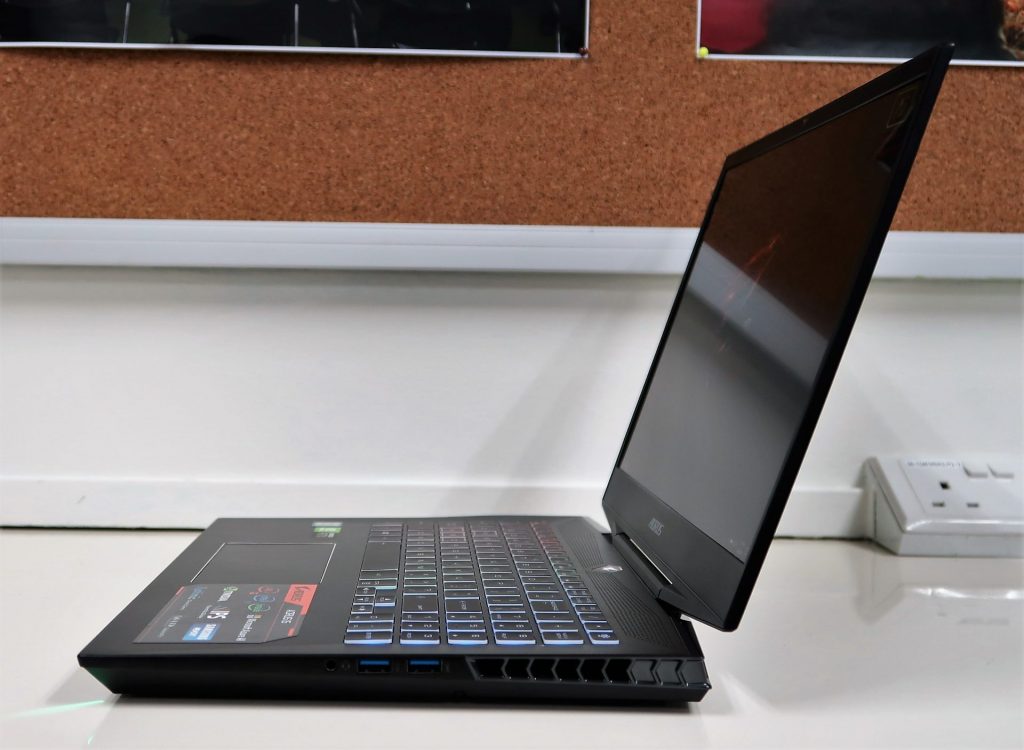 To be frank, the AORUS 15-X9 isn't that thick in the first place. It measures at a weight of 2.4KG, as compared to the AERO 15's 2.0KG. The additional 400g of its weight is a small compromise that many people will be willing to take for better hardware and thermal capabilities.
What's Inside?

It seems that Gigabyte has focused a lot of their efforts in cooling this machine, as we can see that most of the real estate within the system are taken up by the fans and heat pipes. There are in fact a total of 6 heat pipes and 9 air vents to make sure that there is sufficient airflow within the setup to cool the system. Cool air is taken in from the bottom of the system through a meshed cover, and exhausted through the side and rear vents.
The advantage of a larger chassis design, is that manufacturers can fit more hardware into the system. Unlike the AERO 15 which couldn't fit a 2.5-inch conventional hard drive, the AORUS 15-X9 comes with a 2TB built in Hard Drive. There won't be any concerns regarding storage space for this gaming PC. Gamers can store their game libraries within the hard drive and not worry about running out of space.
We also liked the fact that Gigabyte has heed our feedback and included 2 x 8GB DDR4 SODIMM sticks within the unit, instead of a single 16GB stick. This allows the memory to run almost twice as fast in Dual-Channel mode, effectively improving memory performance throughout all compute tasks.
The AORUS 15-X9 also comes with a single Intel 760p SSD that is connected to the mainboard via the M.2 NVMe interface. There is also another M.2 slot for future expansion as well.
Software
GIGABYTE CONTROL CENTER
The GIGABYTE Control Center is a one-stop software that allows you to control all the different settings of the AORUS 15-X9 notebook. In the main dashboard, you will be able to get to know of the health status of the system at any one point. The software also links to other key software and controllable features of the system under the "Manager" settings.
The keyboard illumination can also be controlled directly on this software, under the "Fusion" section. The different RGB effects, speed, lighting brightness and colors can all be set here. Moreover, users can even select the lighting profile that is based on games, which will automatically light up the main keys used in those games.
As for the Device Settings section, the fan curve profile of the notebook can be specified. There are already a few pre-configured profiles, such as Gaming, Normal and Quiet for selection. Interestingly, there is also a "Deep Control" mode, which automatically creates a fan curve base on the user's usage.
Lastly, the software also keeps track of the main drivers and utilities that are important to the notebook. It will show each software's current version installed, and prompt users if there are newer drivers of software available.
Nahimic Sound App
Thanks to the use of Nahimic audio technology that's integrated into AERO 15-X9, we found the overall audio experience to be better than expected. The Nahimic Windows App helps us to tune the audio profile and frequency focus of the speakers on the unit to fit different scenarios. Nahimic has also included a few common profiles, such as Music, Movie, Communications and Gaming for easy change of audio settings. Enabling these effects created a rather huge difference in terms of audio quality, as we experienced that sounds were much wider in range, had a better impact and was more immersive.
The Nahimic App also supports a "Sound Tracker" feature. By turning this feature on in your FPS games, a small translucent display will be shown in your game. Based on the directions of the shots coming from your enemy, this display will show you the location of where the shots are coming from. You can also set the preferred shortcut to activate this feature.
General Experience on the AORUS 15-X9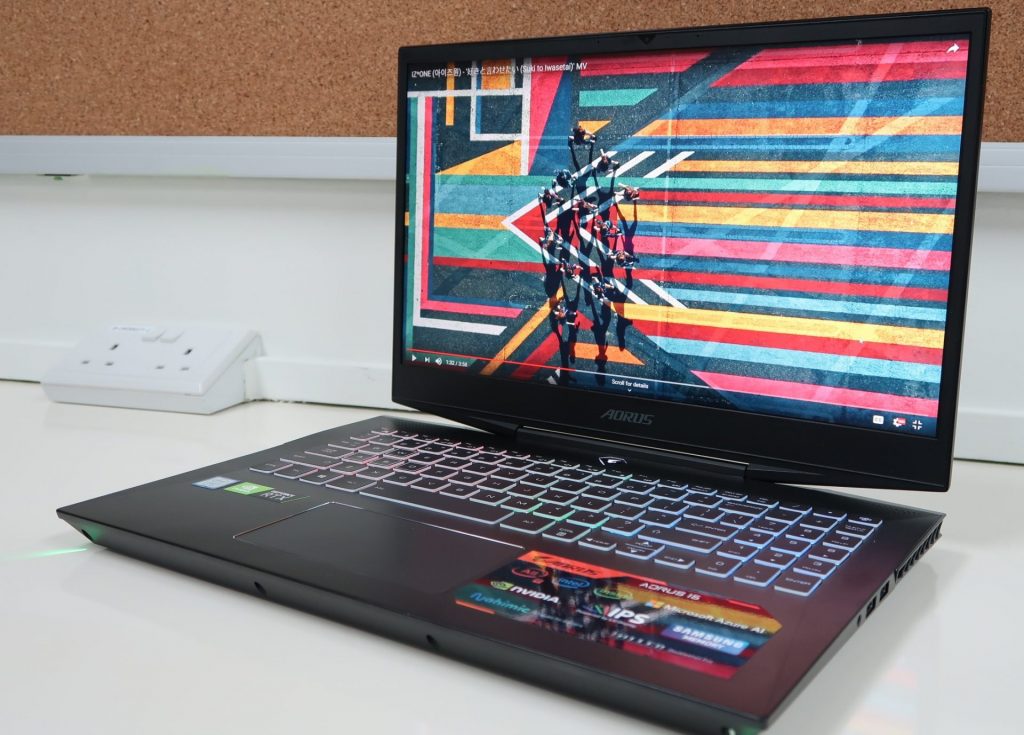 I've always loved the displays on Gigabyte notebooks. The high refresh rates simply make every action so much more responsive, and gaming on it feels a lot smoother than usual. Moreover, the colors on the displays were just right, as they have been properly calibrated. Consuming content on this unit was also very pleasurable. This display on the AORUS 15-X9 is a decent all-rounder.
Of course, other than the display, the audio performance of a notebook holds equal importance to the whole usage experience as well. Thanks to the Nahimic technology, the initially "flat" sounding music and sound effects was improved with better depth. This makes the sounds come to live, generating much better audio experience.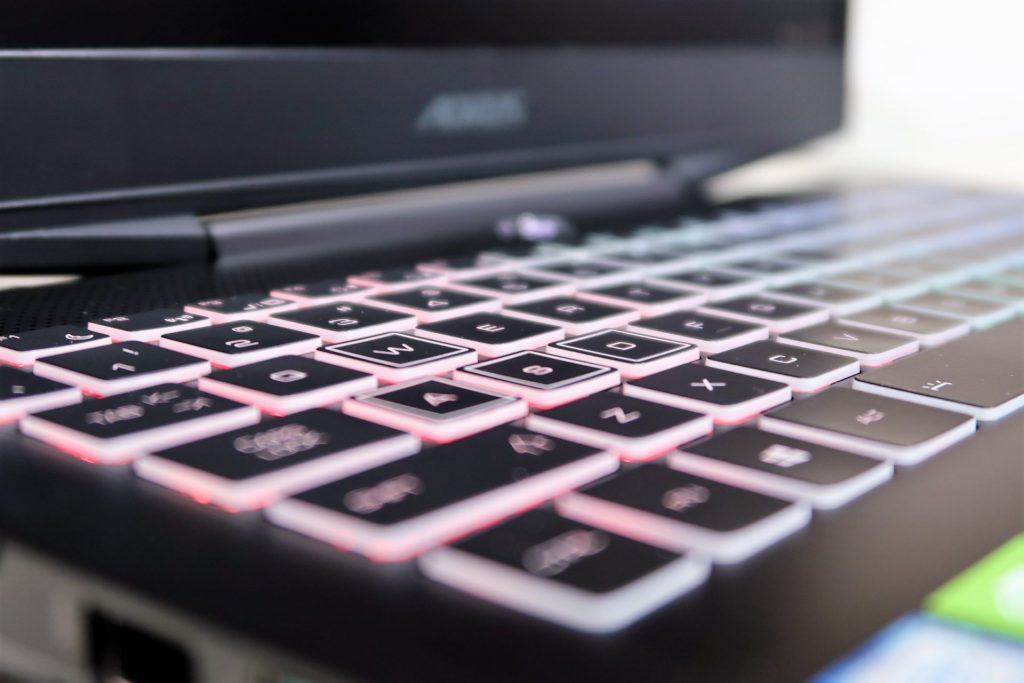 While the trackpad worked fine and supports many gestures that made controlling the operating system so much easier, the keyboard on the AORUS 15 felt somewhat mushy. There isn't any kind of proper feedback to every key on the keyboard. However, Gigabyte has adopted a full-sized keyboard on the AORUS 15-X9, it was easy getting used to the keys.
Performance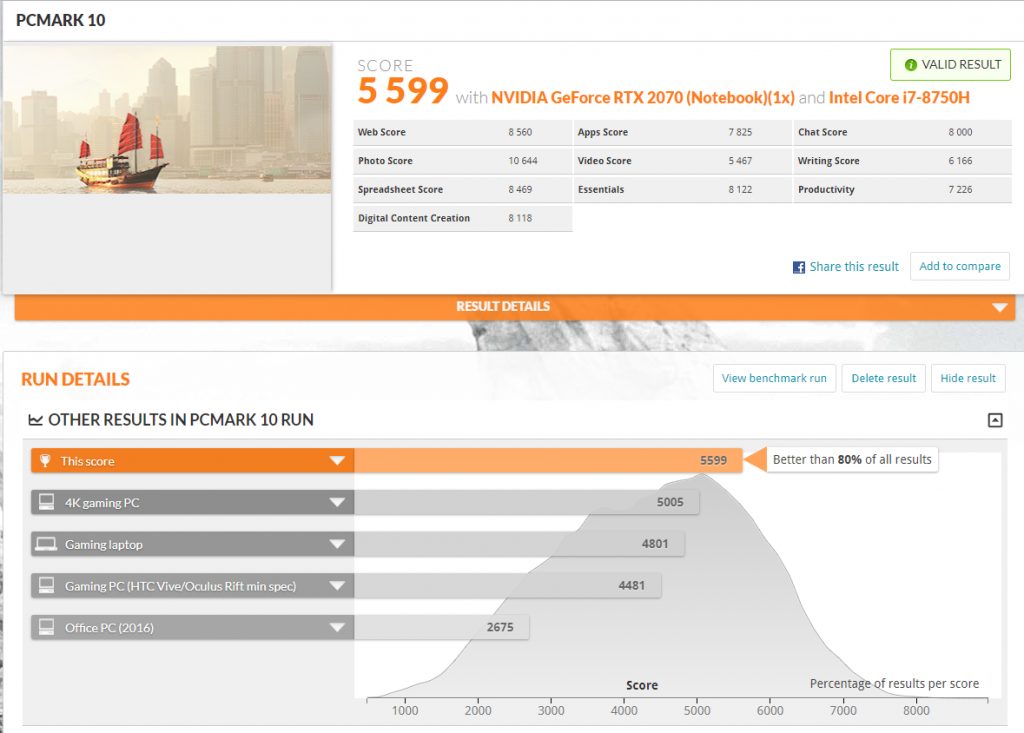 PC Mark 10 tests the general performance of a computer system. Compared to all the various computers tested on the software, the AORUS 15-X9 managed to clock in at the 80th percentile. It surpasses what PC Mark 10 determines as a 4K Gaming PC. Essentially, we can know that the AORUS 15-X9 is a pretty capable system.

Our CPU test with Cinebench R15 resulted in a score of 1140cb. Interestingly, this is higher than a full desktop class Core i7-3930K HEDT processor from 5 generations ago.

Moving on to the storage test, we can see that the 500GB Intel 760p SSD really shines. It was able to reach very high scores in the various read/write tests, much higher than what we will usually expect of typical SSD products.

It's also interesting to find out how much more performance we can achieve directly from a system that has a dual-channel memory configuration.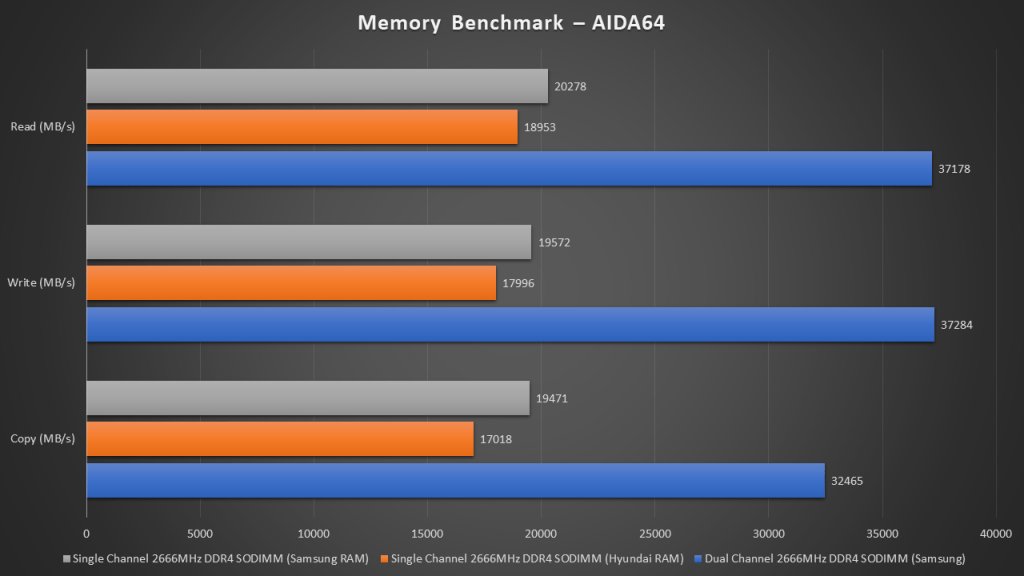 In the test above, which was compared to the AERO 15-X9 (Single Channel 2666MHz DDR4 SODIMM Samsung RAM) we can see that the Dual Channel configuration resulted in a performance that was almost twice as fast as the single channel memory. Kudos to Gigabyte for the new configuration, as the performance gains were quite significant.
For the upcoming benchmarks, we will compare the AORUS 15-X9 with the AERO 15-X9. Specifications of the AERO 15-X9 can be seen in our previous review article.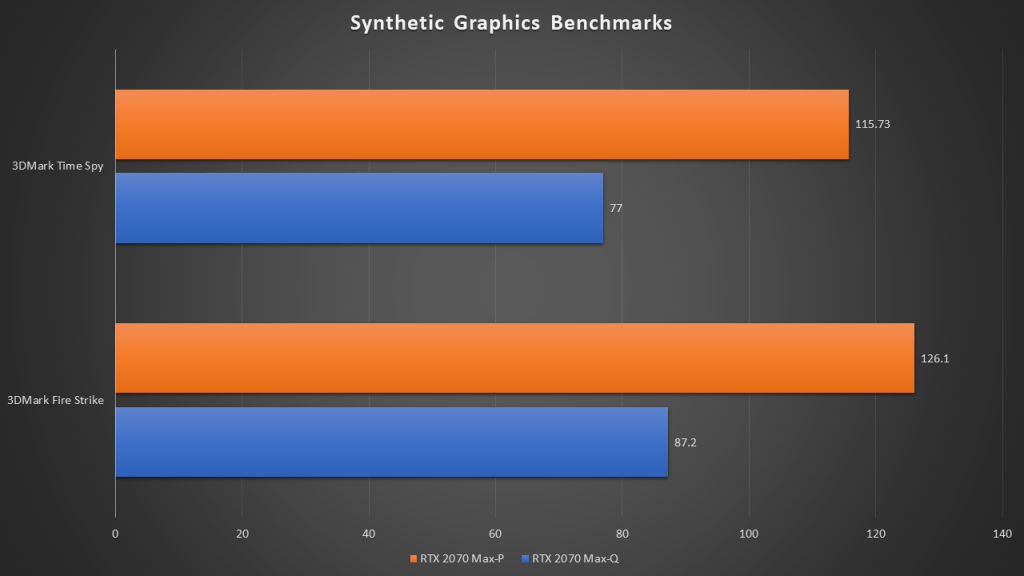 We were quite surprised by the performance difference between the NVIDIA GeForce RTX 2070 Max-P and the RTX 2070 Max-Q. In fact, there was quite a huge gap between the graphics performance between these two notebooks!

There was a very clear margin between the performance of the RTX 2070 Max-P found in the AORUS 15-X9. As we can see, this notebook triumphs its thinner and slimmer little brother, as it was able to outperform the Max-Q in every way. This has also shown that the AORUS 15-X9 will run popular game titles on 1080p resolution with high settings without any hiccups.
Temperatures
The cooling solution on the AORUS 15-X9 was able to cool the components in the chassis effectively. Based on the OCCT tests, we did not see any case of throttling below the Intel Core i7 8750H's rated clock speeds. However, we did take note that while the CPU is stressed, the cooling solution was unable to bring the temperatures down fast enough. This resulted in Intel Turbo Boost not kicking in, and only allowing the Core i7 to reach a clock speed of 3.2GHz, rather than its full potential of 4GHz. This also means that if you are in a room with colder ambient temperature, it will be likely that you can have higher scores in CPU benchmarks, such as CineBench R15. We concluded that the cooling solution was adequate, but still can be improved in order to fully unlock the performance of the CPU.
Conclusion and Final Words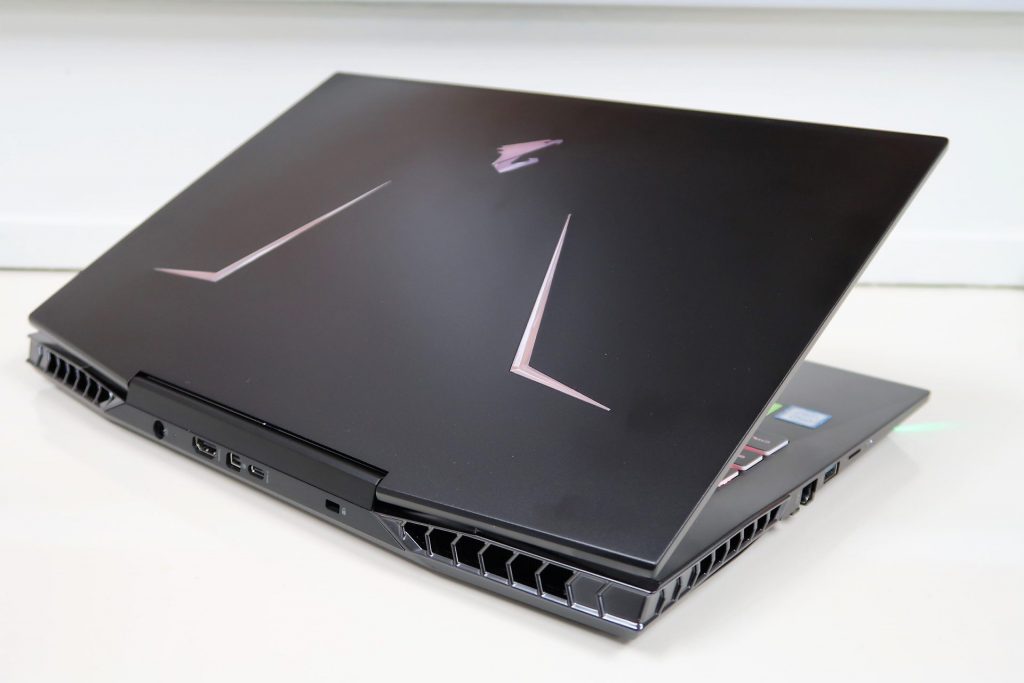 We were indeed surprised by the difference in graphics performance between a Max-Q and Max-P NVIDIA GeForce RTX 2070 graphics card. The full-fledged RTX 2070 in the AORUS 15-X9 performed so much better, and clearly set it apart from the AERO 15-X9 which we tested previously. Judging that the AORUS 15-X9 is more affordable than the AERO 15-X9 and at only 400grams heavier, perhaps the AORUS 15-X9 isn't that bad of a choice for a portable gaming machine after all.
We were glad that the AORUS 15-X9 did not disappoint us this time. GIGABYTE continues to surprise us with their well-thought configurations and choice of components, producing a genuinely high quality and high performing device. With the powerful RTX 2070 graphics card, a excellent 8th Generation Intel Core i7 processor that's coupled with specially selected high refresh rate display and tuned speakers, the AORUS 15-X9 is worthy to be a good gaming system for your favorite game titles.
Pricing and Availability
The Gigabyte AORUS 15-X9 retails in Singapore at SGD3,399. It will come with 2 years of warranty. It will be available at Challenger, Hachi.tech, Dynacore, Lazmall and Media Mart.