There's always the dilemma between choosing a notebook computer that is able to perform very well and yet remain portable. While there have been advancements in technology allowing thinner notebooks with high end graphics card to be installed, they still aren't as portable as we would like them to be. Moreover, their performance still can't be compared to a full-blown desktop computer. In the recent years, external graphics card has been starting to gain popularity, as it brings an obvious and immediate graphics performance update to notebook computers.
With the release of the new RTX series graphics card, an external RTX Graphics Card is due for the market. Gigabyte is the first vendor to release their new external graphics card solution with a built-in NVIDIA Graphics Card. This time, they have gone ahead with the RTX 2070 so as to make sure that more users can afford and get their hands on this solution. This new product is known as the AORUS RTX 2070 Gaming Box.
About the AORUS RTX 2070 Gaming Box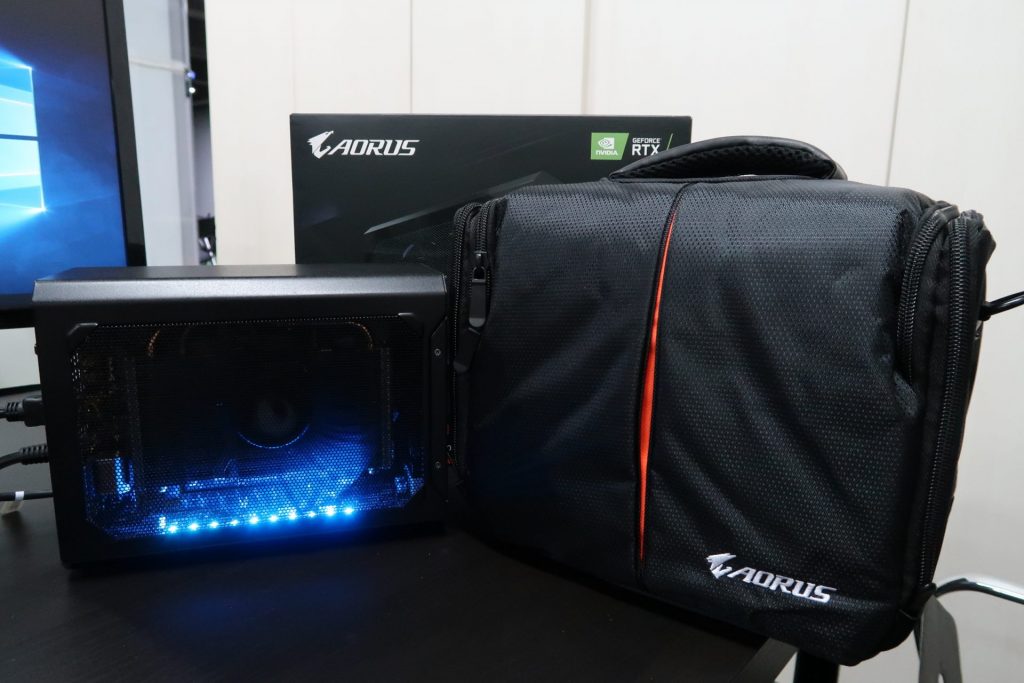 The AORUS RTX 2070 Gaming Box is a rather simple product. It connects to the notebook or desktop computer via the Intel Thunderbolt interface. On top of that, it also acts as a USB 3.0 hub, giving you an additional 4 x USB 3.0 Type A ports. One of the ports is also compatible with Qualcomm's Quick Charge 3.0, which can charge at a maximum of 18W to any compatible device. If you place this unit on the table, it would be extremely convenient for you to have access to USB ports, charge your smartphone and increase the performance of your system all at the same time!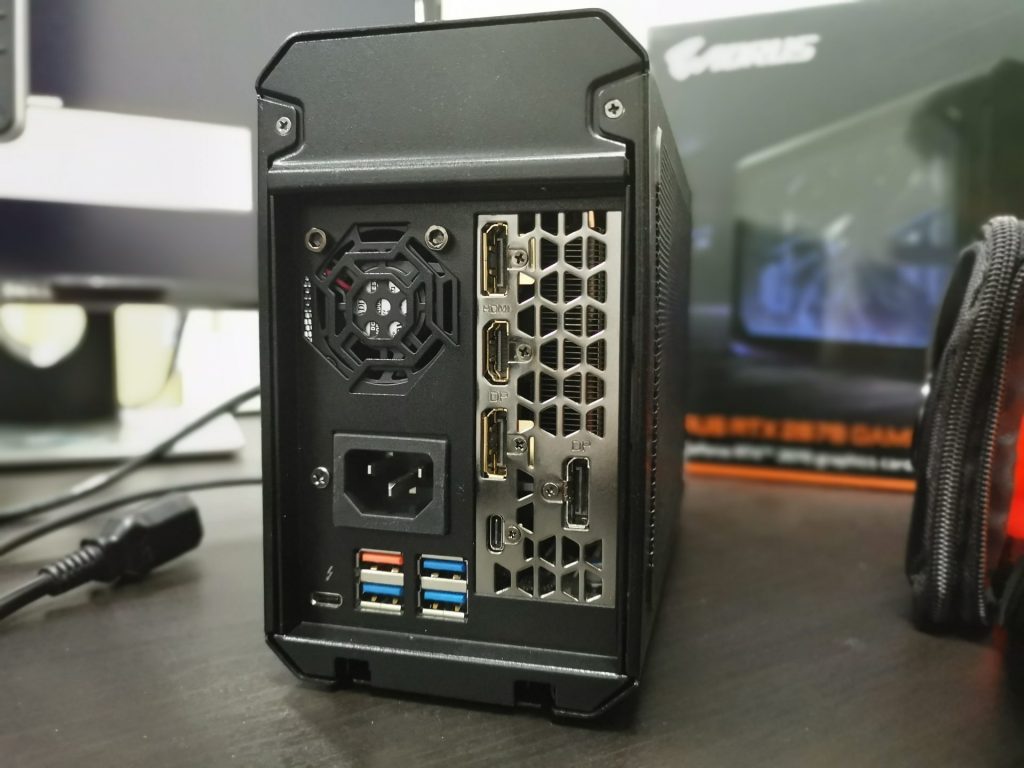 Unlike any other external graphics card enclosure solution in the market, the AORUS RTX 2070 Gaming Box comes with a graphics card. This RTX 2070 graphics card has been specially designed to allow the best possible user experience. Gigabyte understands that this product will likely be placed on the table. Therefore, instead of multiple small fans, they include a large customized 130mm fan to effectively cool both the graphics card and its power components within the box. This reduces the noise generation from the fans, and therefore, won't give you so much of a distraction while you are gaming.
While the AORUS RTX 2070 Gaming Box would perform absolutely fine without RGB, gaming hardware would not be considered as "gaming" in 2019 without any fancy lighting. Thankfully, the lighting on the AORUS RTX 2070 Gaming Box is not as "loud" as other alternative products, and does give the product a unique effect. This product also supports RGB Fusion 2.0. With the software installed, you can customize the RGB lighting on this box with different colors and effects. Of course, if you are not a fan of RGB lighting, you can simply turn it off as well.
Test Setup and Performance
We are going to focus tests of the AORUS RTX 2070 Gaming Box by looking at its performance and temperatures. We are going to compare the AORUS RTX 2070 Gaming Box with a the RTX 2070 Max-Q found in the Gigabyte AERO 15X. This way, we will be able to find out the performance difference between an external full-fledged RTX 2070 connected to a system via Thunderbolt 3, and its built-in Max-Q version. We will make use of various synthetic graphics and gaming benchmarks to understand the performance of the gaming box. Secondarily, we will also measure the temperatures and power consumption of the Gaming Box.
Specifications
Details
Model
GIGABYTE AERO 15-X9
CPU
Intel Core i7-8750H
GPU
NVIDIA GeForce RTX 2070 GDDR6 8GB MAX-Q
NVIDIA GeForce RTX 2070 GDDR6 8GB(Thunderbolt 3)
OS
Windows 10 Pro
Display
15.6" LG 144Hz FHD IPS Panel
Color Calibrated x-rite PANTONE Certified Display
System Memory
Samsung 16GB DDR4 2666MHz
Storage
1TB Intel 760P M.2 PCIe SSD
Audio
Nahimic 3 Powered
Network
Killer Doubleshot Pro LAN
Killer Wireless-AC 1550
Dimensions
356.4 (W) x 250 (D) x 18.9 (H) mm
Weight
~2.0KG (w Battery, M.2 SSD)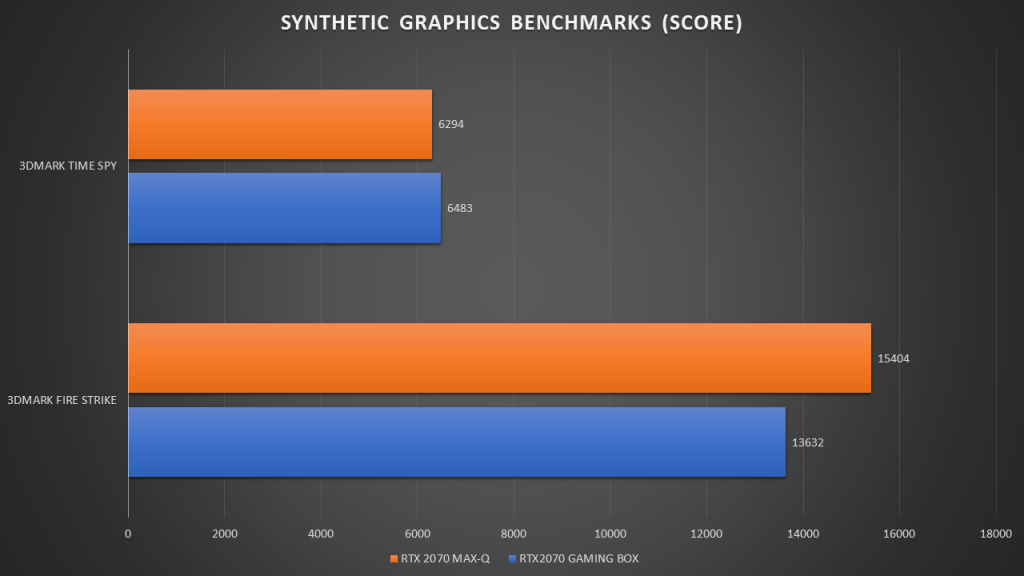 Even though the NVIDIA RTX 2070 found on the RTX 2070 Gaming Box was a full-fledged desktop variant, it seems to perform worse on the 3DMark Fire Strike test.  This could be likely due to the bandwidth limitations of the Thunderbolt 3.0 interface. For the 3DMark Time Spy test, the Gaming Box still managed to inch ahead and produced a slightly better score than the RTX 2070 Max-Q.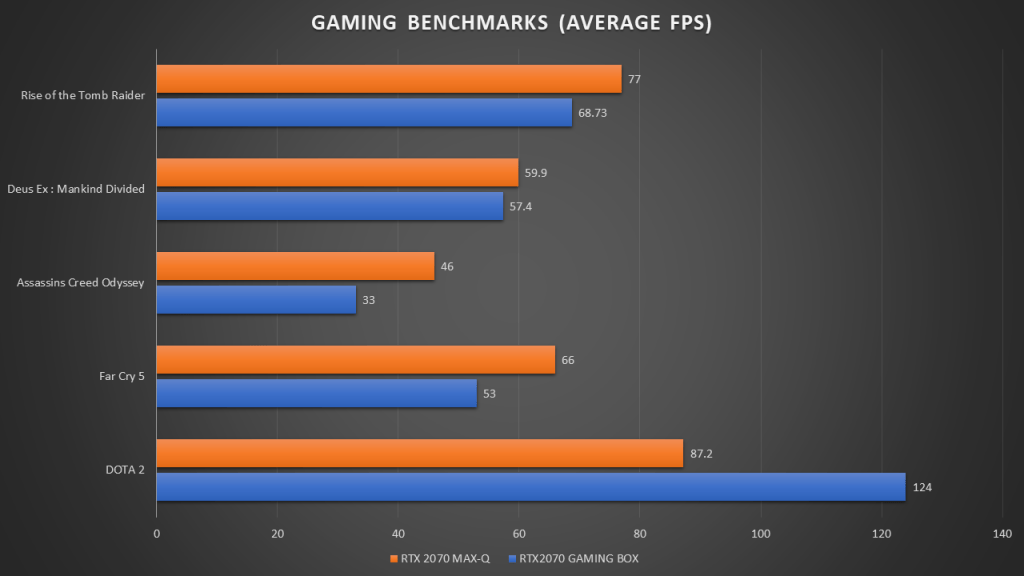 Generally, we saw that the AORUS RTX 2070 Gaming Box performed slightly poorer than the RTX 2070 Max-Q due to its disadvantage of the Thunderbolt 3.0 interface. However, for games that are not as demanding and requires less graphics bandwidth, the RTX 2070 Gaming Box really showed the capabilities of a true performance of what a desktop version of an RTX 2070 is worthy of.
Temperatures and Power Consumption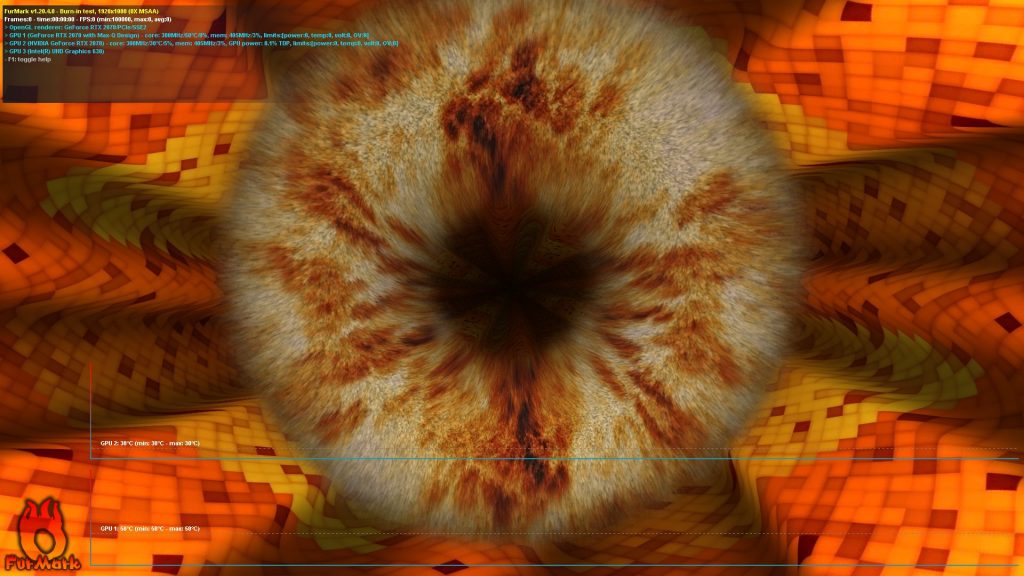 We ran the AORUS RTX 2070 Gaming Box on Furmark stress test to understand the graphics card's behaviors when placed in extreme situations. Thankfully, we were glad that even when stressed, the GPU only reached a temperature of 83°C. There were also no signs of GPU throttling due to thermal issues. The solution ran very stably, and we were able to get the most of the RTX 2070. Moreover, the large 130mm fan on the RTX 2070 also performed quietly and was not a hindrance to the overall gaming experience at all.
At idle, the AORUS RTX 2070 Gaming Box consumed about 8.5W of power. Under load, with the same Furmark stress test, the power consumption was about 195W.
Conclusion
The AORUS RTX 2070 Gaming Box will be a great addition to your current notebook PC that doesn't have a dedicated graphics card. With this external GPU solution, your notebook PC will automatically be upgraded to be a very capable gaming system that is able to support many of the popular game titles at 1080p resolution and high settings today. However, the technology limitations of the Thunderbolt 3.0 interface seem to be withholding the true performance of what the RTX 2070 is originally built for, causing the AORUS RTX 2070 Gaming Box to produce results that are rather underwhelming.
Regardless, the AORUS RTX 2070 Gaming Box still has a very clear proposition for Thunderbolt 3.0 supported notebook owners who wants to game. There probably isn't a more affordable solution than a external GPU. Especially for those who wants the latest RTX features from NVIDIA, there is no other products in the market other than the AORUS RTX 2070 Gaming Box.