At COMPUTEX 2019 last year, NVIDIA showed off their latest NVIDIA Studio drivers and created a new segment of RTX Studio Laptops which are specifically dedicated for content creators. These announcements cemented the company's dedication to support content creators, which is also one of the most under-served, having to rely on systems that did not address their needs in the past.
RTX Studio Laptops which are equipped with NVIDIA GeForce and Quadro RTX GPUs have been around in the past year to fulfill the needs of contents creator everywhere. Manufacturers have been coming out with ultra-thin and light designs on systems that continues to deliver best-in-class performance levels. This enables content creators to think less about their equipment and focus on what they do best. Of course, this is made possible only with the NVIDIA Studio Stack.
NVIDIA Studio Stack

NVIDIA Studio Stack is a set of software that provides digital content creators with the best performance and reliability when working with creative apps. It includes NVIDIA Studio SDKs and APIs for app developers, and NVIDIA Studio Drivers for creators. Studio SDKs accelerate rendering, video editing and processing, 2D vector animation and more. And utilizing the CUDA-X™ AI platform, the industry standard for AI development, creative app developers can use AI to automate repetitive tasks that consume creators time. These include upscaling images, tagging photos or color matching videos.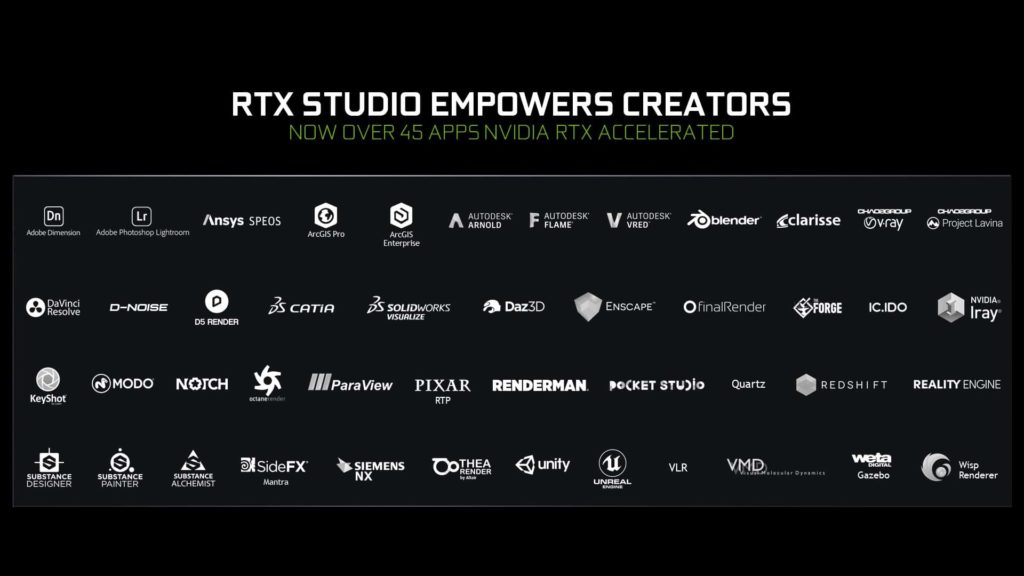 Currently, more than 45 of the world's top 3D applications are being accelerated with NVIDIA RTX technology through the NVIDIA Studio Stack. NVIDIA Studio Stack has enabled these applications to be largely optimized, enabling more efficient methods and features for content creation. RTX technology also allows artists and creators to interact with complex models and scenes using real-time ray-traced lighting, get faster batch rendering to speed the production process, and get access to amazing new AI creative tools.
Benefits of NVIDIA RTX Studio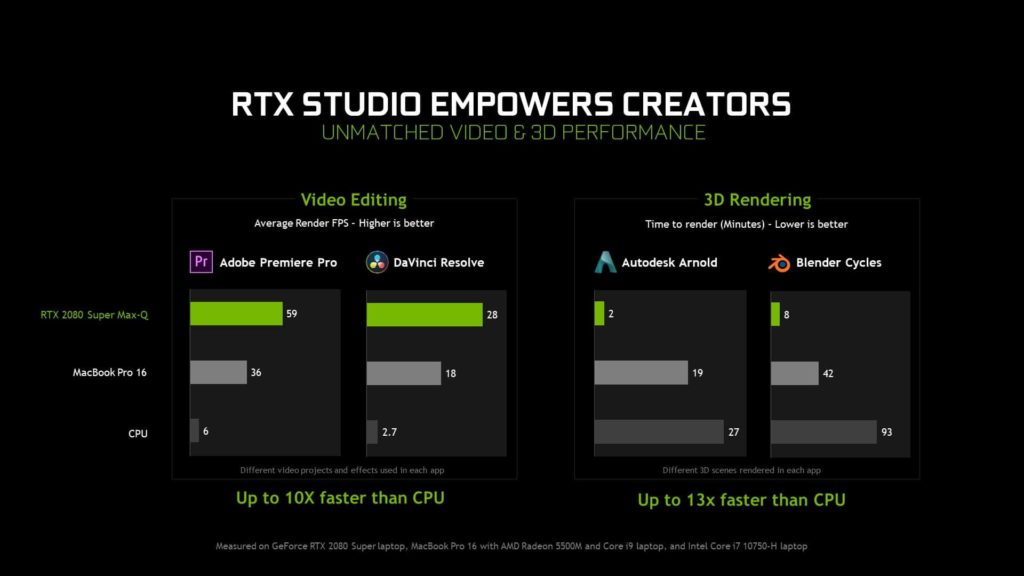 NVIDIA RTX Studio products bring about unparalleled performance and productivity for content creators in the Video Editing and 3D Rendering space. For example, users can expect up to 10x faster performance, while using an RTX 2080 Super equipped RTX Studio laptop, when rendering on Adobe Premiere Pro and DaVinc Resolve applications. As for 3D Rendering with Autodesk Arnold or Blender, users can achieve up to 13x reduced render times.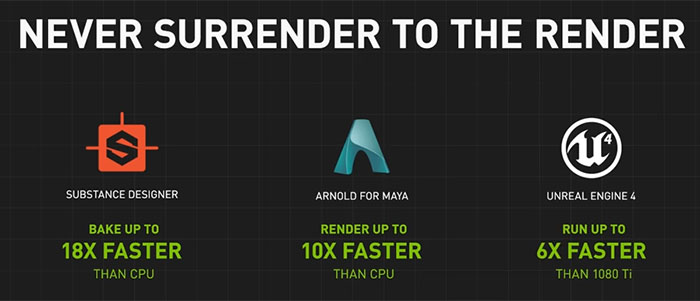 How to get NVIDIA Studio
Get a RTX Studio certified product
To enjoy a full NVIDIA RTX Studio experience, creators can look out for an RTX Studio product that has been certified by NVIDIA. RTX Studio products meet a minimum requirement standard for excellent content creation experience.
| | | |
| --- | --- | --- |
| GPU | GeForce RTX 2060, TITAN RTX, Quadro RTX 3000, or Higher | The visual brain of your RTX machine, the GPU is also responsible for accelerating rendering, artificial intelligence, and video processing in creative apps, boosting overall performance and freeing you to focus on ideas instead of the progress bar. |
| CPU | Intel Core i7 or Equivalent, or Higher | The raw processing power and cores needed to run the OS and ensure smooth interaction between vital machine components, allowing your GPU's impressive performance to shine. |
| Display | 1080p or 4K | Precision work demands precision displays. With pinpoint colour accuracy and vivid picture quality, what you imagine is what you will see on-screen, pixel for pixel. Higher screen resolutions also reproduce more detail and sharpness in your images. |
| Memory | 16 GB or more | Memory is a crucial element in digital creative work. More RAM lets you work with larger video, photo, or 3D files, increases workflow speeds and provides for a much smoother experience when working in multiple applications at once. |
| Storage | 512 GB SSD or more | SSD drives are exponentially faster than traditional mechanical hard drives. Benefits include faster boot times, file opening, saving, and faster editing and application launching. |
| Drivers | NVIDIA Studio Drivers | Behind every NVIDIA GPU and every creator are NVIDIA Studio Drivers. Together with creative app developers, teams of testers and engineers are continually optimizing the way your NVIDIA hardware works with your favourite creative applications—enhancing features, reducing the repetitive, and speeding up your workflow. Studio Drivers undergo extensive testing to deliver the performance and reliability you need so you can create at the speed of imagination. |
A RTX Studio certified product will also badged with the following logos.

Install NVIDIA Studio Drivers on a supported Graphics Card
NVIDIA Studio Drivers provide artists, creators and 3D developers the best performance and reliability when working with creative applications. They undergo extensive testing against multi-app creator workflows and multiple revisions of the top creative applications from Adobe, Autodesk, Avid, Blackmagic Design, Epic, Maxon and Unity.
If you already own one of the supported graphics card, you can simply download the latest Studio Drivers to enjoy the benefits of a Studio optimized experience. The latest Studio Drivers include updates with DirectX 12 Ultimate support, improved support and reliability with RTX-accelerated apps from Adobe, Autodesk, Blender, Chaos and Corel. Creators can even expect more creative performance in the latest drivers. Some of the examples are shown below. You can find more details of the update here.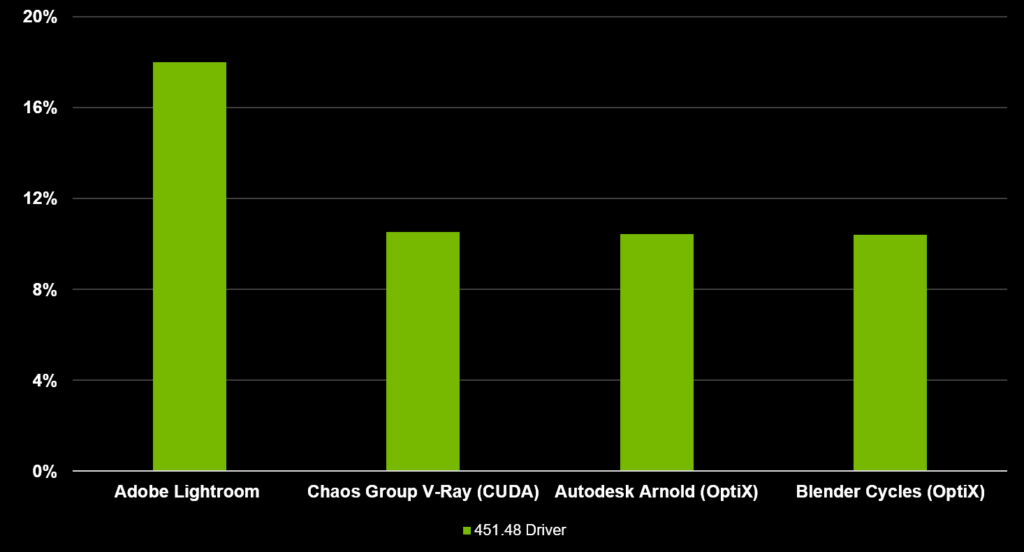 NVIDIA RTX Studio Laptops availability in Singapore
In Singapore, there are three models RTX Studio Laptops available. They are the GIGABYTE AERO 15 OLED, GIGABYTE AERO 17 HDR and Razer Blade 15 Studio Edition.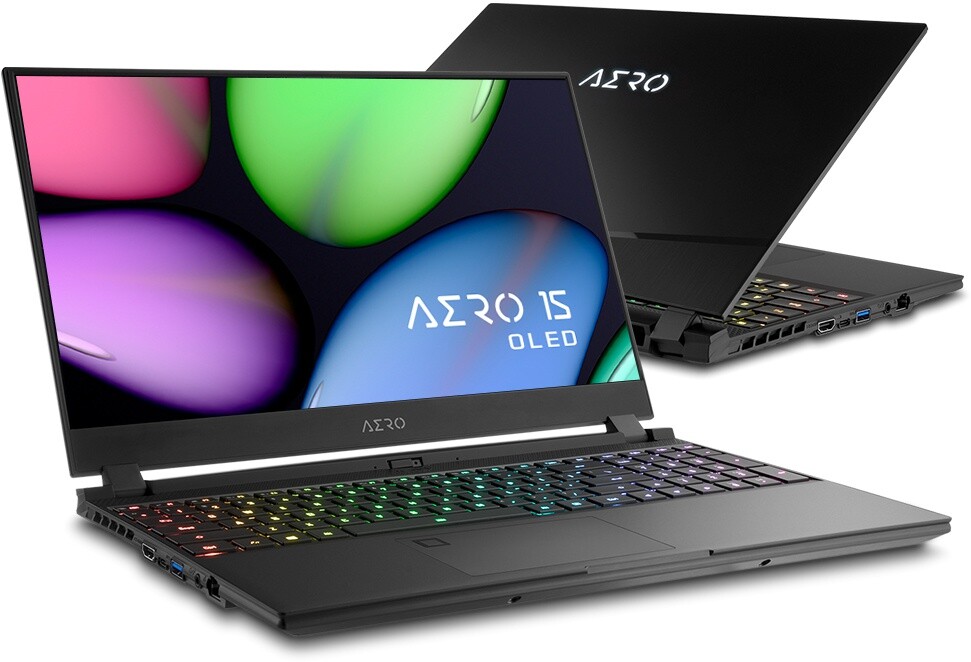 We've also previously reviewed the GIGABYTE AERO 15 OLED Notebook, and found it to be an excellent notebook for professionals and creativity work. You can learn more from our review article here.