Huawei's flagship smartphones are known to have excellent photography features. With the introduction of the new P40 series two months ago, we have seen how the company has made another breakthrough in mobile photography. They have set a new benchmark for competitors to challenge. However, not everything is smooth for Huawei these days, especially with the current COVID-19 situation and Google's ban, resulting the lack of Google Play Services on their smartphones.
Since I was presented with the new Huawei P40 for review just before Singapore's lockdown (known as the Circuit Breaker), I was able to fully experience the smartphone for my daily activities and work at home. Therefore, in this review, I will focus on sharing with you my experience of the Huawei P40 smartphone while working from home. Of course, we will also cover your usual performance and benchmark comparisons, to better understand how this smartphone performs.
The Huawei P40
Just to be extra clear, I had the vanilla Huawei P40. The P40 consists of the P40, P40 Pro and P40 Pro+. This is the most basic version of the P40, which I always thought is a more sensible choice as compared to their better variants, similar to what I mentioned in my Huawei Mate 30 Pro review.
Feature
Details
Network
GSM/HSPA/LTE/5G
Dimensions
148.9 x 71.1 x 8.5 mm
Weight
175g
SIM
Hybrid Dual SIM
IP Rating
IP53 dust/water resistant
Display
6.1" OLED Capacitive touchscreen
1080 x 2340 pixels, 19.5:9 ratio
Chipset + Memory
HiSilicon Kirin 990 5G (7 nm+),  8GB RAM
OS
Android 10; EMUI 10.1 (no Google Play Services)
Camera (Front)
32 MP, f/2.0, 26mm (wide), 1/2.8″, 0.8µm

IR TOF 3D, (biometrics sensor only)

Camera (Rear)
50 MP, f/1.9, 23mm (wide), 1/1.28″, 2.44µm, omnidirectional PDAF, OIS

8 MP, f/2.4, 80mm (telephoto), PDAF, OIS, 3x optical zoom

16 MP, f/2.2, 17mm (ultrawide), AF

Connectivity
Wi-Fi 802.11a/b/g/n/ac, dual-band

Bluetooth 5.1 A2DP, aptX HD, LE

Sensors
Face ID, Fingerprint (under display),
Battery
Non-removable Li-Po 3800 mAh
Charging
Super Charging 22.5W
Colours
Silver Frost, Blush Gold, Deep Sea Blue, Ice White, Black
By just looking at the specifications of the Huawei P40, you will know that this is a smartphone of the future. The P40 series smartphone is one of the earliest smartphones to adopt new 5G technologies. This smartphone will support the new 5G networks when they are available in Singapore. Therefore, if you are planning to invest in a new 5G handset early, the Huawei P40 series are the smartphones to look out for.
Other than that, in terms of hardware, there isn't anything else that is interesting about the Huawei P40. Of course, we can expect that the Huawei P40 Pro and the P40 Pro+ will receive all the high-end camera features such an additional 3D time-of-flight camera and an additional telephoto lens (on the P40 Pro+). The Huawei P40's camera system is not shabby itself at all.
Inside the Box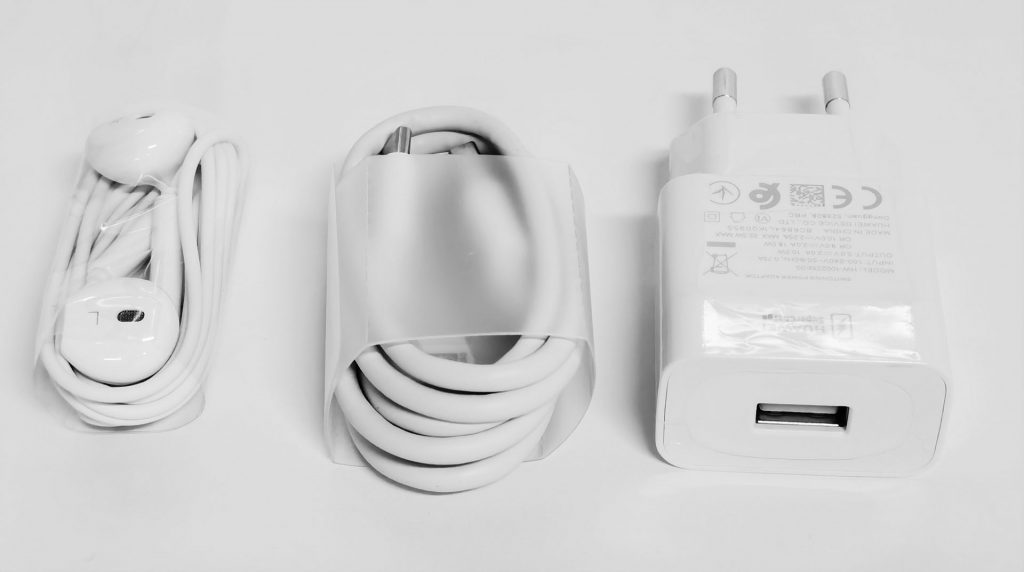 Huawei also bundled USB Type-C Earphones, USB Type-C data/charging cable and a USB power adapter with the purchase of the Huawei P40. We noted that this time, Huawei did not include a protective case for the P40 in the box. Perhaps, they thought that since most users are going to buy their own protective case, there is probably no point to include one. Also, we have also noted that the P40 comes preinstalled with a screen protector.
Design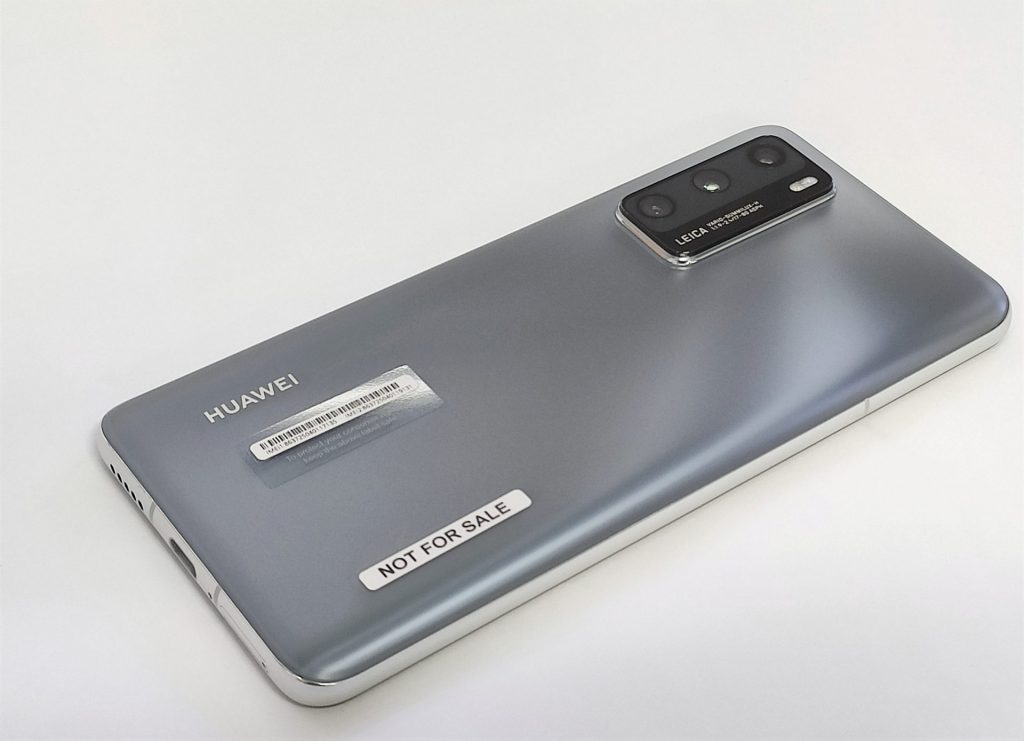 Instead of a flashy and highly reflective design, Huawei has decided to keep it simpler with the P40 series this time. It is probably a good move from them, shifting away from the norm. The new matte, yet shiny finish on the phone looks stunning, something which we've yet to see on any smartphone. This gives the P40 a rather professional and minimal look.
For our review, we had our hands on the Silver Frost version. The P40 is also available in 4 other colours, namely Blush Gold, Deep Sea Blue, Ice White and Black. What I really liked about this new design is that it doesn't really attract fingerprints like those highly reflective surfaces. Just based on the design, I would say that the P40 will be really attractive and appropriate, regardless if you are using it in a casual or professional environment.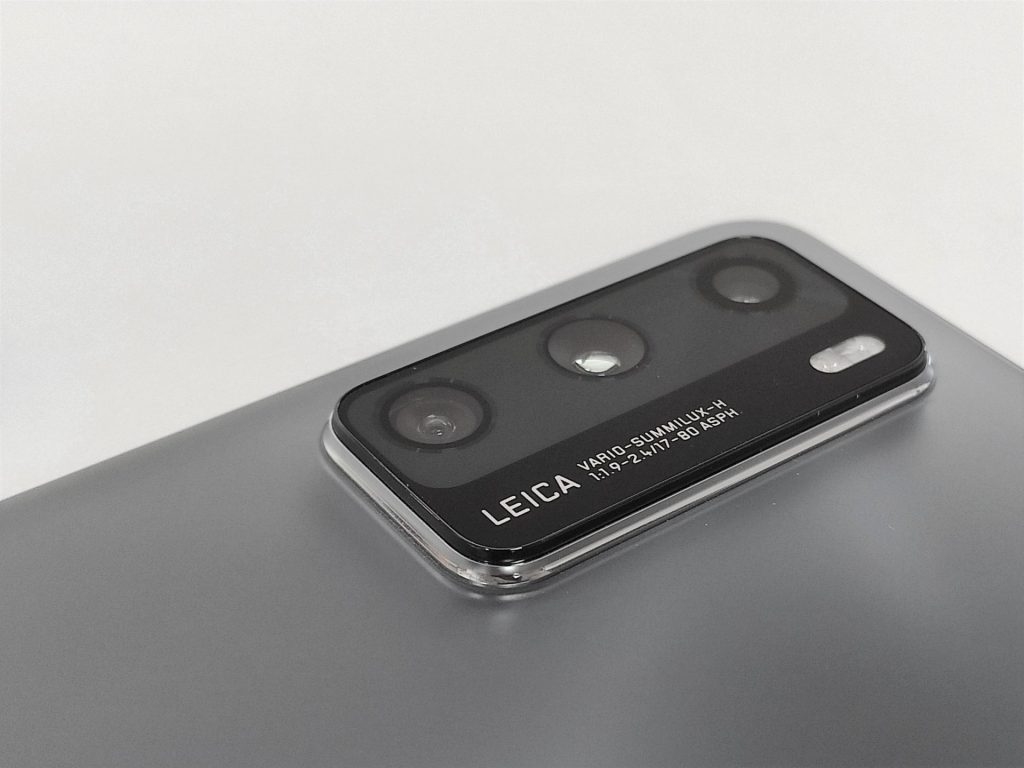 The P40 series is equipped with an impressive camera stack. At the rear of the P40, we can see a large camera housing that fits 3 camera lens and sensors. In order to ensure that there is sufficient focal length to optimize the mobile photography capabilities of the P40, this camera housing is also protruded out from the main unit. It has a very significant camera bump – much thicker than what we've seen in any other smartphones.
This is why, we also highly recommend that you pair this smartphone with a protective case. Else, you can risk causing scratches to the protective glass above on the camera housing. Luckily, the protective glass is strengthened to ensure that such a likelihood is reduced to the minimum.
We're just glad that the P40 stuck with a more conventional design that does not make any compromises. Sometimes, over-engineering features just for show may not yield the best outcome. This is shown in the Huawei Mate 30 Pro which we have tested previously. It's just unnatural and cumbersome to control volume of the smartphone via its virtual keys. Luckily for the Huawei P40, it is back to basics which just works.
User Experience
In the past, the basic version of the P series smartphones only came with an LCD display, instead of an OLED display. Since the P30, Huawei also included an OLED display in the basic model of the series. This made the Huawei P40 an excellent device for media consumption as well. We can expect the same kind of high contrast ratio and vibrant colours that is typical of an OLED display.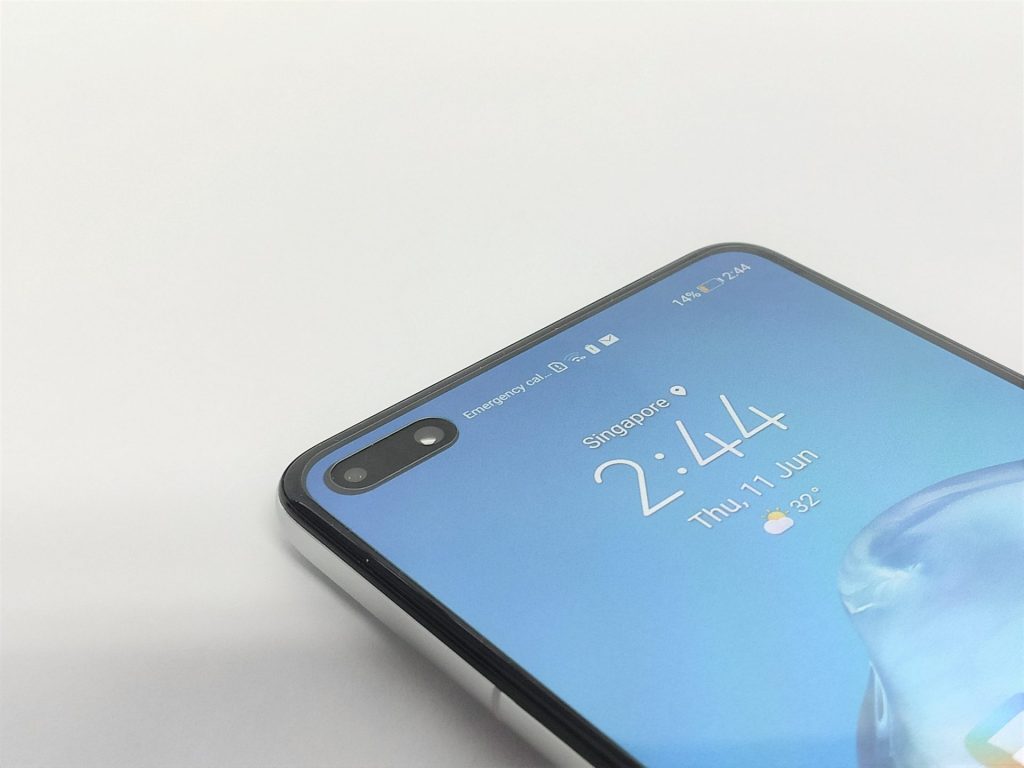 Some may think that the two on-screen selfie cameras found on the top left side of the screen can be quite an annoyance when it comes to media consumption. In my opinion, it shouldn't really affect you that much. As most, video content comes in either 16:9 or 16:10, the Huawei P40's 19.5:9 display aspect ratio prevents the content from even reaching the video area. Therefore, you won't even notice that the cameras are there when enjoying videos on the device.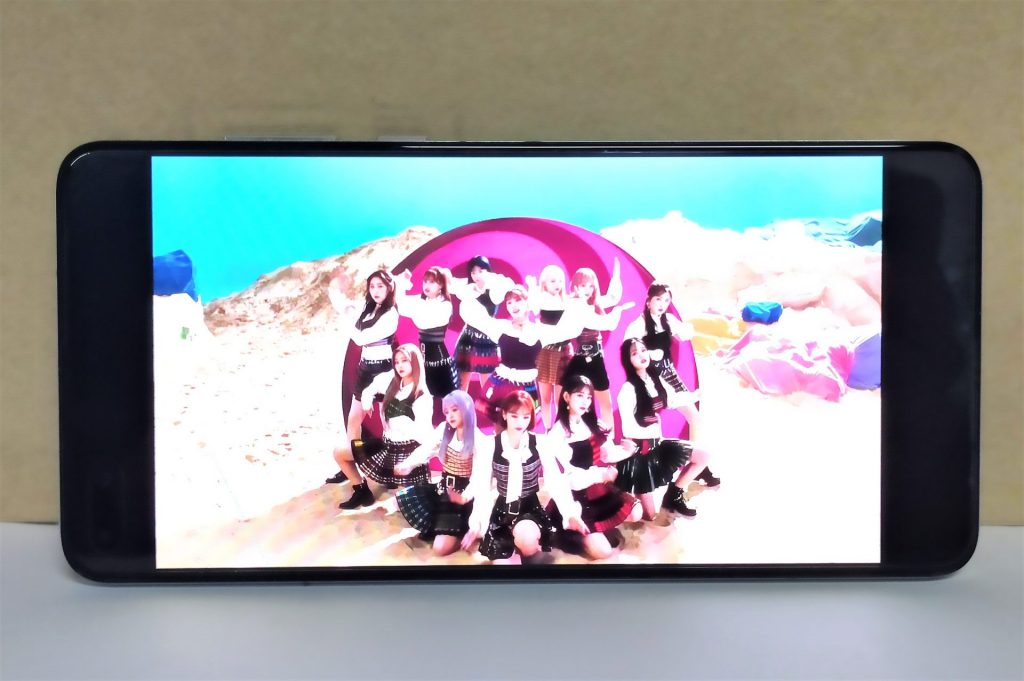 As for gaming, the camera holes on the screen can be distracting, especially when playing in fullscreen. Sometimes, your controls could be even covered by space taken up by the camera. Luckily, you can set the phone to exclude the top area while operating in fullscreen mode.
As for audio, the Huawei P40 performed above average. The speakers were able to bring out the clarity of vocals and show off a crisp and succinct sounds at high frequency. Bass is somewhat lacking, but not missing. There are hints of startling thuds that originates from the lows of the songs which completes the whole audio signature of the speakers. Even though the speakers can reach a very high maximum volume, audio at those levels are extremely distorted. It's a limitation of the size of the drivers on such a compact design.
Battery Life and Charging
One of the main differences between the Huawei P40 and P40 Pro (and Pro+) is their SuperCharging specifications. The Huawei P40 can only SuperCharge at 22.5W, while the latter can have a higher charging rate at 40W. This means that the Huawei P40 will charge slower than its counterparts.
The good thing is that despite the differences, it didn't really affect us as much. While we have experienced 40W SuperCharging on the previous Huawei smartphones, we realised that even the 22.5W (4.5 volts @ 5 amps) SuperCharging is good enough. It was able to charge the phone up quickly, which gave us an extended usage before needing to charge again. To put into context, I was able to charge from 0% to 55% in 30 minutes, which was good enough to last me for the day of work.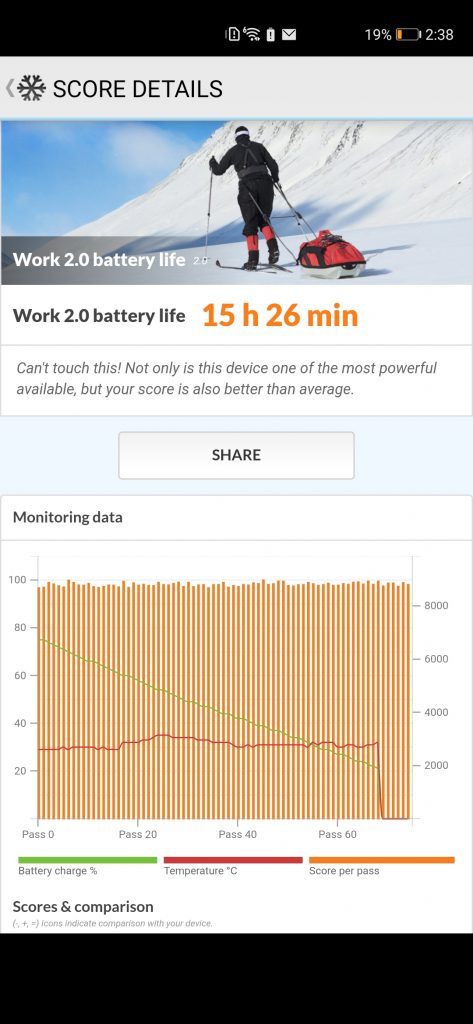 On a full charge, the phone was good for use for more than 18 hours based on my daily usage of checking emails, watching videos, listening to music, playing some light games, instant messaging, social media browsing and web browsing. I guess my usage should be rather typical of what you would use your phone for on a daily basis. Usually, I will just leave the phone to charge overnight to ensure that it gets fully juiced up before powering me for the whole day. Luckily, thanks to Huawei's smart charging technology, the P40 will eventually lower rate of charging and complete the full charge just before sunrise when it detects that you are charging it overnight.
Camera
Well, I'm not someone who takes a lot of photos, both people and scenery. As such, the camera system on the P40 is probably an overkill for me. However, what I realized is that the camera system on the P40 is also excellent for my day to day work as well.
As a tech reviewer, I will always have to take product photos. Moreover, since I am required to work from home, I do not have the access to professional camera equipment to take proper photos of the products that I am reviewing (not that I even take professional photos for my reviews in the first place). What I am extremely delighted with the Huawei P40's camera is that it allows me to take professional looking photos without any effort at all. All the product photos taken were not edited and they just came out naturally better than what I would have taken in the past. Here are some examples.
Hey… I didn't even know I can take photos of such quality!
Furthermore, the Huawei P40 was also able to take high quality videos. The key advantage of the P40 as compared to any other smartphones out in the market is its superb Optical Image Stabilization feature. Even when filming and just holding the smartphone with in my hands, the videos came out to be very stable and smooth. You can see the results from some sample video shots I have taken.
Another noticeable advantage of the P40 in video capturing is its audio recording capabilities. There are two microphones found on the device, which is able to record stereo sounds. After recording, I found that the phone was able to clearly capture my voice, regardless of where I am speaking from. It was also able to accurately capture sounds either from the left or right channel, depending on where I was speaking from relative to the phone. Here's an example of a video captured on the Huawei P40 while showing off the features of the NVIDIA Jetson Xavier NX Developer Kit.
Performance

In terms of CPU test, despite using the same Kirin 990 SoC, the Huawei P40 was shown to run slower than the Mate 30 Pro.

Thanks to the Huawei P40's new Kirin 990 5G SoC, 802.11AX WiFi 6 standard is finally included. This is also why we can see that the WiFi speed on the Huawei P40 is also much higher than its predecessors and competitors.

Storage read speed has also been improved as compared to the Huawei Mate 30 Pro. However, the P40 still lacks behind in terms of write speed.

Interestingly, the Huawei P40 excels in AI compute. It is even faster than the Huawei Mate 30 Pro, which is based on the same SoC.

Graphics and gaming performance are also much better than the Huawei P40 than the Huawei Mate 30 Pro and Vivo Nex 3.
How's life without Google Play Services
Huawei's new P40 series smartphone doesn't come with Google Play Services. As such, many apps that rely on Google Play Service, won't be able to work on the Huawei P40. There are currently methods online to install Google Play Services on the P40, but we will not go there, as there are certain risks involved in using third party installation methods.
First off, I have to applaud Huawei on their work with AppGallery, their own Application Store. They have been trying very hard to get popular and local apps on the AppGallery, and just 4 to 5 months since I've last visited the store (since my Huawei Mate 30 Pro review), I could have access to many apps that I use on a daily basis.
For example, as a UOB bank customer, the full UOB Singapore app is available for download on the App Gallery. The whole app works flawlessly, and I was even able to setup contactless payment on the Huawei P40 using the UOB Singapore app. This should be a good alternative to Google Pay.
As more apps come onboard the Huawei AppGallery, many users will deem this app store as a viable alternative to the Google Play Store (yes, in fact, App Gallery can be installed on any other Android devices, not just on Huawei Smartphones). However, Huawei is still not quite there yet. There is still a lack of quality apps on the AppGallery to fulfill my daily needs. That is when I realized that I am relying too much on Google's services.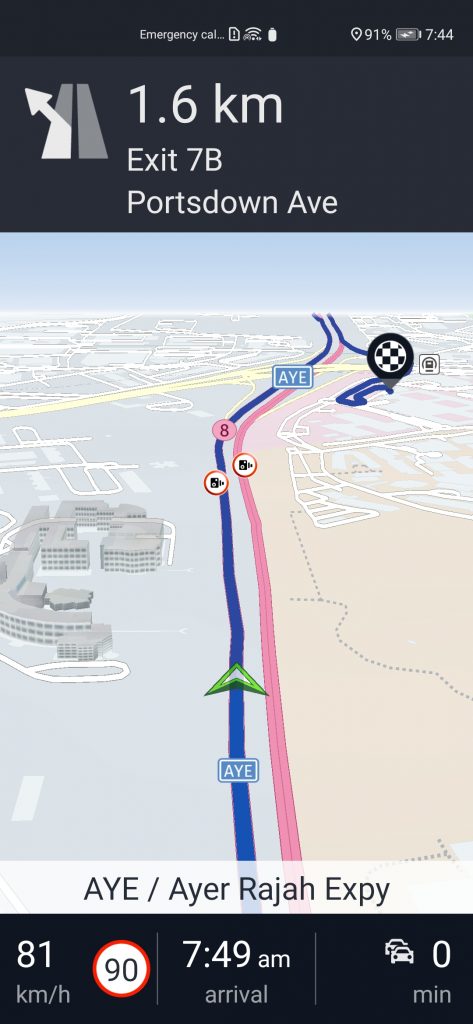 I was excited when I first got to know that the HERE WeGo map was available on the AppGallery. It was a great alternative to Google Maps or Waze (which are both Google products). If you remember, HERE maps was actually quite a popular choice back in the days, when it was powering Nokia devices. I was expecting this app to be the ultimate maps app for the Huawei P40. I could not be more wrong. The HERE WeGo app still requires a lot more improvements. Its route recommendations are off, and would take you to through a longer route.
In the example here, I was driving city-bound on AYE to NUH Medical Center. Instead of asking me to exit South Buona Vista road, I was directed to Portsdown road instead.
I think not having Google Play Services installed on new Huawei devices is one thing, but essentially, it is the individual apps that matter the most. There simply isn't a better alternative available to users, other than Google's own apps and products. This is probably also why Huawei can still perform so well in the Chinese market – their local developers have already perfected their local apps for use, and that is why no one complains about not having Google Play Services. The world needs better alternative apps other than what Google provides.
Other than maps, I can see myself using the Huawei P40 and just relying on AppGallery to install apps on the long term. I was able to get most of the required apps, such as Email (which is preinstalled), Telegram and my banking apps installed. I could also easily install other apps by downloading their APK installers directly off their trusted official sites. It's an extra step, but at least it works.
But is the lack of Google Play Services really the deal breaker? I would say that until the world, or at least Singapore, reduce reliance on Google, it will always be the deal breaker. I can't imagine my phone not being able to install and run SingPass mobile and have access to e-government services, especially when we are so closely connected to the Singapore government today. Perhaps, the Singapore government and its agency should reduce the reliance on a specific company's technology to get their apps working.
Life without Google Play Services? It's just a hassle. You will need to apply many workarounds just to get something done. Until the AppGallery and Huawei Mobile Services reaches a level of popularity that many people can accept, and with the full embrace of the developers, it's not going to be easy for both consumers and Huawei. Of course, this also brings about immense opportunities for developers and companies. But for the consumers, you'd be better off with something that just works out of the box, the same way as it did years ago – the Google way.
Conclusion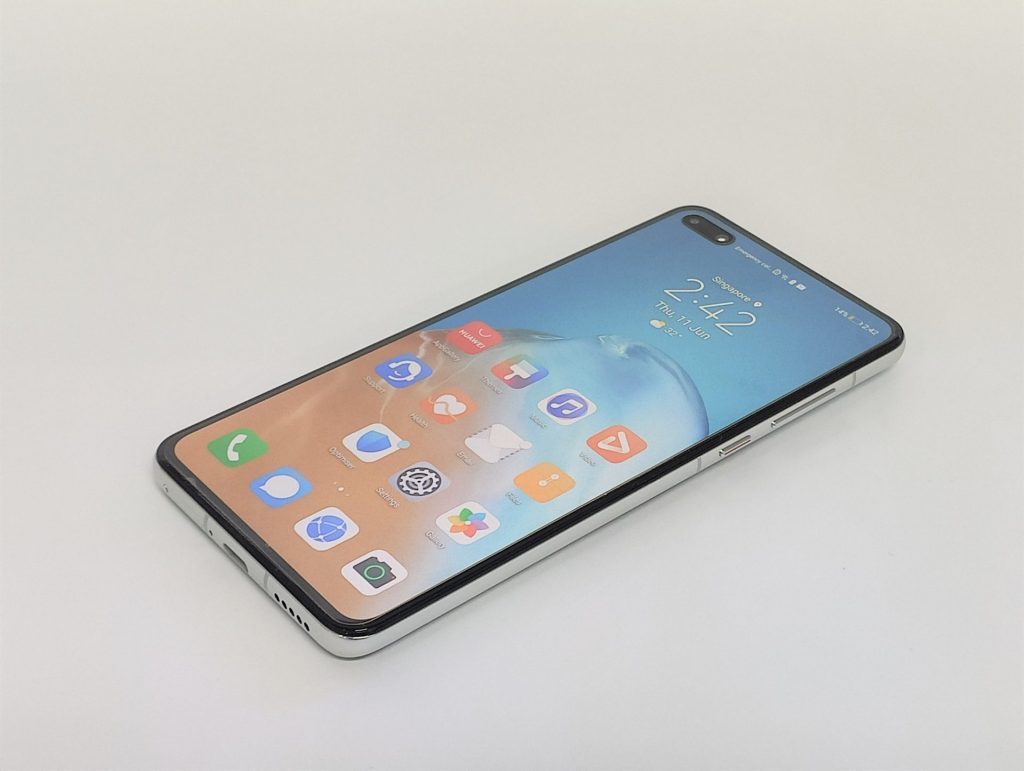 The Huawei P40 accompanied me for a full two months of working from home. Being the primary driver of my day to day work and playing multiple roles, such as the main communicator, camera and entertainment provider, the Huawei P40 fitted seamlessly into my daily life. I had a wonderful experience with the P40, but I must say that it takes time to get used to working without Google Play Services. But once you are over it and used to the new workflow, the Huawei P40 really shines.
The Huawei P40 is an excellent smartphone for my daily needs. If you can live without Google Play Services, and want to enjoy all the premium features brought into reality with Huawei technologies, the P40 is a great choice to consider.