Next-gen CPUs meet SUPER™ GPU: Up to 10th Gen Intel® H-series CPUs and GeForce® RTX SUPER™ GPU for unrivaled gaming and streaming speeds
Intelligent Cooling optimized with liquid metal compound: Best-in-class CPU cooling, thermal headroom for better gaming, and lower fan noise
Sublime speed, PANTONE® Validated color accuracy: Up to 300 Hz or 4K UHD displays with factory-calibrated colors for gaming and content creation
Cutting-edge connectivity: Zephyrus S, Duo, and M models come equipped with Thunderbolt™ 3 while full line-up has WiFi 6 (802.11ax) wireless networking
Real-world portability: USB-C™ charging allows Zephyrus models to be charged using 65 W universal adapters and compatible battery packs
Hassle-free upgrades: Easy access to 2 or more M.2 expansion slots, with new pop-up screw panel release that simplifies adding storage and RAM
ROG quality across the board: Desktop-style layouts hone keyboards for speed, while RGB shines with per-key backlighting and wraparound light bars
ROG Zephyrus Duo 15: Secondary 14.1″ ROG ScreenPad Plus touchscreen reinvents laptop multitasking, raising new possibilities for gaming and work
ROG Zephyrus S17: Ultraslim gaming goes big with category-leading 17.3″ 300 Hz panel and up to RTX 2080 SUPER™ graphics
ROG Zephyrus S15: Portability and power converge in AAS-cooled 15″ form factor with Zephyrus S17-level specs
ROG Zephyrus M15: Attractively priced model offers ultraportable gaming at 240 Hz or content creation in 4K UHD
ROG Strix SCAR 15/17: Esports superiority with up to RTX 2080 SUPER™ GPU and 300 Hz panel with RGB, Keystone II, and easy-access expansion slots
ROG Strix G15/17: Gaming essentials meet contender style with new Electro Punk color scheme and up to RTX 2070 SUPER™ graphics with 240 Hz panel
Singapore, April 2, 2020 — ASUS Republic of Gamers (ROG) today announced the top-to-bottom refresh of its gaming laptops with new 10th Generation Intel® Core™ processors. Striking new chassis designs and thoughtful quality-of-life additions raise the bar for gamers and content creators, while the latest Intel CPUs, NVIDIA® GeForce® RTX SUPER™ graphics, and custom Intelligent Cooling solutions set a new performance standard.
The ROG Spring 2020 collection is headlined by the Zephyrus Duo 15 and its unique secondary ROG ScreenPad Plus touchscreen, along with refreshed Zephyrus S, M, and G models that are more portable and powerful than ever. For those seeking esports glory, ROG Strix SCAR laptops are built for top-flight competition with up to RTX 2080 SUPER GPUs and 300 Hz panels, while the bold colors of the ROG Strix G15 Electro Punk laptop and its bundle of matching accessories open new possibilities for personal expression.
The very latest components are on full show, from the liquid metal thermal compound rolling out across ROG's entire 10th Gen Intel lineup, to high-speed DDR4 RAM and blazingly fast displays. The gaming community has every reason to be excited.
Next-gen processors meet SUPER graphics
With up to eight cores and sixteen threads, new 10th Gen Intel Core CPUs are primed to perform in demanding workloads like content creation and streaming while gaming. Intel processors are known for their high clock rates, but this generation raises the ceiling on top-end chips to a remarkable 5.3 GHz in Turbo Boost. That translates into snappy, responsive performance in everyday tasks and brute number-crunching power. The latest ROG laptops reap additional benefits from high-speed 3200 MHz DDR4 RAM, gaining a performance edge in memory-sensitive scenarios.
ROG laptops feature a range of the GeForce RTX 20-series GPUs from NVIDIA, including the RTX 2070 SUPER and the range-topping RTX 2080 SUPER GPUs. Based on the latest NVIDIA Turing™ architecture, these GPUs take NVIDIA's already-successful formula and dial it up. Armed with CUDA cores for programmable shading, RT cores for ray tracing, and Tensor cores for AI-powered functions, RTX 20-series GPUs provide dedicated hardware for the acceleration of real-time, lifelike lighting, shadows, and reflections. Advanced DLSS technology uses the Tensor cores and NVIDIA's deep-learning algorithms to maximize performance in games that put a heavy load on the GPU.
The RTX GPUs in ROG laptops are primed for optimal performance. Carefully planned Intelligent Cooling thermal designs let the laptops deliver more FPS via ROG Boost, which uses custom wattage and clock settings that exceed the baseline specifications for a given GPU, or with factory overclocking that goes beyond stock speeds. The CPU also benefits from advancements that keep temperatures low enough to sustain high Turbo frequencies.
Intelligent Cooling optimized with liquid metal compound
Laptop processors need innovative cooling technologies to reach and sustain their highest operating frequencies. To make sure that 10th Gen Intel Core CPUs perform up to their potential, ROG is introducing factory-applied liquid metal thermal compound across all 2020 Zephyrus and Strix models.
The impressive thermal benefits of liquid metal have long been understood, but until now it had to be hand-painted on chips, an expensive and time-consuming process. But its ability to siphon heat from the CPU was so attractive that ROG engineers spent over a year developing a patented process for automating its application during assembly. New Zephyrus and Strix laptops use the thermal margin provided by improved heat transfer between the CPU and cooling module to reduce fan noise, lower CPU operating temperatures, or increase performance by up to 10%.
This new thermal compound is just one aspect of ROG Intelligent Cooling, a design philosophy that is grounded in the truth that a laptop is more than the sum of its parts. ROG engineers thoughtfully plan out the best mix of cooling hardware for each system, and then tie it all together with software tools that adjust acoustics and performance depending on the task at hand.
It starts with a chassis thoughtfully designed to accommodate effective fans and heatsinks. A special liquid crystal polymer allows for 83 fins in each ROG n-Blade fan, an arrangement that increases airflow by up to 17% compared to traditional designs. That cooling air flows through heatsinks with ultrathin fins that maximize airflow and surface area alike, ensuring the best heat dissipation. Dust is the worst enemy of fans and heatsinks, so the laptops employ self-cleaning thermal modules that use centrifugal force to catch dust particles and eject them from the chassis.
Since cooling and performance requirements can vary quite a bit based on the task at hand, ROG includes simple and intuitive controls for balancing speed and acoustics. An easy keyboard shortcut toggles between three different operating modes. Silent mode prioritizes quiet operation by lightly restraining power. Performance mode draws a fine balance, delivering the power required by demanding games while keeping fan noise in the background. Turbo goes a step further, providing full access to the system's processing potential.
Meanwhile, ROG Armoury Crate software provides a one-stop shop for controlling laptop settings. Its new Scenario Profiles feature can identify a group of settings to automatically load with the launch of an associated game or application. In addition to specifying an Operating Mode for each Scenario Profile, it can switch between display and audio presets, among other settings, and even switch to a different Aura Sync preset RGB LED lighting pattern.
Sublime speed, PANTONE Validated color accuracy
ROG has led the industry's adoption of high refresh rates ever since bringing the first 120 Hz display to laptops. This year's introduction of the first 300 Hz laptop displays promises the best gaming experiences yet. These displays provide lightning-fast, crystal-clear visuals that heighten immersion while delivering the most fluid and responsive gameplay to date.
Speed matters, but color accuracy does, too. ROG expanded the number of 2020 displays that qualify for the PANTONE Validated certification: these displays are factory-calibrated so that their new owners can trust they'll produce accurate colors straight out of the box. Further, a new 4K UHD display option for select laptops, including the Zephyrus Duo 15 and Zephyrus M15, covers the full Adobe RGB color gamut. This means it can display a much wider range of colors than standard sRGB models, making it an incredible choice for content creators working with high bit-rate camera footage.
4K UHD displays are also stunning for gaming. Individual pixels are virtually indistinguishable on a 4K UHD 15.6-inch or 16.3-inch display, resulting in images that are lush and immersive. Gaming at this resolution can be quite taxing on a GPU, especially with in-game quality settings turned up, so ROG pairs 4K UHD panels in ROG laptops with NVIDIA G-SYNC® technology. G-SYNC synchronizes the refresh rate of the display with the frame rate of the GPU in real time to achieve tear-free gaming without input lag or judder.
ROG's proprietary GPU Switch technology brings support for both G-SYNC and NVIDIA Optimus technologies to the Zephyrus Duo, S17, and S15 models: a few quick clicks and a reboot is all it takes for users to switch between the two modes.
Cutting-edge connectivity
Between smartphones, laptops, smartwatches, and connected devices of all kinds, the average wireless network has become a rather crowded place. It's time for a wireless revolution, and ROG is leading the way with dual-band WiFi 6 (802.11ax) technology across the entire lineup of 2020 laptops.
ROG laptops provide the fastest wireless connections available, and they also offer a compelling selection of fast ports. New Zephyrus S, Duo, and M models come equipped with Thunderbolt™ 3, a blazingly fast data-transfer protocol with a theoretical bandwidth of 40 Gbps over a familiar USB Type-C™ (USB-C™) connection. It's the port of choice for anyone who regularly transfers large amounts of data, like high bit-rate video footage. It also provides the opportunity to connect two 4K UHD monitors over DisplayPort, or upgrade graphics horsepower with a ROG XG Station Pro Thunderbolt™ 3 eGPU dock.
Real-world portability
The ROG laptop lineup already includes some of the slimmest and lightest gaming laptops on the market, as well as a svelte 23-millimeter-thin 180 W adapter that's easy to bring along on a business trip. A new 240 W adapter follows suit: not only is it thinner than its 230 W predecessor, it also takes up about 20% less space while providing more power.
Zephyrus laptops have gotten even more portable thanks to support for USB-C charging via USB Power Delivery. This allows recharging from a standard USB-C adapter up to 65 W or a compatible USB power pack like the ASUS ZenPower Pro. USB Power Delivery also works in reverse on these Zephyrus models, so they can serve as a recharging station for compatible devices.
Hassle-free upgrades
There has always been a strong DIY element to PC gaming. Now, a few key adjustments have made it easier than ever to upgrade ROG laptops with another stick of RAM or an extra storage drive.
Revamped chassis hooks and a new pop-up screw mechanism make it simple to remove the bottom panel without having to pry. Once the bottom panel is open, it is easy to directly access the memory slots and storage bays. Most models include two M.2 slots for expanding system storage, while new Strix laptops include three.
ROG quality across the board
The keyboards on new ROG laptops provide an experience equally suited for marathon gaming sessions and everyday typing. Desktop-style layouts make it easier to find the function keys, while a larger spacebar provides a bigger target while gaming. Overstroke technology makes key presses fire faster, as the keys actuate earlier for a quicker response, and anti-ghosting technology ensures that all key presses register precisely, even when multiple keys are pressed at once.
For many users, RGB LED lighting isn't just a way of attracting attention. It's a way to personalize the laptop and its peripherals to make them truly unique. A variety of RGB lighting options grace our 2020 lineup, including per-key backlighting, wraparound light bars, and striking lid accents. Aura Sync software can customize effects and coordinate laptop lighting with ROG peripherals' RGB features as well.
Introducing the new ROG Zephyrus laptops: Gaming prowess goes ultraslim
Today's gamers are using their laptops for a lot more than just games. They're recording their gaming footage and putting together Let's Plays. They're developing audiences through online streaming services like Twitch, Mixer, and YouTube. They're creating compelling photos and videos that keep a broad audience coming back for more. They're gamers, but they're more than that, too.
With their potent internal hardware, carefully selected displays, and full complement of connectivity options, ROG Zephyrus laptops meet the needs of this growing community of gaming creatives. They're equally at home at LAN parties and in boardrooms, and they can tear through levels of the latest triple-A games as surely as they edit 4K UHD footage for YouTube. Each model has a gaming-first high-refresh-rate display option, up to 300 Hz in most lines, while the Zephyrus Duo 15 and Zephyrus M15 also have a 4K UHD display option that's ideal for creative work. The whole Zephyrus line features PANTONE Validated displays, Thunderbolt™ 3 connectivity, and USB-C Power Delivery.
Best yet, Zephyrus laptops offer all of these features without sacrificing portability. Innovative chassis and cooling designs allow Zephyrus laptops to deliver uncompromised gaming experiences and raw processing power in a thin, sleek package.
ROG Zephyrus Duo 15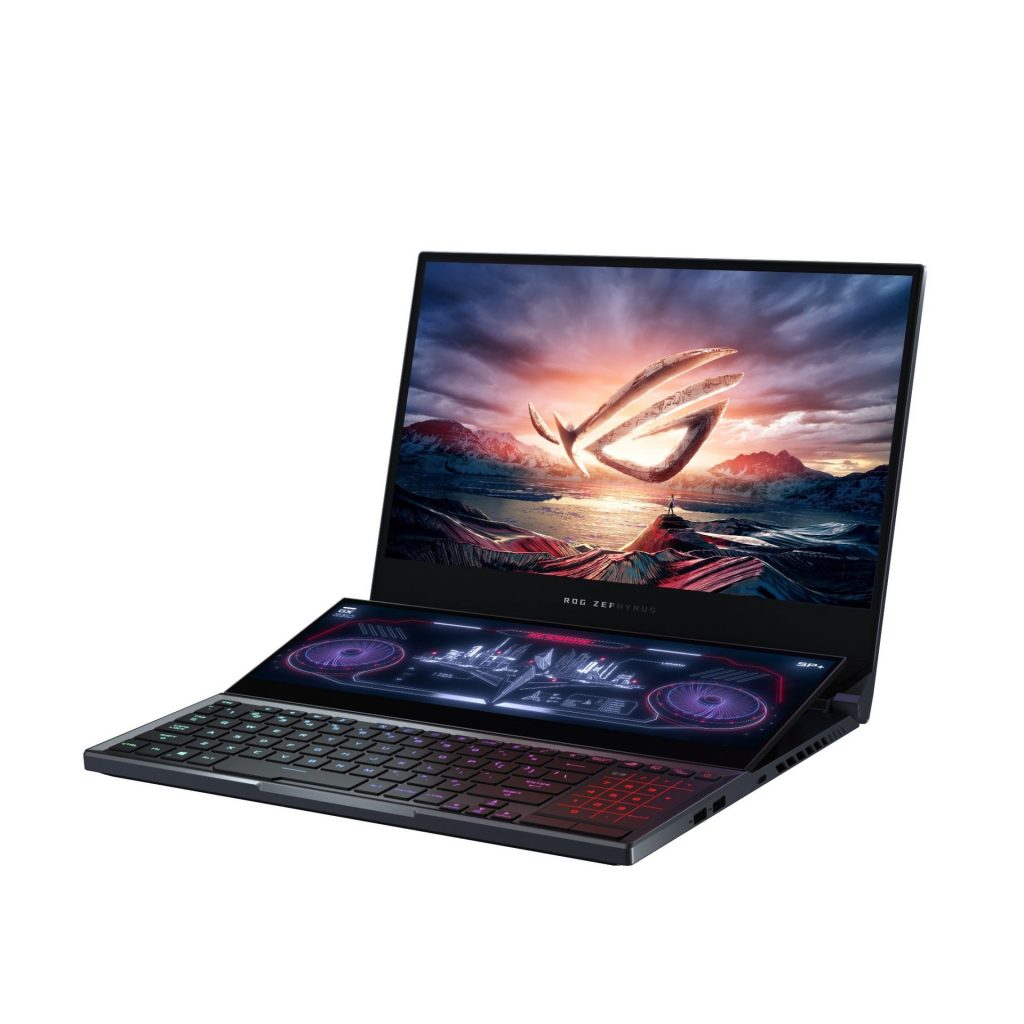 It's easy to find PC gamers using multiple displays. On attached screens and smartphones, they keep an eye on their favorite streamers, interact with their own audiences, research competitive strategies, chat with friends and guild-mates, and more. The new ROG Zephyrus Duo 15 integrates a secondary display, the innovative ROG ScreenPad Plus, to bring all these functions together into one portable device.
To fit both a 15.6-inch display and new second screen into one chassis, ROG engineers pulled the keyboard and touchpad forward, positioning the 14.1-inch 4K (3840 x 1100) IPS ROG ScreenPad Plus above the keys but below the Duo 15's main panel. As the lid opens, a cleverly designed hinge tilts the secondary display up at a 13° angle for viewing comfort and easy touchscreen interaction.
The tilted secondary display also allows the Zephyrus Duo a lot more breathing room. Its Active Aerodynamic System (AAS) Plus cooling solution puts the space underneath the secondary display to good use. As the touchscreen tilts up, a massive 28.5 mm air intake opens to draw in cool air from above the laptop. This innovative arrangement means that the Zephyrus Duo can house powerful components in a slender chassis, including a 10th Gen Intel Core i9 CPU and the trailblazing RTX 2080 SUPER GPU.
Such powerful components deserve a high-end canvas on which to paint their pixels. The Zephyrus Duo has two display options. The first is a lightning-fast 300 Hz FHD display that would stand out even in a tournament setting. The second option is a 4K UHD display with 100% Adobe RGB coverage. The fine resolution and wide color gamut make this an excellent display for people who split their time between triple-A gaming and content production. G-SYNC keeps gaming visuals smooth and tear-free, while ROG GPU Switch technology enables swapping between G-SYNC and NVIDIA's battery-saving Optimus mode.
With its one-of-a-kind secondary display, premium components, and sleek design, the Zephyrus Duo 15 takes over as the flagship ROG Zephyrus laptop. From its thin all-metal chassis to its powerful Thunderbolt 3 port, from its RAID 0 storage array to its top-of-the-line displays, this laptop embodies ROG's ruthless drive for excellence.
ROG Zephyrus S17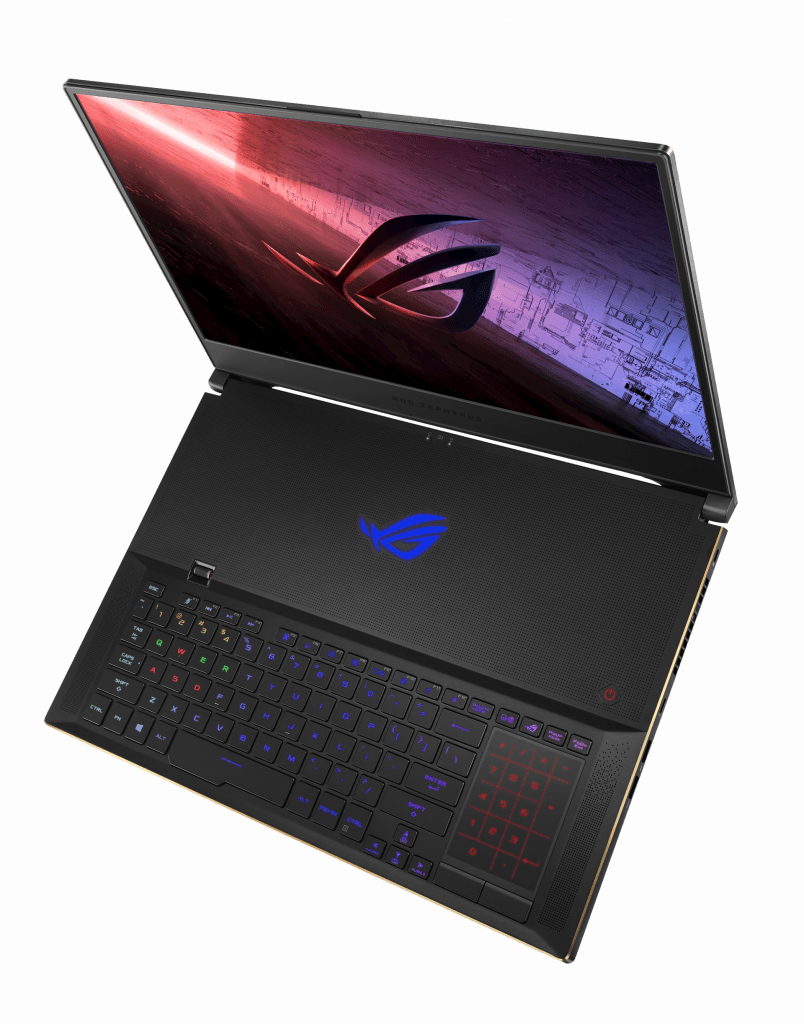 The new Zephyrus S17 offers an expansive 17.3-inch display in a svelte 18.7-millimeter-thin chassis. Super-narrow bezels make the display feel larger than life while keeping the laptop's profile surprisingly compact. With a 300 Hz refresh rate and 3 ms grey-to-grey response time, the screen is a speed demon that can be paired with up to an RTX 2080 SUPER GPU and 10th Gen Intel Core i7 CPU. Thermals benefit from a unique AAS cooling solution that opens a large intake vent beneath the system when the lid is raised.
The extra-large display is perfect for immersive gaming and spacious productivity, and its PANTONE Validated status also makes it ideal for creative work. Each screen in this program is calibrated at the factory to guarantee color accuracy, and as with Zephyrus Duo, the S17's unique GPU Switch technology provides a choice between G-SYNC mode for the best gaming experience and Optimus mode for longer battery life.
The Zephyrus S17's chassis gave ROG engineers room to include a few premium extras, including a full desktop-style keyboard with per-key RGB LED backlighting. The ROG NumberPad sits to its right, serving double duty as a touchpad and a numeric keypad, while an integrated volume roller fits conveniently within reach, complete with backlight brightness that changes automatically to match system volume.
Zephyrus S17 proves that big doesn't have to mean bulky. In a lean, portable chassis, the laptop exploits the screen space of its 17-inch display while providing a premium ROG experience.
ROG Zephyrus S15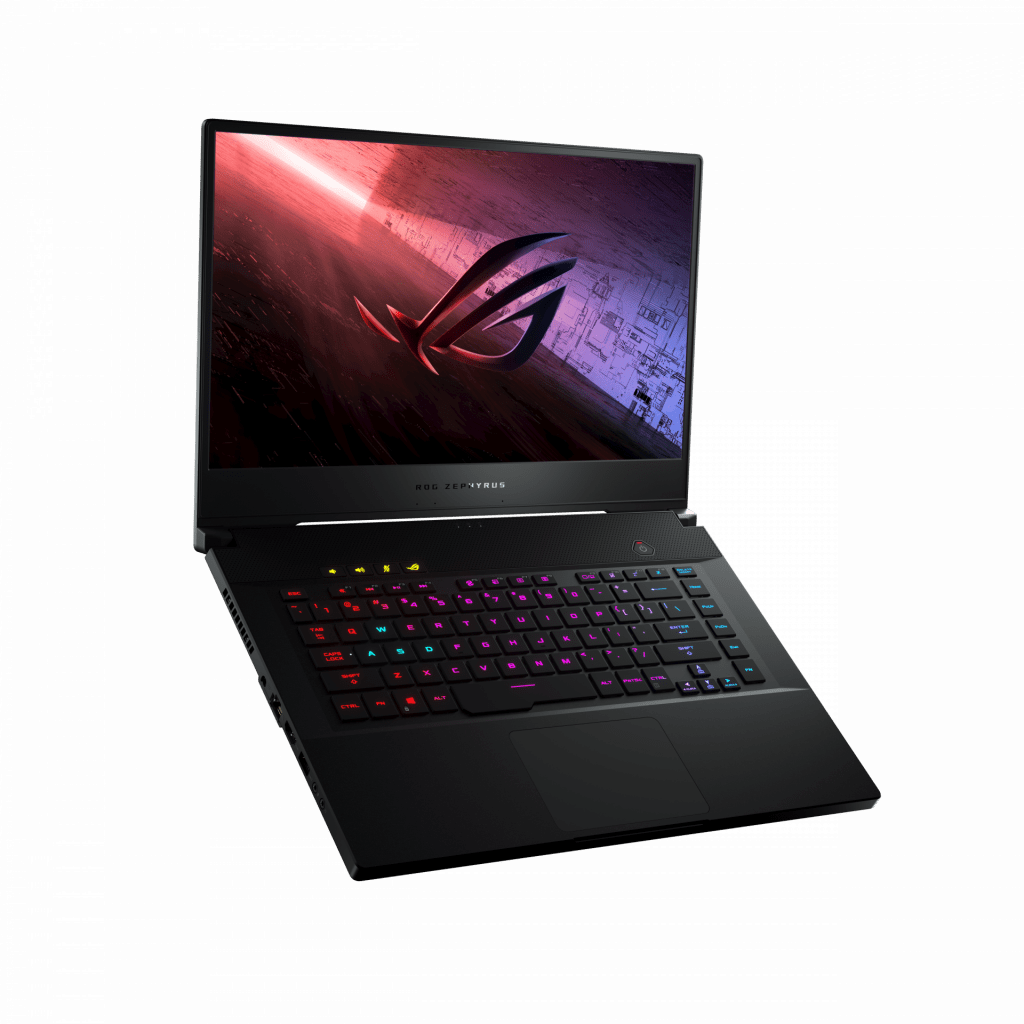 While Zephyrus Duo 15 and Zephyrus S17 have forward-located keyboards that resemble something from the future, the all-new Zephyrus S15 is arranged in a more traditional layout that works better in tight quarters and on laps. It's a supremely portable Zephyrus, constructed to provide hardcore gamers with the specs they need in a package that won't weigh them down.
Honeycomb reinforcements under the palm rest keep S15's 18.9-millimeter-thin chassis sturdy. The piece is constructed of magnesium-aluminum alloy using a combination of die casting and machining techniques, so it resists the flexing that makes some ultraslim laptops feel flimsy. Soft-touch paint across the chassis adds a smooth, fingerprint-resistant finish.
As with Zephyrus S17, augmented AAS coupled with CPU-cooling liquid metal thermal compound pre-applied at the factory allows the S15 to offer configurations topping out with the RTX 2080 SUPER GPU. This GPU can churn out frames in fast-paced games like no other, so Zephyrus S15 is rigged with a 300 Hz panel with a 3 ms response time. The combination of G-SYNC technology and an ultrahigh refresh rate makes for silky-smooth visuals even in the midst of frenetic gaming action. GPU Switch technology makes an appearance here as well, allowing users to toggle between G-SYNC mode for smooth gaming and Optimus mode for extended battery life.
The compact chassis includes space for dual M.2 SSDs that can be configured in a blazing-fast RAID 0 array, as well as a Thunderbolt 3 port for professional speed over USB-C. Upgraded audio uses an ESS Sabre DAC that reduces noise and distortion for the headphone output, enabling high-fidelity sound with wider dynamic range.
With its slim chassis, more conventional layout, and comfortable 15-inch size, Zephyrus S15 makes the dream of ultraportable gaming a reality. It's the ultimate Zephyrus laptop for the traveling gamer.
ROG Zephyrus M15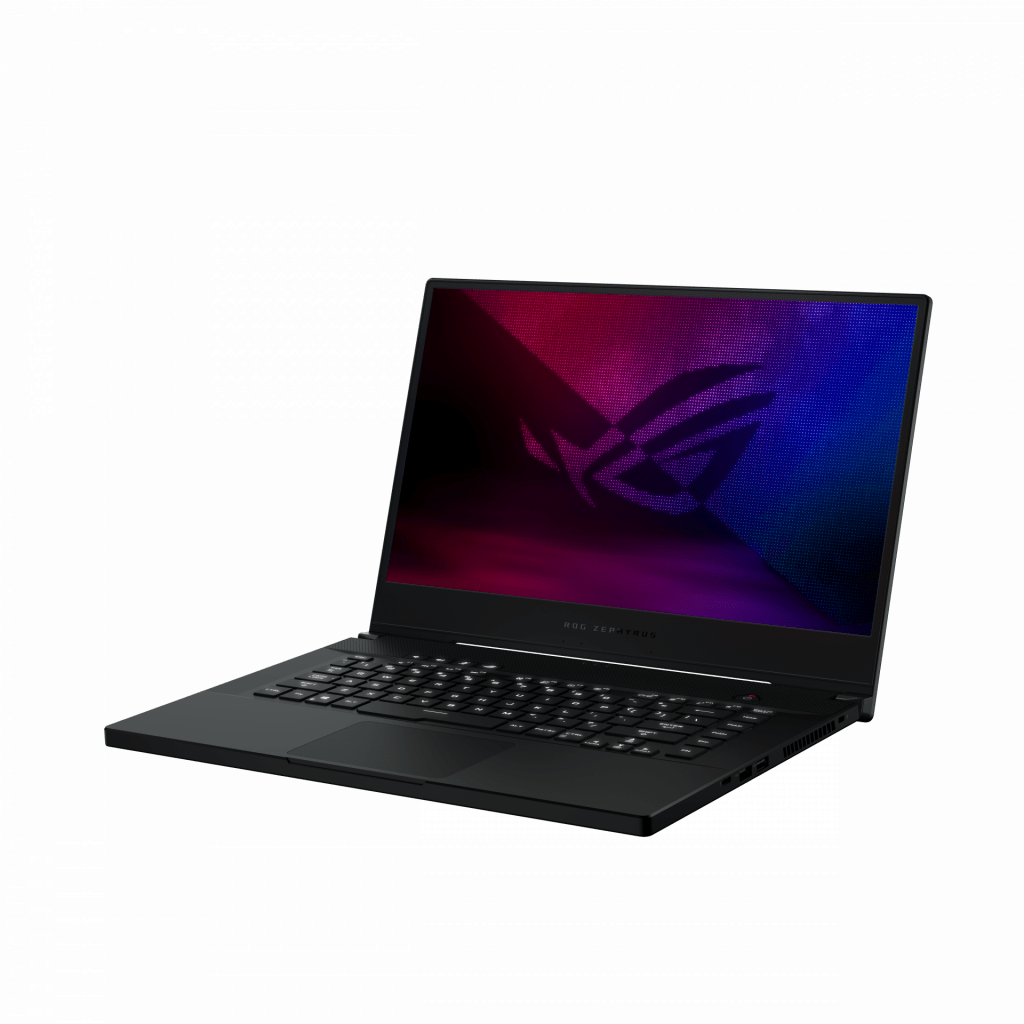 The attractively priced ROG Zephyrus M15 sits at the sweet spot of value and performance, with a range of configurations that make it an easy choice for a wide audience. Display options including 240 Hz and 144 Hz FHD panels and a 4K UHD display let users pick the screen that best fits their needs. GPU options range from the affordable yet capable GeForce GTX 1660 Ti up to the RTX 2070 GPU. Creative work relies heavily on CPU performance, so Zephyrus M15 is powered by the eight cores and 16 threads of a 10th Gen Intel Core i7 processor.
Zephyrus M15 doesn't need the expanding vent that Zephyrus S15 uses to keep its top-end components cool, but it otherwise shares the same slim, professional chassis made of structurally reinforced magnesium alloy and finished with a classy, soft-touch skin. An ESS Sabre DAC drives a clear, powerful audio signal, and with two easily accessible M.2 slots, it packs the storage capacity to fit creative work alongside a loaded gaming library. Zephyrus M15 offers a complete connectivity payload, including Thunderbolt 3, dual display outputs, and enough USB ports to connect a mouse, gamepad, and external storage.
Carefully curated features and components keep the affordable Zephyrus M15 punching above its weight. Versatile and portable, it's the perfect gaming laptop for people who want to do more than game.
Introducing the new ROG Strix gaming laptops: Built for gaming dominance
ROG Strix laptops are unabashed gaming machines, designed inside and out for glory. From the aluminum skin on the lid to the raised ridges that accent the ventilated 3D flow zone at the rear, each model is a showpiece that shines in the spotlight of esports arenas.
ROG Strix configurations feature some of the highest-end gaming components on the market. A robust Intelligent Cooling system provides superlative thermal performance, opening up the full performance of its high-end parts with ROG Boost. Headlined by liquid metal thermal compound painted on the CPU, this cooling solution allows the CPU and GPU to operate at high frequencies over a sustained period. These machines are always ready for one more match.
The high-resolution texture packs that make contemporary AAA games such lush visual spectacles can also take up quite a bit of storage space. Since game install sizes aren't getting any smaller, designers increased the maximum capacity of ROG Strix laptops by making a third M.2 slot available across the lineup. Strix laptops ship with two NVMe SSDs in a superfast RAID 0 storage array, which is plenty of room to get started with the option of adding another drive for more room down the line.
ROG Strix SCAR 15/17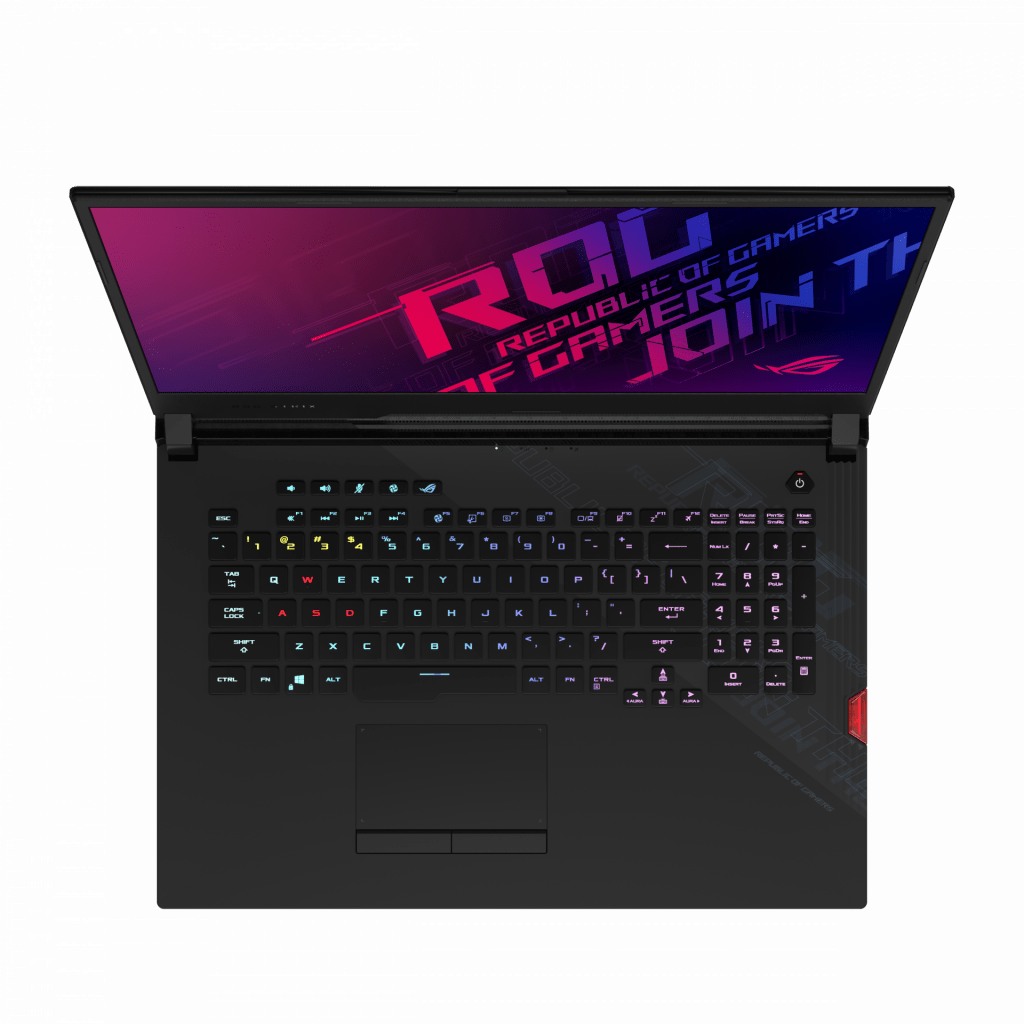 ROG Strix SCAR 17 delivers unbridled gaming power built around a 300 Hz IPS-level panel that provides incomparable smoothness and clarity in games. It's the ultimate technological edge for an esports gamer. This community already optimizes settings for triple-digit frame rates, but the 300 Hz panel takes full advantage of them. Thanks to its dizzyingly high refresh rate, this panel displays fast-paced action with unprecedented clarity, allowing gamers to react to on-screen events faster than they realized was possible.
With an Intel processor up to the latest Core i9-10980-HK and up to the RTX 2080 SUPER GPU, Strix SCAR 17 is prepped for peerless performance. Alongside up to 32 GB of 3200 MHz DDR4 RAM, the eight-core Core i9 will multitask with ease and blitz through CPU-intensive workloads.
The RTX 2080 SUPER GPU sits at the top of NVIDIA's GPU product range. ROG engineers designed a unique chassis and cooling solution for a special edition of Strix SCAR 17 that lets this GPU operate at its full potential. Strix SCAR 17 laptops with the RTX 2080 SUPER will feature augmented cooling inside a slightly thicker body. Its combination of high-end gaming hardware and an unthrottled cooling solution makes this edition of Strix SCAR 17 the highest-performing laptop in the 2020 ROG lineup.
The SCAR series also boldly proclaims its gaming chops with customizable RGB LED lighting effects. A wraparound light bar underneath the front and side edges of the chassis casts a wide glow and complements the keyboard backlighting and illuminated RGB logo on the laptop's lid, all of which can be customized and coordinated with ROG Aura Sync.
Strix SCAR 15/17 also feature the ROG Keystone II, a small NFC-enabled device that docks into the side of the chassis. It can be can customized to launch the Armoury Crate game library, a specific operating mode, or any game or app when inserted. The Keystone II can also provide access to a secret, encrypted Shadow Drive (exclusive to Windows 10 Pro) and trigger a stealth mode that mutes audio and minimizes all apps when removed.
Those who prefer their competition-dominating hardware to be a bit more portable need look no further than ROG Strix SCAR 15. Its 15.6-inch display offers the same tournament-grade 300 Hz refresh rate with undeniable Strix SCAR look. It is powered by up to a 10th Gen Core i9 CPU and up to the RTX 2070 SUPER GPU.
Strix SCAR 15/17 laptops are second to none when it comes to gaming performance. For tournament-grade power at home or on the road, these battle-proven warriors are the ROG machines of choice.
ROG Strix G15/17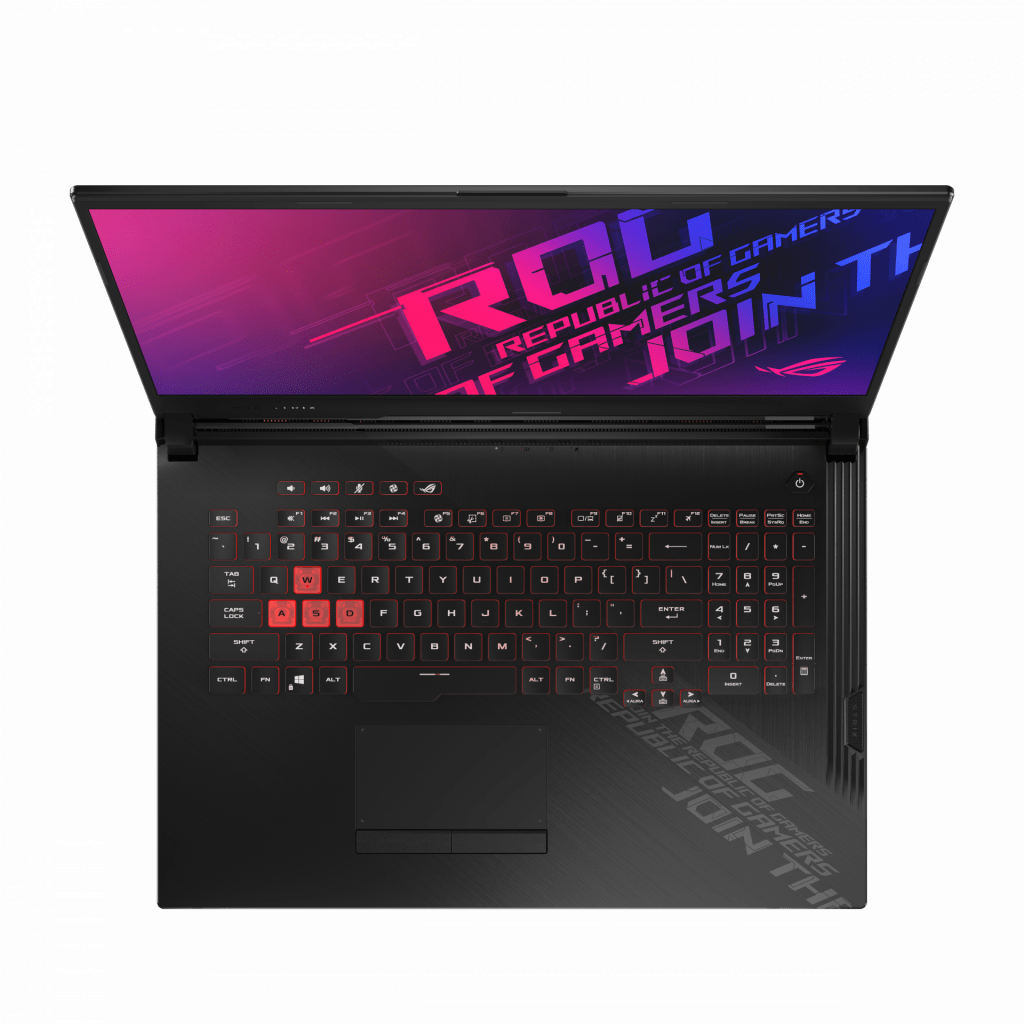 It's no small feat of engineering to fit today's most powerful gaming hardware into a compact, portable, and budget-friendly laptop chassis. ROG Strix G laptops hit all of the gaming essentials without sacrificing special features and deliver it at a price and in a style that's unmistakably their own.
Both Strix G15 and Strix G17 are powered by 10th Gen Intel processors up to a Core i7. GPU options range up to the RTX 2070 SUPER GPU and drive high-refresh-rate displays tailored to today's most popular esports titles. Strix G17 and Strix G15 have 144 Hz displays as standard, but both are also available with an even faster 240 Hz panel.[i]
In addition to their irreproachable hardware credentials, Strix G laptops ship in three different color schemes to emphasize personal style. Both models will be available in sophisticated Glacier Blue and Original Black. The Strix G15 Electro Punk is the showstopper of the bunch, though. The contrast between its dark brushed metal and sizzling pink highlights is so striking that ROG took it back to the lab to give it a complementary cast of peripherals and accessories.
Each Electro Punk Strix G15 will include a 35 x 17-inch Electro Punk desk mat large enough to cushion a full complement of gear. Certain regions will feature a full bundle of coordinating peripherals that includes the laptop and mat, plus a ROG Strix Go Core Electro Punk Headset, ROG Impact II gaming mouse, and a special-edition ROG backpack, all of which sport the head-turning Electro Punk color scheme. It's the complete PC gaming experience in one package.
[i] Display specifications vary by country and territory