Introduction
As the CPU race heats up, Intel is feeling the competition and finally producing new processors with significant performance improvements. Their recent release of the new Coffee Lake refresh processors also include a new Core i9 variant, which come in a 8 core 16 threads configuration, putting it heads on with AMD's Ryzen 7 series. It seems like processors with high core counts are going to be the new norm very soon.
[Disclaimer – In response to the recent comments online, some points in this article are edited to better reflect the thoughts which I was trying to bring across. I sincerely apologize to Intel for breaking the NDA, as it was a mistake on my part, thinking that the embargo date was 16th, instead of 19th. The article was already taken down in the mid day of the 16th when our other media friends noted us about the breach. Moreover, Intel PR has got nothing to do with this incident, as we did not receive this processor from them. This is also not a sponsored review.]
Together with the new processors, Intel has also came out with the Z390 chipset. This chipset will work with both the Intel 9th Generation Coffee Lake refresh processors, and 8th Generation Coffee Lake processors as well. In today's review, we are going to take a look at the performance of the Intel Core i9 9900K processor, and see how it fairs with AMD's Ryzen 7 series.
There isn't too much difference between the Intel Z370 and Z390 chipsets. In fact, the main difference is that the latter comes with native USB 3.1 Gen2 support and integrated 802.11ac WiFi. Do also note that these new 9th generation processors also use the same LGA1151 interface to the motherboard like the 8th generation. Motherboard manufacturers have already rolled out BIOS updates for their Z370 to support the 9th generation processors too. This means that the 8th and 9th generation processors will work on both Z370 and Z390 motherboards.
How will the new 9th generation Intel Core i9 processors fair against AMD's Ryzen 7? That's something which we are really interested to find out. In this article, we will take a closer look at the Intel Core i9 9900K with the Gigabyte Z390 AORUS Master motherboard. We will find out the raw performance of this new processor and compare it to the Ryzen 7 from the red camp. Moreover, we will also see just how much more we can overclock the Core i9 9900K on the Gigabyte Z390 AORUS Master to bring out even more performance right out from this system.
[Additional Comments are in italics]
The objective of this review is to capture the performance of both the top of the line processors from both Intel and AMD from the "mainstream" product segment(Namely the Core i9 and Ryzen 7). Our focus on the review is to understand how much performance can be possible with both products right out from their boxes, without any alterations in settings or considerations in price. This should give us an understanding of where each company stands in terms of the compute performance capabilities in the mainstream segments. 
Test Setup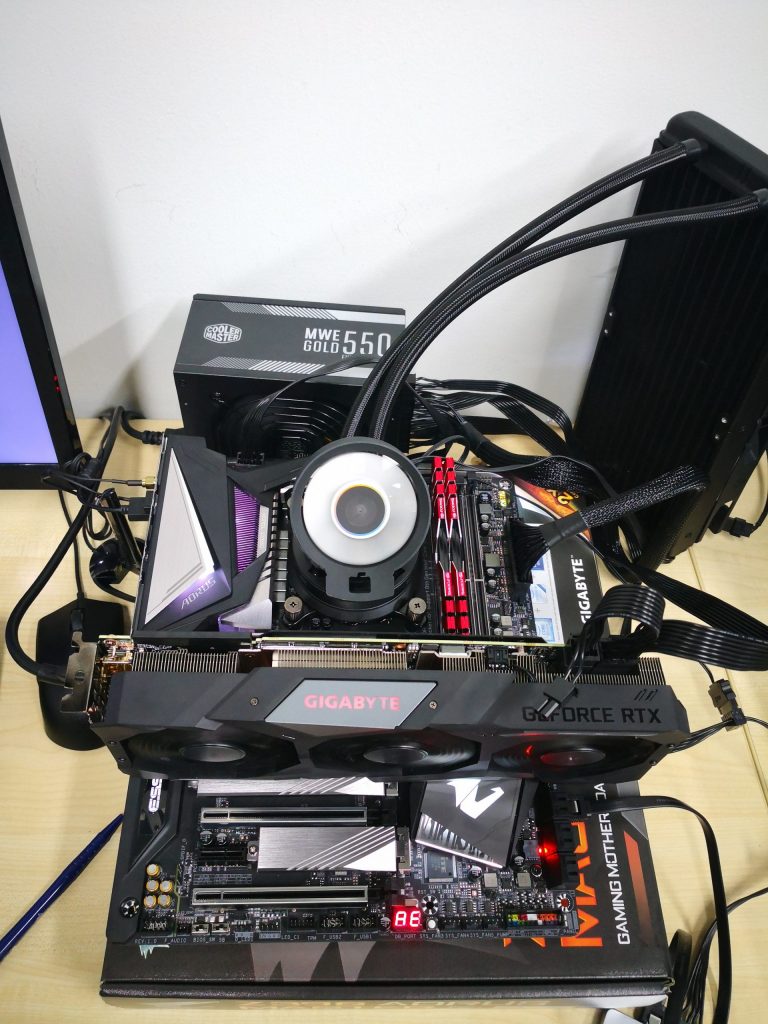 | | | |
| --- | --- | --- |
| Specs | Main System | Comparison System |
| CPU | Intel Core i9 9900K (Engineering Sample) | AMD Ryzen 7 2700 |
| RAM | Team Group T-Force DDR4 3000 CL16-16-16-39 2 x 16GB DDR4 Kit | Team Group T-Force DDR4 3000 CL16-16-16-39 2 x 16GB DDR4 Kit |
| Storage | Plextor M8V M.2 SATA SSD 256GB | Plextor M8V M.2 SATA SSD 256GB |
| GPU | Gigabyte GeForce RTX 2080 Gaming OC 8G | Gigabyte GeForce RTX 2080 Gaming OC 8G |
| Motherboard | Gigabyte Z390 AORUS Master | Gigabyte X470 AORUS Gaming 7 Wi-Fi |
| CPU Cooler | Cryorig A80 280mm AIO Hybrid Liquid Cooler | AMD Wraith Stealth Cooler (Stock) |
| OS | Windows 10 Pro 64 bit | Windows 10 Pro 64 bit |
| Drivers | NVIDIA 411.70 (RTX 2080) | NVIDIA 411.70 (RTX 2080) |
For our tests, we have the Intel Core i9 9900K head on with the AMD Ryzen 7 2700. They are both the top of the line in the mainstream product segment. We tried to make sure that both setups are kept as similar as possible to ensure a fair test between the two platforms. Since we ran both processors at stock settings, there should not be any significance when testing with different CPU cooler. 
Do take note that the benchmark results are only meant for reference, and should not be taken into serious considerations as both processors are fundamentally different in terms of clock speed and architecture. These results showcase each company's capabilities in the mainstream product segment. We also understand that we are using a Ryzen 7 2700 in this setup, instead of the mainstream flagship Ryzen 7 2700X… We simply didn't have one, and had to make do with the Ryzen 7 2700.
For our game tests, both Deus Ex: Mankind Divided (Direct X 12) and Total War: Warhammer ran on Ultra settings. The benchmarks were conducted on 1920 x 1080 resolution.
Overclocking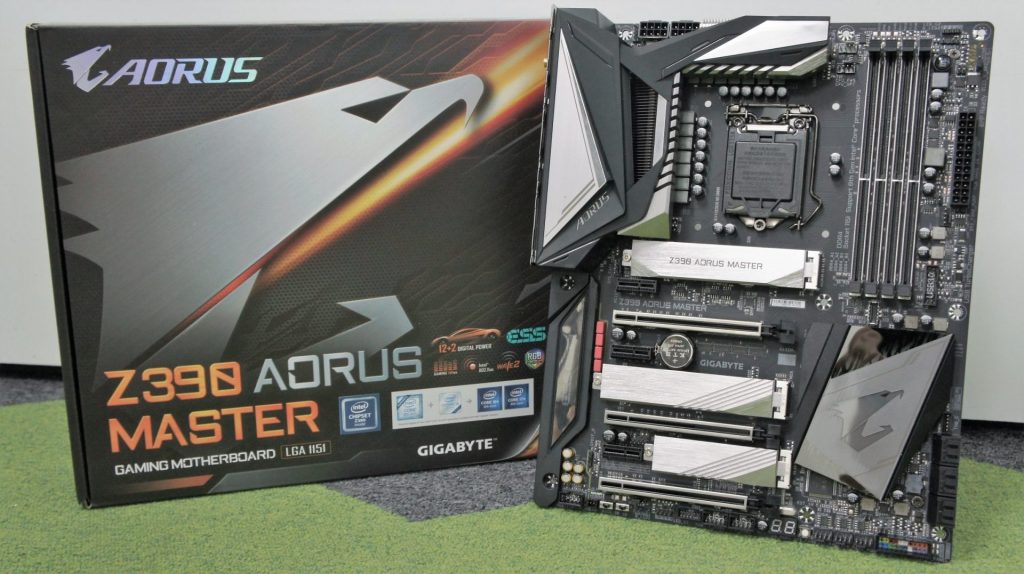 Overclocking the Intel Core i9 9900K was a breeze. Gigabyte has promised that their motherboard will support the new Coffee Lake refresh processors to be overclocked over 5GHz, and it did perform just as expected. On our setup with Gigabyte's Z390 AORUS Master, we managed to bring the Core i9 9900K to 5.225GHz without much effort. (For reference, the stock Core i9 9900K has a base clock of 3.6GHz and which can be increased with Turbo Boost up to 5GHz.)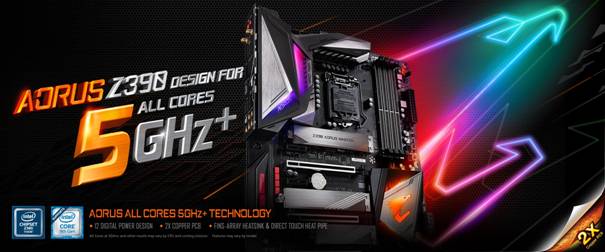 If you are wondering that the overclock may not be significant due to the small increase in frequency, we have to say that it is not easy to overclock a multi core processor. This is due to the expected increase in power load per frequency increase. Therefore, the power delivery of the motherboard is fundamental for a stable overclock. Thanks to the Gigabyte z390 AORUS Master, our manual overclock allowed us to bring all cores on the processor to be clocked at 5.225GHz and complete all our CPU benchmarks.
(Of course, if we had more time with the setup for our review, we are also confident to push it even further!)
Performance
This slideshow requires JavaScript.
Based on the result from the Cinebench R15 benchmark, we can see that higher frequency and better architecture on the Intel Core i9 9900K made it perform a lot better than the Ryzen 7. In fact, the difference in score really showed how much more superior the Intel processors are, right out of the box. It would be interesting to see how the Ryzen 7 fairs when both processors were to run at the same speed.
However, when we moved to other benchmarks, the differences were far smaller. This also means that in real world experience, you shouldn't really see that much of a difference between the two processors. In 3DMark Time Spy, the Ryzen 7 was just about 500 points shy from the Intel Core i9. We should also take note that the score in Time Spy is largely dependent on the GPU, which stayed the same throughout the different tests.
Surprisingly, in the Deus Ex: Mankind Divided benchmark test, the Ryzen 7 2700 even managed to inch a head slightly in terms of average FPS. Such similar results is only possible for games which rely heavily on the GPU, but less on the CPU. On the other hand, for games that require a good amount of CPU compute, the FPS differences were noticeably large. In the Total War: Warhammer test, we saw the Ryzen 7 2700 fair almost 20FPS less than the Core i9 9900K. This is perhaps where the Core i9 really shines.
Temperature and Power Consumption
To even make the Core i9 9900K possible, Intel had to undo their mistake of placing sub-par thermal interface material between the processor core and the heatspreader. This time, they are using a Solder Thermal Interface Material (STIM) to improve heat dissipation and increase core clocks. Based on our tests, the CPU ran at a idle temperature of 30 degree Celsius (at a controlled room temperature of 24 degree Celsius) and at a load temperature of 75 degree Celsius (during Cinebench Benchmark). Also, we measured the power consumption of the whole system to be at about 43W in idle and 330W when on load (Cinebench).
Conclusion
With the introduction of the Core i9 to the mainstream segment, we can see how Intel is on their toes and paying more attention to the competition. It's a product that is worth mentioning, after years of marginal improvements. The Core i9 brings about significant speed bumps which can be directly felt by the users in different usage scenarios, such as CPU intensive games. The updated architecture also has brought an even more optimized and power efficient processor onto the table, showing us the true potential of Intel, rather than just small controlled updates for the sake of releasing new products.
It's costly to adopt a HEDT platform because most of their components(such as motherboard) are costly. Intel has just shown us their hidden trump card for 2018, bringing an HEDT level processor to the mainstream segment for adoption by cost conscious prosumers. With such said, we are really looking forward to what AMD has got up their sleeves with Ryzen 2 next year…