The specialization of sensors and availability of direct internet connected chips have brought upon the whole idea of Internet of Things (IoT). While we can usually think of sensors that tracks common conditions such as temperature, humidity, air quality, etc, there are in fact many other different usage scenarios where IoT can be put to good use.
At Huawei's exhibition centre in Beijing, we came across an interesting application of IoT, which not only improved the general visibility of data, but also brought about business success for the owners.
Connected Cows are Cash Cows
In a cow farm, sensors are placed on the neck of cows to identify their activities, which are detected largely based on movements of the cow. By identifying an unusual amount of activity from a single cow, that is much larger than the average, a remote application that analyses all the data will understand that that specific cow is in the rut phase. (For those who do not understand rut, it actually means a period for the male or female to mate due to increased levels of sexual hormones in their body.)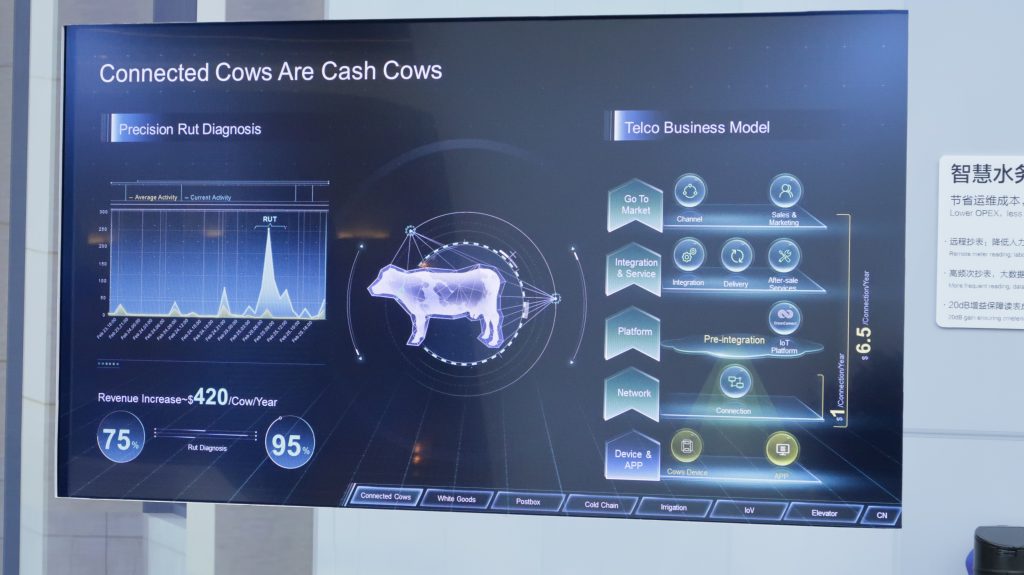 By clearly identifying rut, farmers will be able to have timely reaction for artificial insemination and improve the reproductive efficiency for the cows. At the same time, as breeding also increases milk yield, the farmers will be able to enjoy a higher production of milk.
All these are simply enabled by Huawei's comprehensive NB-IoT (Narrow Band Internet of Things) platform with service provided by a local Internet Service Provider. Depending on the arrangement between Huawei and the application owner, an application can be developed to capture data from the cow's movement sensors. Within this small sensor, is a connectivity chip provided by Huawei, that enables an cost effective solution to send data up to the internet. This connection communicates with a main server via NB-IoT (i.e. LTE Cat NB1 – think of this as a mobile data communication to the service provider), which then has the capabilities to analyse the big data to for rut behaviours.
Don't forget, we are analysing data not from just one or two cows, but probably tens of thousands of cows at one time. Huawei's OceanConnect IoT services provides a set of APIs for big data computations, which also aids the effective identification of anomaly activities on the cows.
Does it make sense and cents?
Ultimately, such a solution has to make business sense, and sure it did! By offering such a low cost solution stack to the owners, the overall price for each connection to a cow is only US$6.50 a year. On the other hand, due to the clear understanding of cow's rut, it is estimated that each cow can bring in an additional US$420 a year, due to the increase in milk production and higher birth rates!
It's simply amazing how Huawei is able to bring such kind of analysis to different applications and usage scenarios. We can also see the improvement in productivity for the farms through data insights which were previously unavailable. It seems like to possibilities of IoT solutions are limitless, and it will be interesting to see other kinds of solutions that will be made possible with the technology.