Is a 16-inch laptop a device that one necessarily needs? For most of us, the answer is no. But for some, having a powerful (and portable) laptop with a large screen is a dream come true – whether it be for work, entertainment, or both. Clearly, Huawei has chosen to pander to the tastes of this niche group, having chosen to release not one, but two 16-inch laptops – the Huawei MateBook 16s and the Huawei MateBook D 16 – at one go.
Created for the creatives, the more premium of the two siblings, the MateBook 16s, is marketed towards video editors, graphic designers, and users with heavy professional or creative workloads.
Let's get to know this big-screen machine.
Huawei MateBook 16s: Specifications
Dimensions
252.9 x 351 x 17.8mm
Weight
1.99kg
Display
16in 2.5K IPS display (3:2 aspect ratio, 2520 x 1680)
Processor
Intel i5-12500H, i7-12700H, or i9-12900H
Graphics
Intel® Iris® Xᵉ Graphics
Memory
16 GB LPDDR5
Storage
512 GB/1 TB NVMe PCIe SSD
Battery
84Wh battery with 90/135W USB-C charger
Camera
1080P FHD camera
Keyboard
Full-size Backlit Keyboard
Touchpad with Multi-touch
Bluetooth
Bluetooth 5.2
Ports
2x USB 3.1
1x USB-C
1x Thunderbolt 4
1x HDMI 2.0 port
1x 3.5mm jack
In the box
HUAWEI MateBook 16s
90 W/135 W USB-C Power Adapter
USB-C Charger Cable
Quick Start Guide
Warranty Card
Huawei MateBook 16s: Design and built quality
Huawei's MateBooks look largely similar to each other in terms of design, and the MateBook 16s is no exception. Like most of Huawei's other devices, the MateBook 16s is only available in Space Grey. While that sounds a little boring, it certainly isn't an ugly laptop. It's pretty clean design is work-friendly and professional.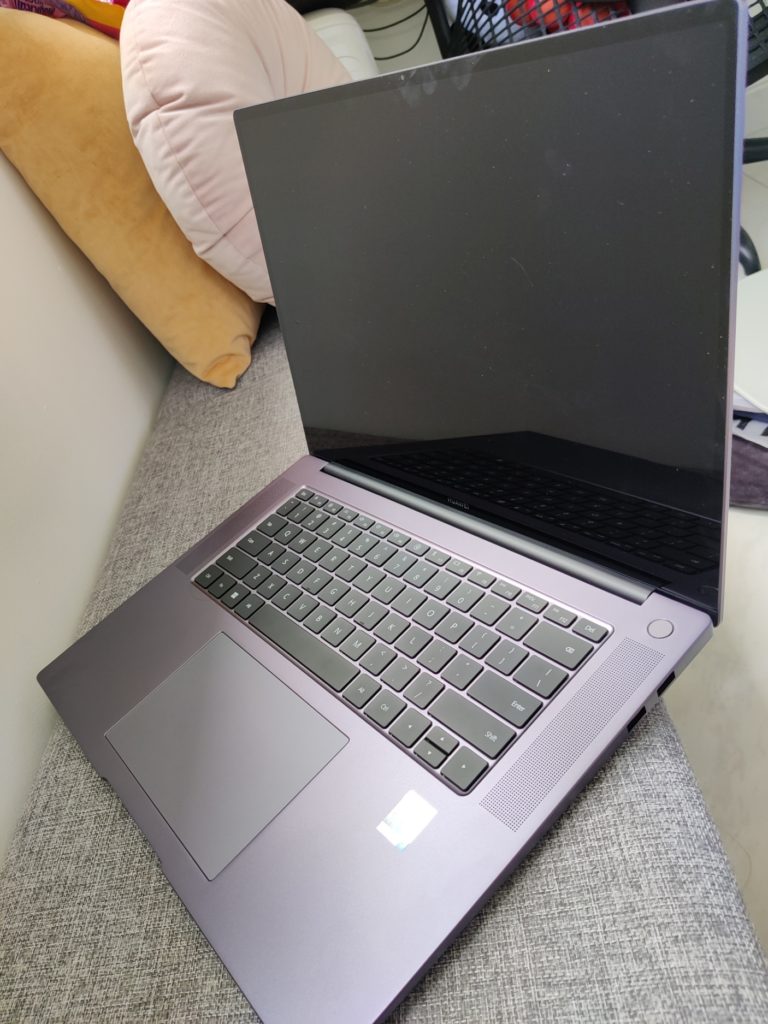 As a 16-inch laptop, the MateBook 16s is naturally big – and there's really no hiding that. Even though Huawei managed to get the Intel Evo certification for this laptop, the MateBook 16s still sports a 17.8mm thickness and 1.99kg weight. In other words, the laptop is bulky, heavy, and you'll definitely notice it if it's missing from your backpack. To be fair, though, the Macbook Pro 16 weighs 2.1kg.
Perhaps owing to its hefty weight and metal construction, the MateBook 16s feels like a solid device. Huawei also finished the laptop with a surface that adds to its premium. Plus, it keeps fingerprints away, which is always great.
Huawei did not scrimp when it came to the selection of ports on the MateBook 16s. The laptop comes with two USB 3 ports, a 3.5mm audio combo port, HDMI output and twin USB-C ports.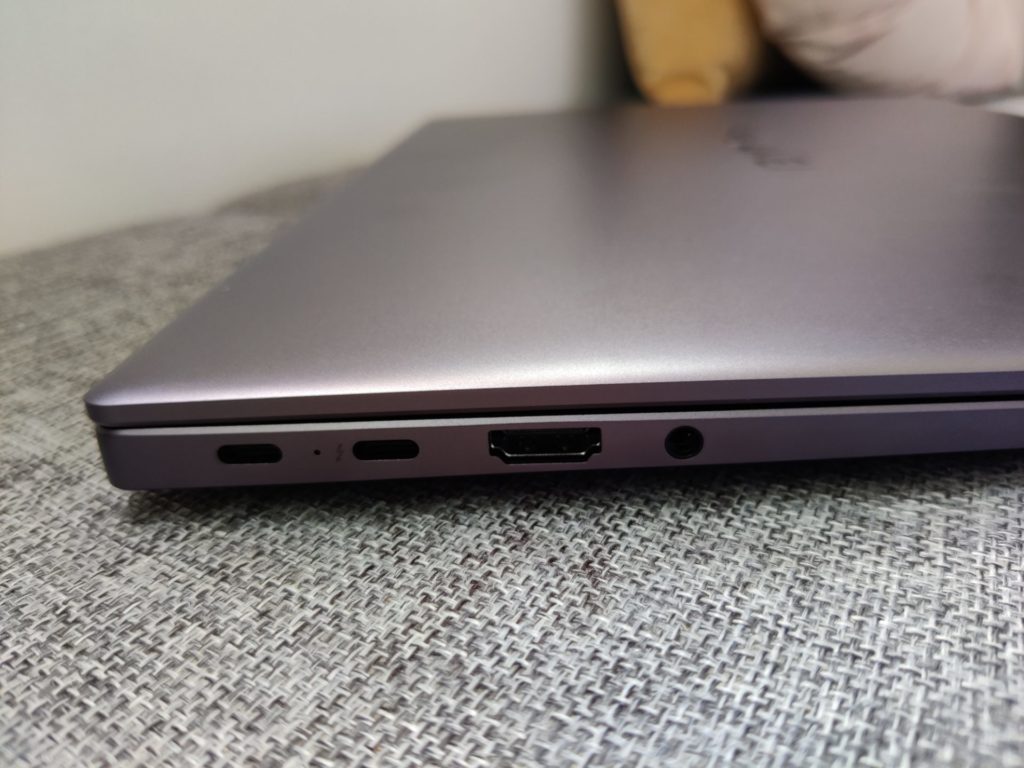 Huawei MateBook 16s: Display and audio
In terms of its display, the MateBook 16s boasts 2520×1680 resolution in a 3:2 aspect ratio. The 10-point touchscreen display offers extra vertical screen real estate for optimised productivity – you'll be able to fit more on screen at once.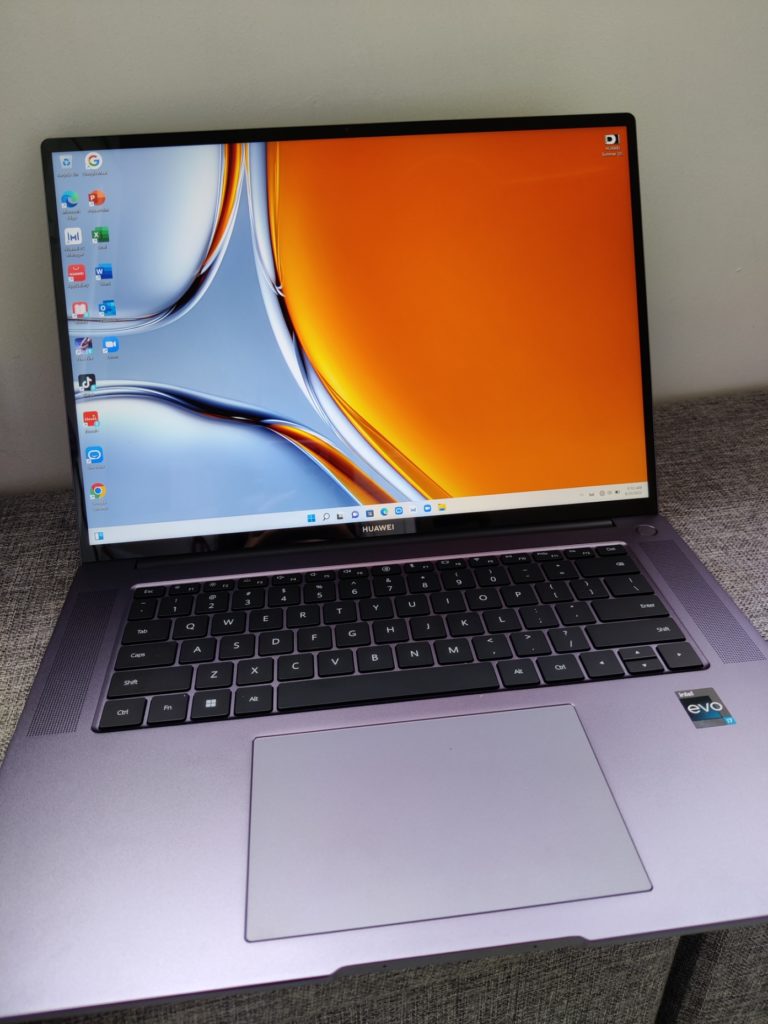 This, however, comes at the expense of having black bars on top and at the bottom of the screen whenever you're streaming content.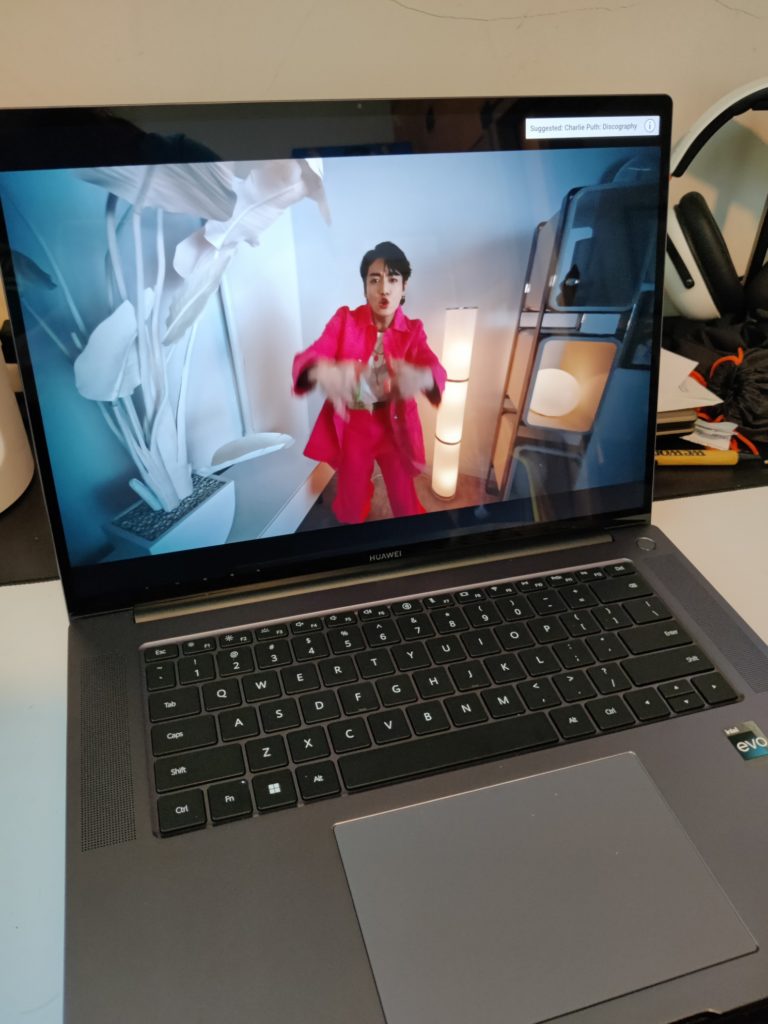 Look past that, though, and you find a display that promises 100% sRGB coverage and individually calibrated panels so that what you're looking at represents the real world.
Overall, colors are bright, punchy, realistic, and offer good tonal contrast. Unfortunately, the display only refreshes at 60Hz.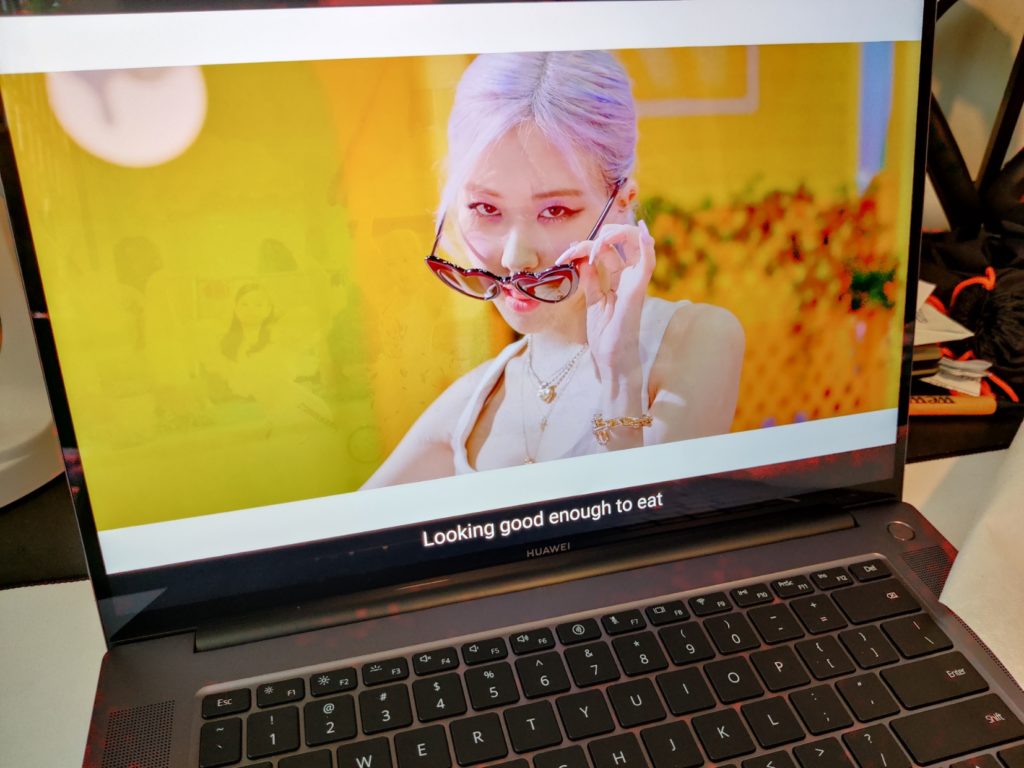 The display has also been accorded the TÜV Rheinland Low Blue Light and TÜV Rheinland Flicker Free Certification, easing any strain on your eyes while you're using it for prolonged periods.
Since Huawei decided to place the two large MateBook 16s' speakers on both sides of the keyboard, we've got to talk about it.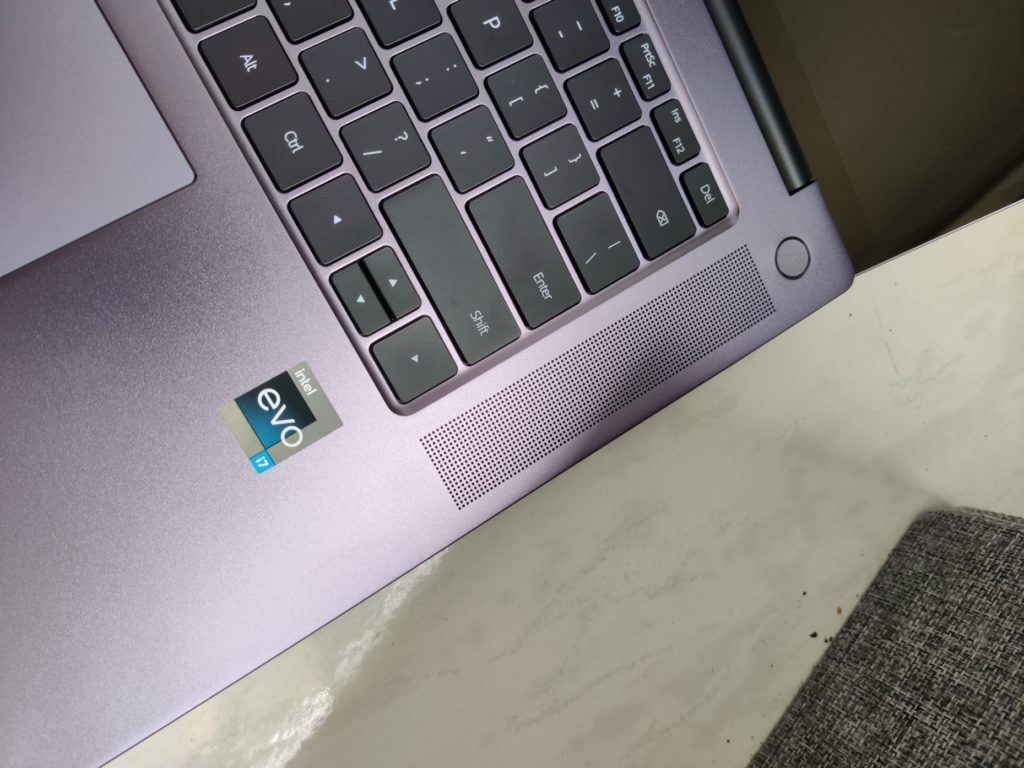 While we're not a fan of its placement and look, the sounds produced are pretty impressive. Music is punchy, crisp, and clear. You can even toggle the Ultra-Bass setting in the Huawei control panel for decent bass output.  
Huawei MateBook 16s: Keyboard and trackpad, webcam
Because of the speaker placement on this laptop, you don't get a dedicated number pad along the side of the full-sized keyboard. The 1.5mm key travel, combined with what Huawei calls 'soft-landing' tech, offers a great typing experience. At the top right, you'll find a power button with a built-in fingerprint scanner that has worked smoothly for us.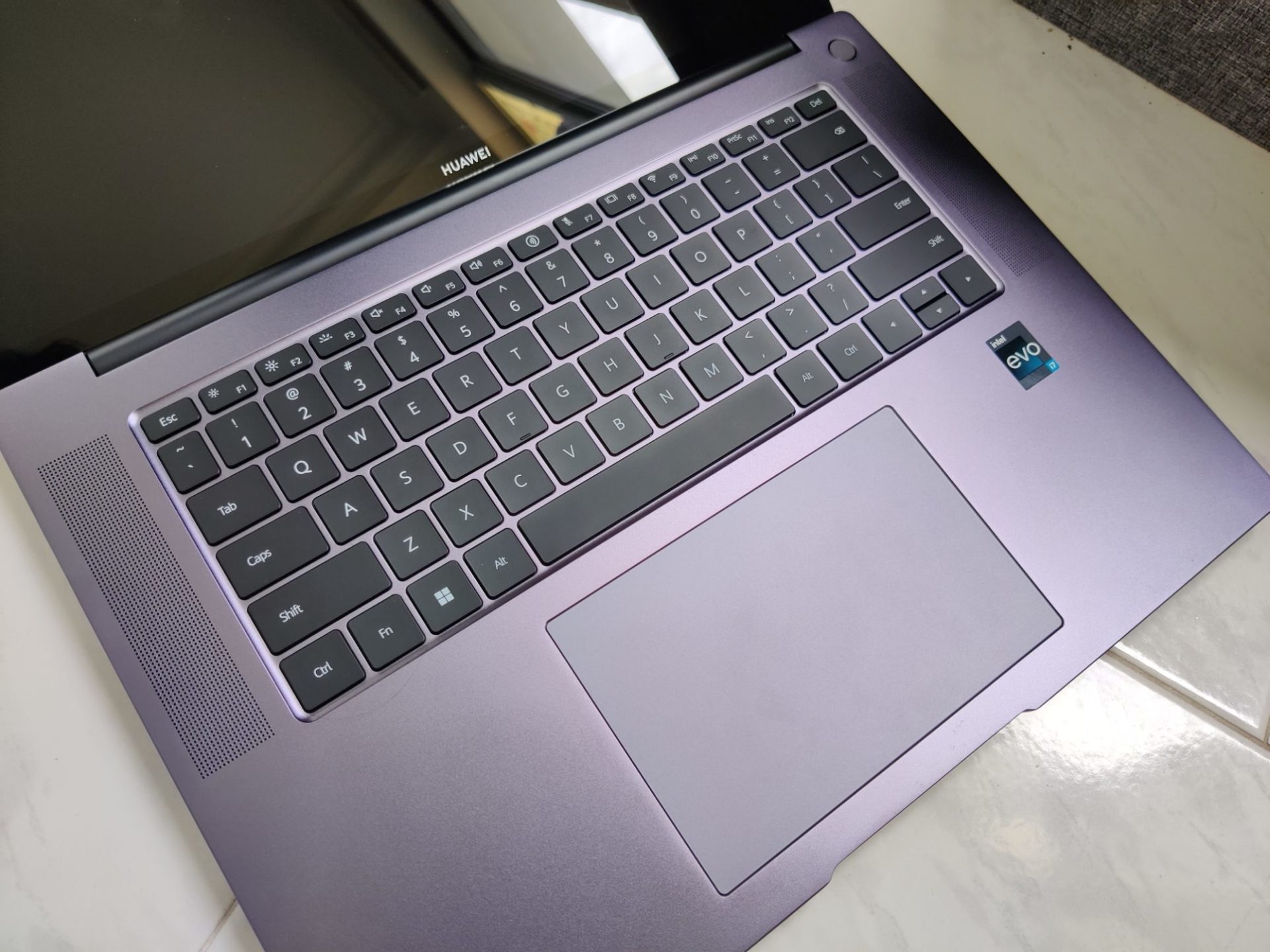 Likewise, we have no complaints about the glass trackpad as well – it is large, responsive, and very comfortable to use.
This time, Huawei decided to place the camera above the display, and not within the keyboard itself. The Huawei Matebook 16s' 1080p webcam is a massive improvement from the 720p camera that you usually find in laptops. Images produced are sharp and colorful.
Huawei MateBook 16s: Battery life and performance
The Huawei MateBook 16s is equipped with a 84Wh battery which promises 'all-day' productivity. With simple usage (document editing, video playback), the laptop was able to last us about 9 to 10 hours, which is pretty good.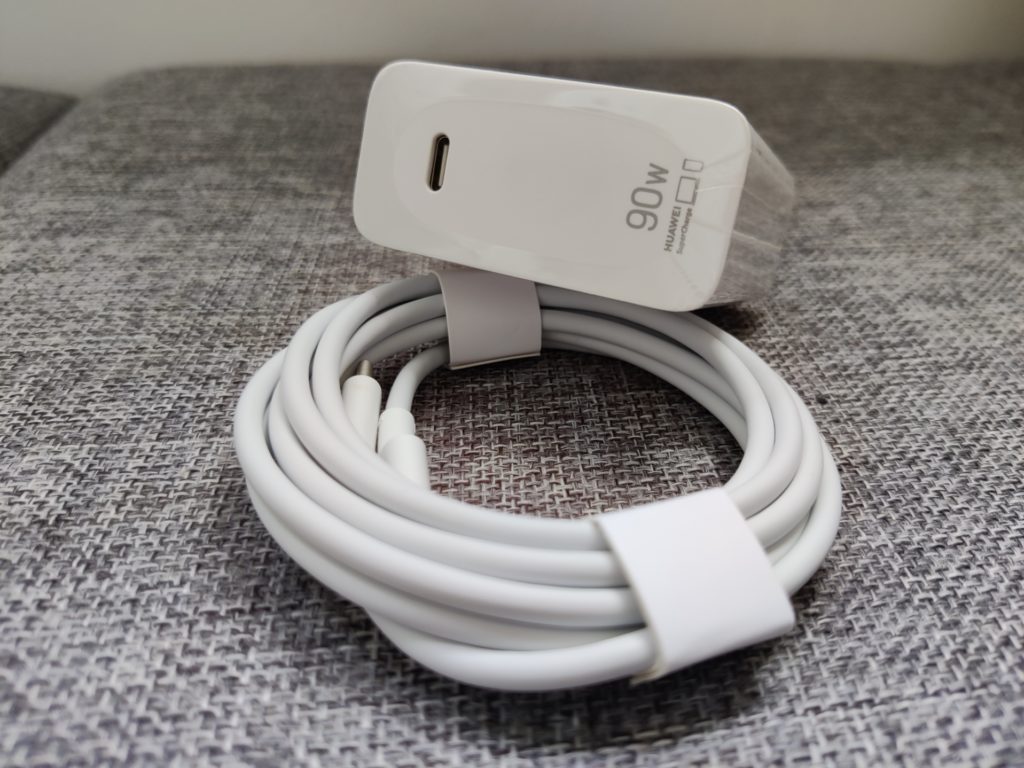 If that isn't quite enough for you, just carry around the 90W charger – it is small and very portable. The fast charging adaptor comes with USB-C support and can double as chargers for your other devices as well.
In terms of day-to-day performance, the laptop, possibly thanks to its Intel i7 processor, is able to perform pretty well. Opening multiple documents, sheets, and slides, did not cause any problems or lags. Having tons of tabs open on Google chrome also did not cause any performance dips.
Furthermore, while the review unit comes with an Intel i7 processor, in Singapore, the MateBook 16s will only feature the high-end Intel i9-129500H processor. So, the MateBook 16s that you are going to get your hands on here will be even more powerful than the one in this review.
If you were to game intensively on this machine, however, you might be able to feel a difference, especially if you were to compare it to laptops with GPUs. That's because the MateBook 16s does away with a discrete graphics processing unit (GPU) and settles only for an integrated Intel Iris Xe GPU.
This essentially means that graphics-intensive tasks such as playing certain games or video editing may pose a slight problem for the laptop. To be fair, the laptop will still be able to do these tasks, but it definitely will not be as smooth as you'd like, especially if your job depends on it.
Huawei MateBook 16s: Pricing and availability
The Huawei MateBook 16s is available at SGD $2298 here.
Huawei MateBook 16s: Verdict
The Huawei MateBook 16s isn't made for everyone – but it definitely isn't trying to be. The laptop is for someone who is looking for an affordable and well-built 16-inch laptop with great battery life and an expansive and colorful screen. But if you're looking for a sizeable laptop with a 4K OLED panel or an Nvidia RTX GPU then you might want to look the other way.