AMD's mid-tier offerings of its Radeon RX 7000 series have finally propped up in the public news with a global release date of next Wednesday.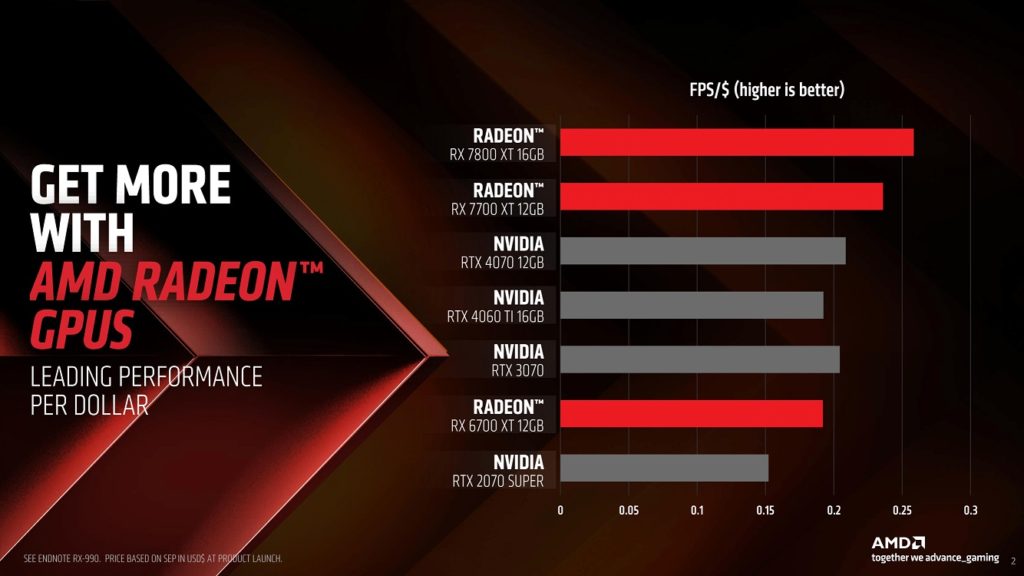 Created to best its competition in 1440p gaming in terms of performance-per-dollar ratio, the RX 7800 XT and RX 7700 XT are given RDNA 3-based 60 CUs and 54 CUs respectively with 16GB and 12GB GDDR6 VRAM accompanying them.
From the get-go, it seems that AMD knows what to do in terms of giving gamers the appropriate amount of VRAM to cater to titles that came out this year and beyond.
As for game clocks, they are rated at 2124MHz and 2171MHz while the bus size are 256-bit and 128-bit with 64MB and 48MB of 2nd-gen Infinity Cache. The total power drawn by the duo is at 263W and 245W.
As part of the 7000 series, both of them carry all the core features like AV1 encoding/decoding, AMD Radiance Engine, and FidelityFX Super Resolution (FSR).
FSR 3.0 Debut
Speaking of FSR, version 3.0 is finally here that champions the new AMD Fluid Motion Frames technology and game motion vector data to improve the FPS of any game that supports it.
Although there might not be much test data at launch, at least Team Red is forefront to reveal Forspoken will be getting it soon alongside Immortals of Aveum while 10 more games will be receiving it in the coming months.
Official notes stated the magic number 300+ as confirmed supporting titles.
The whole package also included the latest version of the temporal upscaling technology fully ported over to the "3" with the most interesting selection being the new "Native AA" mode dedicated to maximum fidelity.
It essentially disregards the upscaling part but still applies the anti-aliasing and sharpening process which can provide improvements from mild to decent. In certain cases, it might create a better image quality if a given game has shitty AA offerings.
Another small yet significant feature is additional latency reduction in the form of AMD Anti Lag+ that when combined with frame generation and Native AA, your game should look buttery smooth at the very least with amped visual quality as a bonus.
The best thing, FSR 3.0 isn't Team Red exclusive and stays "cross-compatible" as they allow fellow NVIDIA cards to use them too.
All of these software things will be enabled in the latest round of Software: Adrenalin Edition driver pack when the cards come out so take note of that if you're one of the AMD GPU gang.
Availability
Starting September 6, you may get one of the AMD Radeon RX 7800 XT and RX 7700 XT from USD499 and USD449.