In April 2022, AMD first introduced its 3D V-Cache technology in the Ryzen 7 5800X3D processor. It's the world's first commercially available desktop computing processor that features the new CPU cache architecture, which stacks L3 cache memory on top of one another. What we've seen based on our tests was this particular type of CPU was able to perform very well with games. Arguably, it was even dubbed to be the fastest Gaming CPU then. Of course, when the new Zen 4 architecture was introduced, many gamers were wondering when 3D V-Cache will be introduced for them.
Before we knew it, AMD announced the Ryzen 9 7950X3D, Ryzen 9 7900X3D, and Ryzen 9 7800X3D processors at CES 2023. Last week, they were officially available off the shelves.
With the opportunity to test out the Ryzen 9 7950X3D, we were keen to find out more about how 3D V-Cache is implemented in this generation of Ryzen products, and how it affects performance. Ultimately, we will want to take a look at the Ryzen 9 7950X3D's price point, and determine which is more worthwhile – a processor with 3D V-Cache technology or without.
Implementation of 3D V-Cache in Zen 4, slightly different from before
For the first time, AMD is bringing the 3D V-Cache technology to their Ryzen 9 lineup of processors. Compared to the previous Ryzen 7 5800X3D, and the upcoming Ryzen 7 7800X3D, the Ryzen 9 processors are different in the sense that they are designed with two core complexes (CCX). The engineers from AMD will then have to decide whether to apply 3D V-Cache across both Core Complexes, or simply one of them. They went ahead with the latter design, to achieve a better adaptation of the processor to different kinds of workloads.
With this hybrid design featuring a CCX with AMD 3D V-Cache and one standard CCX, AMD claims that the Ryzen 9 processors with 3D V-Cache can achieve the best of both worlds. It reduces the cost compared to a dual 3D V-Cache configuration (it's costly to create a 3D V-Cache processor), while still performing very well in games. In addition, applications that run better with high frequencies can run faster on the standard CCX. This is because having 3D V-Cache limits the core frequency of that particular CCX.
Because of such a new architecture, users must also download the latest chipset driver to take advantage of this unique design. With AMD Chipset Driver 5.01.03.005 and above, Game Optimization features are included, which allows the evaluation of workloads on Windows OS by the processor. This allows the processor to better allocate workloads to either the 3D V-cache enabled CCX or the standard CCX.
Price and specifications comparison (SGD)
Before we get to the performance benchmarks and results, I would like to put things into context. As of today, 2nd March 2023, the retail price of the AMD processors is as such (in the Singapore Market).
Cores/Thread
Clock Rate (GHz)
Base / Boose
L3 Cache Per CCD
TDP
SRP (SGD)
Ryzen 9 7950X3D
16 / 32
4.2/5.7
32+96 MB
120W
1,129
Ryzen 9 7950X
16 / 32
4.5/5.7
32+32 MB
170W
1,149
(Promo 1,049)
Ryzen 9 7900X3D
12 / 24
4.4/5.6
32+96 MB
120W
969
Ryzen 9 7900X
12 / 24
4.7/5.6
32+32 MB
170W
909
(Promo 819)
As we can see, as the non-3D V-Cache processors are on promotion right now, it could be that they appear to be a much better deal than the new 3D V-Cache offerings. Of course, we understand that processors with or without 3D V-Cache will perform differently. Therefore, it's important to test out how these processors perform under different use cases.
Test Setup
| | | |
| --- | --- | --- |
| Specs | Comparison System | Main System |
| CPU | Intel Core i9 13900K |  AMD Ryzen 7 5800X / 5800X3D |
| RAM | PNY XLR8 Gaming Mako RGB DDR5-6000 CL30 | PNY XLR8 Gaming Mako RGB DDR5-6000 CL30 |
| Main Storage | Kingston KC3000 2TB | Kingston KC3000 2TB |
| GPU | NVIDIA GeForce RTX 3080 10G | NVIDIA GeForce RTX 3080 10G |
| Motherboard | ROG Maximus Z790 Apex | ASRock X670E Taichi |
| CPU Cooler | ASUS ROG RYUO III 360 ARGB | ASUS ROG RYUO III 360 ARGB |
| PSU | Cooler Master M2000W Platinum |  Cooler Master M2000W Platinum |
| OS | Windows 11 64 bit | Windows 11 64 bit |
Performance Results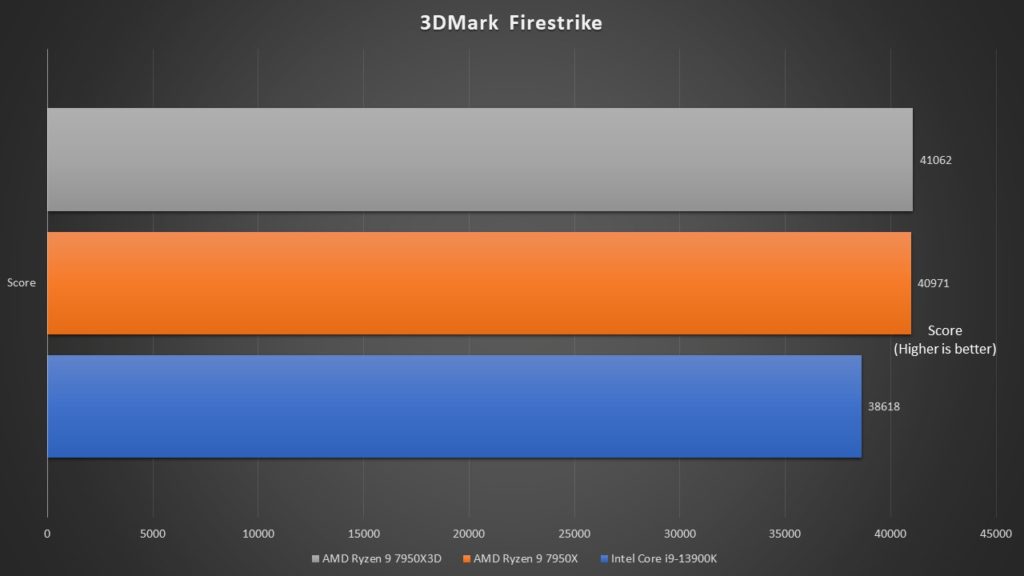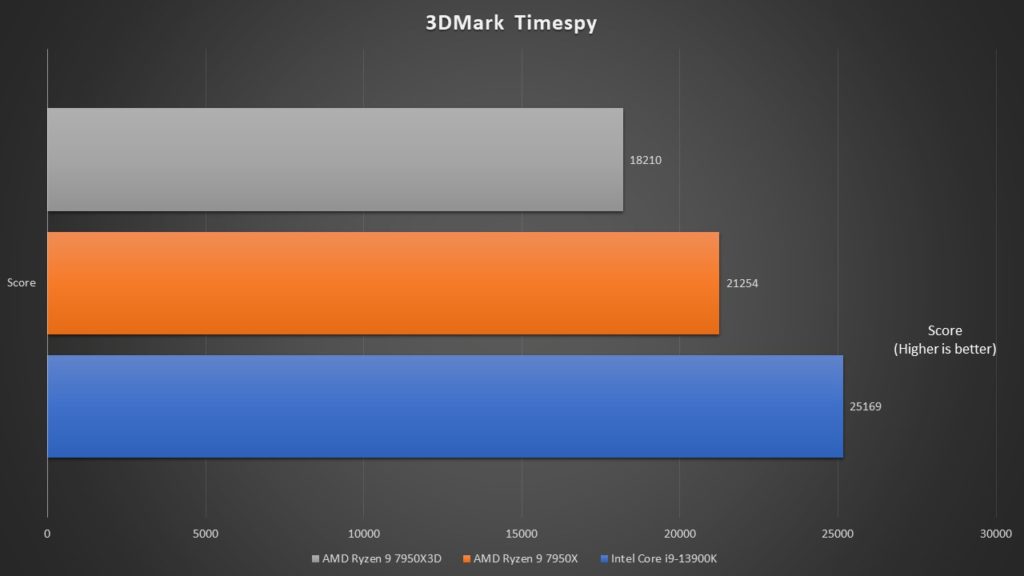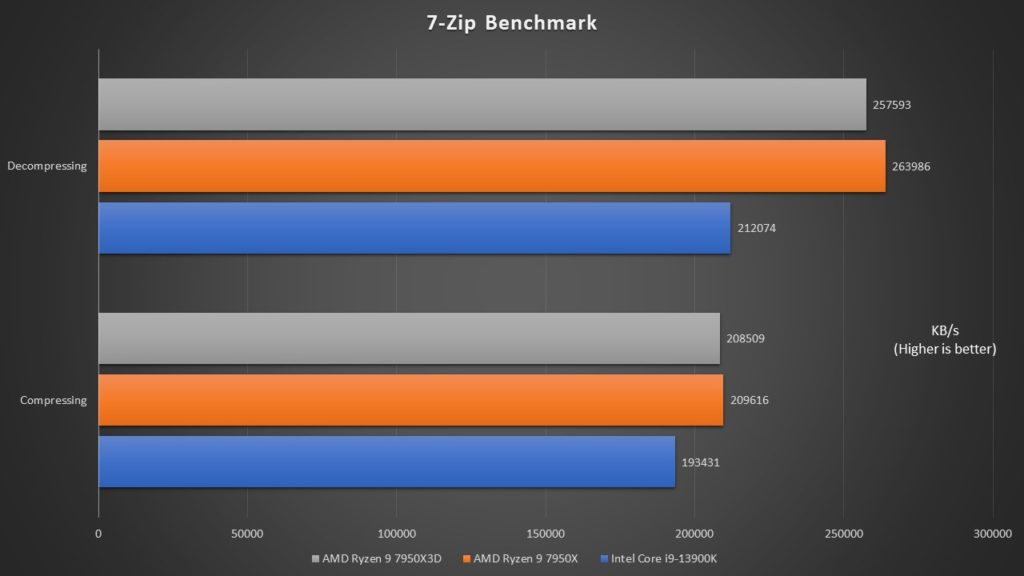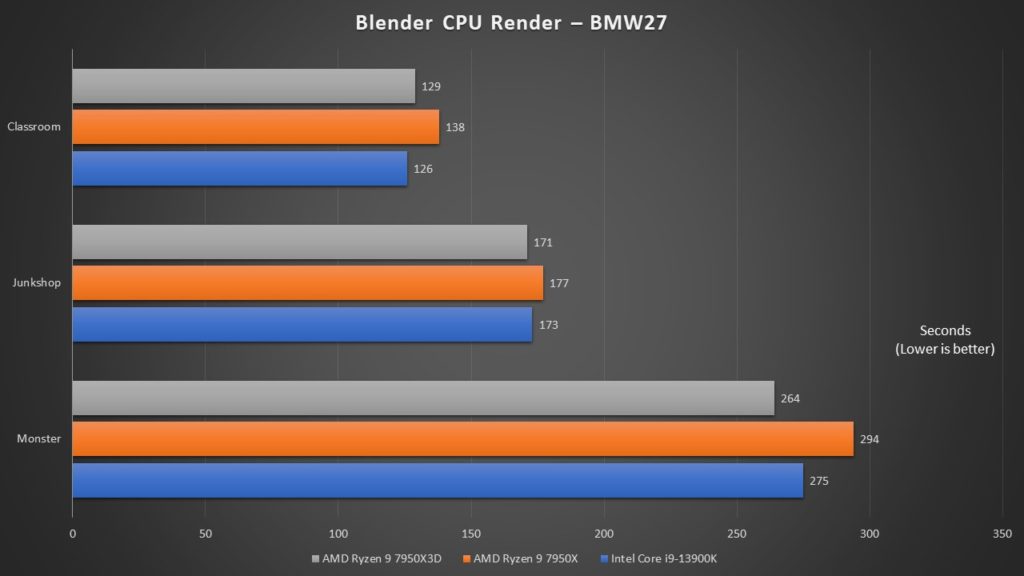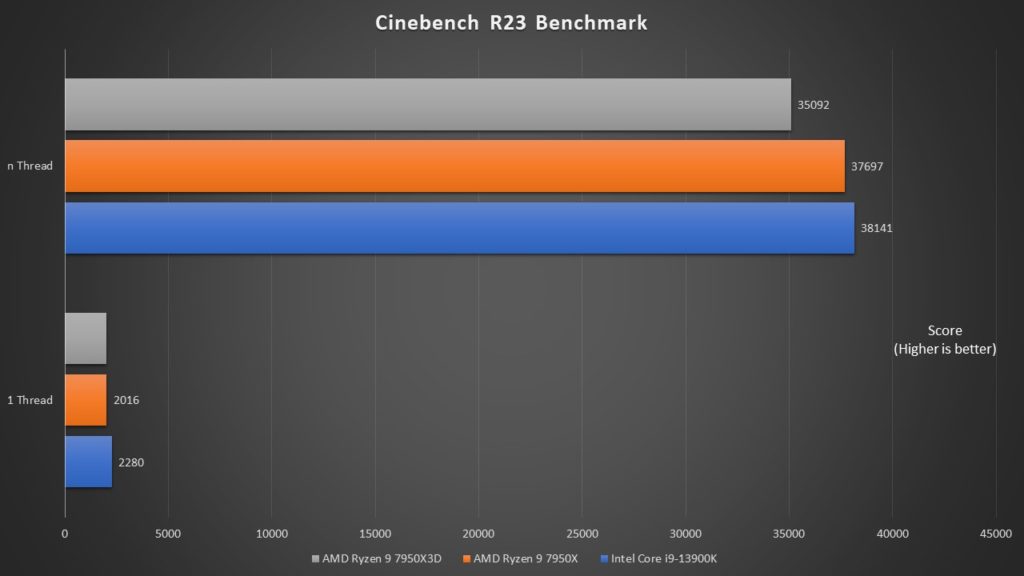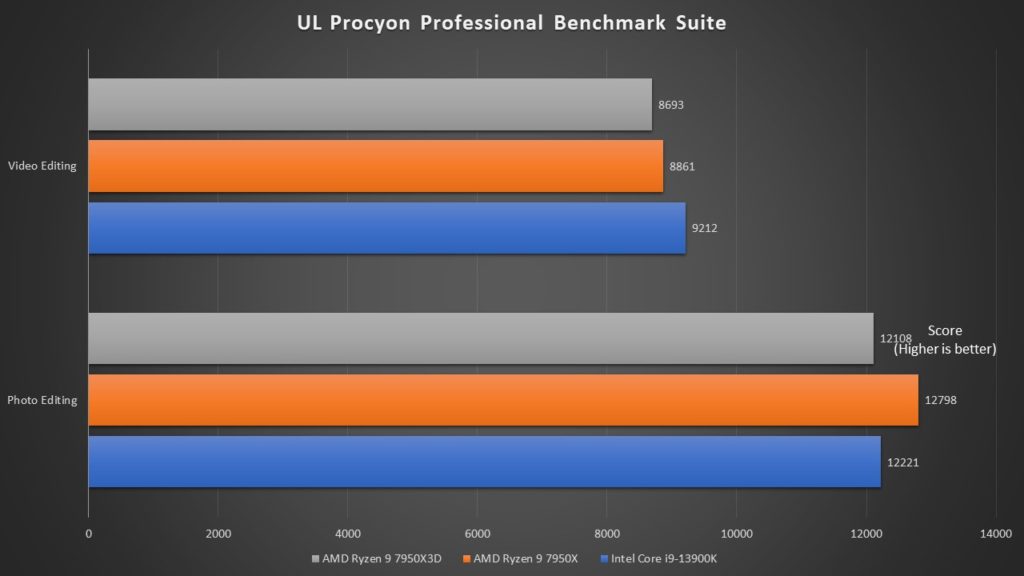 For most general computing processes, we saw that the Ryzen 9 7950X still comes up on top largely because of its higher frequency. This allows it to complete its tasks more effectively than the Ryzen 9 7950X3D.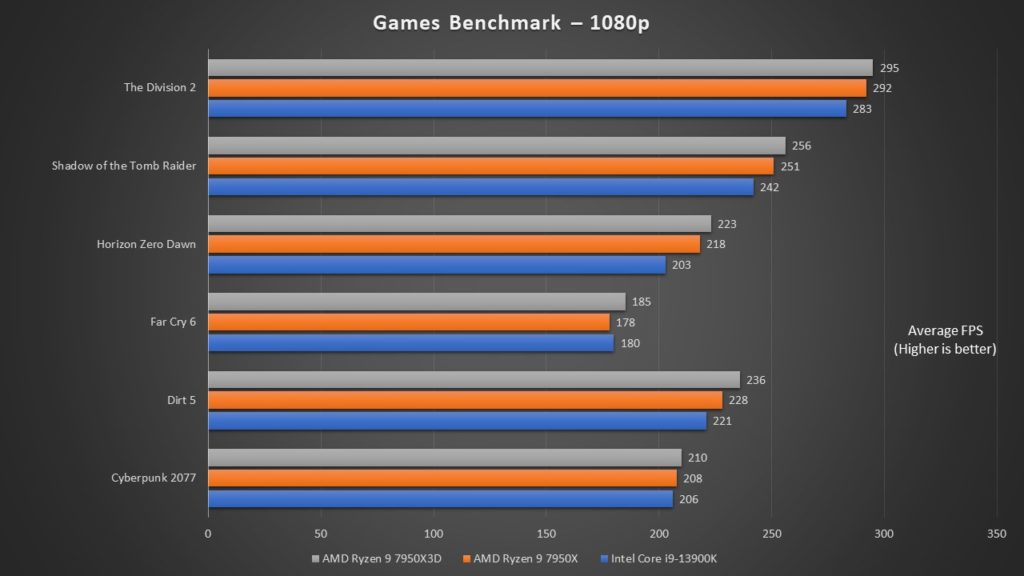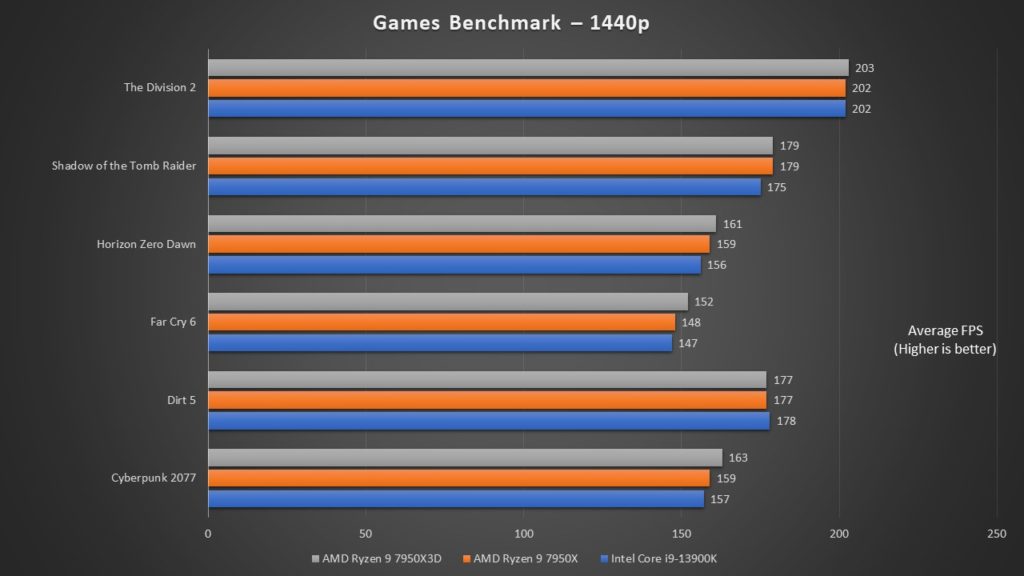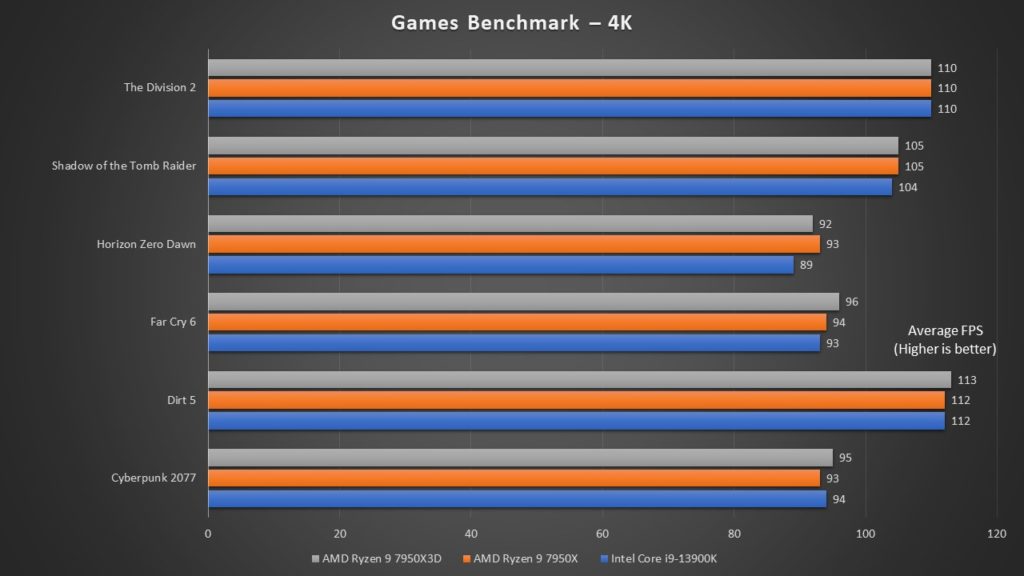 Moving on to the games' benchmark, we saw the trend that once we move to a higher resolution, the limiting factor became the GPU, rather than the CPU, and thus, results got more similar comparing systems between the 3 processors. In the 1080p and 1440p tests, it was clear that the AMD Ryzen 9 7950X3D is the one to take the crown, as it was able to consistently beat both the Ryzen 9 7950X and Intel Core i9-13900K in terms of performance.
No doubt, the 3D V-Cache technology does make a difference when it comes to uplifting a system's performance when it comes to games.
Conclusion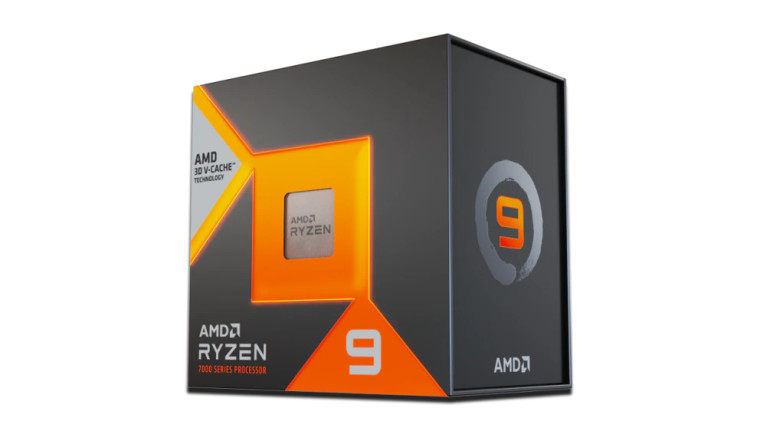 Certainly, the Ryzen 9 7950X3D does have its benefit when it comes to performing better than the Ryzen 9 7950X in gaming. However, we've got to be honest with ourselves and say that the performance difference isn't very significant. Moreover, it would be a fair assumption that most gamers who can afford a Ryzen 9, probably wouldn't be gaming at 1080p resolution. Thus, the benefits of the 3D V-Cache seem to dwindle, as the limiting factor of gaming performance now shifts from the CPU to the GPU. Furthermore, looking at the glaring performance misses in typical compute scenarios by the Ryzen 9 7950X3D when compared to the Ryzen 9 7950X, it's hard to take a second look at the Ryzen 9 7950X3D.
We understand that there would be tradeoffs with the introduction of 3D V-Cache to the Ryzen 9 7950X. However, it seems that the tradeoffs were far too great. If I was given a choice to choose between the Ryzen 9 7950X (SGD 1049) and Ryzen 9 7950X3D (SGD1129), I would still choose the Ryzen 9 7950X as it ultimately performs better than its X3D variant in general computing, and rather similarly in high-resolution gaming. Moreover, it's even SGD 80 bucks cheaper.
AMD has got to better define and position the Ryzen 9 7950X3D for it to have a clearer proposition for the market. I don't see how I would choose the Ryzen 9 7950X3D over the Ryzen 9 7950X.
X3D? For me, nope for now.
Special Thanks to TechCritter for their support in times of need.