Founded in Singapore in 1981, Creative Technology is a well-recognised brand for product innovation in the audio and PDE segments. I remember being super happy and impressed with my very first MP3 Player – the Creative Zen Micro. Today, we seem to have come full circle. I have in my hands a review unit of the Creative Zen Hybrid – a pair of wireless headphones that boasts hybrid active noise-cancelling and a comfortable fit, among other features.
Coming in at under a $100, let's see if this pair of wireless headphones will score a Zen out of Zen.
Technical Specifications
Driver size
40mm Neodymium Driver x 2
Frequency response
20Hz – 20kHz
Battery
27 hours on each full charge (with ANC on)
37 hours on each full charge (with ANC off)
Weight
271g
Bluetooth version
5.0
Connectivity
Bluetooth, 3.5mm AUX-in
Unboxing the Creative Zen Hybrid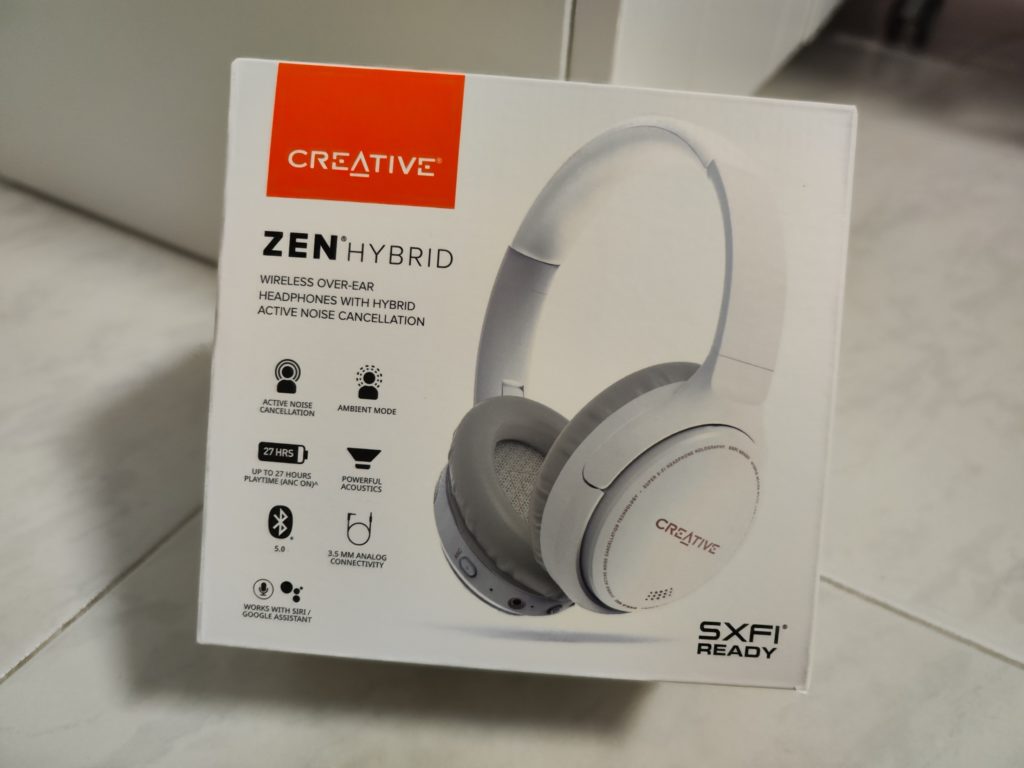 Unbox the Creative Zen Hybrid and you'll find the following:
The Creative Zen Hybrid headphones itself
A convenient drawstring pouch for you to bring your device around
USB-A to USB-C charging cable (0.8m)
3.5mm AUX cable (1.2m)
Product guides
Creative Zen Hybrid: Look and Feel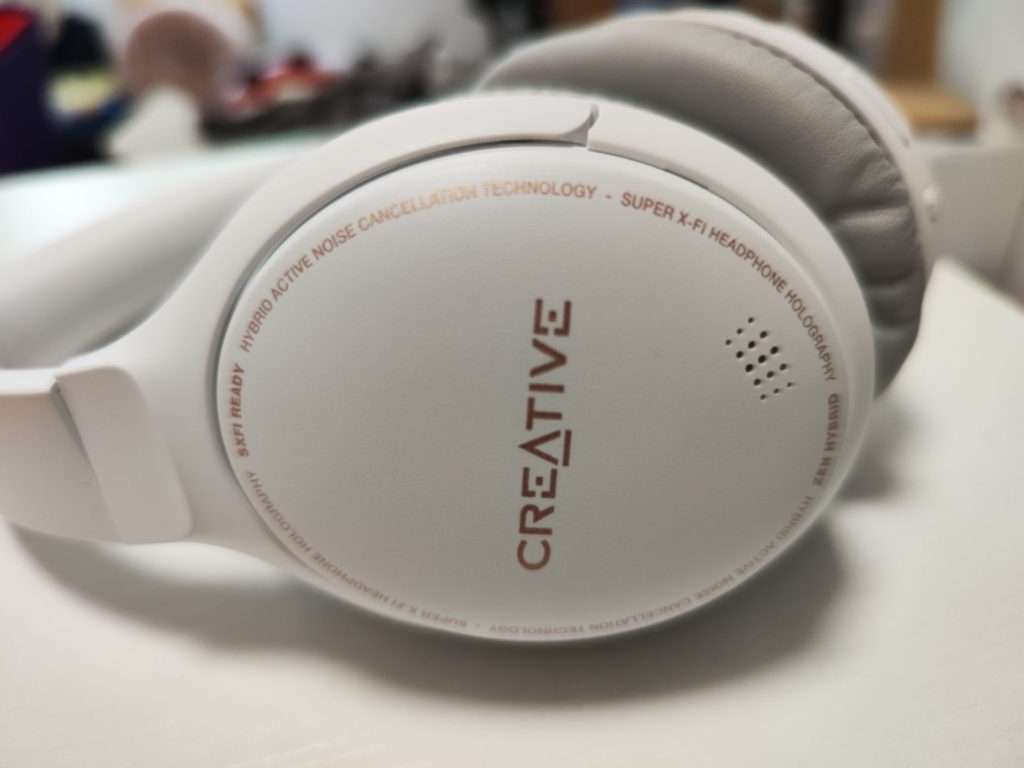 There's only one color available for Creative Zen Hybrid – white. The text and logo accents are in gold. The overall design is fairly clean, and although not the most premium, the Creative Zen Hybrid is composed of plastic with a matte finish and feels decently well made.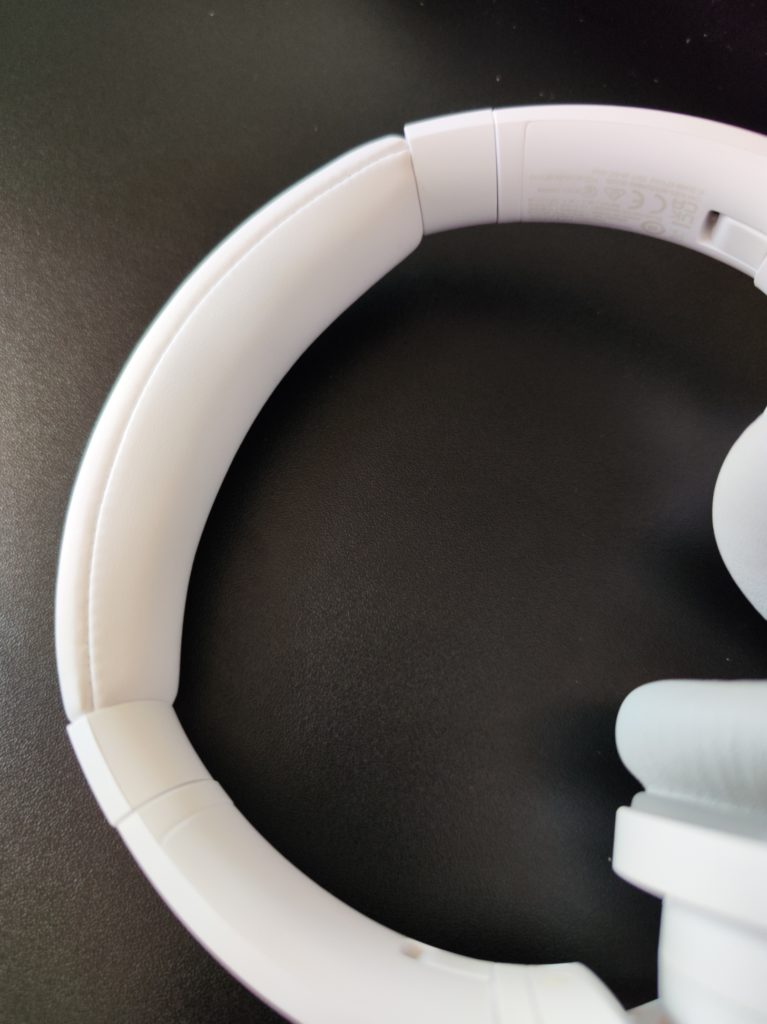 Instead of having a plastic body, the headband has a synthetic leather construction, which gives it quite a bit of personality. Soft padding covers the headband. Memory foam ear cushions made of synthetic leather are included in the swivel and tilt ear cups of the Zen Hybrid. Furthermore, ear pads can be changed out thanks to support frames that are clipped in.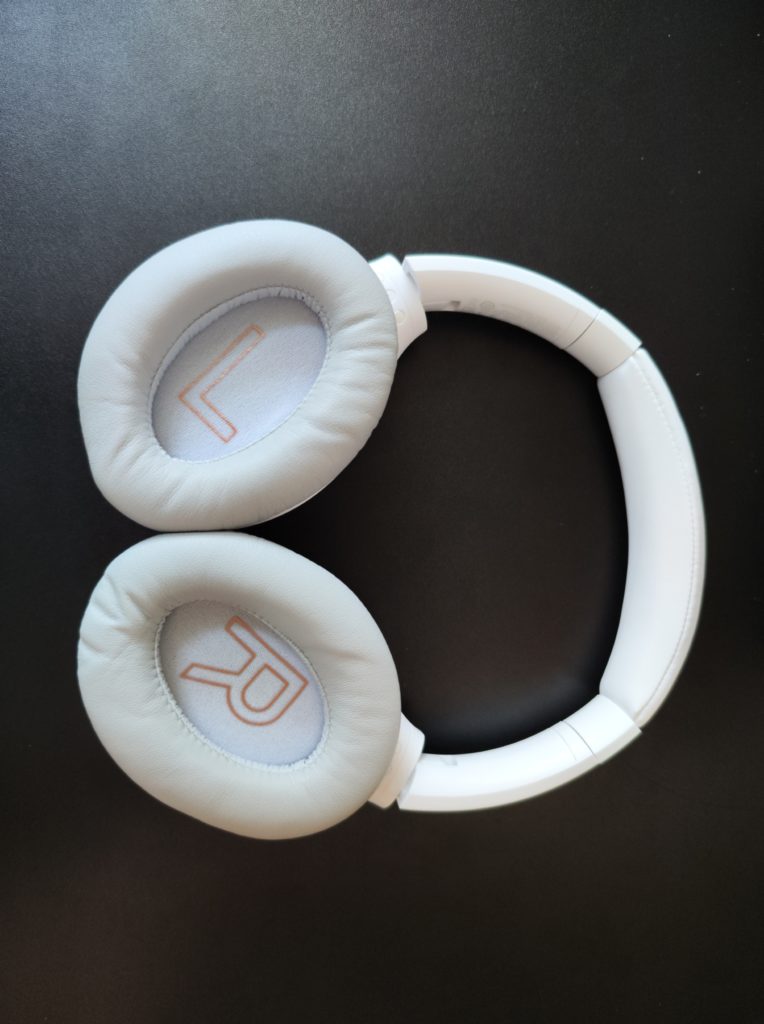 For increased portability, the Creative Zen Hybrid can easily be folded down. It was easy and fuss-free to fold down and open up the headphones, thanks to the great built quality of the Zen Hybrid.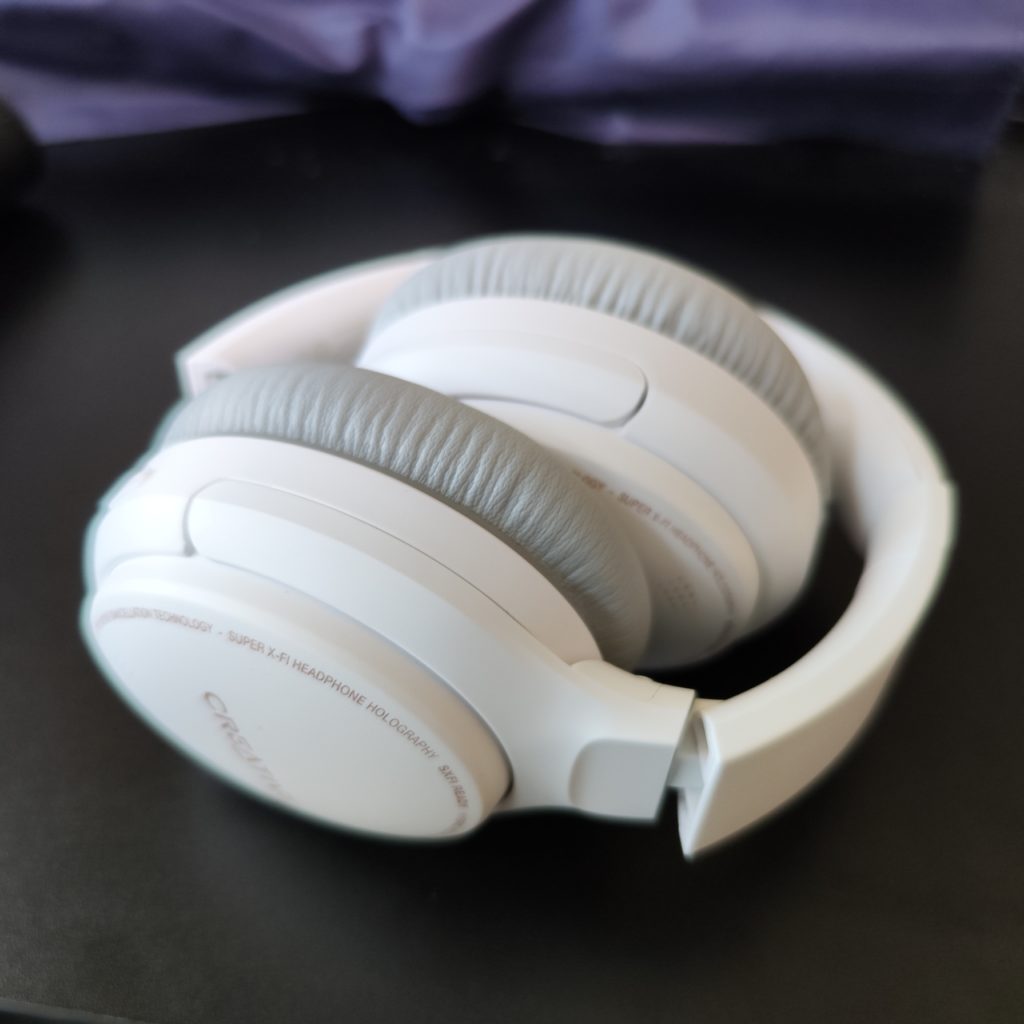 Creative Zen Hybrid: Connectivity and Controls
Strangely, all the hardware controls, including a power/pairing button, an ANC button, and a volume rocker, are located on the right earcup. The left cup houses the USB-C cable for charging.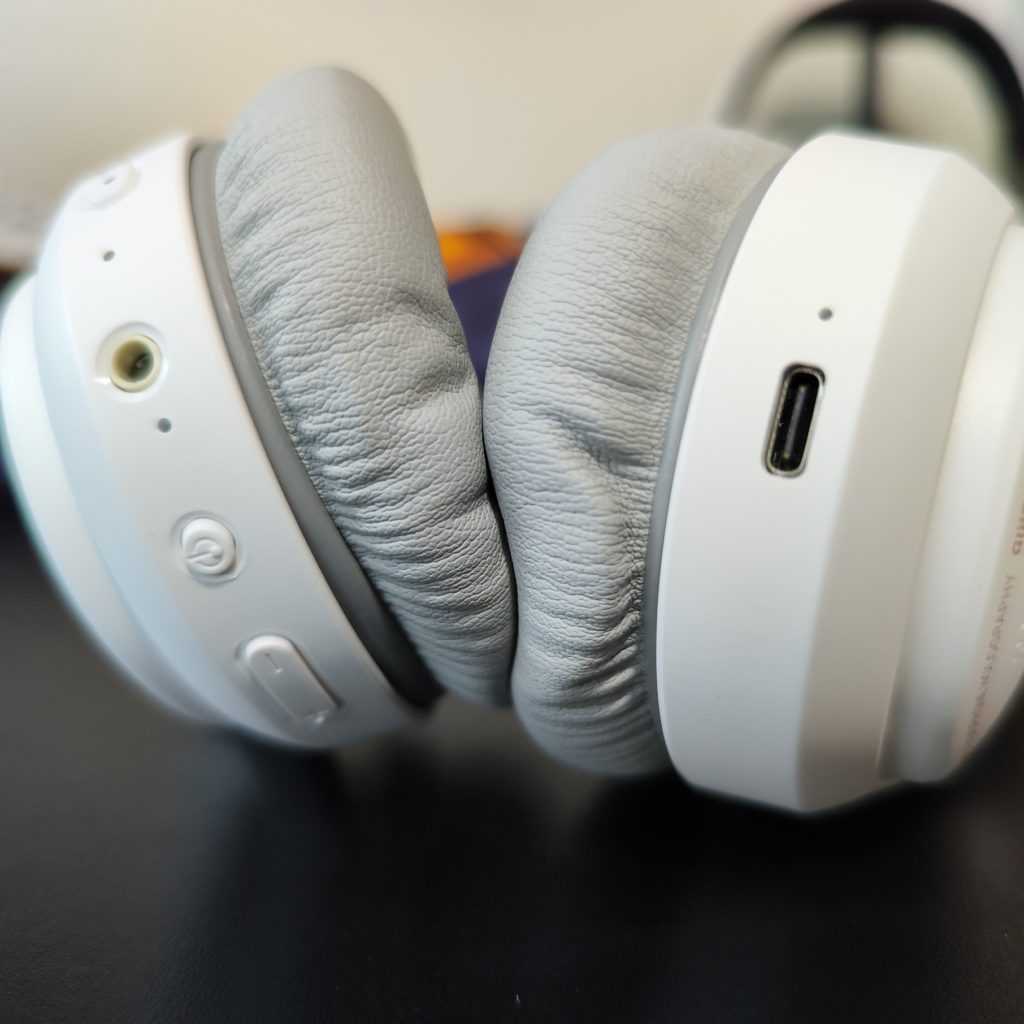 It's made even more complicated because Creative has given each button many functions, which increases the likelihood of mistakes and wrongful presses.
For instance, depending on how frequently or how long you push the power button, it can also control playback, call management, and your voice assistant. Track navigation is also controlled by the volume rocker, which makes it quite simple to inadvertently skip a track when you only want to change the volume or the other way around. Only the ANC button serves a single function; press it once to switch to active noise cancelling and twice to switch to ambient mode.
The great news is that all buttons are tactile and extremely responsive – we have no complaints in that department.
The supplied 3.5mm AUX cable allows you to operate the Creative Zen Hybrid wired in addition to wirelessly. If you turn on the Creative Zen Hybrid while listening on the wired mode, you can still use the ANC or Ambient Mode feature.
Wearing the Creative Zen Hybrid
In general, the Creative Zen Hybrid was a joy to wear. With a weight of 271g, it is relatively light, and the headband's cushioning prevents users from feeling much strain on the head. The clamping force isn't too severe too.
The ear cushions are composed of synthetic leatherette, and they really provide the ears a pleasant, comfortable support. Because of the adaptability and flexibility of the ear cups, the headphones also do a great job with various head shapes. These Creative headphones may be worn for hours on end and are definitely fitted for regular use.
Creative Zen Hybrid: Features and Functionalities
For a sub-$100 set of headphones, the Creative Zen Hybrid offers a good set of features and functionalities. Let's take a look at how some of them fare.
Sound quality
40mm neodymium drivers are used to deliver audio, and for the most part, it sounds good. The soundstage is reasonably wide, giving each instrument plenty of freedom to express itself. With songs with drums and guitar, each instrument is clearly distinguishable from the other and resulting in a unified multi-layered impression.
With intricate musical sections, the vocals are able to stand out thanks to the well-articulated mid-range. Even with songs surrounded by a variety of competing instruments and backup singers, nothing ever overpowers the lead.
You can further customise your sound if you download an additional Super X-Fi sound app. Unfortunately, for lazy bums out there, this app requires registration in order to use.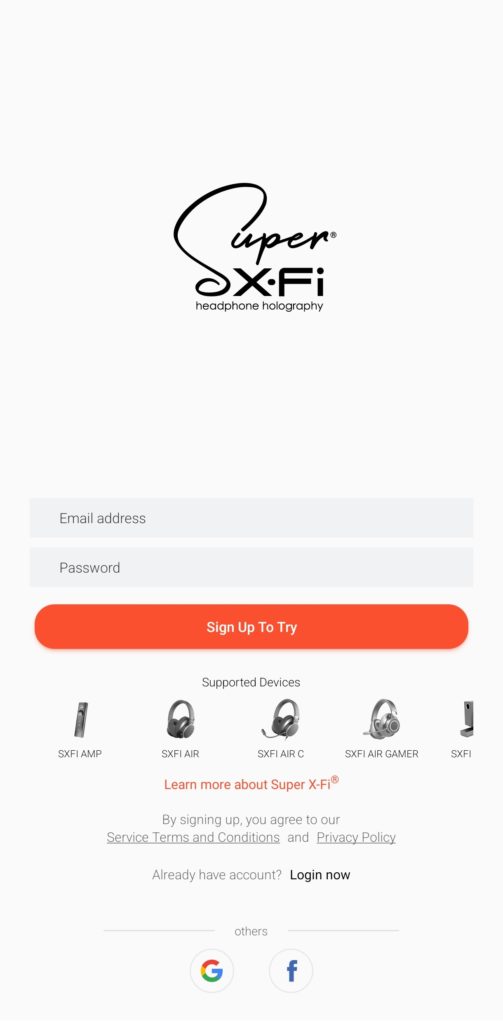 After completing this, a unique profile can be made. This includes "head mapping," in which the software takes images of the user's face and both ears, measures them, and then analyzes the results. Do note, though, that the EQ is only usable when you play music directly from within the app.
ANC technology
The noise canceling on the Creative Zen Hybrid were pretty decent for its price point. Loud, low-frequency rumbles were consistently removed.
Higher frequency noises (such as in a crowded restaurant with clinking dishes and loud conversations) were not entirely removed, but there was a significant reduction in volume.
The performance here is respectable for the price, but you shouldn't anticipate anything near to what you get with the class-leading headphones. We were also very glad that the overall ANC effect is not overdone – there was none of that unpleasant cabin pressure effect.
Ambient mode
The ANC button makes it simple to change between the ANC and Ambient modes. The ambient mode accomplishes its goal of increasing your awareness of your surroundings by incorporating external sound into your audio. Sounds remain natural and unprocessed, which is great.
Battery life
With ANC enabled, the Creative Zen Hybrid can play music for up to 27 hours, which is respectable. You gain 10 hours more of play time at 37 hours with ANC off. On the occasion that we had to charge the headphones, the Creative Zen Hybrid, which supports fast charging, offered an outstanding 5-minute quick charge that gave us an additional 5 hours of use.
Microphone quality
The Creative Zen Hybrid's microphone is surprisingly effective. Voice pickup is precise, clear, and realistic. If you're looking for a pair of headphones predominantly to take Zoom calls at home, the Creative Zen Hybrid is a solid choice.
Pricing and Availability
The Creative Zen Hybrid is available (on sale now) for SGD $79 on Lazada and on Creative's own online store.
Creative Zen Hybrid: The Verdict
With the Creative Zen Hybrid, you get a stylish pair of headphones that is easy to use, comfortable to wear, and that comes with useful features like ANC and Ambient Mode.
The Creative Zen Hybrid will undoubtedly satisfy your need for wireless headphones that are convenient for daily use, have a long battery life, active noise cancellation, and great sound on the go.