When AMD announced their latest Radeon RX 7900 XTX and RX 7900 XT graphics card, we were teased with how well these two new cards performed. AMD's proposition was straightforward. Their strategy is to target the high-end market segment with products that promises superb performance and affordability when compared to the competition. They have positioned the Radeon RX 7900 XTX and RX 7900 XT to confidently steal market share.
In the past, the high-end segment of the graphics card market was largely dominated by NVIDIA, as AMD didn't have a product that was up to par. This time, with AMD's introduction of their RDNA 3 GPU architecture and the release of these two new graphics cards, it seems like the market dynamics are going to change.
In this article, we are going to take a look at the key features of RDNA3, and how they were able to bring about improved performance for AMD's graphics card. Of course, we will also look into the latest AMD Radeon RX 7900 XTX, Radeon RX 7900 XT, and NVIDIA RTX 4080 to see how each of these products performs as compared to one another.
If you would like to learn more about the design, interfaces and other details of the AMD Radeon RX 7900 XTX and Radeon RX 7900 XT, look at our "First Look" article here.
The Secret Sauce to High Performance – RDNA3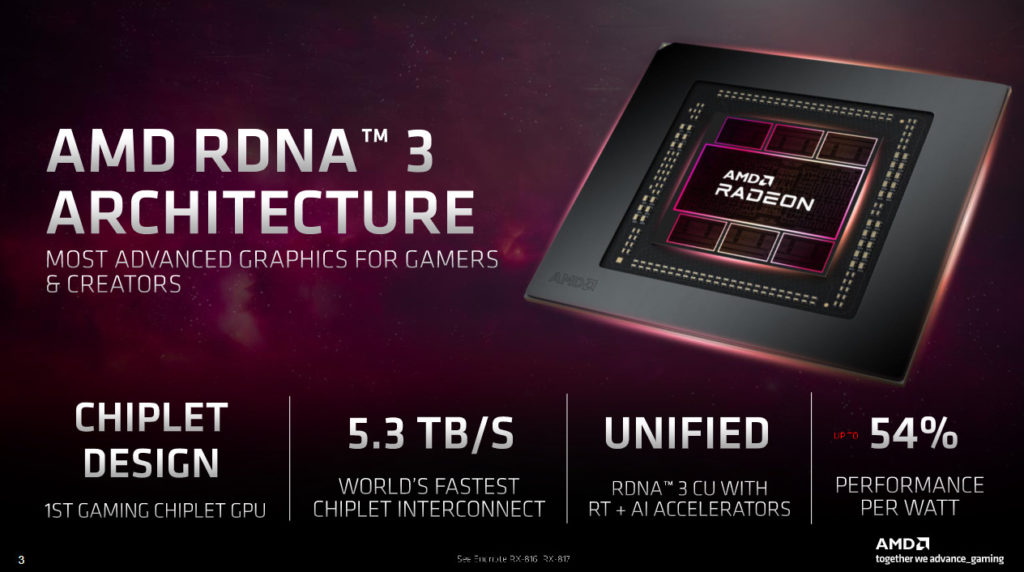 For the first time, the chiplet architecture design is introduced on a GPU. A chiplet architecture allows the use of a modular approach to best optimize the efficiency and performance of an overall design. It was first made popular with AMD's Ryzen processors, which has given them much success in the CPU space.
On the GPU side, AMD is separating the Graphics Compute and Memory components of their IP. In particular, for RDNA 3, the Graphics Compute Die (GCD), which focuses on the core graphics processing of the whole GPU, is based on a 5nm design. This contains all the shaders, display engines, and a brand-new media engine. On the other hand, the Memory Cache Die (MCD), which is built on a 6nm technology, features GDDR6 controllers and 96MB of 2nd generation Infinity Cache. AMD also designed a new chiplet interconnect that allows a bandwidth of up to 5.3TB/s between the GCD and MCD.
With this new design, the new RDNA 3 graphics cards are able to achieve a 53% performance per watt improvement over predecessors. Technicalities aside, let's take a look at the performance that RDNA 3 brings.
Test Setup and Methodologies
AMD claims that the AMD Radeon RX 7900 XTX and Radeon RX 7900 XT is going to give the RTX 4080 a good run for their money. Therefore, we are going to add the GeForce RTX 4080 to our mix of graphics cards for comparison.
We are going to run both synthetic benchmarks and gaming benchmarks for all the graphics cards. Particularly, we are going to focus on the test results for the high-resolution gaming experience, as we do assume that buyers who are looking at such high-end graphics cards will at least have a high-resolution 1440p or 2160p display.
Our Benchmarks are conducted with the following settings:
Benchmark Test
Settings
API
3DMark Time Spy
Default
DirextX12
3DMark Fire Strike
Default
DirectX11
3DMark Port Royal
Default
–
Far Cry New Dawn
High
DirectX11
Deus Ex Mankind Divided
High
DirectX12
Total War Warhammer 2 (Battle)
High
DirectX11
Tom Clancy Division 2
High
DirectX12
Assassins Creed Odyssey
High
DirectX11
DOTA 2
Best Looking
DirectX11
Final Fantasy XV Benchmark
High
DirectX11
World of Tanks enCore
Ultra
DirectX11
F1 2018 Australia
High
Direct X11
Shadow of the Tomb Raider
(1) High
(2) High with Ray Tracing
DirectX12
Middle Earth Shadow of War
High
DirectX11
Metro – Exodus
High
DirectX12
World War Z
Ultra
Vulkan
Dirt 5
High (with Ray Tracing)
DirectX12
Our system is set up as such: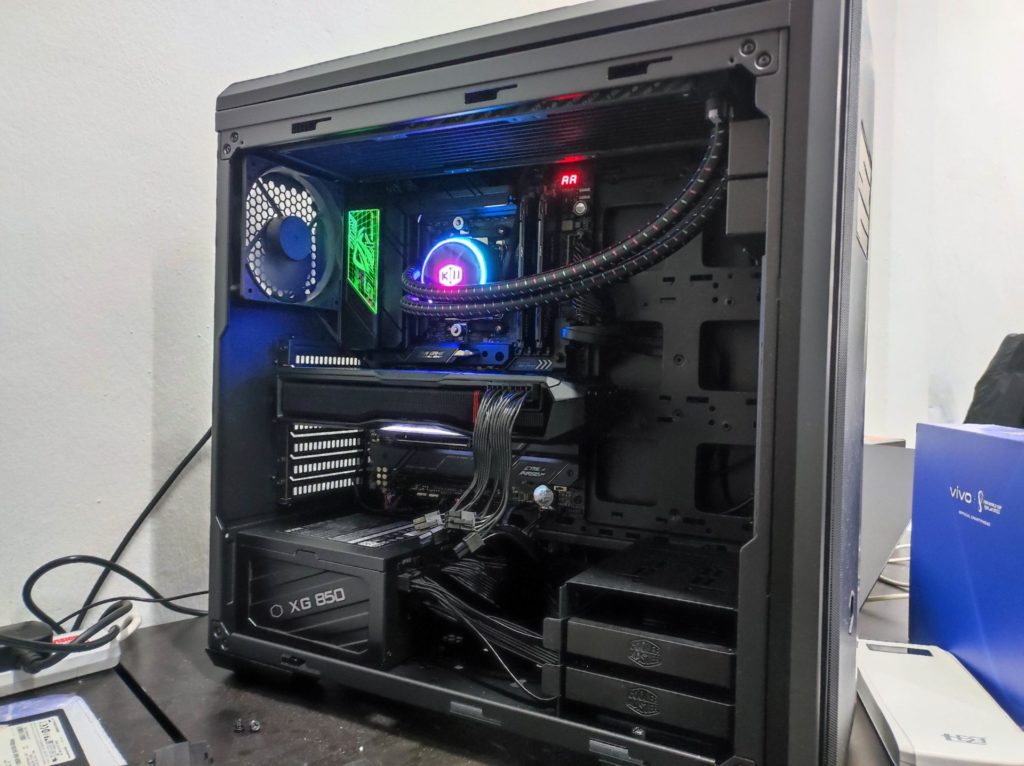 Specs
Main System
CPU
AMD Ryzen 9 7900X
RAM
Kingston FURY Beast DDR5 16GB x 2 6000MHz
Main Storage
Kingston Fury Renegade PCIe 4.0 NVMe M.2 SSD
GPU
AMD Radeon RX 7900 XTX (Reference)
AMD Radeon RX 7900 XT (Reference)
NVIDIA GeForce RTX 4080 (Founder's Edition)
Motherboard
ASUS ROG STRIX X670E-E Gaming WIFI
CPU Cooler
MasterLiquid PL360 Flux from Cooler Master
OS
Windows 10 Pro 64 bit
Drivers
Radeon Software Adrenalin 22.40.00.57
NVIDIA 527.56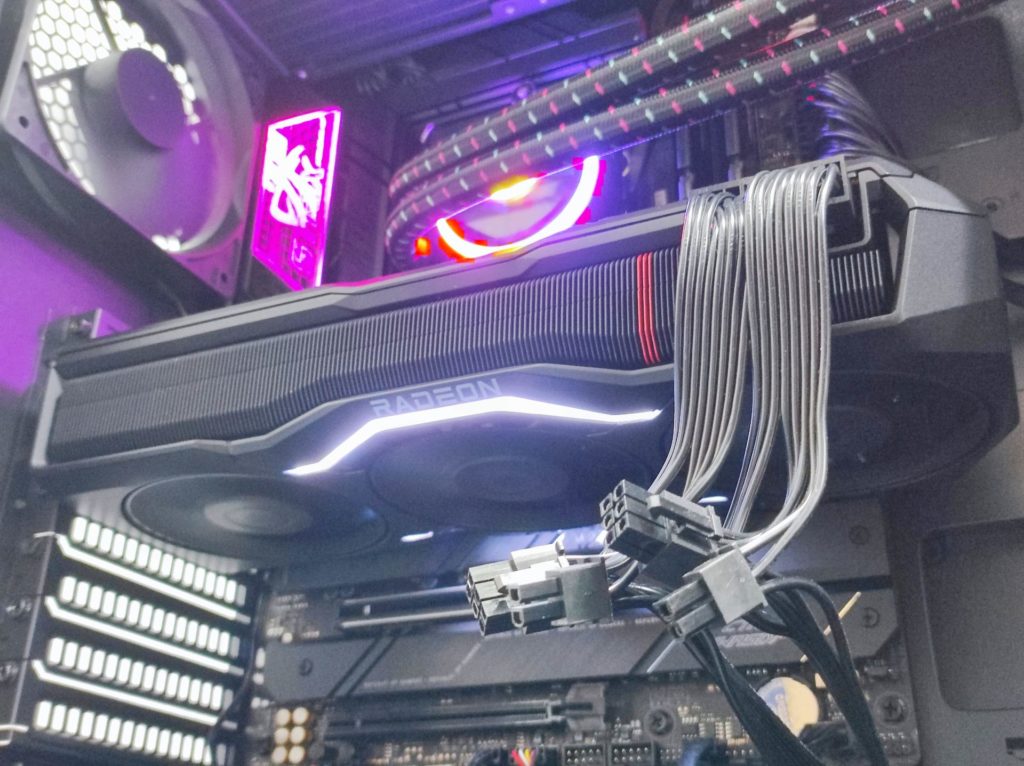 Performance Results






Power Consumption and Temperature

Together with the Ryzen 9 7900X, all setups were running beyond 400W. As expected, based on each GPU's Board Power limits, the RX 7900 XTX was the most power-hungry as it measured a maximum of 472W (overall system) when running on the Furmark stress test. This is followed by the RTX 4080 at 463W and RX 7900 XT at 439W.
All cards had quite a similar power consumption while idling.

Even when stressing the Radeon RX 7900 XTX and RX 7900 XT, both cards managed to stay within their thermal limits. Even though the RX 7900 XTX was quite toasty, it still managed to cool itself properly without ending up thermal throttling. Its cooler was more than capable of properly keeping itself cool.
Conclusion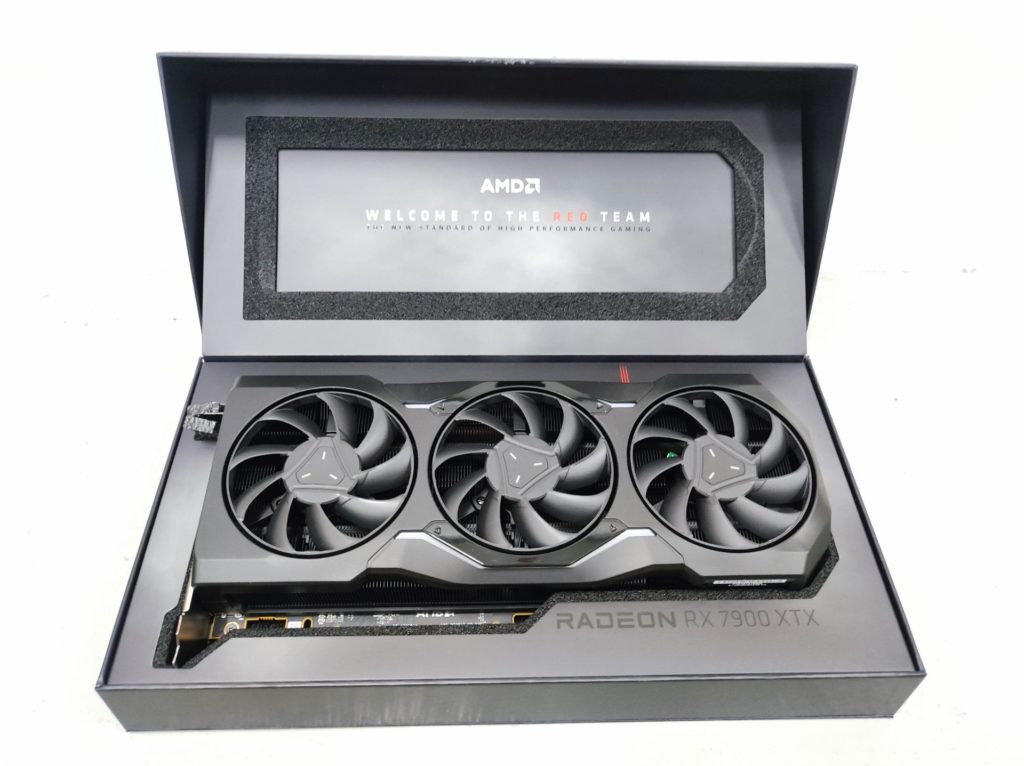 The AMD Radeon RX 7900 XTX has certainly met our expectations of being a decent performer in the high-end graphics card segment. It trades blow with the new GeForce RTX 4080, even outperforming it in many of our tests. Judging that the RX 7900 XTX retails at an SRP of $999, while the RTX 4080 is priced at $1199, it's a no-brainer for those seeking brute performance to opt for the Red Team's flagship – Radeon RX 7900 XTX.
The little brother, Radeon RX 7900 XT, also packs a punch in pushing out high frame rates. If you take a closer look, you would see that this card is still perfect for gamers who want to game at 4K resolution. Perhaps, the RX 7900 XT is a more sensible choice, as it's cheaper at a price of $899, and has already got all you need to drive those high-resolution displays. Moreover, with technologies such as the AMD FidelityFX™ Super Resolution technology, there is no doubt that you can play any PC games you would want on it.
Both AMD Radeon RX 7900 XTX and RX 7900 XT are great additions to AMD's graphic card lineup. There is no doubt that both products live up to their hype, and were shown to perform outstandingly. We do recommend both graphics cards for a new PC build or a PC upgrade if you are looking to play the latest games on a high-resolution display.
We're simply excited with the fact that AMD is finally able to produce a graphics card that comes close to the performance of what the competition's flagship provides. Certainly, the competition in the graphics card market is getting heated up as well. We can't wait to see more products and solutions from both the red and green camps for the mid to high-tier market segment.