With the introduction of PCIe 4.0 support for almost all the modern PC platforms today, PC users are yearning for even more performance from their storage devices. To meet their demands, many different brands have introduced premium and performance focused SSDs that pushes the limits of what's possible. Particularly, MSI has also released their SPATIUM M480 PLAY SSDs to compete in the space.
We've got our hands on the MSI SPATIUM M480 PLAY 2TB SSD for review to find out just how much storage performance you can achieve from a Gen4 SSD.
The MSI SPATIUM M480 PLAY SSD
Compliant with the NVMe 1.4 standard and supporting the PCIe Gen4x4 interface, the MSI SPATIUM M48 PLAY SSD is designed to surpass the performance levels of previous Gen3 products. It is a gaming focused M.2 SSD that is equipped with a heatsink to ensure the SSD can perform at its optimal level without any concerns of thermal or performance throttling.
Catering to users of different needs, the MSI SPATIUM M480 PLAY is available in capacities of 500GB to 4TB. In fact, as the SPATIUM M480 PLAY created with a slim design, it is even compatible with the PlayStation 5 console. This makes it a great choice for users who are seeking for a performance and storage upgrade to their PS5 system.
As for the rest of us PC users, we certainly would also appreciate the fast speeds that the MSI SPATIUM M480 PLAY provides. In short, we will be able to achieve faster game load times, transfer of files and generally, a more responsive PC system.
So just how fast is fast? We'll let the numbers talk.
Test Setup and Performance Benchmarks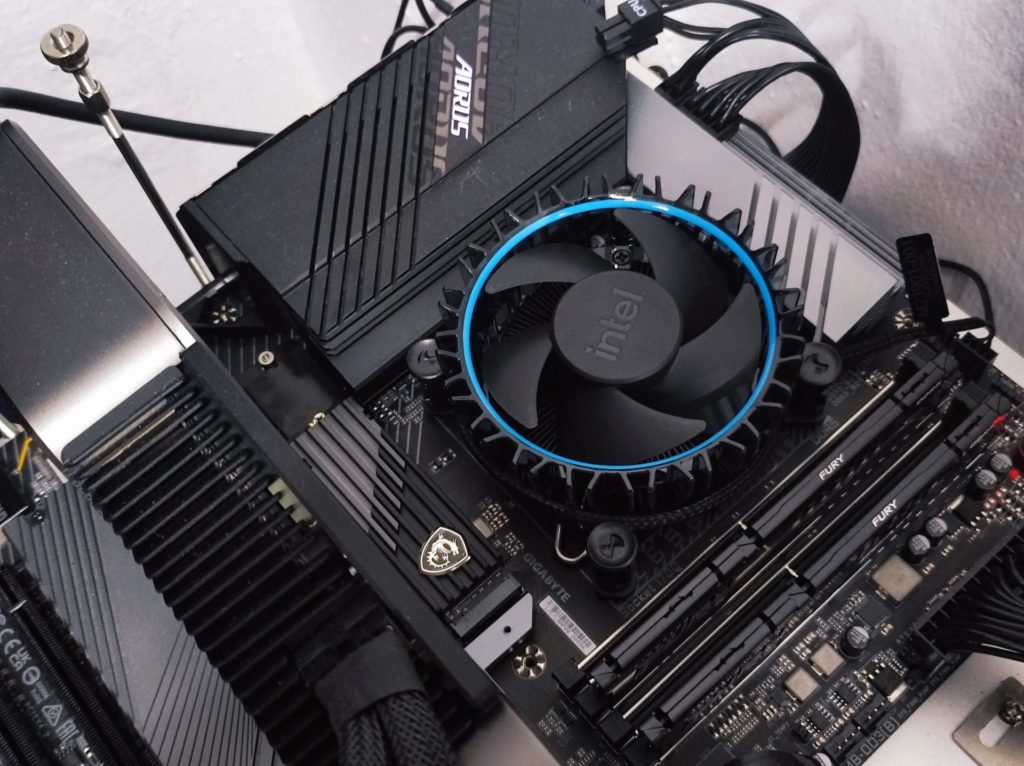 Specifications

CPU
Intel Core i5 12400F
RAM
Kingston FURY Beast DDR5
Main Storage
Kioxia Experia M.2 500GB (OS)

MSI SPATIUM M480 PLAY 2TB SSD
AORUS Gen4 7000s SSD 2TB
Samsung 980 PRO 500GB
Seagate FireCuda 520 Gen4 SSD 1TB

GPU
NVIDIA RTX 3080Ti (Reference)
Motherboard
GIGABYTE Z690 PRO
CPU Cooler
Intel Stock Fan
PSU
Cooler Master V850 V2 850W
OS
Windows 10 Pro 64 bit
In our tests, we are going to put the MSI Spatium M480 PLAY 2TB SSD up against the AORUS Gen4 7000s 2TB and Samsung 980 Pro 500GB. This should give us an idea of where the product stands as compared to competition.








Final Words and Conclusion
The numbers don't lie. As compared to the top Gen4 SSDs we've tested in the past, the MSI SPATIUM M480 PLAY 2TB was able to consistently perform on par, if not better than the competition. Moreover, it was able to do so while keeping its temperatures well-managed, enabling it to perform at optimal level.
Undoubtedly, the MSI SPATIUM M480 PLAY 2TB is one of the fastest SSDs we've tested to date, and it meets what we expect of a performance Gen4 SSD product.
The SPATIUM M480 PLAY lives up to what it claims to be, and is well-designed to bring out the best of itself. Certainly, if you are going for a top of the line Gen4 M.2 SSD in the market, the MSI SPATIUM M480 PLAY is a product that is worth your consideration.