The 20th March of every year marks World Oral Health Day. This year, Philips teamed up with dentist Dr Leroy Kiang from Orchard Scotts Dental to increase the awareness of oral health and promote good oral healthcare habits.
This slideshow requires JavaScript.
As we age, the chances of us getting oral diseases and infections increases. Oral diseases and poor oral healthcare could potentially lead to chronic diseases, such as Heart Disease, Diabetes and Oral Cancer. Certainly, these are serious problems that may affect us if we don't take good care of our oral health.
With Philips latest Sonicare 9000 Prestige electric toothbrush, you can effectively improve your brushing techniques, improving your oral health. In this article, we will take a closer look at how the Philips Sonicare 9000 Prestige cleverly helps you with your brushing.
Philips Sonicare 9000 Prestige electric toothbrush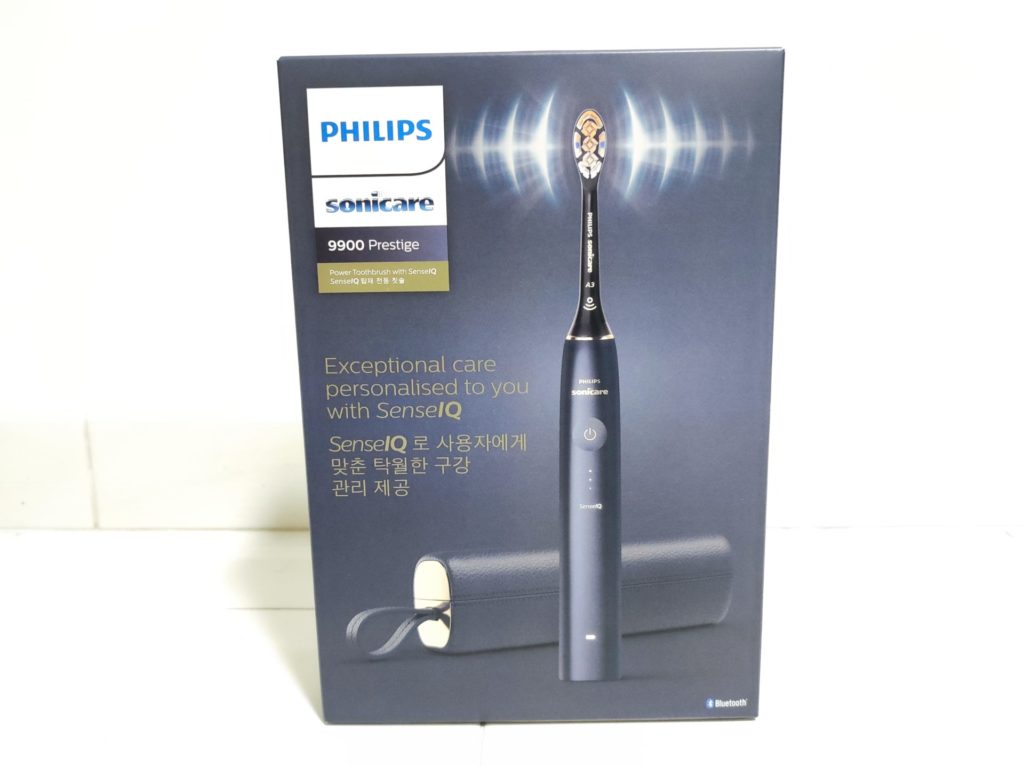 The Philips Sonicare 9000 Prestige electric toothbrush differs from any other electric toothbrush as it is a smart toothbrush. It is Philips' most advanced electric toothbrush, and is powered by Artificial Intelligence that senses your brushing style and adapts as you clean. This is done with its built-in sensors that detect the amount of pressure you apply, together with your cleaning motion and the coverage you achieve.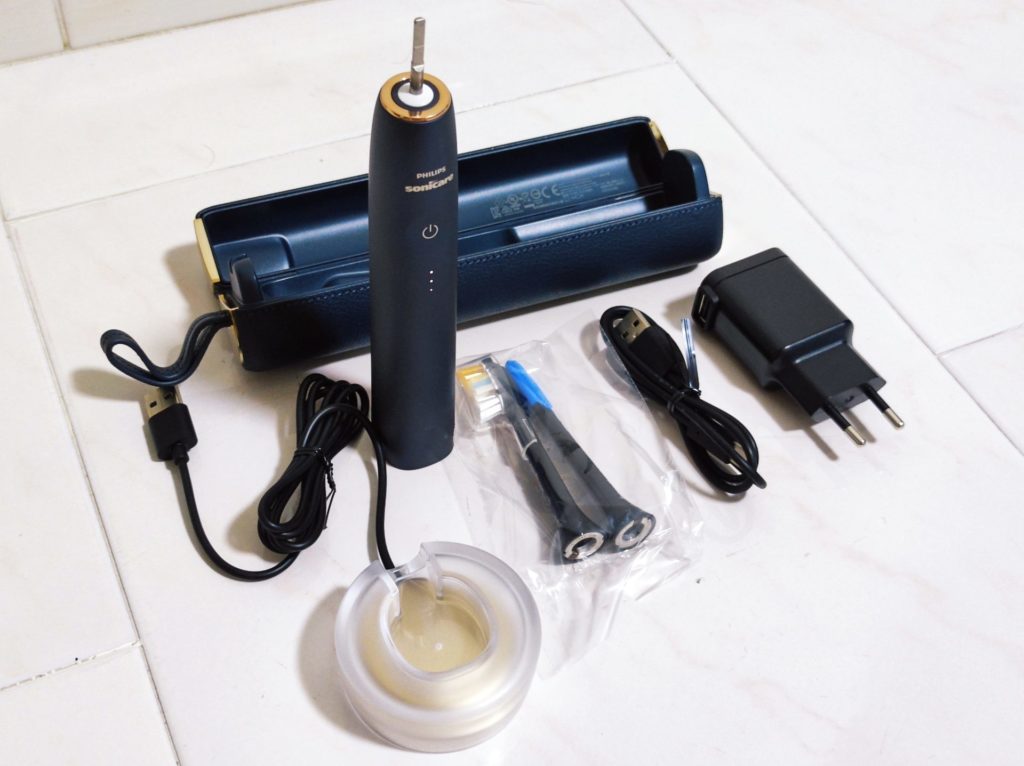 Inside the box, there is also a carrying case, the All-In-One brush head, a tongue brush, power adapter, USB charging cable, a charger base as well as the main unit itself.
If you just want to get started, you can simply press the power button on the electric toothbrush and start brushing. However, if you want to get more insights to your brushing techniques and know how well you are brushing, you can download the Philips Sonicare app.
In order to start using the app, you will have to connect the toothbrush to your phone via Bluetooth. The pairing process was fairly simple, but we do find it slightly inconvenient to require us to create an user account with Sonicare app just to use the services on the app.
The app guides you on how to properly brush your teeth. You can also customize the brush by editing the start location, intensity and various modes.
While you are brushing, the area of your teeth will be highlighted. Depending on your brushing techniques, the app will instantly tell you what to do, or advise your accordingly if you are putting too much pressure, or when you are scrubbing.
At the end of the session, the app will also inform you on areas which you've missed, and recommend you to touch up on them. The whole app certainly makes the Philips Sonicare 9000 Prestige electric toothbrush smart, providing a guided brushing exercise for you at every brushing session. It's like having someone next to you to guide you on how to brush everyday! Ultimately, I do feel that my teeth are cleaner, knowing that I have already tackled the areas which I usually miss out.
Usage experience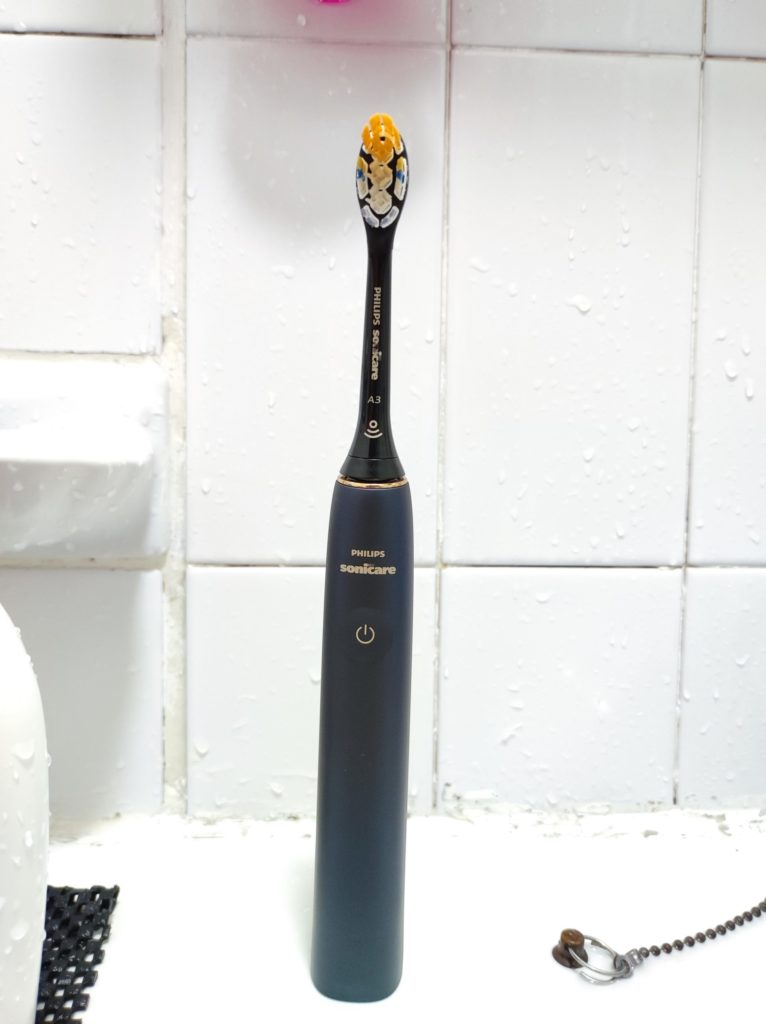 For someone who just transitioned from a traditional toothbrush, the Philips Sonicare 9000 Prestige electric toothbrush changes the whole idea of brushing to me. In the past, I used to scrub and brushing with a lot of pressure, thinking that it will get the dirt and plaque away from my teeth. However, I've also learned that over-brushing could be an issue. With the Philips Sonicare 9000 Prestige electric toothbrush, I now know that what I'm doing is optimal and best for me.
It took me a while to get used to the vibrations from the Philips Sonicare 9000 Prestige electric toothbrush, as it tickled my cheeks quite a bit when I first used it. Philips mentioned that the electric toothbrush can move up to 62,000 brush movements/min. This helps to remove plaque and dirt from the teeth. I do feel that my teeth are cleaner after each brushing session.
I must say that it's quite inconvenient to have your smartphone in front of you while you are brushing. However, once I understood the app's advices and internalized them as habits during my daily brushing sessions, I did away with the app and just used the toothbrush by itself. I feel that I now know what I'm actually doing to ensure that my oral health is kept in check.
The battery on the Philips Sonicare 9000 Prestige electric toothbrush also lasts quite long. It took me close to 2 weeks before I needed to recharge it. I was thinking I could easily bring this electric toothbrush out to my short overseas trips without worrying that it will run out of battery. Furthermore, its carrying case also looks extremely premium and keeps the toothbrush clean.
Conclusion
If you are looking for a new smart electric toothbrush to guide you with your brushing sessions, the Philips Sonicare 9000 Prestige is a product to consider. It teaches you where to brush and how to brush, making sure that you are doing the right actions while brushing. It's certainly useful for beginners like me, as I had no idea how a electric toothbrush works prior to this. With the Sonicare 9000 Prestige, I can also be certain that my techniques are right and that my teeth will be clean.
However, purchasing the Philips Sonicare 9000 Prestige will set you back S$429. If you want something simpler and affordable, perhaps the Philips Sonicare 3100 and Sonicare 1100 series of electric toothbrush will suffice. They all have a clear advantage over traditional toothbrush, and only costs S$49 and S$99 respectively.
For more information on World Oral Health Day and its related promotional offers, please visit:  https://www.philips.com.sg/c-w/promotions/wohd-2022.html