Heard of custom keyboards and wished that you could build one yourself? With the variety of choices available from the base frame to key caps and switches, it could be intimidating for newcomers wanting to learn more. Understanding that experiencing keyboards is the best way to choose one for yourself, Mash aims to deliver a one stop customer keyboard experience in Singapore for users of all skill and interest level.
Mash will be launching the Mash Experience Centre on the 19th February 2022 from 10am, where you can experience hundreds of combinations of mechanical switches, keycaps and frames. There are also a variety of pre-built custom keyboards for you to try and tests to allow you to find one that is of your liking. Forget about reading reviews and trying your luck to get what you imagine could be of your liking. The Mash Experience Centre truly brings the keyboard experience to you.
The Centre also features an assembly zone where you can also assemble your keyboard with the help of the friendly experts from the brand. This is the first of its kind in Singapore.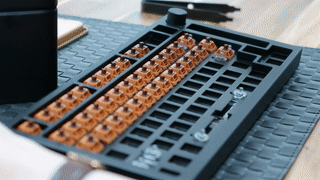 To learn more about Mash and the Experience Centre, read more below:
Introducing Mash – Singapore's Experiential Custom Keyboard Specialist
Singapore, 16 February 2022 – Mash – a brand-new venture born from a partnership between Singapore keyboard company Tempest and Custom PC brand Aftershock PC – today launches its custom keyboard e-store and physical Experience Centre. Co-founded by veteran keyboard enthusiasts Issac Yuen and Ben Hui from Tempest, Mash's mission is to deliver a one stop custom keyboard experience in Singapore for users of all skill and interest levels. Through its unique experiential showroom, Mash aims to make enthusiast grade custom keyboards easily accessible and understandable to the everyman.
"As a team of keyboard and PC enthusiasts, we've taken a close look at the ways in which users get introduced to the world of custom keyboards locally and we believe there is huge room to make the process far more intuitive, interactive, convenient and accessible to all." said Issac Yuen.
Mash.sg Webstore – Custom Keyboard Marketplace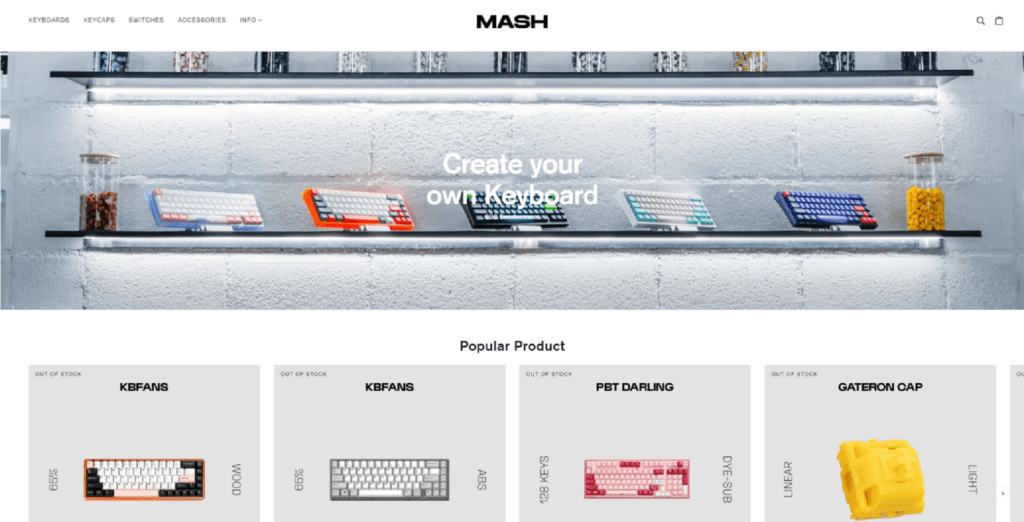 Mash's online presence lives in Mash.sg, a one-stop e-store for all things custom keyboard. Stocking the most exotic and sought-after keyboard components across the world, the site features a full ecosystem of brands both niche and mainstream: from the extremely popular Glorious barebone keyboards to limited-edition keycaps and stabilisers. To cater to the rising demand and interest in this hobby, Mash is committed to raising the bar by keeping its products readily available, unlike the standard limited-run seasons common in the industry.
"Mash is founded on the idea that custom keyboards should be accessible, and a huge part of that is keeping the parts we stock constantly available," adds Ben Hui. "Hobbyists, and particularly beginners, should never need to wait weeks to months for components to come back into stock. To this end, our warehouse already keeps over 3,000 components in stock, and we look to expand this as Mash grows."
Mash Experience Centre
Mash's unique direction and focus on a deeply personal custom keyboard experience culminates in the Mash Experience Centre. Located within the Aftershock Endgame experiential centre, the space is designed to allow customers to experience hundreds of combinations of mechanical switches, keycaps, frames, and other enthusiast components at a single location. This allows customers to fully appreciate the specific tactile feedback or aesthetic that appeals to them, taking the guesswork out of a process where customers often had to purchase switch testers or buy components based only on published information.
Bringing the custom keyboard journey even further, the Centre features an assembly zone where users can put together their own keyboards with the help of experts from Tempest – a service that is the first of its offering locally. The Centre will open to the public on 19th February 2022, 10:00 AM, and is located at B Central, 994 Bendemeer Road, #05-07, Singapore 339943.