Just upgraded to a new WiFi 6 Wireless Router, but realized that your PC don't have a WiFi 6 compatible wireless adapter? Perhaps, it's time to upgrade your network card.
D-Link has just recently announced and released the DWA-X1850 AX1800 WiFi 6 USB adapter. This Wi-Fi 6 USB dongle makes it extremely easy for you to upgrade your PC to support the latest Wireless 6 standards, allowing you to achieve speeds of 600Mbps (2.4GHz) and 1200Mbps (5GHz) easily.
In this article, we will take a closer look at the DWA-X1850 AX1800 WiFi 6 USB adapter from D-Link, and find out just how fast it can perform.
The D-Link DWA-X1850 AX1800 WiFi 6 USB adapter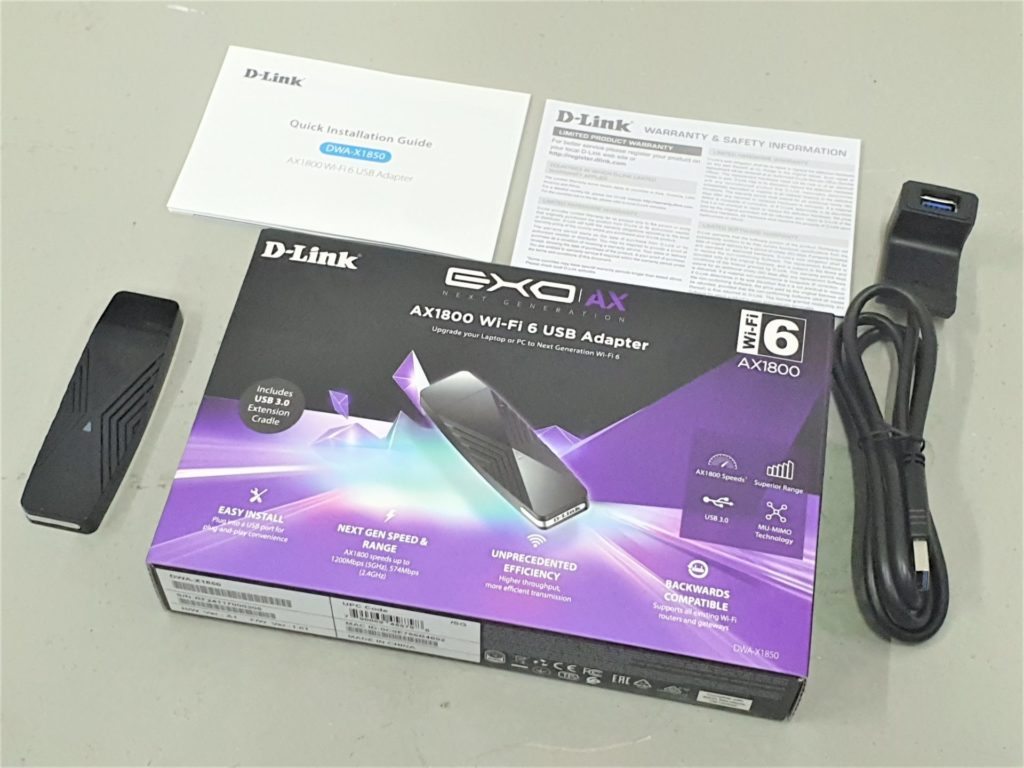 The AX1800 Wi-Fi 6 USB Adapter comes in a very simple package. Included in the box is an USB 3.0 extender, a quick installation guide and the warranty information. The included dongle looks like a normal USB storage drives, but it has been specially designed to ensure that wireless signal can be transmitted without interference.
The dongle itself is actually bigger than usual USB storage drives, so if you were to fit it directly into your PC's port, it may actually block them. Luckily, the included USB 3.0 extender helps mitigate this problem. In the event that your WiFi signal is bad at a particular location, you can also use the USB 3.0 extender to place the Wi-Fi dongle at another area for better signal strength.
Another key area to take note is that the D-Link DWA-X1850 AX1800 WiFi 6 USB adapter comes with a USB 3.0 (USB 3.2 Gen1) interface, which enables speeds of up to 5Gbps. This is an essential requirement to any WiFi 6 USB network adapter, so that the wireless transmission speeds will not be bottlenecked by the interface.
Testing the D-Link DWA-X1850 AX1800 WiFi 6 USB adapter
We've tested this dongle with quite a number of our PCs. While some could directly identify the WiFi dongle without any additional install of drivers, others required the manual installation of the drivers.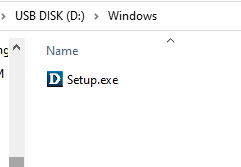 Luckily, D-Link has made it extremely simple to install the drivers of the DWA-X1850 AX1800 WiFi 6 USB adapter. When plugged into the PC, the system will detect the WiFi 6 dongle as an external storage drive. Inside this drive is the drivers required to get the WiFi adapter working. Installation took a couple of minutes, and we ready to go as soon as that was done.
You know things are going to be fast when even Windows prompts you that they've detected the new WiFi 6 adapter. The Windows Wireless network adapter settings also showed us that we had indeed established a 1.2Gbps link with the router.
The various tests were done at home and the D-Link DWA-X1850 AX1800 WiFi 6 USB adapter was connected to a ASUS ROG Rapture GT-AX11000. I had a 1Gbps connection to my internet service provider, so a typical speed test would also test out the real speeds of the Wireless Dongle.
On our Gigabit connection to the internet, the D-Link DWA-X1850 AX1800 WiFi 6 USB adapter managed to reach a speed of less than 250Mbps. It's probably far from what we would expect from the 1.2Gbps theoretical speeds. These numbers are usually intentionally made big (in this case, for 1.2Gbps speed is actually 2×2 WiFi 6 of 600Mbps per stream) as a marketing ploy. 600Mbps should be an accurate measure instead. If you are interested to find out more, I found this article explaining WiFi 6 extremely useful.
In another test, we transferred files in the local network between two computers.
As our hard drives weren't limiting the transfer performance, these two transfers showed exactly how fast you can expect of your network. On the left, we were transferring at a speed of close to 1Gbps (112MB/s * 8), while our test with the D-Link DWA-X1850 AX1800 WiFi 6 USB adapter was about 273Mbps. It's actually a very similar performance to what we've seen in SpeedTest.
Conclusion
The D-Link DWA-X1850 WiFi 6 USB Adapter makes it extremely easy for you to enable your machine to be compatible with the latest WiFi 6 capabilities. If you are someone who frequently transfer large files over the internet, such as a gamer who needs to download large game patches or games, you would really appreciate the added speeds that WiFi 6 brings you. However, just because a Wireless Dongle is rated at 1.2Gbps, it does not mean that it's going to run at that speed. Ultimately, a wired connection is still much faster than a wireless one, in both latency and bandwidth.
At a suggested retail pricing of SGD89 (or even cheaper in some stores), we found the D-Link DWA WiFi 6 USB Adapter a worthwhile investment to upgrade your personal computer's wireless connectivity.