Arguably the best-looking router on the market right now, the ASUS ROG Rapture GT-AX11000 Wireless Tri-band router (1 x 2.4Ghz and 2 x 5Ghz bands) is throwing in all of its cards. Not only are they designing something that is the top of the line gaming router, it is also able to have the hardware specifications to hold its own. Not to mention, it even includes a customizable Aura RGB, because why not?

Wireless AX, Wi-Fi 6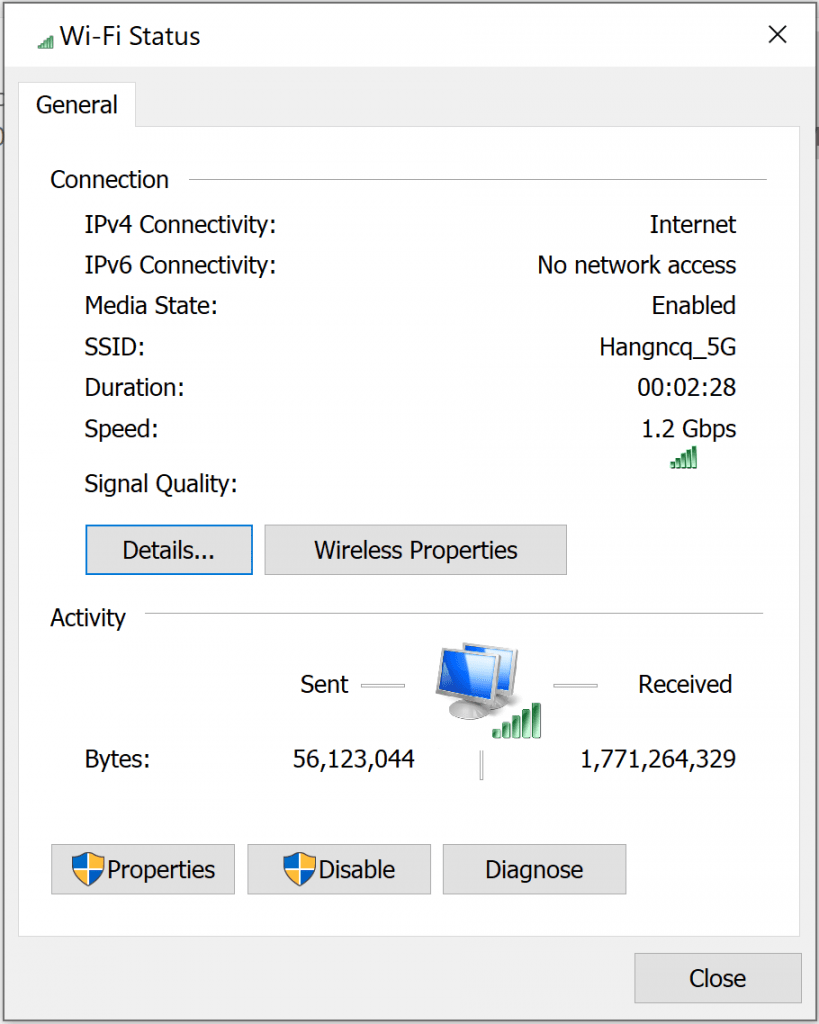 Having the newest 802.11ax, also known as Wi-Fi 6, wireless networking standard means having a higher maximum theoretical speed of 1201Mb/s. This is a 28% performance increase from the previous 802.11ac generation, while also improving in efficiency. This results in a consistently higher real-world speeds through a new feature called Orthogonal Frequency Division Multiple Access (OFDMA). OFDMA enabled the splitting of channels into multiple smaller partial channels, allowing 30 different gadgets to talk to the access point at once over a single channel. It increases flexibility as it allocates bandwidth to each device based on its data needs, increasing the overall performance. ASUS also claims that there will be a wider coverage over large distances of up to 80% due to the smaller partial channels. OFDMA also works in tandem with Multi-User-MIMO, which improves on having 8 simultaneous streams, instead of just 4 (for Wireless AC). Additionally, both uploading and downloading are enabled instead of just downloads as compared to Wireless AC.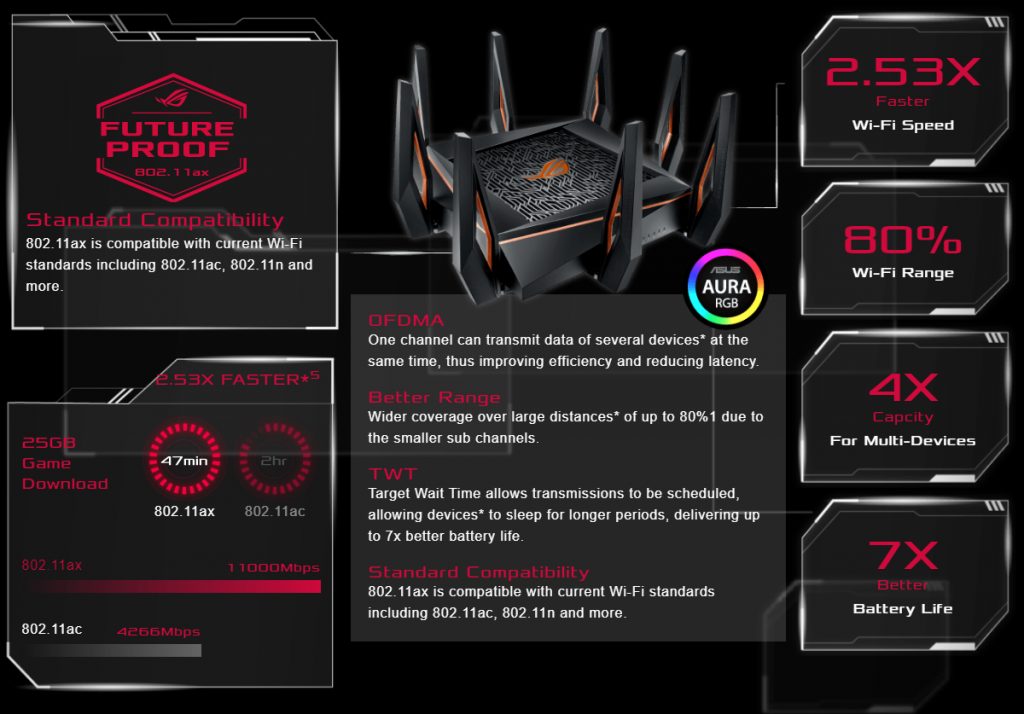 The GT-AX11000 also features BSS Coloring, reducing the network congestion through a clever use of identifying which access point is busy. This is especially useful when multiple of these routers are used at once. Wireless AX is also backwards compatible with previous generations like Wireless AC, 802.11n, etc. This compatibility is further improved with the inclusion of AiMesh, allowing itself to be added an otherwise mismatch mesh of wireless routers.
It also supports yet another new feature called Target Wakeup Time (TWT). TWT is great for battery powered devices as it allows transmission to be scheduled based on the frequency and duration needed. As a result, this allows devices to sleep when transmission isn't necessary, which ASUS claims should help with up to 7x better battery life for Wireless AX compatible devices.
Value Added Benefits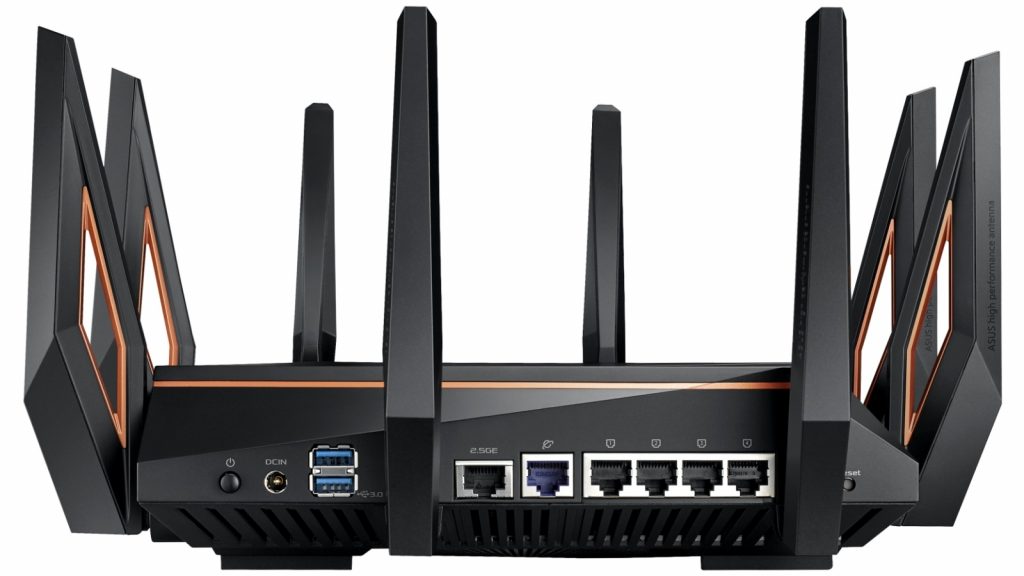 This router uses a dedicated 2.5GBASE-T port for higher wired bandwidth along with four Gigabit LAN ports. On the wireless side, it uses a tri-band with 802.11ax, for over 10 Gigabits of wireless bandwidth (11000Mbps), along with DFS bands to avoid interference. For the gamers, it comes with VPN Fusion which helps segregates gaming traffic from using the VPN for the least latency and the best gaming experience. On top of all these, ASUS also added other features such as AiProtection Pro, Triple-level Game Acceleration, and let's not gloss over the customizable Aura RGB that can be synced up with your other gaming peripherals!
Speed Test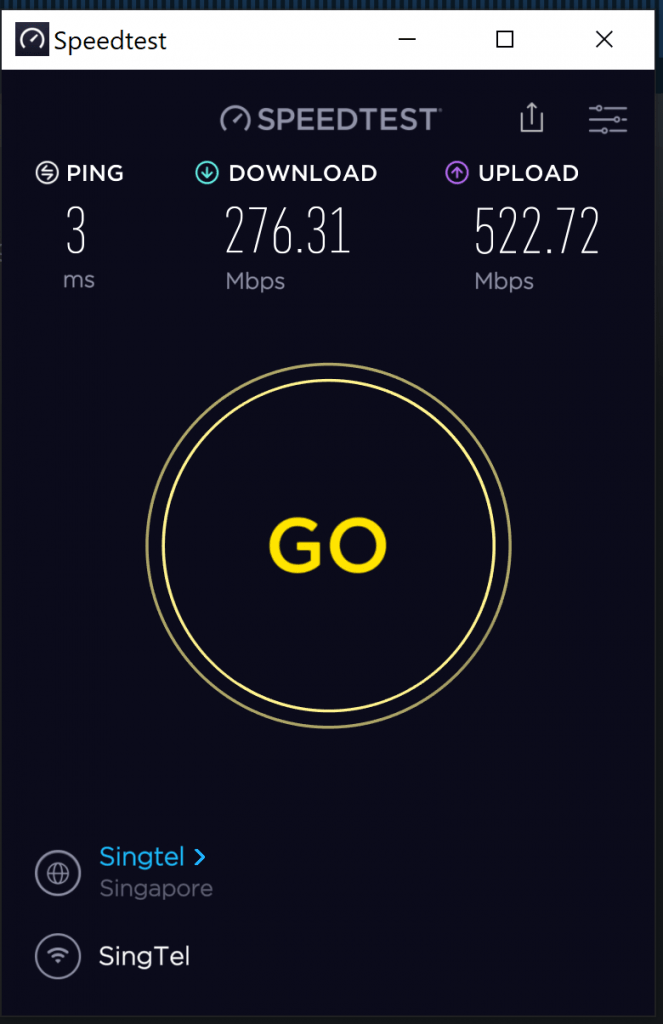 On usual SpeedTest on a SingTel 1Gbps network, the client was able to receive very high throughput.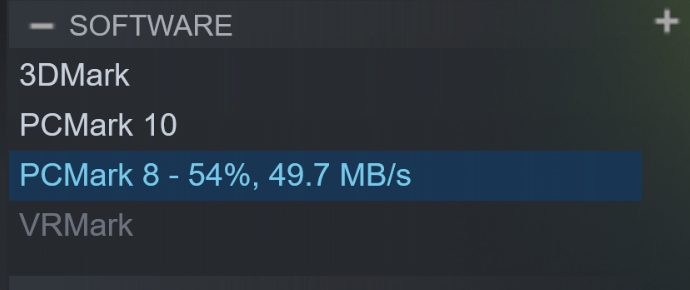 For instance, the benefit of downloading or updating games from Steam was done in a jiffy. We was a high speed of more thank 50MB/s in our tests, something which was never seen on a Wireless AC connection.
Conclusion
The ROG Rapture GT-AX11000 is surely ahead of its time, with the vast majority of consumers not being able to feel the performance difference in Wi-Fi 6. However, you can start to prepare your homes with the undoubtedly onslaught gadgets that support Wi-Fi 6 that are coming out in the near future.
If you are interested, ASUS is currently selling a Call of Duty Black Ops 4 Edition GT-AX11000. It comes with a Call of Duty Black Ops 4 logos both on the front side of the router, and buyers can get a Digital copy of Call of Duty: Black Ops 4 standard edition on PC. This is a killer deal for those that are looking for a new upgrade, while not owning the new Call of Duty Black Ops 4.