It has been more than a week since we've been working from home due to the the Phase 2 (Heightened Alert) restrictions in Singapore. Of course, working from home is usually not the norm, and there are many areas at home that can be upgraded and improved for the working from home experience.
With every member of the household at home, home internet connectivity essentially became the center piece of technology that enables the whole working from home experience. Everyone at home wishes for a fast internet connectivity, and most internet service provider's (ISP) wireless router just can't live up to expectations, with usual disconnections and instability.
Essentially, a good and reliable wireless router is what you need to appease everyone while working at home. Straying away from the norm, the ASUS RT-86U ZAKU II Edition Wireless Router does more than just provide internet connectivity at home. It's one of a kind design, security and gaming features also makes it an all-rounder, and is very suitable for the home. Let's take a closer look so that you can understand more.
ASUS RT-AX86U ZAKU II Edition Wireless Router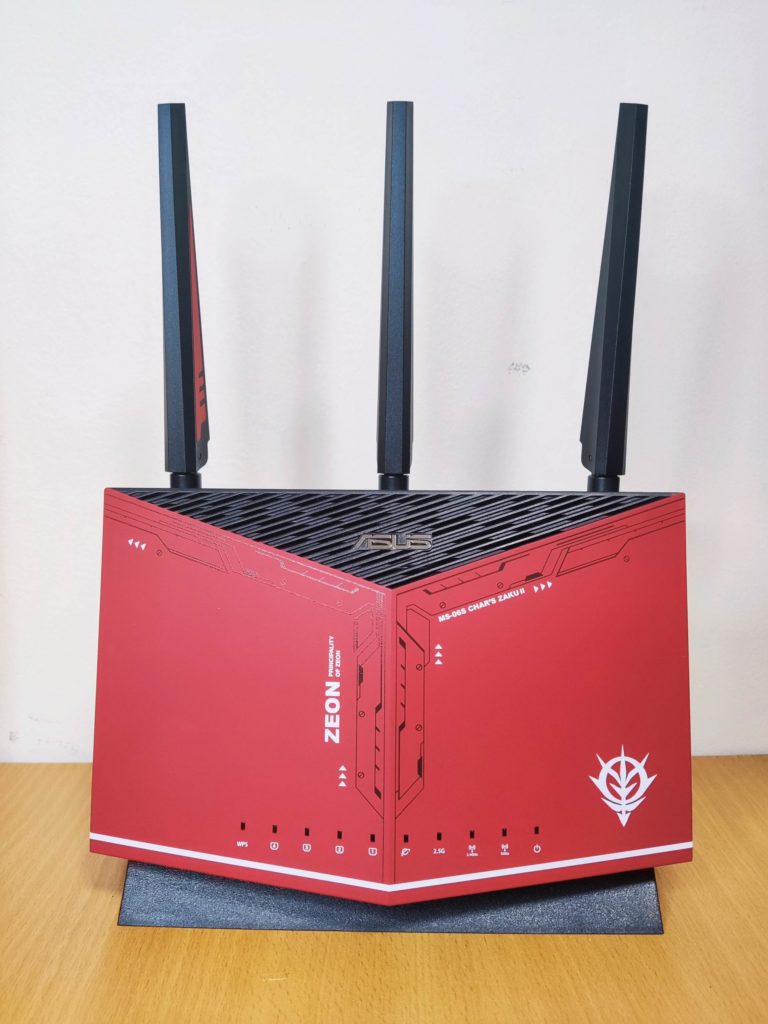 ASUS RT-86U ZAKU II Edition sure looks different from a typical router in the market. It is designed with the elements of Gundam, a popular Japanese manga/anime, which feature giant robots that are used in war. Specifically, the ASUS RT-86U ZAKU II Edition is designed based on the flag of Principality of Zeon.
I've got to say that I'm not especially knowledgeable about Gundam, so please pardon me if I get any details wrong.
Speaking from a user perspective, regardless of whether I'm a fan of Gundam or not, the ASUS RT-86U ZAKU II Edition sure looks very good. The red and black theme with white accents makes it stand out from any other wireless router products in the market.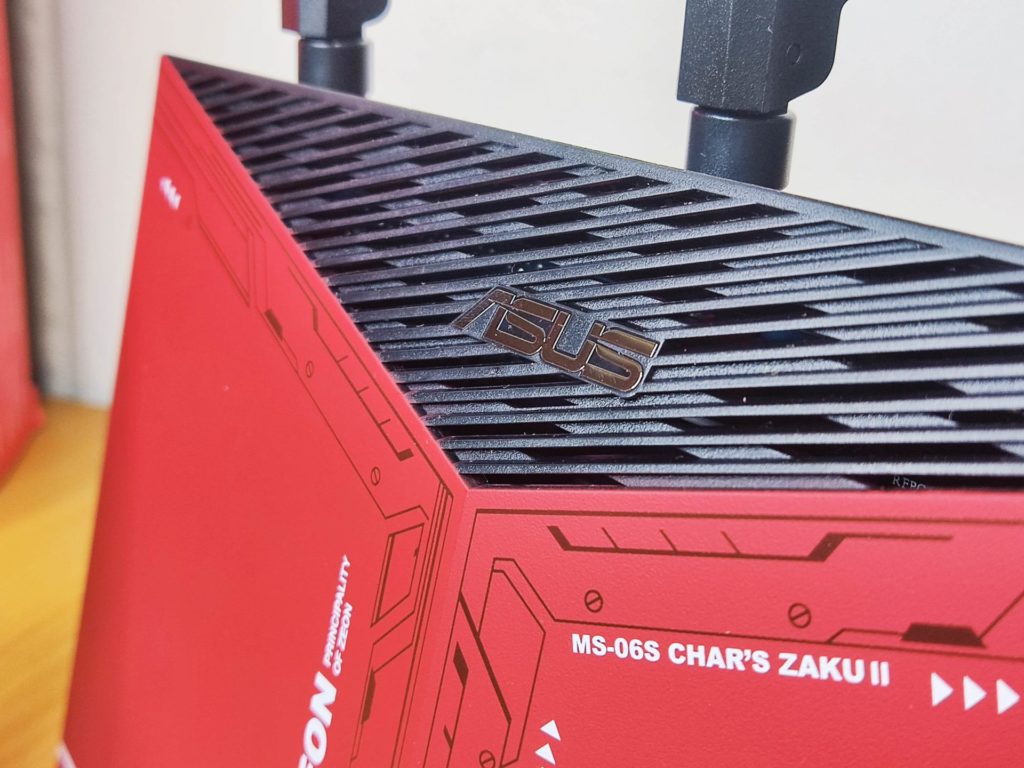 Instead of having a router that lays flat on a surface, the ASUS RT-86U ZAKU II Edition is designed to "stand up" instead. This allows the router to cool its internal components adequately. Moreover, there are also vents at the top portion of the router to aid airflow and heat dissipation.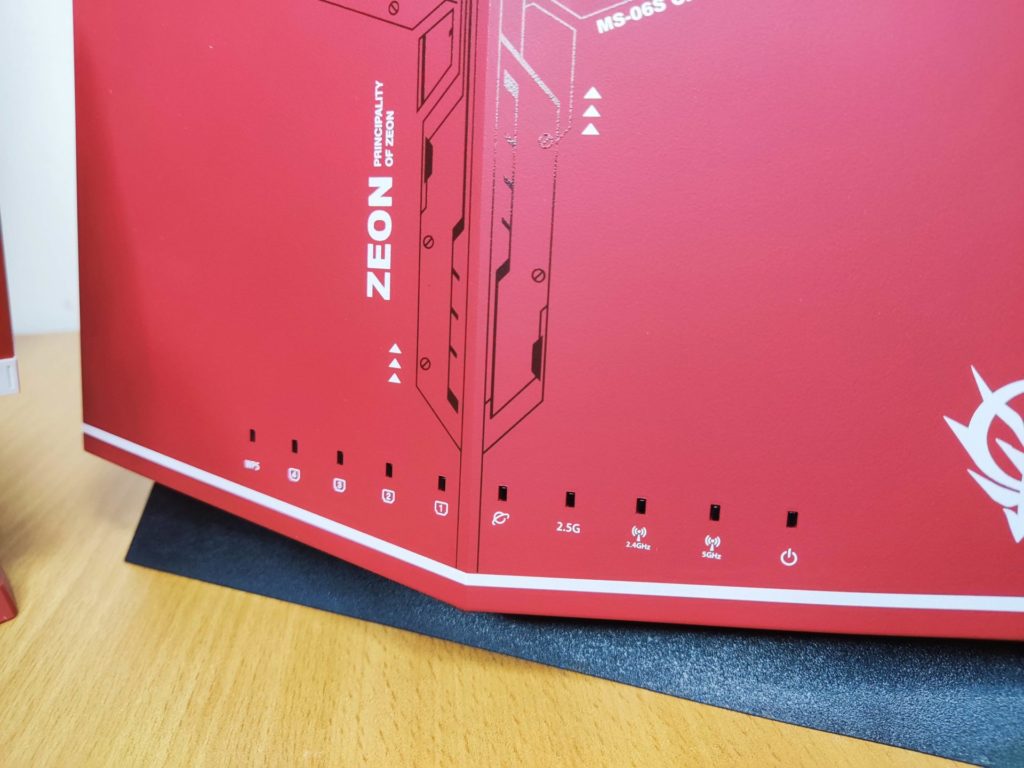 At the front of the router, we also spot multiple LED indicator lights. These lights should be useful for understanding how the router is performing, or possibly perform quick troubleshooting.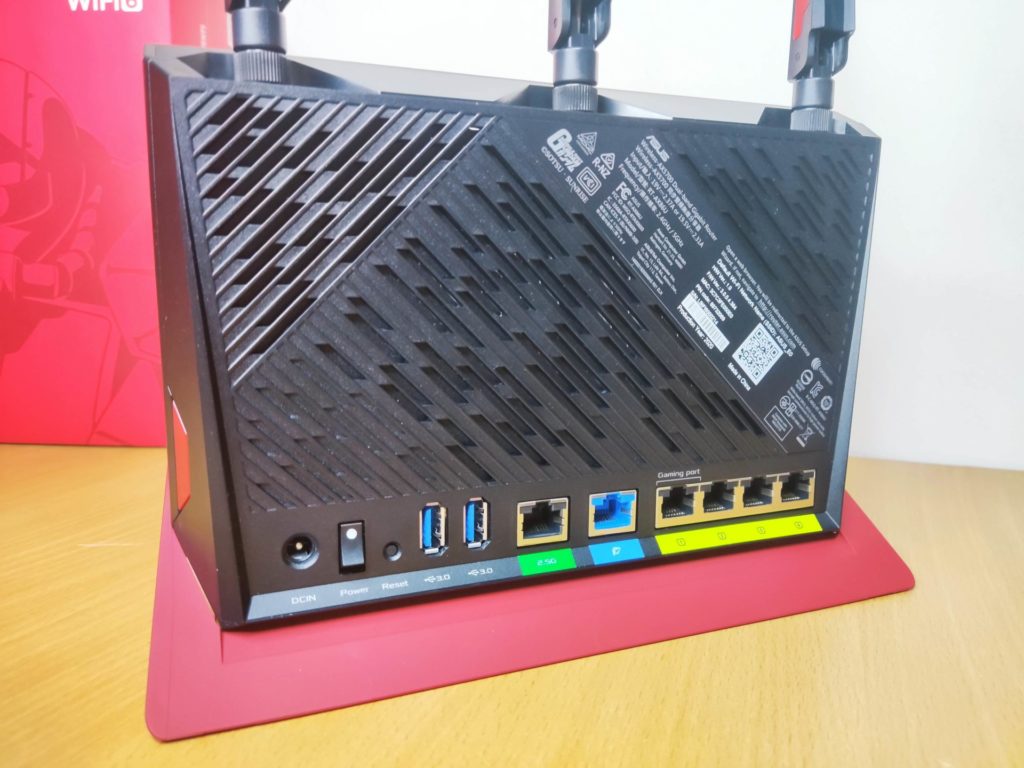 At the rear of the device, we can see a DC/IN jack. This router requires a 19V 2.37A power adapter to power it up. Next to the power jack is the power switch and reset button. This router also supports external USB 3.0 peripherals. For example, if you have an external storage drive, or a USB printer, you can plug them directly into the router and share the resources with everyone on the same network.
What makes the RT-AX86U ZAKU II EDITION powerful is its 2.5Gbps ethernet interface. As 2Gbps fibre network plans are getting more affordable these days, you can make use of this router to ensure maximized support for networking at 2Gbps. This 2Gbps Ethernet port can work as either a WAN or LAN port.
The LAN port in blue is a 1Gbps WAN port. The RT-AX86U ZAKU II EDITION also supports Dual WAN, which allows you to connect to multiple networks. You can even connect multiple ISP's internet services onto your own network to either achieve higher speeds, or as a failover.
Subsequently, there are 4 Gigabit ethernet ports found on this router. Perhaps, it could make more sense if this router included another 2.5Gbps LAN port, so that it can be more future proofed for multi-Gigabit wired networking.
The ASUSRT software on the RT-AX86U ZAKU II EDITION is specially themed with the ZAKU II designs. Other than that, it's still a very familiar interface. What I really liked about the ASUSWRT wireless router software is that everything feature and function can easily be accessible. It's quite easy to use for anyone who wants to go deeper into the various settings and features of the router.
Wireless Connectivity
The RT-AX86U features the latest 802.11ax technology. The state of the art wireless AX features Wi-Fi transmission and receiving at both 2.4GHz and 5Gz band. On the 2.4GHz band, this router can reach a theoretical maximum speed of 861Mbps. On the 5GHz band, it can reach 4804Mbps. It is no wonder that the 2.5Gbps WAN port can be very useful for such a router. You can really achieve multi-gigabit speeds even on your wireless network with this router!
With a simple test with SpeedTest.net on a 1Gbps internet connection from the ISP, I was able to achieve a upload and download speed of about 740Mbps. On the other hand, the wireless speeds were not too shabby at all too. It managed to reach speeds above 400Mbps. The wireless speeds were tested with an iPhone 12 Pro Max, which has built-in WiFi 6 capabilities.
Security Features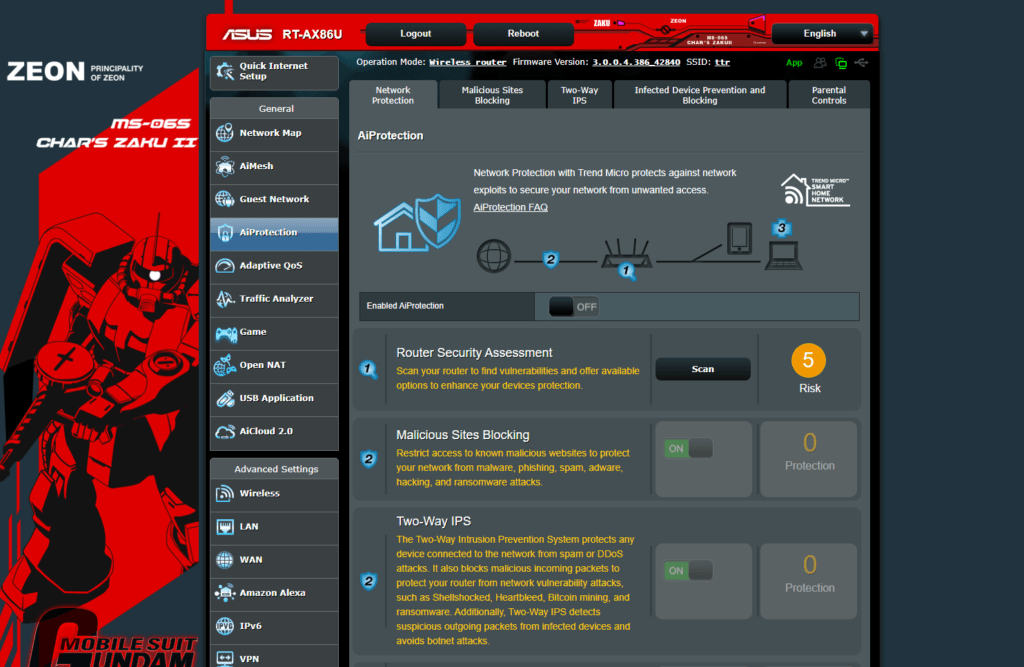 As a router suited for working from home, security is one of the key areas aspect that you need to look into. Like most ASUS routers, the RT-AX86U ZAKU II EDITION also comes installed with its AiProtection security features. AiProtection is a comprehensive suite of software that maximized the security of your router, covering many aspects of network security. It has its own set of router security assessment tool, which gives a health check on your router to make sure that you have got all the security settings done right.
More specifically, the router features malicious sites blocking, two-way intruder prevention system, infected device prevention and blocking, and even parental controls. If these features are still not enough, you can also setup a software firewall on the router to block specific application ports as well. The firewall can also filter specific URLS, keywords or certain network services. Such advanced features are usually only found in expensive enterprise systems with dedicated hardware. I have respect for ASUS's all the work they have done, in order to bring all these features right into a single router. This is why the ASUSWRT remains to be one of the most popular router OS in the consumer market today.

Other Notable Features
AiMesh

The RT-AX86U ZAKU II EDITION also supports ASUS AiMesh WiFi System. If you found that your house has certain dead spots where WiFi strength is always weak, you can easily add another supported ASUS router to form a meshed WiFi network. Unlike usual wireless repeater systems, the AiMesh has a certain intelligent factor to it, allowing you to ensure the strongest WiFi signals throughout your house.
Gaming Network Prioritization
Branded as a gaming router, the ASUS RT-AX86U ZAKU II EDITION must of course come with certain gaming features. Luckily, the router actually came with features that will be useful for your games, instead of just pointless RGB lighting.
The Game modes on the router allows Game Device prioritization, which essentially allows you to select a list of devices on your network to have their network prioritized. To ensure compatibility of most network games, you can also easily setup port forwarding settings on the router under the Open NAT settings. There will be a list of game profiles available, and all you need is just to add and activate the game profiles to get port forwarding for these games done. It's just that simple!
Final Words and Conclusion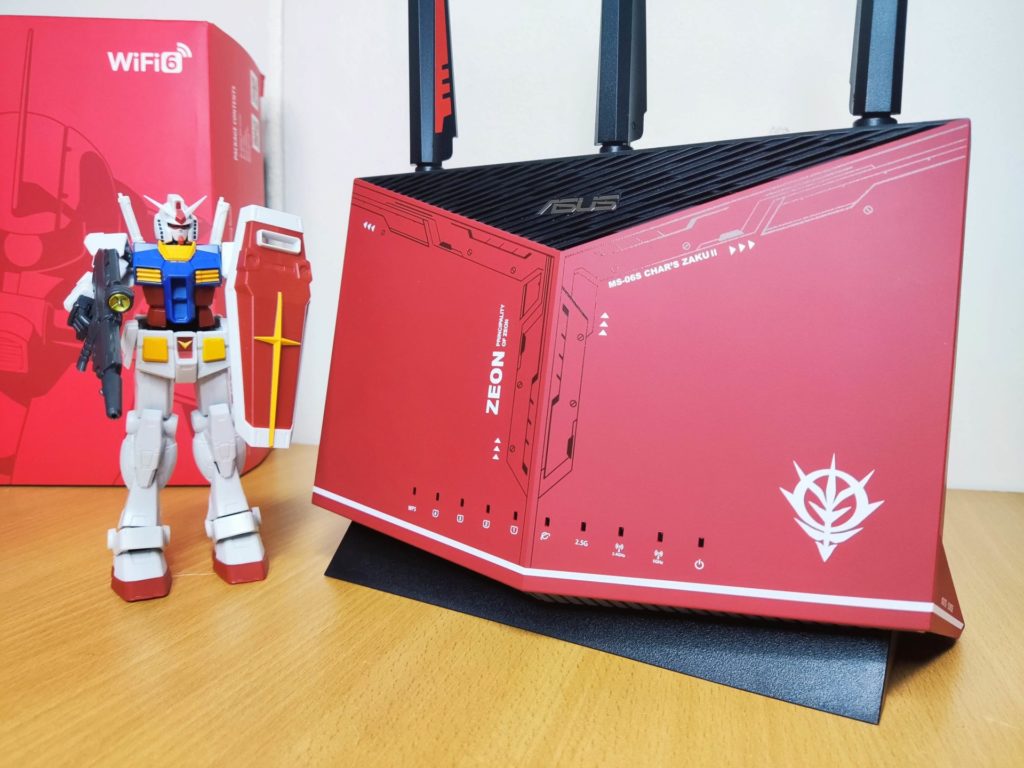 If you have always been using the default routers that are provided by your internet service provider, then you must be missing out a lot. Wireless routers today do a lot more than just ensuring that there WiFi signal around the house. As working from home becomes default in today's global pandemic situation, many advanced features in such routers are becoming essential.
The ASUS RT-AX86U ZAKU II EDITION wireless router has got everything you want, and even more, for a wireless router. It sets your mind at peace, knowing that all security, reliability and performance matter of your home WiFi network can be well taken care of. With its unique Gundam mobile suit design, the RT-AX86U ZAKU II EDITION is sure to attract the eyes of many, but if you aren't too much of a fan like me, you can always opt for the vanilla RT-AX86U instead. No doubt, we certainly recommend ASUS Wireless router products for anyone upgrading their home network.