As my whole family is currently working from home due to the COVID-19 situation in Singapore, I also was unofficially appointed the IT helpdesk of the house. This specific request came from my sister, where she was constantly facing random shutdowns on her laptop computer while hosting Zoom calls and recording them. Such events are unfortunately, and of course, brings a lot of inconvenience to her work.
Honestly speaking, most notebooks today aren't adequately cooled. Instead, manufacturers make use of thermal throttling features to limit the performance of CPUs to ensure that the laptop can stay within thermal limits. This is also why, I don't always find getting the top of the line notebook with the best possible CPU to be sensible. In the end, you will still be limited by the cooling capabilities of your notebook computer.
Back to the subject, I was second guessing that the problems faced by my sister was largely caused by the inability of her notebook to properly throttle down the speed of the CPU (she uses a HP) when temperatures get high. Hosting and recording a online meeting could be quite taxing for a notebook computer, which could be the reason that causes her notebook computer to overheat. Moreover, since we don't the luxury to always stay in an air-conditioned room, the environmental temperatures also aggravates the problem.
That's when I decided to give a notebook cooler a try.
Cooler Master Notepal I300 LED
I went to a PC and electronics retailer near my house, and just randomly got the Cooler Master Notepal I300 without doing much research. This was probably one which makes more sense at S$39 and comes from a reputable brand that I know of. There were even notebook coolers that costs near a hundred buck, which I thought will probably be too much of an overkill to solve my problem.
It's the first time I'm trying out a Notebook Cooler, so I decided to just run my usual tests with the Cooler Master Notepal I300 and a ASUS Zenbook 14 which I had.

The Cooler Master Notepal I300 is powered by a USB port. Thankfully, this special USB cable from the notebook cooler allows device passthrough. This means that you can still plug in your USB devices onto the USB port, and no USB ports on the notebook will be wasted. It's especially useful for notebooks with only a single full size USB Type-A port.
Testing Methodology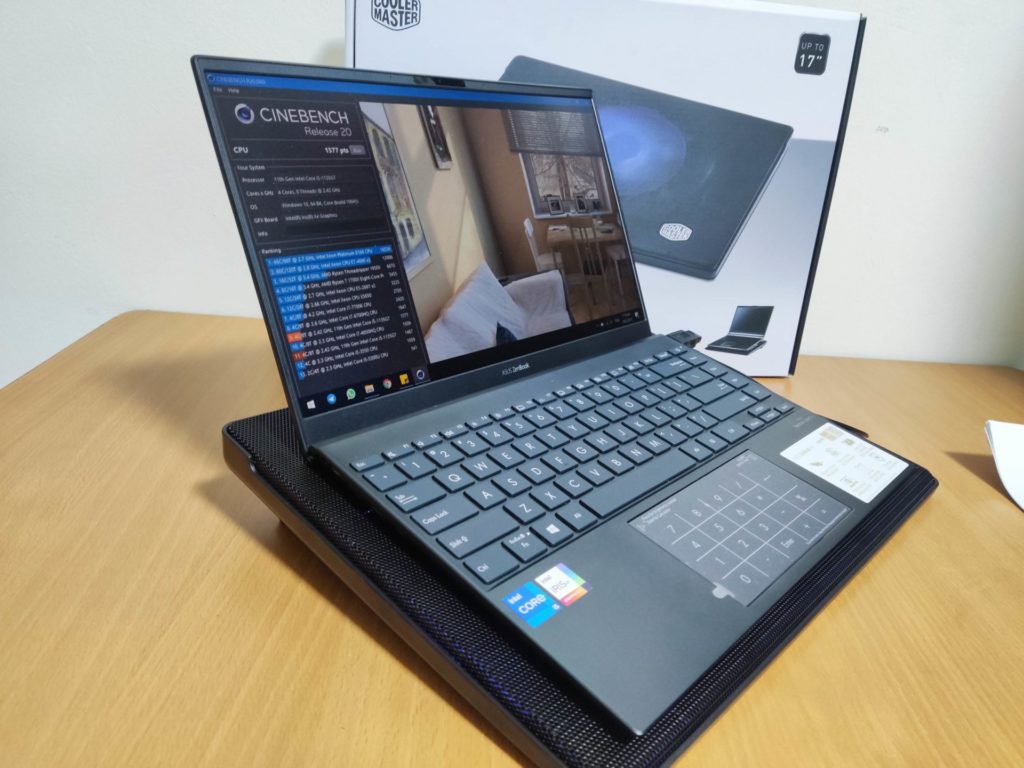 In our tests, we are going to put the ASUS Zenbook 14 UX425 to the test. This notebook is equipped with the latest 11th Gen Intel Core i5 processor, which has 4 cores and 8 threads. Its other specifications are the same the 10th gen ASUS Zenbook 14 UX425 which we've previously reviewed.
We will firstly test the temperature of the CPU package at idle situation, when it's not running any programs. Temperatures are measured with the HWiNFO software. Then, we will run the Cinebench R20 Multi-Core CPU test and see how the CPU behaves when on load.
Results
 
Idle Temp
Max Temp before Throttling
Temp Range after Throttling
Throttled CPU Frequency
Cinebench R20 nT Score
Without NotePal I300
45°C
95°C
62°C to 70 °C
2GHz to 2.2GHz
(Stable at 2.2GHz)
1467pts
With NotePal I300
37°C
90°C
60°C to 65°C
2.3Ghz to 2.6GHz

(Stable at 2.4GHz)

1577pts
Regardless of the usage of NotePal I300, both scenarios still resulted in the thermal throttling of the CPU. It just shows how manufacturers are willing to sacrifice thermal dissipation capabilities of notebooks to create a thin and light design, while also affecting performance. But it's probably understandable, as having a ultraportable notebook does fit many use cases.
With the NotePal I300, we saw significant decrease in CPU temperatures. Even at idle, the setup with NotePal I300 was 8°C cooler.
What's interesting was that the overall lower temperature of the ASUS Zenbook in this setup eventually enabled a higher stable CPU core clock at 2.4GHz, as opposed to 2.2GHz. This difference resulted in more than 100 points of improvement in the Cinebench R20 benchmark.
There is no doubt that an additional notebook cooler can make your notebook perform cooling. Moreover, by maintaining it at a lower temperature, it can perform at a higher speed as well, which in turn, give you free additional performance.
Noise
The Cooler Master Notepal I300 works well as laptop cooler, but certainly, there are some disadvantages to it. Particularly, its 160mm fan is audibly noisy, and could affect those who are more sensitive to background noise. There are also no options for us to reduce the fan speed, but we can't complain too much as this product is considered an entry-level laptop cooler from Cooler Master.
Conclusion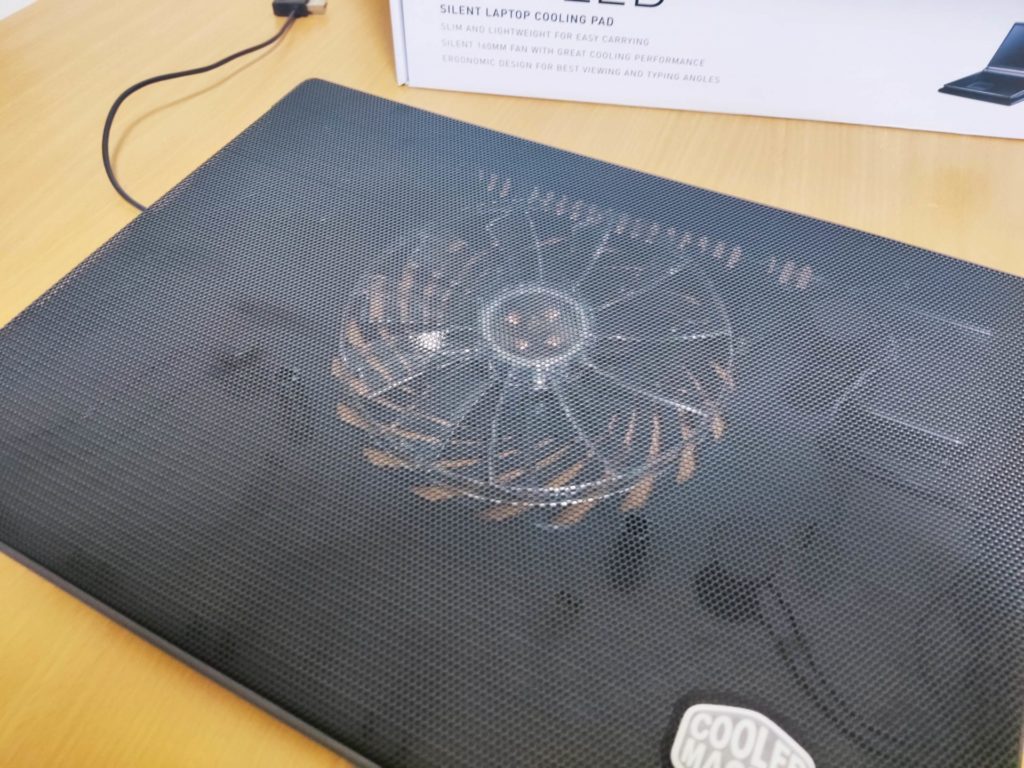 The Cooler Master Notepal I300 works well and can effectively cool any notebook computers. In conclusion, if you find that your notebook computer is running too hot, you can easily equip it with an external notebook cooler to improve its performance. The Cooler Master Notepal I300 is perhaps a good solution for our problem, but if you are looking for a more comprehensive notebook cooler, there are more feature packed and less noisy solutions around. You can see the full range of Cooler Master's notebook coolers here.