The demand for laptops have increased immensely in the past year due to the unprecedented rise in telecommuting and remote learning. With more time spent at home, many have started to explore into playing games on their laptops as well. However, most notebook computers are simply not made out to perform well for games. Gaming notebooks, on the other hand, are usually heavy and bulky with short battery life, which is a significant tradeoff that many aren't willing to take.
Thankfully, with the launch of the new RTX 30 Series Laptop GPUs for notebook computers, NVIDIA is going to change that perception all over again.
NVIDIA GeForce RTX 30 Series Laptop GPU
Laptop GPUs have also become increasingly powerful and close in performance to their desktop counterparts. What was thought to be a dream of playing AAA games at high frame rates and graphics quality on a notebook computer is no longer a dream these days.
At the core of enabling such a breakthrough in mobile graphics technology and performance is the new Ampere graphics architecture, which powers the RTX 30 Series Laptop GPUs. NVIDIA has picked up on the key areas to improve on their previous products, and came out with solutions that enables laptops to play games better without compromising portability and battery life. Currently, there are three laptop GPUs from the RTX 30 Series – RTX 3080, RTX 3070 and RTX 3060.
 

GPU

RTX 3080 LAPTOP GPU
RTX 3070 LAPTOP GPU
RTX 3060 LAPTOP GPU
NVIDIA CUDA Cores
6144
5120
3840
Tensor Cores
192
160
120
Ray Tracking Cores
48
40
30
Boost Clock (MHz)
1245 – 1710
1290 – 1620
1283 – 1703
GPU Subsystem Power (W)
80 – 150+
80 – 125
60 – 115
Standard Memory Configuration
16GB GDDR6
8GB GDDR6
8GB GDDR6
6GB GDDR6
Memory Interface Width
256-bit
256-bit
192-bit
Ray Tracing Cores
2nd Gen
2nd Gen
2nd Gen
Tensor Cores
3rd Gen
3rd Gen
3rd Gen
NVIDIA Architecture
Ampere
Ampere
Ampere
PCI Express Gen4
Yes
Yes
Yes
HDMI 2.1
Yes
Yes
Yes
DisplayPort 1.4a
Yes
Yes
Yes
With its supercharged design and specifications, the NVIDIA GeForce RTX 30 Series Laptop GPUs transform the latest laptops into a powerful mobile workstation. It is a key piece of technology that creates a new platform of products that is well-suited for a multitude of use case,  be it for education, professional and office work, or even gaming.
What makes the RTX 30 Series Graphics Card special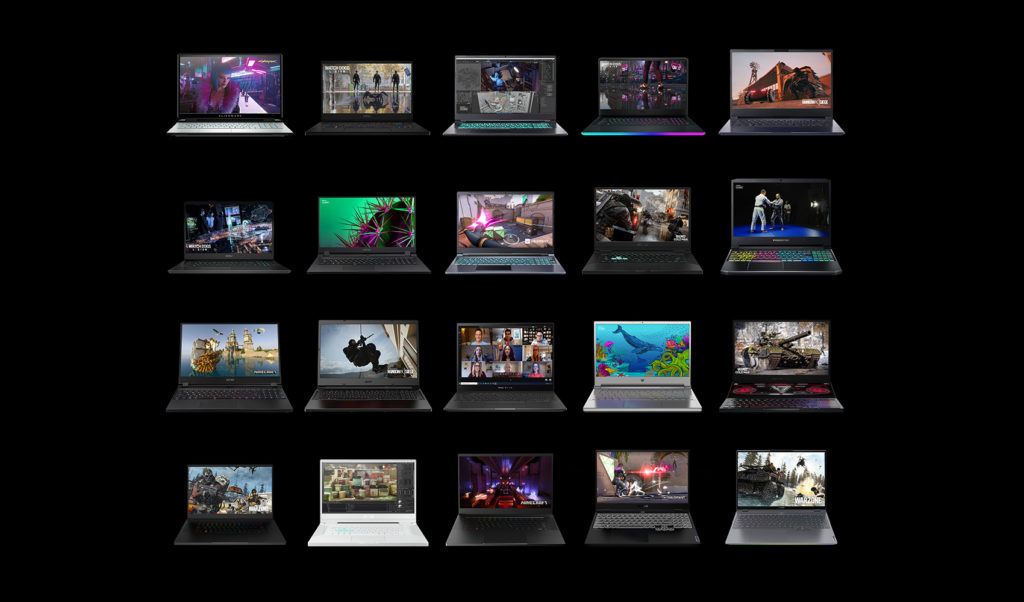 The impeccable timing of NVIDIA releasing Ampere-powered GPUs to the laptop market has been more than just a coincidence. Beginning around the end of January of this year, devices equipped with the latest RTX 30 series graphics card are being pushed out by major brands such as ASUS, GIGABYTE, and MSI. Aside from pure performance gains obtained through implementing the industry's latest technology breakthroughs, these new GPUs also feature improved methods to extend performance while extending battery life – something which has usually been counter-intuitive.

3rd Gen Max-Q Technology, featuring Dynamic Boost 2.0 and Whisper Mode 2.0
The first noticeable improvement by NVIDIA is the new AI-powered 3rd Gen Max-Q design. The new Max-Q technology includes improvised and optimized Dynamic Boost 2.0 and Whisper Mode 2.0 technology.
Dynamic Boost 2.0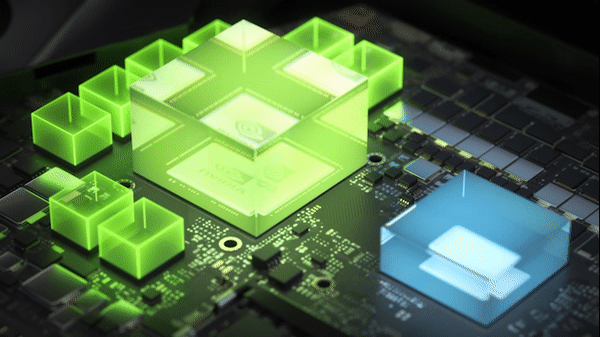 With Dynamic Boost 2.0, the entire system utilizes an AI algorithm to dynamically shift power consumption levels on a per-frame basis between the 3 main resources – CPU , GPU, and its VRAM.
Through smart adaptation of power limits between key resources based on the current workload, Dynamic Boost 2.0 will be able to provide optimal performance with the least amount of power. This dynamic power allocation method is one of the key factors which drives the new Max-Q enabled RTX 30 Series powered laptop computers today.
Whisper Mode 2.0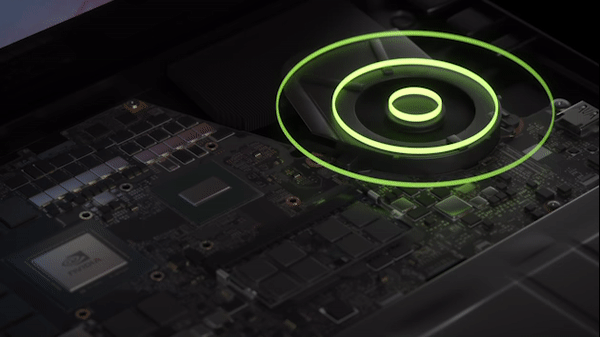 On the other side of the spectrum, Whisper Mode 2.0 focuses on keeping the notebook system's fan noise as low as possible. This is done by limiting power delivery to various components of the system to keep temperatures low. With less power provided, the system components will also produce less heat. The fan speed then can also be reduced to minimize noise.
Even though Whisper Mode 2.0 allows the temperature of the system to be kept within limits, while employing a low fan speed, it still aims to attain relatively decent system performance.
Whisper Mode 2.0 could be considered an improved Power Saving Mode profile, but with tighter integration to system components and power levels. It is also fully managed by an AI algorithm that maximizes efficiency.
Game On with RTX Technologies and DLSS
RTX technology is one of the key advancements to NVIDIA's graphics cards since its inception with the RTX 20 series. RTX technology enables Ray Tracing and AI rendering, which are key defining areas which makes what RTX graphics cards so special today.
The new NVIDIA GeForce RTX 30 Series Laptop GPUs were improved from its predecessors, featuring 2nd Gen RT Cores and 3rd Gen Tensor Cores for for 2x Ray Tracing and AI performance respectively.
The Medium | 4K NVIDIA DLSS Comparison
For the layman, its essentially means better graphics performance with ray tracing enabled. Additionally, with better AI compute performance, features such as DLSS will work even better.
You can learn more about DLSS 2.0 and Ray Tracing in our previous articles on the technology.
Resizeable BAR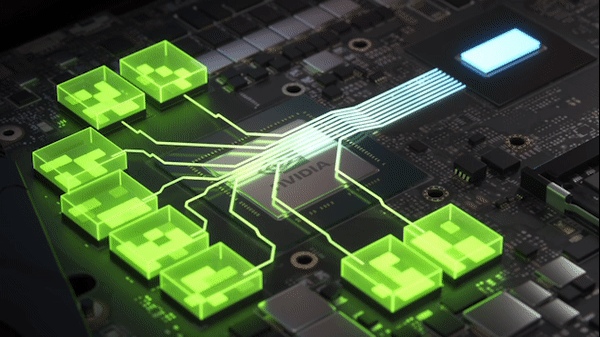 Resizable Base Address Registers (BAR) is a native PCIe feature that can be applied and enabled in the RTX 30 series graphics card to extend the default 256MB VRAM which is accessed by the CPU.
In doing so, the CPU is able to access the entire GPU's VRAM at one go, changing from a request queue style to a more concurrent format. This eliminates the bottlenecks caused by the limited VRAM access, improving frame rates and graphics performance.
With Resizeable BAR enabled, the RTX 30 Series graphics cards were seen to have their performance increase even up to 10% on certain games.
NVIDIA Reflex
NVIDIA is also paying close attention to reduce latency as much as possible. With NVIDIA Reflex, gamers can be certain that they can reduce input lag from their peripherals to what is shown on the screen. This feature allows gamers to react faster, be more responsive when it comes to playing games in a competitive setting.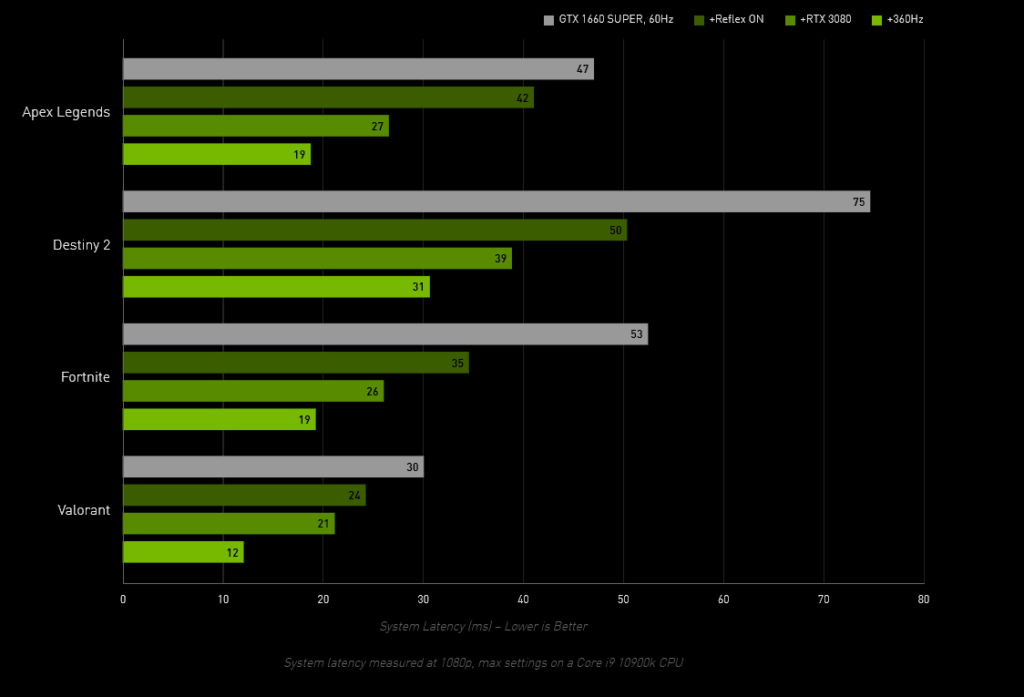 Many competitive titles have already worked with NVIDIA to support NVIDIA Reflex. This unlocks the technical limitations by the computer system to ensure that professional gamers can perform at their full potential.
Conclusion
With years of experience in deriving AI solutions in enterprise and industrial applications, there is no doubt that NVIDIA is one of the most important companies in the world today.
Even though they are at the forefront of AI technologies, they have not forgotten their roots, and continued to innovate on computer graphics and engineering. In an attempt to bring AI everywhere, they have also brought AI to laptop GPUs. This has proven to be an effective method, as we've seen how AI solutions can improve the overall laptop's performance and power efficiency.
With notebooks equiped with the RTX 3060 starting only from USD 999, NVIDIA has certainly painted a compelling proposition for anyone who's looking for a high performance, portable laptop with long battery life today.