The new AMD Radeon RX 6000 series graphics card announcement got many gamers and enthusiasts excited. Based on the performance results shared by AMD, the new AMD Radeon RX 6800, RX 6800XT and RX 6900 graphics card were actually performing on par, if not better than competition at a lower price. This is shocking, as AMD's Radeon graphics cards are usually targeted towards the mainstream market. This time, the new graphics card are actually capable at running at the top of the game, taking on the heavyweight Ampere based graphics card from NVIDIA.
The new AMD Radeon RX 6800 series are based on the new RDNA2 architecture. Even though they are manufactured based on the same 7nm process node as compared to it's predecessors, they are packed with significantly better performance. With the new graphics architecture, this leads to more efficient and graphics processing optimizations .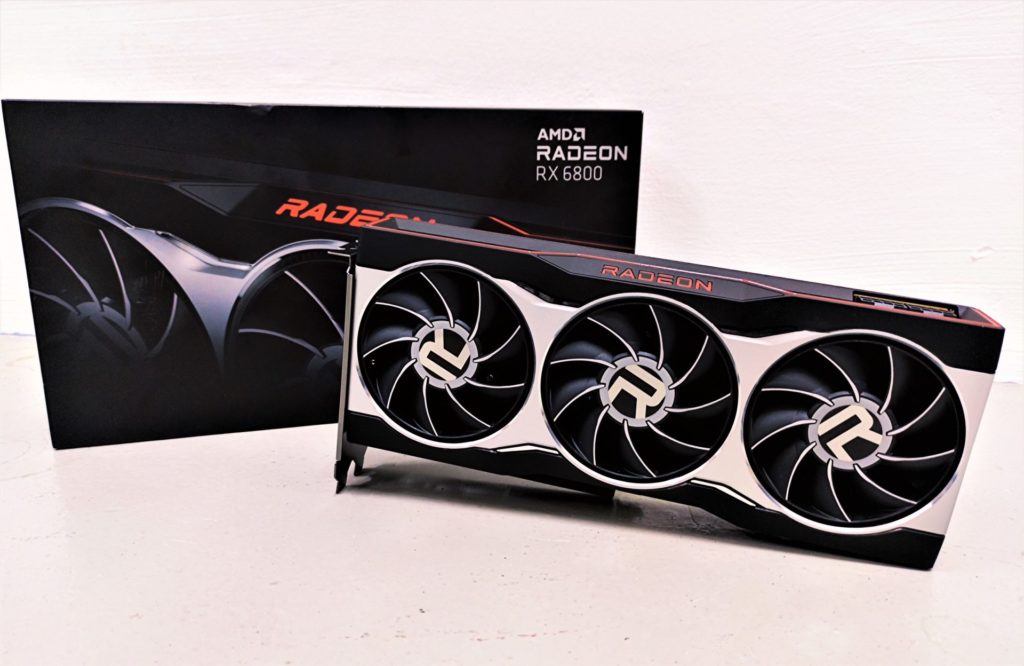 Since the NDA for the AMD Radeon RX 6800 series have lifted, we can finally share with you what the hype is about. We will focus on the the performance of the Radeon RX 6800 in games at various display resolutions, effects of AMD Smart Access Memory on our system, power consumption levels and temperature profiles.
Alternatively, if you looking to understand more about Radeon RX 6800's design, ports, and specifications, please visit our "AMD Radeon RX 6800 First Look and Unboxing" article. We will also take a deep dive into the new RDNA 2 graphics architecture in a separate article in the near future.
Choosing the right graphics card in 2020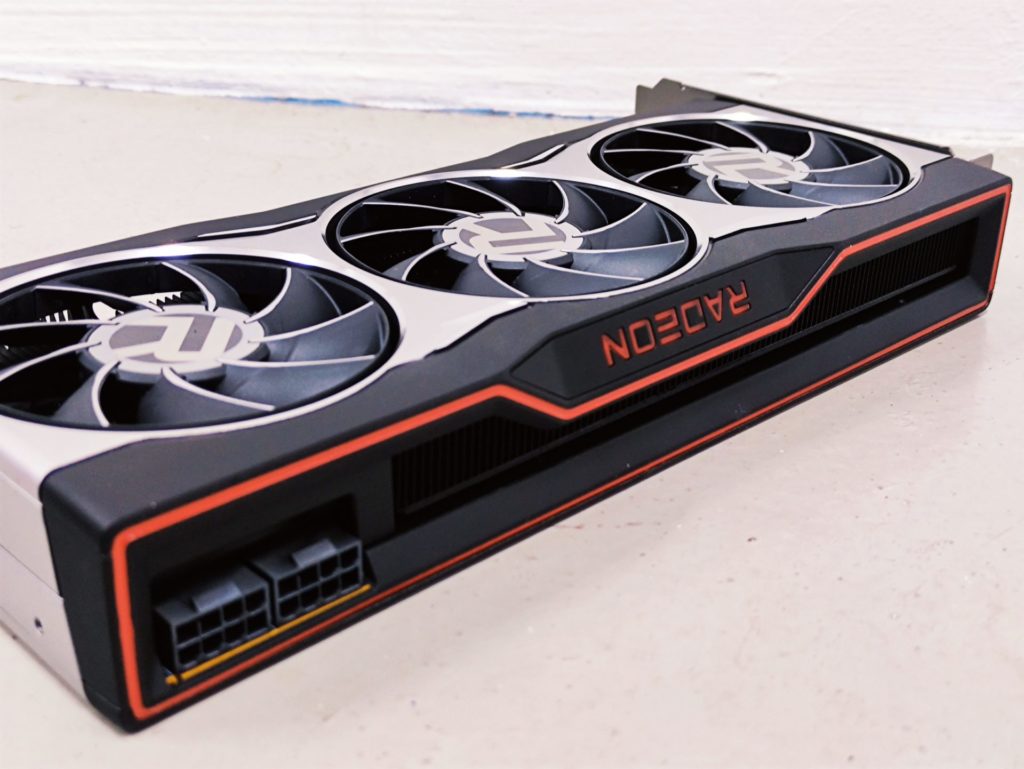 When choosing a new gaming graphics card, we typically want to make the decision based on the price and performance. We want to find out which graphics card can provide more value; whereby you pay less and have more performance. Here are the products that are available in the market right now from both AMD and their main competitor, NVIDIA:
| | |
| --- | --- |
| NVIDIA GeForce RTX 3090 | USD 1499 |
| AMD Radeon RX 6900 XT | USD 999 |
| NVIDIA GeForce RTX 3080 | USD 699 |
| AMD Radeon RX 6800 XT | USD 649 |
| AMD Radeon RX 6800 | USD 579 |
| NVIDIA GeForce RTX 3070 | USD 499 |
Since we have the AMD Radeon RX 6800 graphics card for review, which is considered the cheapest graphics card based on the RDNA2 architecture, we thought that we should compare it to the NVIDIA GeForce RTX 3070 which is priced at USD 80 less. Let's see if it is worth it for the AMD Radeon RX 6800.
Testing Objectives and Setup
In our tests, we compared the AMD Radeon RX 6800 (Reference Design) with the NVIDIA GeForce RTX 3070 graphics card (GIGABYTE GeForce RTX 3070 Gaming OC). Furthermore, we will also test the AMD Radeon RX 6800 in two modes, with Smart Access Memory turned on and otherwise.
Just to give a quick introduction (we will explain more in our RDNA2 deep dive article in the future), AMD Smart Access Memory enables the main system's processor to access the full GPU video memory directly. Currently, processors can only typically access a small fraction of GPU memory (usually 256MB), resulting in a lot of inefficiencies in data transfers, thus limiting GPU performance. With AMD Smart Access Memory, the CPU can have direct memory access to the GPU's VRAM, removing the bottleneck. However, do take note that Smart Access Memory is only compatible with a AMD Radeon RX 6000 series GPU with a AMD Ryzen 5000 series processor on a 500 series motherboard.
Our Benchmarks are conducted with the following settings:
Benchmark Test
Settings
API
3DMark Time Spy
Default
DirextX12
3DMark Fire Strike
Default
DirectX11
3DMark Port Royal
Default
–
3DMark Ray Tracing Feature Test
Default
–
Far Cry New Dawn
High
DirectX11
Deus Ex Mankind Divided
High
DirectX12
Total War Warhammer 2 (Battle)
High
DirectX11
Tom Clancy Division 2
High
DirectX12
Assassins Creed Odyssey
High
DirectX11
DOTA 2
Best Looking
DirectX11
Final Fantasy XV Benchmark
High
DirectX11
World of Tanks enCore
Ultra
DirectX11
F1 2018 Australia
High
Direct X11
Shadow of the Tomb Raider
(1) High
(2) High with Ray Tracing
DirectX12
Middle Earth Shadow of War
High
DirectX11
Metro – Exodus
High
DirectX12
Metro – Exodus (RTX)
(1) Ray Tracing w DLSS
(2) Ray Tracing only
DirectX12
World War Z
Ultra
Vulkan
Tom Clancy Ghost Recon Breakpoint
High
Vulkan
Dirt 5
High (with Ray Tracing)
DirectX 12
Our system is set up as such: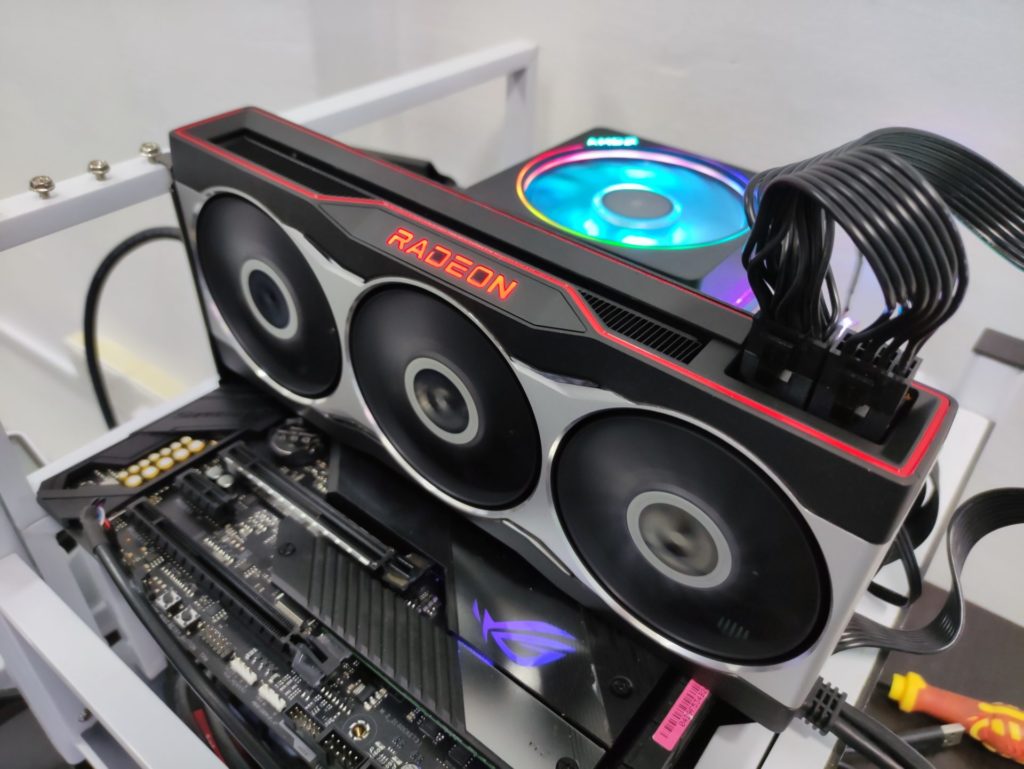 Specs
Main System
CPU
AMD Ryzen 9 5900X
RAM
G.Skill Trident Royal 3600MHz, 2 x 8GB DDR4 Kit
Main Storage
Transcend PCIe SSD 110 512GB (OS)
GPU
AMD Radeon RX 6800 (Reference)
Gigabyte GeForce RTX 3070 Gaming OC
Motherboard
ASUS ROG Crosshair VIII Hero WiFi
CPU Cooler
AMD Wraith Spire RGB Cooler
OS
Windows 10 Pro 64 bit
Drivers
Radeon Software Adrenalin 20.35.01.12-11.6 Beta – RX 6800
NVIDIA 457.30 – RTX 3070
Performance Results

As expected, the AMD Radeon RX 6800 comes out much faster than the GeForce RTX 3070 in the synthetic graphics test. Since the setups have the same system configuration and with only the graphics card swapped out, the results reflect accurately the performance level of the AMD Radeon RX 6800 and the RTX 3070.
In the 3DMark Fire Strike and Time Spy tests, which focuses on DirectX 11 and DirectX 12 API respectively for graphics processing, we can see that the AMD Radeon RX 6800 comes out on top. By enabling Smart Access Memory, performance gains were also achieved, even though it's not as significant as expected.
However, it's clear in the tests that the AMD Radeon RX 6800 still loses out when it comes to Ray Tracing performance. This is shown in the 3DMark Port Royal test, which focuses on ray tracing. We will look into more details of both gaming and ray tracing performance of the RX 6800 below.

It's clear that the graphics card today handle 1080p resolution without breaking a sweat. It is hard to conclusively determine which is actually better but rather boils down to whether the games themselves are optimized to whichever graphics card's architecture.
There are times where the AMD Radeon RX 6800 comes out significantly faster, but the RTX 3070 also has its fair share of lead as well.
Despite of the results, it's certain that the AMD RX 6800 can run games in 1080p resolution extremely well. There's just no doubt about that.

Moving up a notch, while playing games in 1440p resolution, the differences in performance results are more apparent. This time, in most of the tests, the the AMD Radeon RX 6800 comes out on top. Depending on the games played, enabling Smart Access Memory also resulted in a significant increase in performance.

The difference in performance is shown in the 4K gaming test, as the AMD Radeon RX 6800 came out rather consistently on top. The performance gaps are rather significant, where Radeon RX 6800 had an advantage in more than 10FPS in quite a number of the games.
As the GeForce RTX 3070 only has 8GB of GDDR6 VRAM, it might not be enough to game at 4K resolution. On the other hand, as the Radeon RX 6800 has twice the amount of VRAM than the RTX 3070, it wasn't limited by memory bottlenecks. This is where the amount of video memory equipped to a graphics card matters.
Moreover, we have only set graphic details to High for most of the games. If you were to increase graphics quality even further, you can expect a even bigger performance gap between these two graphics card.


Performance results for the Final Fantasy XV and and World of Tanks enCore also showed similar results to the other games as well.
Ray Tracing Performance

With the launch of the RDNA2 architecture, it is the first time that Ray Tracing can be hardware accelerated on a AMD graphics card. However, AMD still has to catch up with the Ray Tracing performance of the RTX 3000 series graphics card. In the 3DMark DirectX Ray Tracing feature test, we can see the AMD Radeon RX 6800 trailing behind competition.



Similarly, in some of the test that features ray tracing, the AMD Radeon RX 6800 still lacks behind. The only exception the results from Dirt5, where the AMD Radeon RX 6800 is shown be perform much better, regardless of the resolution of the game. We attribute this to the optimization of the game to AMD's ray tracing capabilities on the Radeon RX 6800 series graphics card.
Power Consumption and Temperature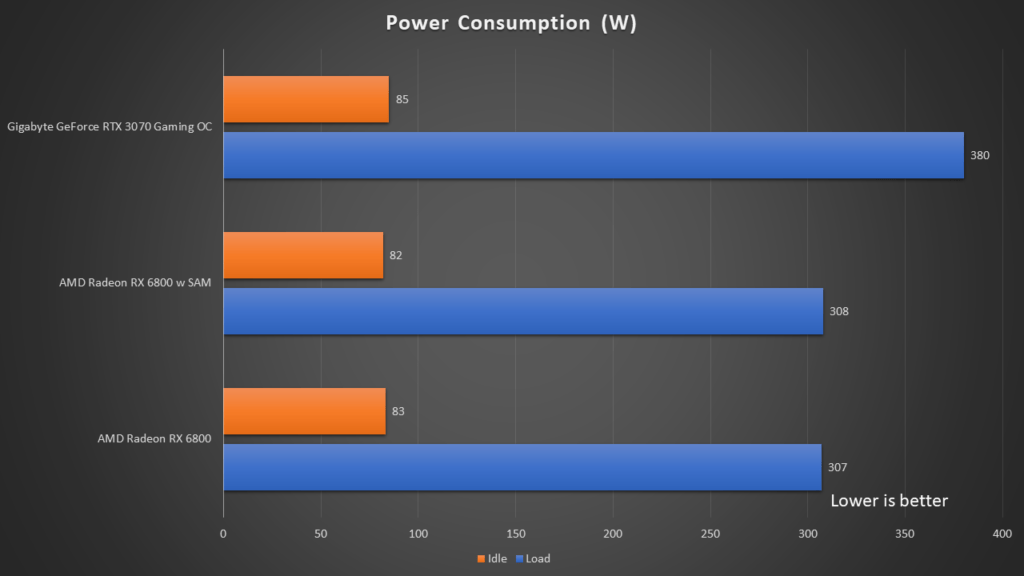 Interestingly, despite performing better than the NVIDIA GeForce RTX 3070, the AMD Radeon RX 6800 consumed less power when on load. Perhaps, this is the advantage of the TSMC 7nm process, which enables the AMD Radeon RX 6800 to run more efficiently than its competition.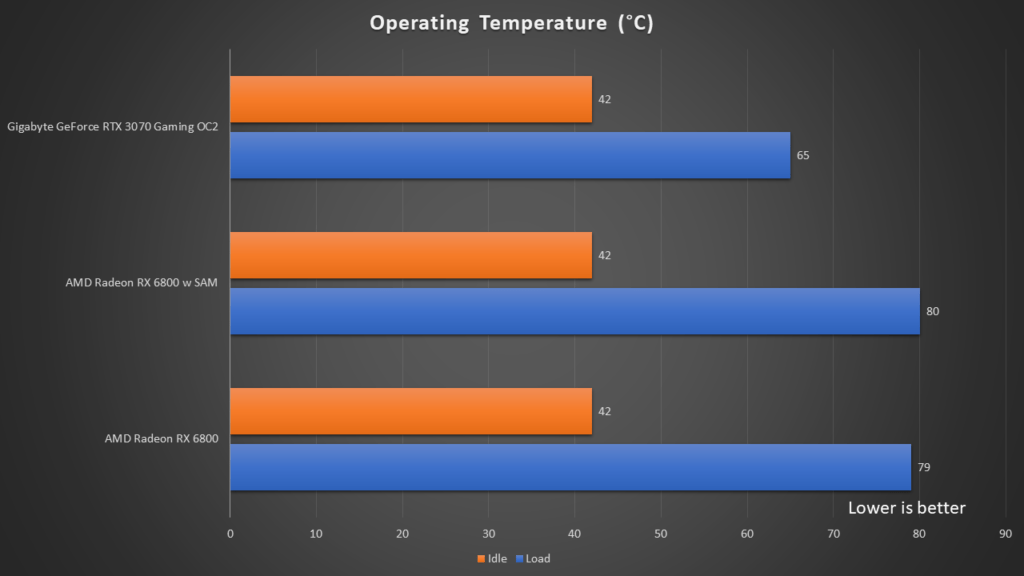 When on load, the AMD Radeon RX 6800 runs quite a bit hotter. We also took note that the RTX 3070 in our test today has a custom cooling solution, which is expected to perform much better than something that's of a reference design. Of course, when AIB partners also design their custom cooler on the AMD Radeon RX 6800 series graphics card, we also do expect that the temperature of the card to be lowered as well.
Nonetheless, the reference cooler on the AMD Radeon RX 6800 still does its job as expected. There are no instance of thermal throttling detected on the graphics card, and the card was still able to perform at its optimal performance level. This cooler design on the AMD Radeon RX 6800 is good enough for its purpose.
Conclusion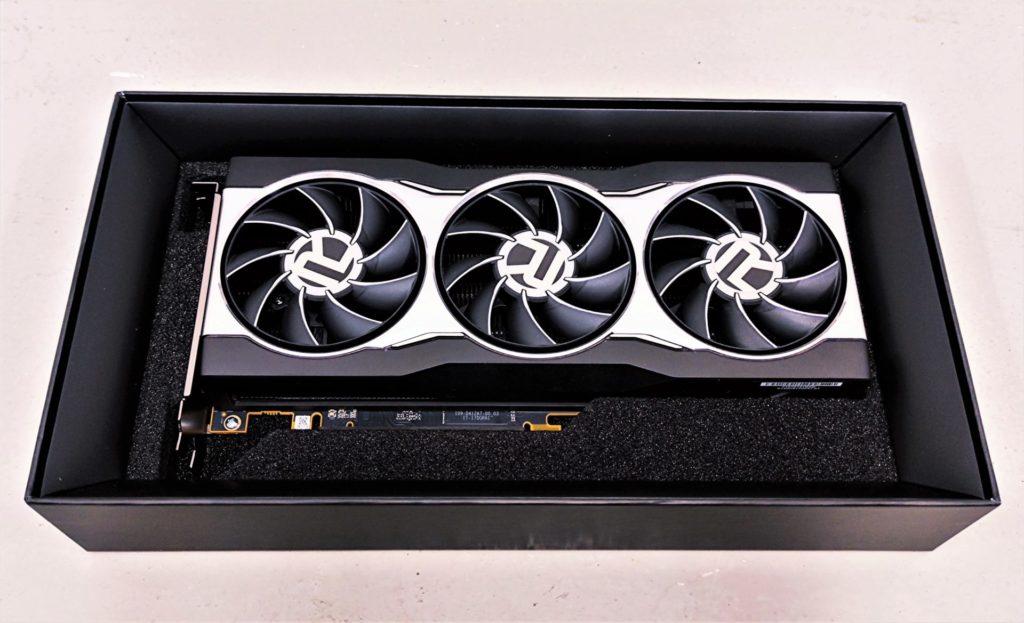 Gone were the days where AMD graphics card are known to be power hungry, poor performing and hot. With the release of the AMD Radeon RX 6800 graphics card, AMD has redeemed themselves and proved what the company is really capable of. What's surprising is that the huge jump of graphics processing performance and capabilities are all done with the same process node as its predecessor. This means that most of the performance gains come mainly from GPU architecture improvements – that's something that's really commendable, and we applaud the team from AMD to achieve this feat.
However, coming back to the review, we must be honest and say that deciding to purchase a AMD graphics card now isn't as straightforward what it was like a year ago. Previously, if you want more performance at a good price, AMD is the way to go. This time, because the NVIDIA GeForce RTX 3070 is priced lower, and yet still provides a comparable performance level when it comes to gaming in 1080p and 1440p resolution, it makes us think twice before making the choice.
Nonetheless, there is no doubt that the AMD Radeon RX 6800 is going to perform much better in 4K gaming as compared to the RTX 3070. Its 16GB of dedicated video memory positions the card to perform well in that area.
In the end, it should boil down to the prices of the graphics cards when it actually reaches the shelves here in Singapore. Perhaps, local pricing of the AMD Radeon RX 6800 from AIBs would be similar to the RTX 3070, making it clear for us on which card to choose. If just based on my opinion, I'd purchase the Radeon RX 6800 if I game on a 1440p or 4K monitor. If gaming on a 1080p display, a graphics card that's more affordable will make more sense.