With the release of the latest graphics cards based on the new Ampere architecture, NVIDIA set a new benchmark for graphics card performance. The GeForce RTX 3070, which is the most affordable graphics card out of the whole series, is said to be even faster than the flagship of the previous generation of graphics card. Of course, not all gamers will require the best graphics card for their setup. A RTX 3070 should fit their requirements just well too.
In this article, we are going to take a closer look at the NVIDIA GeForce RTX 3070 Graphics Card. Thanks to GIGABYTE, we managed to get our hands on the GIGABYTE GeForce RTX 3070 Gaming OC for review. This is a factory overclocked graphics card, and should perform better than a standard Founders Edition card. Of course, GIGABYTE also specially designed this card to meet their standards for high cooling performance and aesthetics.
The GIGABYTE GeForce RTX 3070 Gaming OC 8G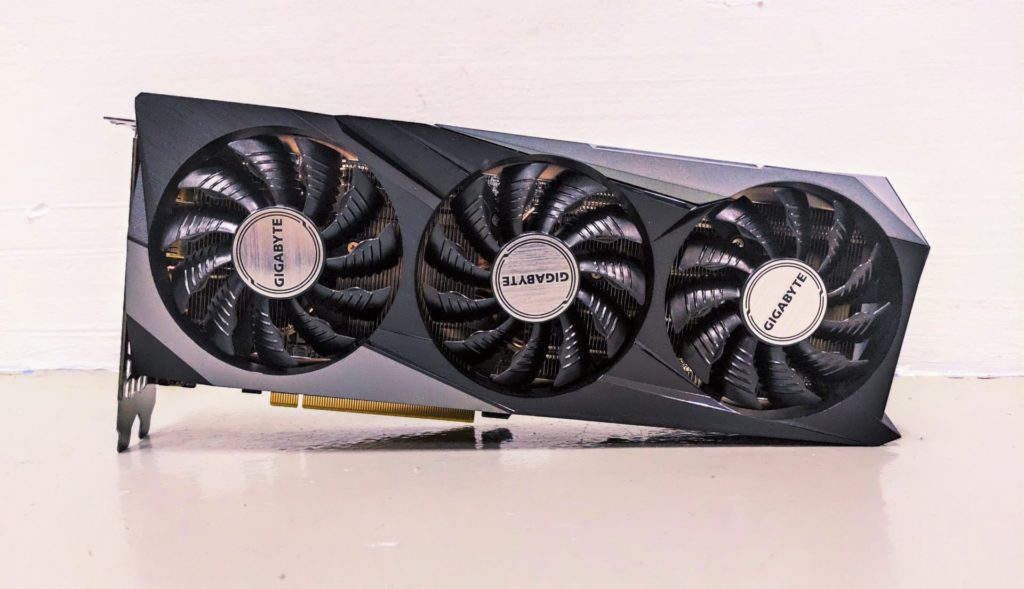 You may be familiar with the GIGABYTE Gaming OC line of graphics card, which is considered to be a premium model from the brand. We've discussed this series briefly in our previous review of the GIGABYTE GeForce RTX 2080 Gaming OC review, stating how this series of graphics card promises to provide users with great gaming experiences. This is achieved by its focus on great cooling features and overclocked core frequencies that will bring about higher performances.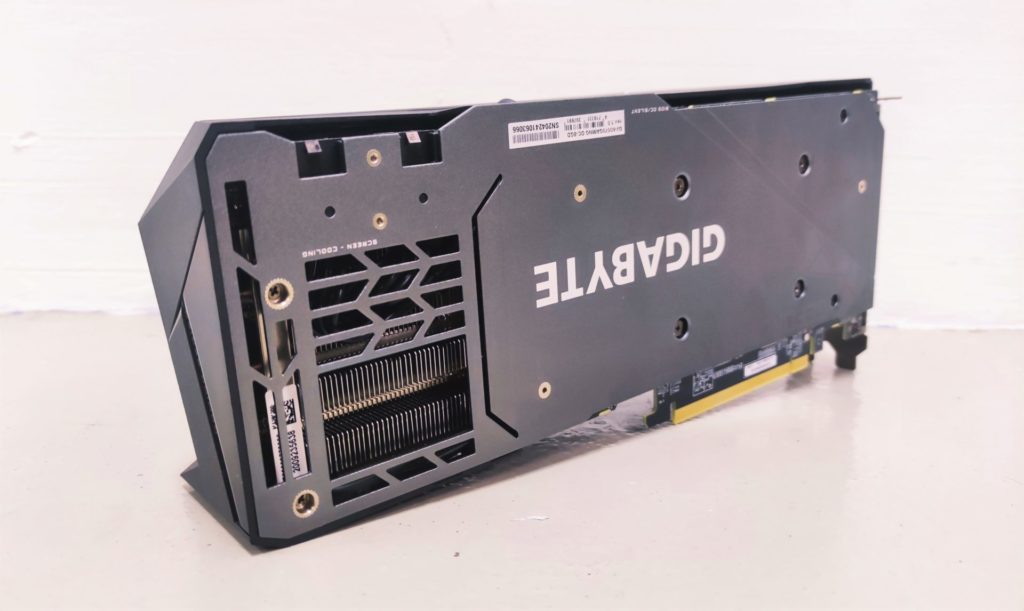 The GIGABYTE GeForce RTX 3070 Gaming OC comes with a three-fan cooler design. Even though the base PCB itself isn't that long, GIGABYTE was inspired by the new cooler designs from NVIDIA. The third fan of this graphics card blows through the heatsink, maintaining a cooler temperature near the rear of the card. This increases the differences between the different parts of the heatsink on the card, thus improving the thermal dissipation efficiency.
This graphics card also comes with a metal back plate that ensures better structural support for the card. It also helps in heat dissipation, acting as a large heatsink.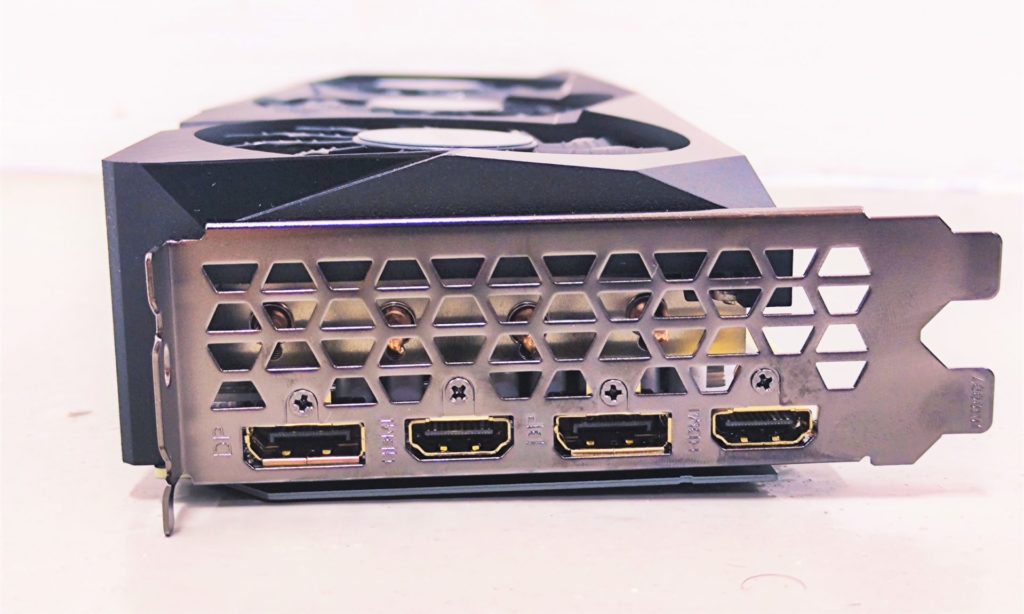 This new cooler design requires a heat sink fin array that's wider than usual. As such, this card extends over the usual two slot configuration. If you are planning to run multiple graphics card in your system, do take note that the cards cannot be placed next to one another, as the card's cooler shroud goes beyond the two slots limit, despite it only taking up two expansion slots.
The GIGABYTE GeForce RTX 3070 Gaming OC comes with two Display Ports and two HDMI ports. Interestingly, we can also see that NVIDIA removed the VirtualLink USB Type-C port, as it failed to propagate into the virtual reality headset market.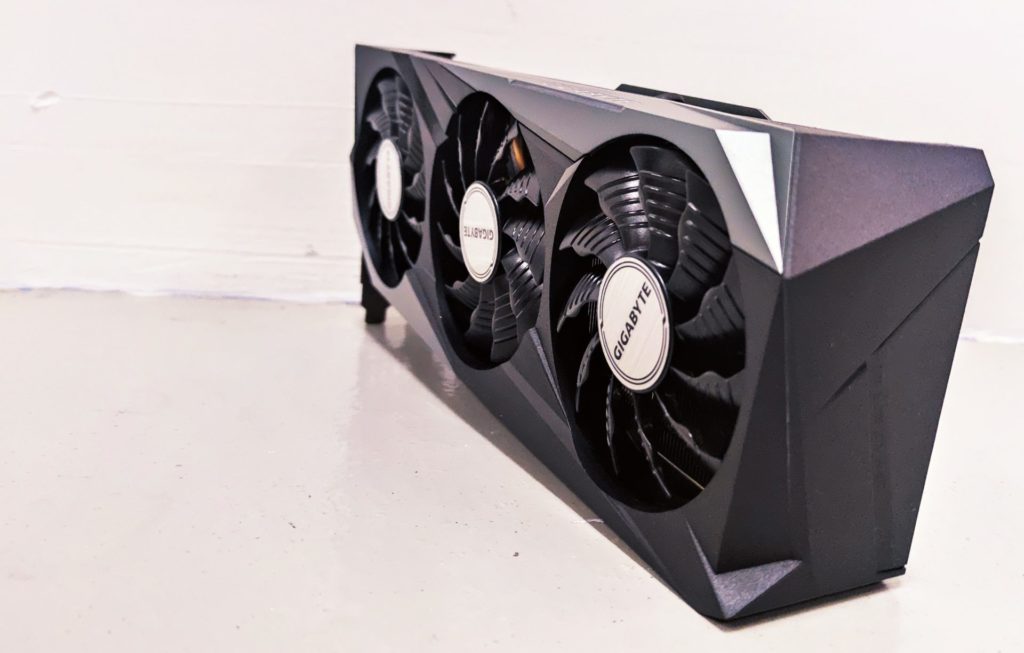 Similar to the other Gaming OC graphics card, the GIGABYTE GeForce RTX 3070 Gaming OC also features its signature fan and cooler design. In the past, they used to call it the WindForce cooling system, but it seems to be that they have did away with the branding. As you can see, the adjacent fans on the graphics card spins in the opposite direction. This allows the airflow direction between the fans to be the same, reducing turbulences and enhancing airflow.
Also, do take note that these fans can also be totally turned off when you aren't running demanding applications on the GPU. This ensures that your system can remain quiet while idling.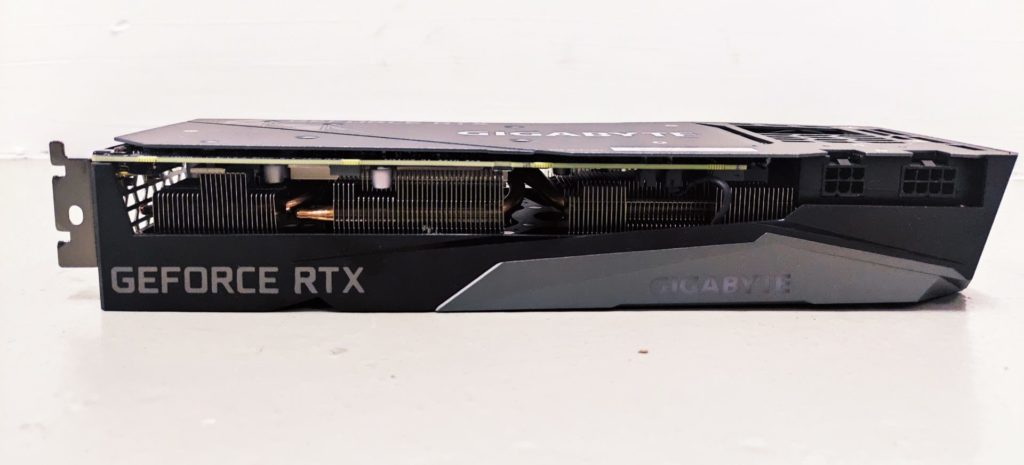 The main heatsinks also comes in direct contact with the GPU Core and its key components, ensuring that the card remains stable regardless of the running application. The heatpipe can then transfer the heat away from the GPU onto the opposite side, which is then cooled by the extended heatsink.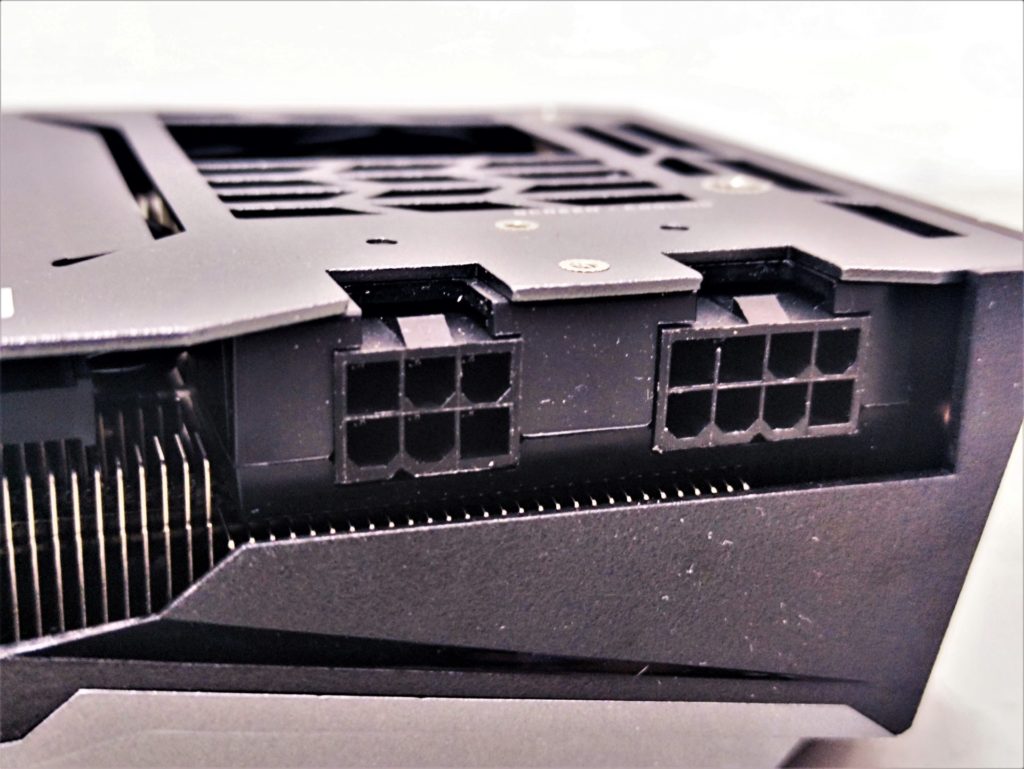 The GIGABYTE GeForce RTX 3070 Gaming OC requires a PCIe 6-pin and PCIe 8-pin connector to power it up.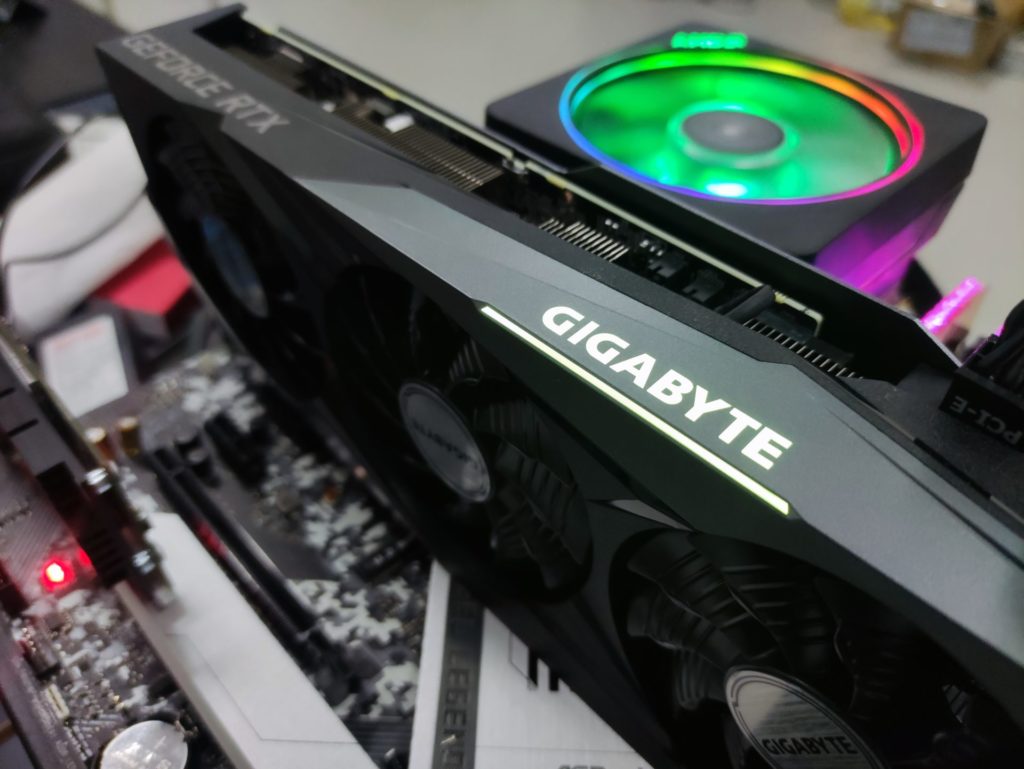 Furthermore, the top part of the graphics card has a GIGABYTE RGB logo. It can be customized to your preferred colour, as it supports the RGB Fusion software that is used to control all RGB lighting on GIGABYTE products and systems.
Graphics Card Specifications and Test Setup
| | |
| --- | --- |
|   | Specifications |
| Graphics Processor | NVIDIA GeForce RTX 3070 |
| Core Clock | 1815MHz (Reference Card is at 1725MHz) |
| CUDA Cores | 5888 |
| Memory Clock | 14000MHz |
| Memory | 8GB GDDR6 |
| Memory Bus | 256 bit |
| Memory Bandwidth | 448GB/s |
| Card Bus | PC-E 4.0 x16 |
| Supported Video Engines | DirectX 12 Ultimate, OpenGL 4.6 |
| I/O | 2 x Display Port 1.4a2 x HDMI 2.1 |
| SLI Support | N/A |
Benchmark Test Settings:
Graphics Quality
API
3DMark Time Spy
Default
DirextX12
3DMark Fire Strike
Default
DirectX11
3DMark Port Royal
Default
–
3DMark NVIDIA DLSS Feature (1440p) – ON
Default
DLSS2
3DMark NVIDIA DLSS Feature (1440p) – OFF
Default
DLSS2
Far Cry New Dawn
High
DirectX11
Deus Ex Mankind Divided
High
DirectX12
Total War Warhammer 2 (Battle)
High
DirectX11
Tom Clancy Division 2
High
DirectX12
Assassins Creed Odyssey
High
DirectX11
DOTA 2
–
DirectX11
Final Fantasy XV Benchmark
High
DirectX11
World of Tanks enCore
Ultra
DirectX11
F1 2018 Australia
High
Direct X11
Shadow of the Tomb Raider
High
DirectX12
Middle Earth Shadow of War
High
DirectX11
Metro – Exodus
High
DirectX12
Metro – Exodus (RTX)
RTX
DirectX12
World War Z
Ultra
Vulkan
Tom Clancy Ghost Recon Breakpoint
High
Vulkan
Our system is set up as such: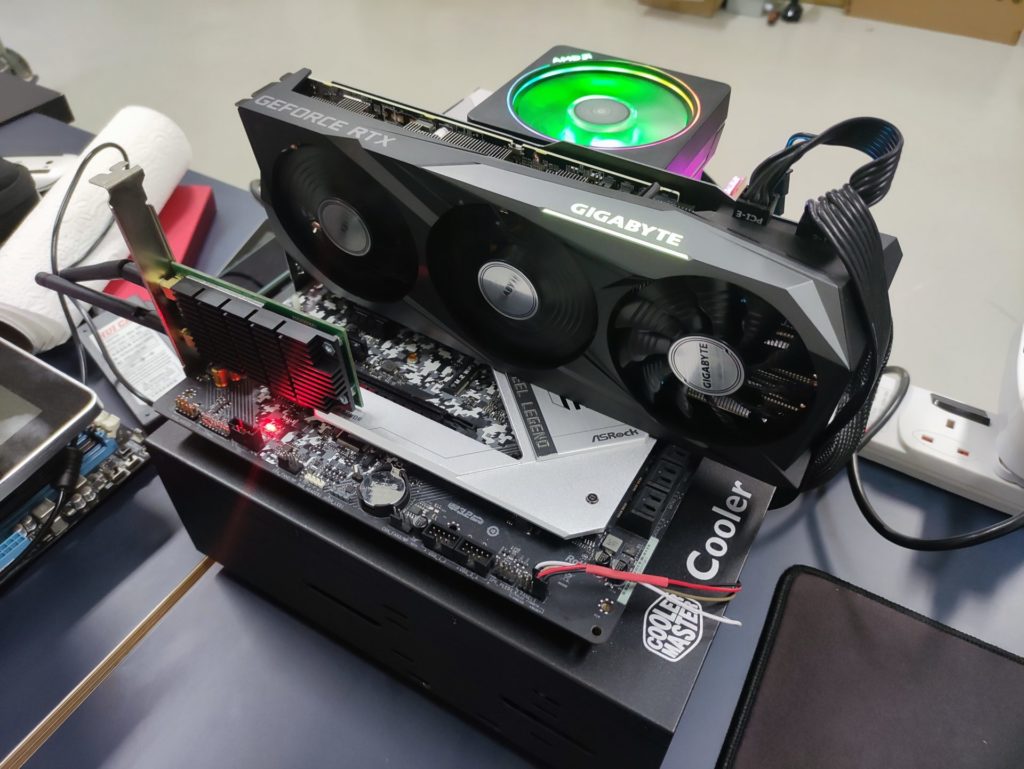 Specs
Main System
CPU
AMD Ryzen 9 3900X
RAM
G.Skill Trident Royal 3600MHz, 2 x 8GB DDR4 Kit
Main Storage
Transcend PCIe SSD 110 512GB (OS)
GPU

ASUS ROG STRIX RTX 2080 SUPER Advanced




Gigabyte GeForce RTX 3070 Gaming OC

Motherboard

ASRock X570 Steel Legend

CPU Cooler
AMD Wraith Spire RGB Cooler
OS
Windows 10 Pro 64 bit
Drivers
NVIDIA 446.14 – RTX 2080 SUPER
NVIDIA 456.96 – RTX 3070
Performance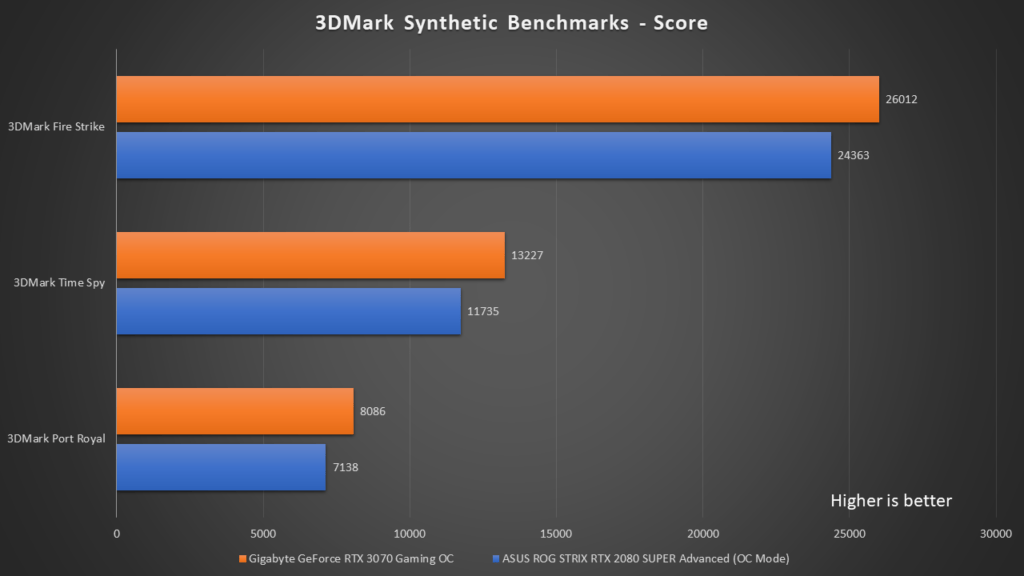 Generally, the performance of the GeForce RTX 3070 has been shown to be much better than the RTX 2080 SUPER across the board. It's impressive to see such numbers, especially when the RTX 3070 is considered to be the lowest end out of the whole RTX 30 series line up.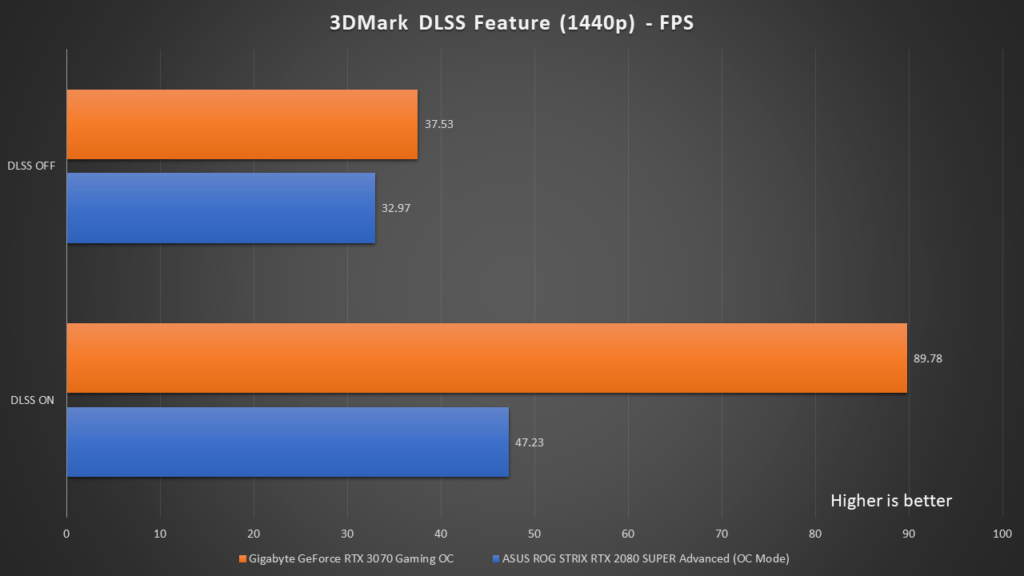 The RTX 30 series is based on the new Ampere architecture, which has also vastly improved its AI inference processing capabilities. This has resulted in much better DLSS performance as shown in the 3DMark DLSS Feature Test.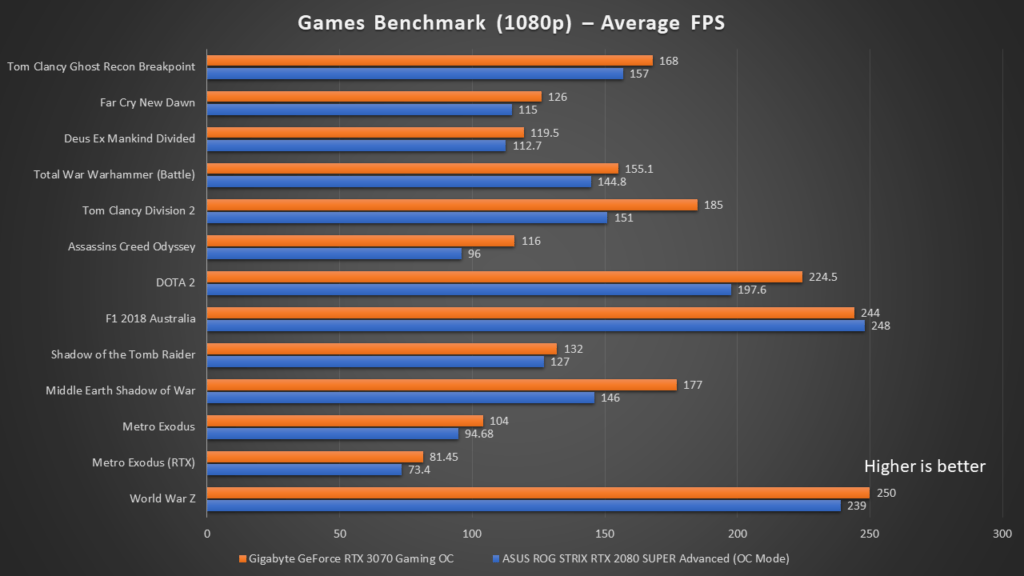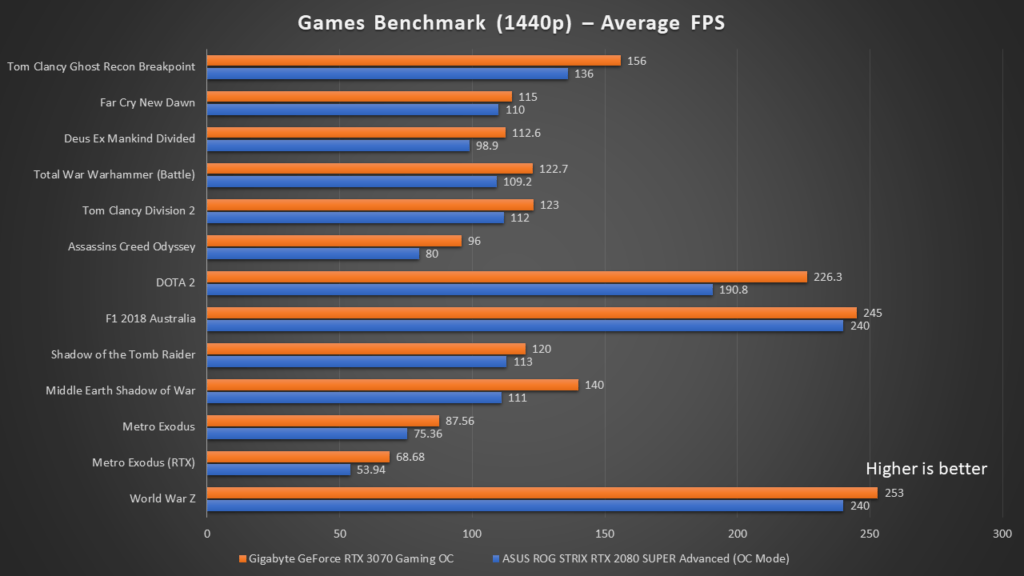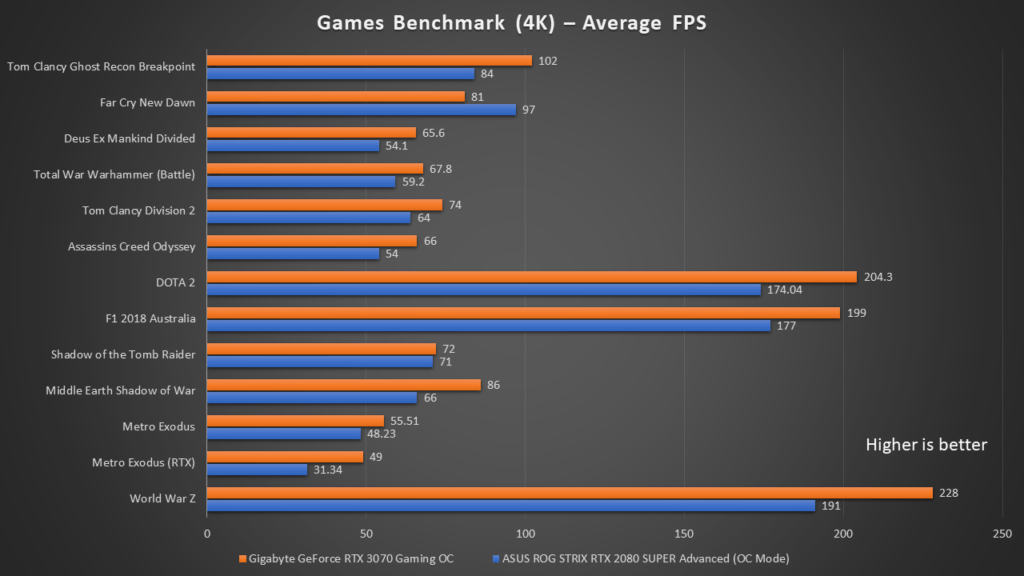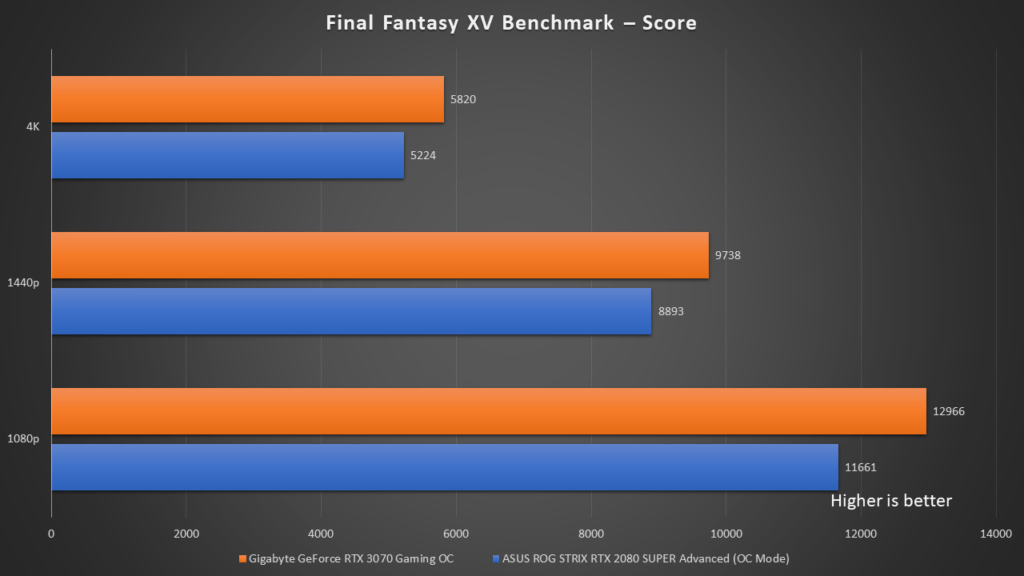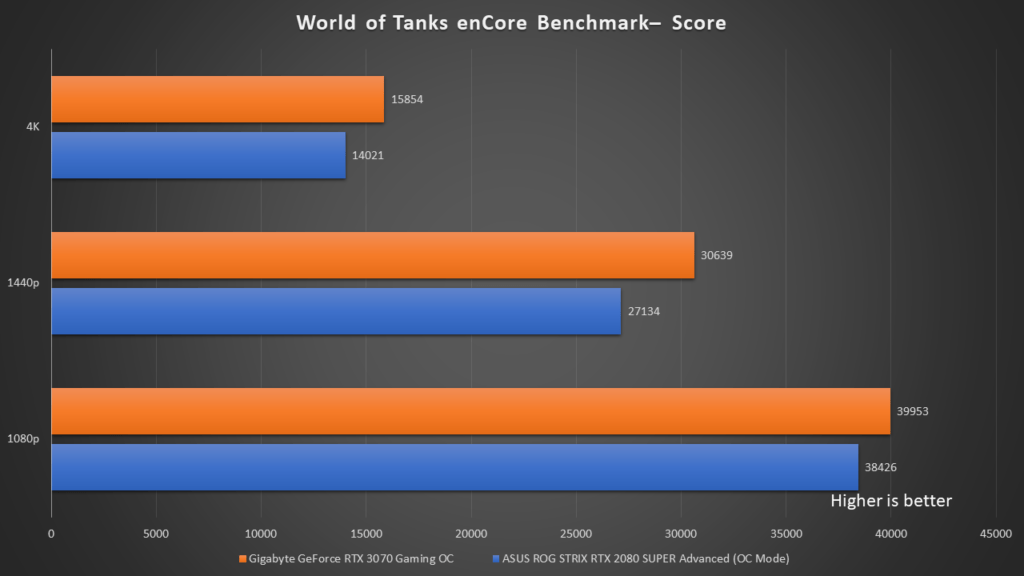 The GIGABYTE GeForce RTX 3070 Gaming OC managed to excel in all the gaming benchmarks which we've thrown at it. There is no doubt that this new graphics card is a performance beast, and is more than capable of dealing with games at 1440p and 1080p resolution. In fact, it is also able to perform very well at 4K resolution as well, reaching beyond the 60FPS mark for smooth gameplay in most of the games tested.
Power Consumption and Temperature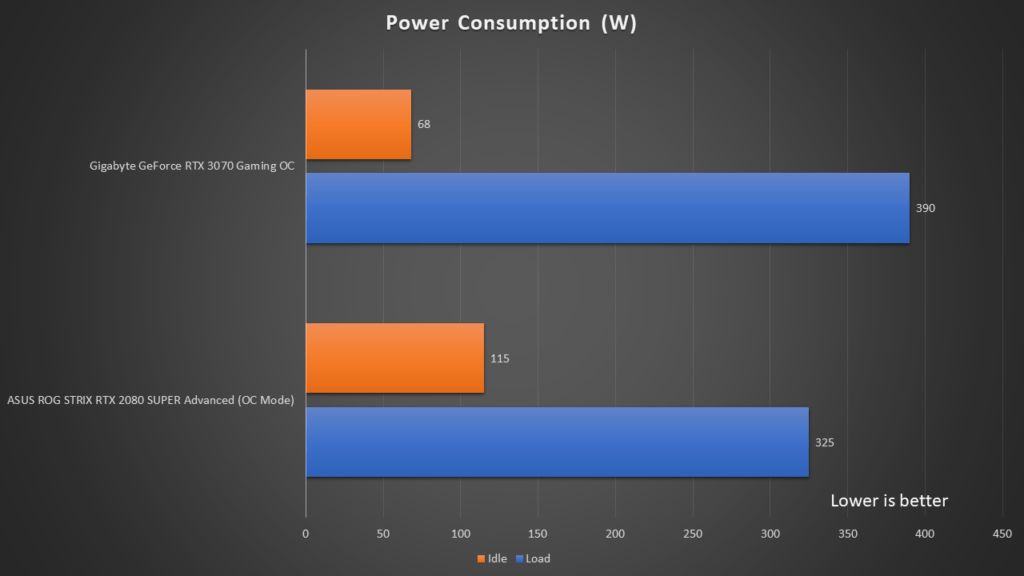 The system that is equipped with the GIGABYTE GeForce RTX 3070 Gaming OC only idled at 68W, which is much lower than the 115W of the RTX 2080 SUPER. While on load running FurMark, the RTX 3070 was further stressed and pulled 390W from the wall in total. This is 65W higher than the RTX 2080 SUPER.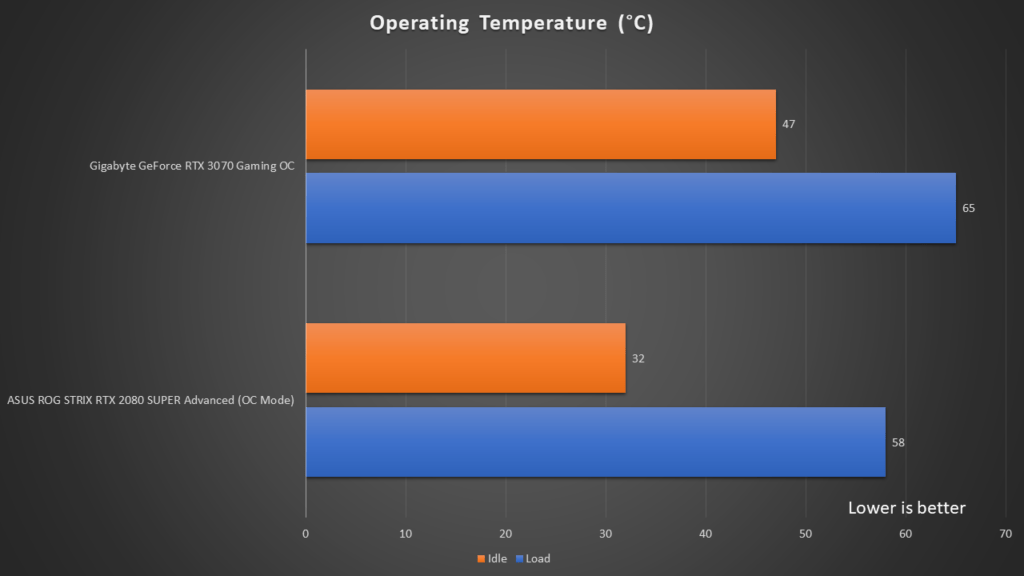 Despite having a lower power consumption, the GIGABYTE GeForce RTX 3070 Gaming OC had a higher idle temperature at 47°C. This is likely caused by a higher threshold set on the graphics card before the fans start to spin. At this point, the graphics card is only passively cooled.
While on load, its maximum temperature measured was also considerably well kept low at only 65°C. This is definitely manageable and is well tamed by the new and improved cooler design from GIGABYTE.
Conclusion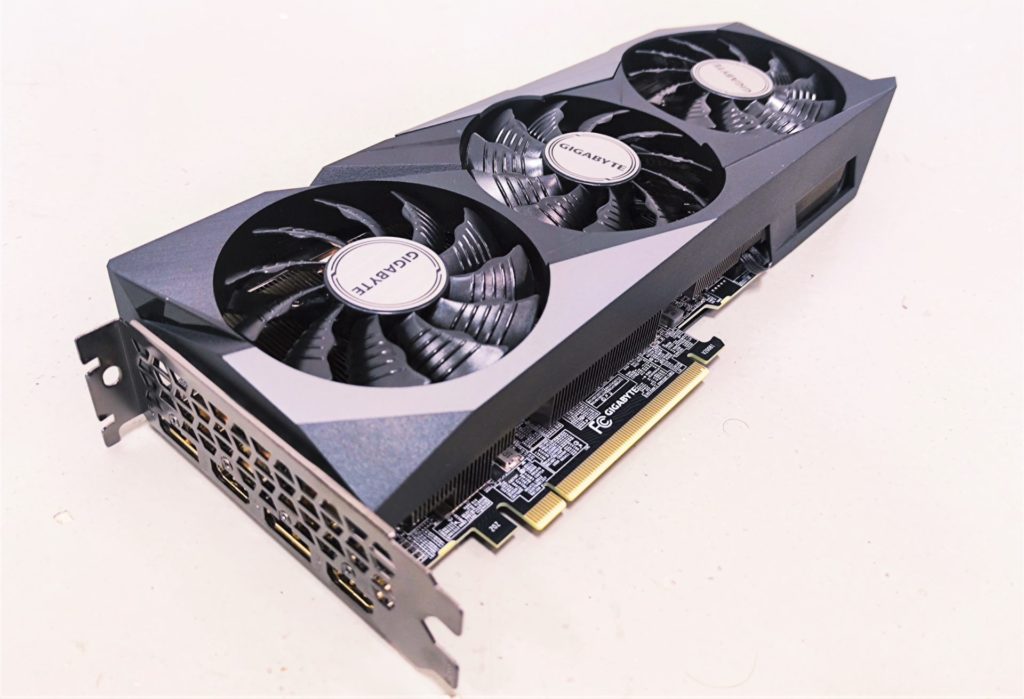 Thanks to the Ampere architecture from NVIDIA, the new RTX 3070 graphics card has redefined performance at the price point which it is offering at. At sub S$1000, you can actually get a good graphics card that is even capable of running games at 4K resolution and breeze through 1440p or 1080p resolution.
Furthermore, with the improvements in cooling technology and card design, the GIGABYTE GeForce RTX 3070 Gaming OC performed stably, reaching expected performance levels of the RTX 3070.
At a SRP of S$959, the GIGABYTE GeForce RTX 3070 Gaming OC is certainly priced competitively as compared alternatives. No doubt, this graphics card can be one of the choices you can consider when choosing a shiny new RTX 3070 card for your new gaming desktop.