AMD stole the show last year at COMPUTEX 2019 with their announcement of the new Ryzen 3rd generation processors which are based on their improved Zen 2 architecture. Together with the new processors, they also announced the X570 chipset, which was the world's first consumer chipset to feature native PCIe 4.0 support.
However, we came to realize that the X570 motherboards aren't as affordable as they should be, and if you are planning to build a new system on a tight budget, you can simply forget about having a X570 motherboard. Many system builders had therefore, decided to go with the B450 or even A320 chipset and forgo PCIe 4.0 support, despite having a new 3rd Generation Ryzen CPU that supports that interface.
A year ahead, AMD has finally launched the new B550 chipset, which is a stripped-down version of the X570 chipset. The B550 supports native PCIe 4.0, but only on one of its M.2 and PCIe Slot. While there are more than one M.2 and PCIe expansion slot, they will run only in PCIe 3.0 mode. Honestly speaking, no mainstream user will require more than what is provided with B550. As we can expected the B550 motherboards to be fairly more affordable than the X570, we will see the value that it really brings to the market.
Forget about X570. The B550 motherboards are here to stay. Since the embargo has just been lifted, you can expect that there will be tons of reviews available online on the different types of B550 motherboards which differs in features, power delivery system and capabilities.
Instead of always reviewing something on the high-end segment, we specially asked for a mid-tier B550 AORUS PRO motherboard from Gigabyte. We thought that this motherboard would be a decent first step towards building a budget constrained PC, and would naturally be the choice for users who are looking for the B550 segment of motherboards anyway.
Gigabyte B550 AORUS PRO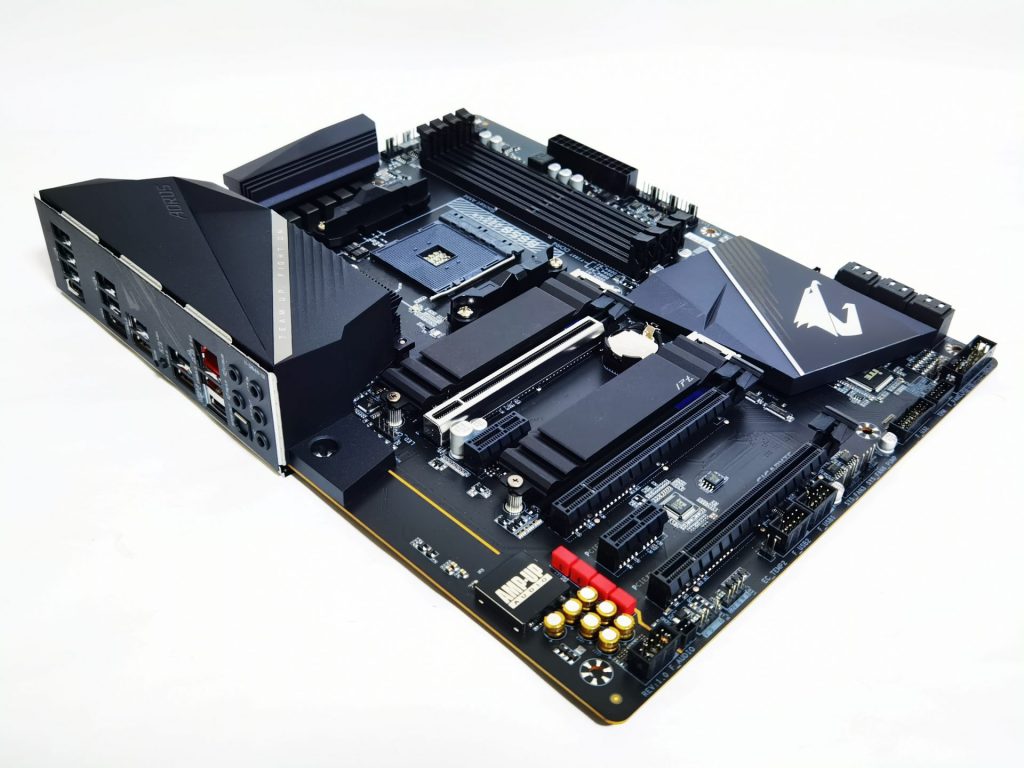 The Gigabyte B550 AORUS PRO should be considered a mainstream motherboard with some advanced features. Instead of going for the best in everything, the B550 AORUS PRO tries to keep things sensible and practical. Therefore, you won't see a crazy number of power phases or over the top RGB lighting across the board. All you get is a simple motherboard that just works.
Here are some of the key features of the Gigabyte B550 AORUS PRO:
Supports 3rd Gen AMD Ryzen™ Processors
Dual Channel ECC/ Non-ECC Unbuffered DDR4, 4 DIMMs
True 12+2 Phases Digital VRM Solution with 50A DrMOS
Advanced Thermal Design with Fins-Array Heatsink and Direct Touch Heatpipe
Ultra Durable™ PCIe 4.0 Ready x16 Slot
Dual Ultra-Fast NVMe PCIe 4.0/3.0 x4 M.2 with Thermal Guards
AMP-UP Audio with ALC1220-VB and WIMA Capacitors for Rear 120dB SNR
Blazing Fast 2.5GbE LAN with Bandwidth Management
USB 3.2 Gen2 Type-C™ & HDMI Support
RGB FUSION 2.0 Supports Addressable LED & RGB LED Strips
Smart Fan 5 Features Multiple Temperature Sensors, Hybrid Fan Headers with FAN STOP
Q-Flash Plus Update BIOS without Installing the CPU, Memory and Graphics Card
Pre-installed IO Shield for Easy and Quick Installation

Input / Output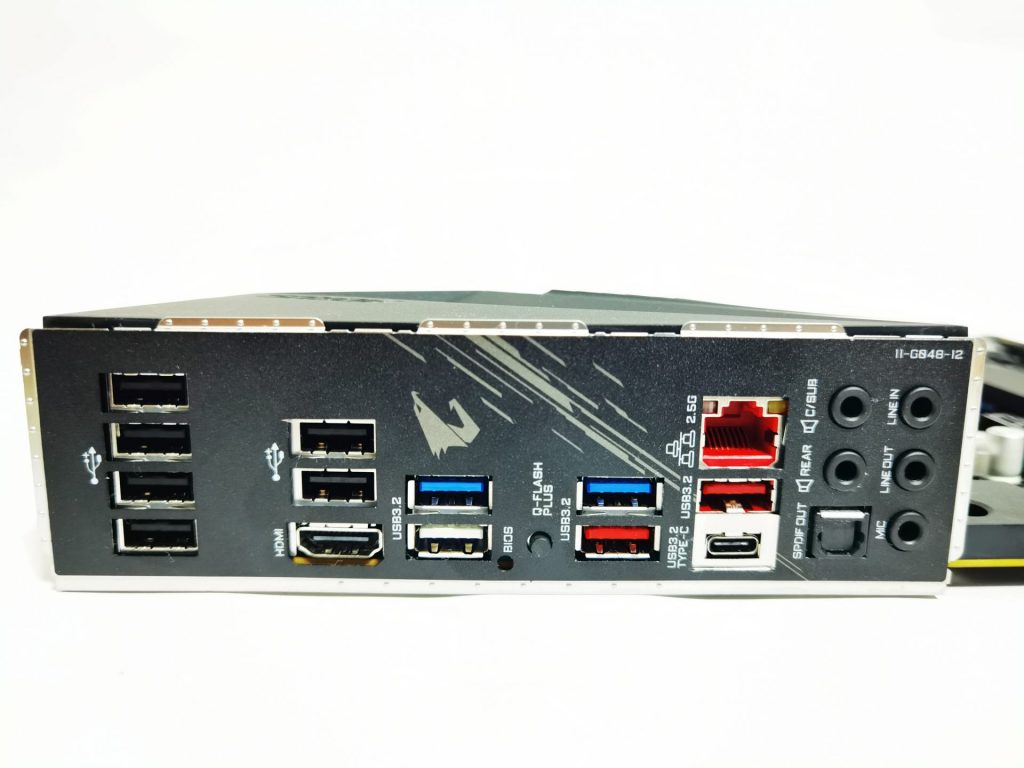 The key difference between the X570 and B550 chipset is the lack of PCIe 4.0 x4 bandwidth from the CPU to the chipset. This results in motherboard manufacturers requiring to work with the limited amount of bandwidth to the system. Therefore, we will get to see more USB 2.0 ports rather than faster USB 3.0 ports. Nonetheless, the Gigabyte B550 AORUS PRO still has 6 USB 3.0 ports.
Q-Flash Plus
As part of a new feature to the AORUS motherboard, the Q-Flash Plus is a motherboard BIOS flashing utility that is built right into the motherboard. This allows users to flash the motherboard's BIOS even without the need of a CPU, graphics card or RAM installed.
2.5Gbps Ethernet Port
To do better than the competing products, the B550 AORUS PRO motherboard also features an integrated 2.5 Gigabit ethernet port. As we move towards faster internet bandwidth, the inclusion of this feature should allow this motherboard to also be more future proofed. It will also be a good choice as a workstation motherboard for those who requires the additional network bandwidth for their work.
Enhanced Sound Processing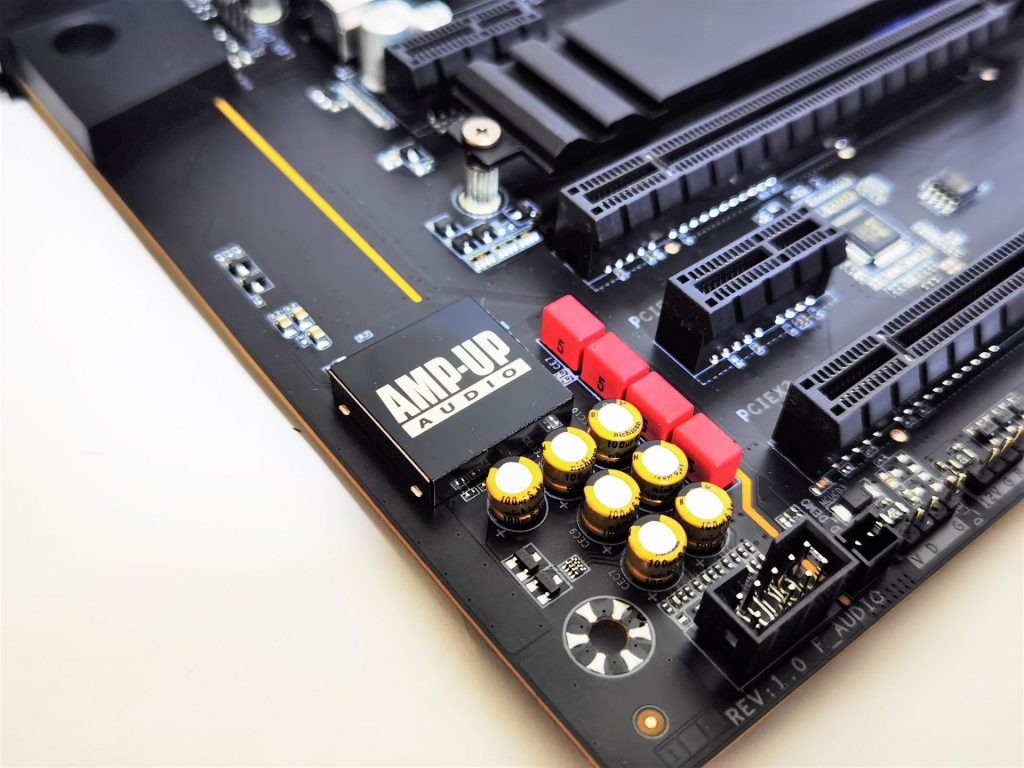 The B550 AORUS PRO also comes with an improved audio circuitry that enhances the overall experience of the user. The audio output quality of a PC system will have direct impact on the gaming experience of the user. Therefore, as a gaming focused motherboard, premium audio features is a must.
This motherboard comes with a 120dB SNR AMP UP Audio – this feature automatically determines the impedance of the headphones connected and adapts to it by providing adequate amplification. Moreover, Gigabyte has also chosen dedicated WIMA Audio Capacitors for the best possible audio quality output for this motherboard.
Storage Expandability

The motherboard comes with 6 x SATA 6Gbps ports for your traditional hard drives and SSDs.
Due to limited bandwidth, instead of seeing up to 3 M.2 slots on X570 motherboards, we only spotted 2 x M.2 slots on the Gigabyte B550 AORUS PRO. The top M.2 slot supports PCIe 4.0, while the one at the bottom only supports PCIe 3.0
PCI Express Expansion

To get the best out from your graphics card, the first PCIe slot is also PCIe 4.0 compatible. It will be able to harness the bandwidth provided by the 3rd Generation Ryzen processors and the B550 chipset. Other than that, there are also two more PCIe 3.0 x16 slot (x4 electrically) and two PCIe 3.0 x1 slot.
Power Design
B550 AORUS PRO motherboard uses a 12*+2 phases digital CPU power design which includes both digital PWM Controller and DrMOS. These 100% digital controller offer incredible precision in delivering power to the motherboard's most power-hungry and energy-sensitive components, allowing enthusiasts to get the absolute maximum performance from 3rd Gen AMD Ryzen™ processors.
Digital PWM Controller delivers appropriate voltage to the CPU.
True 12+2 Phases DrMOS with PWM Doublers, each power phase connects directly to the CPU. With capability to handle up to 700 Amps current in total.
All-solid capacitors to improve Transient response and minimize oscillation.
8pin Solid Pin CPU Power Connectors.

New and Updated Cooling Solution
As expected, thermal dissipation is also one of the key features of a motherboard. Especially while using the motherboard with a high-end CPU, different power delivery components are expected to get hot. This is why Gigabyte has employed an improved cooling solution to keep its temperature well under control.
This cooling solution is designed with the use of a large Fins-Array heatsink on the VRM area. Also, electrical components also come in direct contact with the heat pipes that connects between the two heatsinks.
BIOS
Gigabyte has mentioned that they have redesigned their whole UEFI BIOS in order to make them more logical and easier to find things. In our previous review of the Gigabyte Z490 AORUS MASTER motherboard, we still found some BIOS settings which weren't so straightforward. However, we found the BIOS settings on the Gigabyte B550 AORUS PRO to be much more logical and easier to navigate. It's easy to find things where you would expect them to be.
What we really liked about the BIOS is its Tweaker tab in advanced mode. All the key settings to changing of system performance levels are all located into one location, making it easy to navigate.
Software Utilities
RGB Fusion
Of course, the Gigabyte B550 AORUS PRO is RGB enabled. Instead of having overwhelming number of RGB lighting on the motherboard, Gigabyte has decided to keep it simple. There are just RGB LED strips at the bottom of the motherboard, as well as on the VRM heatsink area.
The RGB lighting can be easily controlled with the RGB Fusion 2.0 software. Users can choose between multiple effects and customizations on their lighting zones. The software can also control the effects of the RGB headers on the motherboard.
EasyTune
Gigabyte also has a popular system tuning software utility known as EasyTune. EasyTune makes it easy to change the system hardware configurations such as frequency, voltage and power capabilities.
For a start, the novice users can simply select different performance modes. They can instantly achieve their desired system mode, be it prioritizing on performance or noise reduction. There are 3 profiles to choose from, either ECO, Default or OC. There is also an AutoTuning features that finds out the overclocking headroom of the CPU and tries to push it to the limits. This feature will be discussed more in the following sections.
We realized that many of the features that were supposedly available on the Gigabyte Z490 motherboard was not available on the Gigabyte B550 AORUS PRO. Perhaps, Gigabyte can further improve their utility for better compatibility.
Test Setup and Methodologies
In our tests, we are going to see if there is any performance difference between a X570 and B550 chipset motherboard. For our tests, we will use our usual benchmark setup with a ASRock X570 Steel Legend, and compare it to the Gigabyte B550 AORUS PRO. We will not only just measure performance difference, but also power consumption.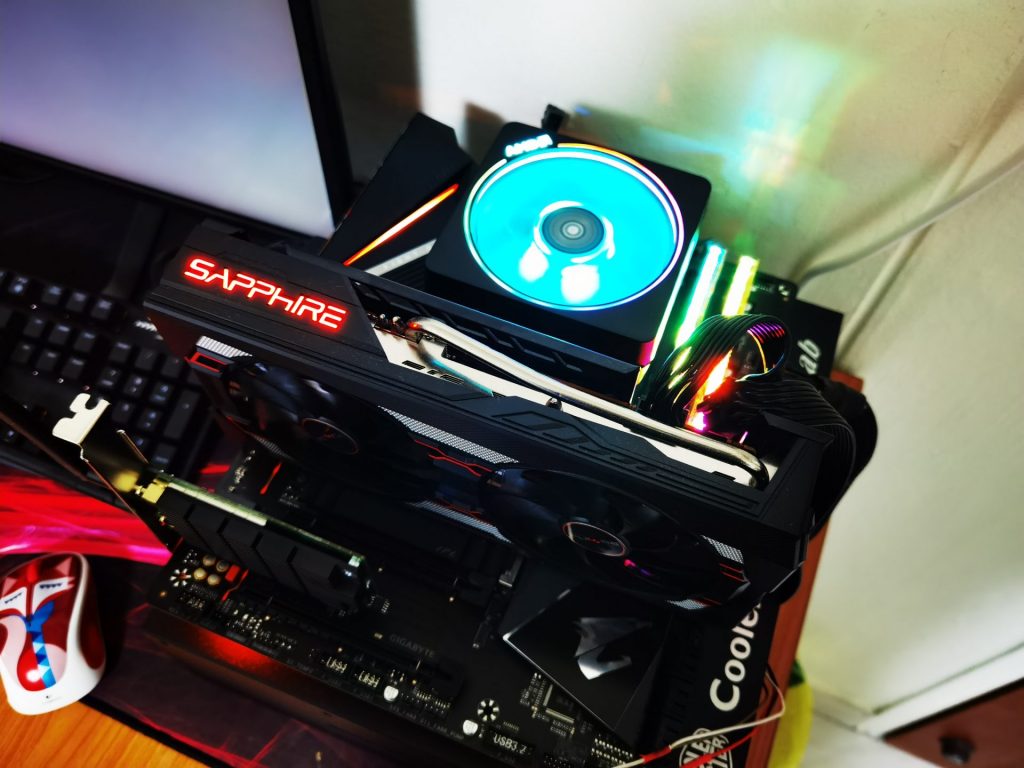 Specs
Main System
CPU
AMD Ryzen 9 3900
RAM
G.Skill Trident Z Royal 3600MHz, 2 x 8GB DDR4 Kit
Main Storage
Transcend SSD230S 512GB
GPU
Sapphire Pulse RX5600XT 6GB
Motherboard
Gigabyte B550 AORUS PRO
ASRock X570 Steel Legend
CPU Cooler
Cryorig H7
PSU
Cooler Master V1000
OS
Windows 10 Pro 64 bit
The benchmark settings are as follows:
| | | |
| --- | --- | --- |
| Test | Configuration | Settings |
| PC Mark 10 Extended | Default | Default |
| 7-ZIP Benchmark | Default | Default |
| Cinebench R20 | Default | Default |
| HEVC h.265 Decoding | Default | Default |
| Blender BMW27 | CPU blend | Default |
| Far Cry New Dawn | 1080p | High Settings |
| Deus Ex Mankind Divided | 1080p | High Settings, DX12 |
| Tom Clancy Ghost Recon Breakpoint | 1080p | High Settings, Vulkan |
| DOTA 2 | 1080p | As per Benchmark Guide |
| Shadow of the Tomb Raider | 1080p | High Settings, DX12 |
| wPrime 1024M | Default | Default |
| SuperPi32M | Default | Default |
| AIDA64 Memory benchmark | Default | Default |
Performance Results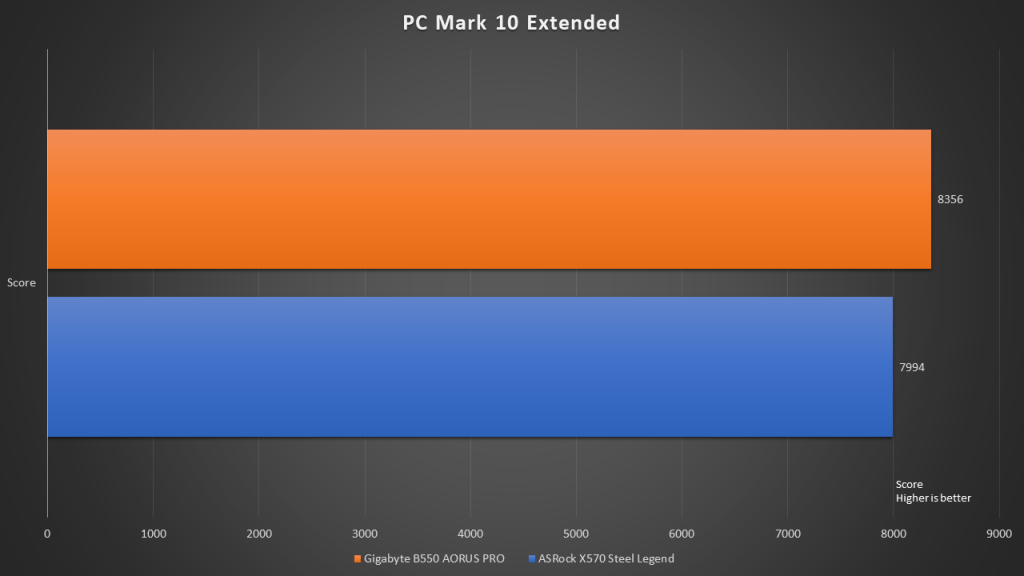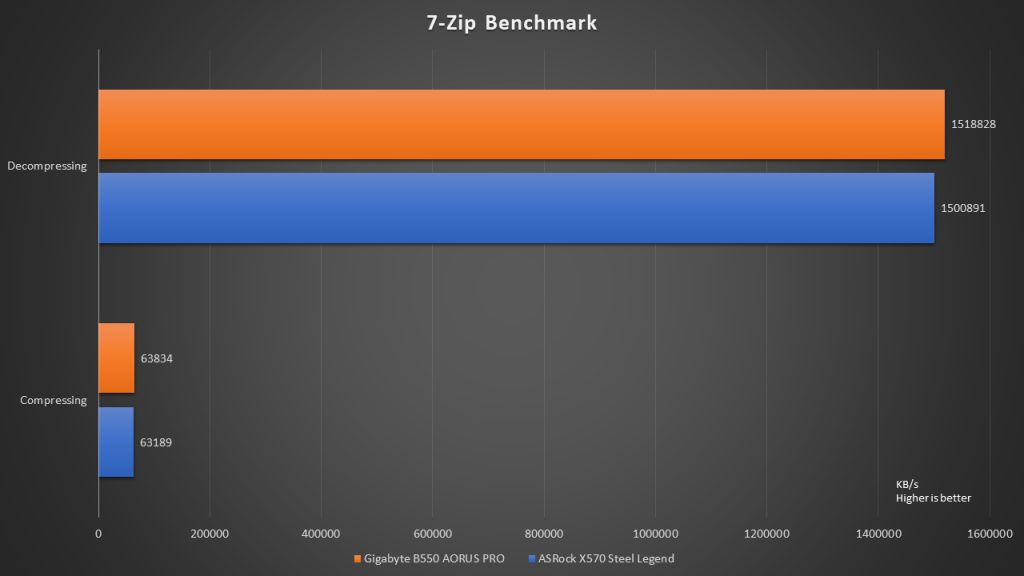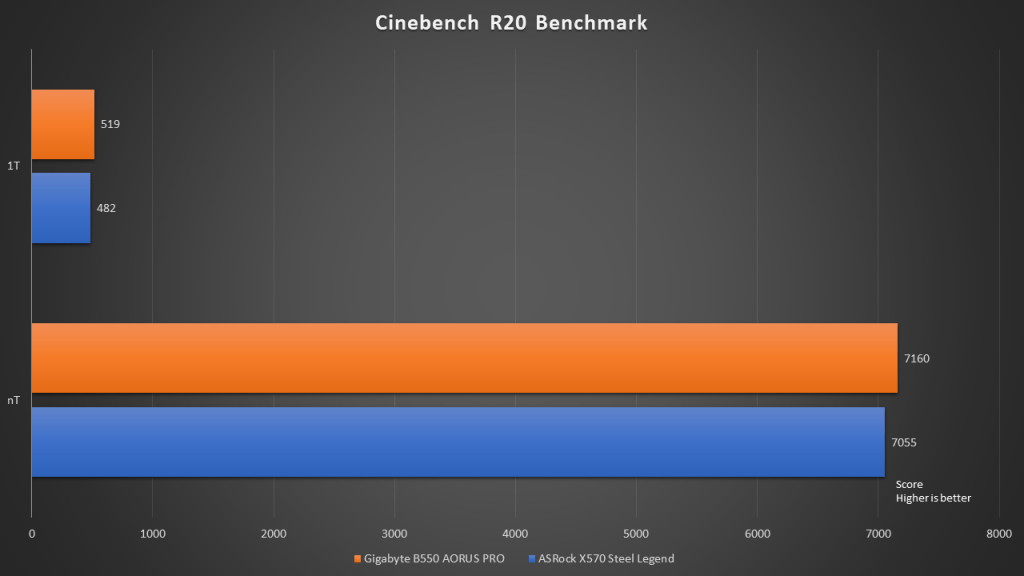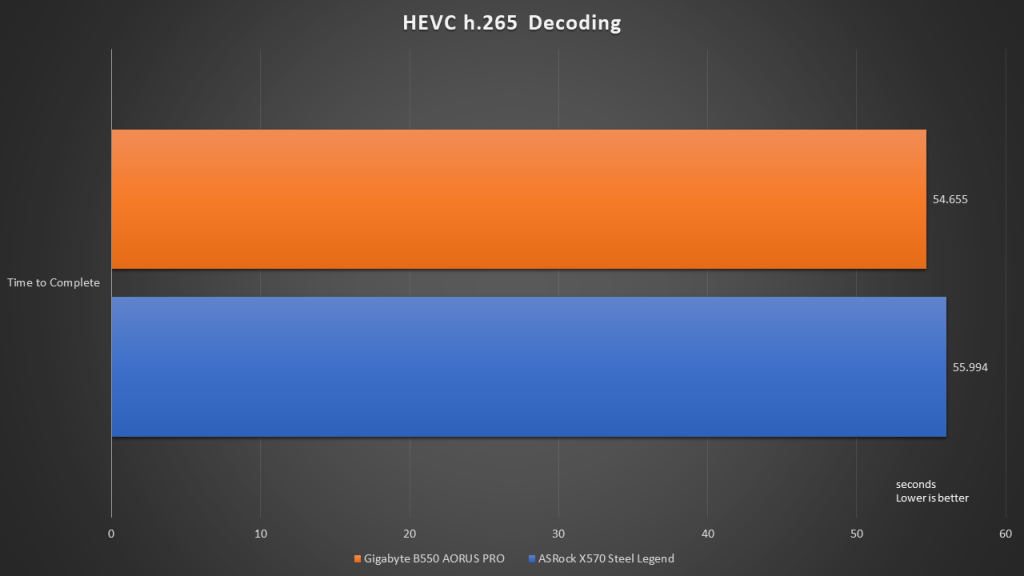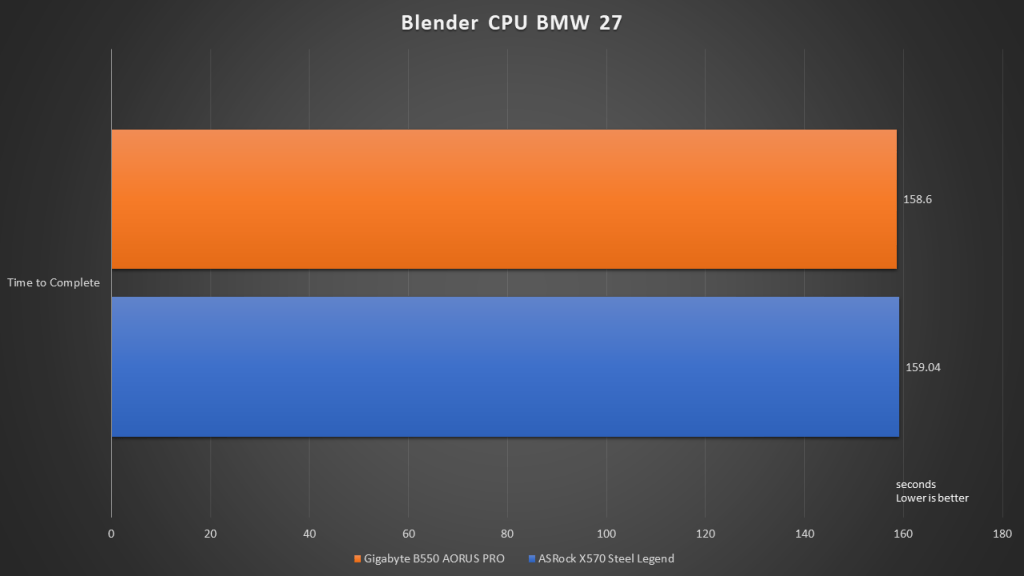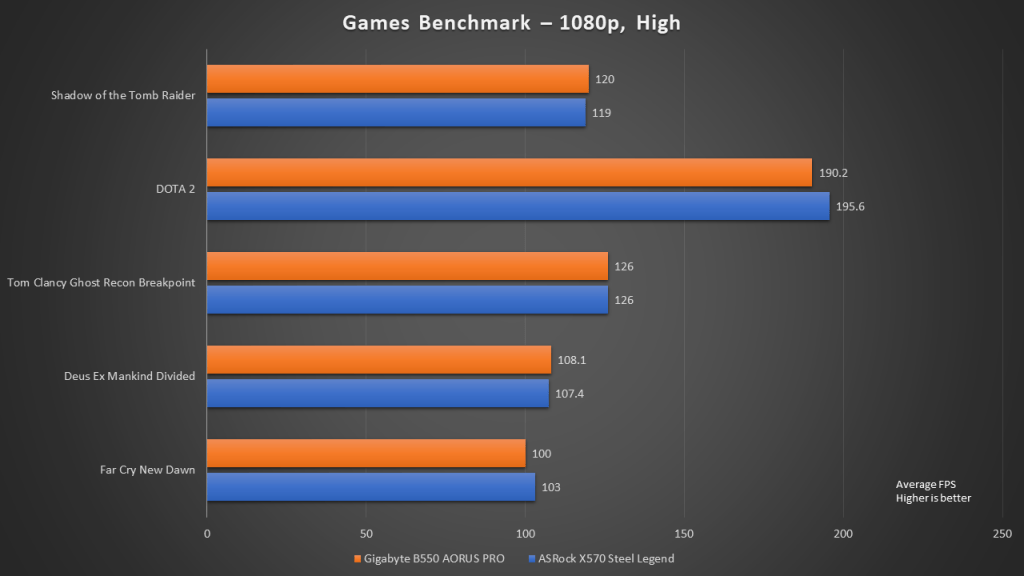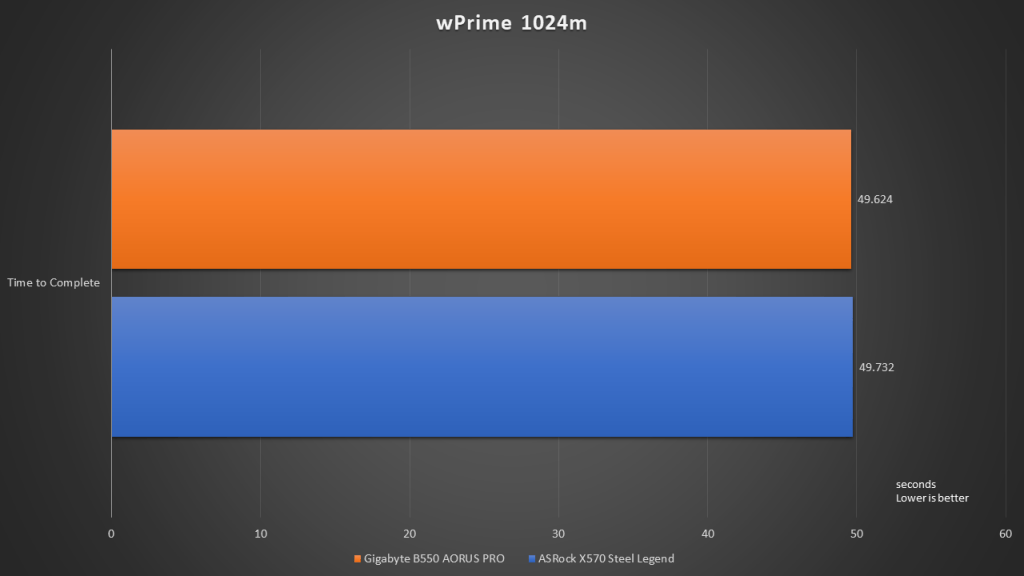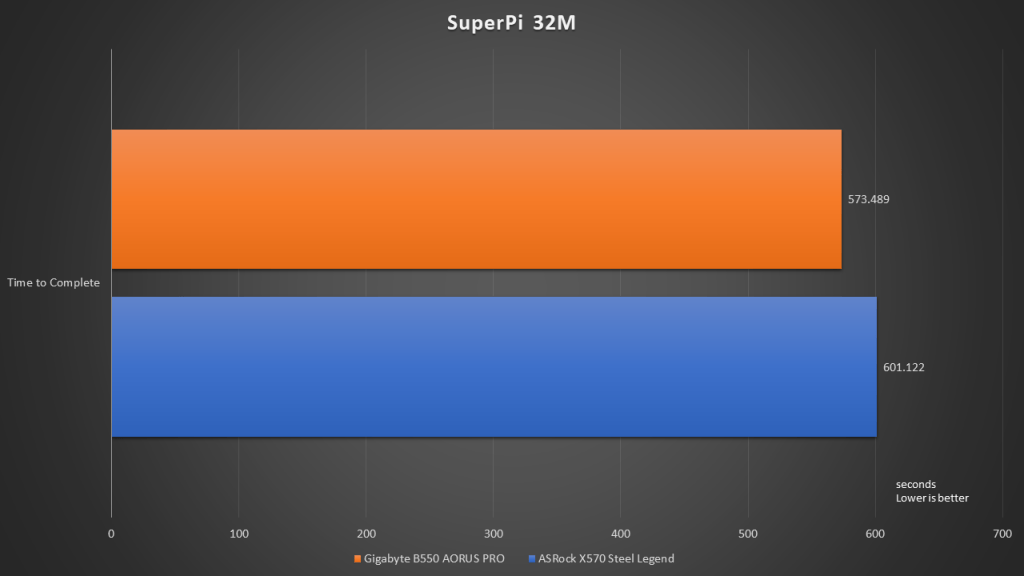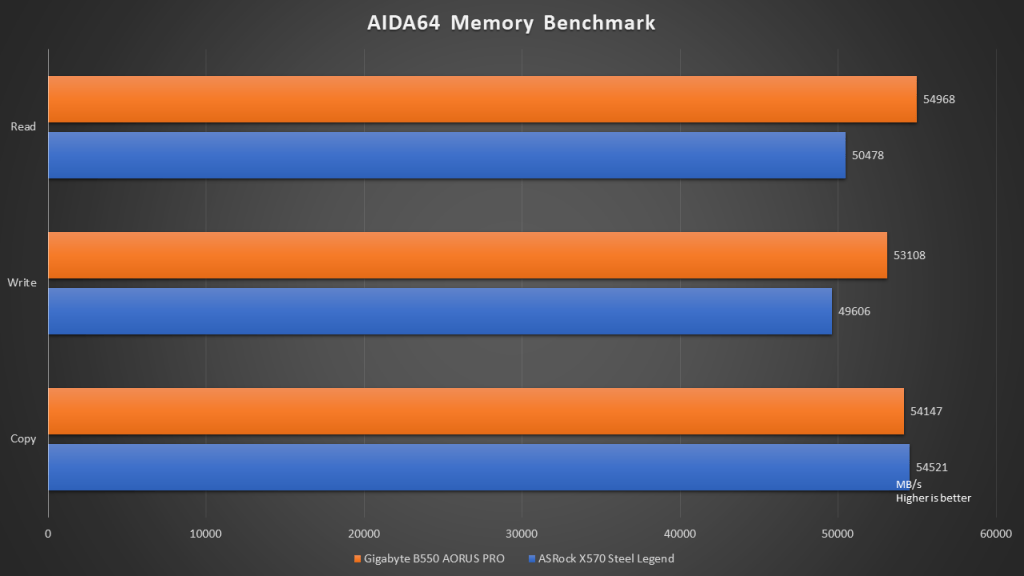 Based on the performance results, we can see that both motherboards performed similarly. It seems that the Gigabyte B550 AORUS PRO had an edge over the ASRock X570 Steel Legend in CPU tests, as results are shown to be better on the former. This could be caused by an improved CPU management or more aggressive default fan curve, which managed to keep the CPU cooler and reach higher frequencies when required.
Power Consumption and VRM Temperatures
Both our power and VRM temperature tests are taken by
(1) Idle – Restarting the system, and leaving it as it is for 3 minutes. The readings are then taken
(2) Load – Running Intel Burn Test – until the readings of temperature and power consumption stabilizes.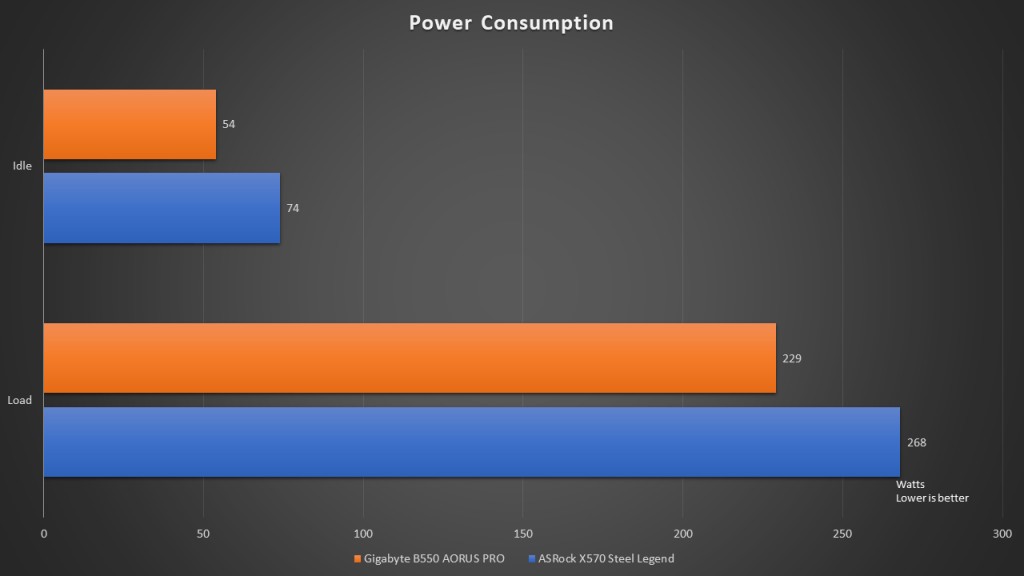 The advantage of the B550 chipset motherboard is that they don't require active cooling on the motherboard. We do think that the B550 consumes much lesser power than the X570. The results confirm our hypothesis.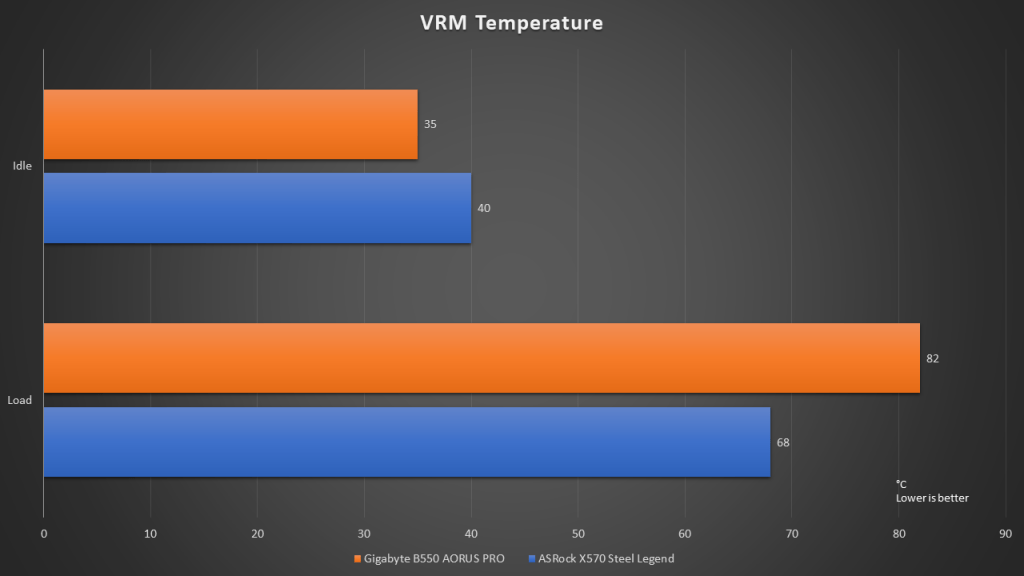 Even though the Gigabyte B550 AORUS PRO performed very well throughout all our tests, we found that its VRM temperature seems to reach quite a high temperature. However, we did not notice any form of power throttling or limitations during our tests.
Overclocking
The EasyTune software includes an AutoTuning software feature which helps to automatically overclock the system. It achieves this by trial-and-error. Starting from the base clock of the CPU, the utility will set all cores to be fixed at this speed. Then, it will run a quick stability test on the CPU based on that set CPU frequency. It will then incrementally increase the CPU frequency by 500MHz, and then run the stability test again. This process is reiterated until the system is unstable. Then, the previous last acceptable frequency will be selected.
We managed to achieve 4GHz on the Ryzen 9 3900X using the AutoTuning Software. However, when we wanted to measure the performance improvement attained by the system by overclocking the CPU, we ran into thermal limitations, which caused the Cinebench R20 score to be much lower than expected. We should be able to expect a better score if our CPU fan was able to tame the processor's heat.
Since the Ryzen 9 3900X is already quite optimized, there isn't much more performance we can squeeze out from the processor. Your mileage may vary, depending on your cooling solution and CPU.
Based on our experience, the it's easy to overclock the CPU on the Gigabyte B550 AORUS PRO. It has got features that can help both novices and advanced users.
Conclusion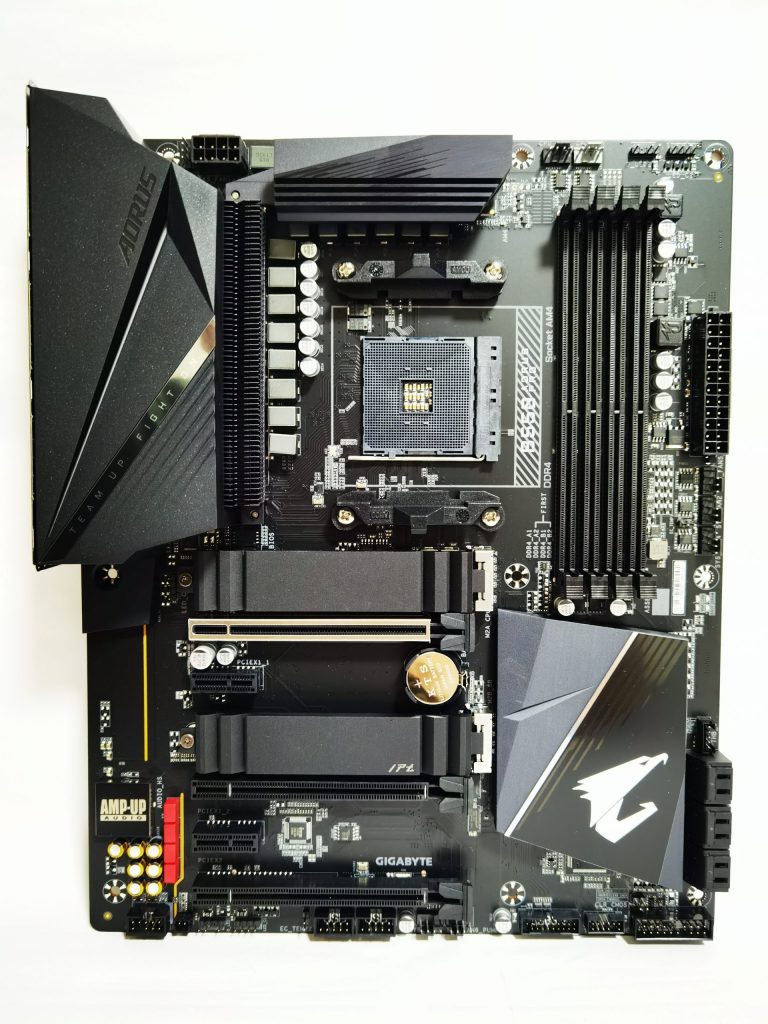 The Gigabyte B550 AORUS PRO is certainly a very capable motherboard. It has all the latest features that you would want in a modern-day personal computer, such as PCIe 4.0 support and 2.5Gigabit ethernet.
Gigabyte designed this motherboard to be good and simple, and just works well out of the box. Instead of introducing high-end features which won't be fully utilized most of the times, they have decided to keep this motherboard affordable with features that are better than the usual. This sets this motherboard aside from competition in the market.
If you are looking for a new motherboard for a 3rd Generation Ryzen system, do check out the Gigabyte B550 AORUS PRO.