Singapore, 23 November 2018 – Audio-Technica's True Wireless headphone ATH-CKR7TW is designed for those seeking complete freedom from wires while not compromising on the sound quality. Combining the Sound Reality series' crystal clear sound with an ergonomic and ultracomfortable design, this True Wireless headphone allows you to focus on the music and the day ahead without any distractions or constraints.
Design and Build
Exquisitely constructed using the highest quality materials, this premium True Wireless model delivers a high-fidelity performance without a wire in sight. Its sleek design allows for a discreet but secure and snug in-ear fit with an interchangeable 3D loop support adding extra support. The headphones arrive in a classic black or grey finishes.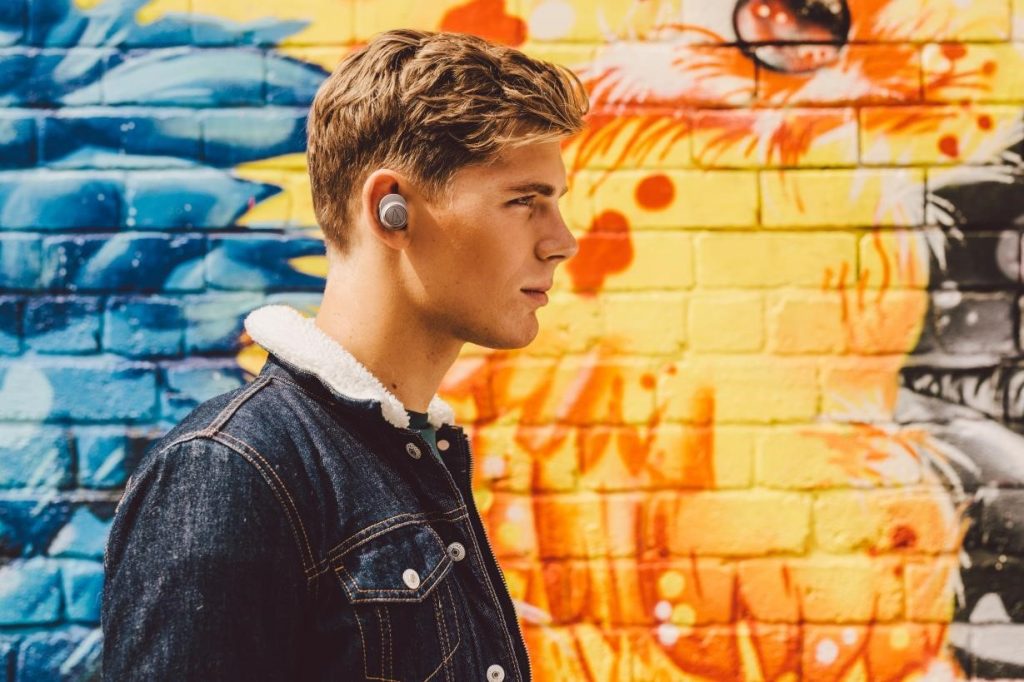 Image above: Bringing Sound Reality out on the streets with Audio-Technica True Wireless ATH-CKR7TW
Authentic Japanese Engineering
Drawing on 56 years of audio-engineering expertise, for decades Audio-Technica has been designing the headphone drivers from the ground-up. Notably, the ATH-CKR7TW's specially tuned 11mm driver boasts its precise construction with a diamond-like carbon coated diaphragm, pure iron yoke and brass stabilizer that contributes to the accurate reproduction and thus ensuring precise audio.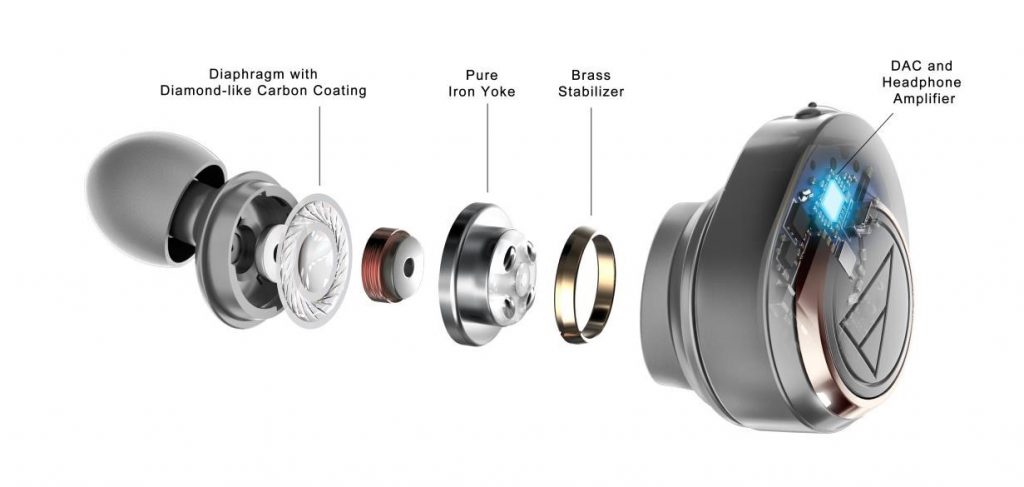 Image above: Exploded-view of Audio-Technica Sound Reality True Wireless ATH-CKR7TW
To maximise driver performance, the acoustic and electronic compartments are isolated to reduce the airflow that can adversely affect the audio. The result is a clear, accurate, high resolution fidelity. In addition, the audio-grade digital-to-analogue converter (DAC) and amplifier components are carefully designed to ensure the signal stream can deliver high-quality audio reproduction.
Re-juice Anytime, Anywhere
The ATH-CKR7TW serves up to six hours of music on a single charge, with the compact charging and protective carry case providing nine additional hours of juice if you're out and about without access to a power source.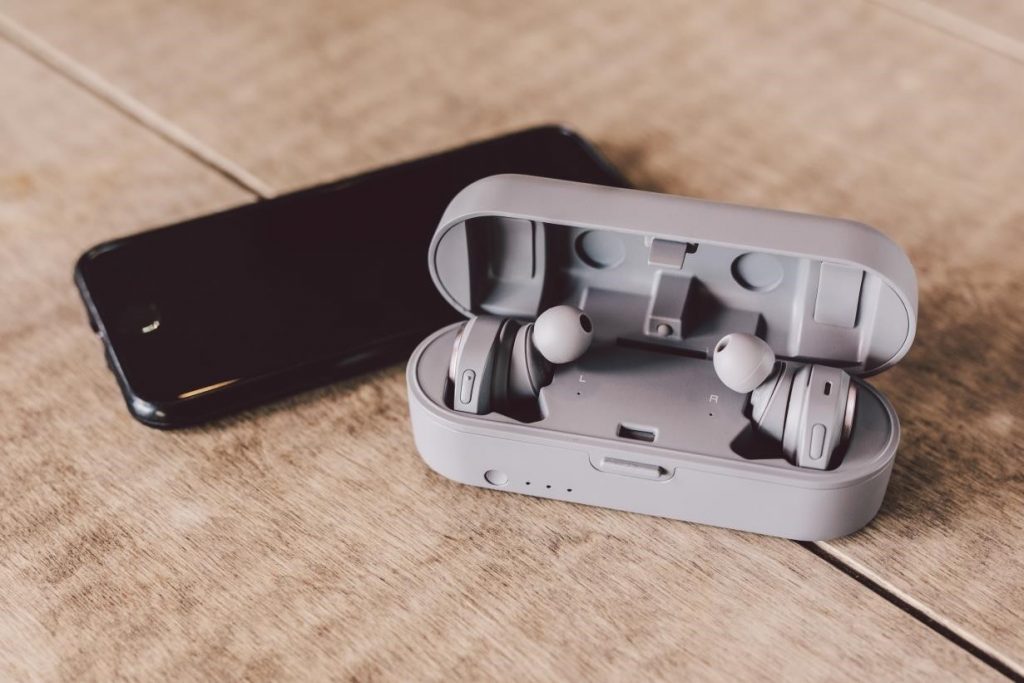 Image above: Audio-Technica Sound Reality True Wireless ATH-CKR7TW compact charging case.
You can also check the battery of headphones or the charging case at via a level indication LEDs located on the case. Music and calls can be easily managed on your smartphone via the AudioTechnica Connect app for iOS and Android.
These high-fidelity headphones support the latest low-energy Bluetooth 5.0 wireless technology.
Other codecs supported for the wireless streaming of audio include aptX, AAC, and SBC.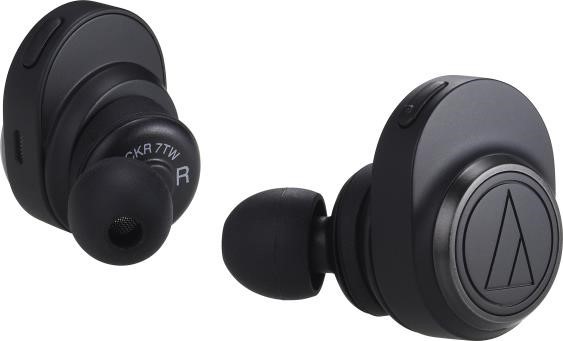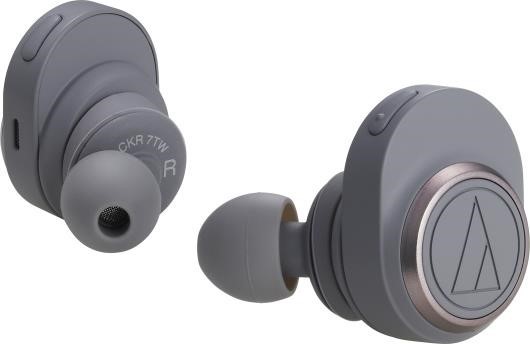 Image above: ATH-CKR7TW in Black and Grey 
The Audio-Technica's new ATH-CKR7TW Black and Grey are now available for purchase at MSRP S$348.
About Audio-Technica 
Founded in 1962, Audio-Technica established itself in the Japanese domestic market with the success of phonograph cartridges. A decade later, the company diversified and focused on the specialization of manufacturing sound devices. Since 1994, Audio-Technica has continued to meet and identify new market environments, customer needs and technological advancements. This is best reflected in the superior sound quality delivered by the various series ranging from wired and wireless microphones to headphones.
Audio-Technica's primary goals have always been to provide products that truly satisfy its customers as well as beneficial to society. The Company has always strived to take on an innovative approach to development, using excellent technology and marketing capabilities to build a strong brand image.
Today, Audio-Technica boasts an extensive and diversified business portfolio encompassing both consumer and professional use of its various audio and video equipment, telecommunications and computer components and accessories, optoelectrics products and food production equipment. The Company aims to forge ahead, playing a major role in the technological advancement of superior sound quality from Audio-Technica's creation of audio products.
For more information about Audio-Technica, please visit http://sea.audio-technica.com/.
Follow us on our social handles below for latest updates!
Facebook: AudioTechnicaSEA
Instagram: @AudioTechnicaSEA