We reviewed the Nothing Ear (1) about two years ago. And since then, it has still been the ear buds I reach out for whenever I need one. That's why we're super excited for today's review, where we'll take a closer look at the Ear (1)'s new sibling, the Nothing Ear (2) earbuds.
The Ear (1)s had gained attention for its bold approach to design and innovation, and the Ear (2) earbuds are no exception, boasting a sleek and minimalist aesthetic that sets them apart from traditional earbuds on the market.
Let's see if these funky earbuds live up to the hype.
Specifications
Here are the specifications for the Nothing Ear (2), and how it compares to the Nothing Ear (1):
Nothing Ear (2)
Nothing Ear (1)
Water Resistance
IP54 sweat and weather resistant buds
IP55 case
IPX4 (Splash resistant)
Connectivity
Bluetooth 5.3, LHDC 5.0
Bluetooth 5.2, SBC, AAC
Battery Life
4 hours with noise cancelling (22.5 hours with case)
4 hours with noise cancellation (24 hours with case)
Earbud Dimensions
29.4 x 21.5 x 23.5mm
28.9 x 21.5 x 23.5mm
Earbud Weight
4.9g each
4.7g each
Driver Size
11.6mm
11.6mm
Charging Case Dimensions
55.5 x 55.5 x 22mm
58.66 x 58.6 x 23.7mm
Charging Case Weight
51.9g
57.4g
Charging
USB-C, Qi wireless charging
USB-C, Qi wireless charging
Nothing Ear (2): How it looks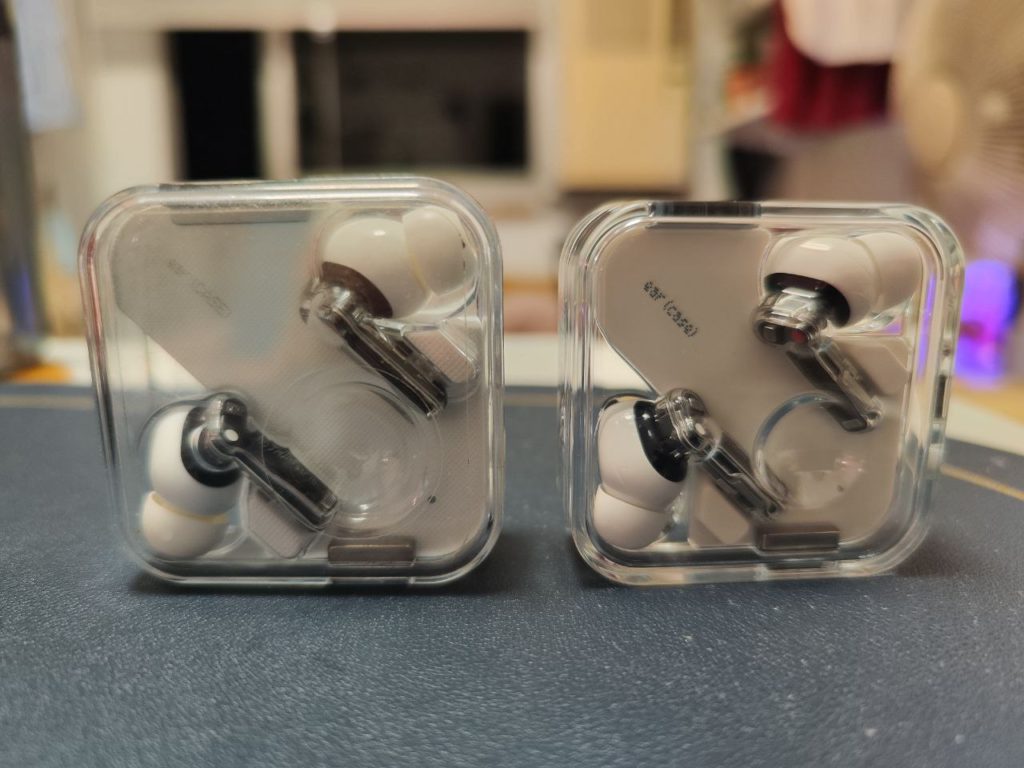 The Nothing Ear (2) bears a striking resemblance to its predecessor, the Nothing Ear (1), with subtle design differences that Nothing is eager to highlight. If it ain't broke, why fix it? This similarity is not necessarily a drawback, as the design is sleek and visually appealing.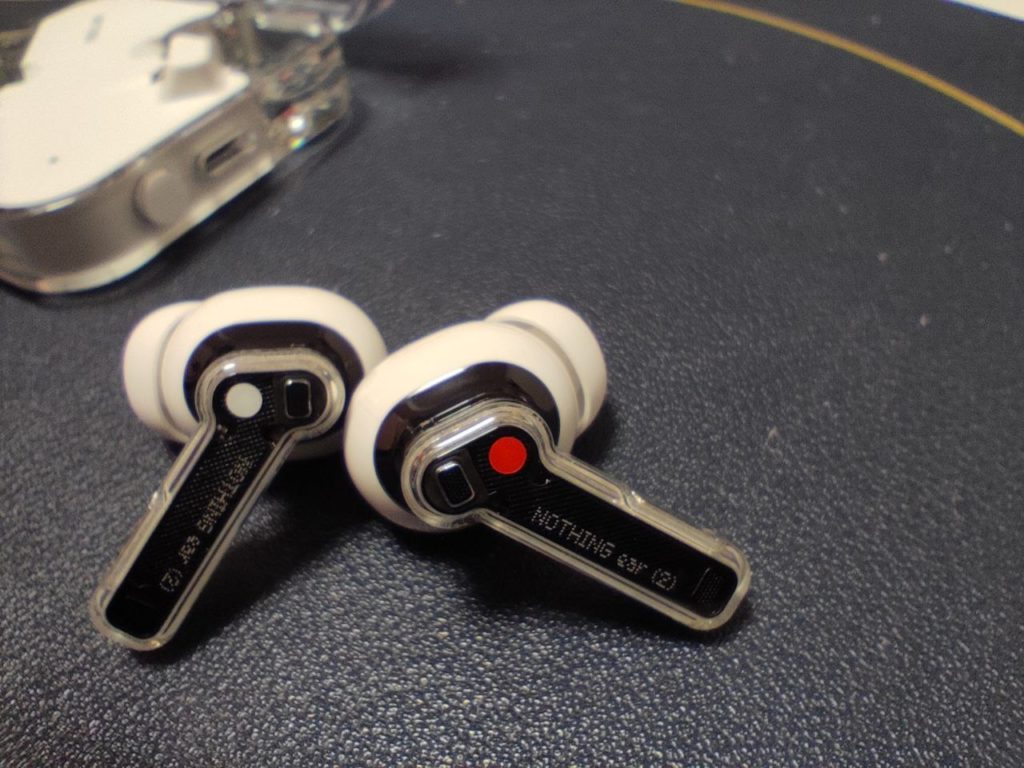 The buds feature a white bud and stem design, with contrasting black transparent sides that house pinch controls reminiscent of AirPods. To distinguish between the left and right buds, a white dot and red dot are added respectively.
Each earpiece weighs 4.9g and feels comfortable and secure in the ear, even with the default eartips. The earbuds are also IP54 water-resistant which means you can work out freely in them without worry.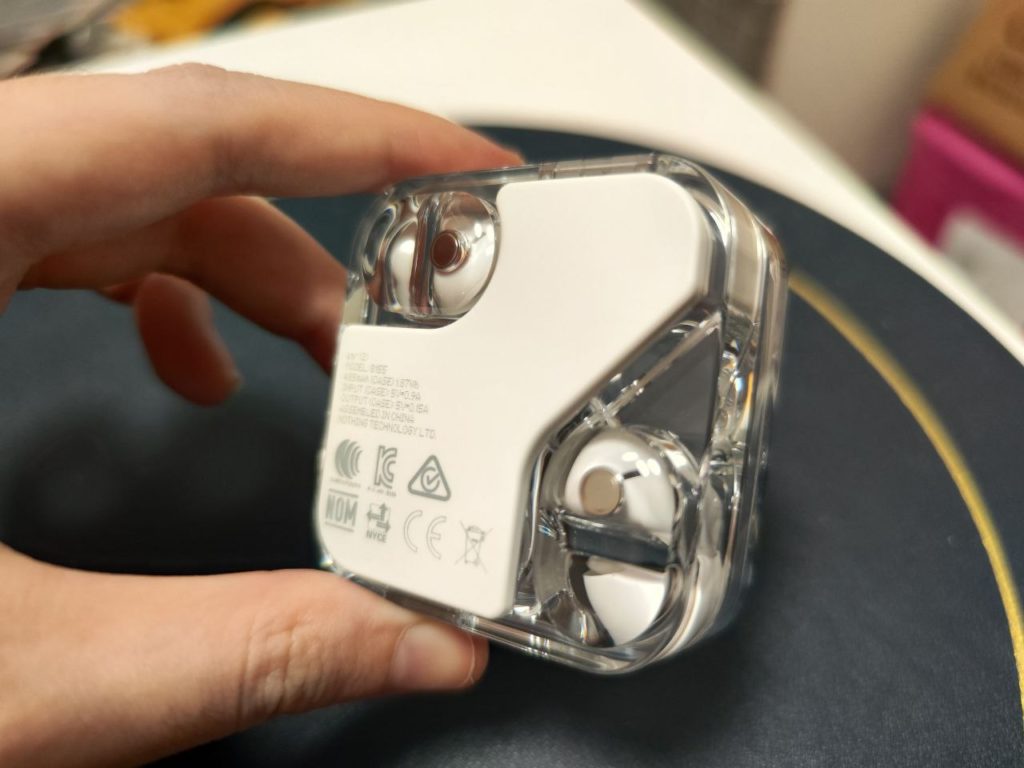 The case of the Nothing Ear (2) is slightly smaller than that of the Ear (1), and is made from a durable see-through plastic. The case is aesthetically pleasing and stands out among rival designs that prioritize functionality over style, a philosophy that extends to the design of the earbuds themselves.
Nothing Ear (2): How it sounds
The audio quality of the Ear (2) is impressive, with good bass that can handle rock and rap tracks exceptionally well. On Spotify, most genres sound excellent, but the mid-tones may get lost in some tracks. This, however, could be attributed to the nature of the compressed audio on Spotify. Listening to tracks on Hi-res music platforms and apps offer greater detail and clarity.
That's because the Ear (2) offers high-quality audio mode, which uses the LHDC 5.0 audio codec and is accessible via the Nothing X app. However, it only takes effect if your phone or tablet supports this hi-res streaming standard, and the earbuds must be rebooted by toggling the mode on or off.
Nothing's personal sound profile, accessible through the Nothing X companion app, makes for even greater sound. Through a five-minute hearing test, the app tests the frequencies at which you can hear a beep over static noise and boosts the audio files in frequencies that your ears might struggle to hear due to age. Audio files with frequencies that you struggle to hear will then be boosted. The customisation and clarity of this mode is impressive.
During calls and meetings, the clear voice technology implemented by Nothing in the buds received positive feedback from callers, as it made my voice clearly audible during phone calls. You can also link the buds with Google Assistant using voice match during setup.
Nothing Ear (2): ANC & Multipoint tech
The Ear (2) boasts solid active noise cancelling (ANC), especially when one considers price point.
Similar to the audio options, the Nothing X app provides users with a nice level of control over ANC. It offers high, mid, low, and adaptive settings, along with a toggle for personalized ANC that takes into consideration your own hearing. The transparency mode is also effective when you want to be aware of your surroundings while wearing the earbuds.
Another noteworthy feature is the Multipoint tech that allows you to connect the Ear (2) to two devices simultaneously, such as your phone and laptop or tablet. On our test, this worked reliably well.
Nothing Ear (2): Pinch Controls
This has got to be our favourite upgrade that graced the Nothing Ear (2). While the Ear (1) used touch controls, the Ear (2) uses an upgraded – and in our opinion more superior – pinch controls.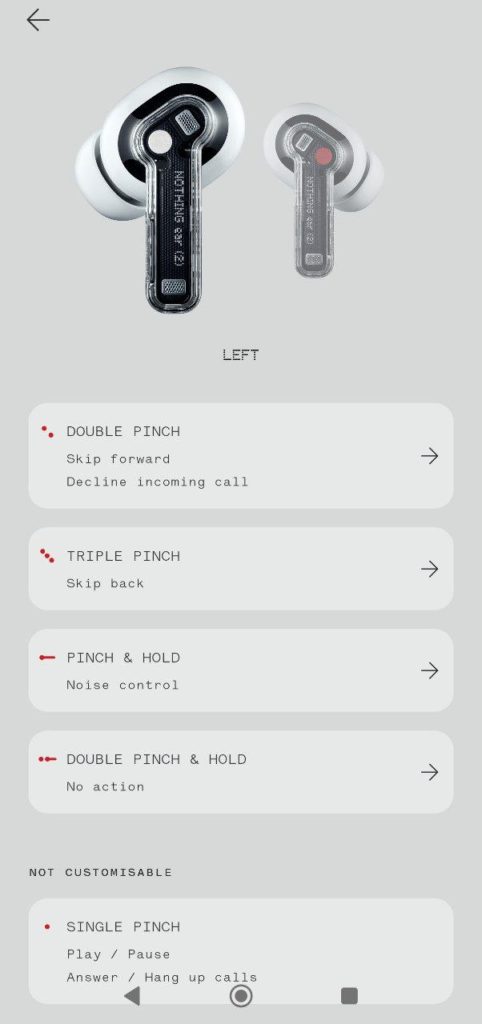 The pinch controls feel snappy, and we love how it prevents annoying accidental touches. By default, pinching and holding switches between noise cancellation, and pinching plays or pauses tracks. The double pinch and hold action can be customised on the app.
Nothing Ear (2): Battery Life and Charging
The Ear (2) boasts a six-hour playback time on a single earbud charge with ANC disabled, making it suitable for shorter listening sessions. However, with ANC enabled, the battery life drops noticeably, reaching around four hours before needing a recharge.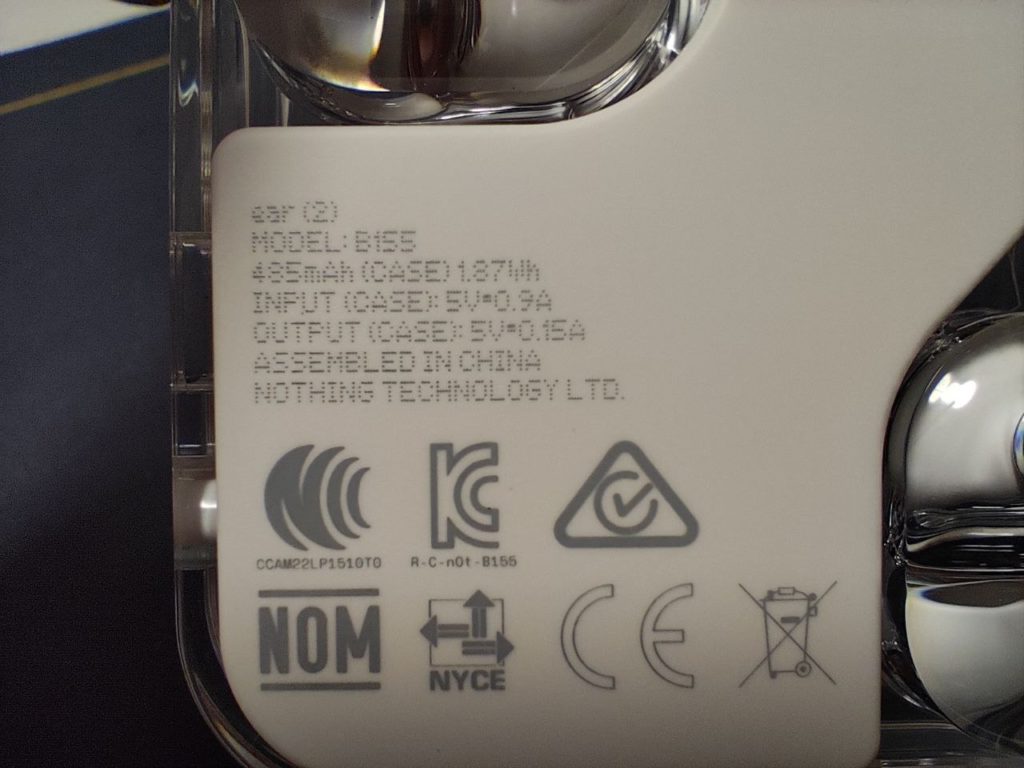 The charging case provides a total of 36 hours of playback when fully charged, but it's worth noting that this estimate is based on ANC being turned off, as stated by Nothing. On the plus side, the case supports Qi wireless charging, a rare feature to find in this price range.
Additionally, a quick ten-minute charge can replenish the earbuds with up to eight hours of playback time. It's worth mentioning that the box includes a USB-C cable.
Price & Availability
The Nothing Ear (2) is in Nothing's official stores on Shopee and Lazada at S$199.
Verdict
While we have close to nothing to complain about with our Nothing Ear (2), we do find that some users have inconsistencies with the ear bud's Multipoint feature. This however, could potentially be resolved with future firmware updates.
Our only tiny complaint? A longer battery life would've been perfect. That said, the Nothing Ear (2) truly excels in other areas and offers exceptional value for its price point. With attractive design, impressive noise cancellation, and outstanding (and customisable) sound quality, these earbuds are among the best options available, especially considering they are priced at nearly half the cost of comparable offerings.