Alongside brands like Apple, Sony, and others, Jabra has long produced some of the best wireless earbuds available on the market. However, Jabra fans would know that the brand's top earbuds can get pretty pricey. It is in this context that Jabra recently introduced the Jabra Elite 5 wireless earbuds to add to its lineup of mid-range earbuds.
With features like hybrid noise cancellation, wireless charging, six microphones for better call quality, and 7-hour continuous battery life, could the Jabra Elite 5 could be the mid-range all-rounder you've been looking for? Let's find out.
Specifications
Main unit dimensions (WxHxD)
20mm x 20.54mm x 27mm
Charging case dimensions (WxHxD)
26mm x 38.9mm x 64.1mm
Weight
Each bud: 5g
Case: 40g
IP rating
IP55
Speaker size
6mm
Speaker bandwidth (music mode)
20Hz – 20000Hz
Audio codecs supported
AAC, Qualcomm® aptX™, SBC
Microphone type
MEMS
Number of microphones
6
Microphone bandwidth
100Hz – 8000Hz
Bluetooth version
5.2
Battery
Music time total ANC off (earbuds and
charging case)
Up to 36 hours
Music time ANC off (earbuds) Up to 9 hours
Music time with ANC (earbuds) Up to 7 hours
Music time with ANC (earbuds and charging
case)
Up to 28 hours
Warranty
2-year warranty (Against failure from dust and water with Jabra Sound+ app registration)
In the box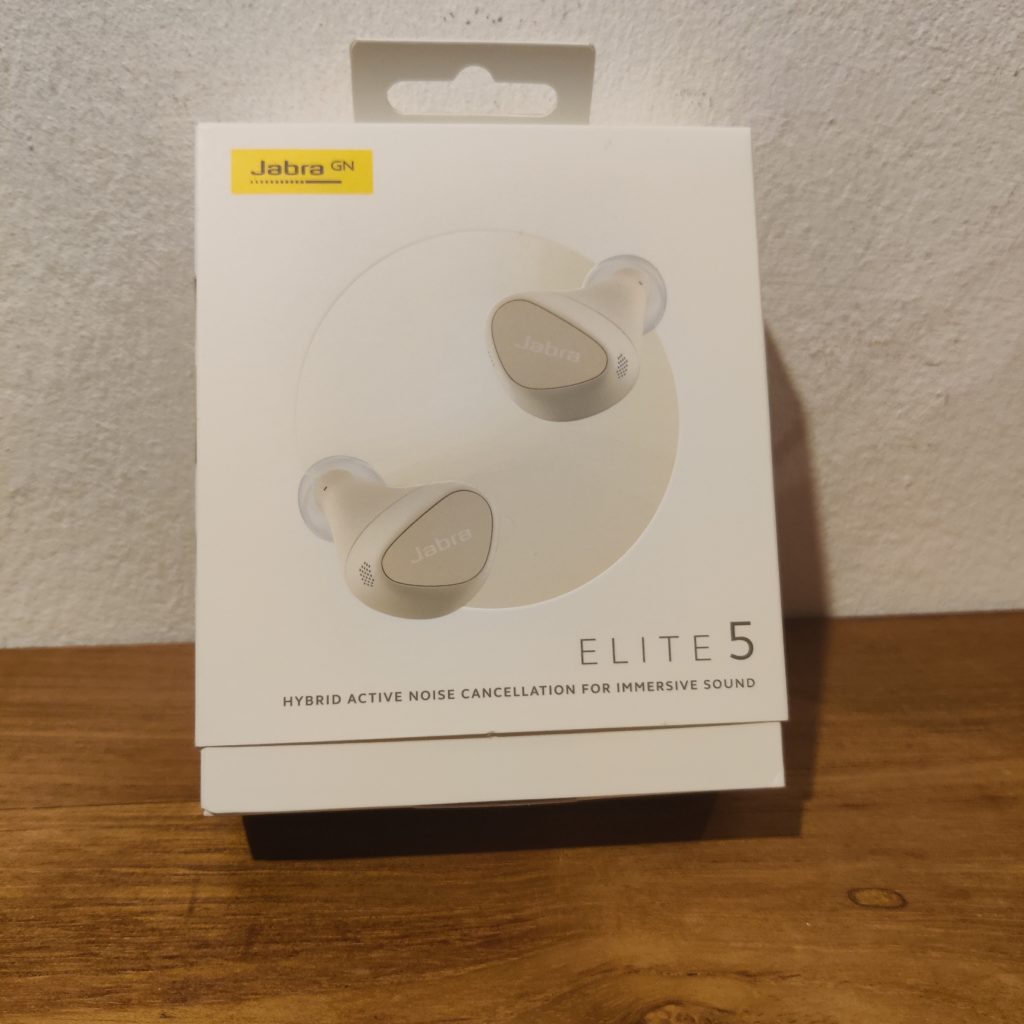 The Elite 5 adheres to Jabra's tradition of clear, straightforward packaging that is virtually plastic-free and highly recyclable. The earbuds in their charging case, three additional silicone ear tips of varying sizes, a USB-A to USB-C charging cable are all contained inside the small box.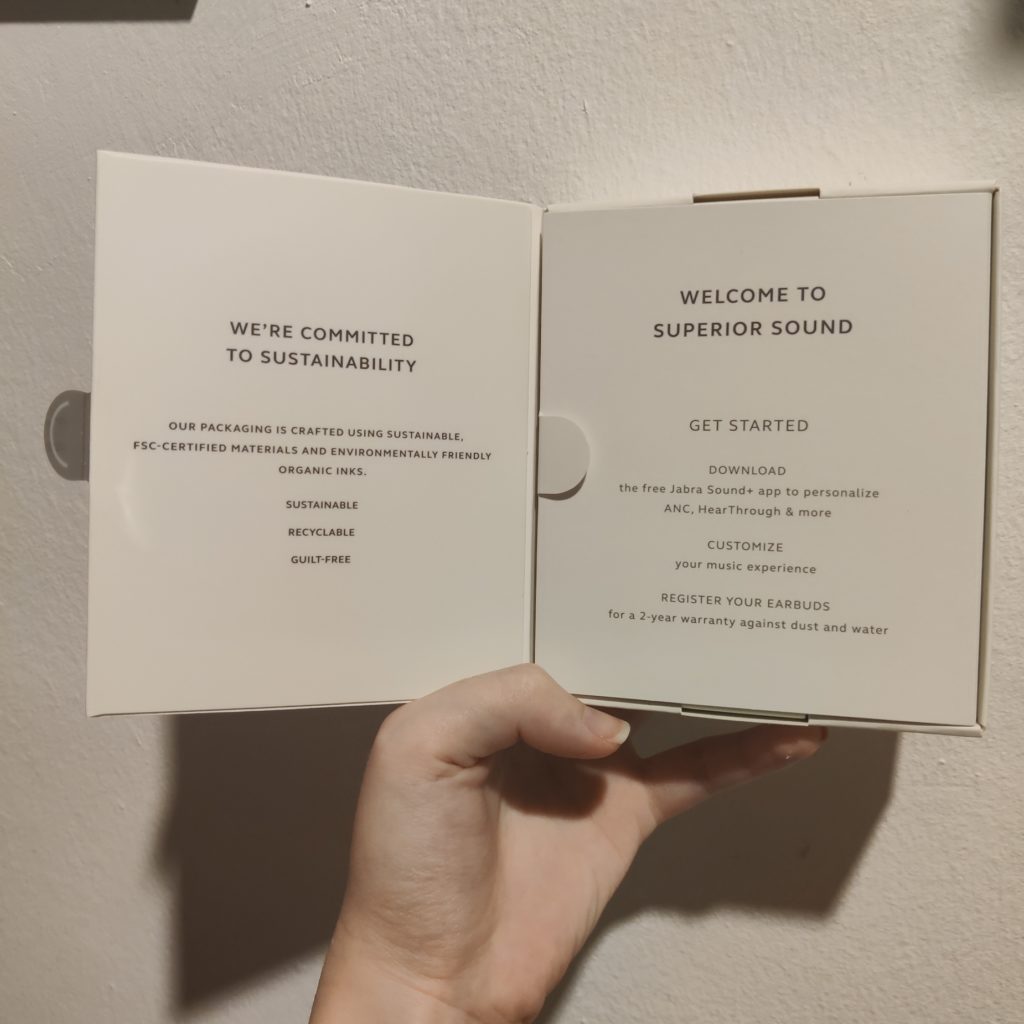 What you won't find are any sort of step-by-step instructions or a quick start guide. You can learn about all of the Elite 5's features, controls, and settings by downloading the Jabra mobile app for Android or iOS. A link to a comprehensive guide is also present in the app.
Design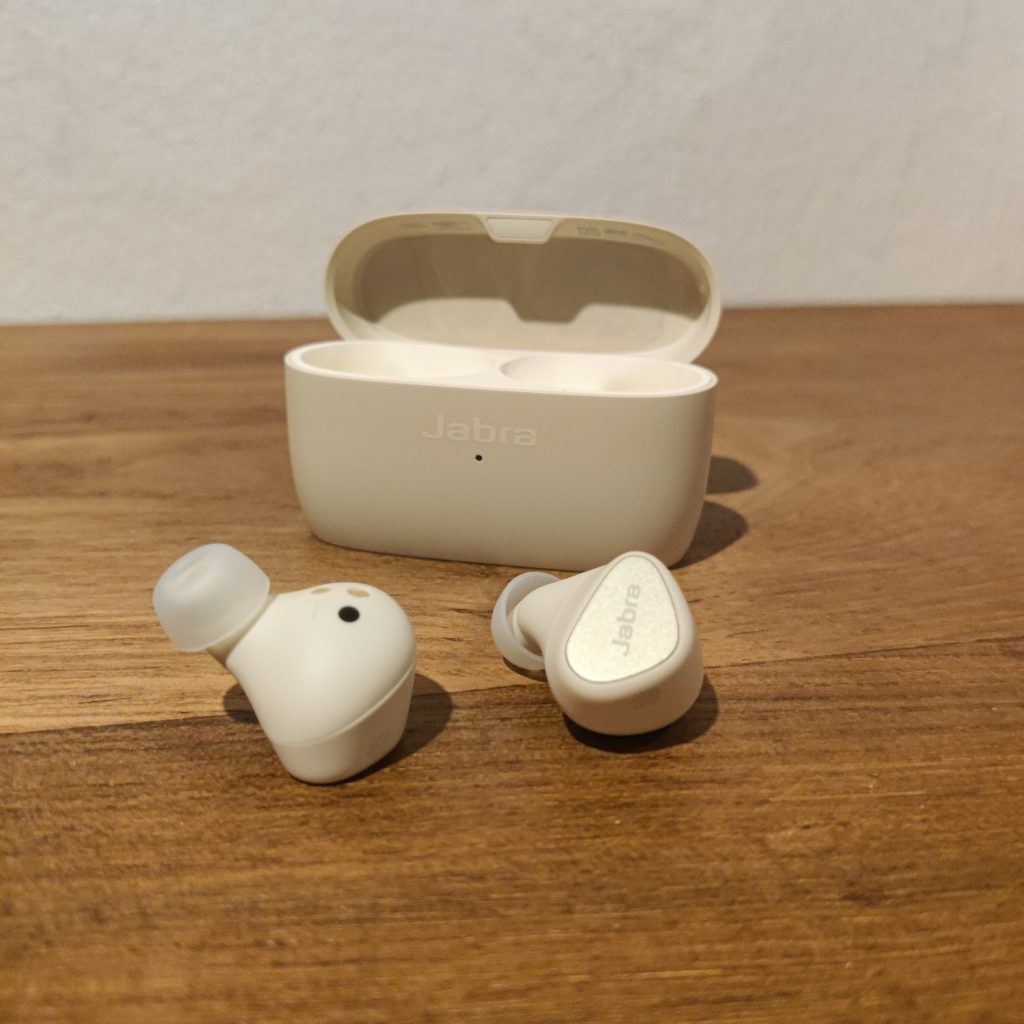 Seen the Jabra Elite 3 or Elite 7? Then you'd pretty much be familiar with the Jabra Elite 5 design. They sport a simple, slim, and sleek exterior, with a rounded triangle with the word "Jabra" on it that doubles as a physical button.
The interior is ergonomically-shaped for comfort – true enough, it was easy to get the earbuds into a comfortable position. Even when used for long stretches of time, the Jabra Elite 5 remained comfortable in the ears. The Elite 5 earbuds also have a variety of ear tip choices, so we recommend trying a few out to see which ones work best for you.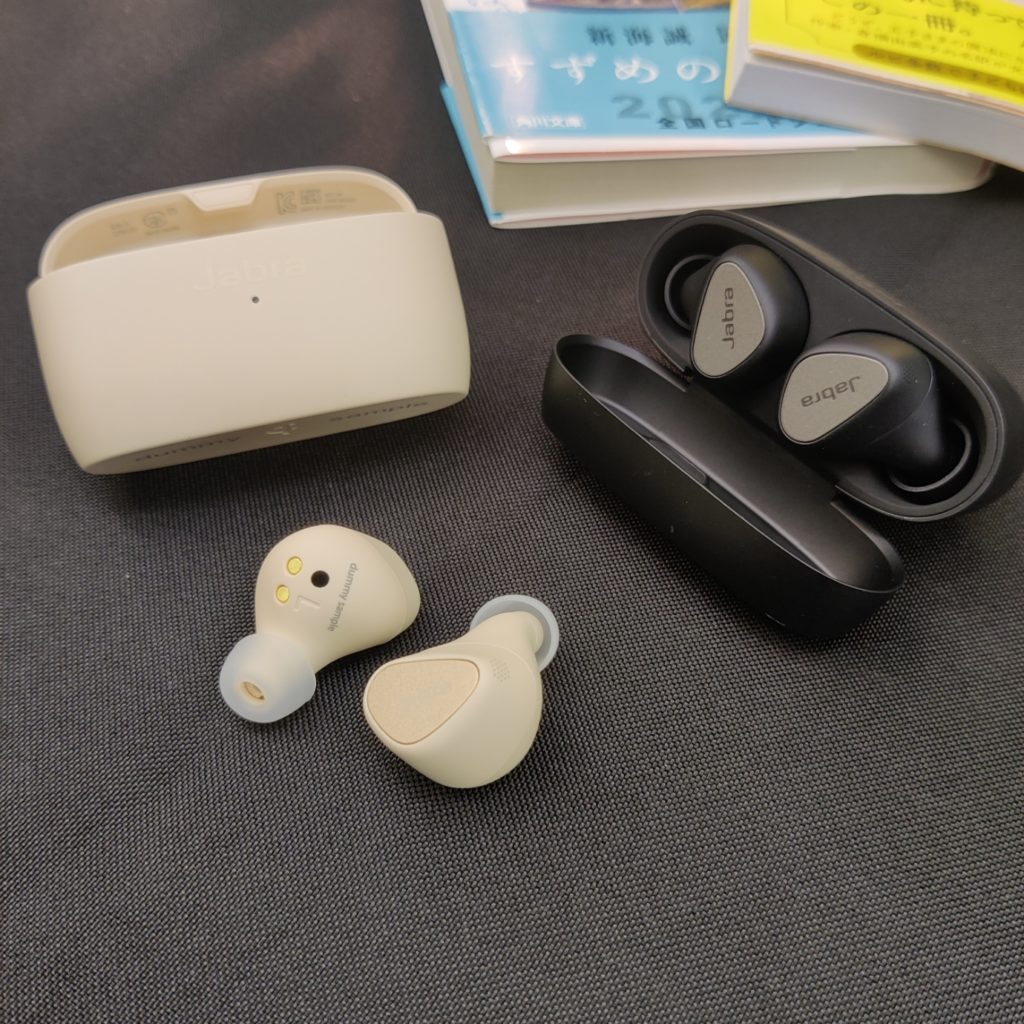 The review model above come in the Gold Beige color variant. If you'd like something more traditional, you could opt for the Titanium Black color. Unfortunately, that's all the choices you're gonna get. We do wish Jabra offered more than two color variants.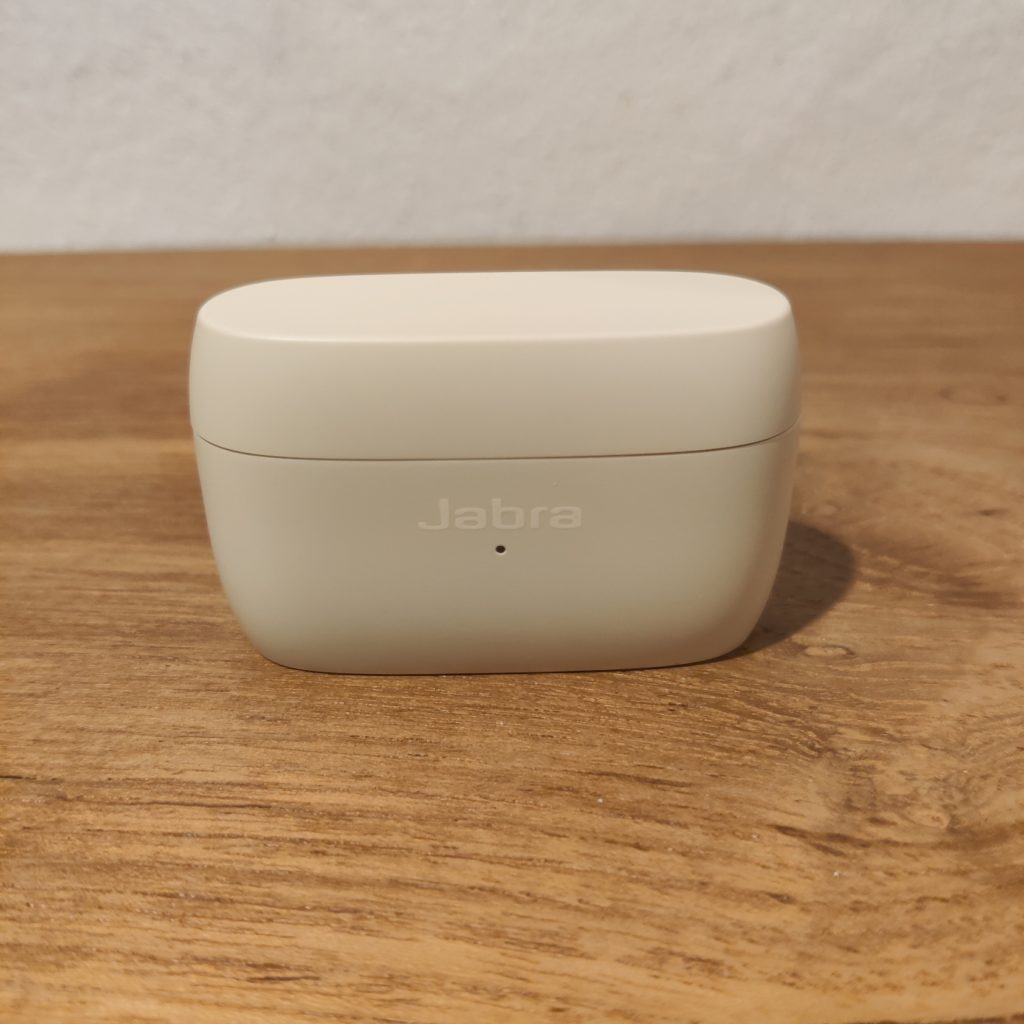 The charging case, which also supports wireless charging, uses the same tried-and-true wide cover design that Jabra has been using for years. On the back, there's a USB-C port for charging. While it isn't the smallest or most pocketable in terms of form factor, the charging case doesn't feel bulky to hold and carry around.
The Jabra Elite 5 is rated IP55 in terms of water and dust resistance rating. That means it offers enough protection for workouts in light rain. In other words, it is water-resistant, not waterproof – so don't go submerging them in water.
Features and functionalities
Now that we know the basics about the Jabra Elite 5, let's dive right in to the features and functionalities to see how they play out.
Jabra Sound+ app
The accompanying app. the Jabra Sound+ app, is well-designed and easy to navigate. The information that you can get access to are also pretty helpful.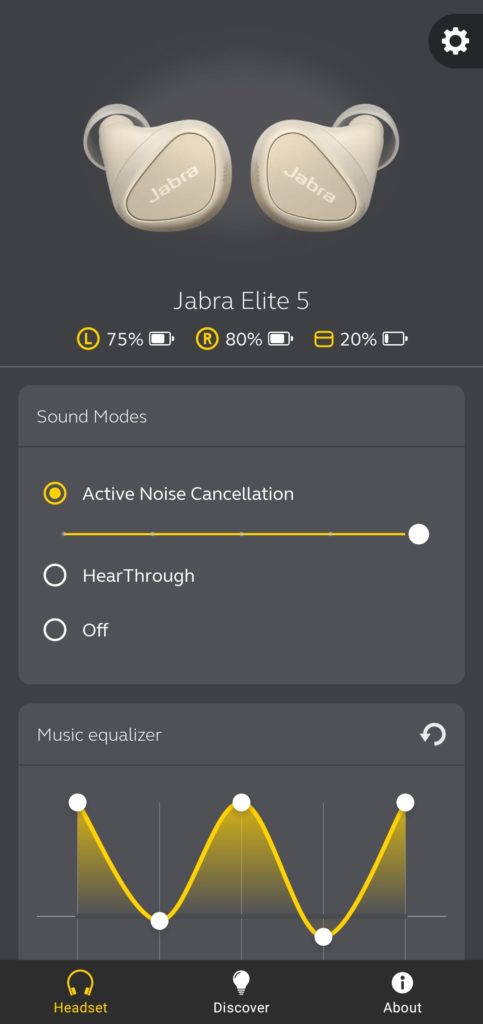 On the main screen, you'll find the battery level indicator for each earbud as well as the charging case. You'll also have access to the noise cancellation mode (on/off), and the level of noise cancellation. There is also a section for you to select an EQ preset, or create your very own one.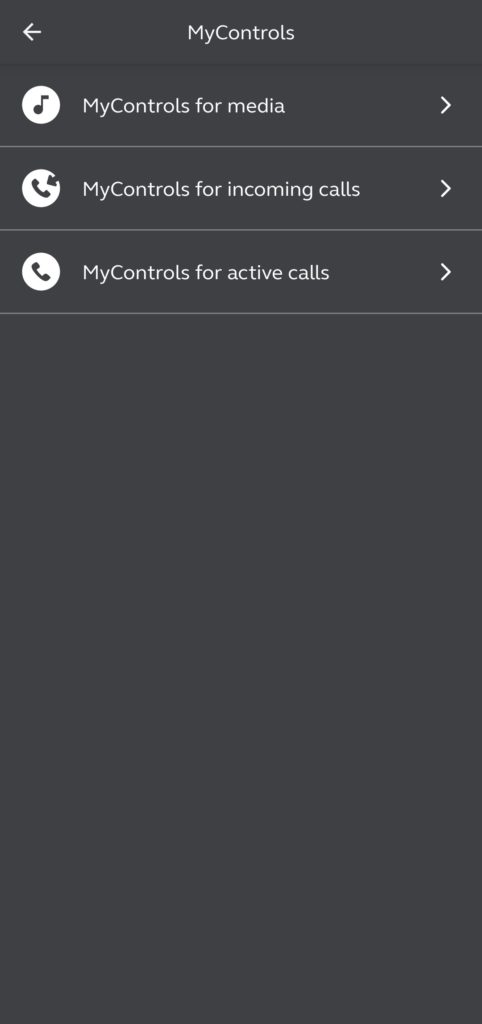 In terms of personalization, the Jabra Sound+ app allows you to make changes to the controls of each button on the earbud and even personalize your ANC mode.
Apart from these settings, you'll be able to find a shortcut for Spotify, and a feature that is pretty unique – built-in soundscapes within the app. Essentially, you have access to a wide range of soundscapes, from white noise to sounds of song birds, ocean waves and rainfall. We really like this feature because you never have to search YouTube for nature sounds that are often interrupted by advertisements every few minutes.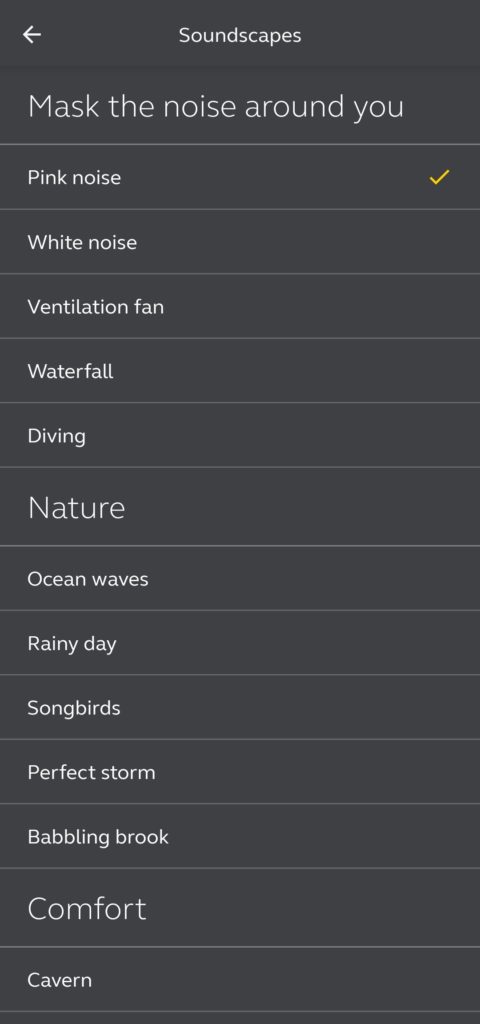 Another thing we really appreciate is that Jabra allows users to rearrange the widgets on the main screen so you can order it to your liking.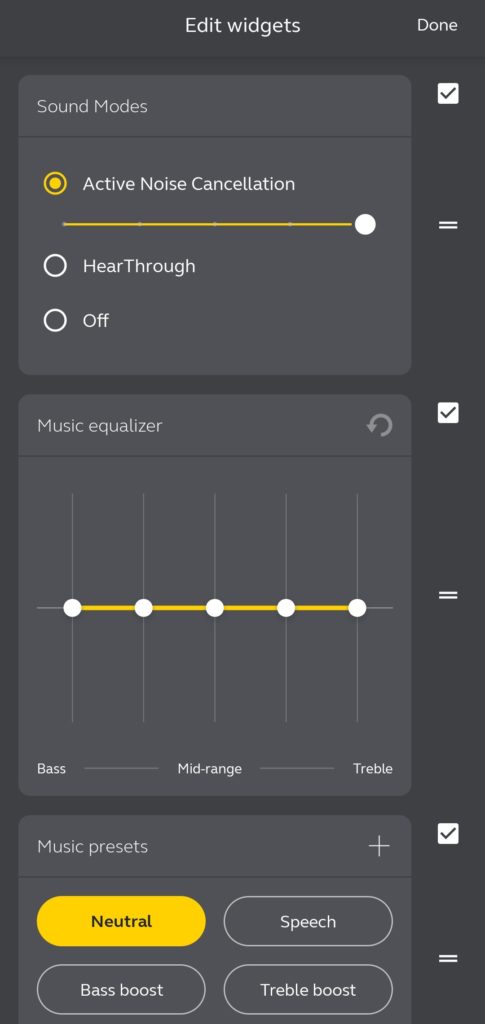 Overall, we were pleased with the Jabra Sound+ app. Unlike some apps that really feel redundant and a waste of memory space, this app actually adds some value to the user and did not feel like Jabra created it just for the sake of having an app.
Controls
You can control the earbuds by tapping on the left or right earbud. For instance, pressing and holding down the left earbud lowers the volume while doing the same on the right earbud increases it. Tapping once on the left earbud will cycle between ANC and HearThrough where as tapping on the right one will play/pause the music.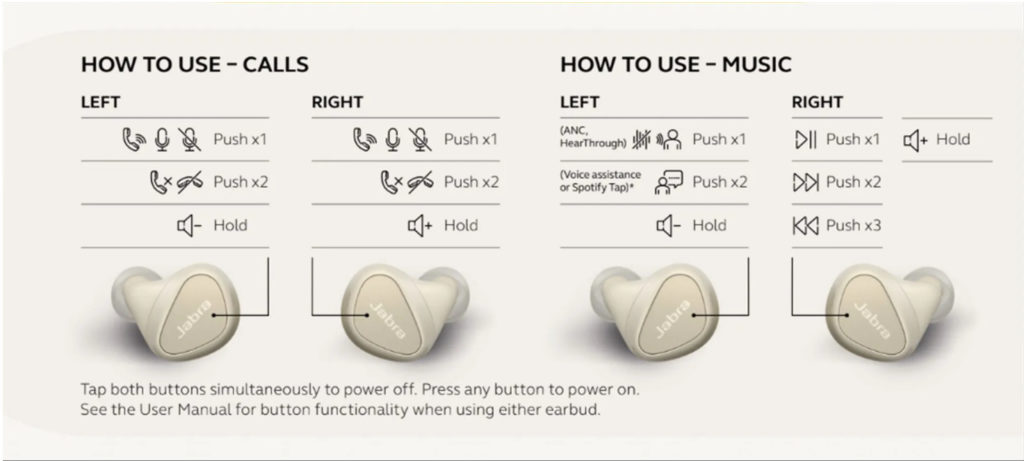 As aforementioned, these controls can be changed via the Jabra Sound+ app. Controls were responsive and tapping on the physical buttons on the earbuds did not push the earbuds deeper into the ear. Unlike earbuds with a touch interface, with the Jabra Elite 5, you know that you've pressed them because of the click that you can distinctly feel.
Connectivity
The Elite 5 is also the most affordable model in the Jabra lineup to support Bluetooth Multipoint. This feature keeps you connected to two devices at once. In other words, if a call comes in on your phone while you're listening to music on your laptop, just answer the call and the audio switches automatically. On our test, the feature was seamless and worked fuss-free.
Sound quality
Even with the default settings, most users will be happy with the sound quality of the Jabra Elite 5. The earbuds, powered by 6mm speakers, offer a clear, balanced sound, which works well with most genres. If you don't like the default settings, though, you can easily adjust the EQ.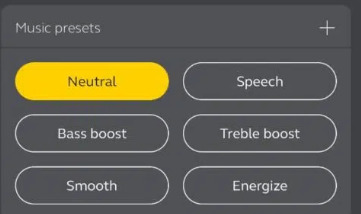 Users can also make use of Jabra's customizable EQ with multiple presets – Neutral, Speech, Bass Boost, Treble Boost, Smooth, and Energize – according to their own sound preferences. Our favourite was Speech, which emphasized vocals for clearer results.
Overall, sound stage is decent on the Jabra Elite 5. Mids are well-tuned. Bass lovers, however, may lament the lack of bass in the default settings. Even after adjusting for bass, it occasionally fell flat. Most users won't mind, though. In fact, we actually felt that the Elite 5 offers decent bass response without overpowering other frequencies.
Noise cancellation and transparency
These earbuds are powered by the Qualcomm QCC3050 processor. Featuring hybrid ANC, which uses a combination of inward-facing and outward-facing microphones to cancel noise from inside and outside the ear, noise cancellation is more reliable and falls across a wider range of sounds.
On our test, ANC managed to block out a wide range of sounds, including loud vacuuming from housekeeping in a hotel room and chatter from the streets. The Elite 5 also handled wind very effectively.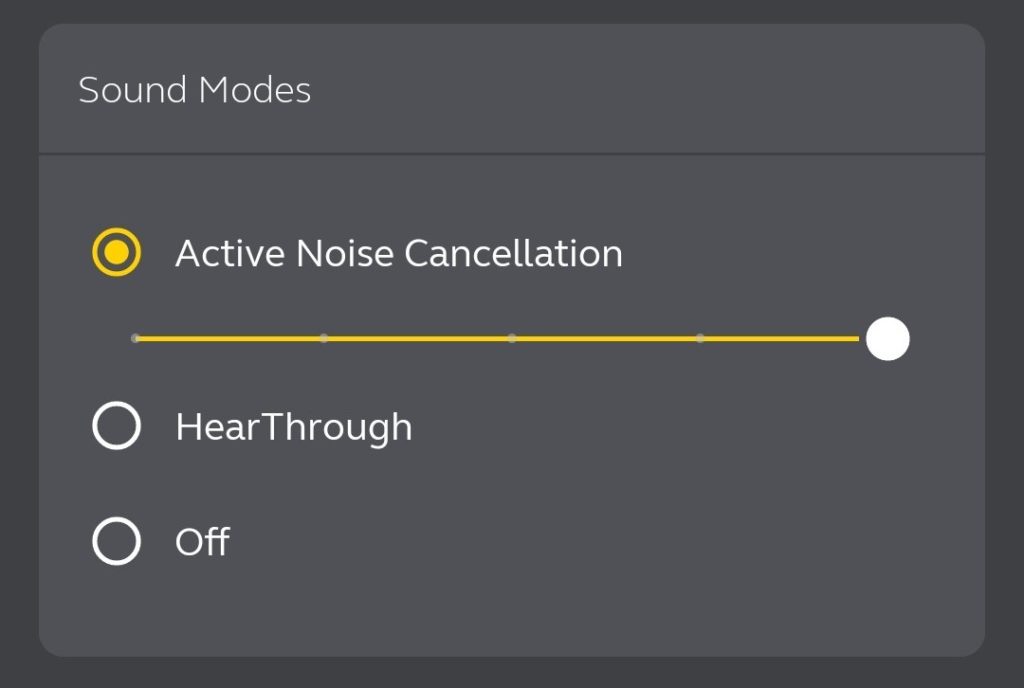 HearThrough mode is another standout feature; it continues to be dependable for raising environmental awareness. During strolls, the feature was also helpful for monitoring foot traffic and street traffic.
The Sound+ app gives you the option to choose between ANC, HearThrough, and Off options, allowing you to switch between all three or any two. The best part is that you can quickly switch between the two modes with just one tap on the earbuds.
Call quality
The Jabra Elite 5 has six microphones for calling, which is more than any other Jabra model, and is great for calling both inside and outside where other people's voices will compete with yours. Even with loud traffic nearby, I never had to strain my voice. Voices on both ends sounded full and natural.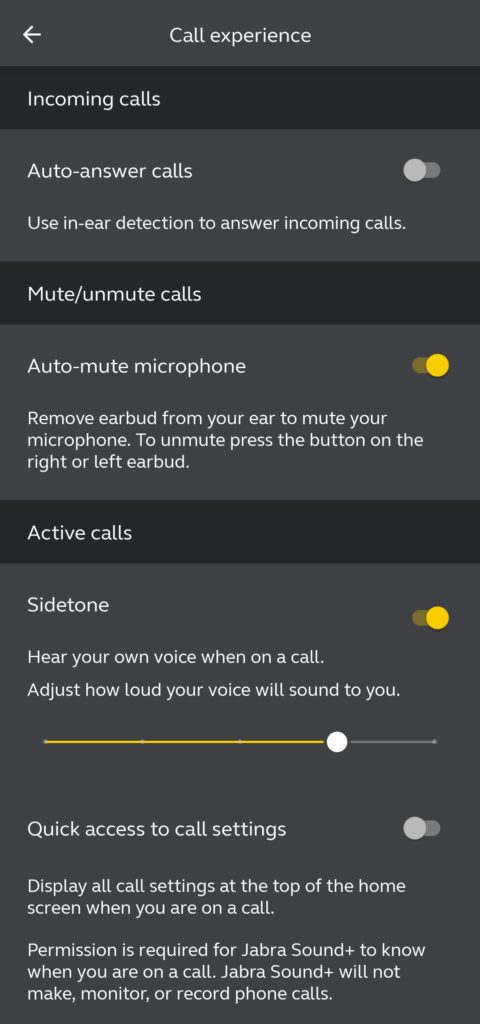 Jabra also offers a side-tone adjustment that lets you hear more of your voice during a call, but if you find that it is insufficient, you can also activate the full transparency mode.
Voice assistants
The Jabra Elite 5 supports all Voice Assistants (Amazon Alexa, Apple Siri, and Google Assistant). By default, holding onto the right earbud opens Google Assistant. You can also say "Ok Google" to open assistant hands-free. Everything works as it should, and we did not experience any lag when we were trying to get things done.
Battery
Jabra claims that the Elite 5 offers up to 7 hours of playtime and up to 28 hours with the Qi-certified wireless charging case. That's pretty impressive – for reference, the AirPods Pro clocks in at 5 hours of playtime and 25 hours with the charging case and the Google Pixel Buds Pro 7 hours, and 20 hours, respectively.
If you turn off ANC, the Jabra Elite 5 offers up to 9 hours of playtime and 36 hours with the case. That's more than all-day listening. If you do have to charge up your earbuds, the Jabra Elite 5's fast charge feature gives you an hour of power in just 10 minutes.
Furthermore, if you remove any side of the earbud from your ears, music will automatically stop playing to preserve the battery of the Jabra Elite 5. The earbuds also support Mono mode for you to use only one side of the earbud. The other side can be left in the charging case to prolong battery life.
Pricing and availability
The Jabra Elite 5 is available from 15th September 2022 in all authorised retailers including Jabra's official store in Lazada and Shopee, MSRP $228.
Pre-order starts from 5th–14th September 2022 – A complimentary $30 CapitaLand voucher will be given with every purchase of the Jabra Elite 5.
Find out more about Jabra Elite 5 at www.jabra.com/elite
Conclusion
With good call and sound quality (albeit its less impactful bass), a charging case that supports wireless charging, ANC and HearThrough, an intuitive app, great controls, and above average battery life, the Jabra Elite 5 is an all-rounder that offers you all that you'd wish for in a pair of mid-range earbuds.
But more than that, the tiny but impactful details – like auto pause, Mono mode, and soundscapes – that Jabra features in the Jabra Elite 5 make the earbuds that much more easy to recommend.