Google has come a long way since its original Pixel Buds was released in 2017. Fast forward half a decade later, we have the Google Pixel Buds Pro – the company's very first earbuds with active noise cancellation. Let's see how the flagship Pixel Buds Pro performs and whether it is worth the SGD $299 price tag.
Specifications
Earbud weight
Case weight
6.1 g each
50.6 g without earbuds, 62.8 g with earbuds
Dimensions
Each earbud:
21.3 mm x 18.2 mm x 19.8 mm
Charging case:
25 mm x 50 mm x 63.2 mm
Earbud IPX Rating
Case IPX Rating
IPX4
IPX2
Drivers
Custom 11mm dynamic drivers
Connectivity
Bluetooth 5.0
Microphones
Six mics total with voice accelerometer and wind mesh
Charging
USB-C® charging port
Qi-compatible wireless charging
Earbud Playtime
Total Playtime with Case
11 hours (7 hours with ANC)
31 hours (20 hours with ANC)
In the box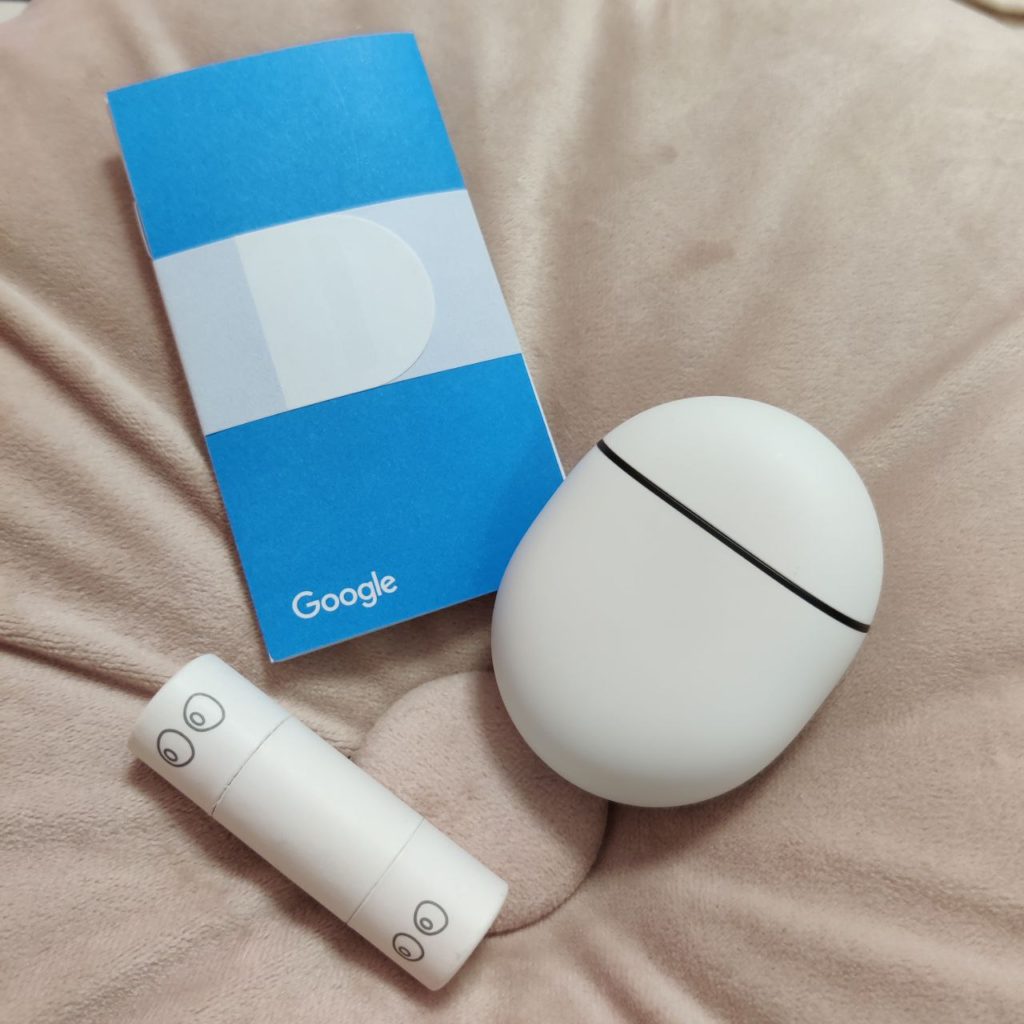 Open up the box of the Google Pixel Buds Pro and you'll find:
The earbuds
Wireless charging case
Eartips with 3 size options: small, medium (attached to earbuds), large
Quick Start Guide
Safety, Warranty, and Regulatory Guide
That's right – no charging cable. While it can be a little annoying, we're sure you can find a charging cable lying around your table. Besides, the Pixel Buds Pro supports Qi wireless charging, so this really isn't a big deal, big picture wise.
Google's efforts in reducing waste is also evident in the Pixel Bud Pro's minimal packaging.
Nice look and comfortable feel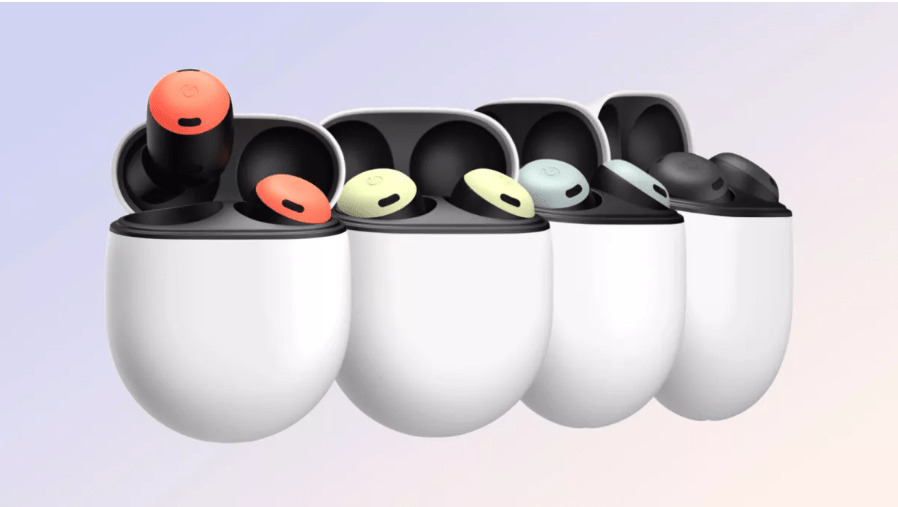 Internationally, the Pixel Buds Pro is available in four different colors – Coral (salmon/orange), Lemongrass (light yellow/green), Fog (light blue with gray undertones), and Charcoal (lighter gray). Unfortunately, we can only get them in Charcoal here in Singapore. Boo.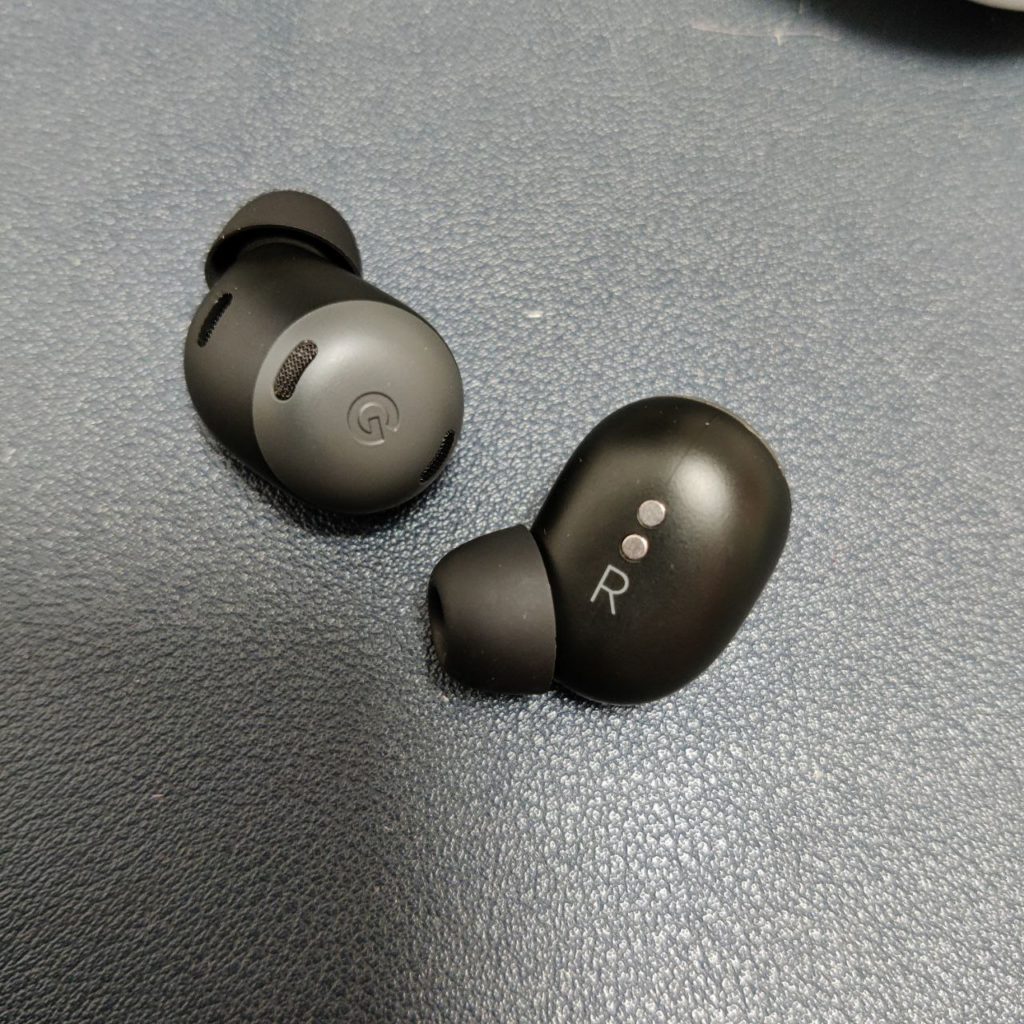 Doing away with stems or wingtips, the Pixel Buds Pro presents a design in the shape of a bean. The earbuds are slightly tapered, flat, and elongated, and because of that, they sit nicely in the ears for a more comfortable and secure fit.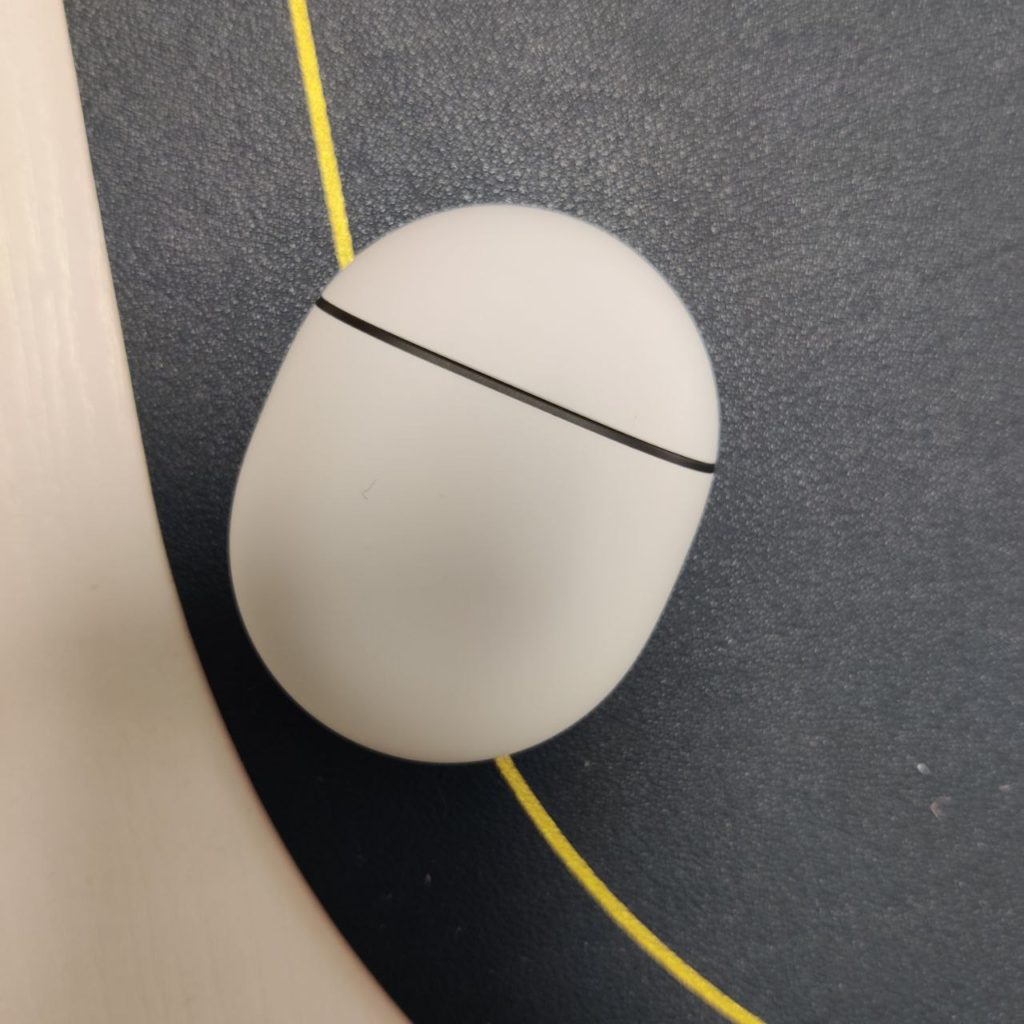 The charging case has a white, matte surface that nicely contrasts the greyish earbuds. With a nice, slight weight to it, it feels well-built. Because of its flat design, the case fits nicely in pockets without sticking out. The lid is also easy to open and close with one hand. At the bottom of the case, you'll find a USB-C port for wired charging.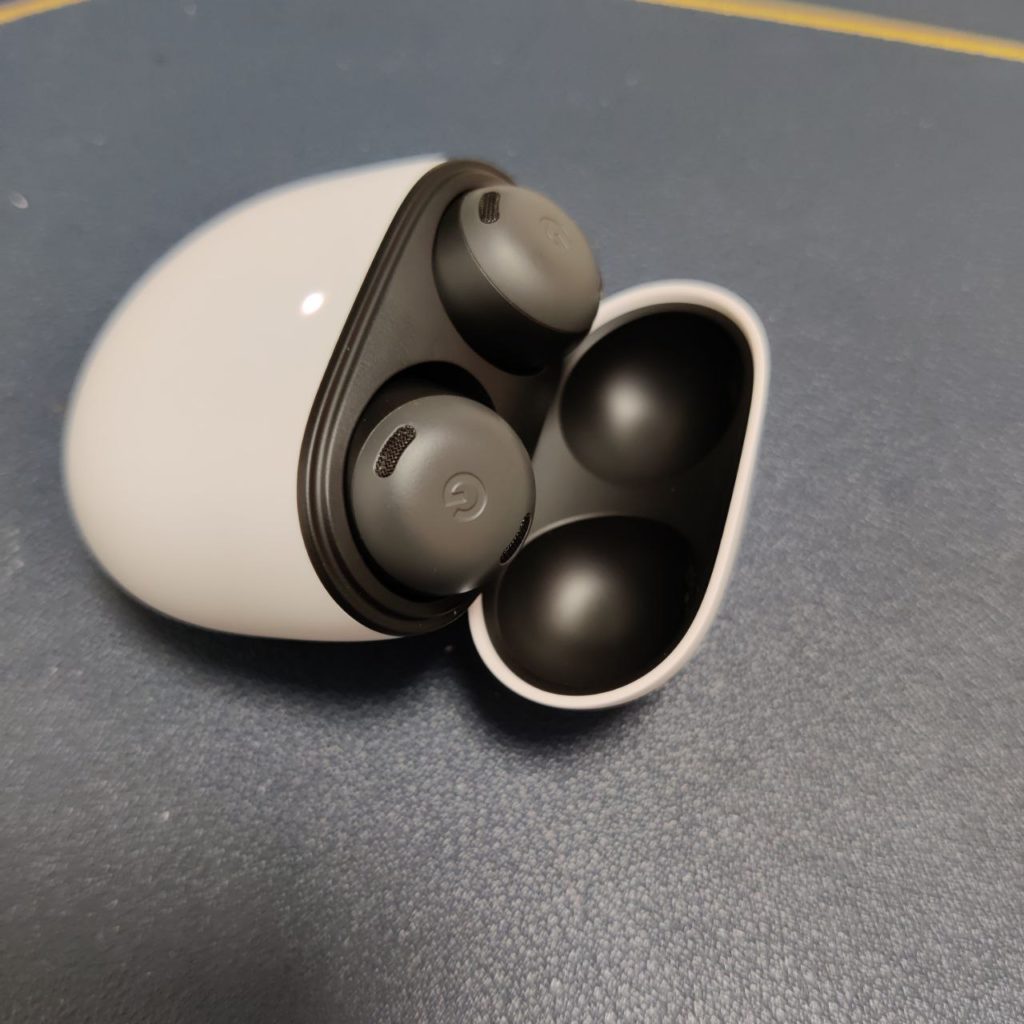 The earbuds itself hold an IPX4 water-resistance rating – which is good enough for a workout in light rain. The case holds an IPX2 rating.
Seamless pairing and feature-light Pixel Buds app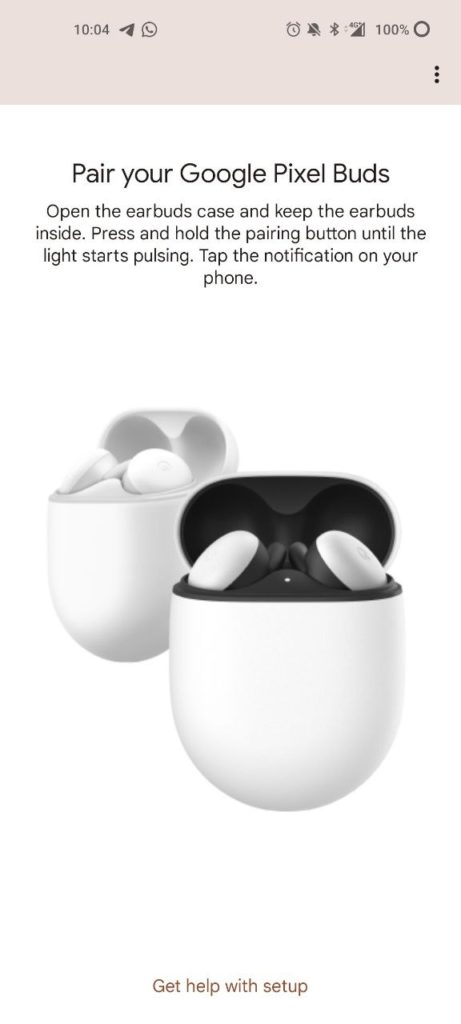 On our test, setting up and pairing the Google Pixel Buds Pro was a breeze. Its fast pairing feature works with any Android 6.0+ device. It also comes with an accompanying Pixel Buds app that was easy to use, but pretty light on features.
After pairing the earbuds to your device, you'll go through a earbud fit test via the app to find your ideal in-ear seal for optimal ANC and audio performance. The test takes less than half a minute.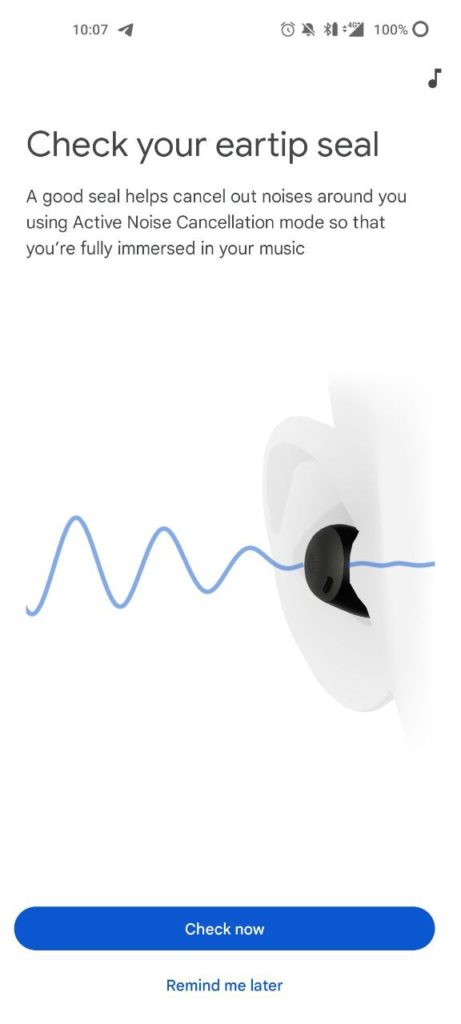 You can also use the app to customize the touch sensors and Google Assistant features. That's about all you can do on the app for now. You won't be able to adjust ANC levels, nor can you find an EQ function to make changes to how the buds sound.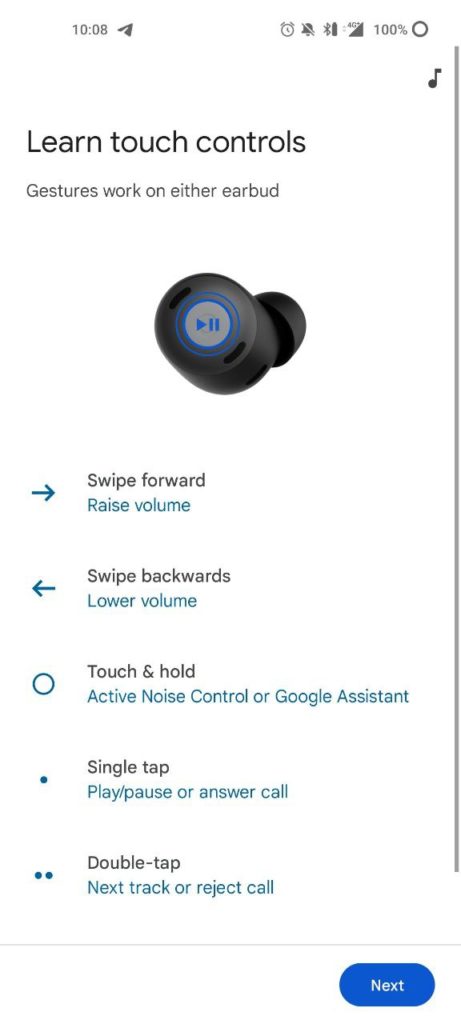 There is, however, a function that supports multipoint connection. What this means is that the earbuds can switch automatically between two devices. If you receive a call on your phone while listening to music on your desktop, for example, the Pixel Buds Pro will switch automatically to your phone. The process is pretty seamless. However, the function isn't enabled automatically – you have to switch it on through the app.
Great ANC
As the first Pixel buds to feature ANC, this is the Pixel Buds Pro's major selling point. According to Google, the Pixel Buds Pro include a custom six-core audio chip that powers the active noise cancellation system.
Google also claims that the earbuds automatically adapts to the contours of your ears and is powered by a custom Google processor and algorithms that constantly analyze external sound and cancels it, making background noise disappear.
How does that translate in real life? Well, we were thoroughly impressed by noise cancellation on the Pixel Buds Pro. It does an impressive job – if you get a tight seal.
The earbuds did a good job blocking out noises from the street, voices of people, and even a loud, screechy fan that I have in my room.
In terms of comfort, Google has included an "active in-ear pressure relief," which really does help do away with the uncomfortable feeling that you often get with noise-cancelling earbuds.
One major complaint that we do have is that the earbuds' noise canceling abilities are adaptive – you can't manually adjust ANC levels.
But since ANC on the Pixel Buds Pro runs on Google's very own algorithms, the noise-cancelling capabilities could very well be further improved through firmware updates, and we're pretty excited to see where that'd go in the future.
Just-as-great Transparency mode
Tap and hold the touch control on either earbud and you can toggle between noise canceling and transparency modes. Audio was clear and crisp on the earbud's transparency mode. You'd be able to engage in conversations without having to remove the Pixel Buds Pro. Google claims that the earbuds process a wide range of frequencies with low latency to keep the effect sounding natural and in sync. True enough, the sounds that you do hear sound natural.
Good audio and call quality
The Google Pixel Buds Pro is powered by custom-designed 11mm dynamic drivers that are tuned in-house by their own audio engineering team with an emphasis on clean bass, clarity, and dynamics. On our test, the earbuds' wide soundstage was apparent. Audio sounded like it was coming from speakers.
Out of the box, highs and mids on the Pixel Buds Pro are clear and airy. Bass is clean and ample, without being too overstated. That said, the lack of an EQ feature on the app means you can't manually adjust sounds to your liking. The saving grace is that its smooth and full sound signature and open soundstage works great with most pop songs of today.
Also unfortunately, the Pixel Buds Pro only supports AAC and SBC audio codes. The lack of aptX support is surely a missed opportunity.
In terms of making and receiving calls, the Pixel Buds Pro does its job. Each earbud comes with three microphones equipped with wind-blocking mesh covers and a voice accelerometer that detects when you're speaking. On our test, the mesh did not completely remove external noise, but calls remained clear on both ends and we have no major complaints.
Nice Google Assistant integration
With the Google Pixel Buds Pro, you'll be granted the ability to make calls, send messages, request songs, control devices, set reminders, and open Maps – hand-free.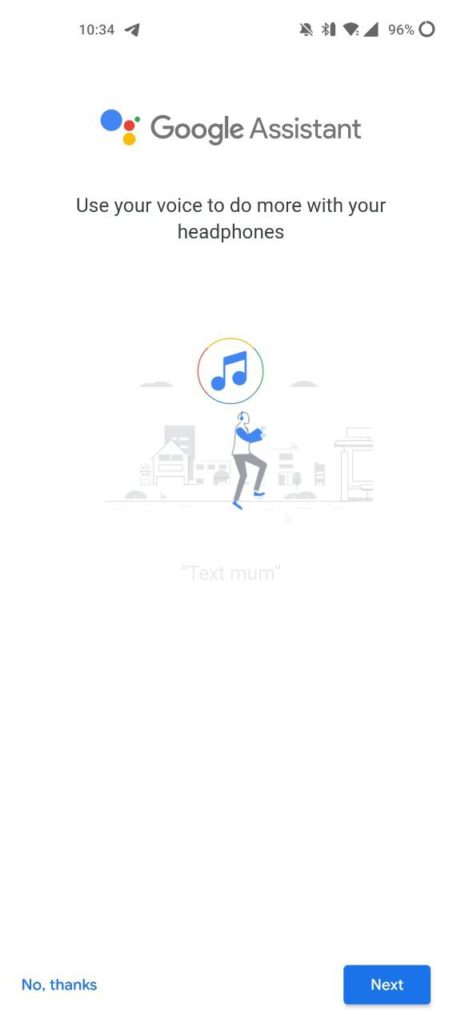 Simply say "Hey, Google" or press and hold an earbud to holler at your nice little Assistant. With Assistant enabled, when you receive an important notification, the earbuds play a chime sound and read you a summary of the notification. You can press and hold an earbud if you'd like to hear it in full. If it's a text message, you can even choose to respond immediately.
Long battery life
The Pixel Buds Pro is rated at up to seven hours at moderate volume levels with noise cancelling on and at up to 11 hours with noise canceling off. You even get an additional 20 hours with the charging case. That adds up to a total of 31 hours of listening per charge.
On our test, Google's claims were accurate. 11 hours is more than adequate for a single session of listening. So most users will be very satisfied with the Pixel Buds Pro's battery life.
Pricing and availability
The Pixel Buds Pro is available here at SGD $299.
Pixel Buds Pro: Final words
Keeping in mind that the Pixel Buds Pro is Google's latest flagship earbuds, $299 is considerably affordable. With impressive ANC, a long battery life, hands-free Google Assistant, and good, fuss-free audio quality, the Pixel Buds Pro is a good pair of true wireless earbuds for Android users to consider.
Check out our review of the Google Pixel 6A here.