The StarHub Go Streaming Box is the first in the world to run on the Operator Tier version of Android TV Oreo
Singapore, 29 August 2018 – StarHub today unveiled the StarHub Go Streaming Box, a brand new all-in-one entertainment destination combining the best of StarHub's content catalogue and the Google Play store. Powered by the Android TV Oreo operating system and compatible with any wireless broadband connection, the box comes preloaded with a Go Family subscription*, which includes over 50 channels. Featuring content optimised for the big screen, the box is integrated into the StarHub Go ecosystem, allowing customers to seamlessly switch viewing between their TV set and smart devices.
"Our customers want the freedom to choose which programmes to watch, where to watch and when to watch it, and the StarHub Go Streaming Box delivers on every front," said Justin Ang, Head of Product, StarHub. "With just a few clicks, customers can easily access all their favourite content from StarHub Go and other streaming apps on a single platform. Customers who binge-watch StarHub Go content on the go using their smartphones will also love the seamless experience of returning home and resuming from where they last stopped on the big screen. This new elevated way of enjoying content puts the best of entertainment in the palm of the customer's hand."
The first in the world to run on the Operator Tier version of Android TV Oreo, the StarHub Go Streaming Box makes content discovery a breeze. Operator tier permits operators to provide customers with a customised user interface. One of the advantages is that titles from StarHub Go packs are aggregated onto a 'discover' tab and categorised according to genre, allowing customers to explore and discover content without the hassle of navigating through separate tabs.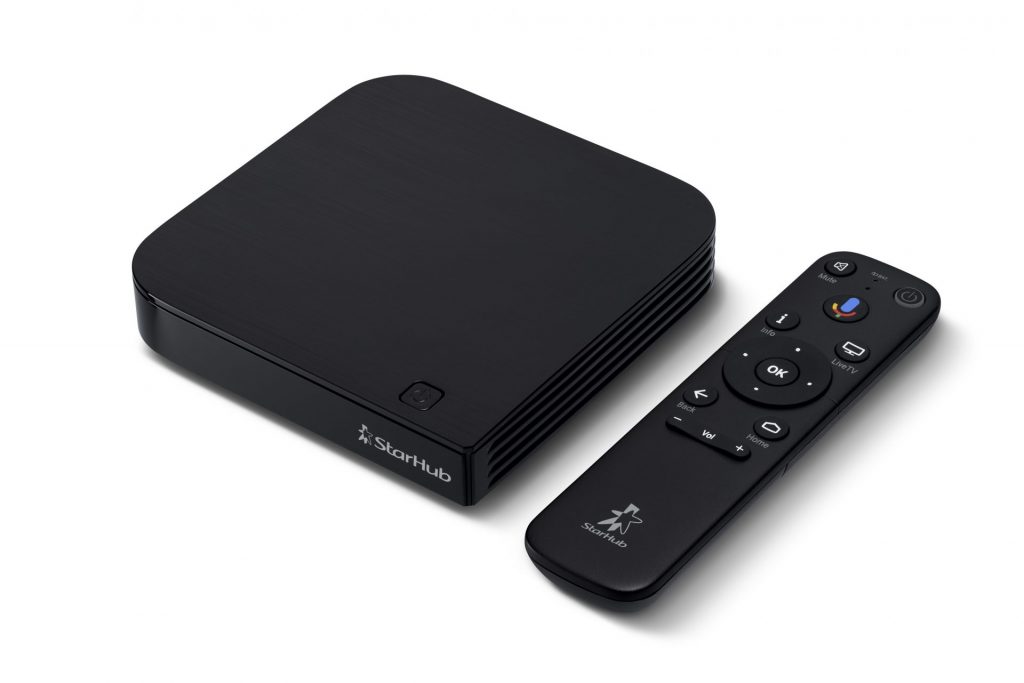 The StarHub Go Streaming Box supports Ultra HD content (4K) and comes with Google Assistant voice search, which enables users to easily seek out content with a simple voice command to the voice remote. Google Chromecast is also built into the box to allow customers to stream video content to the TV set from their smart devices. The box also comes preloaded with YouTube, Google Play Movies, Google Play Games and supports the Google Play store, so customers can download more of their favourite apps and games.
Each purchase of the StarHub Go Streaming Box comes with a Go Family subscription*, which includes over 50 live TV and catch-up channels from a variety of content genres. Some of the channels available are Hub E City HD, Hub VV Drama HD, BBC Earth HD, tvN Movies HD, LifetimeTM HD, GEM HD, Cartoon Network, Oh!K HD, CuriosityStream HD, and BBC World News HD.
Customers looking to upsize their content on top of their Go Family subscription can subscribe to other StarHub Go packs like Go Select, Go Sports, Go Disney, Catchplay Unlimited, HBO GO on StarHub Go or third-party applications like FOX+. For TV aficionados, Go Select offers access to thousands of TV shows including Korean movies and dramas, TVB dramas, up-to-date Asian programmes, HBO Originals and more. With full seasons and episodes of shows like Game of Thrones, Chicago Fire and Legend of Fuyao available, customers can binge-watch on Go Select to their hearts' content. Go Sports gives sports fans a front row seat with the live coverage of La Liga, ATP tour and WWE. Customers can be transported to the happiest place on earth with Go Disney and enjoy brand new episodes and full series from Disney Channel, Disney Junior and Disney XD. Catchplay Unlimited delivers the top cinematic experience for movie fanatics with its huge variety of blockbusters and movies. Customers can catch the best of HBO from the biggest blockbuster movies to most-talked about HBO originals with HBO GO on StarHub Go.
This slideshow requires JavaScript.
"The customer's experience is absolutely key. From the time the customer picks up the box, it works with any broadband connection, allowing customers to effortlessly plug and play immediately. Its built-in "live updates' feature automatically pushes system updates, so that customers will always enjoy the latest enhanced security and usability features. In addition, customers can rest assured that they will receive the quality of service and dedicated after sales support from a trusted broadcaster," added Mr Ang.
To access the StarHub Go Streaming Box, customers must first create a Hub iD; all purchases on the StarHub Go Streaming Box, information on viewing history and favourited programmes are tagged to the Hub iD. Using the same Hub iD, viewers have the option to switch seamlessly across all StarHub Go platforms; they can catch their favourite series on the move with StarHub Go, return home and easily resume playback on the StarHub Go Streaming Box. A parental control PIN can also be created to restrict access to mature content and prevent accidental purchases.
From 5 September 2018, customers can head to the StarHub Online store or any StarHub Shops to sign up for the StarHub Go Streaming Box. The StarHub Go Streaming Box is available at $14.90 per month together with StarHub 1Gbps Fibre Broadband at $39.90 per month, with a 24-month contract. Customers who sign up for this will also receive the new Linksys EA8100 router worth $329 at no additional cost. Alternatively, the box is also available as a stand-alone product at an introductory price of $199 (U.P. $249), with a complimentary Go Family subscription of six months. The StarHub Go Streaming Box comes with a one-year warranty, which begins at the point of purchase.
For a limited period during COMEX 2018, there will be exclusive COMEX 2018 promotions for the box. Head down to the StarHub booth at COMEX 2018, Suntec Singapore from 6 to 9 September to find out more.
* Go Family subscription is included for 24 months when customers sign up for the StarHub Go Streaming Box together with StarHub 1 Gbps Fibre Broadband bundle, and 6 months when customers sign up for the stand- alone StarHub Go Streaming Box. Usual price of the Go Family subscription applies thereafter.