Singapore, July 31, 2018 – Today Parrot, the leading European drone group, announces ANAFI. With ANAFI, Parrot once again disrupts the drone universe and redefines the standards with a new-generation drone, ultra-portable, equipped with a 4K HDR camera, super-efficient and easy to use.
Parrot took into account the users' feedback to meet four essential needs: Image quality, flight performance, foldability and ease of use of the software and the piloting.
Out of these four key imperatives ANAFI was created and is an extraordinarydrone that intends to mark a turning point in the world of drones:
An ultra portable, compact, rugged, lightweight and foldable UAV with a USB-C charging system.
A 4K HDR camera with a zoom, a 21MP sensor, a 3-axis stabilization system with, for the first time, a 180° vertically rotating camera and a lossless zoom up to 2.8x. • An impressive flight time of 25 minutes made possible by a 'bio-inspired' design combined with a smart battery.
A new intuitive app with automated movements of the drone and the camera.
An ultra-portable design

ANAFI is the drone you will always have at your fingertips and with you. At the beach, hiking, skiing, at a party with friends, every moment of life, as simple as it is, becomes a unique moment, with ANAFI as you can capture a professional image from any point of single view.
The ANAFI design concept originated through the observation of insects. Parrot followed the anatomical structure of an insect. ANAFI is divided into 3:
The head: the camera and the gimbal
The thorax: the electronics and the mechanics is gathered in the center,
The abdomen: it is the big battery on the scale of the drone.
It has the beauty of a robotic beetle. Folded, it is mysterious like an insect coiled in its chrysalis.
This design principle has proven to be very functional. It is sturdy, lightweight, well balanced and folds very easily. The field of vision is very clear, and the gimbal is protected. The electrical connections are short. Despite an exhausting development The Parrot engineers have surpassed themselves. They have identified the main challenges that the company has imposed to realize this new generation drone, half robot, half insect.
Ultra-compact
ANAFI is a 320 g (11.2 ounces) ultra compact, robust and foldable drone. Its four arms fold and unfold in less than three seconds. In addition, the remote control, Parrot Skycontroller 3 is also extremely portable as it unfolds in 1 second and then, it automatically connects to ANAFI.
Ultra lightweight and robust
Thanks to a unique assembly of carbon fiber filled with hollow glass microbeads, ANAFI is the lightest drone in its class at only 320 g (11.2 ounces) without compromising its robustness and performance.
Ultra-portable
Equipped with a USB Type-C connector, ANAFI can charge with phone and PC chargers. It connects by car, computer, smartphone cable or 'powerbank'.
Ready to fly
Complete with a carrying case, like a cocoon, ANAFI is protected and at hand, ready to fly.
Breathtaking images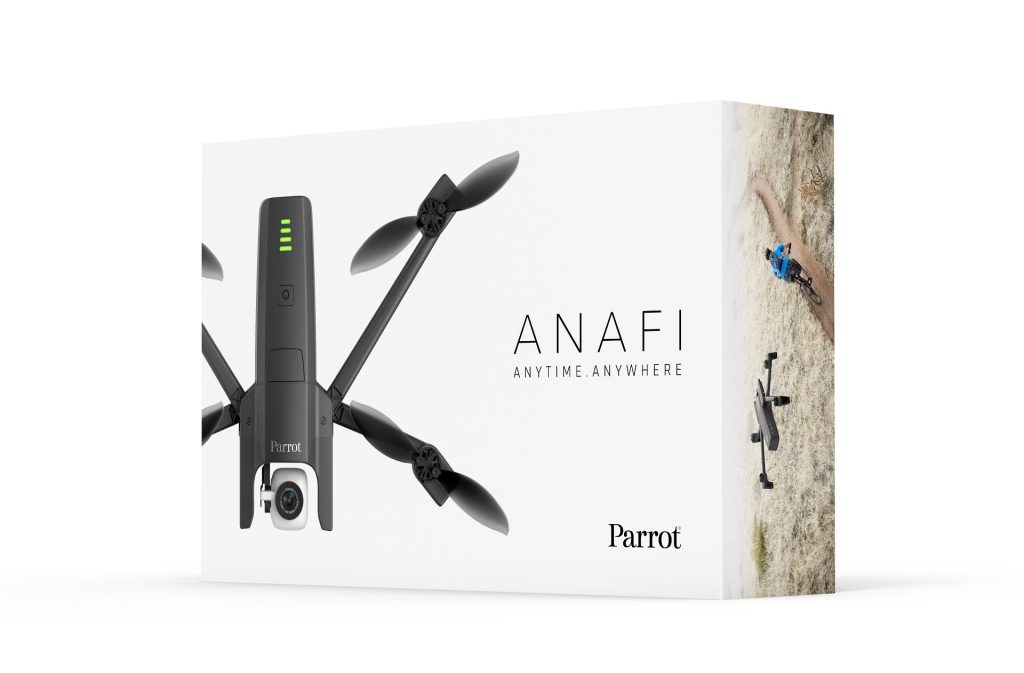 Taking videos and aerial photos is the main use of drones.
ANAFI is a flying camera that embeds the best software and hardware solutions of the moment.
The optics specially developed for ANAFI, withstands temperatures from -10°C (14°F) to + 40°C (104°F).
ANAFI uses a latest-generation Sony IMX230 sensor and an Ambarella video processor to produce spectacular 4K HDR (30fps) and 21MP photos.
4K camera and 21MP sensor
ANAFI films in 4K HDR and 4K Cinema (4096 x 2160). The implementation of HDR videos in 4K is a real technological feat, ANAFI is the only drone on the market to do this.
HDR enhances the rendering of backdrop scenes for incredibly detailed video and balance between light and shadow. These capabilities are ideal for filming a sunset or a very bright sky for example.
The 4K Cinema format offers more pixels on a 17:9 ratio for professional quality videos.ANAFI, through its dedicated mobile application FreeFlight 6, allows you to choose from three video modes:
4K Cinema: 24 fps
4K UHD: 24, 25, 30 fps
1080p: 24, 25, 30, 48, 50 or 60 fps
A revolutionary gimbal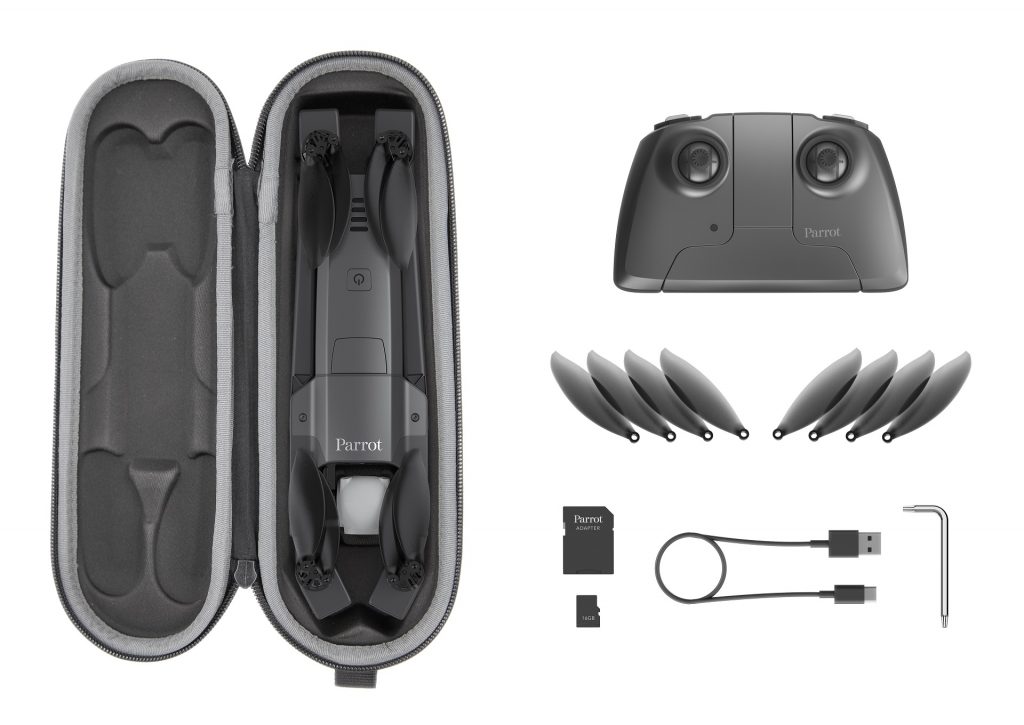 ANAFI's camera is mounted on a "gimbal" stabilized on 3 axis that combines the best of mechanical and digital stabilizations.
Lightweight and hyper-powerful, the stabilized gimbal on 3 axis makes it possible to take photos and videos hitherto impossible to achieve with a drone of this category thanks to a vertical tilt of -90 ° to + 90 °!
It can also tilt horizontally from -40 ° to + 40 ° to ensure stabilization of the horizon, whatever the flight conditions.
In addition, the digital stabilization provides + 5 ° to -5 ° EIS (Electronic Image Stabilization) in the direction of flight allowing impeccably well-kept travelings when the drone is operating at high speed.
This unique system limits the angular vibration to 0.004 ° for super stable photos and videos.
The camera is equipped with a wide-angle lens (110 °) with 2 aspherical lenses designed to limit stray light and chromatic aberrations, regardless of the light conditions.
A lossless zoom
ANAFI is equipped with a lossless zoom of 1.4x in 4K and 2.8x in full HD (1080p). It is also possible to zoom in 3x in digital zoom.
The oversampling technique was used to create a lossless digital zoom. This involves capturing more pixels than necessary, then resizing the image to create a zoom effect while maintaining the same pixel size.
This is possible thanks to the ANAFI 21MP sensor (5344×4016) which offers 1.4x resolution higher than 4K (3840×2160) and 2.8x higher than 1080p (1920×1080). You discover, from a distance, unsuspected details of a building, take a close-up of your children or observe wild animals without disturbing them.
ANAFI also has a unique effect: the Dolly Zoom.
Automatic, this feature allows you to zoom in on a fixed subject while moving the background away. A bluffing and fully automated effect used by great movie directors, such as Alfred Hitchcock or Stanley Kubrick who made it a cinematographic reference.
Professional settings
Photo and video experts and professionals can access and modify the settings:
The resolution of the photo:WIDE: 21 MP – 4:3 (5344×4016) RECTILINEAR: 12MP – 4:3 (4000×3000)
Le photo format: JPEG et DNG-RAW
The shutter speed: 1 to 1/10000so White balance: Tungsten, Warm fluo, Cool fluo, Sunny, Cloudy, Green, Blue  Sky
Exposure value (EV): -3.0 to 3.0o The rendering: Natural, P-LOG (Parrot-LOG)
Power and Intelligence
While ANAFI has exceptional photo and video capabilities, its performance is outstanding for such a compact and lightweight drone.
A smart battery
In addition, the ANAFI battery continuously monitors its charge level (regardless of the temperature and aging of the cell). During a flight, ANAFI evaluates the load level and returns to its take-off position.
The ANAFI battery has an integrated charger, compatible with the latest USB standard (USB-C) and can thus be charged via a phone charger, powerbank or laptop. It adapts to the power source, and the charge is faster when it is attached to a powerful charger.
Last but not least, the ANAFI battery has a hibernation mode to protect its internal chemistry. To activate it, the user must fully charge it before the first flight.
An ultra silent flight
ANAFI's shape, materials used and the design of its propellers, have been optimized to make it the quietest drone in its class.
Omnidirectional Wi-Fi
Each foot of ANAFI is equipped with a dual-band antenna (2.4GHz & 5GHz) to ensure an optimal connection with the remote-control Parrot Skycontroller 3 regardless of the orientation of the drone.
This omnidirectional transmission system uses Wi-Fi compliant protocols developed by Parrot.
ANAFI constantly monitors its Wi-Fi environment in order to switch to another channel when the one it uses is too crowded. This guarantees optimal spectrum utilization performance and allows ANAFI to fly up to 4kms (2.48 miles), for example in the mountains without obstacles or interference, while keeping video transmission.
Impressive flight performances
The FreeFlight 6 application offers two manual control modes: Film and Sport. In sport mode, ANAFI achieves speed peaks up to 55km/h (33 mph) and withstands winds of 50km/h (31 mph)!
Users can customize settings such as the inclination of the drone, its rotation speed, the speed of the camera tilt, etc.
Ease of use
A new dedicated application: FreeFlight 6
The FreeFlight 6 application has  been  developed for ANAFI and offers a modern and intuitive interface.
The main features are accessible directly from the home page. The flight interface adapts to all users : Beginners have access to automatic control modes, such as SmartDronies or CineShots; professional photographers can select or customize camera settings.
The FreeFlight 6 application and the Skycontroller3 long-range remote control have been jointly developed. The interaction between the two allows users to control the movement of the gimbal and the zoom with two dedicated keys very convenient. And change the settings directly on the smartphone screen.
Automatic movements
ANAFI offers automatic control modes: the SmartDroonies, the Cameraman mode and the Follow Me, which use a neural network to reevaluate the target track for each image, with a focus on the shape recognition tracking system. Parrot engineers used a learning process with a database of images of people and vehicles.
Availability
Parrot ANAFI is available for SGD $1,199 incl. GST in Singapore, at Challenger, EpiCentre, iStudio, Lazada (AV One), Nimbus, Propeller SG, Singapore Hobby, and Vision1. The exclusive distributor in Singapore for Parrot ANAFI is Eng Siang International (www.engsiang.com).