Since the world's first vacuum device was built in 1905, vacuum cleaners have come a long way. Gone are the days where you have to reluctantly drag and wheel your chunky vacuum cleaner across your entire house, only to see it get stuck to the sides of your couch.
Because vacuuming and mopping are still two household chores that most people dread, robot vacuum cleaners have been popular among many households across the globe since it hit the market.
Without chunky tubes, wires, and cords, robot vacuum cleaners can be remotely controlled with little to no effort from the user. Roborock is one major player in the home technology market that offers robot vacuum cleaners. Today's review is for Roborocks's latest product: Roborock S6 MaxV.
Specifications at a glance
| | |
| --- | --- |
| Price | $899 SGD |
| Dimensions | 13.8 by 13.8 by 4.5 inches |
| Weight | 6.34 kg |
| Battery Life | 180 minutes |
| Mop/Vacuum Hybrid | Yes |
| Scheduling | Yes |
| Remote Control | No |
| Phone Control | Yes |
| Suction Power | 2500 Pa |
| Dustbin Capacity | 460 ml |
| Water Tank Capacity | 297 ml |
| Noise (dB) | 64 dB (quiet mode) – 67 dB (balanced mode) |
What's in the Box?
Roborock S6 MaxV box and contents
Your purchase comes compactly packed in a box. Aside from the vacuum cleaner itself, your purchase comes with some useful accessories. This includes a charging or docking station, a power cable, a mopping cloth and mopping module, as well as a thin sheet of plastic with double sided tape. This is for you to tape to the floor that is underneath your vacuum cleaner when it's docked so that there are no leakages that may damage your floor.
Roborock also thoughtfully provides you with two washable HEPA filters so you do not have to worry about spending money on a filter any time soon.
As for the device, the Roborock S6 Max V sports a similar look to all of its predecessors. It is a circular cleaner that is less than 100mm thick. Well-built with a sturdy design, the vacuum cleaner weighs 6.43 kg. At 13.8 by 13.8 by 4.5 inches, it takes up significant floor space.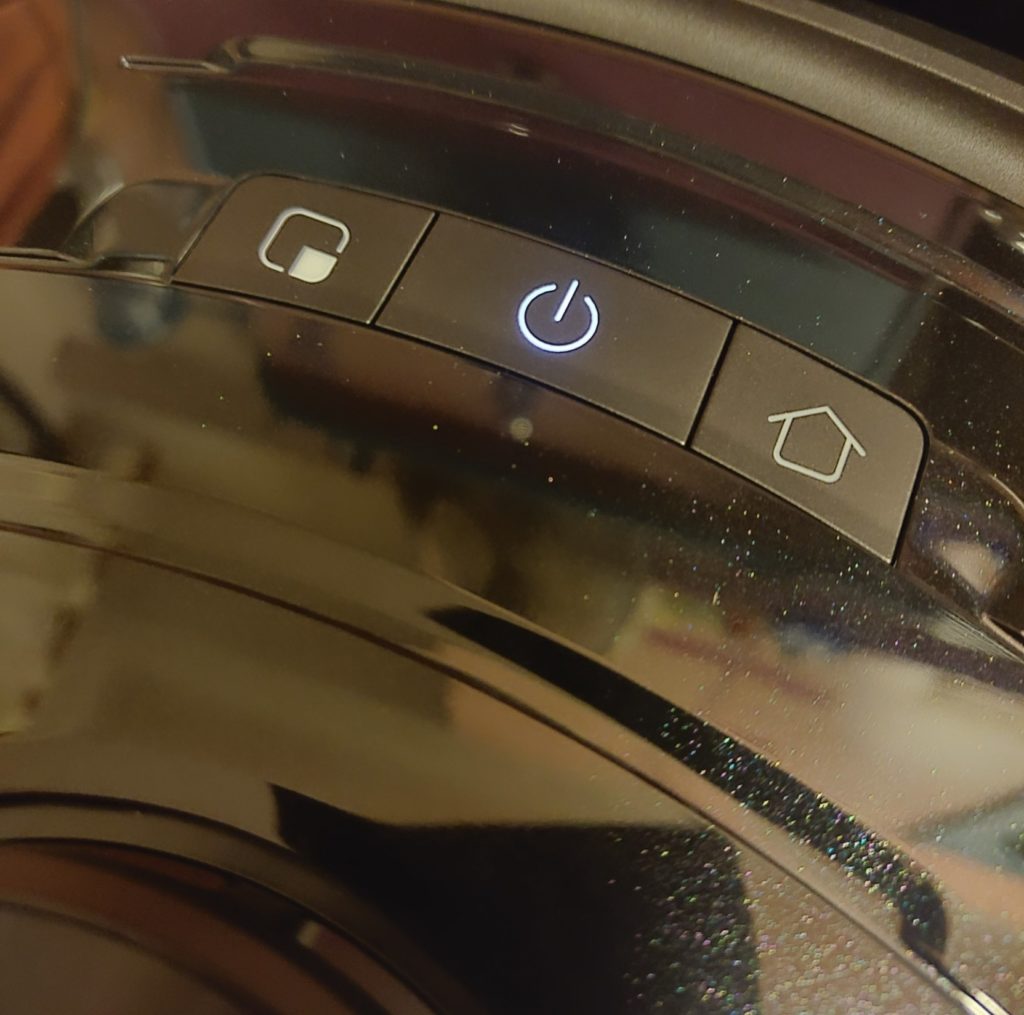 Control buttons: Power, Home, and Spot Clean
The sleek unit features a large 460 ml dustbin and 297 ml water tank capacity. At the top of the cleaner, you will find three control buttons: power, home and spot clean. At the bottom, you will find a main brush, an edge-sweeping brush, and several cliff sensors to prevent the cleaner from falling down stairs.
Product Features
As Roborock's most powerful vacuum cleaner yet, the Roborock S6 Max V features:
ReactiveAI: Powered by twin cameras, ReactiveAI allows the S6 MaxV to recognize and avoid everyday objects and unknown obstacles that may trip up other robots.
25% More Suction: Equipped with an upgraded HyperForce airflow design, the S6 MaxV sees a maximum suction power of 2500 Pa which translates to deeper cleaning.
Multi Level Mapping: Up to four levels can be mapped and automatically recognized to ensure efficient navigation, and each floor can have up to 10 No-Go Zones, 10 No-Mop Zones, and 10 invisible barriers.
Precision LiDAR Navigation: LiDAR navigation and advanced algorithms enable accurate navigation, automatic room recognition and efficient route planning day or night by creating accurate models of your home as the robot cleans.
Intelligent Mopping: Equipped with a high-capacity 297 ml electronic water tank, you can schedule mopping, and even set different water flow levels for specific rooms.
Washable HEPA-Type Filter: The E11 rated HEPA-Type filter captures up to 95% of home particles. It is washable so that it can be used longer before replacement.
Auto Charging: When cleaning very large spaces, the robot will return to the dock, top-up its battery, and continue vacuuming where it left off.
App and Voice Control: Set schedules, clean specific rooms, set water flow, and more from an app. Start cleanups, change modes, and more with Alexa, Siri or Google Home.

Your data is safe and secure

Built for Privacy: Your data is kept safe and secure. Every image ReactiveAI processes is captured and deleted in an instant.
Now that we have seen the specifications and features of the vacuum cleaner, let's dive into the nitty gritty. We will look at what's good and what's not-so-good to see if the Roborock S6 MaxV is worth its hefty price tag.
The Good
1.   Ease of Setting Up
The Roborock S6 MaxV is quick and easy to set up. To get started, all you have to do is insert the dust bin and roller brush, fill the water tank and slot in the mop cloth bracket. As for the charging dock of the vacuum cleaner, Roborock recommends that you plug it in and position it against a wall about half a meter away from any corner.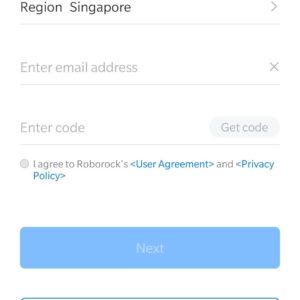 While this vacuum cleaner does not come with a remote control, you can easily control it with the Roborock app. You will need to download and create an account on the Roborock app. You will also have to connect the vacuum cleaner to your Wi-Fi network.
To pair your device to the app, turn the vacuum cleaner on and hold down the Spot Clean and Dock buttons at the same time. After some time, it should say "Resetting Wi-Fi" and the Wi-Fi indicator light will begin to blink. Do note that for now, Roborock cleaners don't work with a 5GHz Wi-Fi network, so ensure your Wi-Fi network works in a 2.4GHz frequency band.
To start off, open the Roborock app, tap the plus icon in the top right, select the S6 MaxV from the list, and follow the instructional prompts to get it connected to Wi-Fi. You can also control the Roborock S6 MaxV with your voice with Amazon Alexa or Google Assistant.
2.   User Friendly App
The vacuum cleaner is largely controlled by In the Roborock app that is available on Android and iOS. When you run the vacuum cleaner with the app for the first time, the S6 Max V will construct a map of your home. At the same time, it will automatically split your home into rooms.
By clearly defining the rooms in your home, you are able to instruct the robot to clean up a single specific room in your home if need be. In addition, you can set up a cleaning routine with the app where you can choose to vacuum, mop, or vacuum and mop a specific area at a certain time of the day.
On the app, you can save up to four maps. This is particularly useful if your home has more than one level. You can also create forbidden No-Go or No-Mop Zones that your robot cleaner will automatically avoid. This is great if you have extremely cluttered areas where you do not want your robot to get stuck at, or if you have flooring that cannot come into contact with water.
Once you create such zones, the app will save the information automatically so you do not have to go through the hassle of setting it up again. If you made a mistake, you can easily edit your zones via the Roborock app.
From the app, you can choose among five cleaning modes: Balanced, Gentle, Quiet, Turbo, and Max. You can also set the water flow for mopping to high, low, or medium, and have them adjusted from room to room.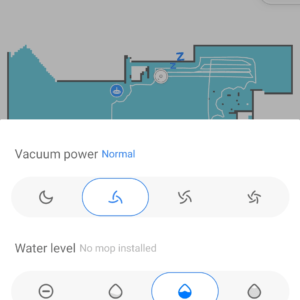 There is also a tab called "Cleaning History" where you can view details of each clean job such as the duration of the job and the distance covered. A map of the path that the vacuum cleaner took will also be available for your reference.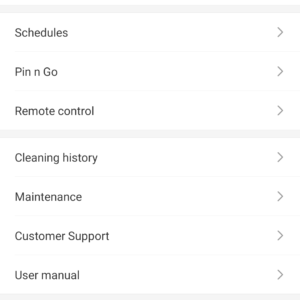 All in all, the Roborock app is simple to use and rather intuitive. Most of the effort that is required from you is geared towards the initial set up and pairing of the vacuum cleaner to the app. After that, you can easily get things done with the push of a few buttons.
3.   Low Maintenance
While we all wish for a vacuum cleaner that requires zero maintenance, we are not quite there yet. The Roborock S6 MaxV comes close, though. With a large dustbin of 460 ml, you do not have to empty the vacuum cleaner after each use. In fact, Roborock only recommends cleaning the dustbin and main brush weekly, and the washable filter every two weeks.
The Roborock app also has a "Maintenance" option that can determine how much time the filter, main brush, and side brush have left before they need to be fully replaced. It will also notify you when your sensors need to be cleaned.
At its price, however, one would expect the Roborock S6 MaxV to be able to empty its own dustbin. If this is a feature that you are particularly on the lookout for, check out Roborock's competitor, the iRobot® Roomba® i7+. It is equipped with an automatic dirt disposal.
4.   Powerful, Intelligent, and Accurate Mapping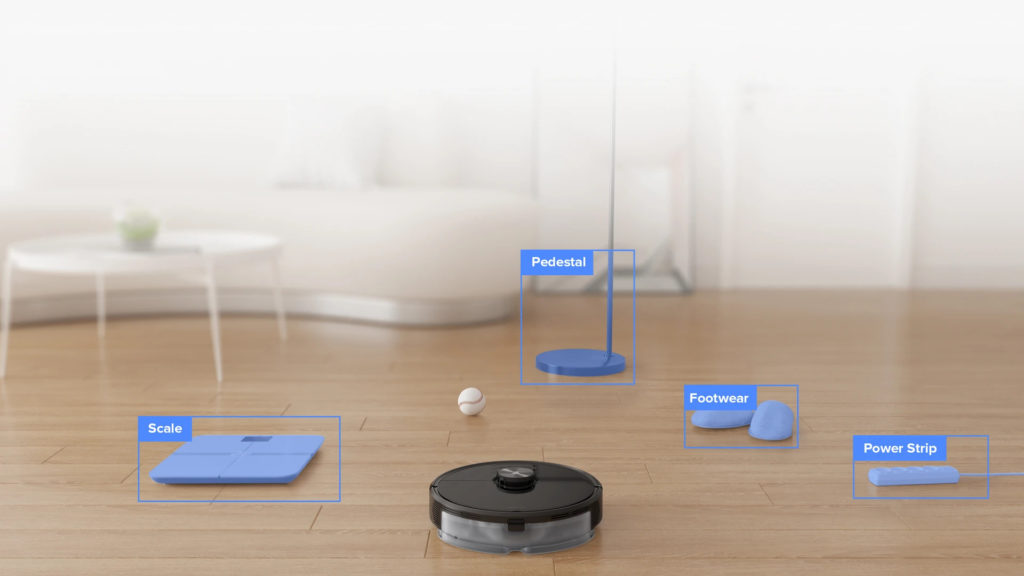 Equipped with both LiDAR sensors and stereo cameras, the Roborock S6 MaxV is able to avoid obstacles, estimate their size and location, and automatically navigate around them.
Roborock's system can recognize and bypass common home objects as small as 2 inches wide and 1.1 inches tall. The cleaner will also work to conveniently place a mark on the map where it came across the obstacle so that it will remember when it comes across it again. It can even take a photo for you to view these obstructions. Who knows, you might find the right side of your wireless earpiece you have been looking for for ages!
The vacuum cleaner is also equipped with intelligent mapping which allows it to quickly understand the layout of a room and accordingly adjust its journey across the room. Another impressive feature is its automatic floor recognition. With it, you can take the vacuum cleaner anywhere in your house and it will know where it is when you put it down.
Above all, the more you use the cleaner, the smarter it gets. The Roborock S6 MaxV will always look for ways to make the process of cleaning quicker. For example, if you open a door or a shortcut in the middle of cleaning, the cleaner would automatically reroute if it results in quicker navigation and cleaning.
5.   Pet-friendly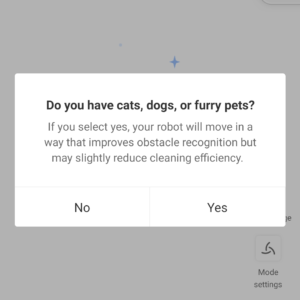 Upon completing the setup of the Roborock S6 MaxV, you will be asked if you have any pets at home. If you do, the vacuum cleaner would automatically identify and avoid pet waste so as not to create a catastrophic mess of spreading the waste all over your flooring—a scene that some robot vacuum cleaner owners are all too familiar with. The vacuum cleaner will also make special exceptions for animal hair and fur.
If you answered "no" to having a pet but are expecting a friend and his or her pet over at your place, you can always change this setting later through the app.
6.   Home Monitoring Capabilities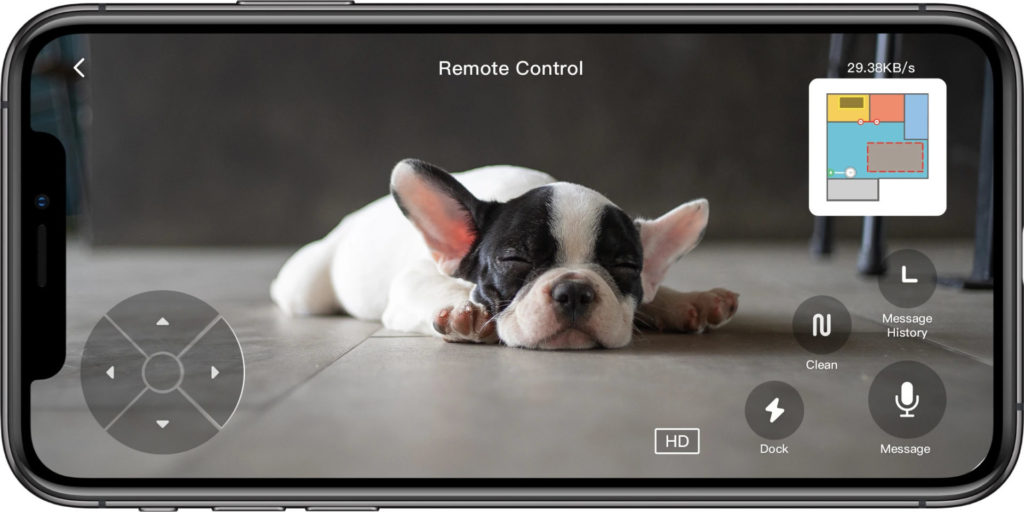 With the Roborock S6 MaxV, you can enable remote viewing, which allows you to take photos, live stream video, and transmit audio. You can use it to keep an eye on home security while you are out for work. You may even use it to send a recorded message to be played through the S6 MaxV's internal speaker so that you can communicate with your pets or kids.
Roborock promises that all your data is protected and secure. But if you don't like the idea of transmitting audio or video, you can always choose not to enable this feature.
7.   Gets Into Nooks and Crannies
With its strong 2500 Pa suction rating, the Roborock S6 MaxV is able to get into pretty much every area of your home. Its slim build also allows the cleaner to slide below your couch or reach into places that are usually difficult to reach and clean.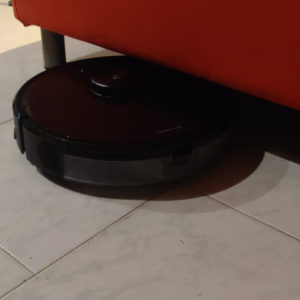 After one full run around my home, the floors looked significantly cleaner. The robot successfully sucked up food crumbs, dirt, dust, and hair. While the Roborock S6 MaxV is known to work extremely well on hard floor types, many users expressed that it performed equally well on low-pile and medium-pile carpeting as well.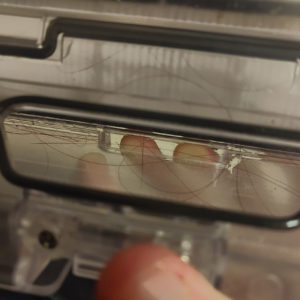 On top of that, the robot will also automatically increase its suction power when it detects a carpet. Thus, as compared to many other lower powered robot vacuum cleaners on the market, the Roborock S6 MaxV is able to efficiently clean out debris from your carpeting.
8.   Great Battery Life
With a 5200 mAh battery, battery life is not a problem for the S6 MaxV. Only 15 to 20% of its battery was used up after covering 25 square metres.
When testing the vacuum cleaner in Balanced mode, it ran for just under 130 minutes before it headed back to its dock for charging. In quiet mode, the vacuum cleaner can run for up to 3 hours before its next charge. This is more than enough for the S6 MaxV to clean an entire floor before its battery runs out.
However, if you are covering a large space and the S6 MaxV does run out of battery while cleaning, it will intuitively return to the dock for only as long as it needs to get enough battery charge to continue the job where it left off.
The Not-so-good
1.   Hefty Price Tag
With a price tag of $899, the Roborock S6 MaxV is definitely not for you if you are on a tight budget. If you are willing to let go of certain features, there are certainly much more affordable models out there that may be adequate for your needs, such as the Proscenic Auto Boost, which comes at less than half the price of the S6 MaxV.
2.   Noise Level
The Roborock S6 MaxV runs at 67 dB in Balanced mode. To put that into perspective, that is about the same volume as a normal conversation: you are going to notice it.
This also makes the S6 MaxV as loud as the old S6, despite it being more costly. You should also keep in mind that in Max and Turbo modes, the vacuum cleaner gets even louder. If you are watching your favourite Korean drama while the Roborock S6 MaxV is doing its thing, you probably have to increase the volume of your TV.
When I tested the vacuum cleaner out at night, the droning from the cleaner could be heard behind closed doors and attracted curious family members. If annoying noises are a huge deterring factor for you, you might want to consider the Deebot Ozmo T8 AIVI, Roborock's competitor, which has a maximum volume of 67dB.
3.   Inconsistent Object Avoidance Technology
As intelligent as it is, the Roborock S6 MaxV still faces problems with certain obstacles. When tested on a small step, the robot vacuum cleaner is unable to intelligently avoid it. On top of that, it did not avoid small cardboard pieces which caused some jamming and disturbance to the cleaning process.
Inconsistent object identification
If the area to be cleaned is too messy and has many things to be avoided, it is hard for the cleaner to get a comprehensive coverage. For the cleaner to work at its best, you got to pitch in by preparing the area before cleaning. By picking up some clothing and moving loose cables away, the Roborock S6 MaxV will be able to clean more efficiently. Unfortunately, that means more work for you.
Furthermore, the S6 MaxV doesn't automatically avoid carpets when mopping. This means that to avoid getting your carpets wet, you have to manually set No-Mop Zones in the app, which may be a chore for some.
Although the robot can avoid obstacles day and night through its on-board infrared camera, adequate lighting is required for object identification and image capturing because it is based off the cleaner's camera.
4.   Slow Charging
While lauded for its great battery life, the Roborock S6 MaxV takes quite a long time to recharge. After the first run of the vacuum cleaner, its battery fell just below 20%. It took about 70 minutes to reach a full charge.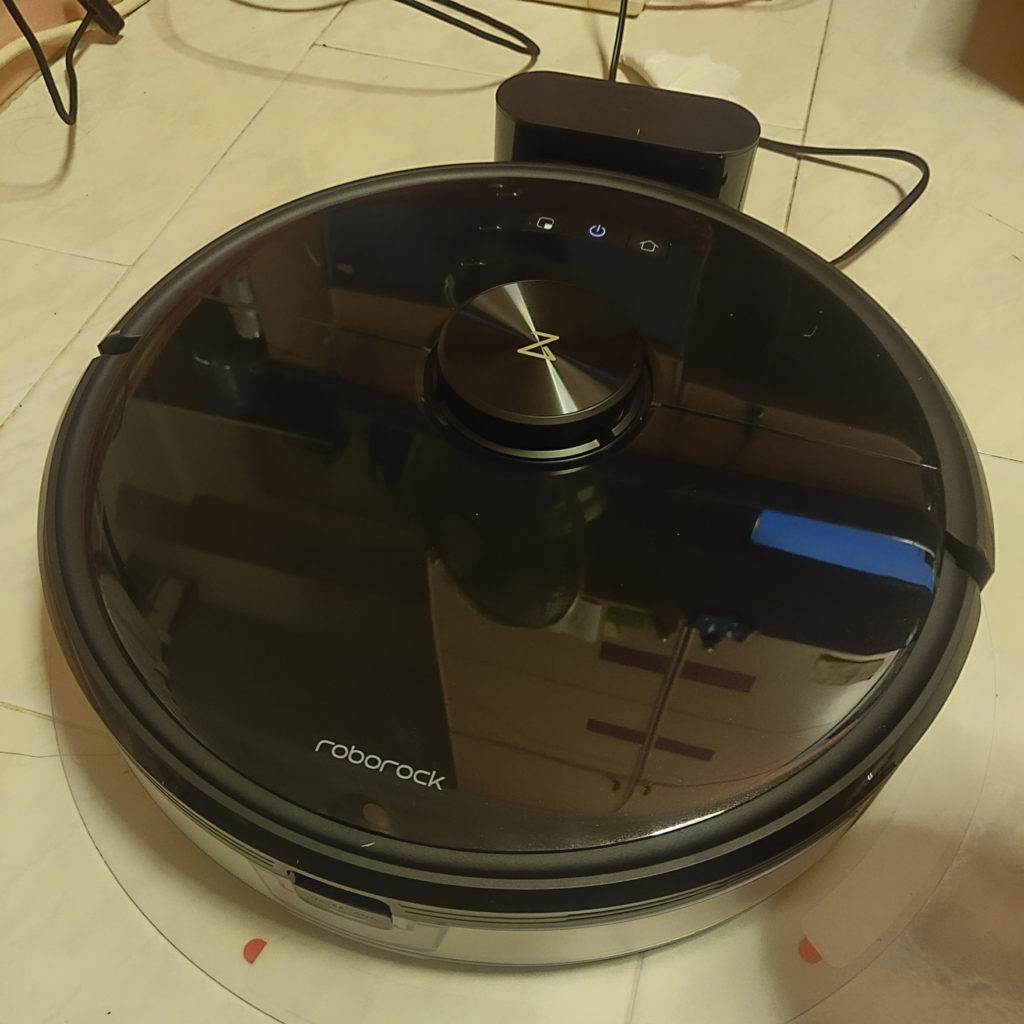 The S6 MaxV on its charging dock
If the battery is empty at 0% it could take 3 hours or more to charge fully. This seems to be a consistent complaint for many of its users. Some of them express that the longest they ever waited for the vacuum cleaner to fully recharge was 6 hours.
TLDR: The Bottom Line
The Roborock S6 MaxV comes with a hefty price tag but is one of the most powerful, accurate, and intelligent robot vacuums out there. The versatile cleaner does an excellent job vacuuming and mopping while learning, adapting, and avoiding obstacles. That said, its object avoidance technology could use some work. Perhaps future updates of this vacuum cleaner would tackle this issue.
If you are capable of this investment, have pets, and are not particular about noise, go for it. But if you expect never to lift a finger to clean your house again with this vacuum cleaner, you should reconsider your purchase.
| | |
| --- | --- |
| Pros | Cons |
| Smart app | Expensive |
| Low maintenance | Not very quiet |
| Great mapping and accuracy | Inconsistent Object Avoidance Technology |
| Home monitoring capabilities | |
| Great for those with pets | |
| Cleans hard to reach corners | |
| Great battery life | |