Where does the AMD B450 and Gigabyte B450 AORUS PRO WIFI stand?
One of the biggest news from the PC DIY scene of 2018 is AMD's announcement of their new AMD Ryzen APU with Radeon RX Vega Graphics. In our previous article on these APUs, we were particularly impressed with the performance Ryzen 5 2400G, as it was able to adequately handle games at 1080p resolution without the need for a dedicated graphics card. However, PC DIY builders wanted to get more out from the platform's chipset.
Since then, the AMD X470 was released which also came with a bunch of new features such as AMD's StoreMi technology. There was a gap in the market for an affordable motherboard with the latest features, and is still compatible with the AMD's Ryzen based APUs. That is until when the AMD B450 was released. Today, we are going to take a look at the different features of the B450 chipset with the brand-new Gigabyte B450 AORUS PRO WiFi.
A quick look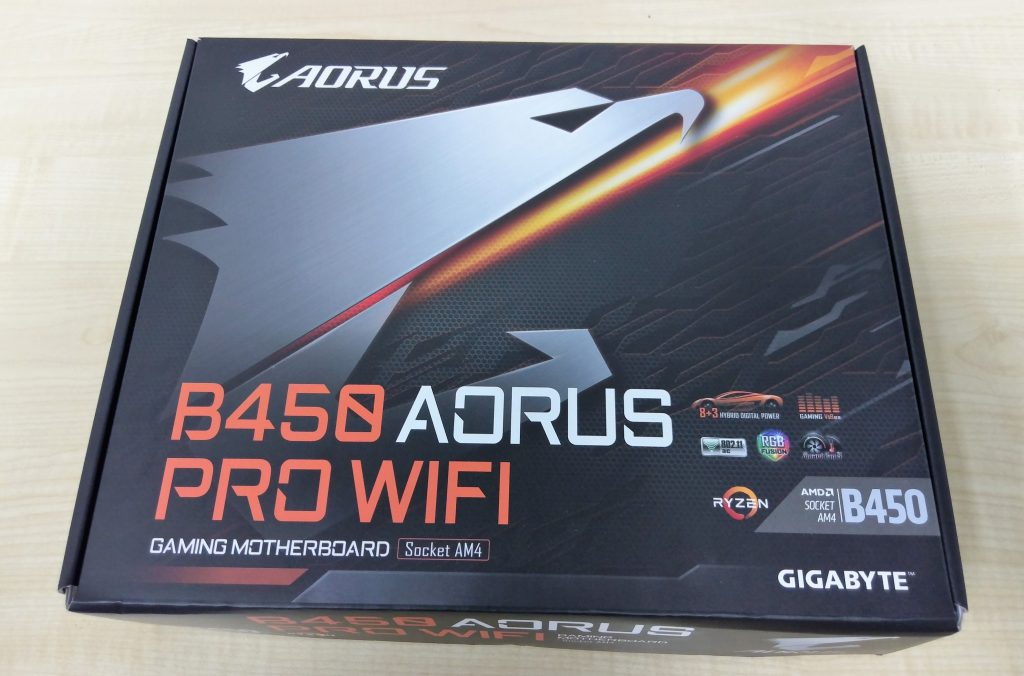 The AMD B450 chipset is based on AMD's AM4 socket. This also means that it will technically work with any other Ryzen based processors in the market. AMD also promised that the socket will be supported until 2020. If you are in the market looking for a new motherboard, it will be a good time to get one as your current motherboard will still work with new CPUs and APUs from AMD in the future. This is also another reason why AMD could be a preferred platform over Intel.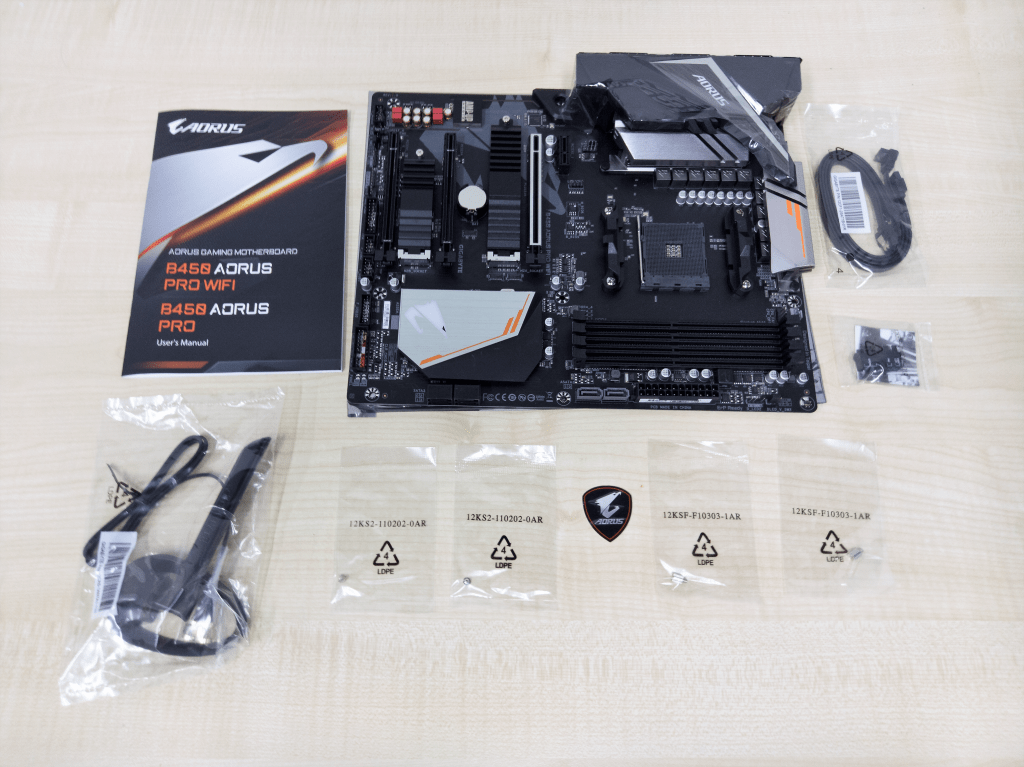 In terms of market positioning, while the X470 chipset is targeted for a high-end market, the B450 aims to hit the sweet spot between price and features. Of course, it is expected that the motherboard from the B450 chipset will be more affordable than the X470s. Honestly speaking, a B450 chipset motherboard is the right way forward if you aren't planning to run a system with multiple graphics cards.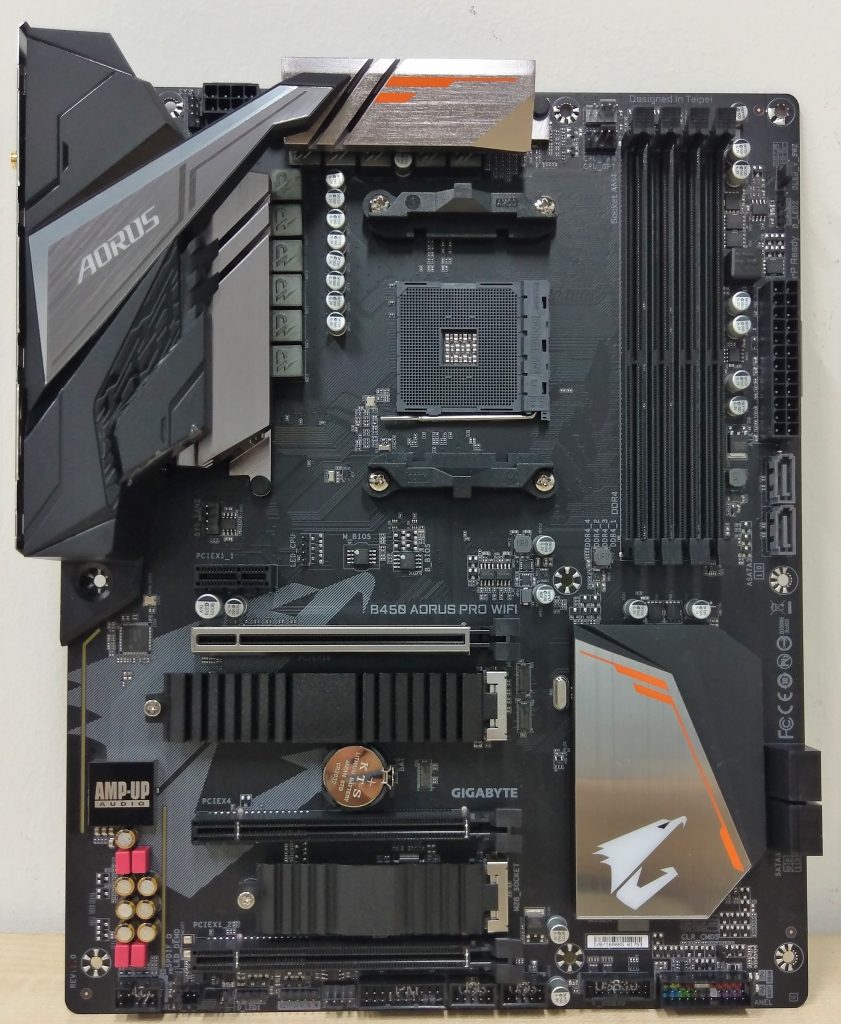 Even though the Gigabyte B450 AORUS PRO WIFI is developed as a mainstream motherboard for adoption of the masses, do not belittle the technology and features that comes with it. Just based on the first look on the motherboard, we understood that Gigabyte has decided to focus only on what's important to bring the best value to the users. Therefore, we don't see any form of outrageous designs or excessive RGB lightings on the motherboard. The design strategy is to get the required specifications up and keep it simple so as to reduce the cost to ensure that it stays competitive. The question is… has it got what it takes to be motherboard of choice?
Specifications
Let's get started into the specifications of the new Gigabyte B450 AORUS PRO WIFI.
Feature
Specifications
CPU
AM4 Socket supporting:

1.       AMD Ryzen 2nd Generation Processors

2.       AMD Ryzen with Radeon Vega Graphics Processors

3.       AMD Ryzen 1st Generation Processors

Chipset
AMD B450
Memory
1.       4 x DDR4 DIMM supporting up to 64GB of system memory

2.       Dual Channel Memory Architecture

3.       DDR4 3200(OC)/2933/2667/2400/2133 MHz Memory Modules

4.       Support for Extreme Memory Profile (XMP) memory modules

Onboard Graphics
1 x DVI-D

1 x HDMI

Audio
Realtek ALC1220-VB codec with support for High Definition Audio and up to 7.1 channel output

S/PDIF Out

LAN
Intel Gigabit LAN
Wireless
802.11a/b/g/n/ac Dual Band (AC up to 433Mbps)

Bluetooth 4.2

Expansion
1 x PCIe x 16

1 x PCIe x 16 (x4 mode)

1 x PCIe x 16 (x1 mode)

1 x PCIe x 1

Storage
1 x M.2 (SATA & PCIe x4/x2)

1 x M.2 (PCIe x2)

6 x SATA 6Gbps

Support for RAID 0, RAID 1, RAID 10

Multi-Graphics
Support CrossFire
BIOS
Dual BIOS
Form Factor
ATX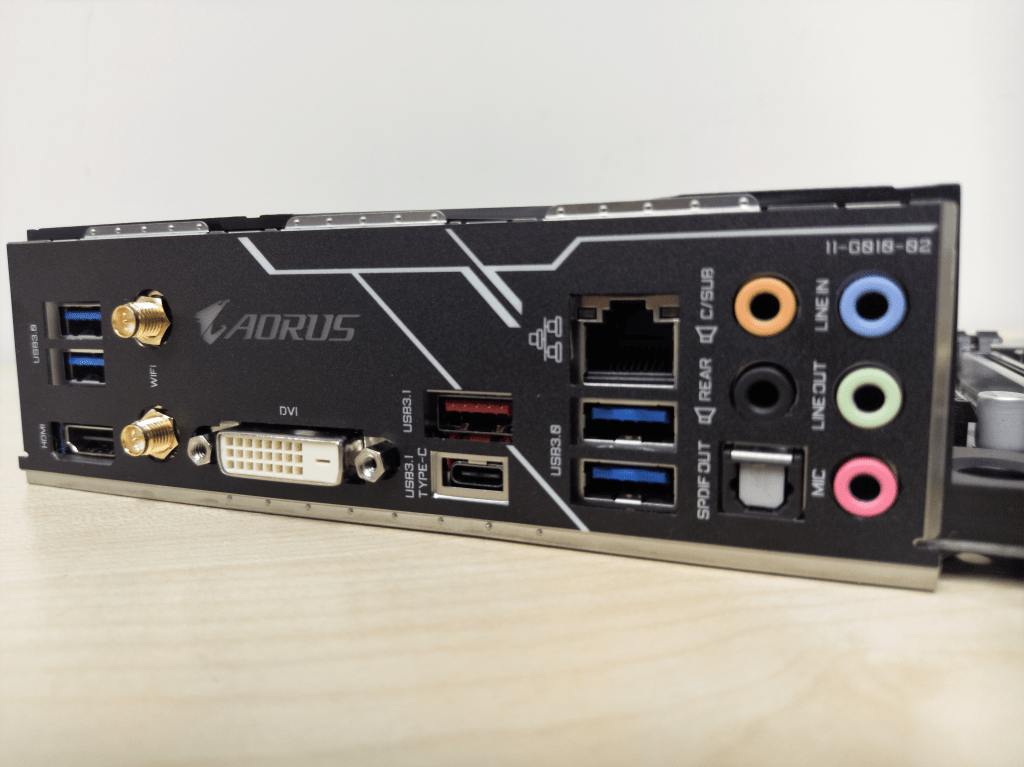 4 x USB 3.0, 1 x HDMI, 1 x DVI, WiFi Antenna, 1 x USB 3.1 (Type A), 1 x USB 3.1 (Type C), Gigabit LAN RJ45, 7.1 Audio Jacks, SPDIF Out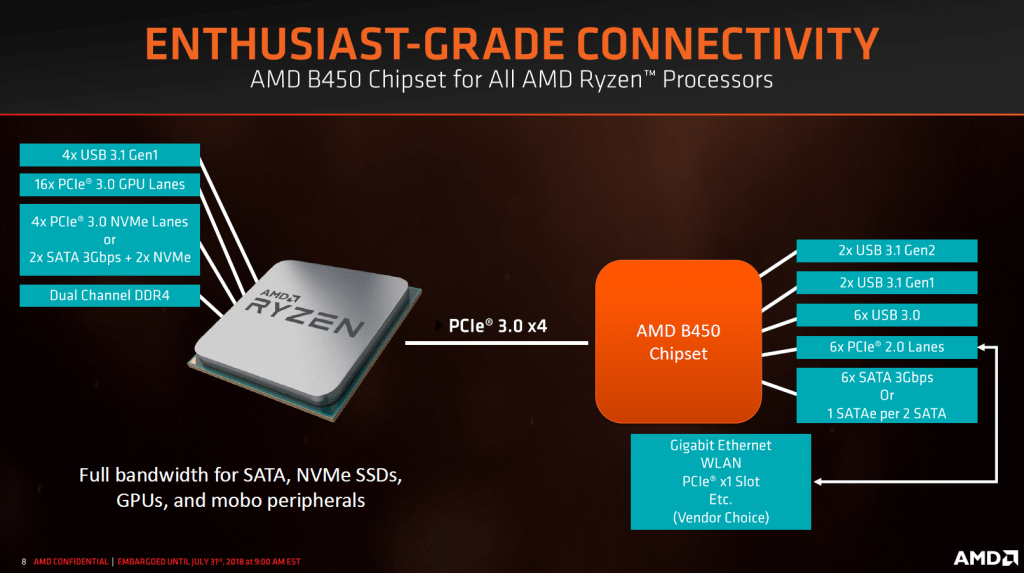 Interestingly, Gigabyte designed the I/O shield to be integrated into the motherboard. This should make the life for system builders a lot easier, as the step of installing the I/O shield can be skipped while reducing the chance of getting cuts. Well, such a design is in fact rather practical. Why would you separate the I/O shield from the motherboard?
Just by looking at the specifications, it is hard to differentiate the Gigabyte B450 AORUS PRO WIFI from any other AMD B450 chipset motherboard in the market. Let's go into the details to find out how the Gigabyte offering sets itself apart from competition.
Core Features
Hybrid Digital Power Design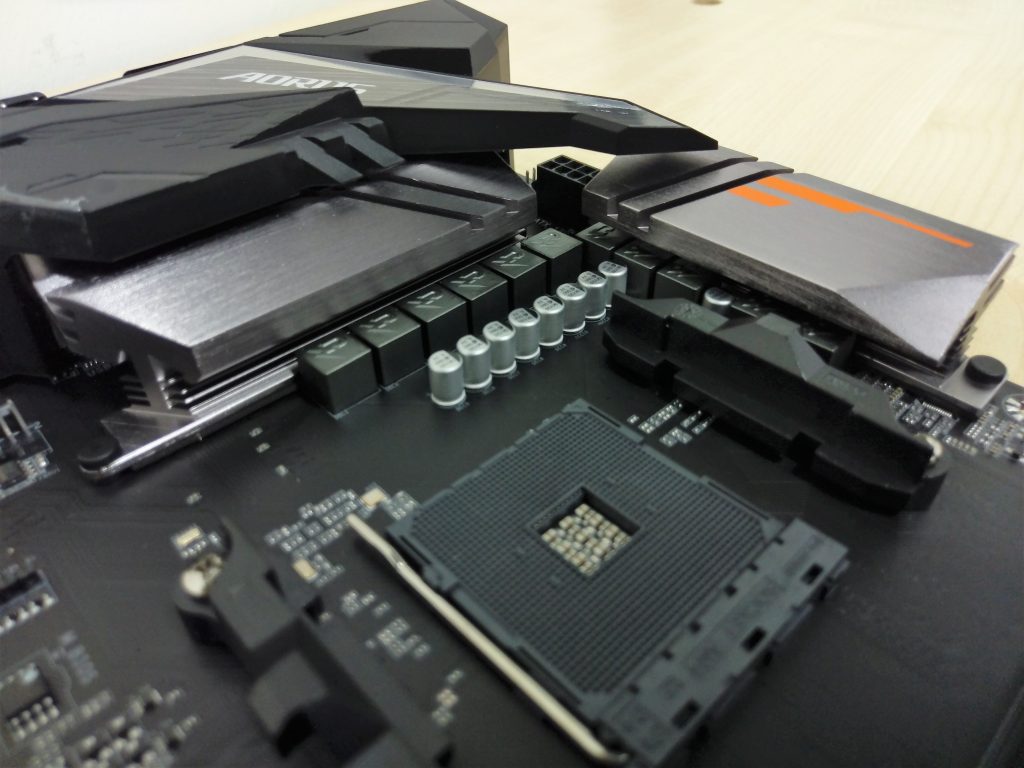 All new AORUS 400-series motherboard are now equipped with their new Hybrid Digital PWM + Lower RDS (on) MOSFETs design. The idea of such a design is to better control the voltage across components and current flowing through the motherboard, while still remaining highly efficient. Of course, a good design on power circuitry will also directly mean better overclocks and stability.
We will be dedicating an article on the Gigabyte B450 AORUS PRO WiFi on its performance and overclocking capabilities. You can view it here!
RAID Support on NVMe PCIe SSDs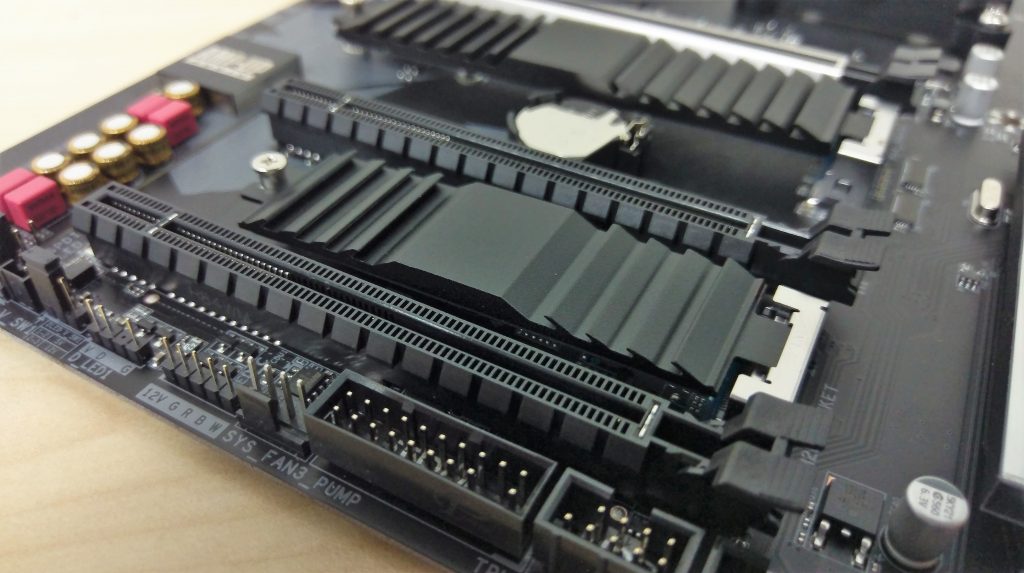 Since there are 2 x M.2 slots on the Gigabyte B450 AORUS PRO WiFi, you may be wondering if RAID is supported on these two drives. Thanks to the B450 chipset, this is actually possible! By pairing two NVMe based SSDs in RAID 0, users can expect unparalleled storage performance right out from their SSDs. However, do take note that since there is a bandwidth difference between the two M.2 slots, storage performance could be less than desirable when placed in RAID 0 mode.
Moreover, understanding that M.2 SSDs can run hot and cause a throttle in storage performance, Gigabyte included heatsinks for these drives. These Thermal Guards should be able to direct the heat away from the drives effectively to prevent throttling.
Intel Dual Band 802.11ac WiFi + BT 4.2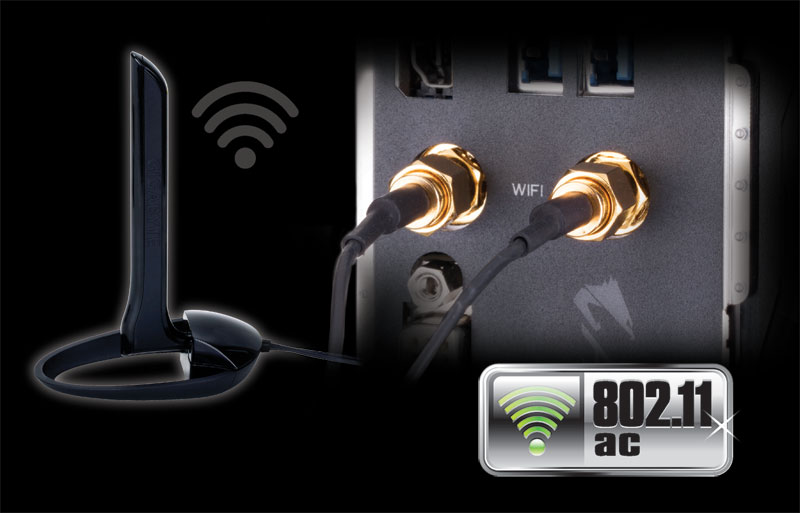 Gigabyte has also went with built in WiFi and Bluetooth capabilities with the Gigabyte B450 AORUS PRO WiFi. This sets the Gigabyte B450 AORUS PRO WiFi apart from other motherboard without such capabilities. It makes it a lot more convenient for system builders to have wireless capabilities right out of the box as well, as they will not need to think about adding an additional wireless card or Bluetooth dongle via USB.
AORUS AMP-UP Audio
I always think that great audio is fundamental to the overall PC experience. Be it for games or media consumption, a small improvement in audio capabilities can vastly bring about a change in the satisfaction of a computer system.
This is why, Gigabyte has also put extra thoughts and efforts in building the audio technology on the Gigabyte B450 AORUS PRO WiFi. Of course, we do not expect the best, as this motherboard is still targeted for the mainstream segment, but let's see what they have got installed for users.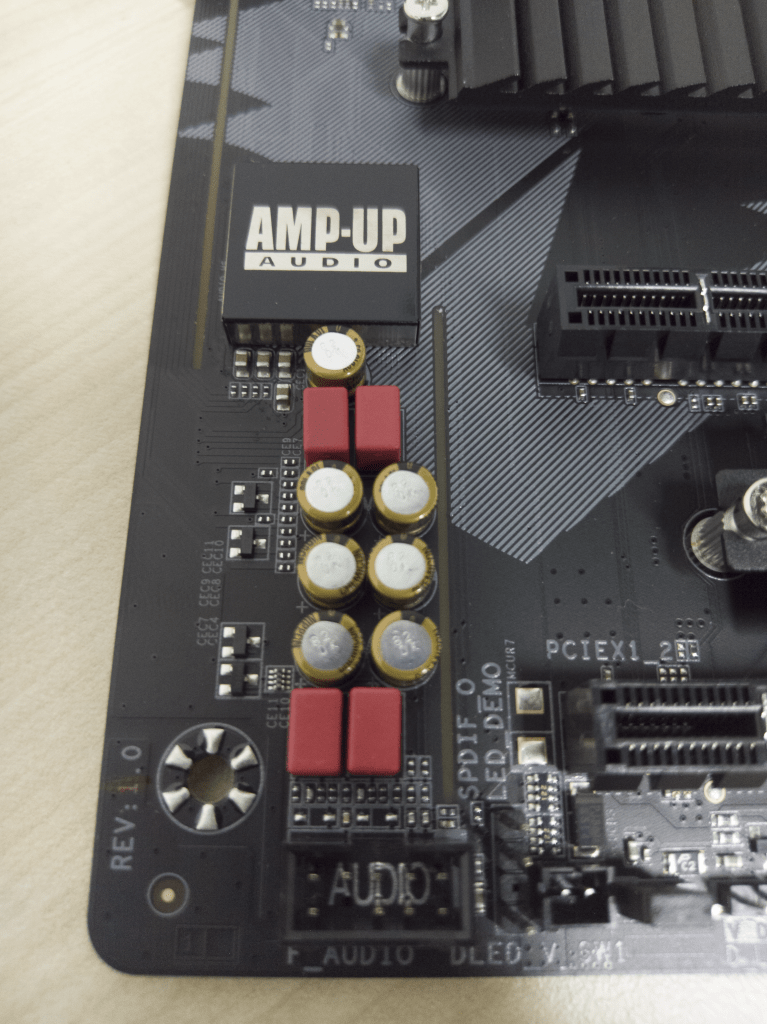 Firstly, this motherboard uses the RealTek ALC1220-VB Audio Codec. This is coupled with a dedicated smartphone amplifier which can automatically detect the impedance of your headphones to provide adequate amplification to them.
While many audio controllers only focuses on the output audio quality, the new ALC1220-VB deals with the input as well. This is why, the microphone jacks for both the front panel and I/O area can receive voice from the world in higher dynamic range and clarity as well.
Of course, since audio signals are ultimately analogue signals which are prone to noise and other interference, good audio components must be used. The Gigabyte B450 AORUS PRO WiFi is equipped with Hi-Fi grade WIMA FKP2 capacitors and high-end Chemicon audio capacitors to provide richer and more accurate sounds. The combination of all audio components and the audio controller changes the whole notion of "just another onboard audio chipset" on mainstream motherboards. You can actually get good audio quality from such a solution as well!
AMD's focus on non-proprietary technology
The AMD B450 brings about a great value proposition for system builders. The chipset's focus on the latest technologies and high bandwidth ensures that all the latest hardware peripherals can be supported. Their focus on non-proprietary technologies also makes it a lot more affordable to adopt special enhancing technologies.
Take for example the StoreMi technology which was first introduced to the B series AMD chipset. With StoreMi, users can simply use their RAM and SSD for caching to improve the overall storage performance of their whole system. This can be done without the need for dedicated hardware or purchase of any additional materials.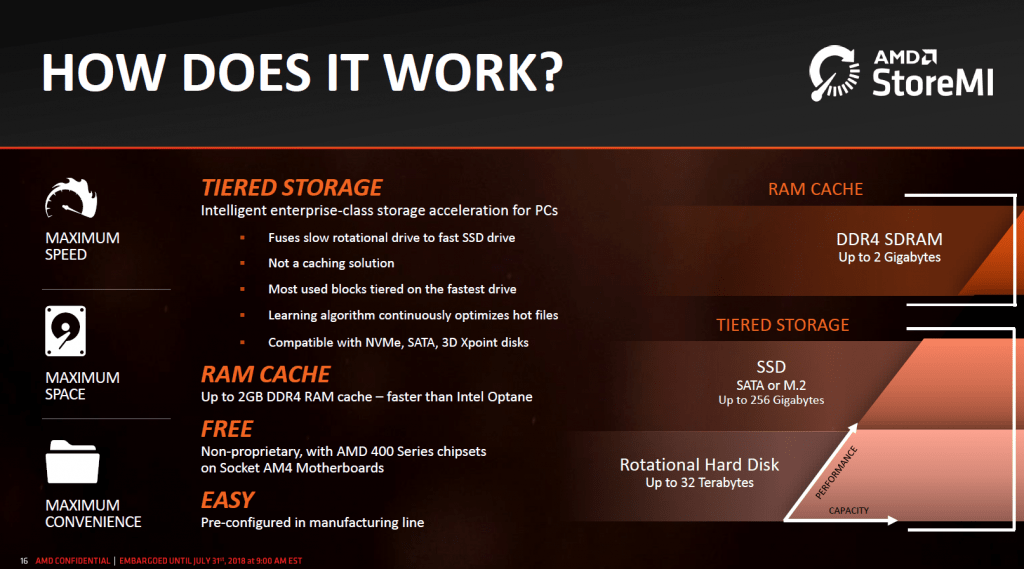 Such a technology is already available right out of the box without any additional tinkering for users.
Conclusion
Together with the new AMD B450 chipset, the Gigabyte B450 AORUS PRO WiFi charges straight ahead into the market and is ready to dominate the mainstream segment with their unbeatable value. This motherboard's focus on great audio experience, reliability and wireless features should path its way as a successful product in the market, especially for gamers who are seeking for an affordable solution.
Do look out for new article on the Gigabyte B450 AORUS PRO WiFi which covers the performance of the motherboard. We will see how much more value we can squeeze out from motherboard by pushing it to its limits by overclocking.