Ali Kani, Vice President and General Manager of NVIDIA's automotive business, just shared his views on how AI is transforming the transportation industry, as part of a series of NVIDIA talks during COMPUTEX 2021.
During his presentation, Kani shed light on how AI, the most powerful technology force of our time, is accelerating change in the transportation industry.
NVIDIA's vision of the next generation of transportation is autonomous, and the company is hard at work developing self-driving technology that enables safer travel, less congested roads and mobility for all.  But to get there, Kani cites some of the key challenges that need to be addressed. These hurdles are not to be taken lightly, so it is interesting to hear how NVIDIA is tackling these challenges.

Transportation industry: Opportunities and transformation
The transportation industry is a significant $10T market opportunity. that is going through major transitions as we speak. In the past, vehicles were defined by their driving experience: a key capability of a vehicle used to be its horsepower. But advancements in deep learning and robotics technologies are redefining the industry. Intelligent cars will need to be able to process driving decisions at hundreds of trillions of operations per second, or TOPs, which has led some to call compute performance the new horsepower.
AI, or more specifically the application of deep-learning techniques, has advanced significantly, showing superior performance in solving perception and decision-making tasks. Successfully developing safe autonomous driving systems requires a new approach and framework. NVIDIA shared that AI and accelerated computing are uniquely suited to address this monumental challenge.
NVIDIA believes that in the future, everything that moves will be autonomous: this includes not just passenger vehicles, but also taxis, delivery vans, commercial trucks and even specialized vehicles like tractors.​
It is expected that the vehicles of tomorrow will be packed with more technology than any computing system today. They will be completely programmable computers, and business models are going to be software-driven. As the entire industry works its way to becoming fully autonomous, NVIDIA's mission is to stay rooted in developing this self-driving technology, known as NVIDIA DRIVE, to help their OEM and Tier 1 partners bring this technology to market.
Autonomous vehicles: Challenges and pain points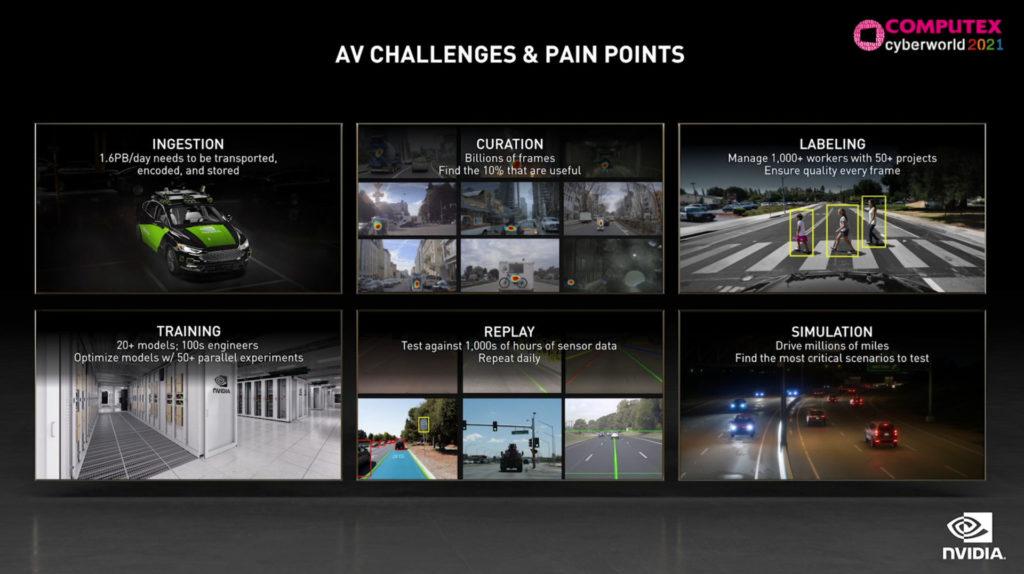 It is an incredibly challenging and arduous task to deliver self-driving capability. Kani shared with us four key reasons. First, you will need a high-performance computer architecture and sensor set in the car that's capable of delivering a safe driving experience​. Second, you need to ingest multiple petabytes of data a day; safely encode and secure it; and then, send it to the cloud to curate, label, and identify every object, road user and traffic sign.
After all this data is processed, AI networks need to be trained on this massive data set. These AI models must also be validated on many thousands of hours of data to guarantee safe performance. ​
And finally, in order to further increase the range of possible scenarios for testing and optimization, the process of delivering self-driving capabilities relies heavily on simulation. Simulation allows NVIDIA to run the AV technology through rare and difficult scenarios in a scalable, physically accurate and efficient manner.
End-to-end NVIDIA DRIVE Platform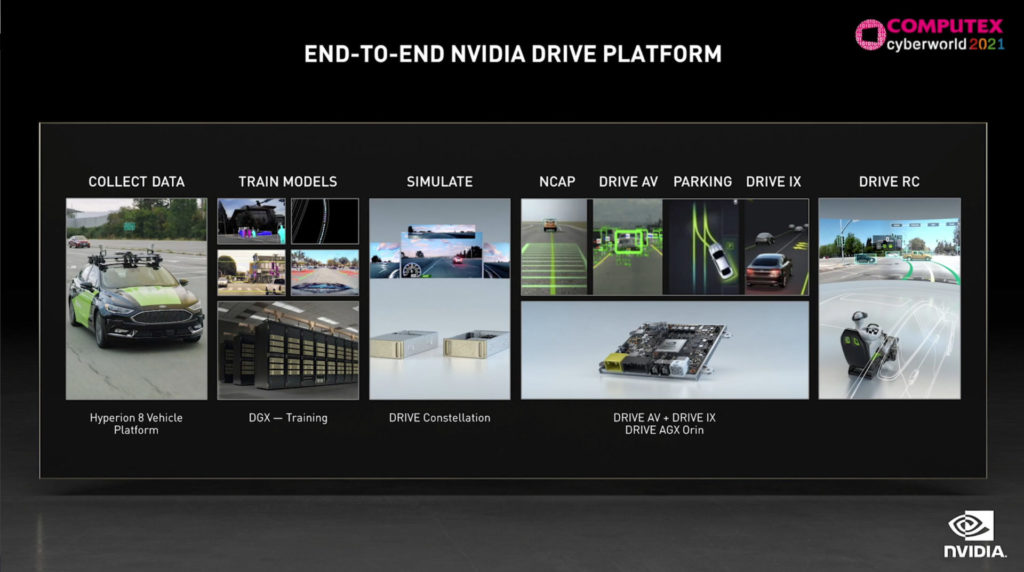 To tackle these challenges, NVIDIA built an end-to-end AV platform, combining their skills in AI and software, with advances in computing, networking and security.
AI can be utilized at all stages of the real-time computing pipeline, from perception to mapping and localization, to planning and control. And the process is continually improving. AI-powered vehicles will continue to get smarter and smarter over time as the software is trained for new tasks, enhanced, tested and validated, then updated over-the-air.
NVIDIA built this entire platform to the highest functional safety and cyber security standards.​ Furthermore, NVIDIA is building the platform in modules so that their partners can customize – to meet their specific needs.
Because AV is such a massive challenge and will take years to develop, the speed of a company's development flow is what differentiates AV excellence more than anything else. Companies with the best development flow will be the most successful AV companies.
A rich set of diverse neural networks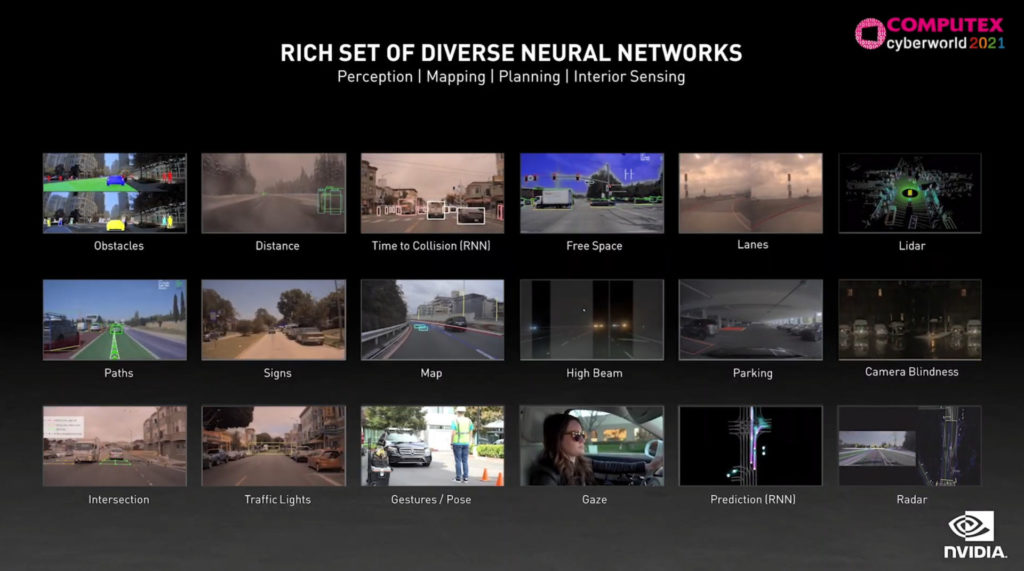 NVIDIA offers a rich set of DNNs that span perception, mapping, planning, interior sensing and more. Every neural network needs to handle thousands of conditions and geolocations to deploy AV technology at scale.
More than 20 AI models are needed to take a vehicle to production. This includes models that help you see objects like vehicles, bicycles, pedestrians and even road debris, networks to help you see lanes and to compute the best path to take when dealing with mergers and splits​, models to understand urban scenarios like intersections, traffic lights, as well as networks to understand the gestures from people on the street​.
Safety is the top priority: Simulation and Safety Force Field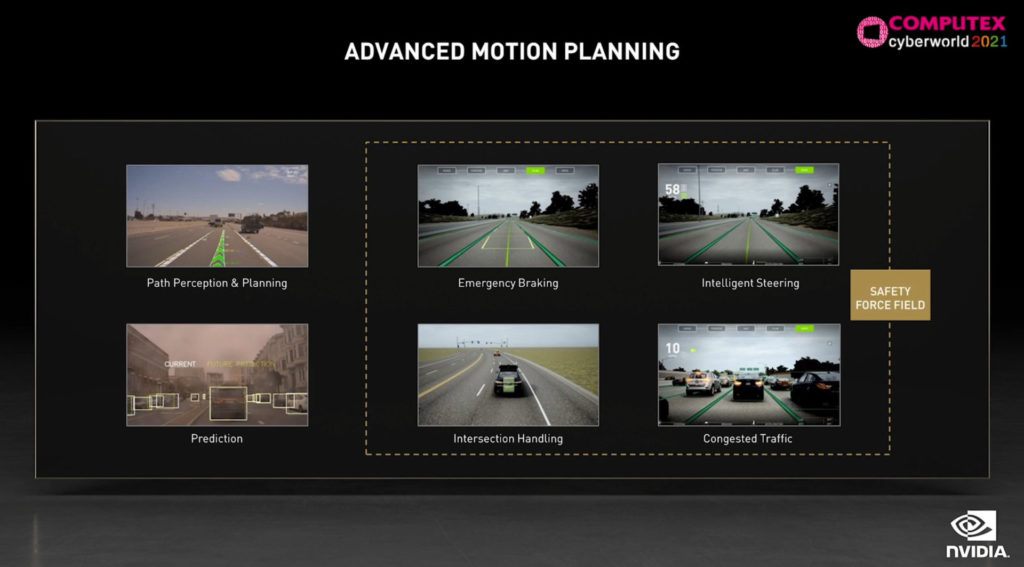 In addition to AI compute, NVIDIA is continuously improving its software platform, with more than 10 software releases to date.  Kani noted that the company has made great strides with both DRIVE AV for automated and autonomous driving, as well as DRIVE IX, NVIDIA's intelligent experience software for safety and convenience features inside the vehicle.
Therefore, testing and training in simulation is important because it allows the team to test all of the possibilities in the virtual world. By mining these situations in simulation, AVs can then be rigorously tested–safely, efficiently, and more cost effectively, without putting other road users at risk.
Kani also touched on the company's Safety Force Field, which analyzes and predicts the dynamics of the surrounding environment by taking in sensor data and determining a set of actions to protect the vehicle and other road users. The SFF framework ensures these actions will never create, escalate or contribute to an unsafe situation and includes actions necessary to mitigate potential danger.
NVIDIA's partnerships
NVIDIA announced last year that they are partnering with Mercedes-Benz to deliver an AV platform to their entire fleet of vehicles starting in 2024.​   The new software-defined architecture will be built on NVIDIA DRIVE and will be standard across Mercedes-Benz' next-generation models, enabling state-of-the-art automated driving functionalities. In addition, there will be numerous future safety and convenience applications. Customers will be able to purchase and add capabilities, software applications and subscription services through over-the-air software updates during the life of the car. It will be interesting to see the results stemming from this groundbreaking collaboration.
NVIDIA also boasted that they were able to offer a complete entry-level to high-end range of solutions — ADAS to Robotaxi — that run on a single architecture.  Developers can leverage their investments across multiple product generations as they establish their future AV production roadmaps.​
Disrupting the auto industry: Future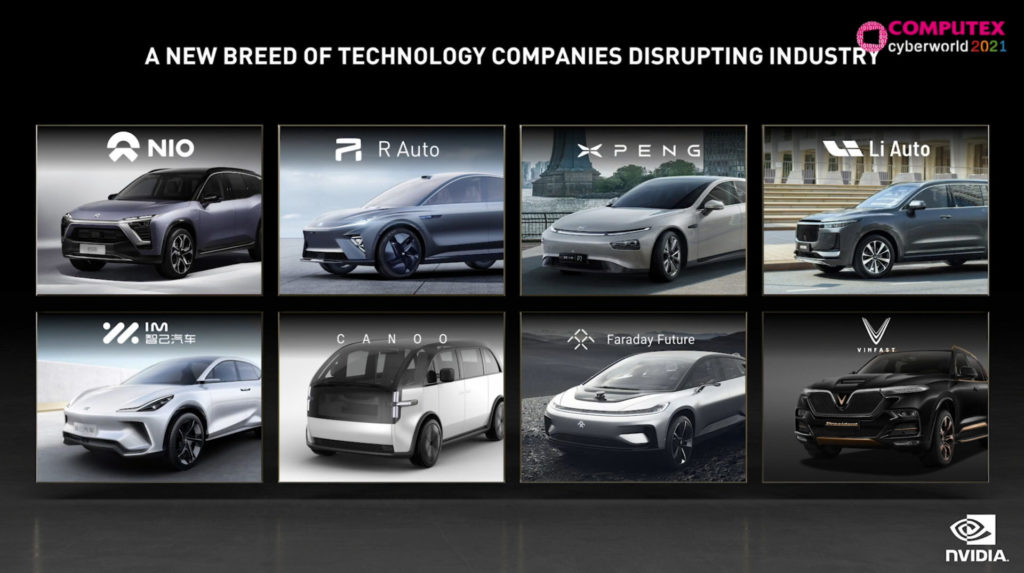 In the Asia Pacific region alone, fast moving and exciting companies such as NIO, Xpeng, Li Auto, and SAIC are building on NVIDIA DRIVE, and creating cars that are disrupting the auto industry. There are also promising companies that are trying to turn the taxi industry into a service.​
Today, hundreds of companies are developing on the NVIDIA DRIVE platform.​ Being a modular system, customers can build the best product that fits their needs.​ Without a doubt, NVIDIA's pioneering work in accelerated computing and AI is reshaping the transportation industry.
NVIDIA at COMPUTEX 2021
To find out more about the keynote addresses and talks by NVIDIA at COMPUTEX 2021, please visit this link.