Many may be unaware of the Shuttle brand. Back in the late 2000s and early 2010s, Shuttle barebone systems were rather popular in Singapore with the enthusiast audience, as they were able to bring high performance into a small form factor desktop computer. They are one of the pioneers who focused on highly customized barebone PCs. This means that when purchasing a Shuttle PC, you would only get an incomplete system with its chassis, power supply, cooling solution and motherboard that comes together. You will then have to purchase your own CPU, RAM and storage drives and other peripherals to get a fully working system.
As the Mini-ITX form factor became more common as a solution for mass market, Shuttle had to reposition and pivot their business to target a more application specific businesses in order to stay relevant. We were at their booth at Nangang Exhibition Centre during COMPUTEX Taipei to learn about the latest innovations and verticals which the company is currently into.
End-to-End Business Products and Solutions
Shuttle has transformed and is not the same company which we have known years ago. They have started to develop complete solutions from its hardware to software, in order to capture a wider enterprise market. At their booth, we saw some of the different applications from them.
Smart Visitor Management System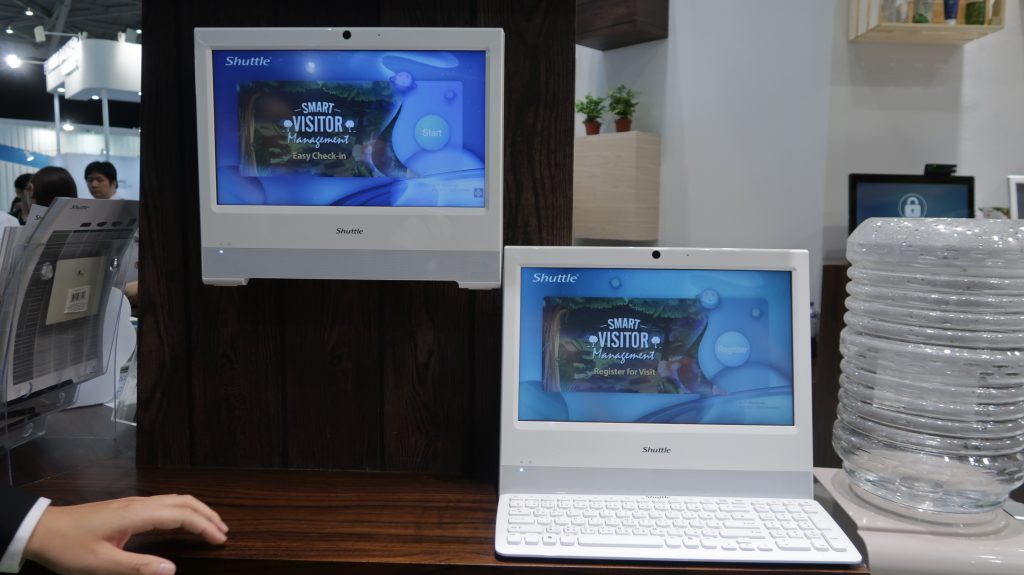 For a start, we were introduced to Shuttle's Smart Visitor Management System. This is enabled by the company's All-in-One PCs with touch screen capabilities. We can see how Shuttle evolved from solely a hardware design and manufacturing company into a solutions provider. We do understand that they do provide the licensing of their software for use with their hardware devices as well.
Of course, the Visitor Management System allows visitors to register their visit to a specific facility or restricted location. They have also included a keyboard for easy typing of personal information and credentials.
Point-of-Sales System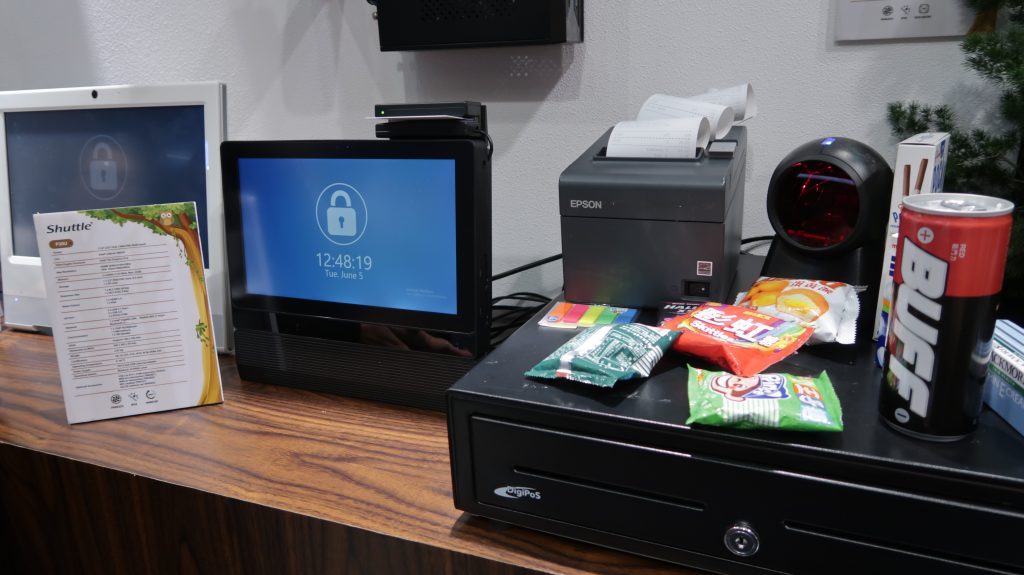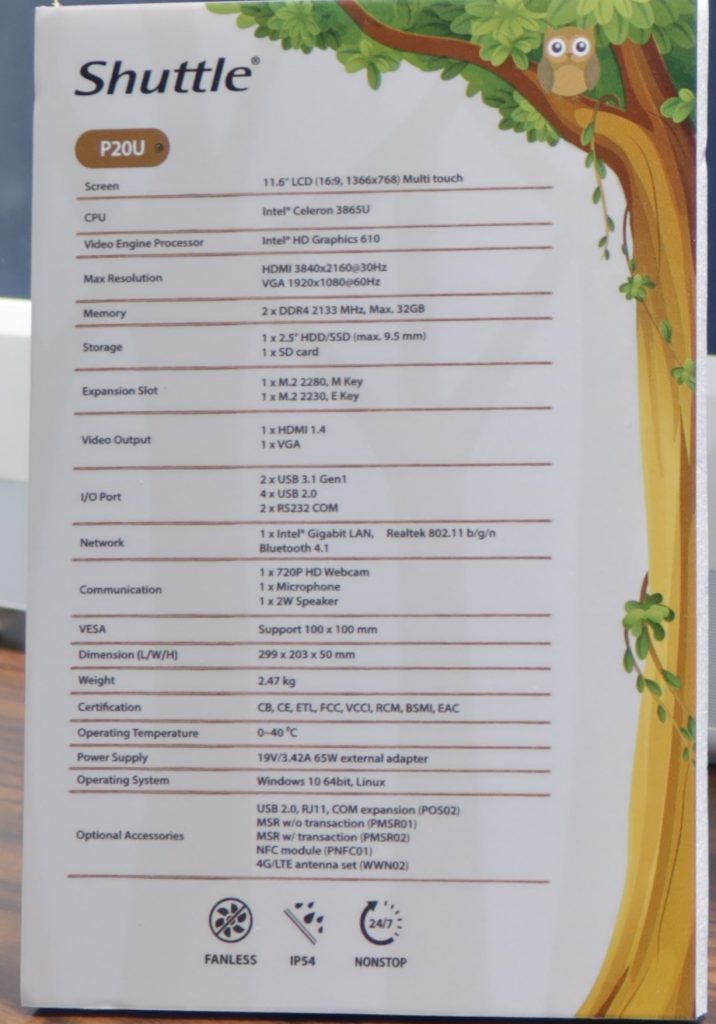 Next up, we moved on to Shuttle's own Point-of-Sales (POS) solutions. With their P20U hardware, we can also see how their mini PCs can be adapted into a POS application, which is integrated with the peripherals of a POS system, such as the receipt printer, cash drawer, barcode scanner and magnetic strip reader.
User Authentication System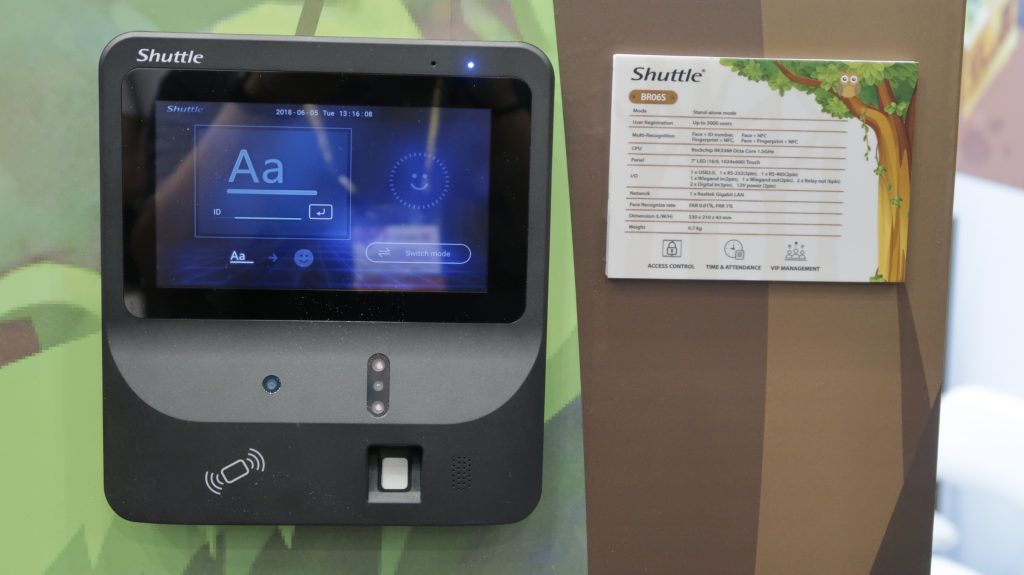 Shuttle also produced solutions for Human Resource business processes. The BR06 All-in-One user authentication system can help companies to allow identification and authentication of the users for access to restricted areas, or it can even be used for attendance taking as well. It comes with various features, such as facial recognition, fingerprint recognition and NFC/RFID access for multi-factor authentication support.
Surveillance and User Profiling System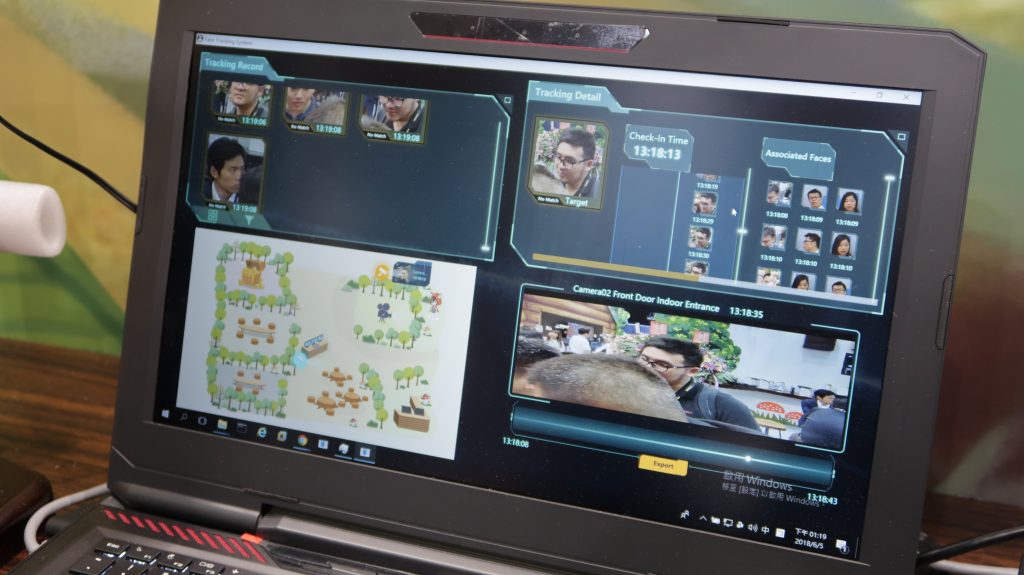 One of the most impressive showcase at Shuttle's booth was their surveillance and user profiling system, which we saw could have many practical usages in today's connected world where security is a large concern. Shuttle placed multiple CCTVs at their booth areas, and each video feed were proceeded by an individual thin PC that connects to it. These data are then processed and then fed to a central server system for analysis. Such a system allows the identification of specific face, and therefore, creates the chance of movement tracking throughout different locations where the CCTVs are placed. Their software system also has a unique user counting feature, which could be applicable for different scenarios, such as customer profiling at shopfronts.
Based on our own experience, we understand that such an example of real-time computation and tracking was no simple feat, as it would require a significant amount of computational power to be done for high resolution video feeds. We believe that Shuttle established a distributed computing architecture in order for such a system to operate effectively. As mentioned, moving away from a traditional hardware company, the Shuttle representative also mentioned that this whole end-to-end system can be licensed to customers. Customizations can also be possible for their customer's different needs.
Thin Clients for Powering High Resolution Displays
Shuttle has been showing a lot of their thin PCs devices that are used for providing compute capabilities to displays. Think about digital signages which are required to be operating perpetually 24/7. Reliability and durability will be the most important quality attributes of their PCs. Moreover, they still have to be small enough, so as to be easily hidden away from the sight of passerby.
This is where Shuttle's expertise in their customized hardware will shine. Their specially designed thin PC systems that drives high resolution displays are made with these considerations in mind.
DH270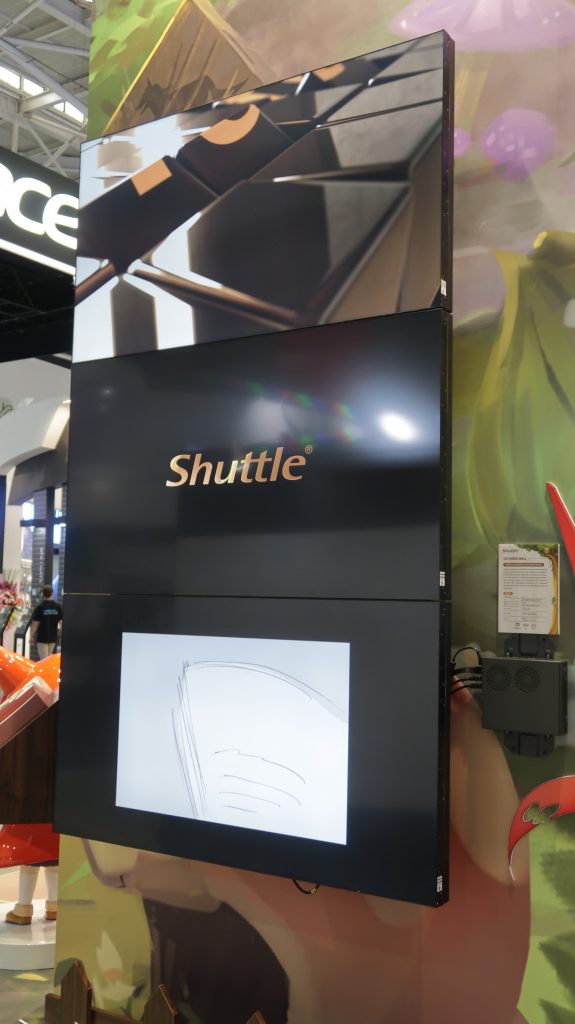 The DH270 is a thin PC that supports up to 3 x 4k UHD display. As expected the unit remains to be extremely thin and energy efficient for continuous operations. There is also a RS232 port for the control of external devices as well.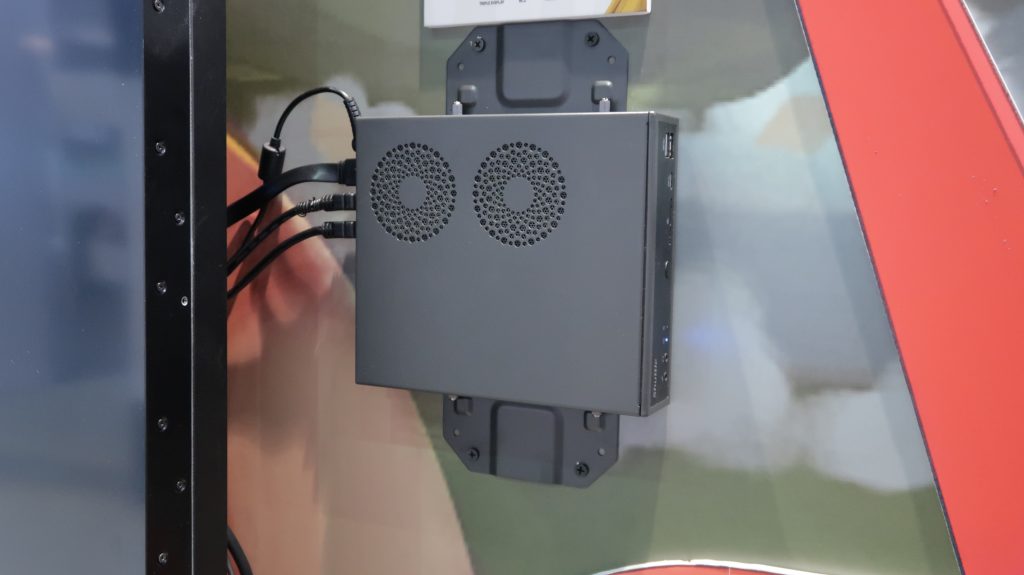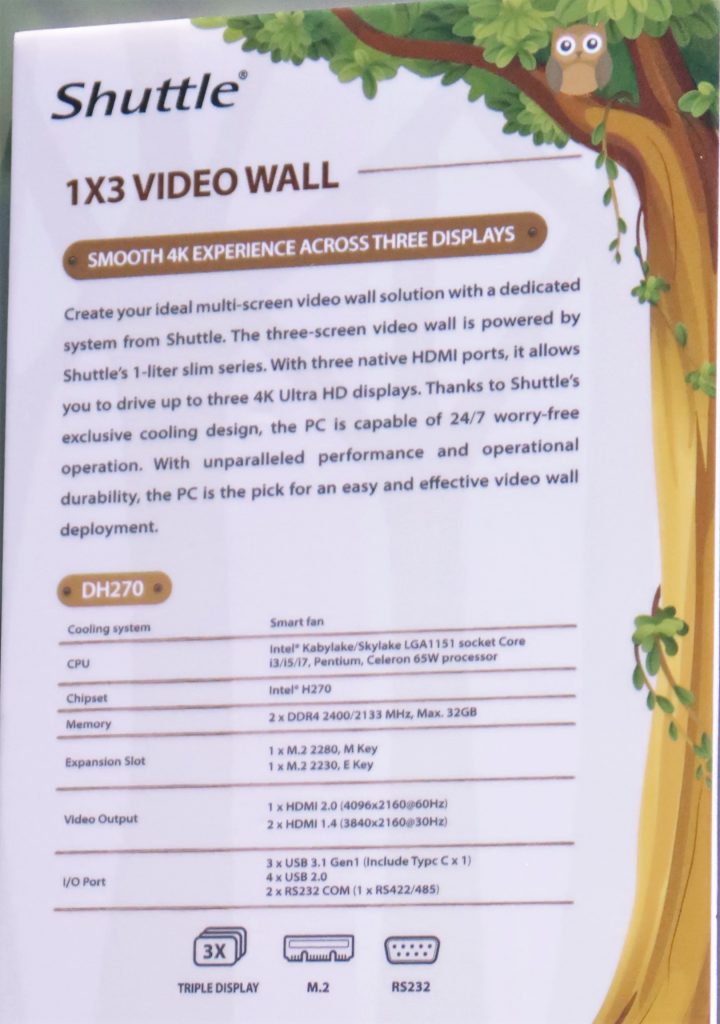 DH02U
At the top of the line is the DH02U, which even comes with an integrated NVIDIA GeForce GTX 1050 GPU. It's simply amazing how Shuttle manage to squeeze a dedicated GPU into their thin PC. This allows the DH02U to provide content to 4 x 4K UHD displays single-handed. Isn't that amazing?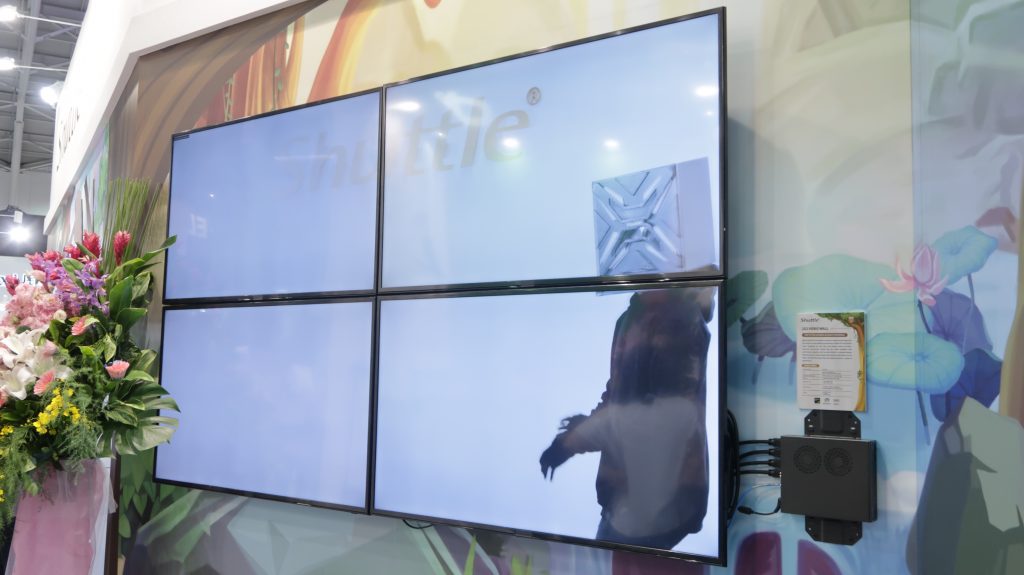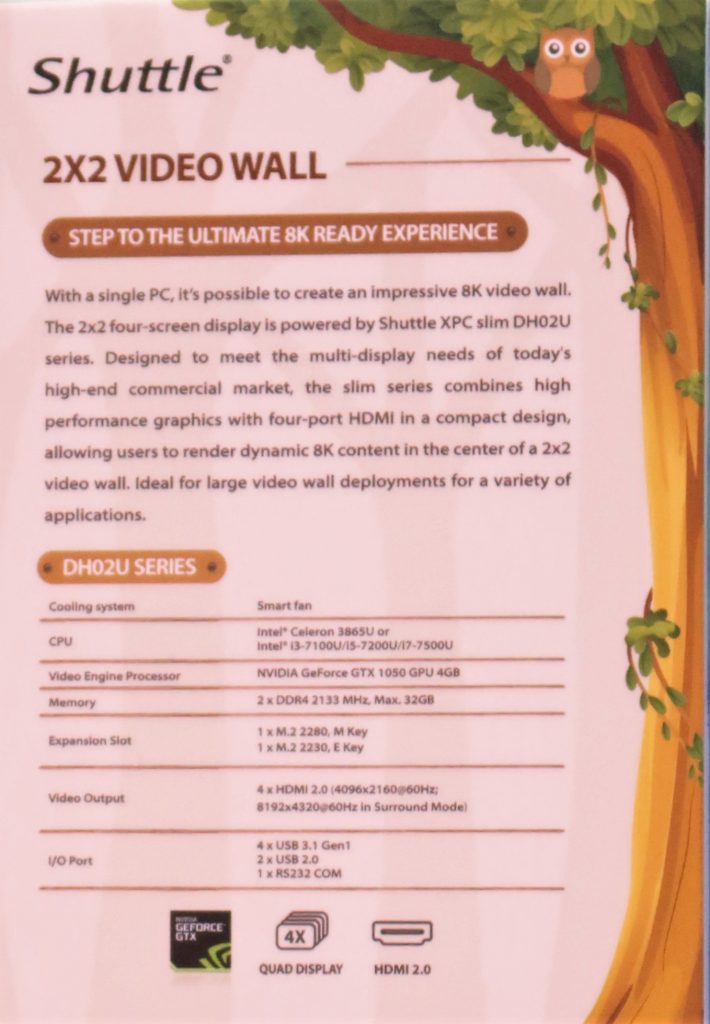 DS77U
Next, we saw a passively cooled solution that was kept within a fabricated enclosure which also contained an interactive display. The DS77U is a passively cooled thin PC that brings smart features to a simple display. This unit is powered by either a Intel Celeron or Low Voltage notebook class Intel CPU for its compute capabilities.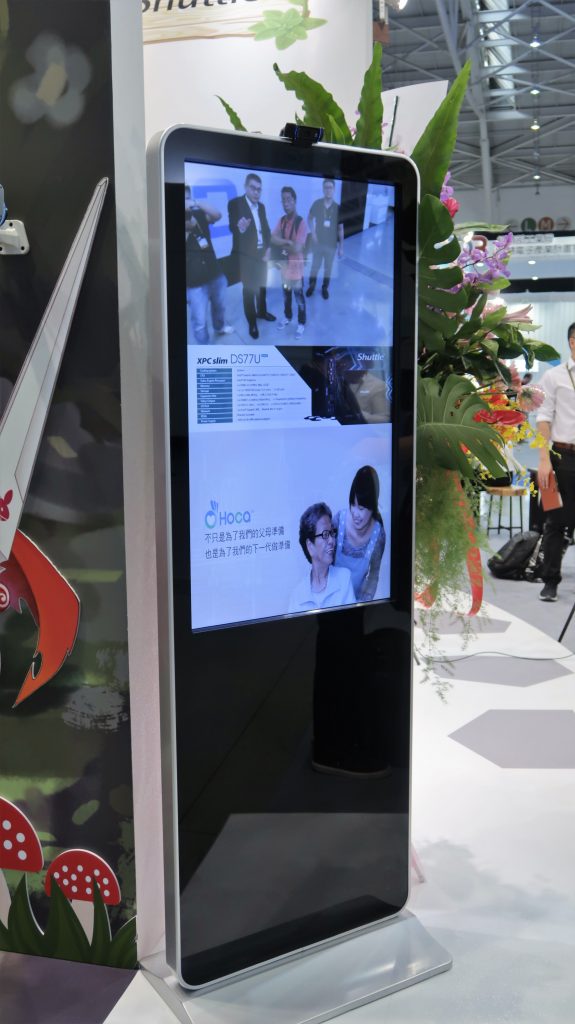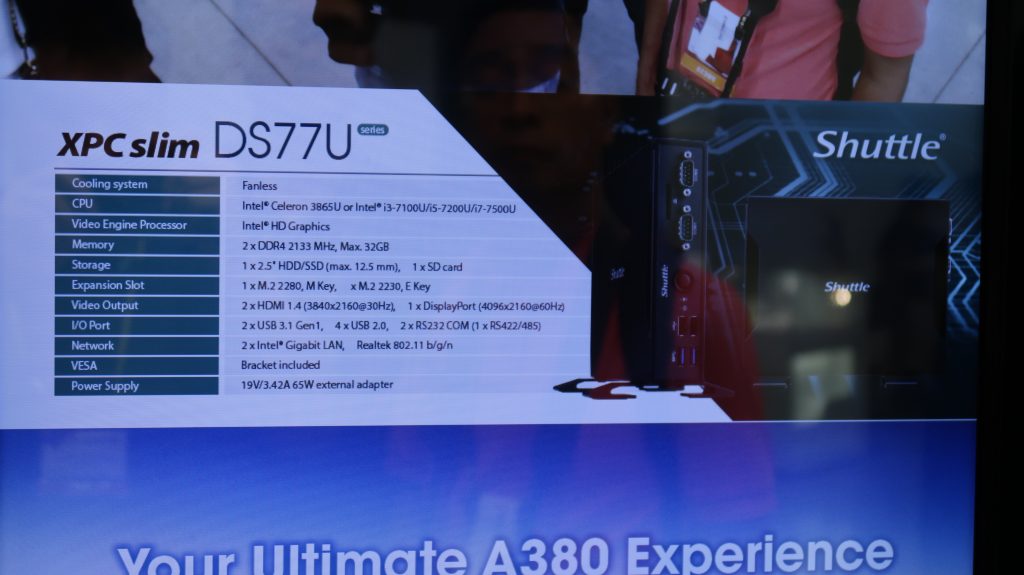 General Small Form Factor Gaming and Compute Systems
Not forgetting their die-hard fans who knew the brand because of their power small form factor (SFF) PC systems, Shuttle also showcased their SFF systems for gaming and general compute.
SZ270R9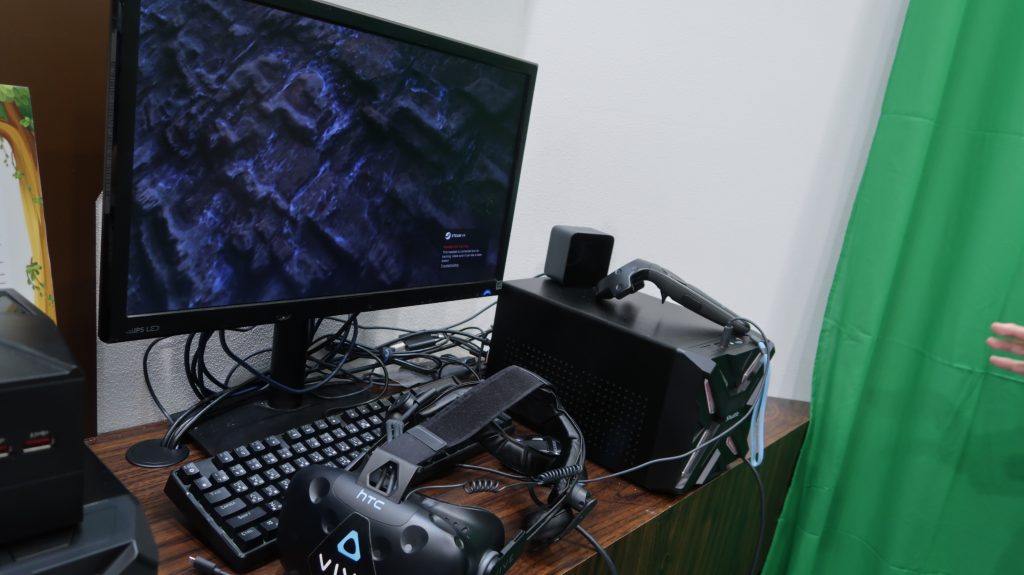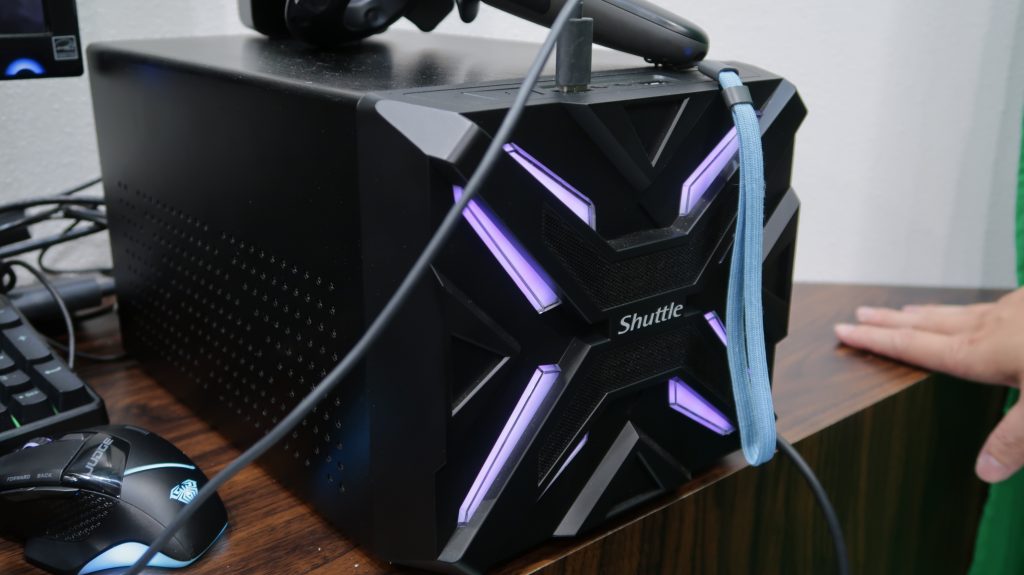 The SZ270R9 system runs on the Intel Z270 chipset. This means that it will support either an Intel Kaby Lake or a Skylake processor. Of course, as what you will be purchasing will be a barebone PC, you will have the ultimate choice to choose and purchase your own CPU, RAM, graphics card and storage drives to be installed on the system for your own requirements of a PC. The SZ270R9 was shown as a VR-Gaming ready system, as it even has a front-panel HDMI port for easy connection to the VR headset.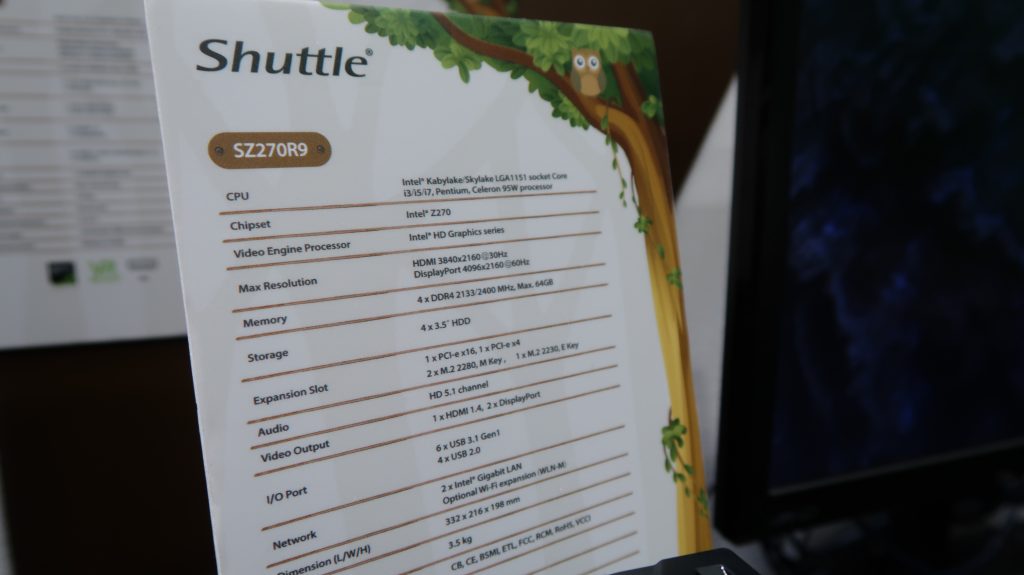 X1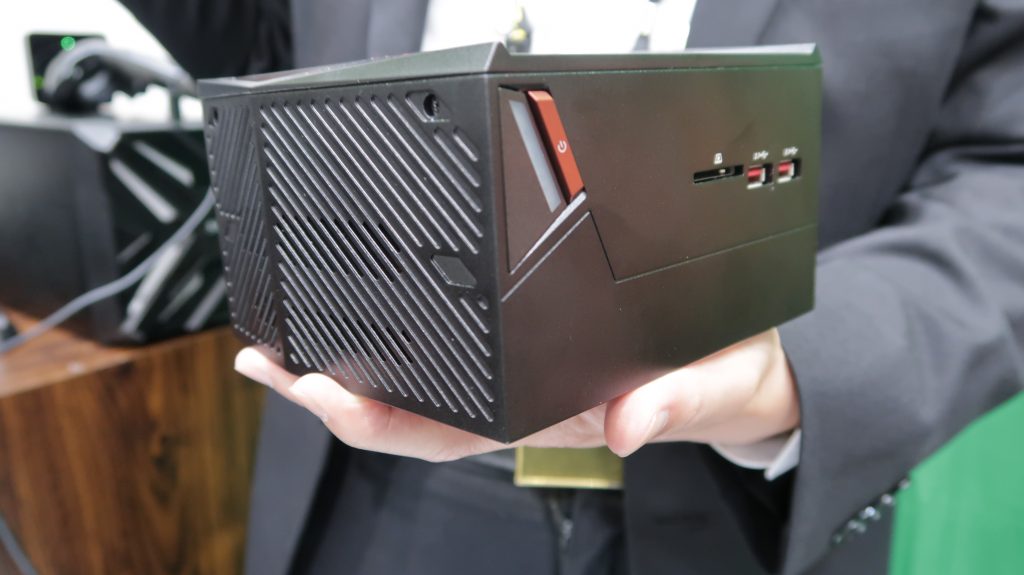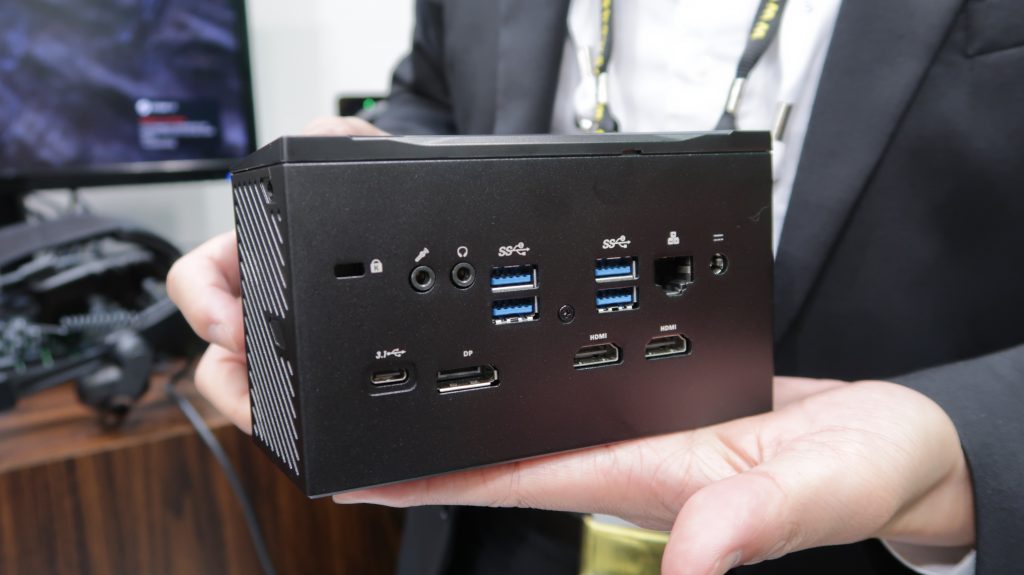 Challenging the limits of a SFF gaming system, the Shuttle X1 changes the perception of a powerful gaming system. This SFF PC comes built-in with a NVIDIA GeForce GTX 1060 graphics processing unit integrated on its motherboard. Such a design allows all the hardware to be kept very compact within a small chassis, but still adequately cooled by its custom cooling design. We have never seen a GTX 1060 based system placed in such a small desktop PC before!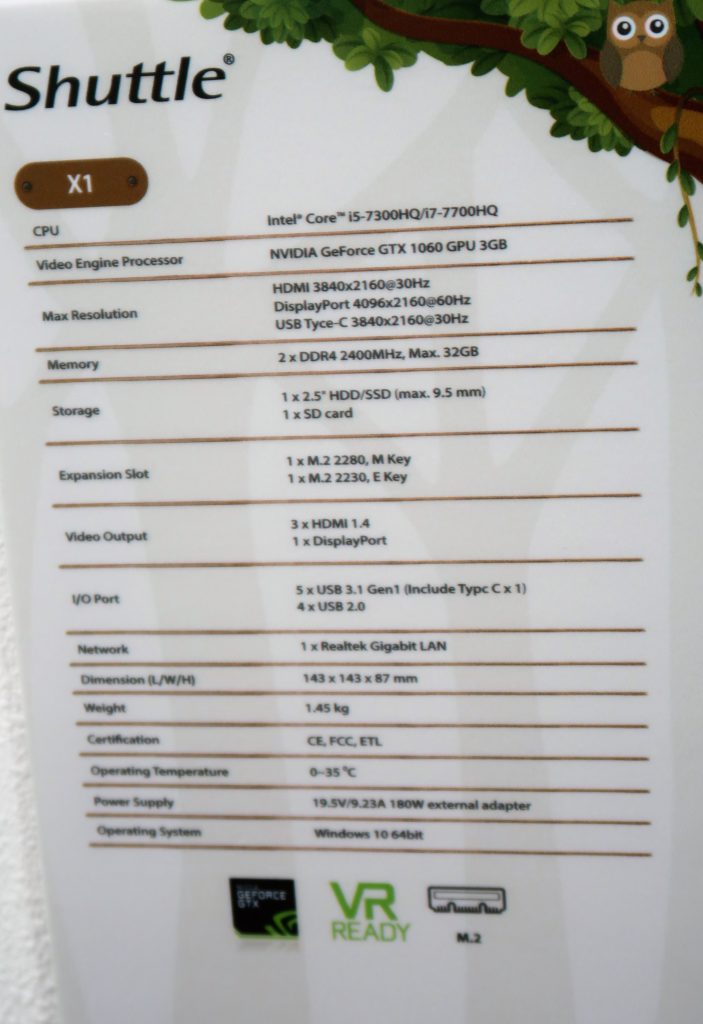 XH110G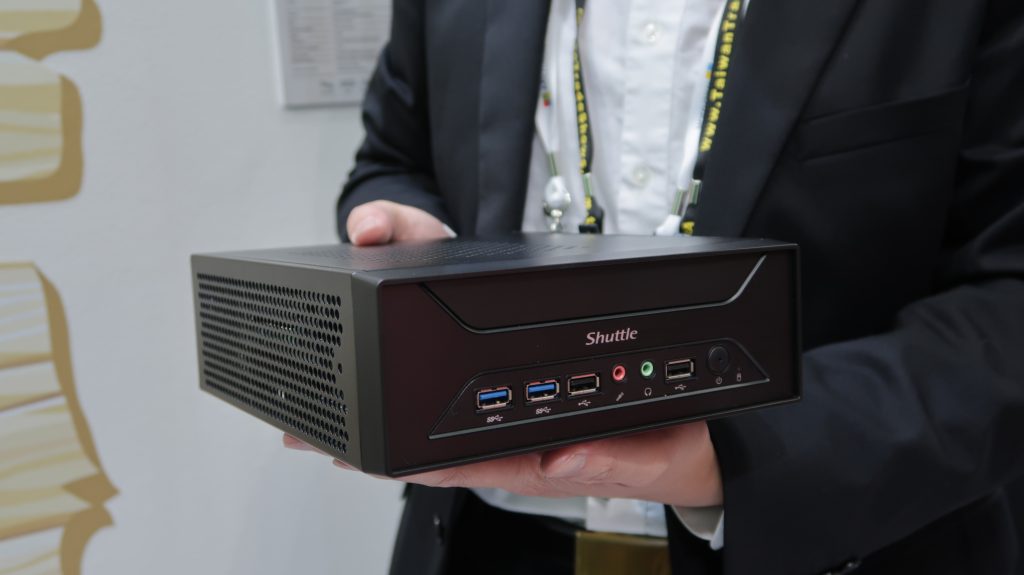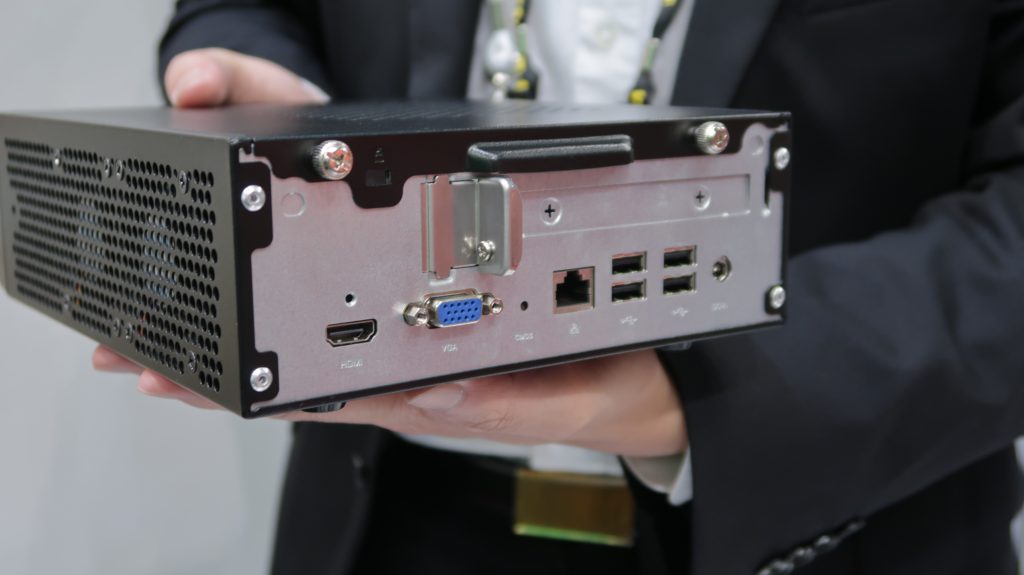 Moving on, the Shuttle XH110G barebone unit aims to target the users who are seeking for great performance, but does not want their system to be too big like the SZ270R9. The XH110G is considerably thin, and it will only support CPUs of up to 65W TDP, unlike the SZ270R9, which can support up to 95W. Similarly, the XH110G also will work with the Skylake and Kaby Lake CPUs.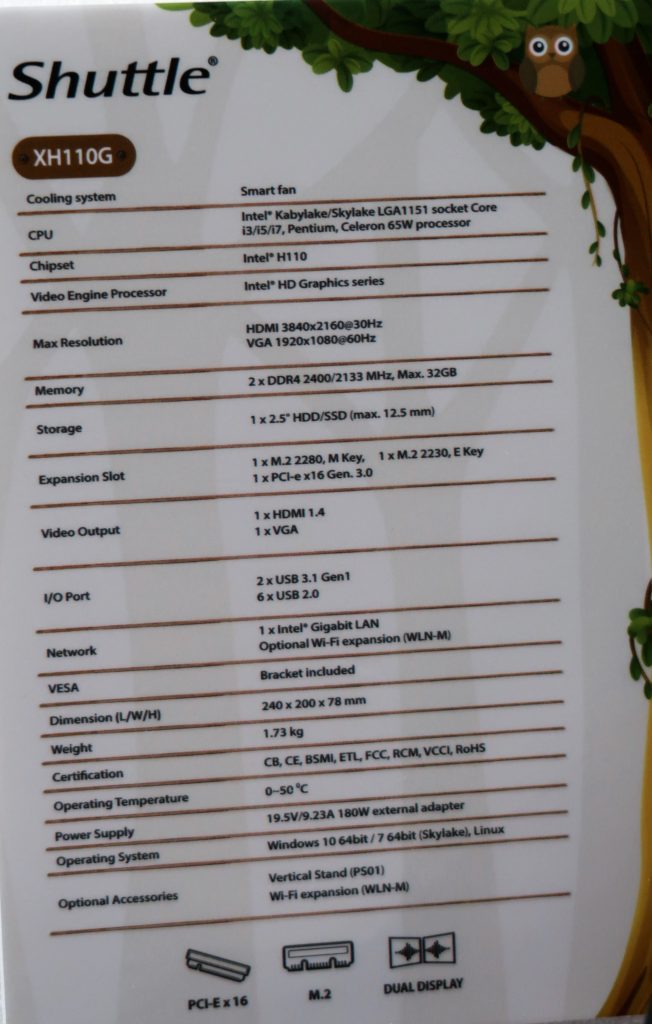 The XH110G also comes with a single PCI-e x16 expansion slot that is by default modified to be placed parallel to the case with the use of a riser. For showcase, Shuttle explained how the XH110G can be adapted into a video streaming and video selection device by adding a video capture card which can take in 4 HDMI input simultaneously.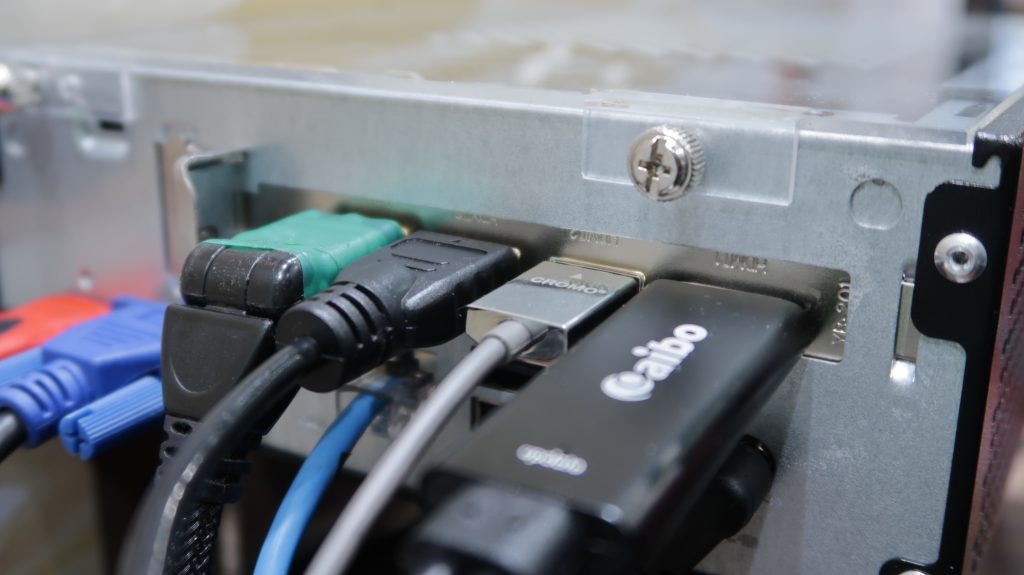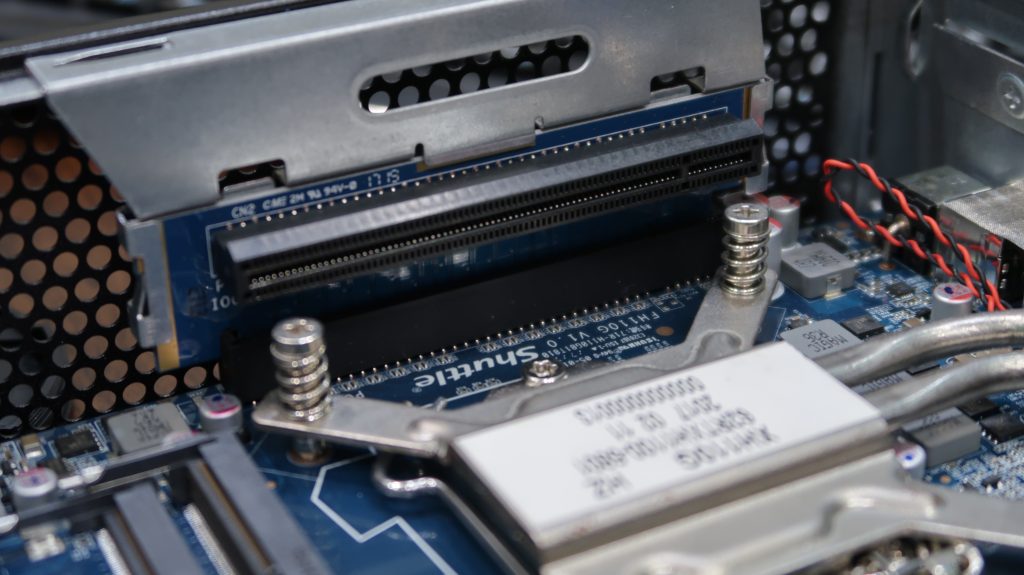 Final Notes and Comments
It is interesting to see how Shuttle innovates by leveraging on their core strength in customized small form factor PC design and manufacturing to apply to many industries and applications. In the times when many countries and cities are focusing their efforts on bringing smart services and Internet of Things to a reality, each of Shuttle's hardware solution will fall nicely into the value chain that enables the next generation of connected systems and services.
We can also see the company's strategy to allow local compute, rather than allowing all processing to be managed by a central remote server. This is probably where they try to differentiate themselves from other IoT hardware companies. While Shuttle place their bets on the distributed computing architecture for the future of computing and strategizes their products towards that, only time will tell if they made the right step forward.