Singapore, 18 June 2021 – Unlimited power can come in sleek, beautiful packages. More compact than one can imagine, Dreamcore's new Dream Machine lineup launch consisting of the Dream Machine and the Dream Machine Pro redefines how a small form factor (SFF) PC and workstation can fit modern home aesthetics and deliver flawless performance for the heaviest processing needs. The Dream Machine and Dream Machine Pro join the Dreamcore family of custom PCs that power gamers, animation studios, content creators, and advertising and media professionals.
The perfect centrepiece in a modern gaming set-up
Tailored with the finest materials and designed to fit seamlessly into aspirational home designs, the premium build quality of Dreamcore's Dream Machines challenge perceptions of what powerful PCs can look like. It is the first and only SFF custom PC lineup in Singapore to sport dark-tinted dual tempered glass side panels, showcasing the vertically mounted graphics card and AIO CPU liquid cooler in an eye-catching sandwiched-style configuration.
The glass side panels are seamlessly complemented by a sleek aluminium-magnesium alloy body, which users can customise to best fit their desk set-up with two colour options of Midnight Black and Gunmetal Grey.

The Dream Machine lineup sports unique dark-tinted dual tempered glass side panels
Pushing the boundaries of performance
Beyond good looks, the Dream Machine lineup delivers performance that punches above its size.
Specially curated for gaming needs, the Dream Machine at just 15.7L offers up to the NVIDIA GeForce RTX 3070 graphics card paired with best-in-class Intel and AMD desktop processors, so gamers can experience dreamlike performance for high refresh rate gaming needs. Any worries about the PC overheating during the most intensive games can be set aside, as the Dream Machine is built for superior, ultra-efficient and silent airflow with two 120mm bottom intake fans and a top-mounted 240mm exhaust radiator.
For power users and content creators who need a PC that can keep up with their work, enter the
Dream Machine Pro at 25.9L to take performance even further. Launching on 18 June, the Dream Machine Pro is Dreamcore's top-of-the-line SFF workstation that transforms high-end content creation, machine learning and CAD workflows into a hassle-free affair.
Boasting one of the world's most flexible ITX systems, the Dream Machine Pro provides endless possibilities of best-in-class configurations with zero compromise. Users will be able to create a workstation that crunches through rendering and machine learning tasks at the speed of thought by pairing up the best AMD Ryzen and Intel Core desktop processors available with the latest NVIDIA GeForce, Quadro or AMD Radeon graphics cards.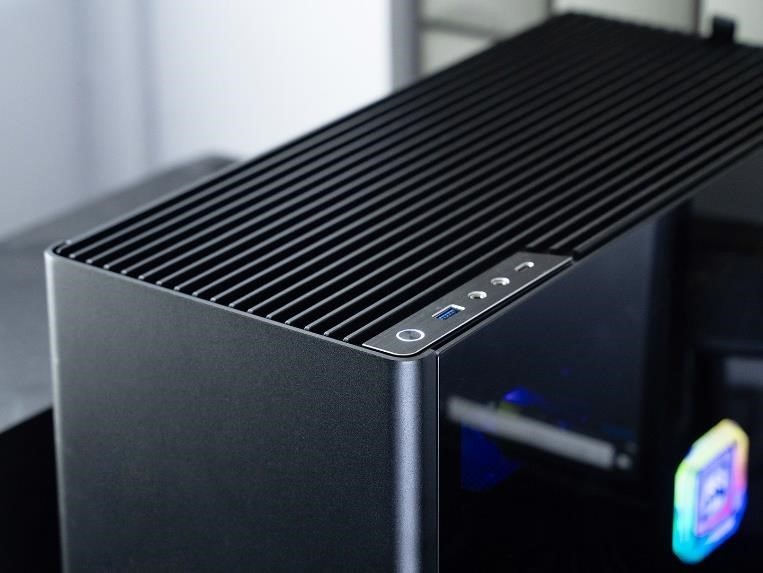 The Dream Machine Pro is an entire studio housed in one portable and powerful machine
Due to an innovative and flexible layout that allows the motherboard mounting plate to be shifted, users can also ensure that their Dream Machine Pro runs at maximum performance by choosing a top-end 360mm AIO CPU cooler for outstanding cooling performance, or huge desktop tower air coolers for maximum reliability and minimal noise.
With substantial storage options of up to 4TB of ultrafast NVME M.2 SSDs, 16TB of SATA SSDs and 4TB of archival HDDs, the Dream Machine Pro is an entire studio housed in one portable and powerful machine.
Available in full customisation or pre-configured Dream Builds options
Dream Machine and Dream Machine Pro can be fully customised for users who wish to put together their preferred combination of CPU, graphics cards, motherboards, and other hardware.
For users looking for a fuss-free purchase, the Dream Machine and Dream Machine Pro are also available as pre-configured Dream Builds where users can choose a particular tier with customisable options. Those who purchase a Dream Build can enjoy same-day delivery for orders placed before 4PM on weekdays.
Prices start at $1,660 for a fully customisable Dream Machine, while the Dream Machine Dream Build starts at $2,495. Both full customisation and Dream Build options for the Dream Machine lineup can be found via Dreamcore's website.
With the ongoing Great Singapore Sale, Dreamcore is offering storewide discounts from now until 11 July 2021 on both the Dream Machine and Dream Machine Pro Dream Builds. Complete the PC setup with keyboard, monitor and mouse for an additional $339 with the SuperSolid WFH Bundle, as well as enjoy $100 off the 2TB Dreamcore Hyperion Plus NVME M.2 SSD on applicable systems.