NETSPay now available for OCBC and UOB cards; more payment options on mobile app & online
More than 11 million NETS cardholders will be able to make simple and secure NETS payments using their phones at more than 60,000 NETS QR acceptance points
NETSPay users can store up to 10 ATM bank cards on the app; easy to separate and track transactions
NETSPay users can also make payments on a mobile app (e.g. AXS m-Station) and on websites, not just at point-of-sale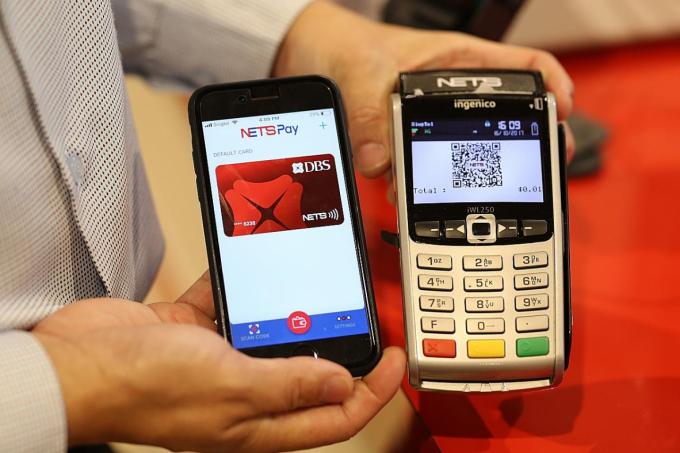 Singapore, 18 June 2018 — OCBC Bank and UOB customers will now be able to make NETS payments with their mobile phones via the NETSPay app instead of using their physical NETS ATM bankcards[1].
OCBC Bank and UOB customers can digitise (store) their NETS ATM bankcards on their mobile phones for NETS payments at more than 105,000 acceptance points island-wide including at more than 60,000 NETS QR acceptance points, making mobile payments available to more than 11 million NETS cardholders. NETS static QR will be incorporated under the SG QR code specifications when the latter is released later in the year.
NETSPay works just like the physical NETS ATM bank card with purchases debited directly from the customer's bank account. Consumers just have to scan the NETS QR code or tap their NFC-enabled phone on the NETS terminal to make payments. Paying via NETSPay comes with the added advantage of not having to key in a PIN for transactions less than S$100.
Segregate and track transactions via bank accounts on one app
NETSPay users can store up to 10 ATM bank cards on the app, allowing them to choose between bank accounts for different purchases. This enables NETSPay users to dedicate bank accounts for different types of purchases and easily track their transactions by bank account, all on one app.
Mr Jeffrey Goh, Group CEO, NETS Group, said, "We are pleased to welcome OCBC and UOB cardholders to NETSPay. Since NETSPay was launched in Oct 2017, we have already seen transactions increase 70-fold as consumers see the convenience and benefits of mobile payments at point-of-sale. We're confident that this number will continue to grow exponentially with the addition of OCBC and UOB customers."
Mr Milind Sanghavi, Head of Digital Payments, OCBC Bank, said, "Mobile payments are gaining steam in Singapore, with increasing levels of awareness and the government's push for a cashless society. OCBC started our war on cash with OCBC Pay Anyone, the industry's first cashless payments solution, in 2014. Last year, we upped the ante to provide our customers a consolidated payments app and partnered with NETS to offer peer-to-merchant and peer-to-peer payments via QR codes, in addition to payments via mobile numbers, Facebook and emails.
"While we have seen exponential growth in our customers' cashless payments adoption volumes, digital payments still take up only a small portion of the total number of payment transactions in Singapore, so we are delighted to deepen the partnership with NETS, with its NETSPay service, to tap into the growth opportunity in digital payments. This will give our customers an additional avenue to perform digital NETS payments – via a QR code scan or a contactless tap directly from their mobile devices. We are confident the ease of usage of the NETSPay platform will encourage more customers to adopt mobile payments as a primary mode of payment, displacing cash," he added.
Mr Aaron Chiew, Head of Digital and Mobile, Regional Digital Banking, UOB, said, "At UOB, we know that our customers want simpler, smarter and secure ways to make payments through the mobile phone. For example, our customers have taken to the ease of using their phones to pay by NETS, with such transactions growing an average of 198 per cent every month since we enabled NETS QR code and NETS mobile contactless payments on our mobile banking app UOB Mighty last year[2]. The NETSPay app will complement our initiatives and give our customers different options that enable them to make mobile contactless payments directly from their bank accounts."
NETSPay for mobile and online merchants
NETSPay users are not just limited to making contactless and QR code payments at retailers (point-of-sale). The service is also available as a payment option within a mobile app (e.g. AXS m-Station) and for online QR payments at e-commerce websites.
Since May 2018, AXS m-Station users have been able to pay their bills via NETSPay. NETSPay uses the phone's fingerprint or passcode authorisation to effect payment, doing away with the need to key in their internet banking token or credit card details and providing users with greater convenience.
Mr Joey Chang, CEO, AXS, said, "AXS is pleased to collaborate with NETS to enable NETSPay on AXS m-Station mobile app since 3 May 2018. NETSPay provides a quick and seamless mode of payment for our users, and with this convenience, we are very encouraged with the strong take-up numbers."
Added Mr Goh, "Our partnership with AXS provides NETSPay users with added convenience as they are now able to take care of another everyday payment, this time bill payments, with the same app. NETSPay truly is 'the payment app that can'."
As with its physical AXS Station counterpart, the AXS m-Station mobile app offers a one-stop experience for users to pay for a host of services including credit card bills, phone bills, utility bills, traffic fines, car park fines, phone card top-ups and more.
For online QR (eNETS QR) payments, NETSPay users just have to scan the QR code on the merchants' websites at the checkout page to make payment directly from the NETSPay app. Merchants who will be offering NETSPay as a payment option on their mobile apps and websites include Qoo10, Audio House, NTUC Income, Singapore Mint, Metro Department Store and Rydesharing.com.
How to use NETSPay
Payment via NETSPay is easy:
All phones
NFC-enabled phone
1.    Open the NETSPay app

2.    Select "Scan Code"

3.    Scan the NETS QR code to complete payment

1.    Tap phone* on terminal

*NETSPay set as default payment app
For more information on NETSPay, please visit www.nets.com.sg/netspay.
About NETS
The NETS Group is a leading payments services group, enabling digital payments for merchants, consumers and banks across the entire payments value chain.
The Group operates Singapore's national debit scheme enabling customers of DBS Bank/POSB, HSBC, Maybank, OCBC Bank, Standard Chartered Bank and UOB to make payments using their ATM cards or mobile devices at more than 102,000 acceptance points in the country as well as online payments. The NETS network also accepts NETSPay, UnionPay and BCA cards, and includes 46,000 Unified POS terminals and 60,000 QR acceptance points. NETS is also the issuer of CashCard and Flashpay cards.
The NETS Group manages and operates the clearing and payment infrastructure for the Singapore Clearing House Association and core electronic transfer services FAST, Inter-bank GIRO and PayNow.
It is the market leader for payment and clearing solutions (Real-Time Gross Settlement system and Cheque Truncation System) in the region with some S$1 trillion in transaction value processed through its systems every year.
NETS is a member of the Asian Payment Network and a council member of UnionPay International.
For more information on the NETS Group, please visit www.nets.com.sg.
[1] UOB customers can also digitise their NETS ATM bank cards on and make payment through the Bank's award-winning mobile banking app, UOB Mighty.
[2] NETS QR code and NETS mobile contactless payments were enabled on UOB Mighty in September and December 2017 respectively.