When it comes to getting a new desktop gaming computer, you would have the choice to build it yourself or simply get an off-the-shelf pre-built system. While most enthusiasts would enjoy researching and choosing their own computer components and parts to build their dream PC, there is also a significant group that just wants a fully-built gaming PC that works for their games.
There are a few advantage with a pre-build system.
(1) You'll be sure that your system will simply just work. If it doesn't, you can send the whole system unit for repair, instead of the need to troubleshoot and find out the component which was faulty and then send it for repairs or exchange.
(2) You will be ensured compatibility and performance
(3) You will get more unique designs and more interesting form factors that are not available with customized PCs.
(4) They could be generally cheaper
(5) You don't have to spend time building it
Seeing an opportunity in this market, MSI also has a range of pre-built desktop systems for those who wants to keep things simple and just want things to work.
In this review, we would want to take a look at the MSI MPG Trident AS 12th Gaming Desktop, and see if it's worth our money as compared to a new pre-built desktop computer.
The MSI MPG Trident AS 12th Gaming Desktop
As its name suggests, the MSI MPG Trident AS 12th is powered by the Intel 12th Generation Core processor. This generation of Intel Core processors are known for their performance and great energy efficiency, as they utilize a hybrid core design which brings together two types of CPU cores in one package – P (performance) cores and E (efficient) cores.
Specifically for the MSI MPG Trident AS 12th Gaming Desktop in our labs, it is equipped with the Intel Core i7 12700F processor, which consists of 8 P cores and 4 E cores.
Coupled with this processor is the NVIDIA GeForce RTX 3070 graphics card. Known for it great performance and comprehensive feature set, the RTX 3070 graphics card is the choice for many gamers in the market.
Specifically, this system is equipped with the MSI GeForce®RTX 3070 VENTUS 2X 8G GDDR6 model, which has also been known to strike a good balance between performance, great cooling capabilities and noise.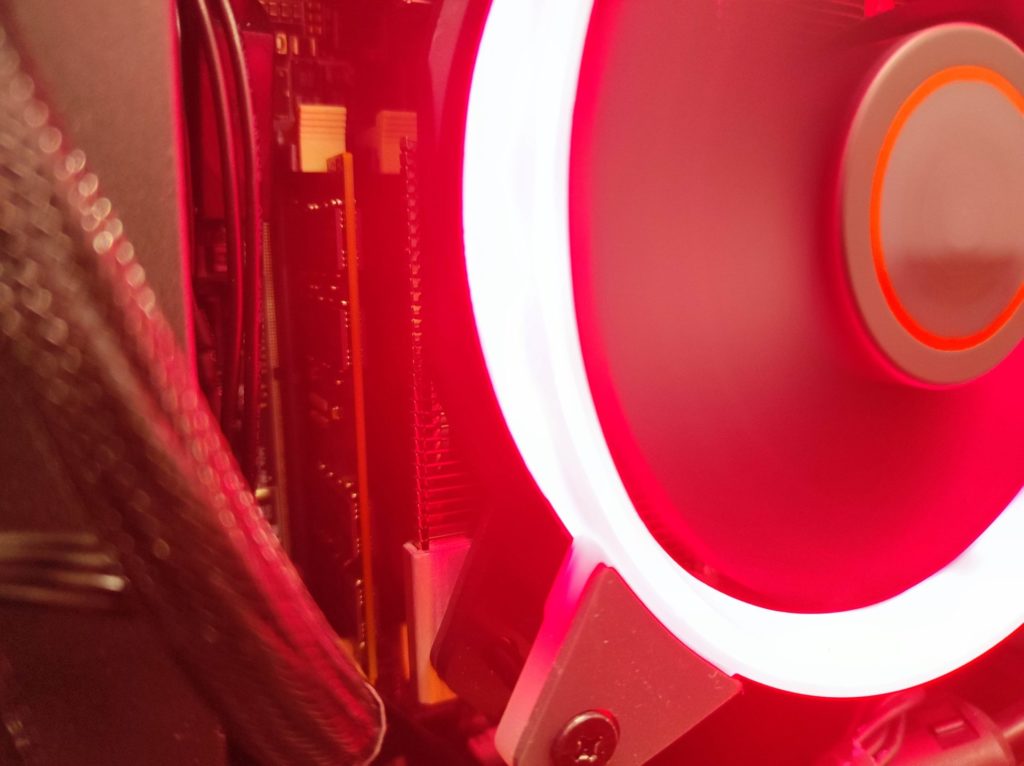 The desktop is also equipped with a 1TB NVMe M.2 SSD for efficient storage operations. Unfortunately, the model we had on hand only came with 1 * 16GB 3200MHz SODIMM memory. We would have much preferred if the unit came with 2 * 8GB instead, so that the system would be able to run the system memory in dual channel mode for improved performance.
Other than that, we also saw how MSI has put in additional thoughts into the design of the system. They have air vents placed where it is needed the most, allowing good airflow and air exchange throughout the system.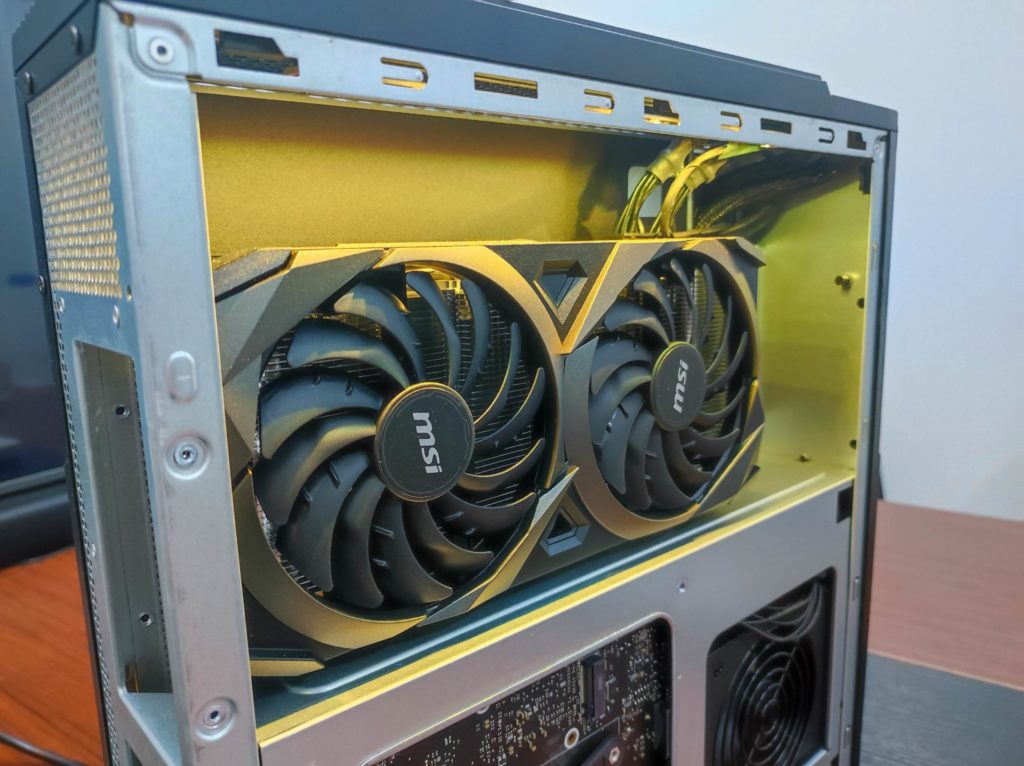 The case is also designed in a way where the motherboard and other main connected components are separated from the graphics card. This allows both areas of the cases to be cooled separately. This means that the heat from the motherboard will not affect the graphics card, and vice versa.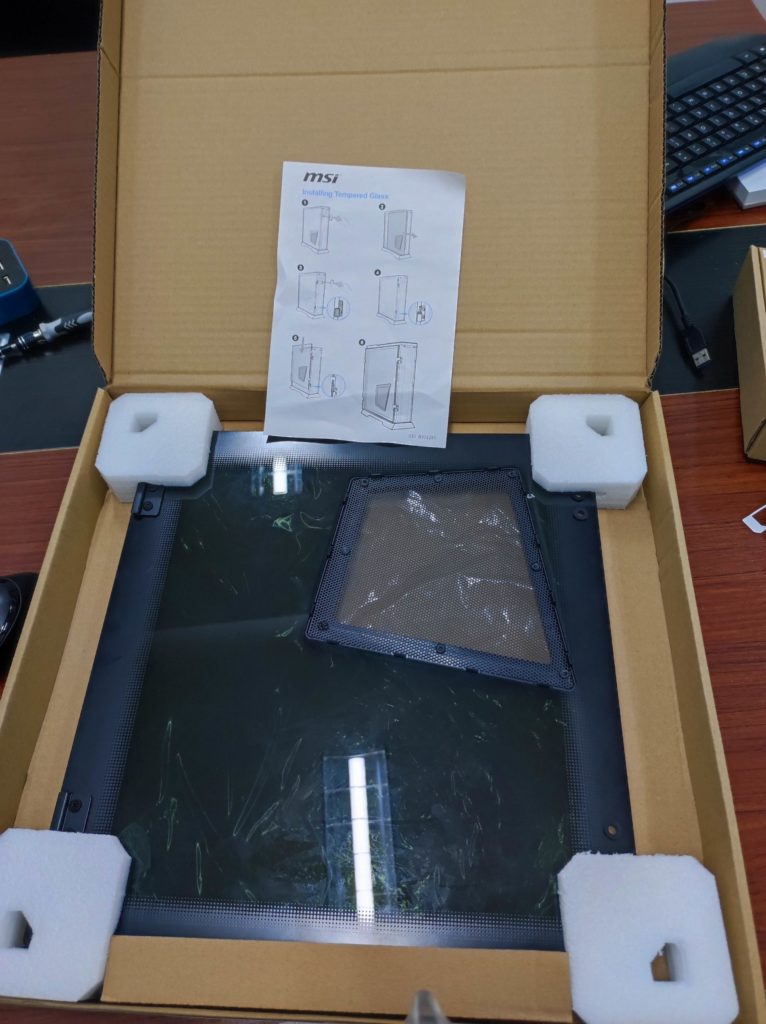 MSI has also focused on showcasing the RGB lightings and style of the lightings with this system. This is why the side panel can also be replaced with one that is of a tempered glass. Even without it, the air vents still allow you to clearer have sight of the component's RGB lightings. All lightings and effects within the system can be controlled over MSI's Mystic Light application.
Specifications and I/O
| | |
| --- | --- |
| Processor | Intel Core i7 12700F |
| Chipset | B660 |
| GPU | MSI GeForce®RTX 3070 VENTUS 2X 8G GDDR6 |
| Memory | 1x DDR4 3200MHz 16GB SODIMM |
| Storage | 1 x NVMe M.2 SSD |
| Wireless | Intel Wi-Fi 6E AX211 |
| LAN | Realtek RTL 8125BG 2.5Gbps |
Front I/O :
1x USB 2.0 Type A
1x USB 3.2 Gen 1 Type A
1x USB 3.2 Gen 1 Type C
1x Mic in / 1 x Headphone out
Rear I/O :
2 x USB 2.0 Type A
3 x USB 3.2 Gen 2 Type A
1 x USB 3.2 Gen 2 Type C
1x HDMI 2.0b with HDR port, supports a maximum resolution of 4K 60Hz
1x DisplayPort 1.4 port, supports a maximum resolution of 4K 120Hz
3 x Audio jacks
1 x RJ45(2.5G)
1 x Kensington Lock
*Tips: The display function is only available on non F series processors.
You can also easily add 2.5-inch drives or even an additional M.2 SSD to upgrade the system.
System performance and Benchmark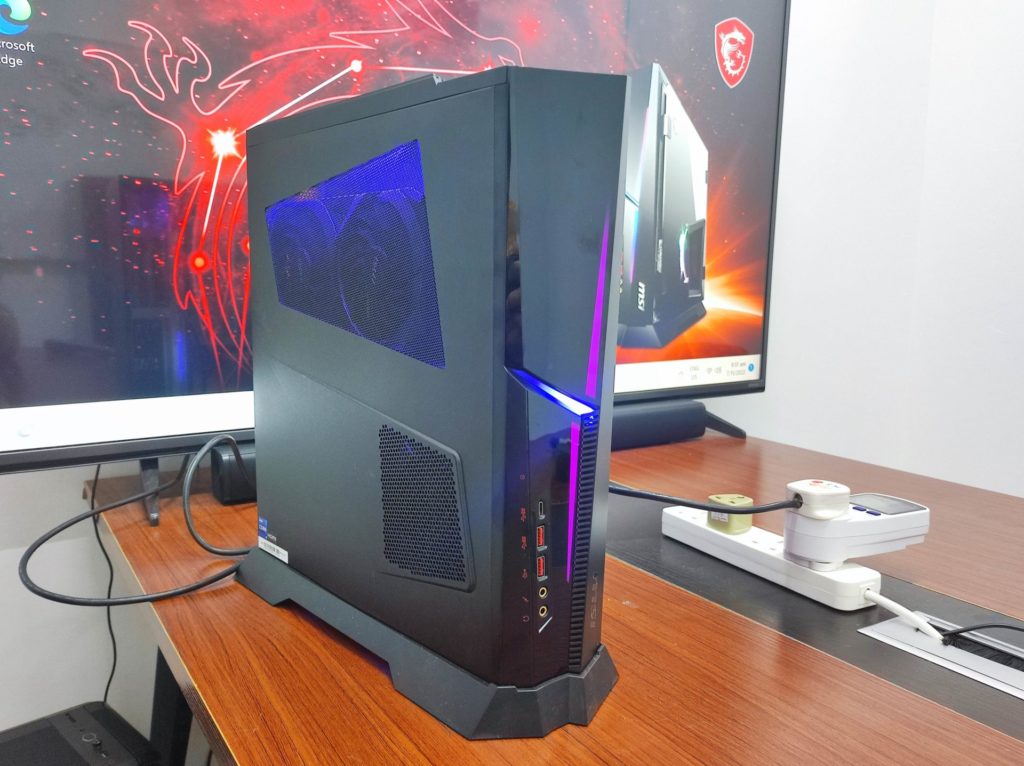 We will be comparing the MSI MPG Trident AS 12TH with a AMD based Mini ITX based system that is paired with a AMD Radeon RX 6800. This comparison should give us an understanding of how the system performs, as compared to the Ryzen 9 5900X, which is featured on the ITX build. Both systems are about in the similar price range, between S$3300 to S$3500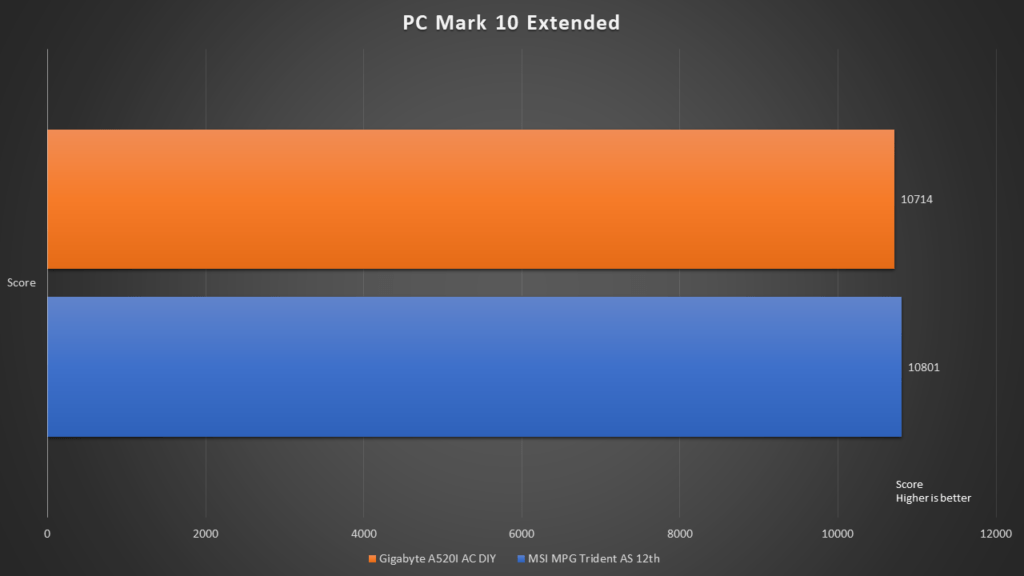 Interestingly, despite having more cores and threads, the MSI MPG Trident AS 12th performs slightly faster on the PC Mark 10 Extend test. This shows that these two systems are indeed comparable when it comes to overall performance.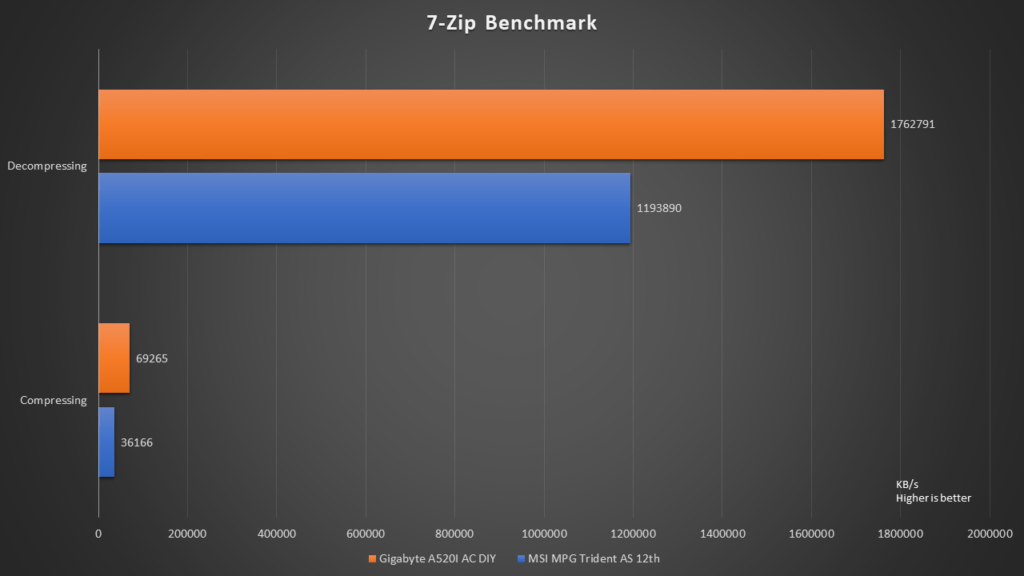 We're not here to say that the MSI MPG Trident AS 12TH doesn't perform as well as the DIY system. In this comparison, we can see how the AMD Ryzen 9 5900X works better as it has got 12 full performance cores all enabled.
This gave it the advantage over the MPG Trident. It also shows us the limitations of pre-built systems, as you wouldn't have much choice to customize and choose your parts for better performance.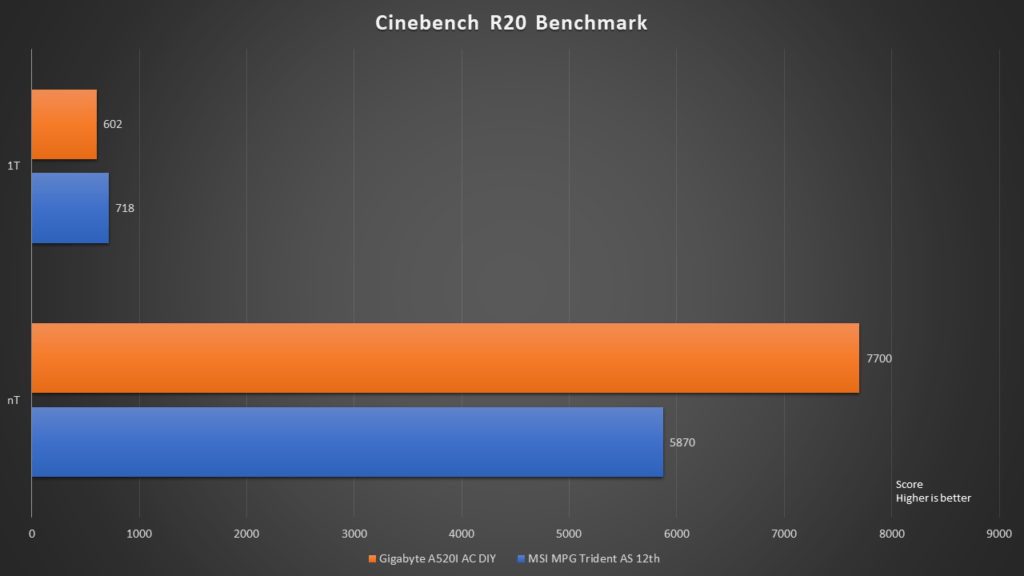 However, when it comes to single threaded tests, we can see how much better the MSI MPG Trident AS 12TH performs as compared to the DIY system.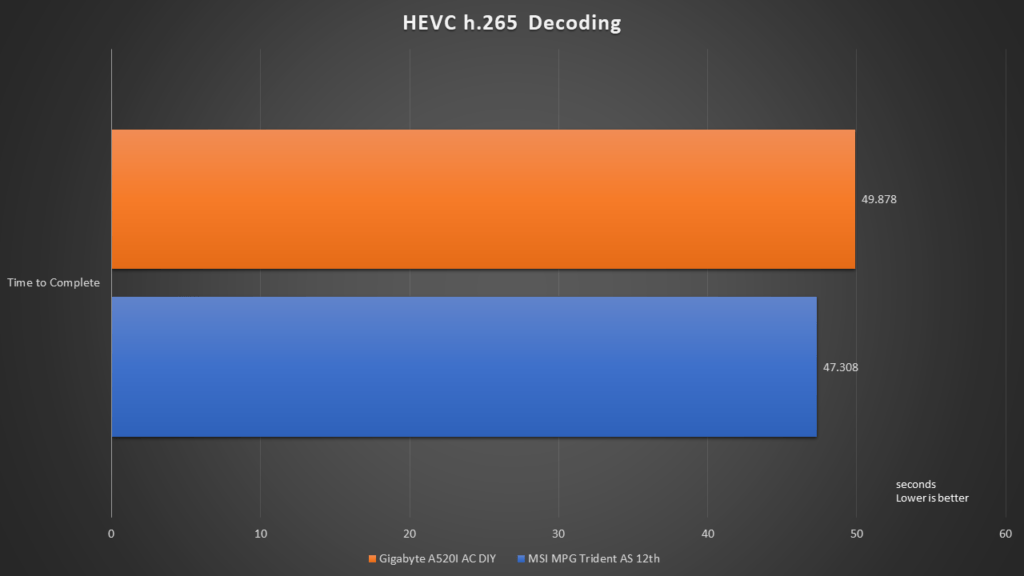 The MSI MPG Trident AS 12TH desktop computer also performs better when it comes to media decoding, completing the decoding task slightly faster than the DIY system.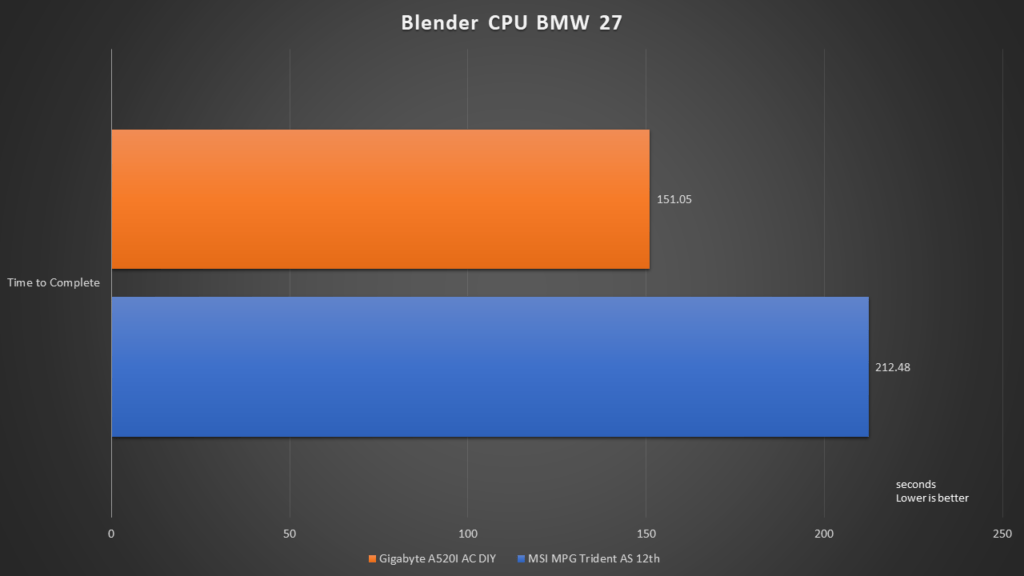 Unfortunately, the MSI MPG Trident AS 12TH wasn't able to perform as well in most multi-threaded applications. In blender, it was quite far behind the DIY system built.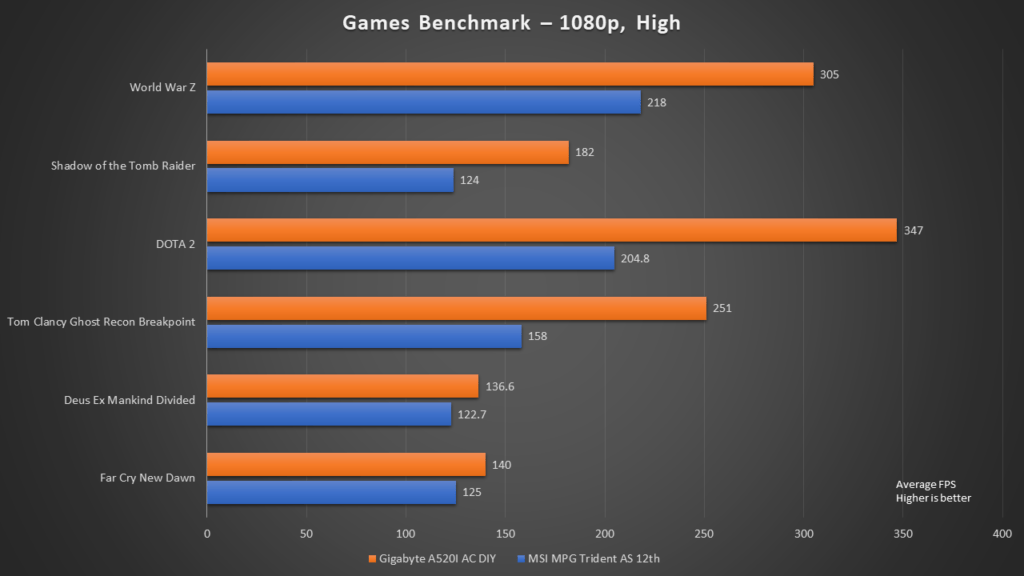 Moving on to games, we saw that the AMD Radeon RX 6800 also outperforms the RTX 3070. Yet again, we have to reiterate that we are not purely comparing between performance of the two systems, as they are essentially two very different systems. The idea is to see how two systems of similar price tags pairs up against one another.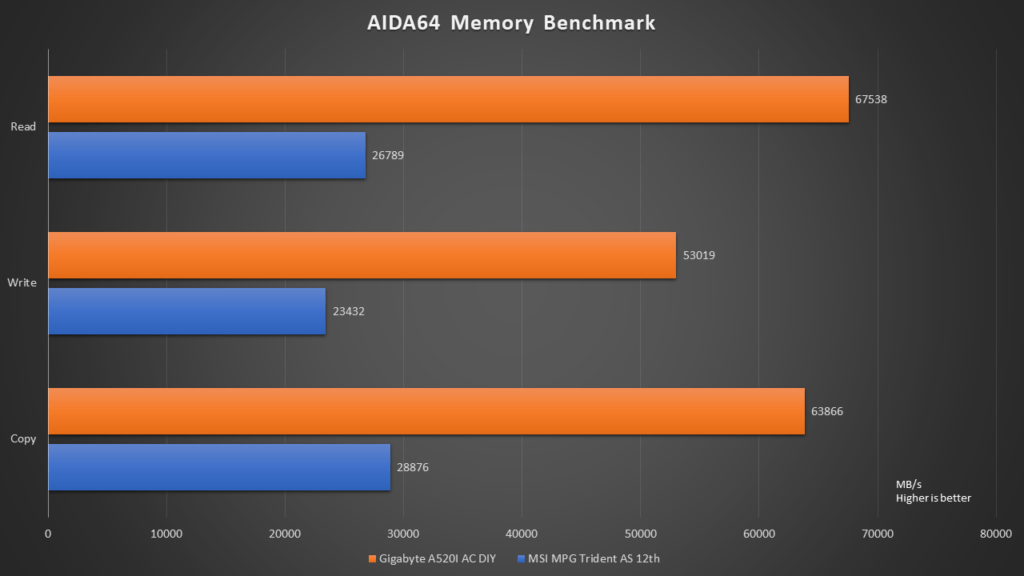 As the system only comes with a single stick of DDR4 RAM, its memory performance is largely limited as seen in the AIDA64 memory benchmark. It would have also attributed to the rather poor performance in the games benchmarks as well.


Based on our tests, when stressed tested, the CPU actually reached it power limits, and throttled in order to maintain at 50 degrees Celsius.

Generally, the GPU temperature was well maintained and performed well.
Final Words and Conclusion
Most customers who are looking to purchase a pre-built system probably aren't too savvy when dealing with technology. That is why I believe that the decision to include only a single stick of RAM in the system, instead of two, is one of poor understanding of end-users.
Essentially, simply choosing a setup of 2 x 8GB RAM instead would have yield quite a bit of improvements in terms of the overall performance of the system.
Personally, I think that the MSI MPG Trident AS 12th Gaming Desktop is good pre-built system that works well as an everyday driver. It performs fast, plays game well, and is able to meet the demands of most workloads. If I was someone who doesn't know too much about computers, the system will serve me extremely well.
Unfortunately, I am not. Seeing that the processor throttled because of arbitrary power limits, I know that the system is probably worth less than what is is made of. Only advanced users will go into BIOS settings or at a software level to overcome such limitations, which is not typical of those who would purchase this system.
Regardless, if you still enjoy the fuss-free approach to having a new desktop computer, the MSI MPG Trident AS 12TH is a well-built and designed system that will meet your daily (non-extreme) usage needs.