If you are planning to build a new Small Form Factor (SFF) PC based on the new AMD Ryzen 5000 series processors, you will soon come to realize that it will be a rather significant investment. Other than the higher than expected prices of the new AMD Ryzen 5000 series processors, the compatible motherboards based on the X570 and B550 chipset do not come cheap as well. Thankfully, with the launch of the new A520 chipset, AMD also made it possible to build a new system that is based on their newest processors on a budget.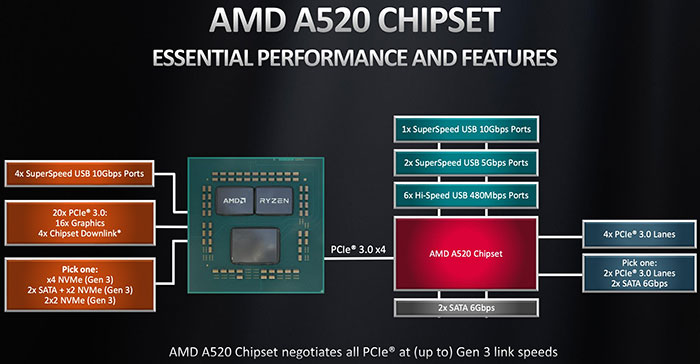 The AMD A520 chipset is supposed to be the successor of the entry level A320 chipset. While nothing much has changed, it officially supports the new AMD Ryzen 5000 series processors which are based on the Zen 3 architecture. It also supports the Ryzen 3000 series processors, but do take note that the Ryzen 3000 series APUs (which are based on the Zen+ architecture) are not supported.
The A520 gets a minor upgrade over the A320 with the addition of a USB 3.2 10Gbps port from the CPU. It also gets 4 x PCIe 3.0 lanes, as opposed to the 4 x PCIe 2.0 lanes on the A320.
Being one of the few Mini-ITX motherboard in the market that spots the A520 chipset, the GIGABYTE A520I AC is poised to be the ultimate choice for budget SFF PC builders who want to support the new Ryzen 5000 series processors. Indeed, there are not many reasons to think otherwise if this is exactly what you are looking for. Unless, there could be some caveats that comes with this motherboard?
In this article, we are going to take a closer look at the GIGABYTE A520I AC to better understand how it performs, as well as the key features which GIGABYTE has included to help you determine if it's worth your valuable dollars.
The GIGABYTE A520I AC
Based on first impressions, most people wouldn't believe that this motherboard is based on an entry-level AMD A520 chipset. It has a decent Direct 6 phase Digital VRM solution, which is capable of powering even the top of the line 16 cores AMD Ryzen 9 5950X processor. It still supports a standard sized DDR4 memory and can even run memory with XMP/DOCP profiles at overclocked speeds higher than its predecessors.
As one of the key requirements of motherboard these days, the GIGABYTE A520I AC also comes with a M.2 connector to run a NVMe PCIe SSD. Interestingly, in order to properly cool both the chipset and the M.2 SSD, GIGABYTE just made use of a single heatsink – the bottom of it is the A520 chip, while the M.2 SSD lies on top. This could potentially introduce thermal and performance issues if the heat is not properly dissipated away.
To further expand storage, the GIGABYTE A520Ialso comes with 4 x SATA 6Gbps ports as well.
Understandably, with space limitations, most Mini-ITX motherboard does not come with many fan headers. Other than a standard CPU fan header and a single system fan header, Gigabyte had to introduce a workaround in order to make the fan header smaller. With the use of a simple cable that's included in the box, GIGABYTE was able to introduce an additional fan header on this motherboard, bringing the total number of fan headers on this motherboard to 3.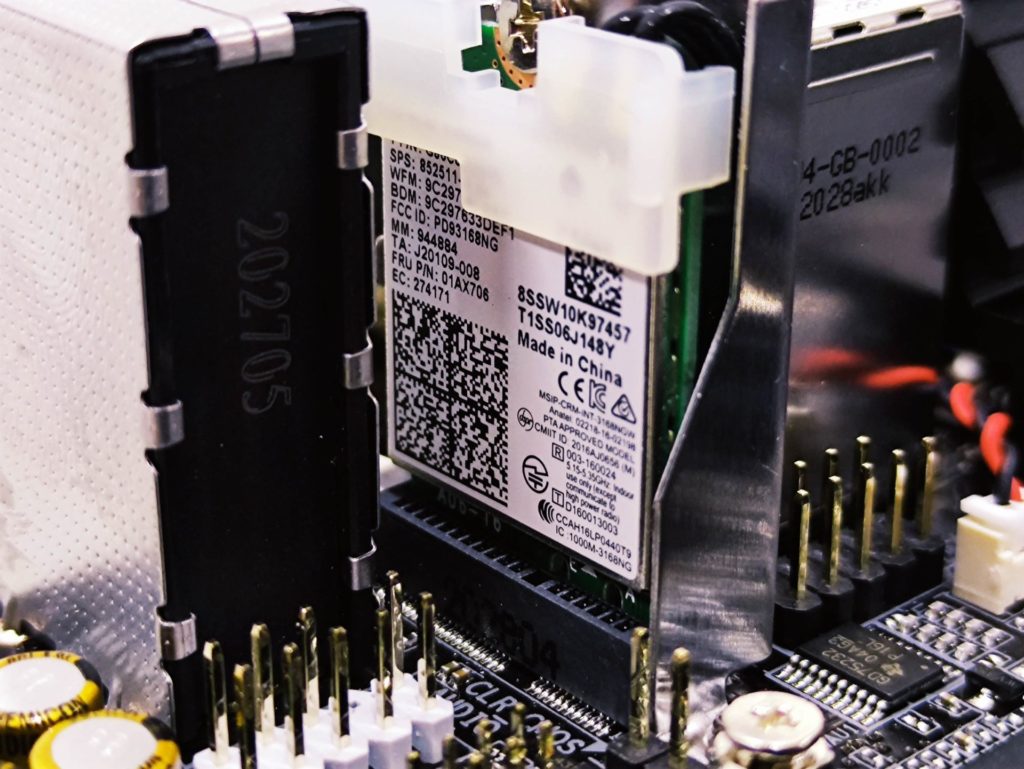 As the name suggests, the GIGABYTE A520I AC also comes with an integrated Intel Wi-Fi AC3168 wireless card. This wireless card supports Wi-Fi 802.11a/b/g/n/ac in both the 2.4 and 5GHz band. It also comes with Bluetooth 4.2 built-in as well.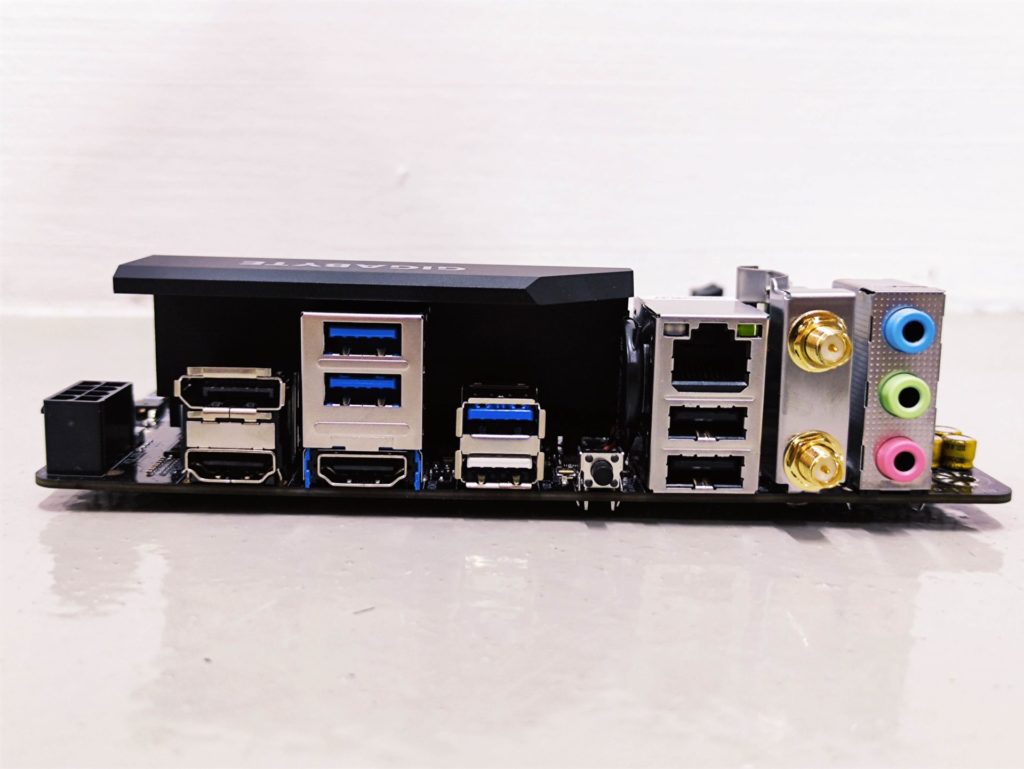 The GIGABYTE A520I AC is also designed to support multiple output displays. This motherboard features 2 x HDMI and 1 x Display Port that can run 3 x displays at the same time. However, we do understand that this new feature will only be available in the new AMD Zen 3 based APUs that are expected to be released later in the year.
On top of that there are also 4 x USB 3.2 Gen 1 ports, 2 x USB 2.0 ports and a standard audio input/output jack.
The little button found on the rear I/O ports area is used for Q-Flash. Q-Flash is a tool used for flashing the motherboard's BIOS without the need for a CPU or graphics card. It's definitely a very useful tool for us, as our early sample of this board did not support the new AMD Ryzen 5000 series processors. We used the Q-Flash method to flash the motherboard to its latest BIOS for it to support the new processors.
If you are a system builder that just wants to run a new motherboard as it is with any overclocks, the GIGABYTE A520I AC simply has everything you need!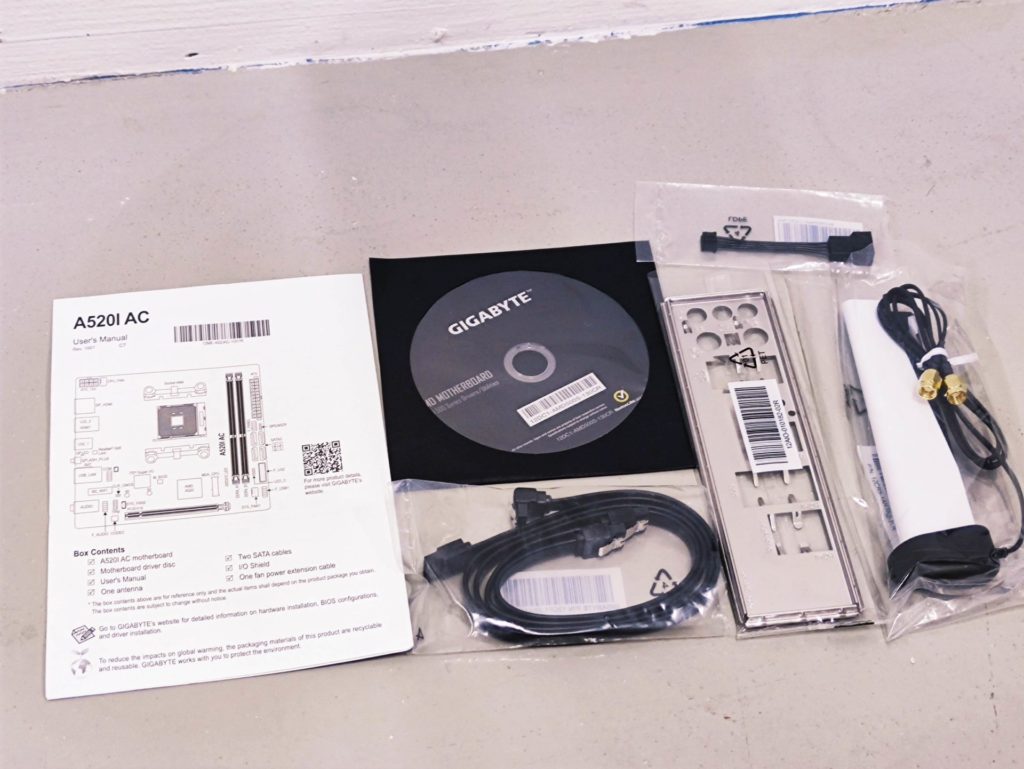 System BIOS
The UEFI BIOS on the GIGABYTE A520I AC comes in the same look and feel as the other motherboards from GIGABYTE. By default, users will be greeted with a Easy Mode interface, which can easily allow them to change basic setting such as memory profiles and boot priority. We could easily activate the 3600MHz XMP/DOCP profile on our memory without any hiccups.
If you are a more advanced user, you can be assured that all the other settings are still available in the advanced menu. Even the Smart Fan 5 utility is still available for you to customize and define your fan curve settings.
System Setup and Performance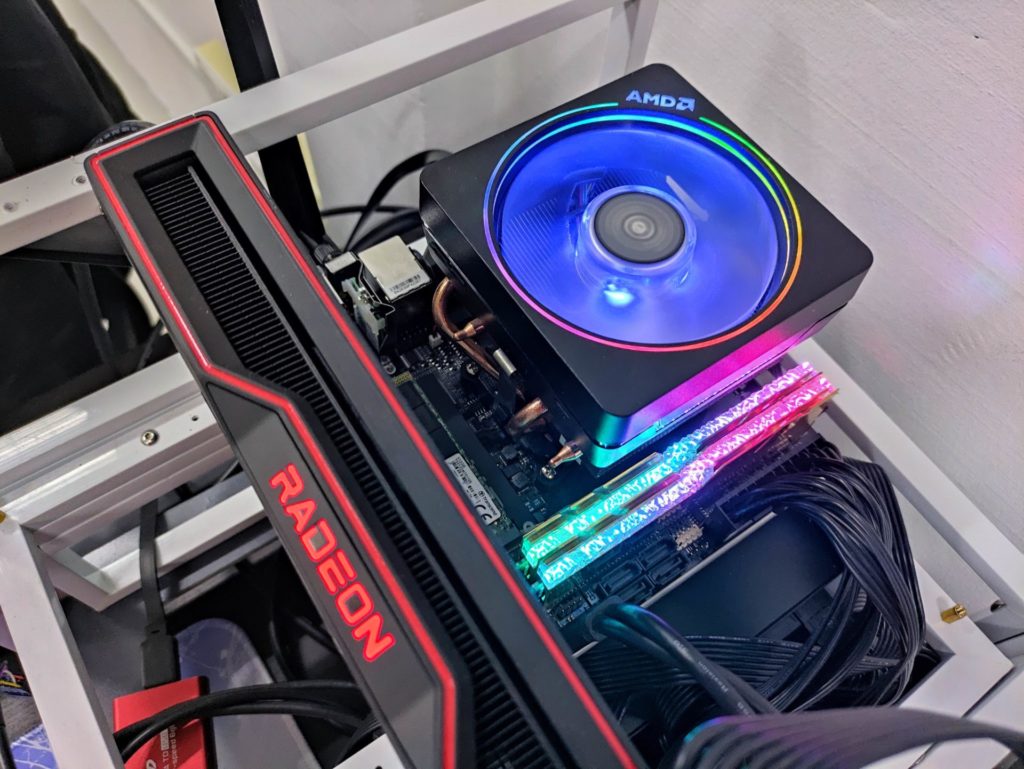 | | |
| --- | --- |
| Specs | Main System |
| CPU | AMD Ryzen 9 5900X |
| RAM | G.Skill Trident Z Royal 3600MHz, 2 x 8GB DDR4 Kit |
| Main Storage | Transcend MTE110S 512GB |
| GPU | AMD Radeon RX 6800 (Reference) |
| Motherboard | GIGABYTE A520I AC |
| CPU Cooler | AMD Wraith Prism |
| PSU | Cooler Master V1000 |
| OS | Windows 10 Pro 64 bit |
The benchmark settings are as follows:
| | | |
| --- | --- | --- |
| Test | Configuration | Settings |
| PC Mark 10 Extended | Default | Default |
| 7-ZIP Benchmark | Default | Default |
| Cinebench R20 | Default | Default |
| HEVC h.265 Decoding | Default | Default |
| Blender BMW27 | CPU blend | Default |
| Far Cry New Dawn | 1080p | High Settings |
| Deus Ex Mankind Divided | 1080p | High Settings, DX12 |
| Tom Clancy Ghost Recon Breakpoint | 1080p | High Settings, Vulkan |
| DOTA 2 | 1080p | As per Benchmark Guide |
| Shadow of the Tomb Raider | 1080p | High Settings, DX12 |
| World War Z | 1080p | Ultra Settings, Vulkan |
| wPrime 1024M | Default | Default |
| AIDA64 Memory benchmark | Default | Default |









Conclusion
The GIGABYTE A520I AC Mini-ITX motherboard is a no-frills product that is catered to the mass market. Everything that was considered as an essential feature to a PC was included in the motherboard, and it ensured the new PC build is decent enough as a daily performer.
From the performance results, we can also see that the performance difference between a budget AMD A520 chipset motherboard and a high-end X570 motherboard is negligible. Even though we do see the performance dip on the GIGABYTE A520I AC when it comes to the CineBench R20 test, which could potentially be caused by thermal limitations, the difference should still be considered acceptable and not a deal breaker.
In conclusion, for the amount of value that the Gigabyte A520I AC brings to consumers at such an attractive price point (below S$200), it's a motherboard that is hard to resist. If you are looking for a new Mini-ITX motherboard for your daily work and games, and don't consider overclocking your system, we will most definitely recommend the Gigabyte A520I AC.