For those who are looking to buy a gaming keyboard and mouse, MSI has bundled up its MSI Vigor GK30 with the Clutch GM11 as a combo. Buying them together as a set not just saves users the hassle of sourcing matching gear, it helps save a few bucks too.
In this review, we'll take a closer look at the MSI Vigor GK30 keyboard – a mechanical-like membrane-type keyboard that has a floating type key design that's water-repellent. The keyboard also boasts lighting effects that are easy to set up. Let's see how all of these play out in reality.
Specifications
| | |
| --- | --- |
| Layout: | 104-key US ANSI layout |
| Material: | ABS plastic |
| Macro Support: | Yes |
| Weight: | 1042 g |
| Wrist Rest: | No |
| Anti-ghosting: | 6-key rollover |
| Media Keys: | Available as a secondary function |
| Dimensions: | 438 mm x 157 mm x 38 mm |
| Cable length: | 1.8 m long, non-braided |
| Software: | MSI Dragon Center |
| Switch Type: | Rubber-dome membrane |
| Backlighting: | RGB |
| Interface: | USB 2.0 |
| Warranty: | 2 years |
How it looks and feels
The Vigor GK30 comes in Black and White options. The review unit we were sent is a black full-sized 104-key keyboard with a US layout.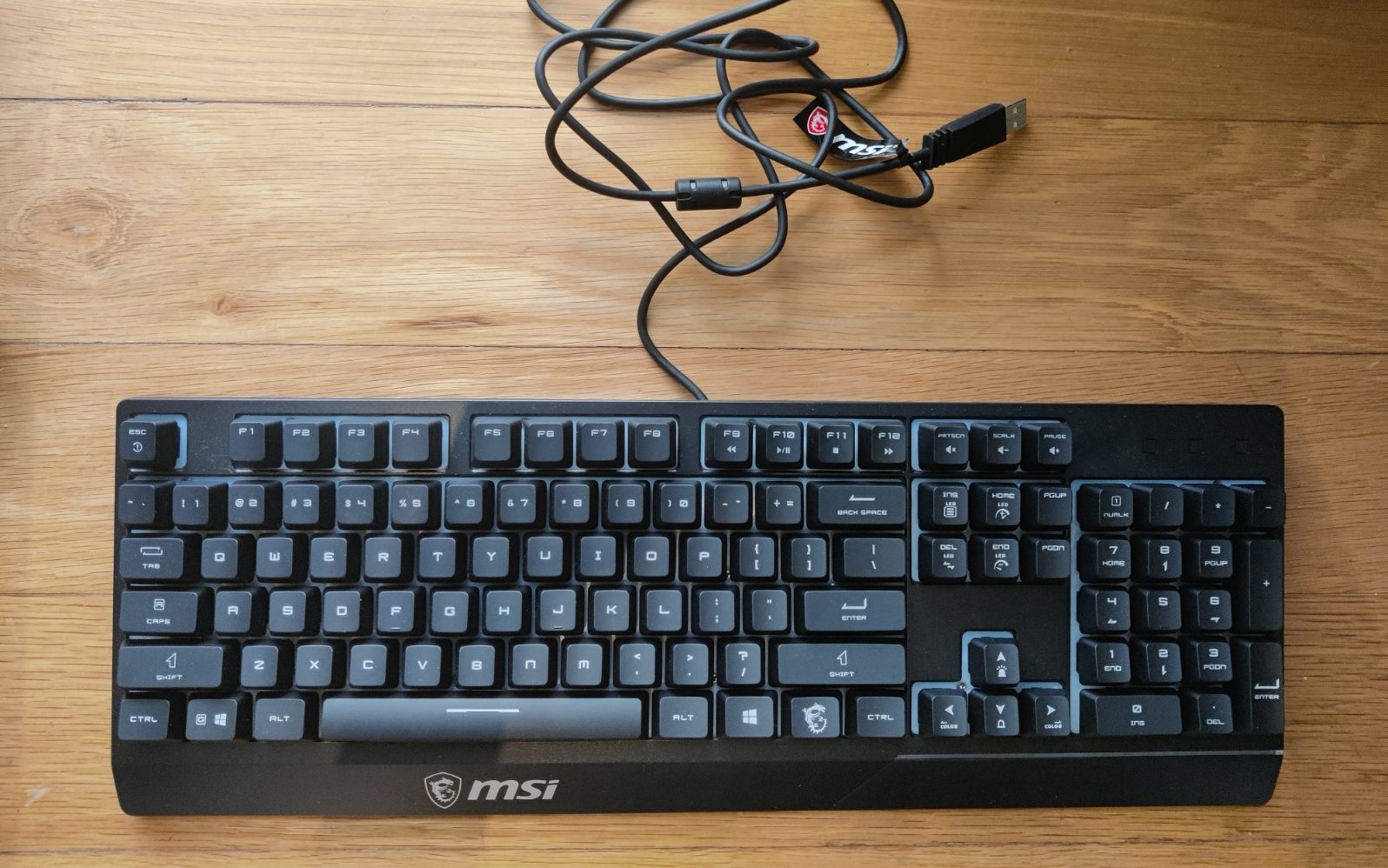 Weighing just a little over 1kg, the Vigor GK30 stands at 43.8cm wide, 15.7cm deep, and 38mm high. With just a bit of flex and noise, the build quality is pretty decent.
With a floating key design, the GK30 might be mistaken for a true mechanical keyboard. It's not – it has a rubber-dome membrane actuation mechanism with a plastic slider housing. Keyboard enthusiasts call these "Mem-chanical" key switches.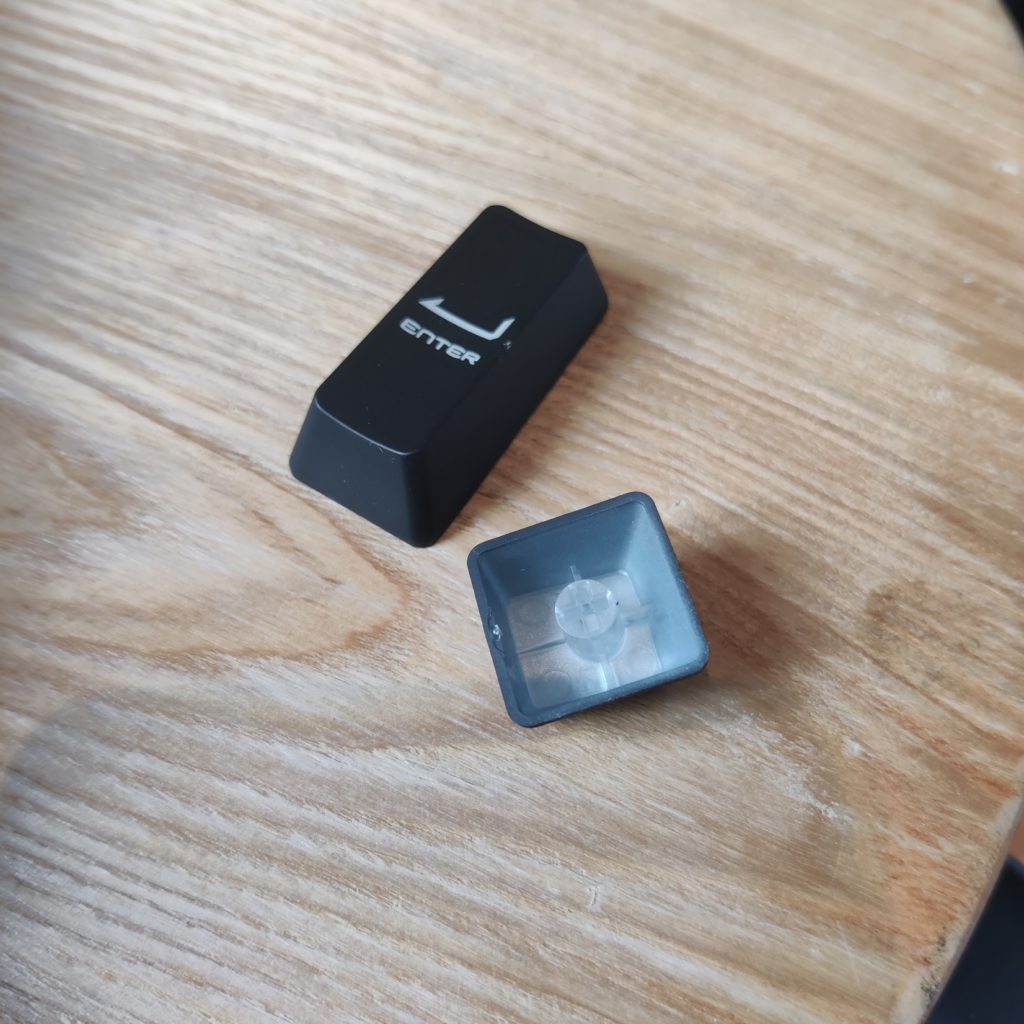 The ABS keycaps come with standard laser-engraved legends with LED backlight coming through. In terms of backlighting, the GK30 uses LED strips instead of per-key LED. So, visibility in the dark isn't great.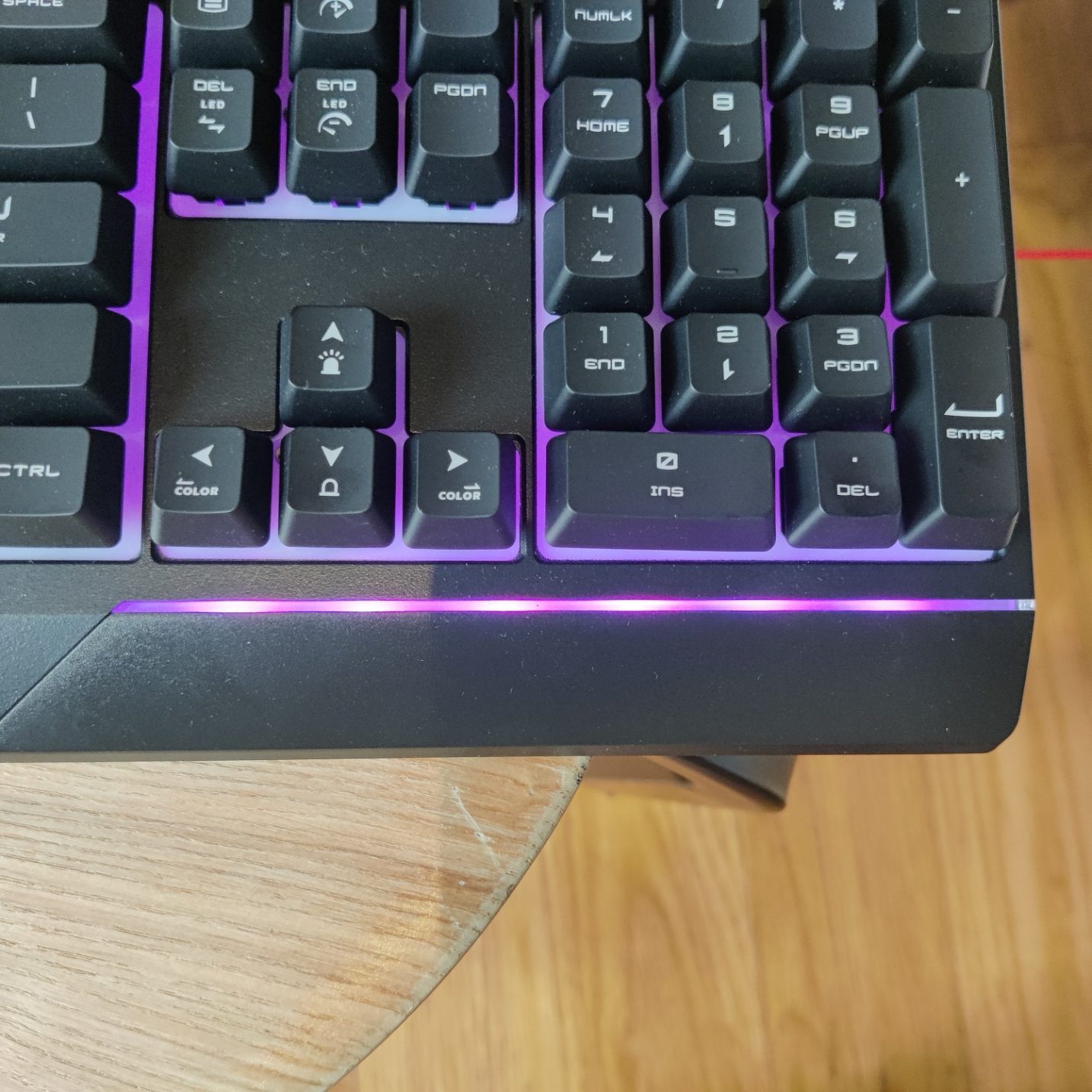 There is a lighting strip on the right-hand side near the Numpad and arrow keys, adding to the gamer aesthetic of the keyboard. The front-bottom of the keyboard sports an MSI logo that could've been smaller, in our opinion.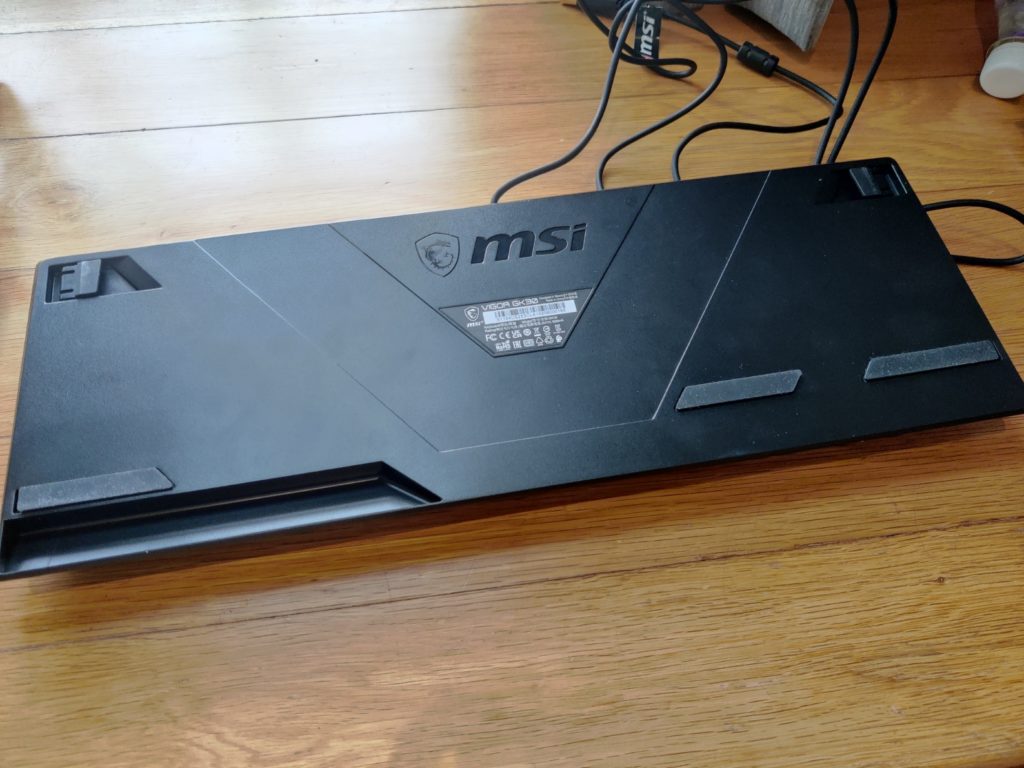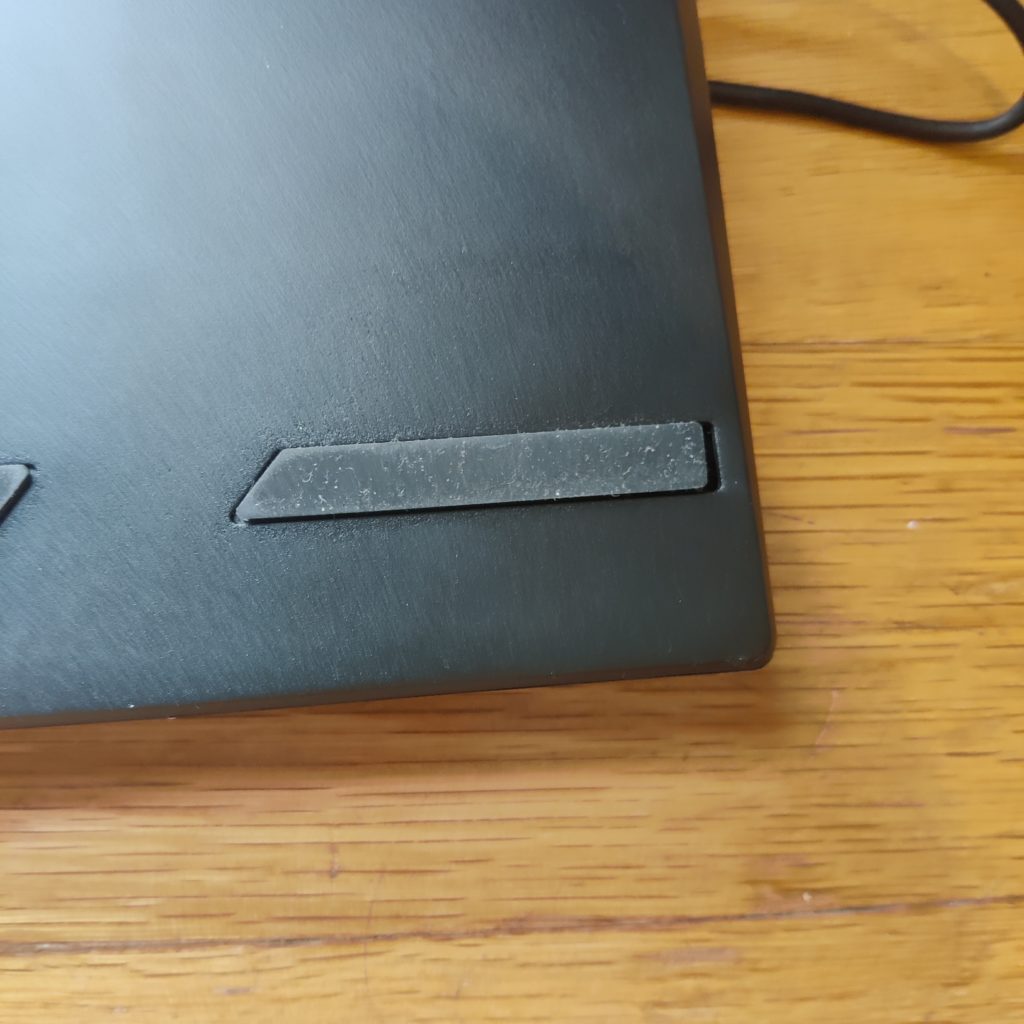 On the underside of the keyboard, you'll find anti-slip rubber feet to prevent it from sliding around during use. The ones on top can be flipped out to raise the keyboard. Flipping them out raises the keyboard 6 mm up.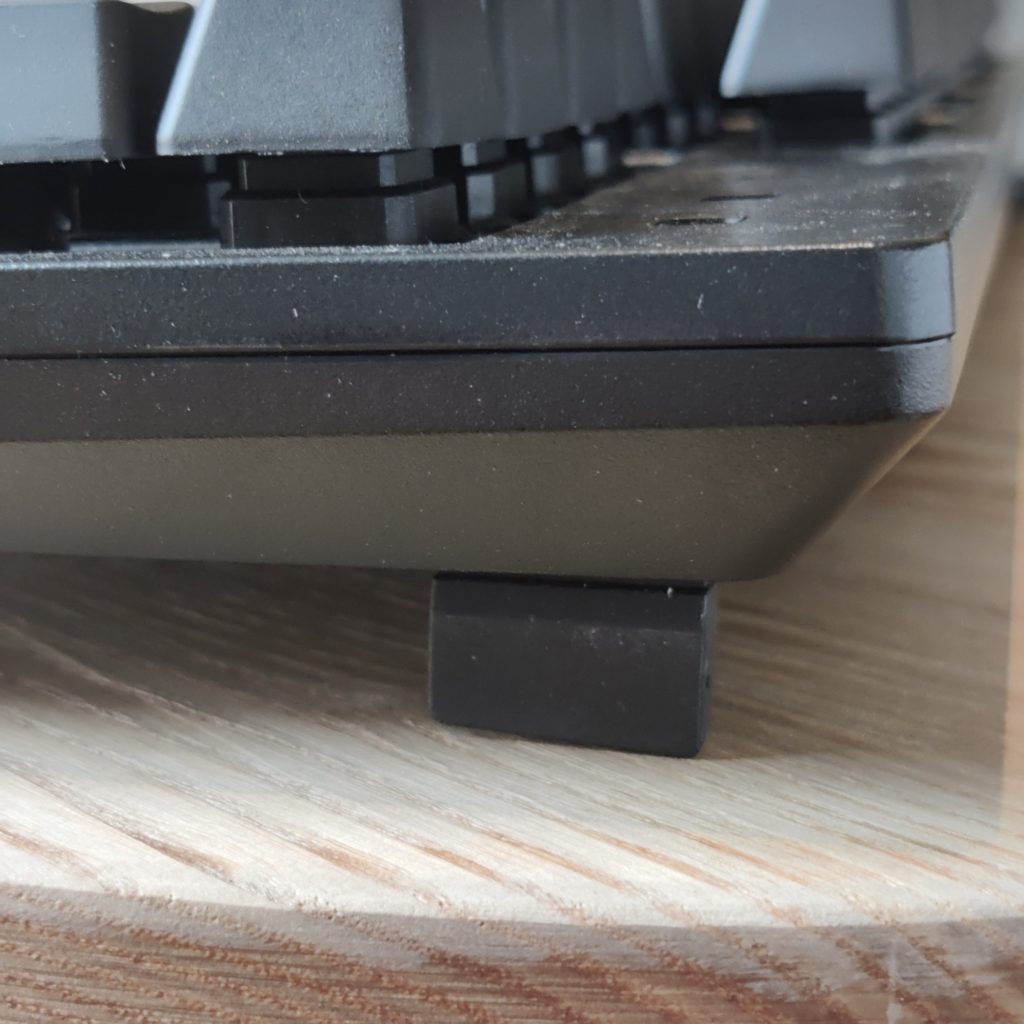 We had no issues with sliding throughout our use, so the feet really do their job well. Additionally, you'll find a Gaming Base right under the space bar for added stability.
The 1.8m cable for the Vigor GK30 is housed in durable plastic. Unfortunately, it isn't braided, so you may end up having it damaged if you move around a lot.
The design of the GK30 is also practical – it features a Splash-Proof Drain Hole Design that allows accidentally spilled liquid to be discharged as fast as possible, reducing the possibility of keyboard damage. The water-resistant floating key design also makes it easy to clean and maintain.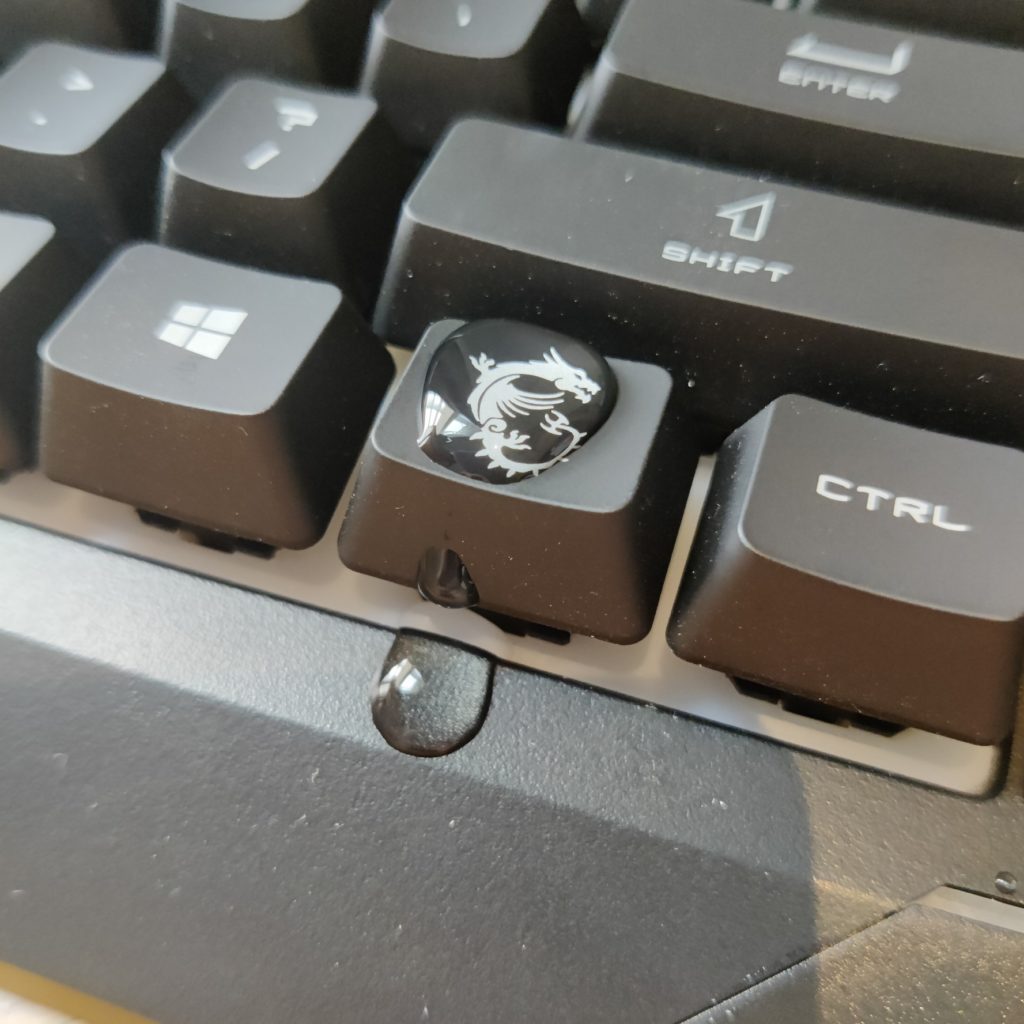 Performance
Out of the box, the Vigor GK30 supports 6-key rollover, which is great for gaming. And while it really doesn't feel like a real mechanical keyboard, MSI has managed to make the GK30 feel somewhat premium.
It does not feel mushy like the average cheap membrane keyboard. MSI also opted for simple linear actuation instead of a tactile and clicky mechanism that can sometimes feel cheap.
The stabilizers do their job well enough, but with the larger keys like the space bar, there is a bit of wobble.
There are seven media keys on Function 9 to 12 and they are accessed by holding down the MSI button. If you hold the MSI button and press the windows key, Game mode is activated, which locks out the windows keys from accidental presses – a nice feature to have.
Part of the performance of a gaming keyboard is how it sounds. The MSI Vigor GK30 is far from silent (especially the space bar) – but that's okay because it wasn't marketed to be silent.
Check out the typing test below to hear how the GK30 sounds. You can also check out the wobble on the space bar mentioned above.
Software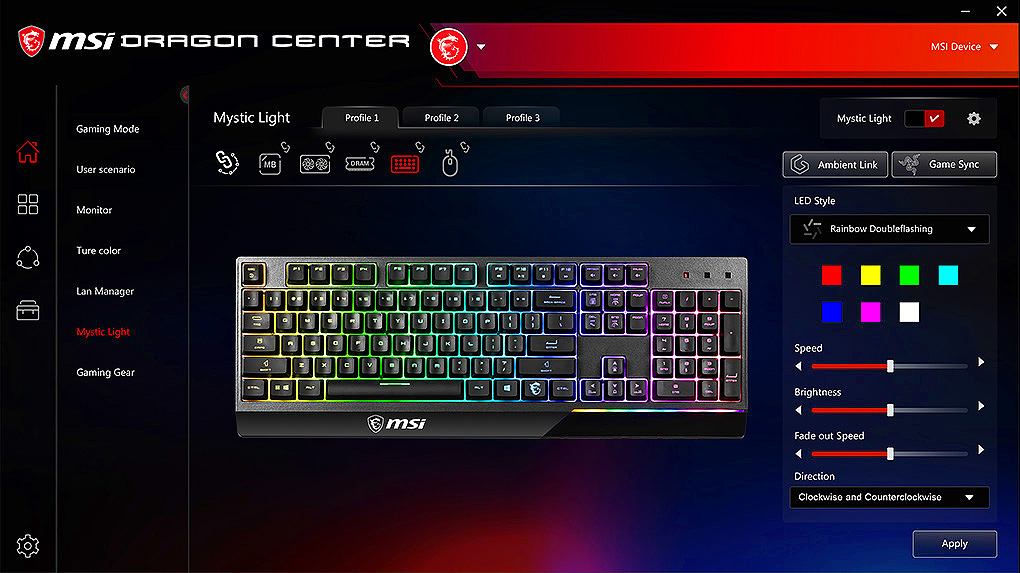 MSI has an exclusive software, MSI Dragon Center, that helps you get the most out of your MSI peripheral products. If you got the gaming combo with the mouse, this software is used for both devices.
On the software, you can access different gaming profiles and the lighting settings of the Vigor GK30. You can customize your GK30 with lighting effects (steady, breathing, wave, radar, ripple, and reactive) with 7 colors to pick for most presets. You can also choose to turn it off for a more subtle look.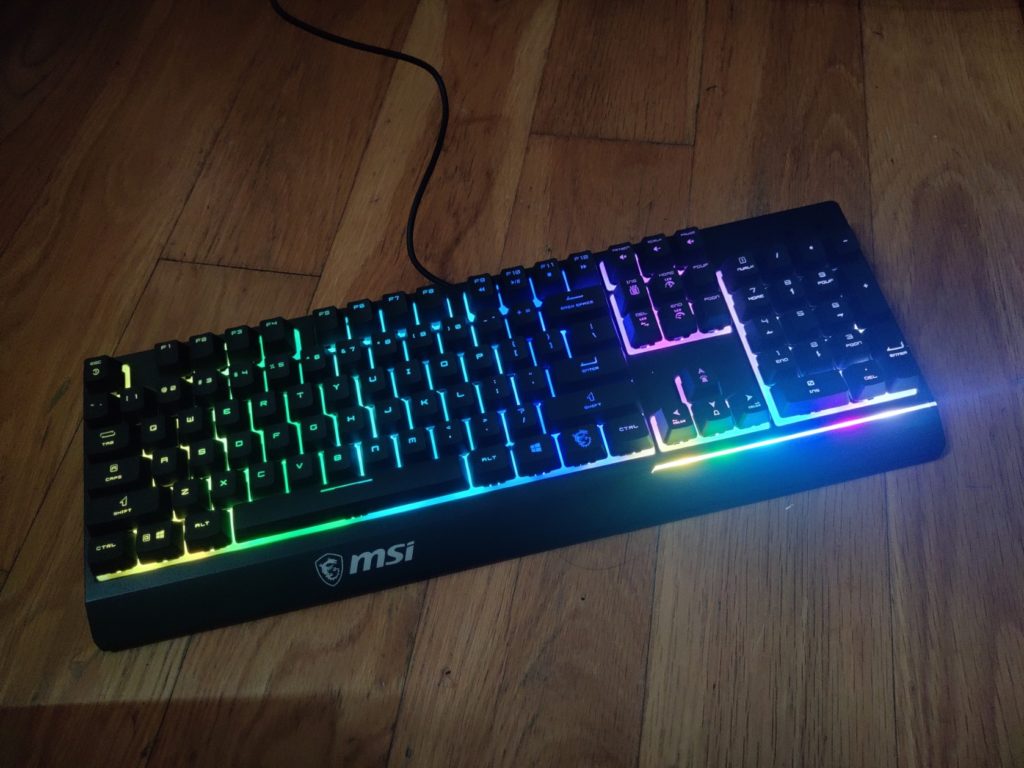 As mentioned above, the GK30 does not come with per-key RGB. Instead, there are only 6 lighting areas. This means that the keys themselves don't light up that well. But at the lighting areas, lighting effects are smooth, and colors can be really bright at the maximum brightness setting.
Unfortunately, there weren't any settings available to assign custom keys or macros in MSI Dragon Center.
We do, however, love that MSI doesn't force you to download the software in order to use the keyboard. If you refuse to download the software, you can still control the lighting and media via hotkeys, as seen above. The speed and brightness of the lighting settings can be changed via the hotkeys too.
Pricing and availability
The MSI Vigor GK30 Combo is available on Shopee at SGD 109. 
Verdict
Let's be clear – the Vigor GK30 isn't groundbreaking and will not shake up the gaming peripherals market. There are certain areas that might be a dealbreaker for some, such as the lack of per-key customizable RGB lighting on the keyboard and the lack of software customization.
But if you're not here for a high-end mechanical keyboard that will likely cause a hole in your pocket, the Vigor GK30 is a decent choice with its premium build, water-resistant design, smooth lighting effects, and software compatibility.
Besides, scoring a keyboard and a mouse at $109 is quite a steal, isn't it?