The whole desktop computing experience can be defined by how the user interfaces and interacts with the computer system. Most of the time, users focus on the the quality of audio and visual outputs coming from the monitor and speakers to achieve the ultimate usage experience. However, they forgot that the input peripherals, which are commonly neglected, holds the same weight in providing an overall experience.
In the quest to provide an all-rounded user experience, MSI has got a slew of peripherals and components catered just for gamers. Thanks to MSI, we've also gotten the chance to try out their VIGOR GK50 Low Profile Gaming Keyboard as well as the Clutch GM41 Lightweight Wireless Mouse. How do these peripherals feel like? How do they perform? If you are curious, read on to learn more.
The MSI VIGOR GK50 Low Profile Gaming Keyboard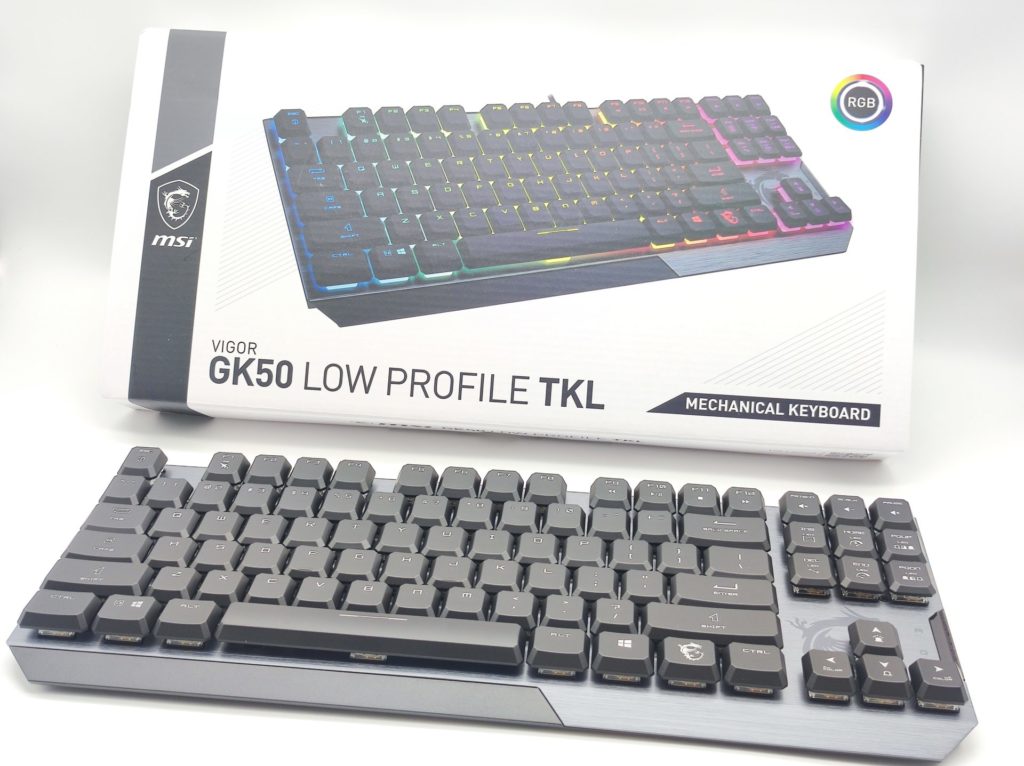 The MSI VIGOR GK50 isn't your typical mechanical keyboard that you would expect. You would have realised by now that the keys on this keyboard looks a lot shorter than usual. This is because the VIGOR GK50 is equipped with low-profile key switches instead of the typical full-height ones.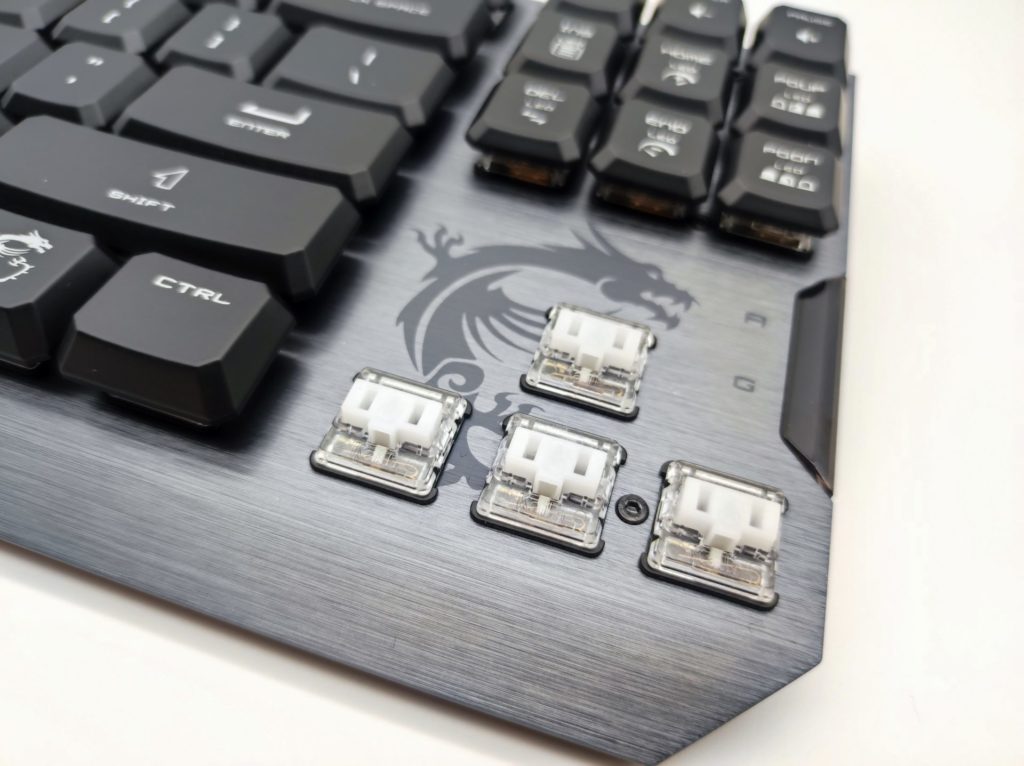 Particularly, this model uses Low Profile Kailh White Clicky switches. While typing on this keyboard, we found the keys to be very responsive and agile, largely due to the short travel distance of the keys. As the switch has a wide interface area with its keycaps, it also feels quite a bit firmer than traditional full-height switches. Unfortunately, this also gives a slight mushy feedback which may not be preferred by some users.
Moreover, these keys are truly clicky. So, if you are someone who can type furiously in the office, this keyboard can be used to annoy your colleagues. It's probably more suited for games, and less for productive work, unless you are working alone at home.
Based on specifications, the Kailh White Clicky switches has a 1.5mm pre travel and a total travel of 3.0mm. It's operation force is 50gf.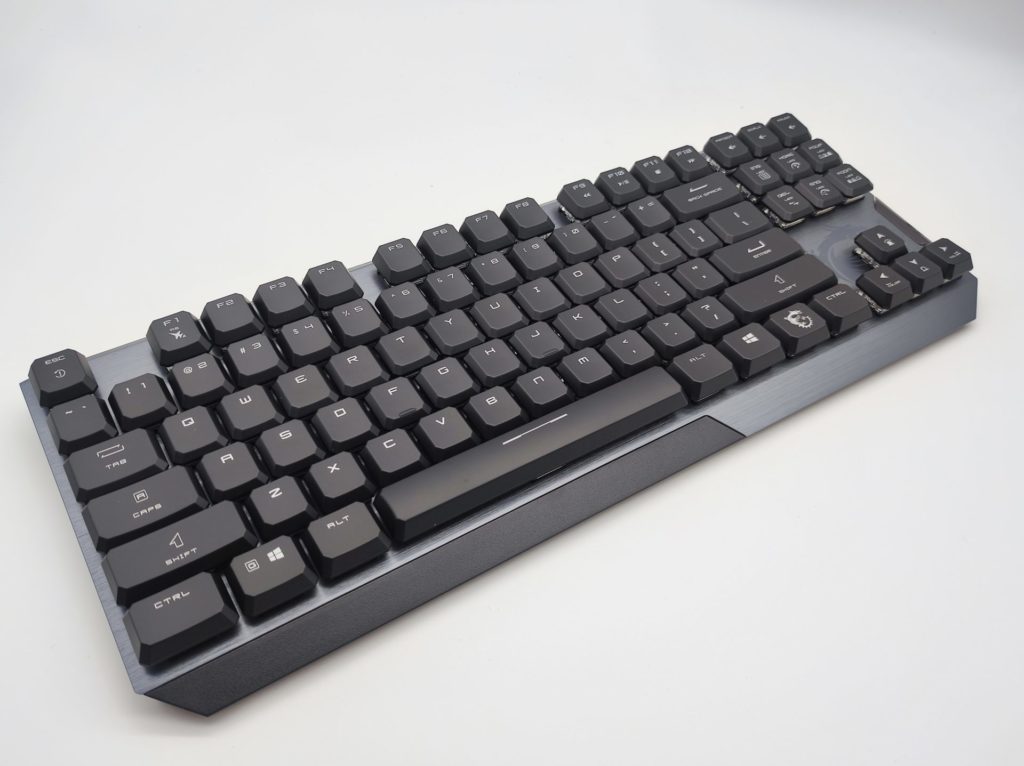 What I also really liked about the VIGOR GK50 Low Profile keyboard is that it is extremely portable. It's probably one of the lightest keyboards I have ever tested, and being in a 80% tenkeyless form factor, I can see myself bringing it around to use it when needed. This is also perhaps why MSI has also included a keyboard pouch within the package for ease of bringing the keyboard around.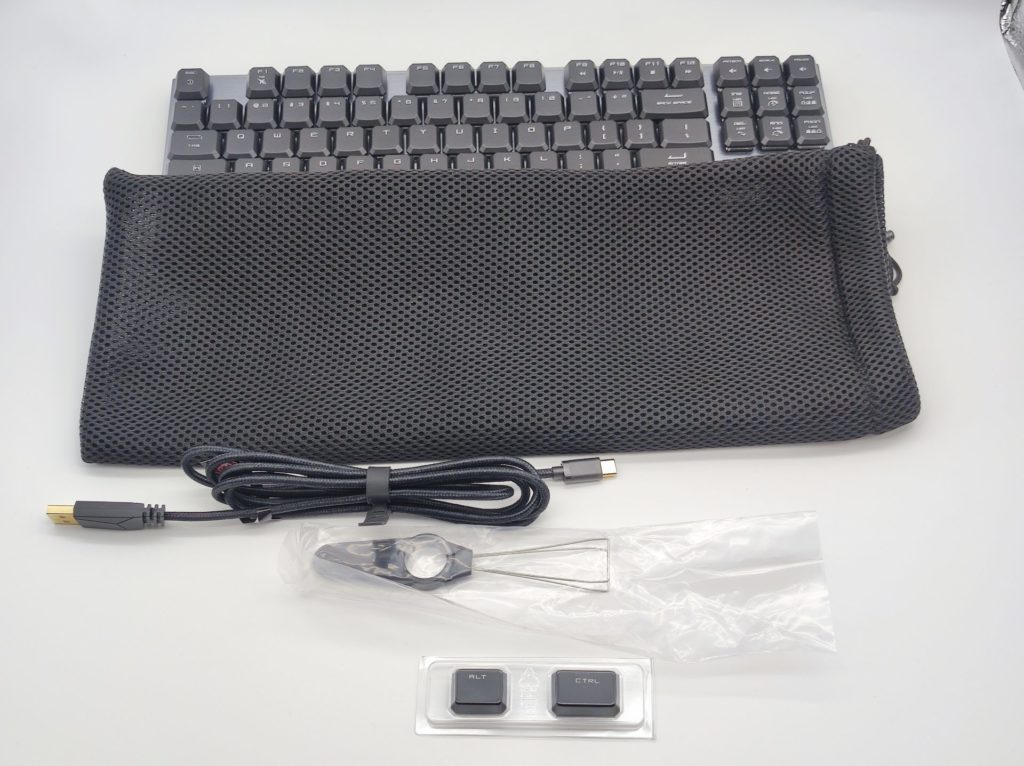 Another notable feature of the MSI VIGOR GK50 Low Profile keyboard is that its lighting effects can be fully controlled on the keyboard itself, without any use of additional software. With the press of the MSI dragon key and its respective LED hotkeys, you can switch between different RGB effects, directions, speed, shadow duration, brightness and colours. This feature makes it very easily for you to switch between different modes, allowing you to truly define and set your preferred RGB Lighting effects without much effort.
The keyboard also has 3 adjustable keyboard angles, which lets you to put the keyboard at 5°, 8°, or 11° tilt angles. You can easily change the angle to maximize your wrists' comfort level for any gaming session.

Since the MSI VIGOR GK50 is also designed with "floating keys", the RGB lightings on each individual key is reflected on the base of the keyboard. This gives the overall keyboard a rather unique and interesting lighting effect, as if the keys are just placed on various RGB lights.
In general, with so many RGB effects on the MSI VIGOR GK50 keyboard, there is bound to be one that you will like. If you are not a fan of RGB colour effects like me, you can simply lower the brightness of the keys to the minimum (0 brightness) and enjoy a clean and somewhat minimal keyboard for your daily use.
The MSI Clutch GM41 Lightweight Wireless Mouse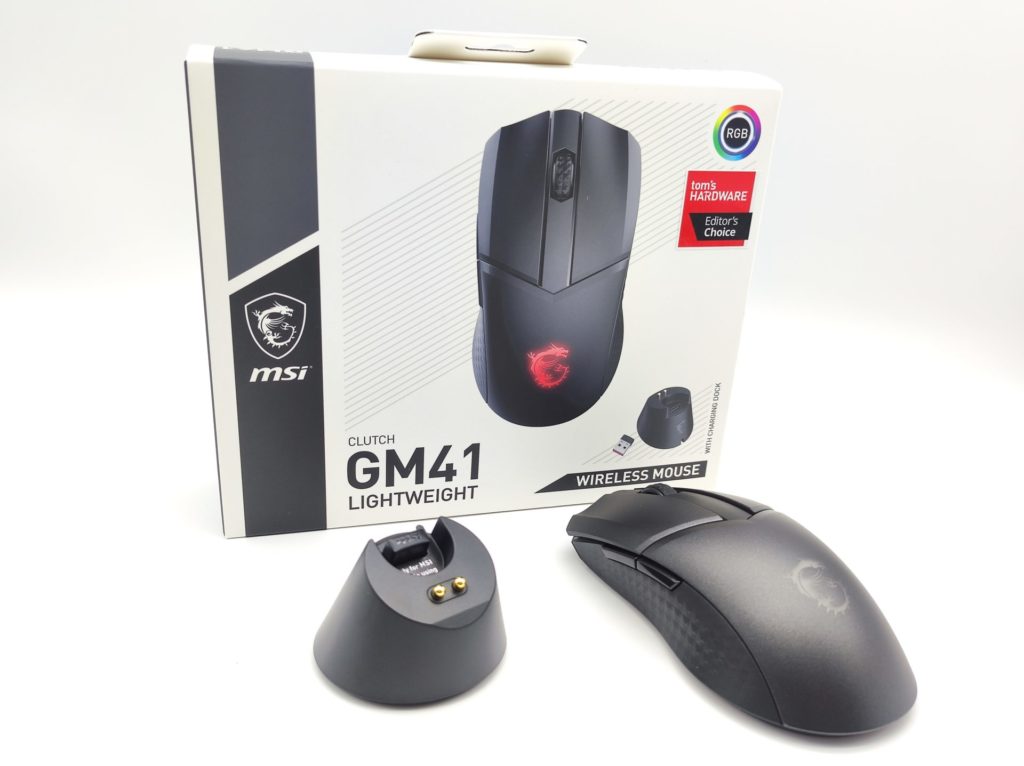 When it comes to designing a wireless lightweight mouse, there are always tradeoffs made. Because for a computer mouse to be wireless, it needs to be designed with an internal battery, which then also adds on to its weight. Ultra light computer mice are then usually made to be wired, and no one really dared to challenge the limits of a wireless lightweight mouse.
The MSI Clutch GM41 Lightweight wireless mouse defies the norm and tries to be something which was previously known to not be possible – and we've got to say, MSI did a great job on it.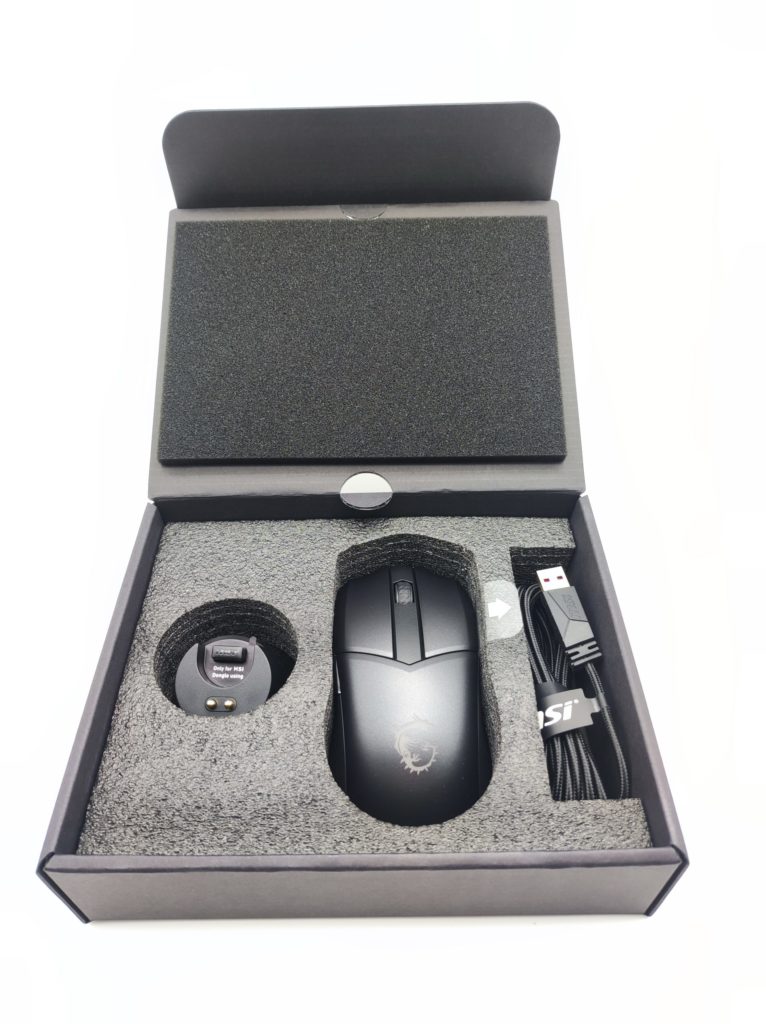 Other than the mouse itself, the MSI Clutch GM41 Lightweight wireless mouse also comes with a docking charging station, mini 2.4GHz USB dongle and a braided USB Type-A to MicroUSB Type-B cable.
The mouse can be charged in two ways. Firstly, by connecting the mouse to the dock, or secondly, by directly connecting it to the USB cable. Both charging methods serve its own use case, and I found that such a design makes it perfect for a wireless mouse setup.
At the end of my gaming session, I would naturally just use the dock to charge my mouse, so that my table top can remain wire-free and clean. I can then leave it overnight for it to be charged and have more than a full day of usage before charging it again. Without the dock, I would say that most users will just forget about charging the mouse, and just leave it on the table. There's a much higher chance that the mouse will run out of battery. Over my week testing the MSI Clutch GM41, never did I once run out of battery.
In the situation that you need your mouse and the MSI Clutch GM41 is out of battery, you can also connect the USB cable to it directly and continue using it. Meanwhile, the mouse continues to charge and gets ready for the next wireless usage session. No doubt, the MSI Clutch GM41 is quite versatile when it comes to usage and charging.

I've got to say that I'm not someone who's extremely sensitive to input response. As a typical user, I did not feel any input lag from the MSI Clutch GM41 Lightweight wireless mouse. In fact, because the mouse only weighs 74g, which is much lighter than traditional wireless mice, I found that I could easily move the mouse around without much effort. Generally, this makes my control over the mouse a lot more nimble, which also gave me an advantage over my casual gaming sessions and general usage.
Moreover, MSI also claims that they have specially engineered the 2.4GHz RF wireless technology to reduce latency to just 1ms. They claim that its responsiveness is almost 10x faster than typical wireless mouse in the market.
I also found the MSI Clutch GM41's design to be very suitable for my hand, as it gives me a great grip on it and still remains very comfortable. It's rubber side grips also gave that additional friction for the much needed control over the mouse, especially when it's so lightweight.
Of course, another highlight of the MSI Clutch GM41 is its RGB lighting effect on its famed dragon logo. What's interesting is that the lighting effect can be synchronized over the Mystic Light software wirelessly, without the need for you to physically connect it to the PC over cable. You can also apply different kinds of lighting effects and the full range of RGB spectrum colours on the mouse as per your preference.
We felt that the MSI Clutch GM41 Lightweight wireless mouse has successfully challenged the idea of a lightweight wireless mouse. It is designed to have a good balance between its weight, battery life, functionality, performance and aesthetics.
MSI Center Software – A centralized software utility to control all MSI products
With the MSI Center software, all MSI products can seamlessly be controlled within a single location. It makes it extremely straightforward to customize your hardware peripherals with various specific settings. The software can also ensure that their firmware gets updated to the latest ones, as long as you are connected to the internet.
For a start, with both the MSI VIGOR GK50 and MSI Clutch GM41 connected to the PC, they were automatically detected by the MSI Center software. There was no need for me to install any drivers specific to either peripherals, and they just work.
I could then easily edit the settings on both the keyboard and mouse, such as settings macros and changing of key mappings.
With the Mystic Light feature, I could also individually set the RGB lighting effects on both peripherals, and there were also various lighting effects and full customization options available. Moreover, if I would like to synchronize the RGB lighting effects across both peripherals or other compatible peripherals, I can do so too!
I really appreciate such useful utility software, as it brings away the complexity of settings configuration and customization on PC components. For the MSI Center, things just worked the way you wanted it to without any hiccups. I must say that it's really a well written piece of utility software. It's a great tool and it supports the eco-system of all MSI products.
Conclusion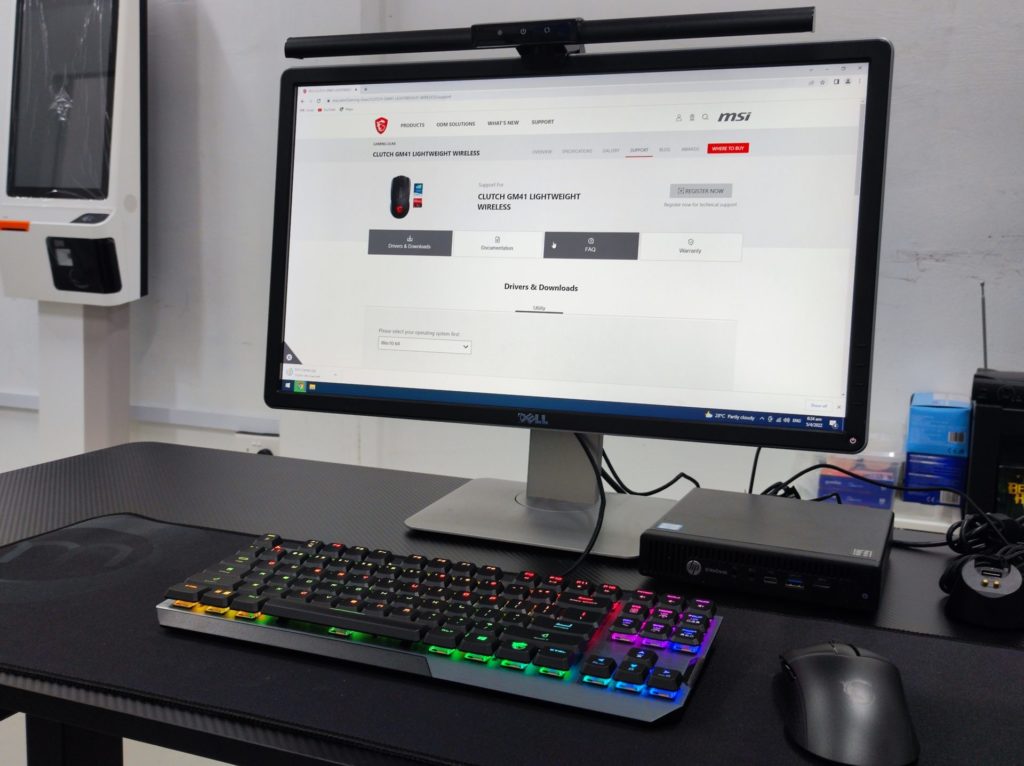 As a product reviewer, I always enjoyed products that are unique and interesting, rather than just trying out the same old things again just because they have been branded by another name. For both the MSI gaming peripheral products reviewed today, they have showed me how a gaming mechanical keyboard and mouse can be different from the masses, and still retain its fundamental usability to serve its rightful purpose.
I definitely can see how the MSI VIGOR GK50 Low Profile TKL keyboard will attract a certain audience, especially for those who prefers something very responsive and lightweight. On the other hand, the MSI Clutch GM41 also changed the way of how we think about lightweight wireless gaming mice. We now know that it is indeed possible to have a lightweight mouse that still can be wireless and responsive. No doubt, both products have met our expectations of suitable gaming peripherals to provide an optimal gaming experience.
You can purchase both the MSI VIGOR GK50 Low Profile TKL gaming keyboard and MSI Clutch GM41 Lightweight wireless gaming mouse at online marketplaces Lazada and Shopee, or authorized retailers at Sim Lim Square.