It has been more than 2 years since the launch of AMD's X570 chipset and motherboard. Despite its aging profile, the AM4 platform with the latest AMD Ryzen 5000 series processors is still one of the most popular choices for users today. Motherboard manufacturers have even refreshed their motherboards and introduced new products to better position them for the market. Particularly, ASUS has introduced the ASUS ProArt X570-CREATOR WIFI in August 2021.
Unlike your typical gaming-oriented motherboard, the ASUS ProArt X570-CREATOR WIFI focuses on system reliability and features that will be appreciated by creators. In this review, we will take a deeper look at these points and determine if such a product can actually meet the expectations of creators.
ASUS ProArt X570-CREATOR WIFI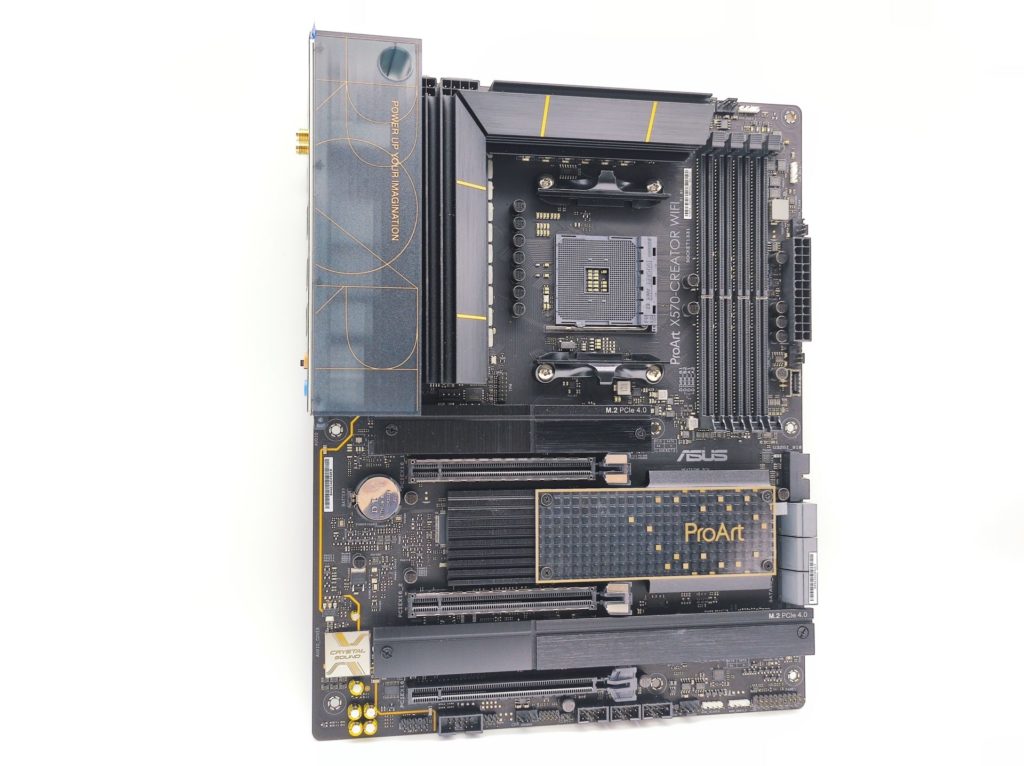 The ASUS ProArt X570-CREATOR WIFI has a rather simple single black colour theme. Unlike gaming motherboards, the ProArt X570-CREATOR WIFI focuses on a more professional and toned down look that is more suitable for workstations. If you are looking for RGB lighting around the motherboard, forget about it because there aren't any.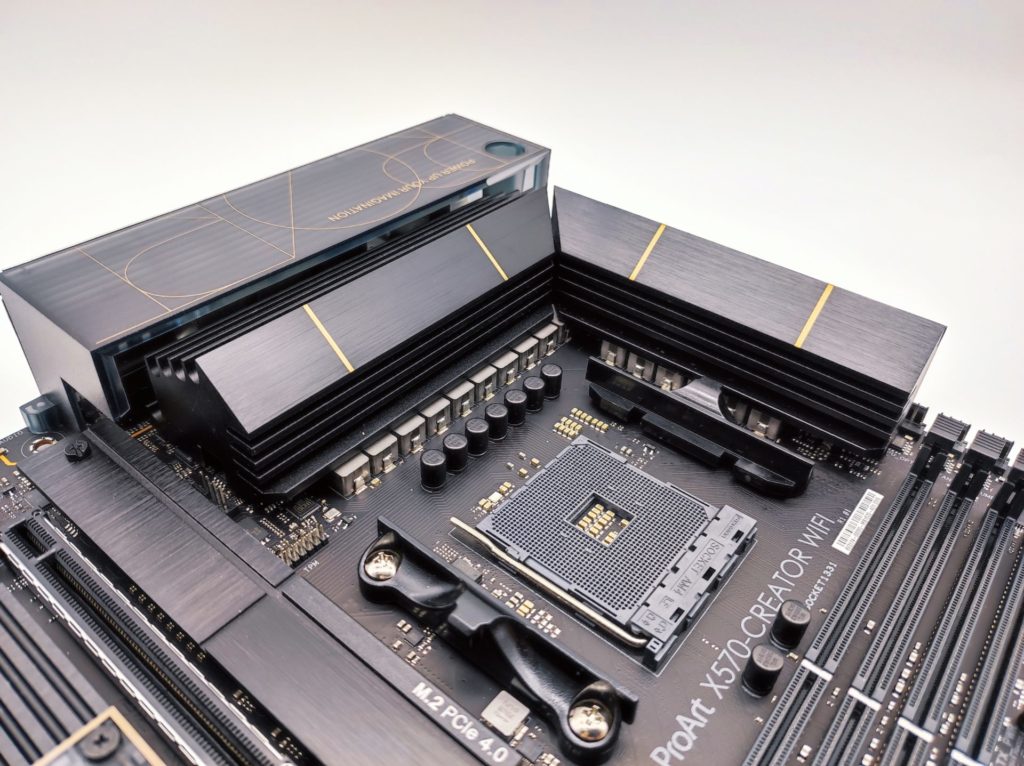 The ASUS ProArt X570-CREATOR WIFI is also equipped with a decent 14+2 power stages that combines high-side and low-side MOSFETs and drivers into a single package. This delivers the power and efficiency that the latest Ryzen processors demands. For the layman, you can be assured that the motherboard has got all it takes to power the top of the line Ryzen processor, such as the 16-core Ryzen 9 5950X.
Moreover, this motherboard also features the famed ASUS Digi+ voltage regulator module (VRM), which ensures a reliable voltage level delivery to the CPU. This means that you can be certain of a stable and efficient system that is capable of running all the heavy workloads that you throw at it.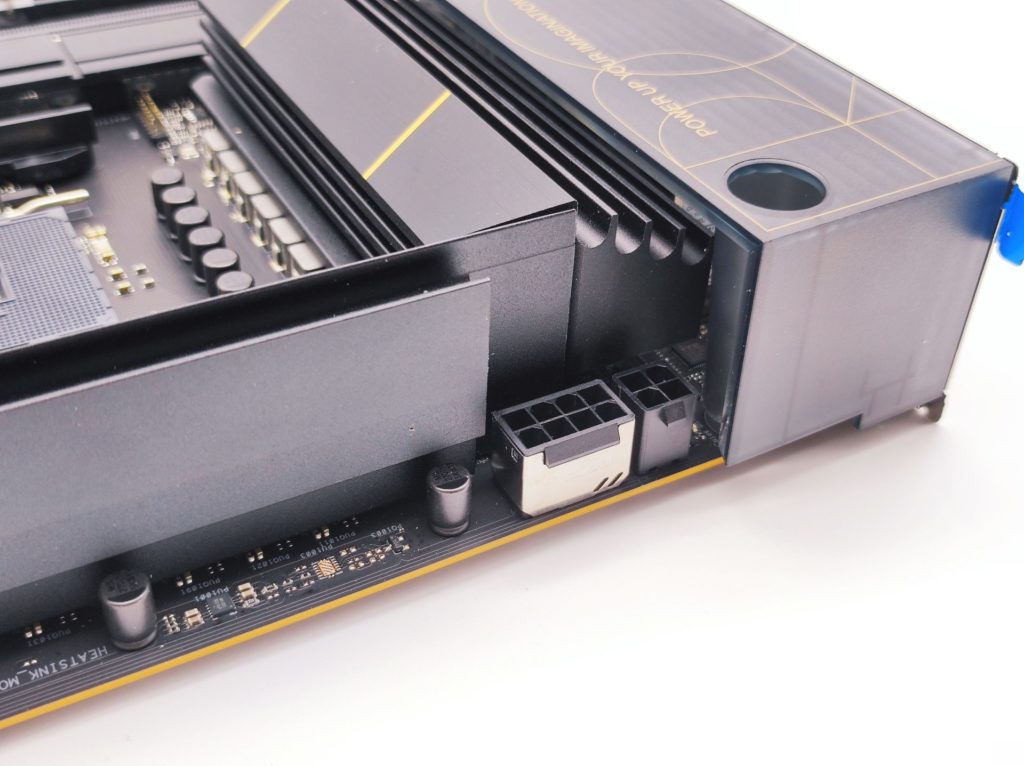 Of course, to effectively power the motherboard and the CPU, the motherboard also requires 1 x EPS 8-pin and 1 x 4-pin power connectors to be plugged in.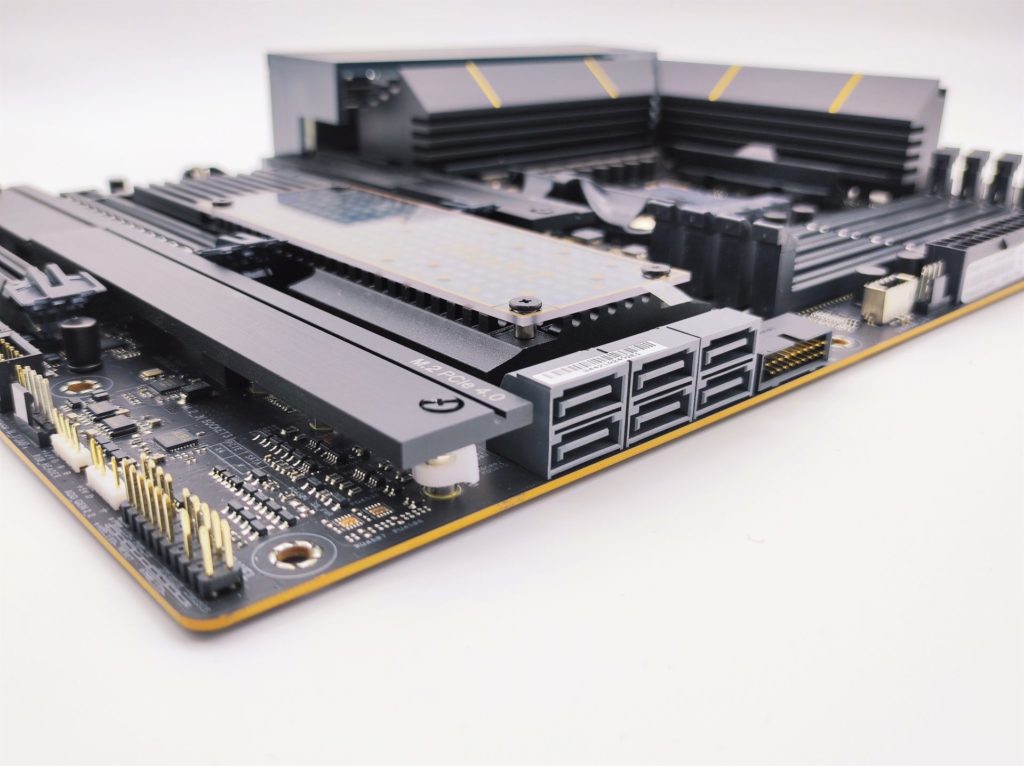 Moving on, the ASUS ProArt X570-CREATOR WIFI also comes with 6 x SATA 6Gbps ports. This should be more than sufficient for most creators who want to store the large unedited raw footages into traditional hard drives or SATA based SSDs.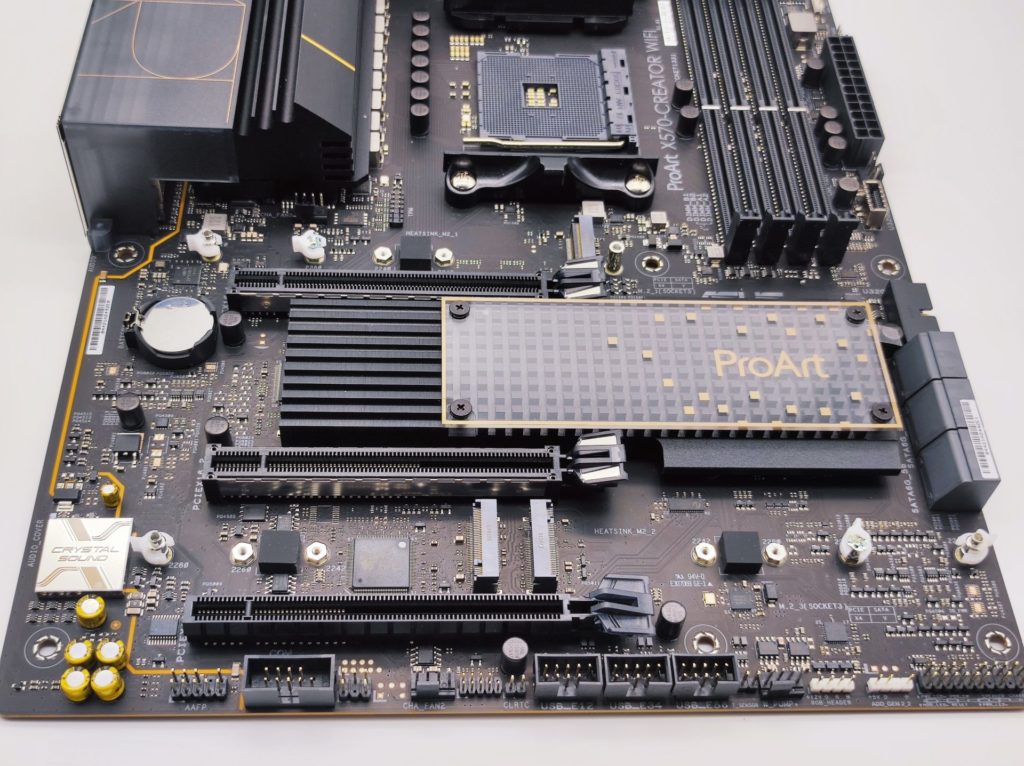 Upon removing the heatsinks, we also spotted 3 x M.2 slots for M.2 SSD expansion. All three of them support PCIe 4.0 x4 modes, as long as the processor installed on the motherboard supports it. ASUS has also specially designed a tool-free installation method, where a small little ledge can be used to secure the M.2 SSD onto the motherboard, instead of you requiring to use a screw to secure it down.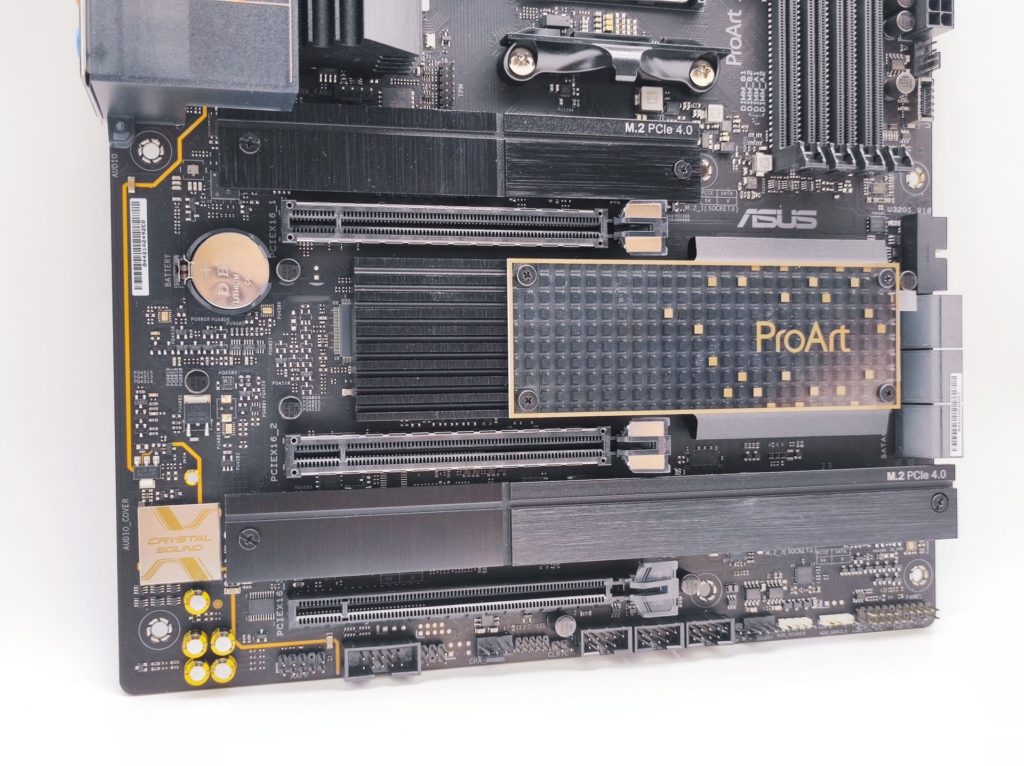 This motherboard also comes with 3 x PCIe slots. The first two slots run on PCIe 4.0 x 16 (or dual x8). The most bottom PCIe 4.0 slot is only electrically wired to run on x4 mode, despite it having a physical x16 slot.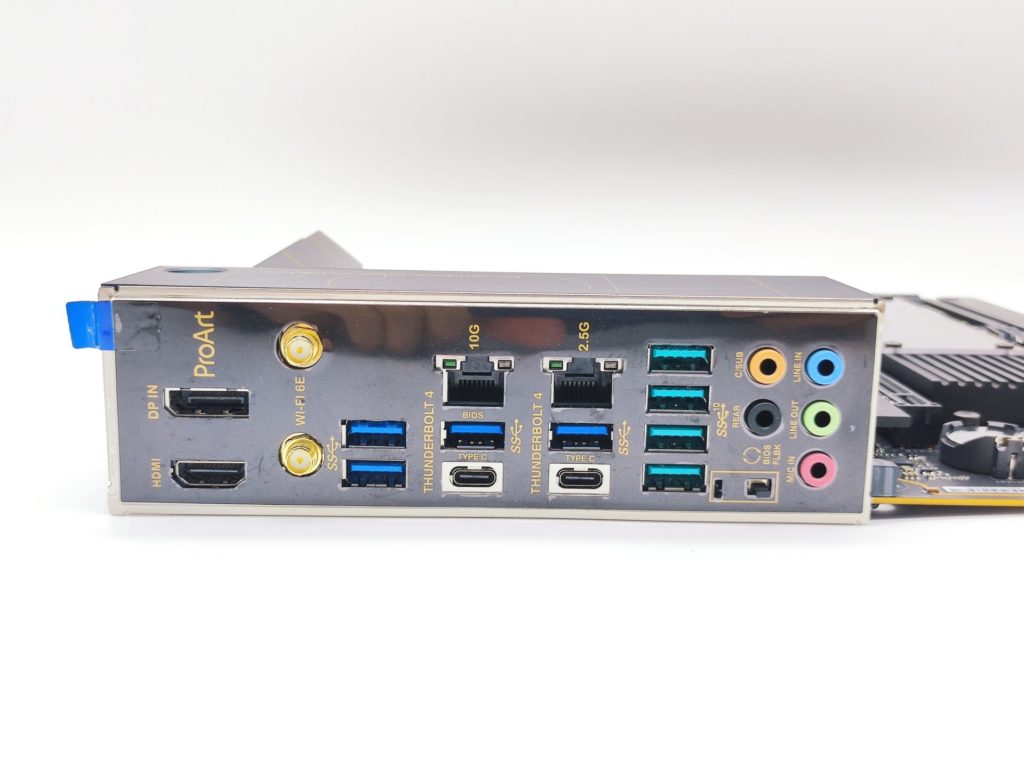 What really sets the ASUS ProArt X570-CREATOR WIFI apart from other motherboard is really shown here at the I/O area. To best support high resolution monitors, the motherboard comes with a HDMI 2.1 port which can support 4K monitors at 60Hz. In case if you're wondering why the Display Port is labeled as an Input port, it is because it certainly is. This Display Port does not allow you to output graphics from it, rather, it is used to inject graphics data into the Thunderbolt 4 processors to be output to the Thunderbolt 4 Type-C port for supported Type-C monitors. It's certainly an interesting concept!
Moving on, the motherboard also features ultra fast WiFi 6E connectivity options. It's the fastest WiFi grade that you can get right now, which adds support for the 6GHz frequency for faster wireless speeds and lower latency. You will also require a compatible wireless router to fully enjoy the benefits of WiFi 6E, but nonetheless, this built-in WiFi controller is still capable of falling back to the usual WiFi 6 standards for maximized compatibility.
There's a total of 8 x USB Type-A ports, so the provision of this many ports should cater to the needs for most users, creators included. 4 of these ports run at the USB 3.2 Gen1 standard, while the rest are at Gen2.
Understanding that creators require fast network speeds, the ASUS ProArt X570-CREATOR WIFI also comes with not one, but two Ethernet ports. One of which supports up to 10Gbps, while the other at 2.5Gbps. This configuration prepares creators for the best possible consumer grade network transfer speeds right now.
The main subject of the ASUS ProArt X570-CREATOR WIFI is its Thunderbolt 4 Type-C ports. As a Creator's motherboard, the Thunderbolt 4 Type-C port is extremely useful for creators to connect to external Thunderbolt peripherals. As it is not common to see Thunderbolt 4 featured on AMD motherboards, the ASUS ProArt X570-CREATOR WIFI creates a market for itself to cater to those who need Thunderbolt 4 on their motherboard.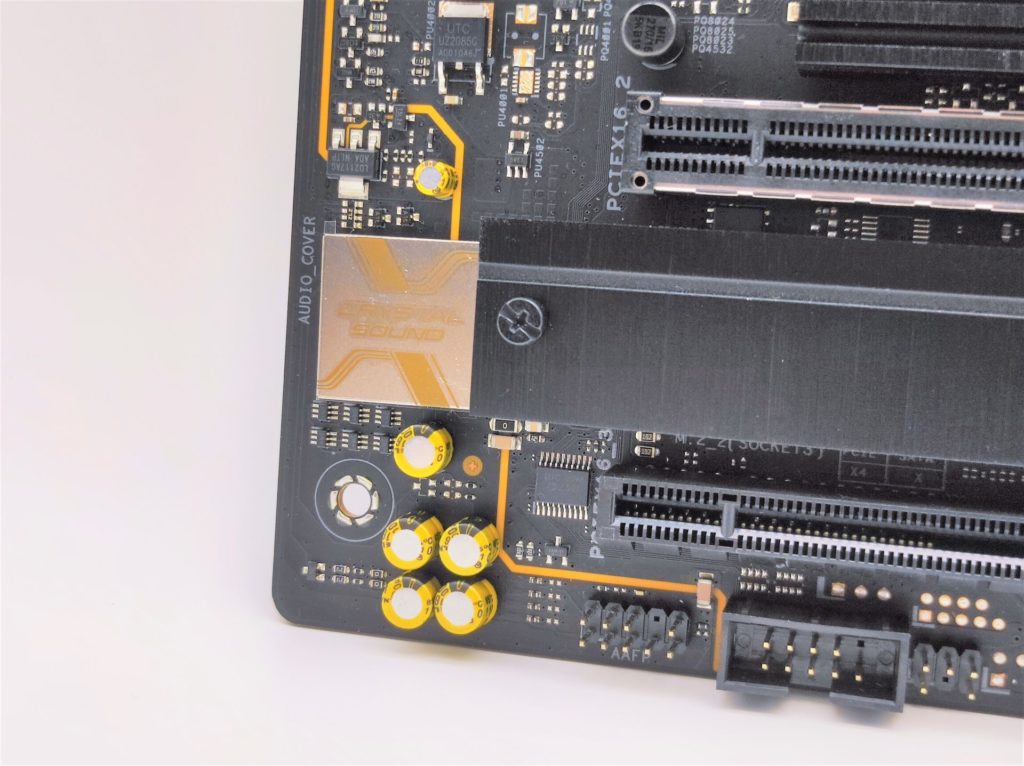 Lastly, the motherboard also comes with the standard 7.1 surround sound High Definition audio jacks. The audio system on the motherboard is powered by the Realtek S1220A HD Audio CODEC. It supports impedance sense and an audio amplifier that ensures compatibility with high impedance headphones. It also can allow 120dB SNR stereo playback output and 113dB SNR recording input (Line-In). This codec can also playback audio of up to 32-bit/192KHz.
The audio circuitry is also specially designed. The circuit is isolated from the other layers of the power and control PCB, and has its own dedicated layer to minimize interference. It also has pre-regulators to reduce noise, premium Japanese audio capacitors for a clean sound and also a de-pop circuit.
Creator's Software Features
Unique to the ASUS ProArt X570-CREATOR WIFI is its set of software features that enhances security for a prosumer use case.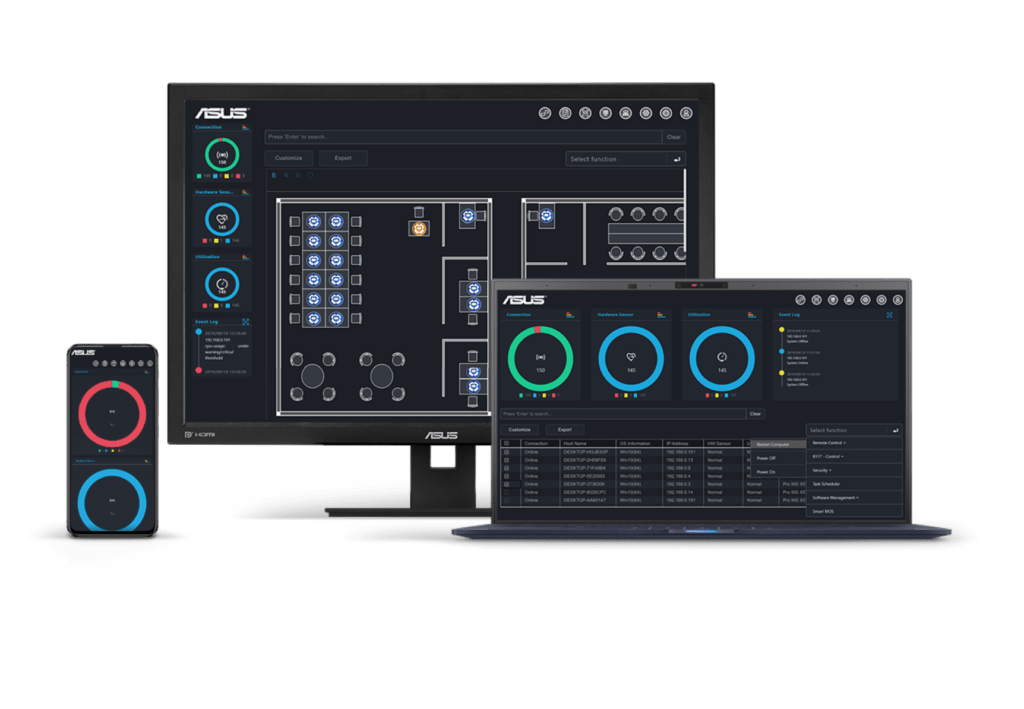 With the ASUS Control Center Express, users can easily manage their USB port. They can either enable or disable them, or set it to Read Only to prevent any data leaks. The Control Center Express also helps to blacklist a number of high-risk applications for added security, or even allows you to remotely prevent unauthorized changes to system configurations by disabling the Registry Editor. To learn more about ASUS Control Center, click here.
Also, you can also download the ProArt Creator Hub to monitor the motherboard's key statistics, or change the Fan Mode or set the Task Group. There is also a Adaptive Intelligence mode which prioritized bandwidth based on your usage of the system. You can even set it to the Creation First mode which prioritizes resources and network to content-creation workflows.
Test Setup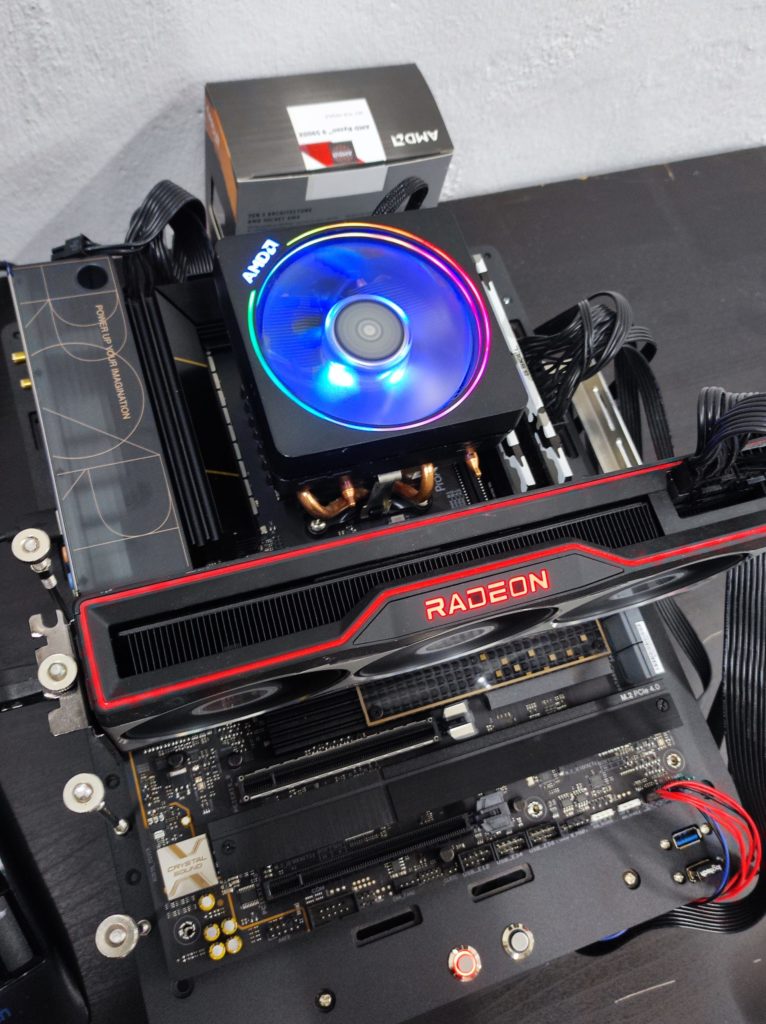 Specs
Main System
CPU
AMD Ryzen 9 5900X
RAM
G.Skill SniperX 3600MHz, 2 x 8GB DDR4 Kit
Main Storage
Kioxia Exceria M.2 SSD 500GB
GPU
AMD Radeon RX 6800 (Reference)
Motherboard
ASUS ProArt X570-CREATOR WIFI / ASUS ROG STRIX B550-F GAMING (Wi-Fi) /

Gigabyte A520 AORUS Elite

CPU Cooler
AMD Wraith Prism
PSU
Cooler Master V1000
OS
Windows 10 Pro 64 bit
The benchmark settings are as follows:
| | | |
| --- | --- | --- |
| Test | Configuration | Settings |
| PC Mark 10 Extended | Default | Default |
| 7-ZIP Benchmark | Default | Default |
| Cinebench R20 | Default | Default |
| HEVC h.265 Decoding | Default | Default |
| Blender BMW27 | CPU blend | Default |
| Far Cry New Dawn | 1080p | High Settings |
| Deus Ex Mankind Divided | 1080p | High Settings, DX12 |
| Tom Clancy Ghost Recon Breakpoint | 1080p | High Settings, Vulkan |
| DOTA 2 | 1080p | As per Benchmark Guide |
| Shadow of the Tomb Raider | 1080p | High Settings, DX12 |
| World War Z | 1080p | Ultra Settings, Vulkan |
| wPrime 1024M | Default | Default |
| AIDA64 Memory benchmark | Default | Default |
Performance Results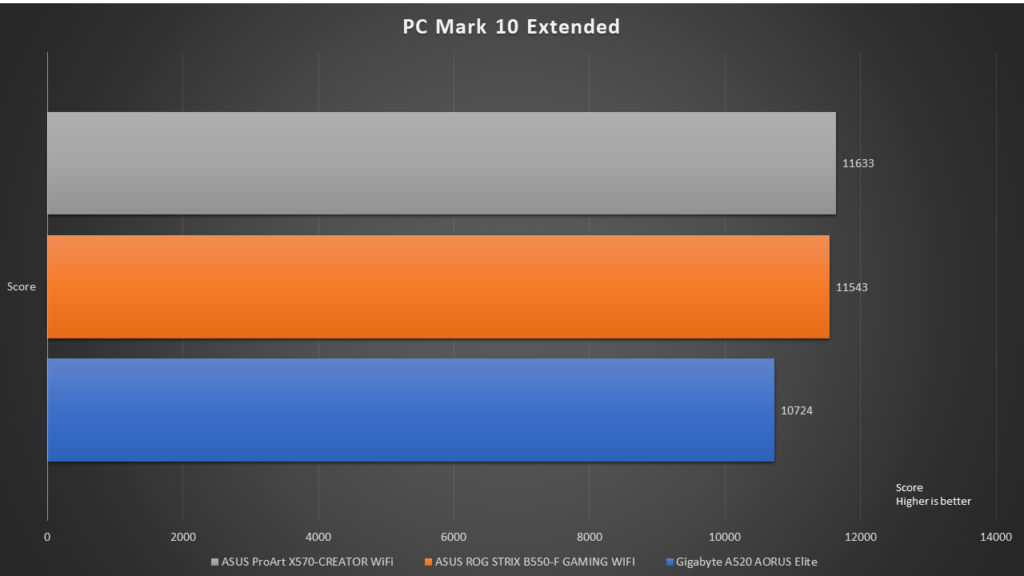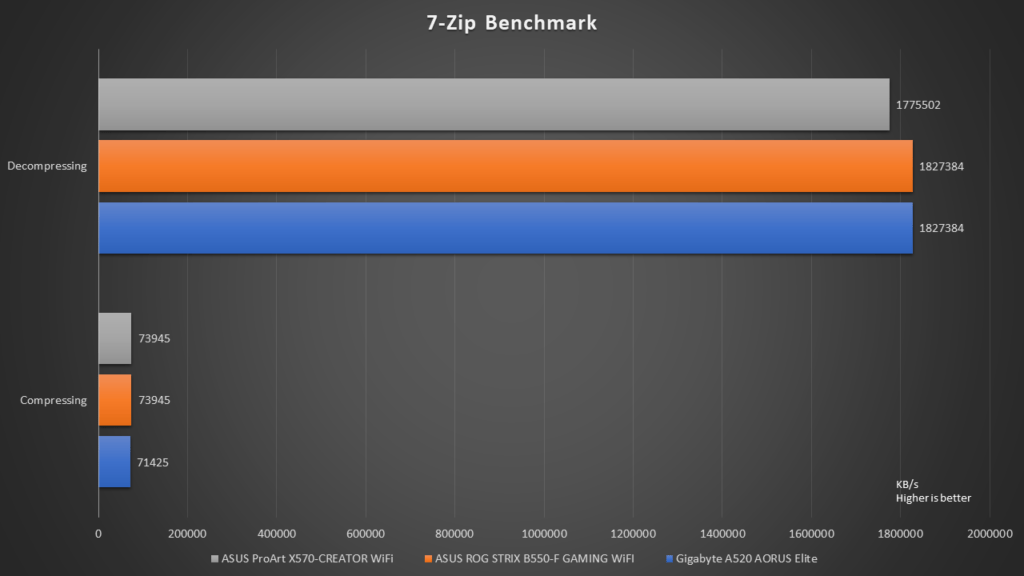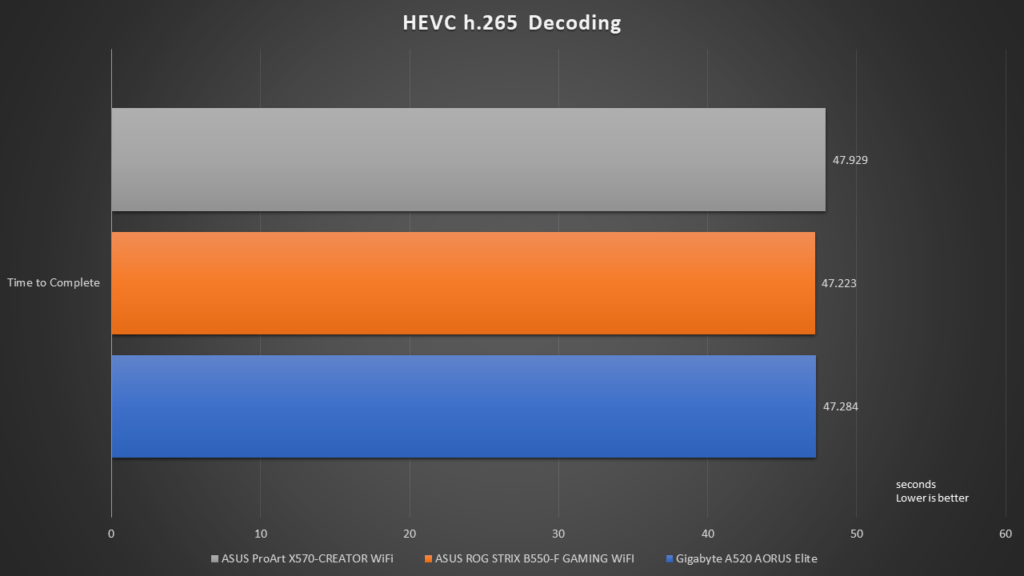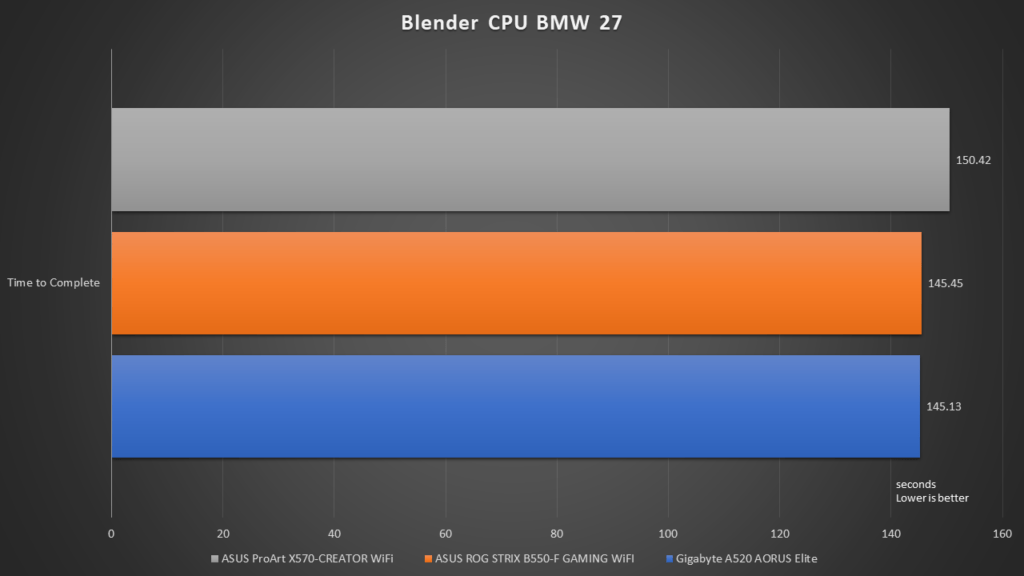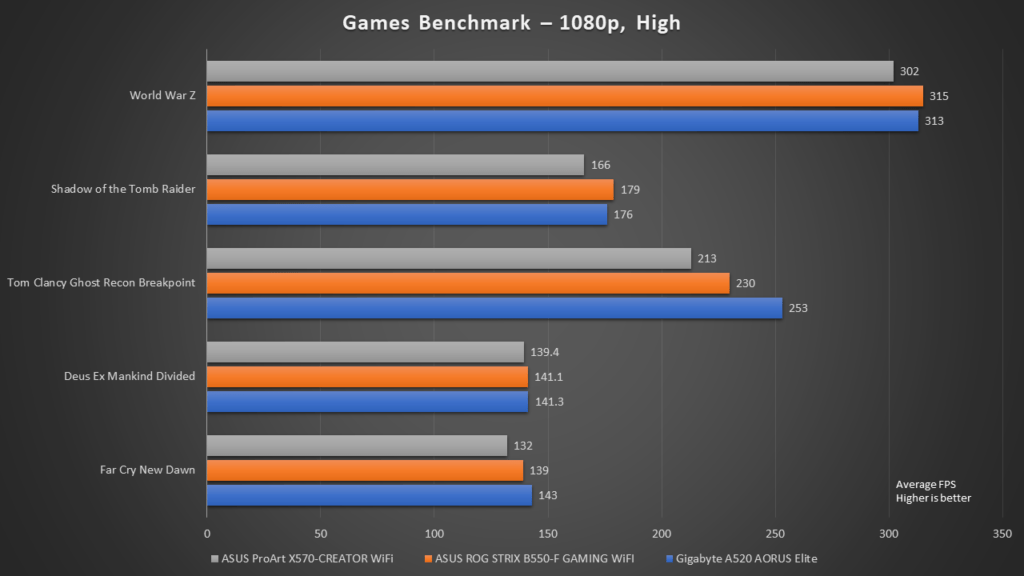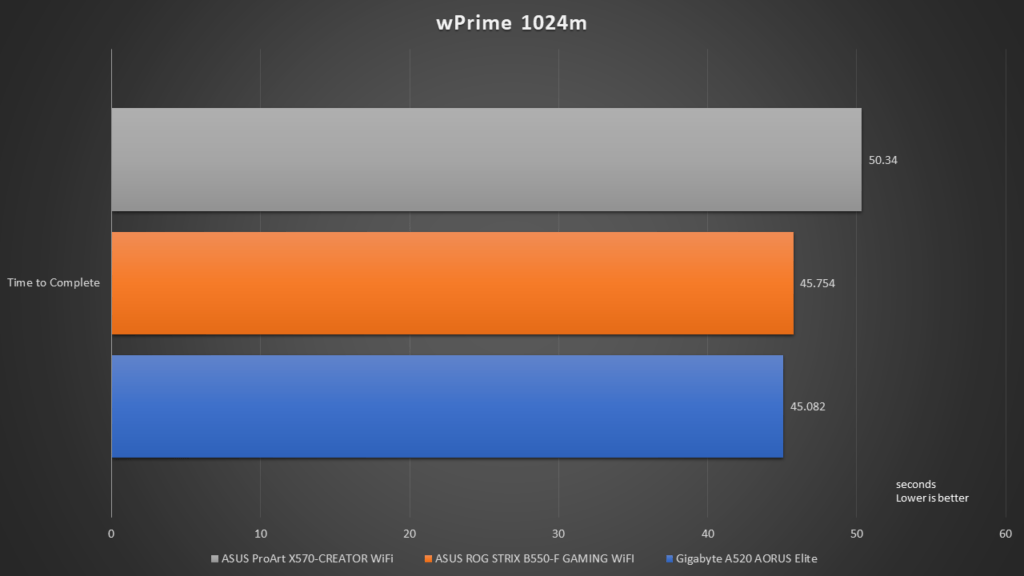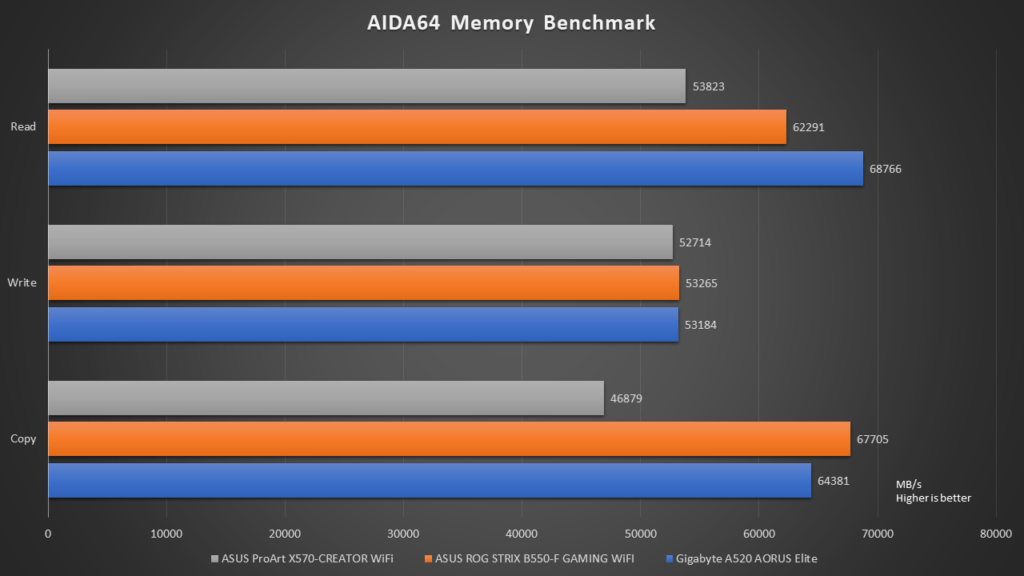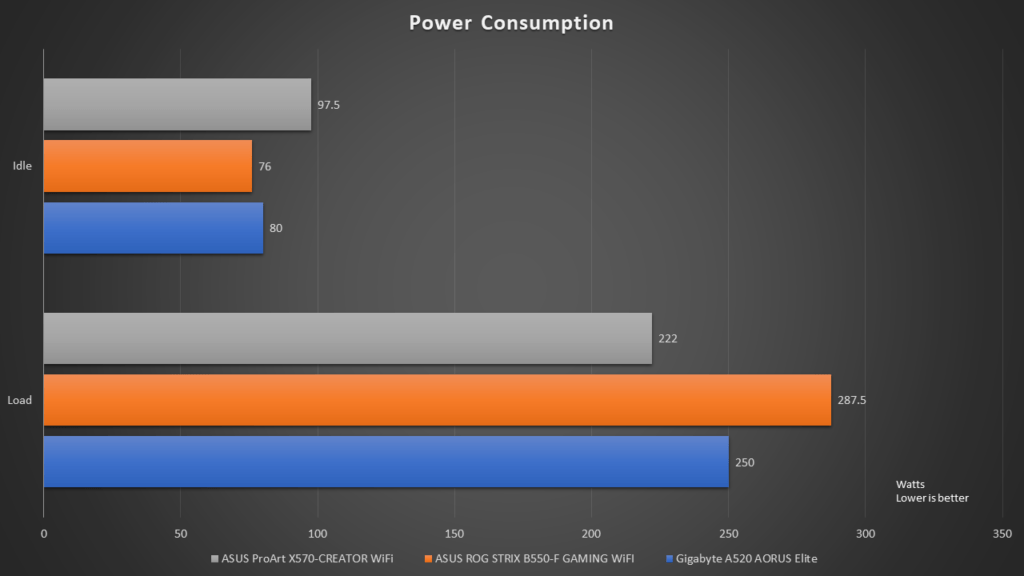 Conclusion
With a comprehensive set of expansion capabilities which include the featuring of Thunderbolt 4 on an AMD motherboard, the ASUS ProArt X570-CREATOR WIFI has effectively set itself apart from many other motherboards in the market. No doubt, if you are looking for a motherboard which features Thunderbolt 4, there aren't many choices available, and the ASUS ProArt X570-CREATOR WIFI is one product that will suit your needs.
Unfortunately, the motherboard seems to perform slightly worse than expected when compared to other gaming focused product.
Ultimately, you can consider the ASUS ProArt X570-CREATOR WIFI if you need all the unique features that it has. However, if you are looking out for a motherboard for a gaming PC, there will be many other alternatives out there that can suit your needs better.